Today we are peeking inside another well loved food blogger's kitchen to see how she organizes and cooks daily in a small kitchen.


Shaina Olmanson knows a thing or two about cooking from scratch.  On her blog, Food for My Family she shares recipes, tips, opinions, and her philosophy on food as she and her husband Ole, strive to teach their four children how to eat well: seasonally, locally, organically, deliciously, and balanced.  They cook and prepare real food in a day and age where many people have turned to convenience foods because they are so readily available and hope to encourage others to do the same! Shaina can usually be found in one of three places: cooking, at the computer or behind the camera. More often than not, these three things occur in the kitchen simultaneously,  and she is here today to share how she does it all in a cramped kitchen………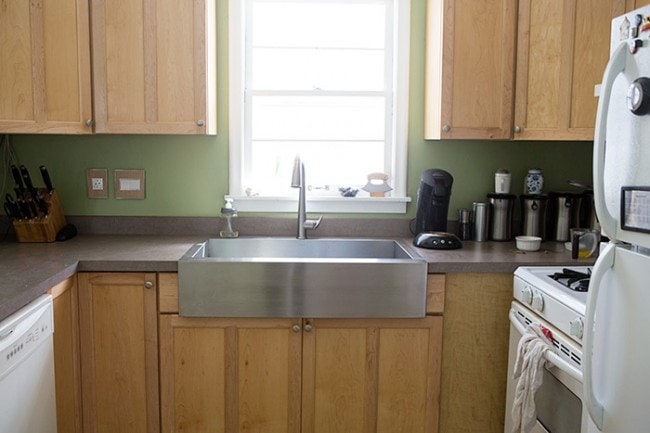 For me, I believe that the kitchen is the hub of all family activity. It's where my kids come to do homework. It's where we meet each morning as they rub sleep from their eyes and sit to fill empty bellies. It's where we come back together as a family at the end of the day. We spend more time in the kitchen than any other room in our home.
Seeing as how important I saw this piece of the home, the open flow and updated cabinets sold me when we were buying the house. Still, open access to the dining room or not, the 70 square feet of kitchen space and cupboards does not give me a lot to work with in terms of equipment, appliance, and food storage for a family of six. We won't even mention how much valuable storage space was sacrificed to open that kitchen-dining room wall. {click to continue}