Guacamole Recipe With Pico de Gallo
My favorite Guacamole Recipe, crammed with festive Mexican flavor, surpasses tableside restaurant guac every time using my homemade pico de Gallo. Avocado dip with pico turns ordinary chips and salsa into a fiesta!
You know what goes amazingly well with the best fresh guac recipe? Spicy Ranch Water, Beergaritas, The Perfect Paloma, and for someone who loves a little sweet with her sassy, a Sangria Mexican Mule!
Be sure to sign up for my email… to get new recipes and ideas in your inbox!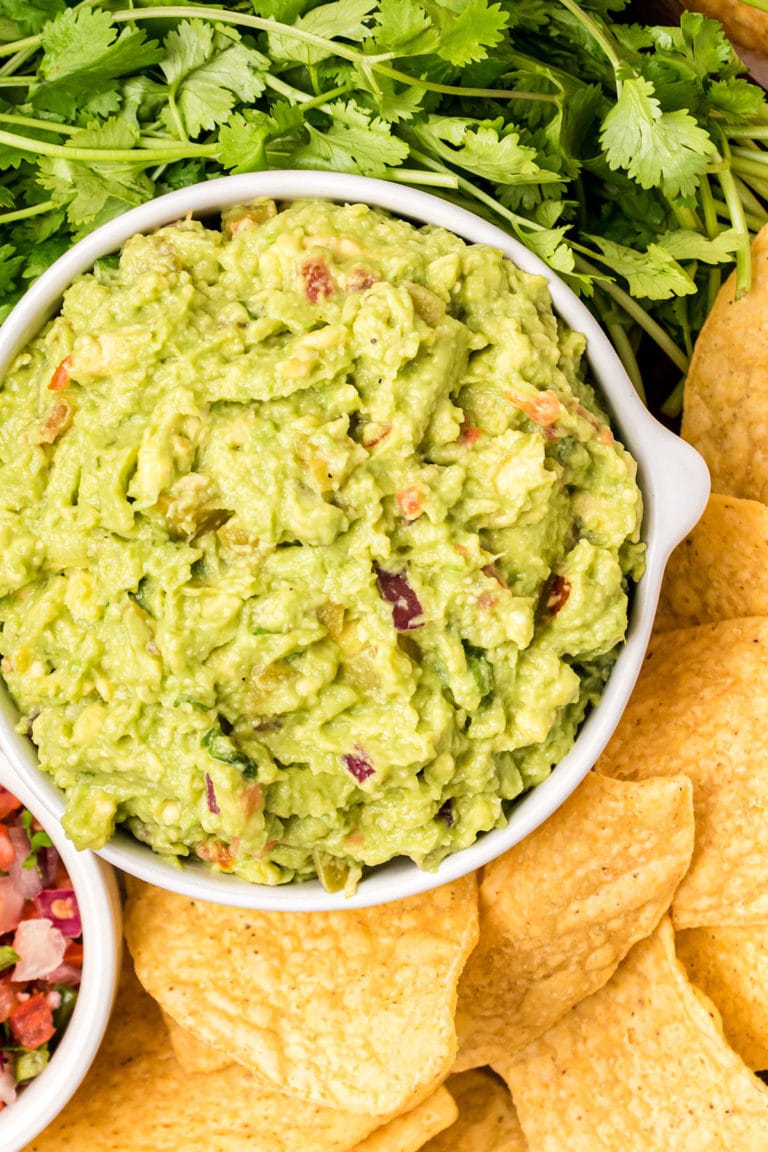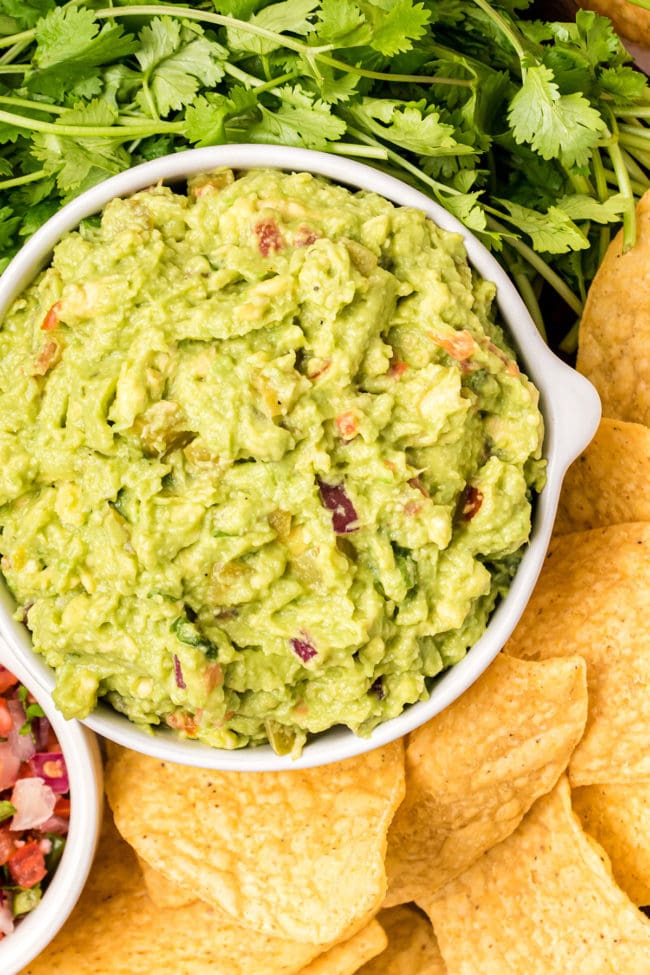 Why This Fresh Guac Recipe Beats Tableside Guacamole "Chips Down!"
Yes, I said that right; homemade guacamole puts a beatdown on tableside guac every day of the week! Many folks think spending extra cash to watch someone mash their avocados is better than….(insert your version of sliced bread), but I'm afraid I have to disagree.
Creamy, lively, and robust avocado dip is the perfect addition to any Mexican-inspired dish.
Packed with fresh, zesty flavors and bright colors it's the highlight of any table!
Even simple guacamole recipes benefit from a 30-minute "siesta" to allow the flavors to infuse the avocado dip!
Homemade guac lets you add extra of your favorite guacamole ingredients and seasonings.
A versatile recipe that can be adapted to special dietary needs and taste preferences.
Last I checked, no one had to tip me when I served the best guacamole dip they'd had in ages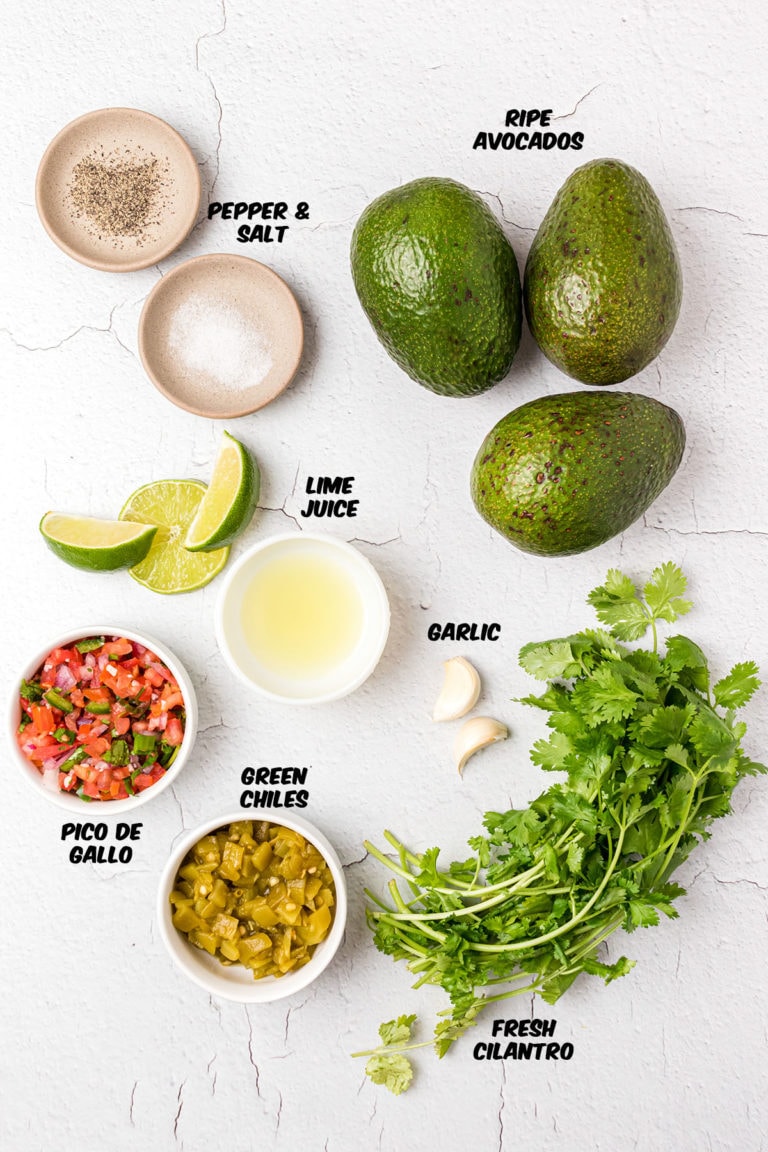 Fresh Homemade Guacamole Recipe Ingredients
These fresh guac ingredients are a classic blend of authentic Mexican flavors with my ace-in-the-hole pico recipe and the unique twist of green chiles. They are lighter on the heat without compromising the authentic taste of creamy avocado dip!
For specific amounts, please refer to the printable recipe card at the bottom of the post.
Ripe Avocados – halved, pitted, peeled, and cut up. (ripe = soft to the touch)
Garlic Cloves – minced
Fresh Cilantro – washed, drained, and chopped.
Green Chiles – canned, drained, and diced.
Pico De Gallo – my super easy pico de gallo recipe with plenty left to scoop on chips or add to dishes!
Fresh Lime Juice – wash, then roll the lime between your palm and the cutting board to help release the juices before cutting.
Salt & Pepper – to taste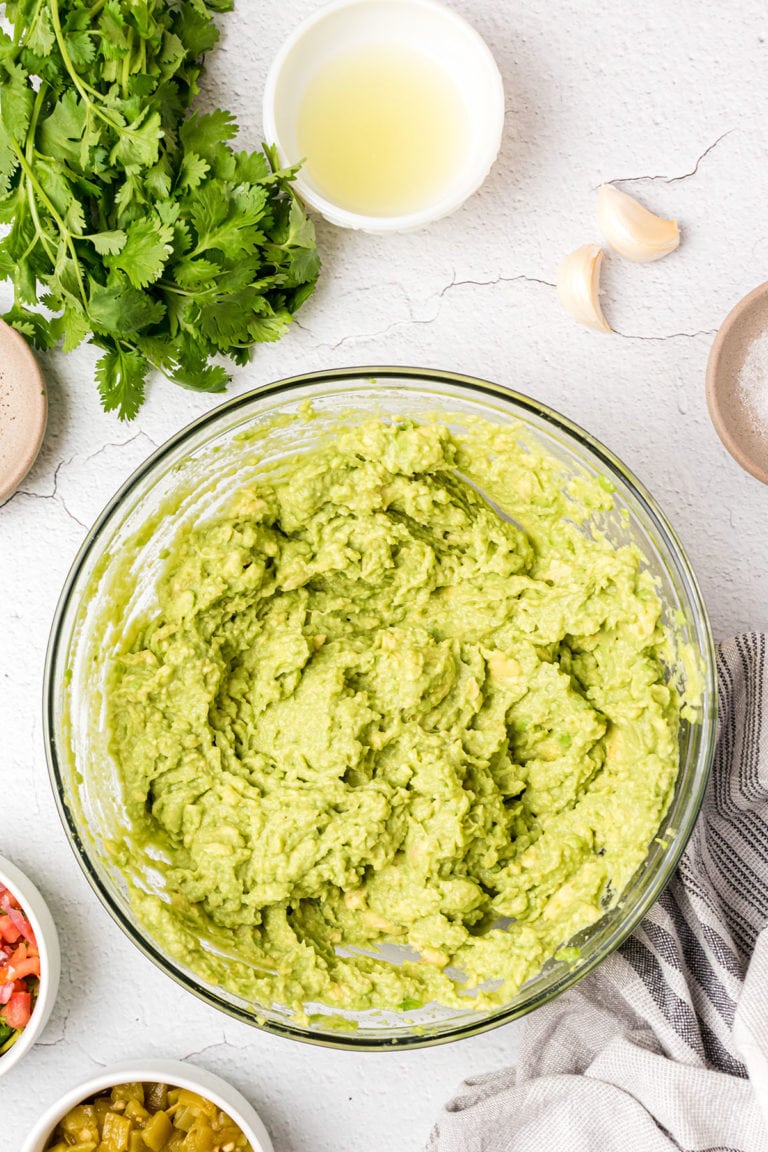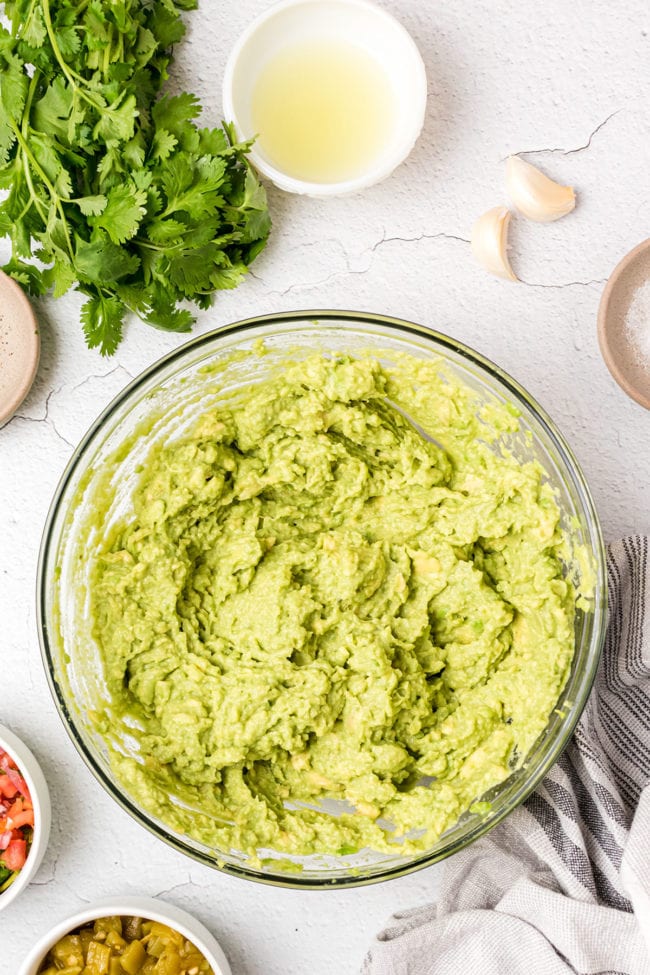 This post may contain affiliate links. Please read my disclosure policy here.
How To Make Easy, Fresh, Homemade Guacamole
Blending these tasty fresh ingredients makes some big 'ole authentic Mexican flavor! Super simple: prep, mash, and mix creamy, smooth, and delicious homemade guac!! If pico de gallo (salsa fresca) is the tortilla chip's festive forever friend (FFF), this avocado dip is def the BFF!
When you are making this recipe, you'll want to use the full recipe at the bottom of the page.
Smash avocados
Mix in the rest of the guac ingredients
Adjust seasonings to taste.
Grab some chips and enjoy!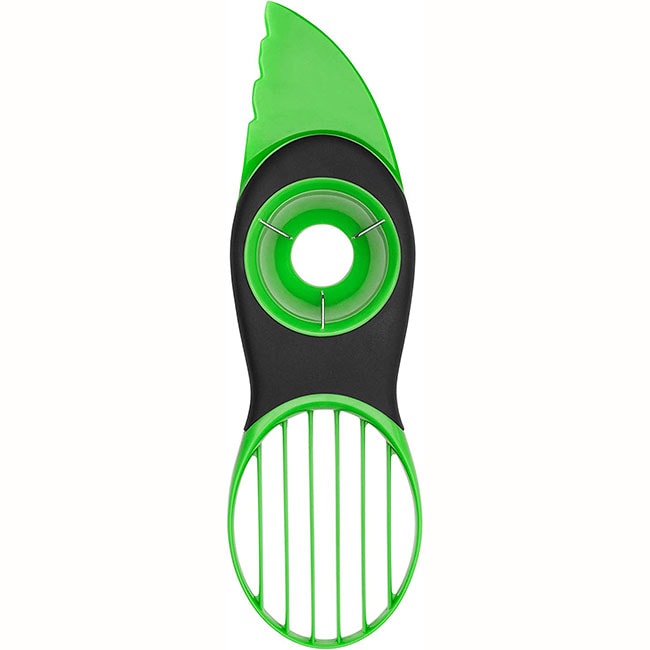 Featured Product 3-In-1 Avocado Slicer
All-in-one tool splits, pits, and slices avocados.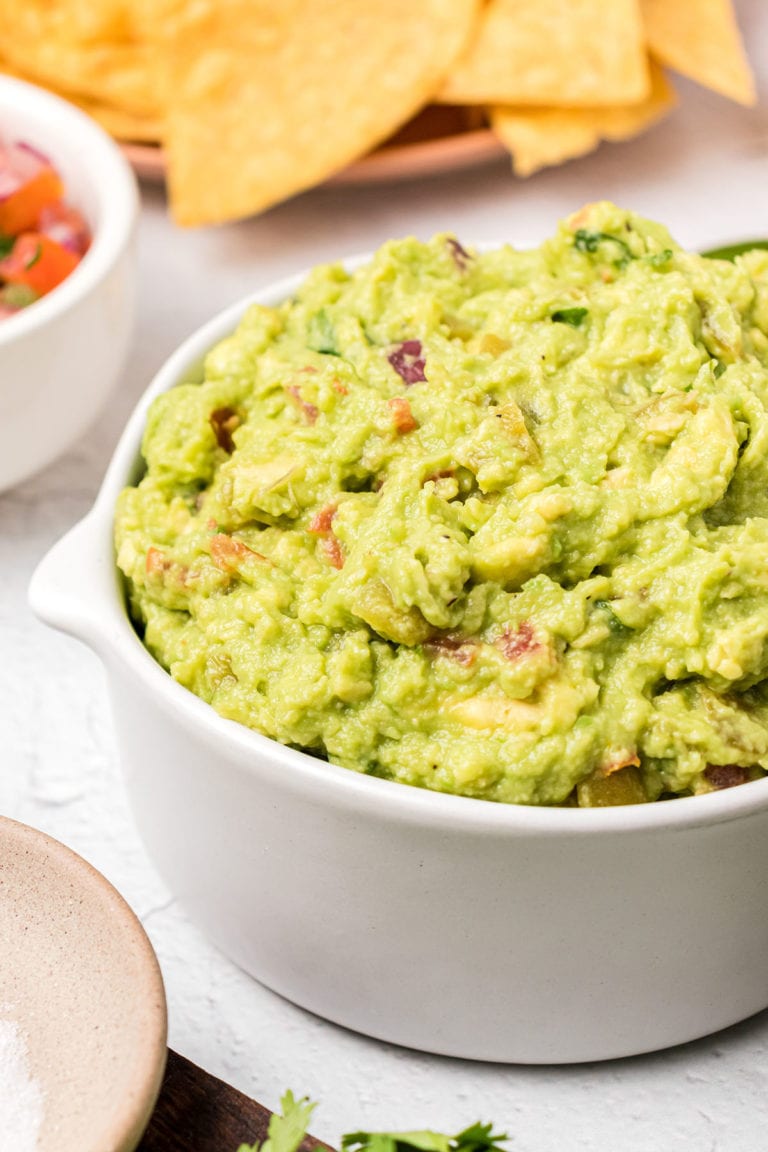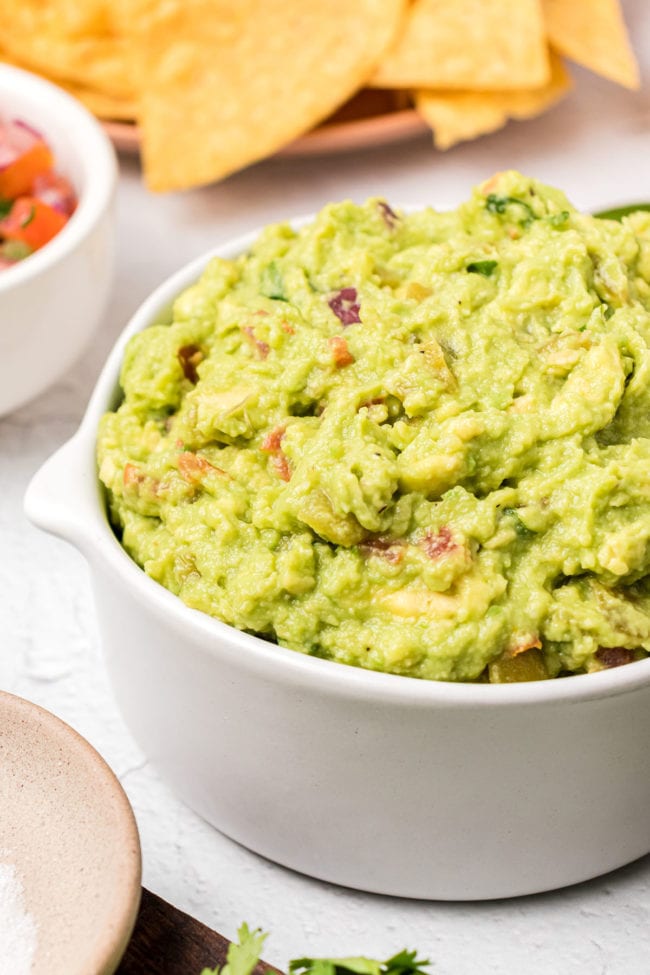 Tips For Picking A Ripe Avocado
A common tip on how to pick a ripe avocado is to gently squeeze the fruit to see if it gives slightly under pressure. But! My squeeze, compared to my husband's squeeze….oops, wait, that's me. Haha, redirect. Ok, even among women, there are huge differences in how we perceive a "gentle" squeeze. So here are three tips to avoid bruising your fruit! (The best is last!)
Check out the color of the whole selection. You'll likely see bright green (not so ripe) interspersed with darker shades of greenish/black (probably ripe) and purplish/black* (usually overripe).
Choose your fruit based on how quickly you need it for your guac recipe. To use right away, choose deep to dark green avocados that give easily with a gentle push next to the stem. Avocados with light green skin and firm flesh near the stem indicate it's not quite ripe.
The best indicator of how ripe an avocado is (besides squeezing or cutting it in half) is the stem or appearance where it was attached.

If the stem is still attached or the shallow indent is pale green, it's not fully ripe yet.
When ripening, the stem will detach easily (or be missing), and the small circle is between a darker green and brown.
Once the circle looks dry and pinched, and the flesh stays depressed with pressure, it's overripe, and more than likely, the avocado itself will feel pretty soft.
*Last thought on avocados: Looks can be deceiving! Ripeness can be affected by where they were grown (region/country), how they were transported (climate control/duration), how they were handled (cleaned/packed/unpacked), and how long ago they were picked (storage/refrigeration).
However, I've seen gorgeous, ripe, and unblemished flesh, from green-colored to almost black avocados. (You're welcome?) 🫣
DYK? Avocados only begin ripening once they are picked from the tree.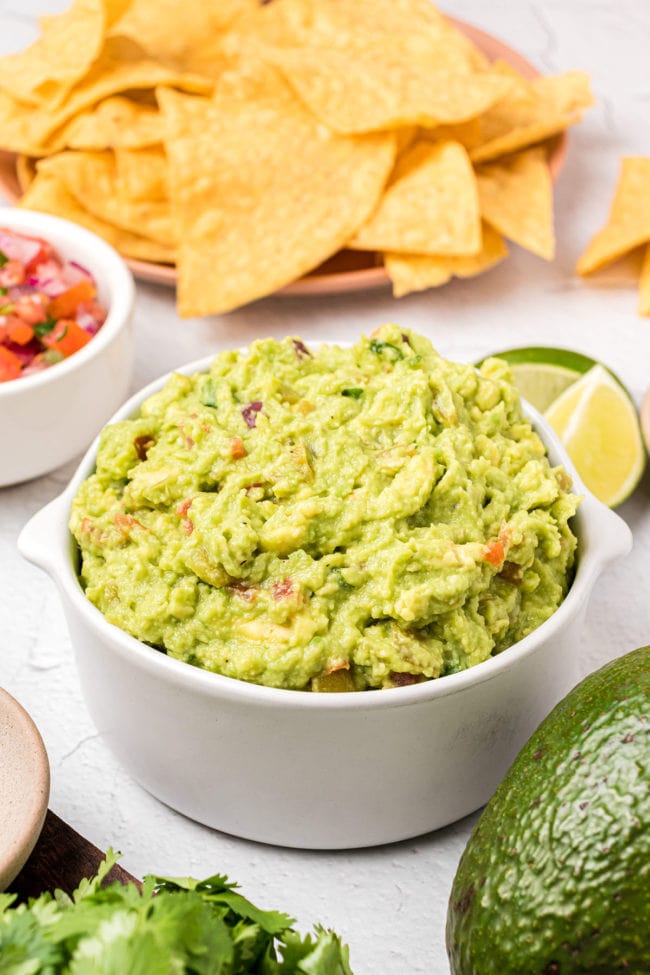 Fresh Guacamole Recipe Tips
No need to worry about keeping your fresh guacamole a taste-tempting green; avoid the dreaded brown:

Squeezing the lime over the avocado before mashing it up to your desired consistency spreads the acid around and slows browning.
Pickled jalapeno juice adds an extra zing of spice, and the vinegar also keeps your guac green longer.
Don't forget that adding homemade pico de gallo also has the same anti-oxidizing properties.

Waste not, want not! Zest your washed and dried lime before juicing, and freeze the zest in an airtight freezer bag with the date written on it. You'll be surprised at the ways you'll find to use zest than when you don't have it on hand.
If you don't have the time to whip up a batch of zesty pico, you can add diced tomato to your guac recipe instead.
Another quick guacamole hack is to sub in fresh salsa.
Some people may be sensitive to the bite of fresh garlic in homemade guac. If that is the case, you can use powdered garlic instead.
Remember that the homemade pico recipe already has garlic, so you may need to adjust the garlic in this guac recipe.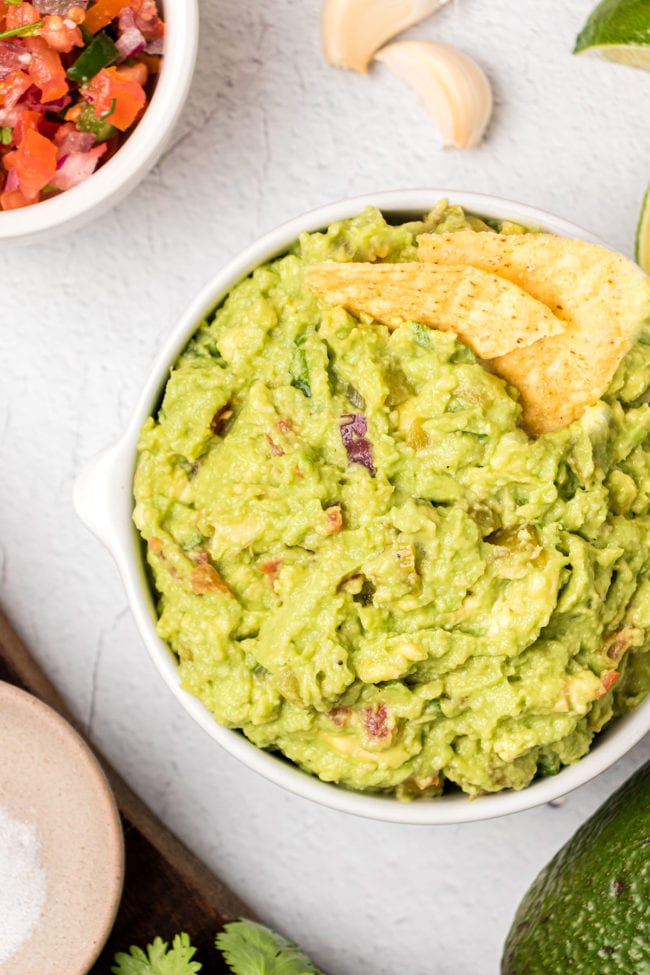 How To Store Homemade Guacamole With Pico de Gallo
You can always make and serve this guac recipe on the fly since the pico de gallo already has nicely married, wonderful flavors. When making in advance or allowing the avocado dip to rest, it must be properly covered to avoid browning. See the FAQs below for detailed instructions.
Refrigerate – leftover guacamole for up to two days in the fridge using a technique to inhibit exposure to oxygen. Whether you employ a liquid layer or film wrap, I suggest an airtight container with a lid too.
You'll be surprised how long this can extend the life of a guac dip. Remove any browned areas before serving (don't mix them in).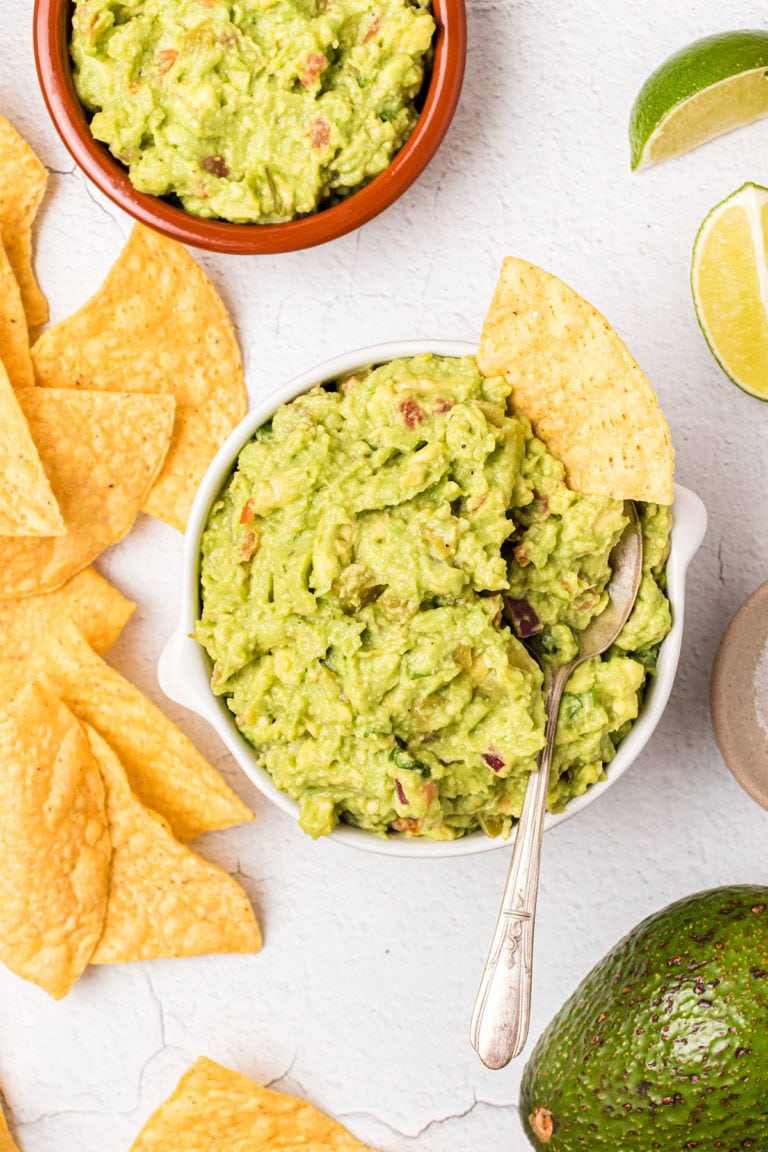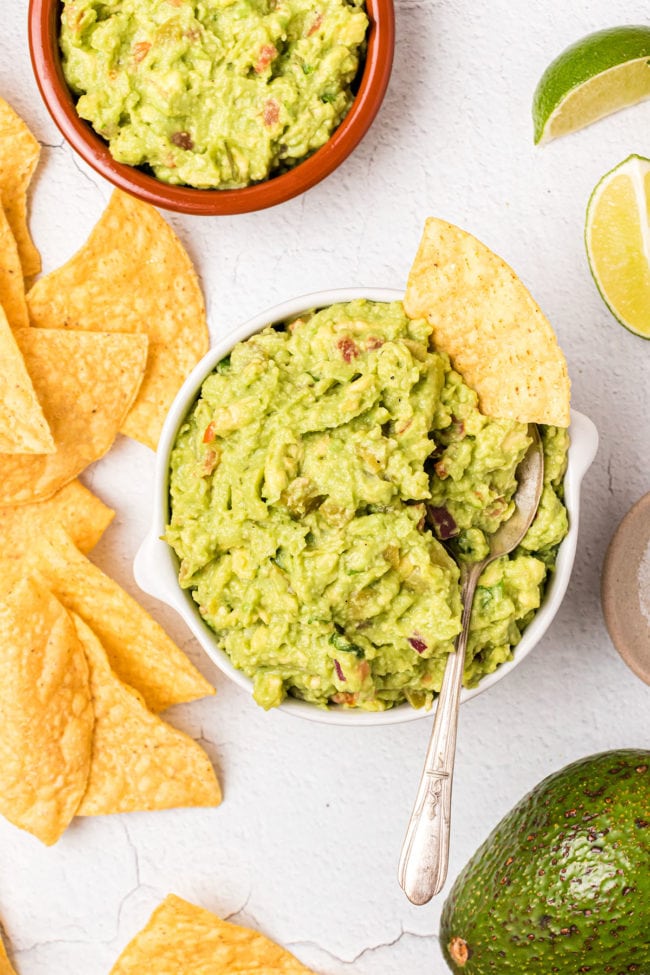 Guacamole Avocado Dip FAQs
Can you refrigerate avocados?
Absolutely! Especially if your avocados seem to ripen more quickly than you can use them. Refrigeration slows the ripening process considerably
How do you keep homemade guacamole green?
Cover the smoothed surface with a thin layer of lime, lemon juice, or oil (water works, too) before placing an airtight lid to keep the guacamole green. If you are storing fresh guacamole overnight, lay a piece of plastic wrap on the surface of the liquid, ensuring complete contact and none of the guacamole is exposed to air. When ready to serve, pour off the excess liquid and stir.
Is guacamole bad if it turns brown?
Not necessarily. The moment avocado pulp is exposed to air, the fruit begins oxidizing. This is a natural occurrence, similar to a sliced apple turning brown when cut. Browning (oxidation) starts on the surface and penetrates downward. If you scrape the brown layer off your guac dip and see bright green below, you're good to go (pending the sniff test). Smelling nothing but yummy cilantro and garlic? A taste test it is!
If your fresh homemade guac doesn't smell so fresh and is older than 3 days, you may want to chuck it.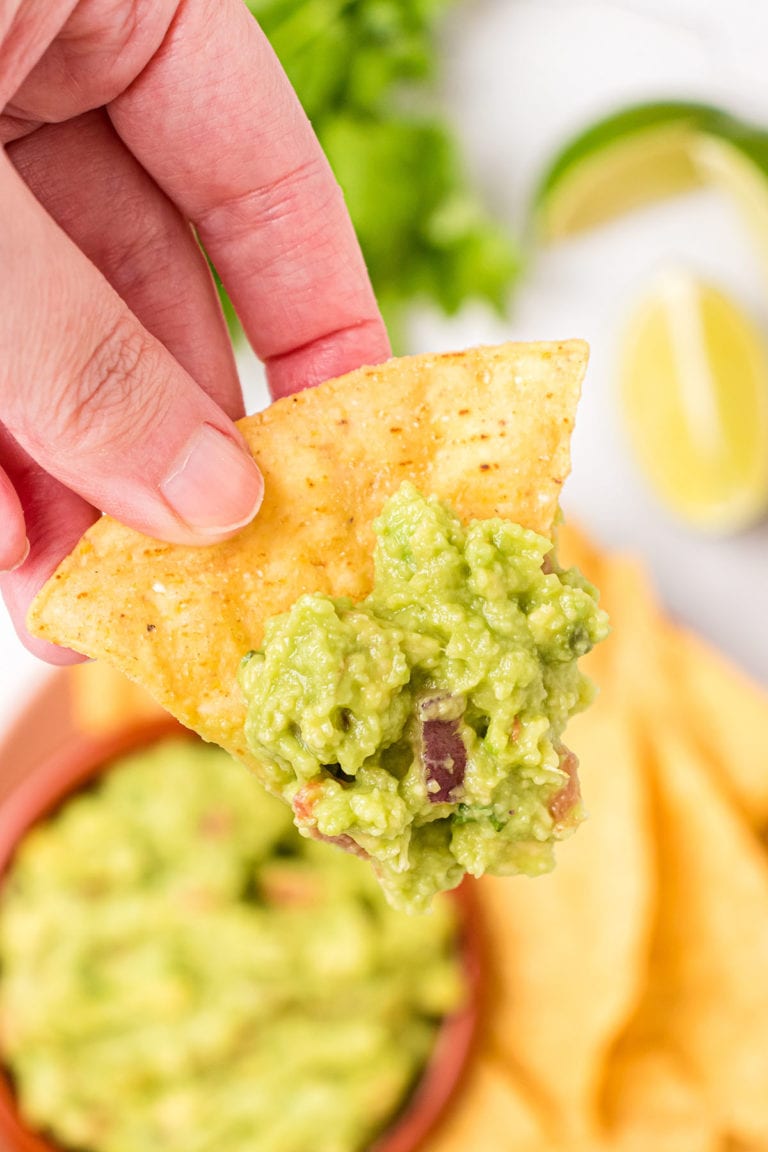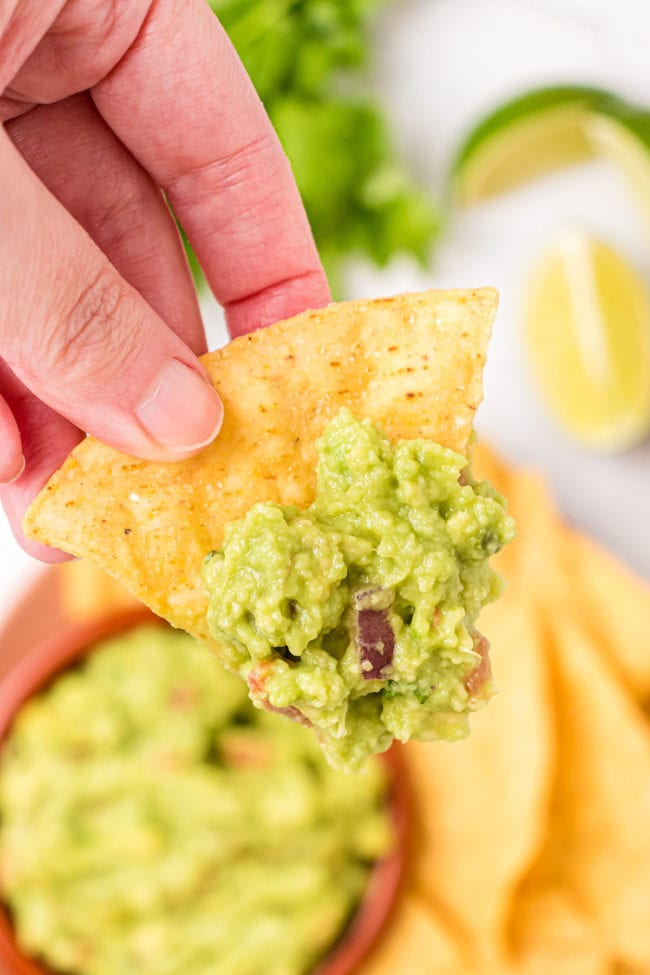 Serving Suggestions
Versatile homemade guac can easily serve as a dip, dollop, appetizer, topping, or spread. Most recipes that include avocado are that much better when you sub in guacamole instead!
Stuffing: fire-roasted jalapenos, roasted tomato halves, loaded potato skins
Spread: toast, sandwiches, burgers
Topping: tacos, stuffed peppers, casseroles, Mexican pizza
Dollops: soup, salads, quesadillas, burritos
Dippers: Restaurant or homestyle tortilla chips
Crudite: celery stick, broccoli florets, cucumber rounds, baby carrots, jicama sticks, colored bell pepper strips.
Corn or flour tortillas, pita bread or chips, and other snack chips and crackers.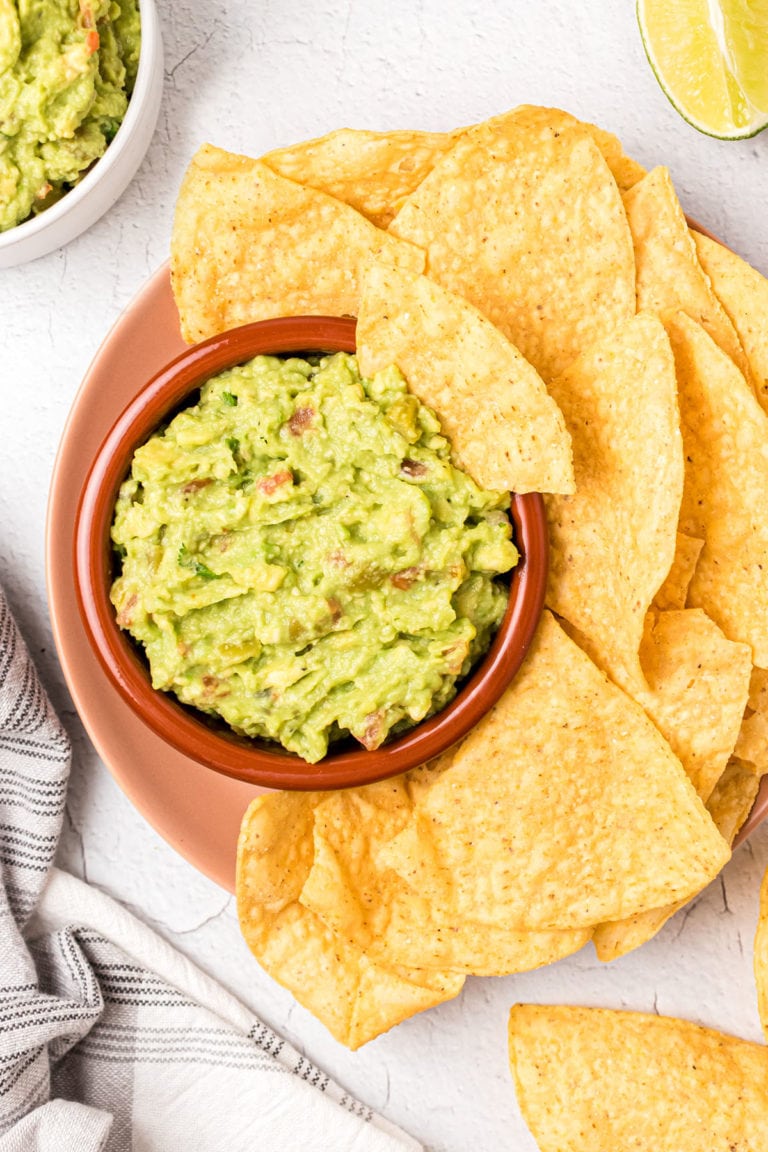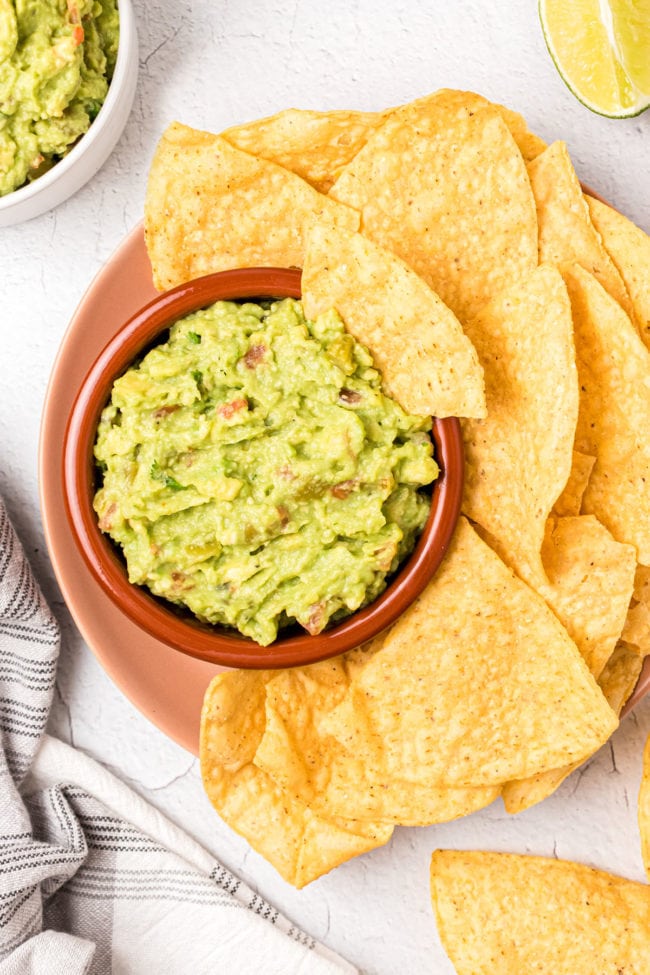 Guacamole Recipe Additions
Pinch paprika, cayenne, or cumin
Sour cream or greek yogurt
Diced pineapple or pineapple mango salsa
Diced mango
Crispy smoked bacon bits
Cotija or queso fresco
Like This Recipe? Pin It!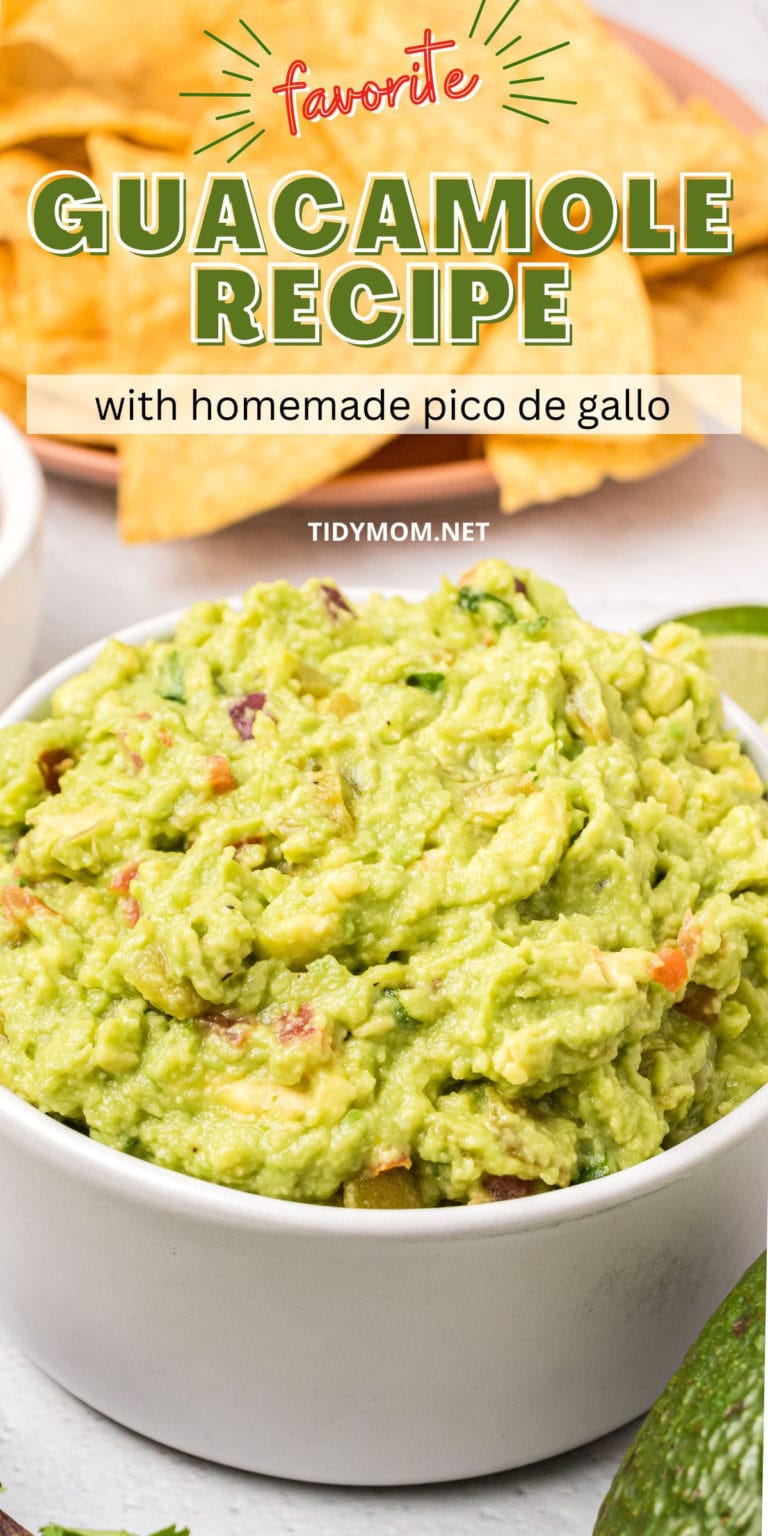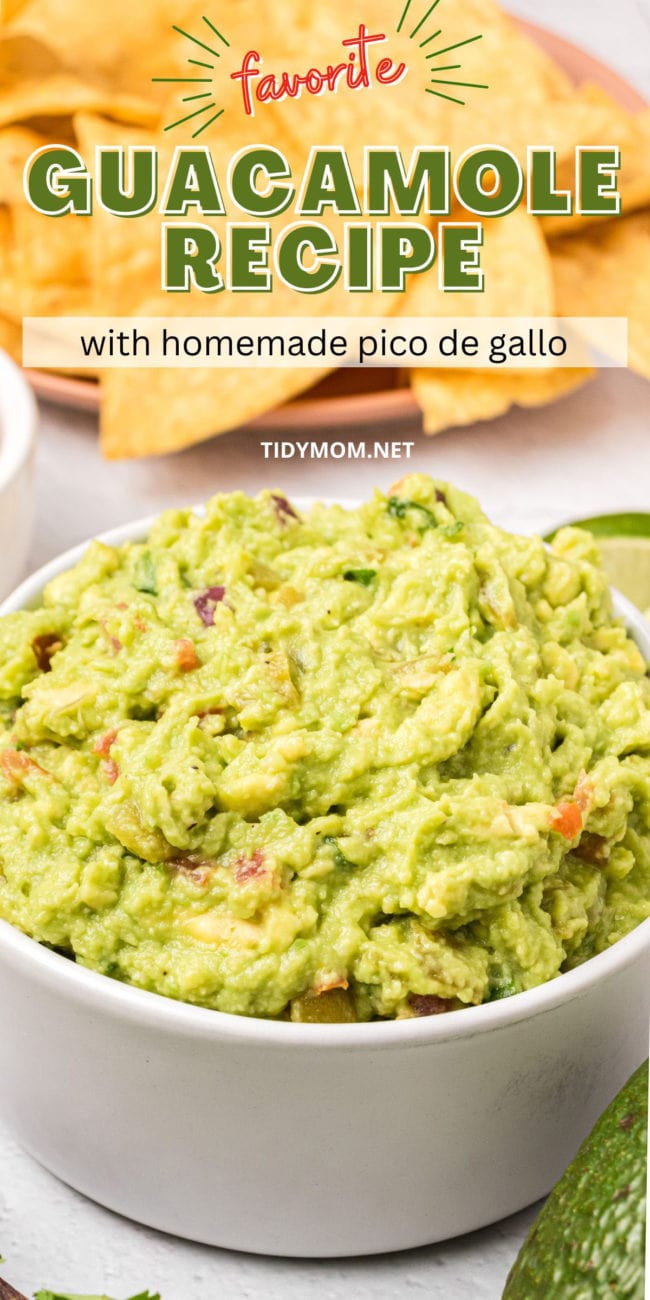 Easy Guacamole Recipe
Yield: 4 servings
Prep Time: 10 minutes
Total Time: 10 minutes
The BEST Guacamole recipe, crammed with Mexican flavor, surpasses restaurant guac every time using homemade pico de gallo. Avocado dip with pico turns ordinary chips and salsa into a fiesta!
Ingredients
3 very ripe avocados, halved, seeded, peeled, and cut up (ripe = soft to touch)
1-2 garlic cloves, minced
1 tablespoon chopped fresh cilantro
2 ounces (1/2 of a 4 oz can) diced green chiles, drained
1/4 cup pico de gallo* (see notes)
2 tablespoon fresh lime juice
salt & pepper to taste
Instructions
Smash avocados with a fork or potato masher (leave a little chunky), mix with remaining ingredients, taste and adjust seasonings, if necessary.
Grab some chips and enjoy!
Notes
If you use my pico de gallo recipe - it already has garlic, so you may want to cut back on the garlic in the guac or at least give it a quick taste test.
Refrigerate leftover guacamole for up to two days in the fridge using a technique to inhibit exposure to oxygen. Whether you employ a liquid layer or film wrap, I suggest an airtight container with a lid too. SEE BLOG POST FOR MORE DETAILS
Nutrition Information:
Yield: 4
Serving Size: 1
Amount Per Serving:
Calories: 254
Total Fat: 22g
Saturated Fat: 3g
Trans Fat: 0g
Unsaturated Fat: 18g
Cholesterol: 0mg
Sodium: 117mg
Carbohydrates: 16g
Fiber: 11g
Sugar: 2g
Protein: 4g
Nutrition information is estimated based on the ingredients and cooking instructions as described in each recipe and is intended to be used for informational purposes only. Please note that nutrition details may vary based on methods of preparation, origin, and freshness of ingredients used and are just estimates. We encourage, especially if these numbers are important to you, to calculate these on your own for most accurate results.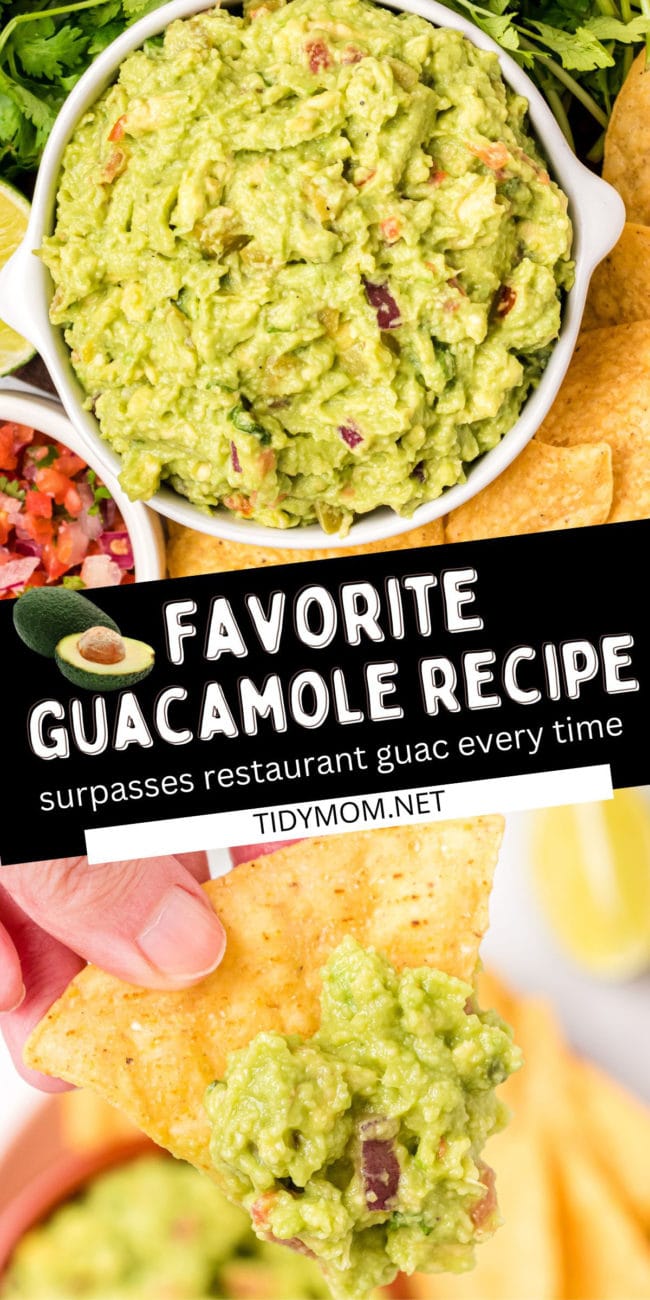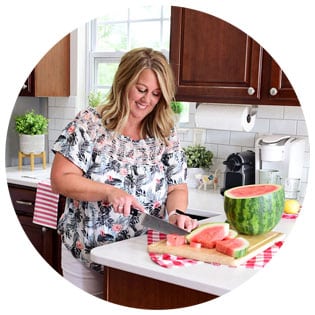 Hi there, I'm Cheryl!
As a wife, mom, and caffeine enthusiast, my journey has taken me from bustling mornings with my family to sharing delicious recipes, home care tips, and heartfelt decorating insights with wonderful readers like you. My love for baking, photography, and tidiness shines through every post I craft. Dive into my world and discover the art of homemaking, one tidy moment at a time. Read more...
Tidymom is a participant in the amazon services llc associates program, an affiliate advertising program designed to provide a means for sites to earn advertising fees by advertising and linking to Amazon.com.
Please respect my work, recipes and photographs. If you do use a recipe in your own writing, please give proper credit and link back to the original post.