EASY Cake Mix Cookies
Just 3 ingredients and these soft fluffy Cake Mix Cookies couldn't be easier to make thanks to your favorite box cake mix! Add your choice of mix-ins or frosting and the flavor combinations are sure to satisfy any craving!
We love to make cookies using a box cake mix. If you want to make more cookies out of a box cake mix check out our Lemon Burst Cookies, Peppermint Cake Mix Cookies with Buttercream, and Gooey Butter Cookies.
Be sure to sign up for my email… to get new recipes and ideas in your inbox!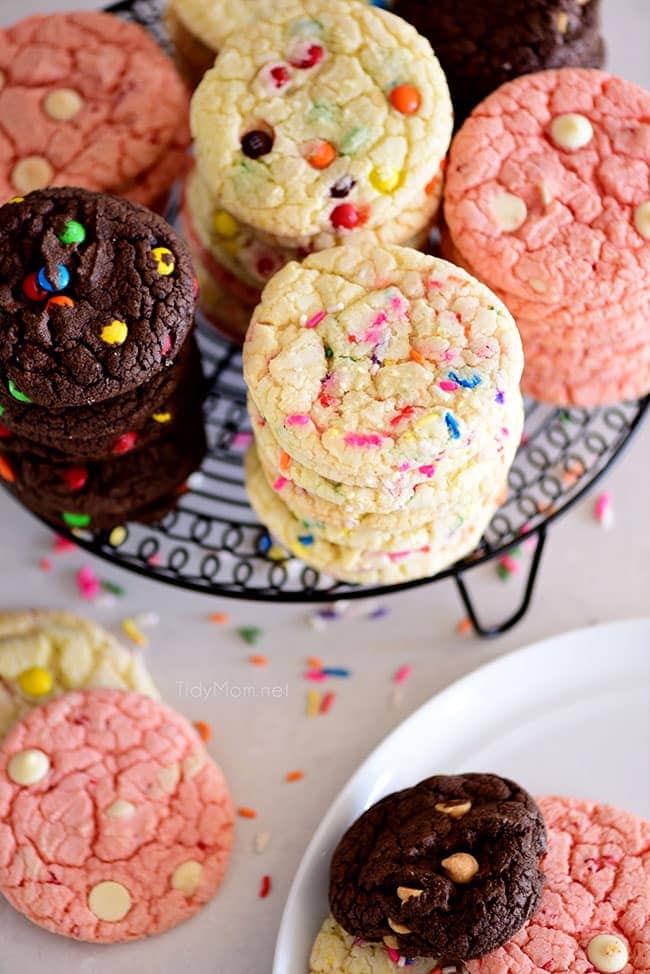 SAVE this recipe to Pinterest!
post and photos updated April 2020.
Cake Mix Cookies
Have you ever had a deep internal struggle where you can't decide if you want cake or cookies? I know I have, and oh man is it a hard decision to make. Sometimes you just want to have the best of both worlds, and be able to have your cake, and cookies too!
That's why I am IN LOVE with this amazing recipe for the easiest cake mix cookies. It's everything you love about soft bakery cookies, made from a simple cake mix to give it that light and fluffy texture.
No matter what your cookie preference is, you can make it come to life with this simple base recipe. Just grab your favorite cake mix flavor and a few different mix-ins and you'll be saying goodbye to store-bought cookies for good.
What Are Cake Mix Cookies?
Cake mix cookies are just what you think they might be. They are a cookie that comes together by modifying a cake mix recipe allowing them to form into the softest, most addicting cookies you will ever bite into.
It's important to remember that even though you use a cake mix to make these cake mix cookies, you DO NOT prepare the mix as directed on the box. Only use the cake mix powder, and follow the mixing and baking instructions as stated below in the recipe card at the end of this post.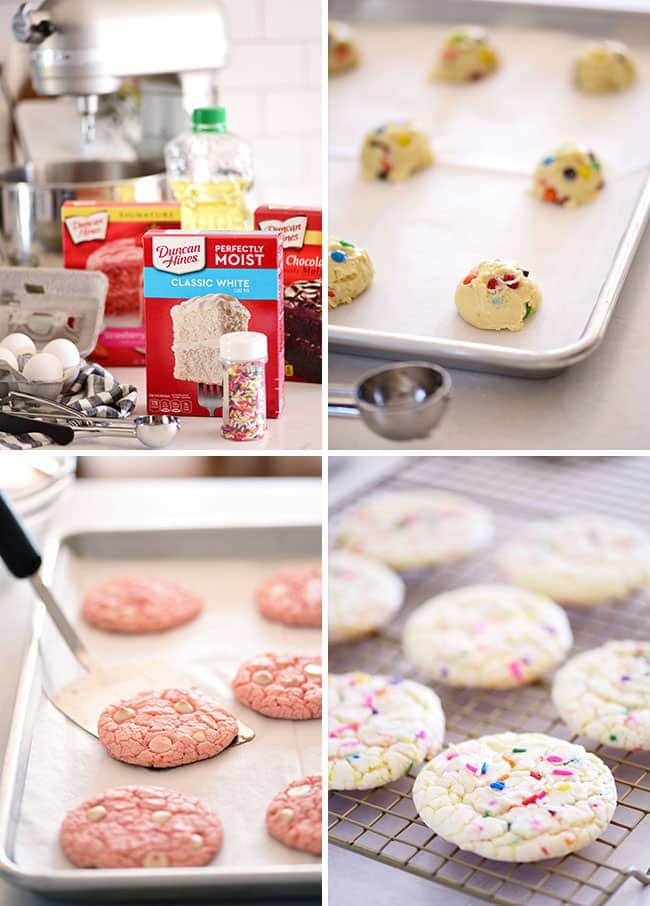 How To Make Perfect Cake Mix Cookies
(full printable recipe at the end of this post)
Any recipe that lets me get away with taking a shortcut is a win in my book. This recipe for the most amazing cake mix cookies requires just a few ingredients and a shortlist of easy to follow instructions.
To begin, heat your oven and line a cookie sheet with parchment paper or Silpat. Then you will use an electric mixer to combine the cake mix, eggs and oil until well blended. If you choose to add in any mix-in's, fold them in now.
Once your dough has formed, scoop out the cookie dough onto a prepared cookie sheet and bake until the edges are slightly golden. Let the cookies cool on the pan then transfer cookies to a cooling rack. If frosting, allow cookies to cool completely then top with frosting.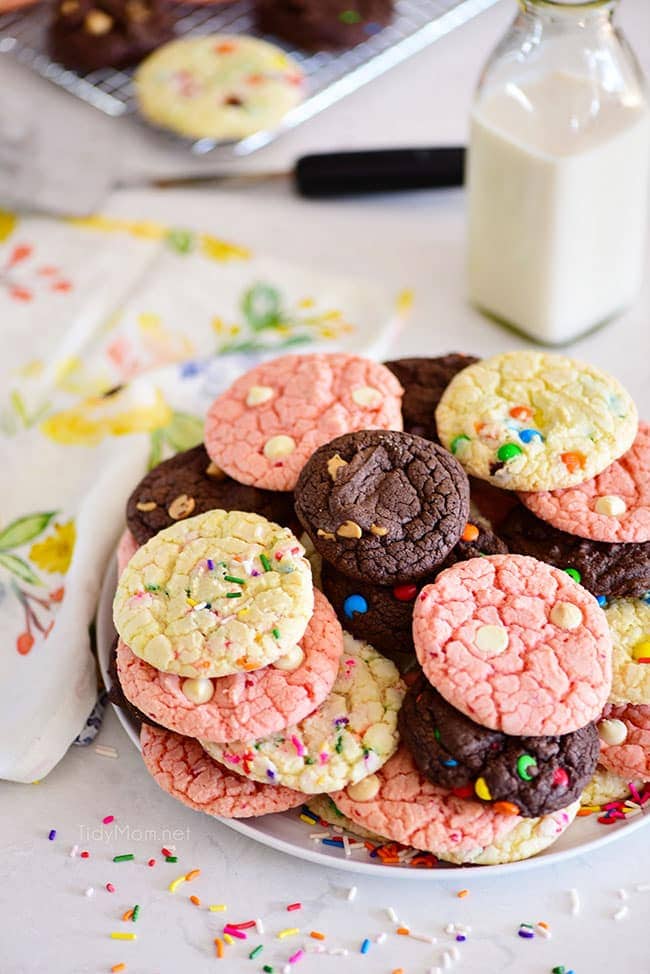 The Best Cake Mix Cookie Flavor Combinations
Strawberry White Chocolate Chip: A strawberry cake mix and some white chocolate chips turn this cookie into a strawberries and cream delight!
Chocolate Peanut Butter: Who needs Reese's peanut butter cup when you have a chocolate cake mix, and a bag full of peanut butter chips?
Chocolate M&M: What compliments chocolate better than more chocolate? A chocolate cake mix sprinkled with M&M's is just the chocolate fix you need.
Birthday Cake: It doesn't have to be your birthday to enjoy this white cake mix, and sprinkles combo.
Vanilla M&M: For a classic M&M cookie, break out your vanilla cake mix, and a bag of your favorite M&Ms.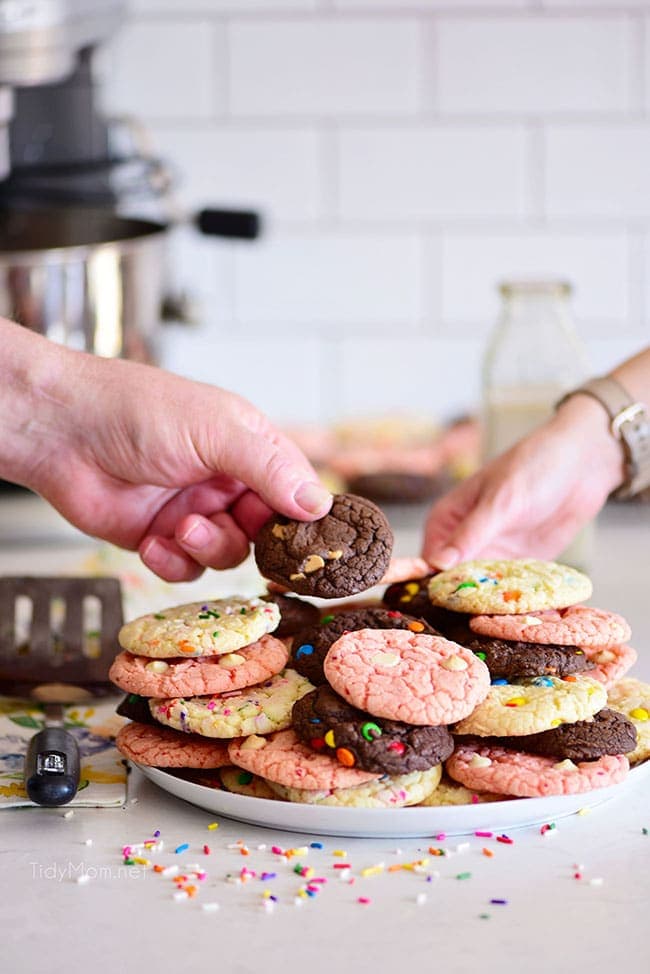 Ways To Store Cake Mix Cookie Dough
Refrigerating Cookie Dough: Mix the cookie dough and refrigerate up to 1 week. Pack dough in containers. Store in a tightly covered container.
Freezing Cookie Dough: This cake mix cookie dough is easy to freeze for later. Place dough in a tightly sealed container; freeze up to 6 months. Thaw dough in the refrigerator before scooping and bake as directed.
How Long Do Cake Mix Cookies Keep?
How Long to Keep Cookies At Room Temperature: Since there aren't any highly perishable toppings or frostings included with these cake mix cookies, they can be left at room temperature for up to 5 days. To prevent the cookies from becoming stale, be sure to cover with plastic wrap, or place them in an airtight container.
How Long to Keep Cookies Refrigerated or Frozen: Cookies stored in an airtight container will keep in the refrigerator up to 5 days or freezer up to 3 months. Let the cookies sit and return to room temperature before serving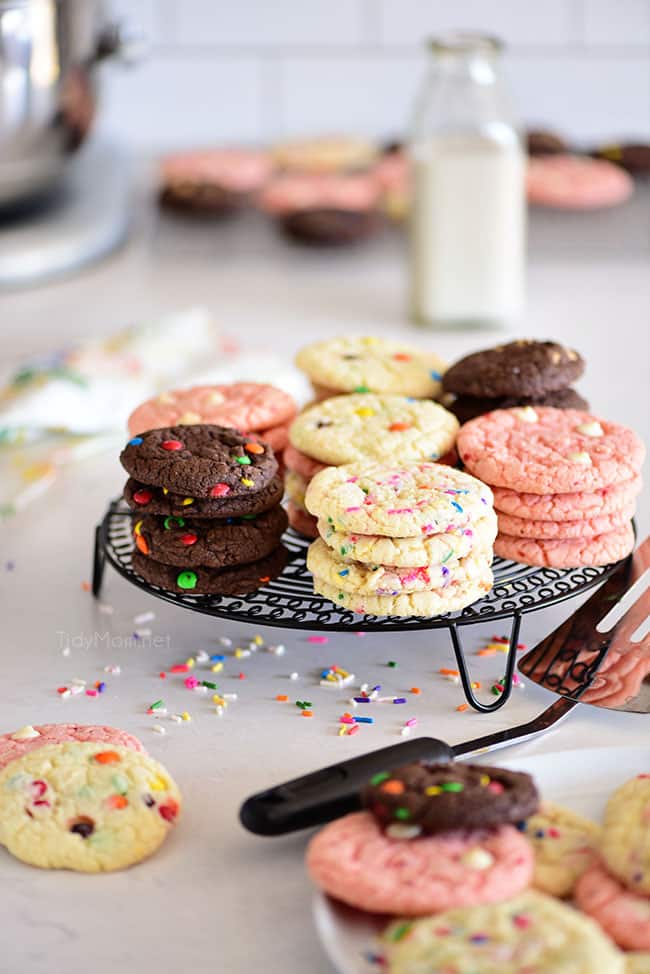 Find More Cake Mix Recipes Here!
St. Louis Gooey Butter Cake – A St. Louis tradition, where the cake becomes the crust and holds a gooey cream cheese filling. This coffee cake is generally served for breakfast but can easily make an appearance on any dessert table.
The Perfect Cupcake Recipe – This is my all-time favorite, go-to "recipe" for cupcakes. You can use this "trick" to doctor a box cake mix to taste like "from scratch"
Lemon Sheet Cake – Super moist and makes a wonderful spring or summer dessert that easily feeds a crowd. It may not be a fancy cake, but each slice is pure lemon bliss!
Easy Chocolate Covered Cherry Cake – A few shortcuts make this cake SO easy, but taste completely homemade! Perfect for potlucks, holiday parties and any time a chocolate craving hits.
Salted Caramel Cupcakes – These salted caramel cupcakes are topped with a rich salted dulce de leche caramel frosting and are the perfect easy treat to make for any occasion.
Like This Cake Mix Cookie Recipe? Pin It!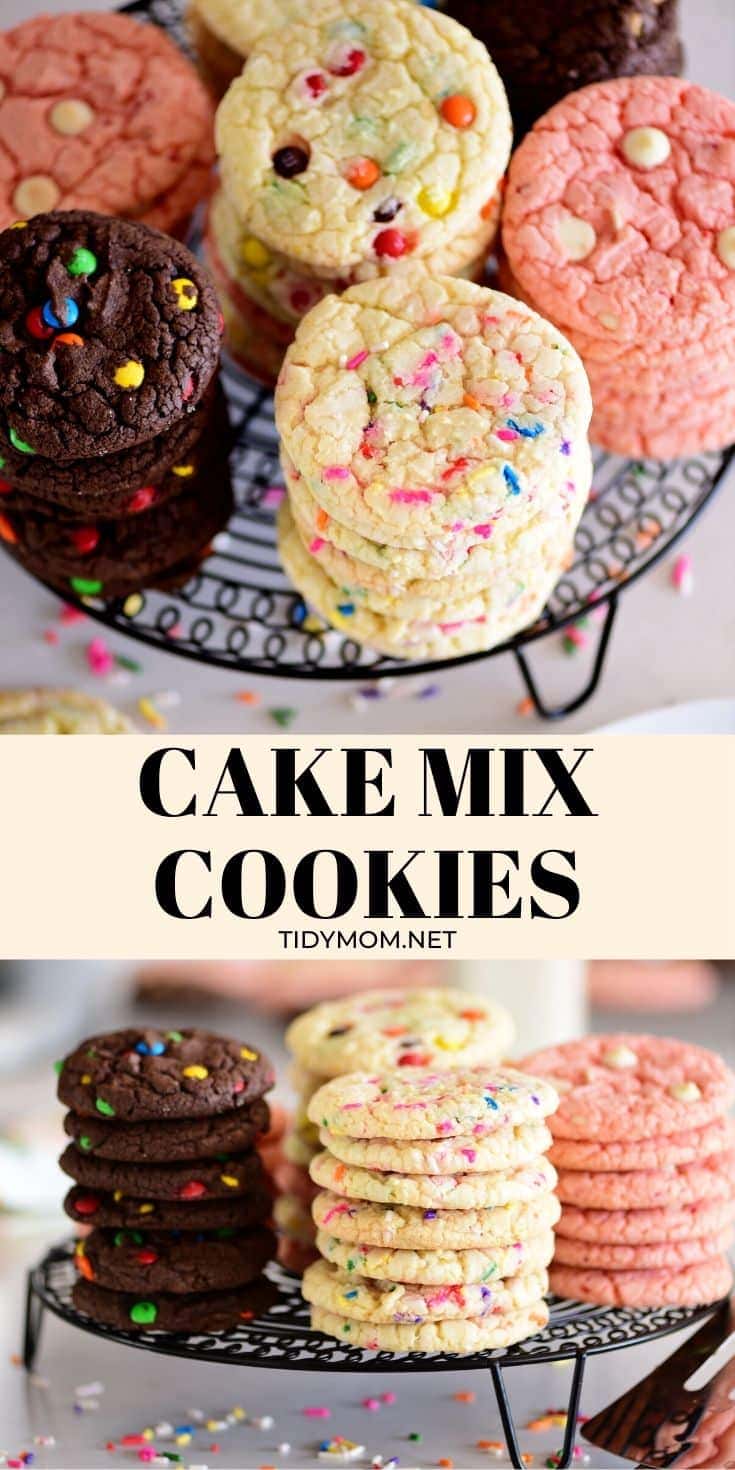 Tools Used To Make These Cake Mix Cookies
This post may contain affiliate links. Please read my disclosure policy here.
Scooping perfectly symmetrical cookies has never been easier when you use a cookie scoop like this one. It really makes the whole process go so much faster. I never make a batch of cookies without my favorite scooper!
This is my favorite sheet pan to use. I have about 4 I use in my kitchen pretty much every time I bake anything that needs a baking sheet. They are perfect oversized pans!
The pre-cut parchment sheets are a lifesaver, and they fit perfectly in the above-mentioned sheet pan. You never have to mess with measuring and cutting out parchment paper from the roll again with these
Follow Along On Social Media
If you're looking for even more inspiration check out the fun little group I created on Facebook, I'd love for you to join in! It's a place where you can share YOUR favorite recipes, home tips, creative ideas and ask questions and see what's new with TidyMom! If you'd like to check it out, you can request to join HERE.
Be sure to follow me on Instagram and tag #tidymom so I can see all the wonderful TidyMom recipes YOU make and tips YOU use!
Connect with TidyMom! Facebook | Twitter | Pinterest | Instagram
Sign up to receive an email in your inbox for each new recipe: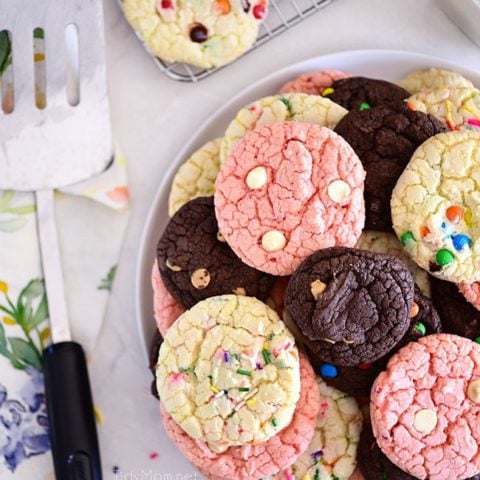 Easy Cake Mix Cookies
Yield: 15

Prep Time: 5 minutes

Cook Time: 10 minutes

Total Time: 15 minutes

Soft fluffy cookies are easy to make thanks to your favorite box cake mix.
Ingredients
1 cake mix (any flavor)
2 large eggs
1/2 cup oil
mix-ins or frosting of choice
Instructions
Heat oven to 350° F and line a cookie sheet with parchment paper or Silpat.
In a large bowl using an electric mixer to combine cake mix, eggs and oil until well blended. If using, fold in the desired mix-ins.
Scoop out 2 tablespoons of cookie dough onto prepared cookie sheet about 2-inches apart. (I use a medium cookie scoop) Bake for 10-12 minutes until edges are slightly golden.
Cool cookies for 4 minutes on the pan then transfer cookies to cooling rack.
If frosting, allow cookies to cool completely then top with frosting.
Notes
For a thicker cookie, you can add about 1/4 flour to the dough.
Recommended Products
As an Amazon Associate and member of other affiliate programs, I earn from qualifying purchases.
Nutrition Information:
Yield: 15 Serving Size: 1
Amount Per Serving: Calories: 217Total Fat: 10gSaturated Fat: 1gTrans Fat: 0gUnsaturated Fat: 8gCholesterol: 25mgSodium: 269mgCarbohydrates: 30gFiber: 0gSugar: 17gProtein: 2g

Nutrition information is estimated based on the ingredients and cooking instructions as described in each recipe and is intended to be used for informational purposes only. Please note that nutrition details may vary based on methods of preparation, origin, and freshness of ingredients used.