Contact TidyMom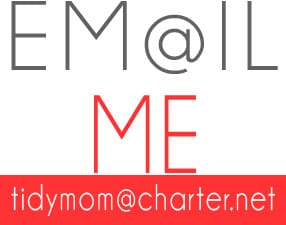 If you have any questions, suggestions, or just want to chat, please send me an email to tidymom (at) charter (dot) net or by clicking the graphic above I'd love to hear from you!!
If you are a company, small business or advertiser inquiring about a review, giveaway, or advertising rates, please refer to my PR/Advertise page or email me directly for my media kit.  I look forward to hearing from you!
THANKS TO ALL OF YOU FOR READING MY BLOG!