Strawberry Milkshake Cupcakes
The addition of diced fresh strawberries makes this Strawberry Milkshake Buttercream the perfect complement to the french vanilla cake beneath in these Strawberry Milkshake Cupcakes!
Be sure to sign up for my email… to get new recipes and ideas in your inbox!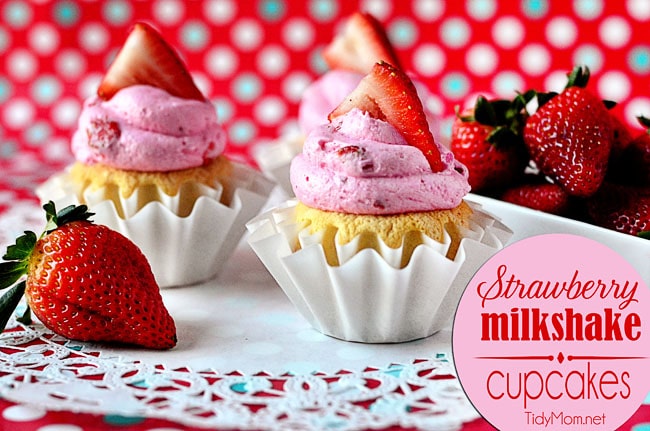 I wasn't planning on posting these cupcakes when I started to make them. I made them on a whim last week when I was craving a cupcake. They are so simple, yet turned out to be one seriously delicious cupcake!
I was browsing thru several "new to me" blogs one day, and someone had mentioned frosting that tasted just like a strawberry milkshake. I didn't bookmark it or pin it……but couldn't get those words out of my head. Then I started searching for the post, I couldn't even remember what blog I was on. I don't even think the post was about the cupcakes, maybe they just mentioned cupcakes they ate somewhere.
I started searching frosting until I found one that sounded good – with strawberry jello in it! I wanted to try it with Nesquik Strawberry Milk, but I didn't have any, so I stuck with the jello.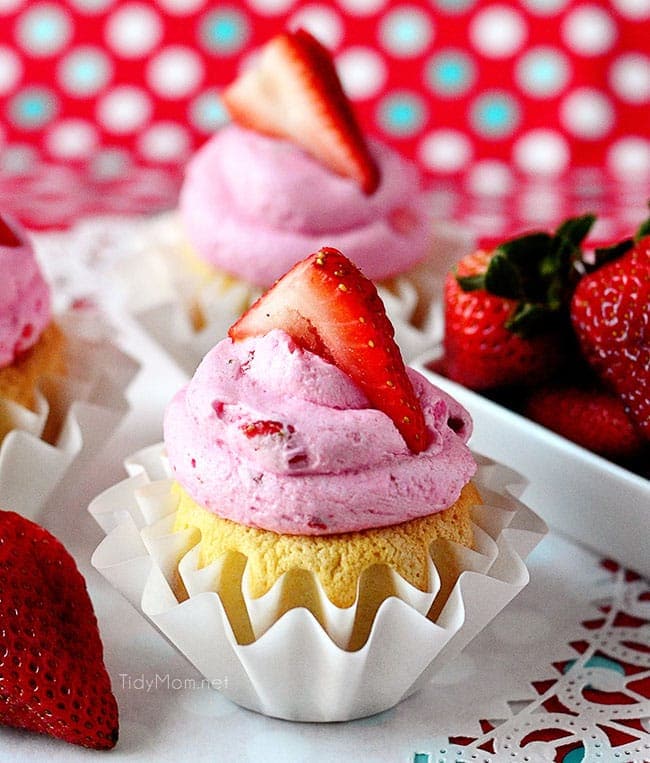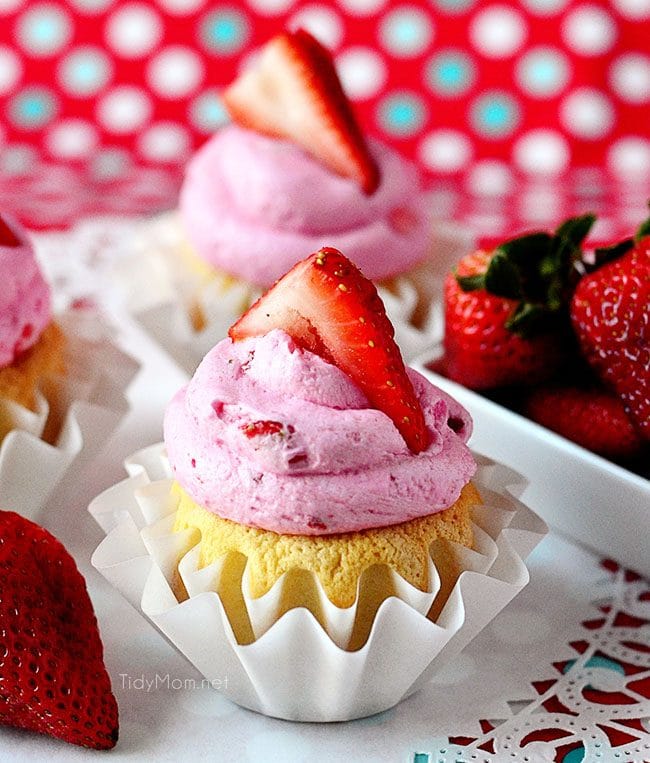 One bite into these cupcakes, I realized that they taste amazingly like strawberry milk or milkshake — flashback to my childhood! I remember coming home from school, making myself strawberry milk and settling down to watch The Brady Bunch.
Not only do these Strawberry Milkshake Cupcakes take you back to being a kid, the vanilla cake makes the perfect partner to the dreamy strawberry frosting. Best of all, you could easily tweak this recipe if you are more of a chocolate strawberry lover, by using chocolate cake!………oh I think I see another batch in my future, you know….to compare and see which is better! 😉
I used my favorite Duncan Hines French Vanilla Cake mix, doctored up like I usually do, with butter in place of the oil and a little less water.
I raided my cupcake liner stash and found these adorable liners I picked up at Michaels a few weeks ago. I don't know who makes them, or what they are called exactly, I can't find them on the Michaels website, and I don't see them on Amazon. But they sure are pretty aren't they? I do remember they only came in solid colors.
These would make perfect Valentines Day treat if you're looking for something easy and delicious! If you're a chocolate lover, I would use Duncan Hines Dark Chocolate Fudge Cake Mix.
*this post is NOT sponsored by Duncan Hines, I just love their cake mixes 🙂

More Strawberry Cupcake Recipes you might enjoy:
Chocolate Covered Strawberry Cupcakes
Strawberry Cupcakes with Strawberry Meringue Buttercream
Chocolate Strawberry Cupcakes with Mascarpone Frosting
Chocolate Covered Strawberry Cupcakes
Chocolate Covered Strawberry Cake Balls
Like These Strawberry Milkshake Cupcakes? Pin It!



Are you a fan of Strawberries and vanilla or chocolate? Do you have plans for Valentines Day?
I created a fun little group on facebook and I'd love for you to join in! It's a place where you can share YOUR favorite recipes, home tips, creative ideas and ask questions and see what's new with TidyMom! If you'd like to check it out, you can request to join HERE. Be sure to follow me on Instagram and tag #tidymom so I can see all the wonderful TidyMom recipes YOU make and tips YOU use!
Connect with TidyMom! Facebook|Twitter|Pinterest|Instagram
Sign up to receive an email in your inbox for each new recipe: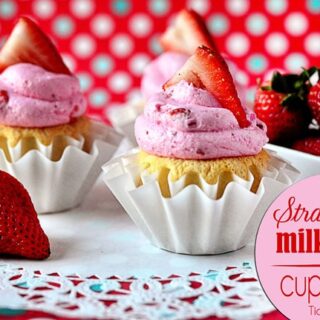 Strawberry Milkshake Cupcakes
Yield: 24 cupcakes

Prep Time: 15 minutes

Cook Time: 20 minutes

Total Time: 35 minutes

The addition of diced fresh strawberries makes this Strawberry Milkshake Buttercream the perfect complement to the french vanilla cake beneath in these Strawberry Milkshake Cupcakes!
Ingredients
Vanilla Cupcakes
1 box Vanilla Cake Mix (I use Duncan Hines French Vanilla)
3 Large Eggs
1/2 cup butter, melted
1 cup of water
Strawberry Buttercream
1/2 cup butter, softened
1/2 cup shortening
2 teaspoon clear vanilla
2½ teaspoon strawberry flavored gelatin (jello powder)
5 cups powdered sugar
4-5 tablespoons heavy whipping cream
pink gel food coloring (optional)
4 strawberries, diced extra strawberries is you'd like to use as garnish too)
Instructions
For Vanilla Cupcakes:
Heat oven to 350° and line muffin pan with cupcake liners.
In a large bowl, combine cake mix, eggs, butter and water using an electric mixer on low for one minute, then mix on high for one minute.
Divide batter evenly into cupcake liners, filling each two thirds full.
Bake for 20 minutes and cool completely.
For Strawberry Buttercream:
Using an electric mixer, beat butter and shortening for 2 minutes on high.
Add vanilla extract and gelatin.
Slowly add powdered sugar then whipping cream until you reach your desired consistency.
Fold in strawberries then add a little pink gel food coloring if you'd like your frosting more pink and beat on low just until combined.
Pipe buttercream on to cooled cupcakes, garnish with strawberries or sprinkles.