Classic Vanilla Cupcakes with Chocolate Frosting
Every kitchen needs the perfect classic vanilla cupcakes and chocolate frosting recipe.  Look no further!  You can find my family's favorite Chocolate and Vanilla cupcakes recipe below.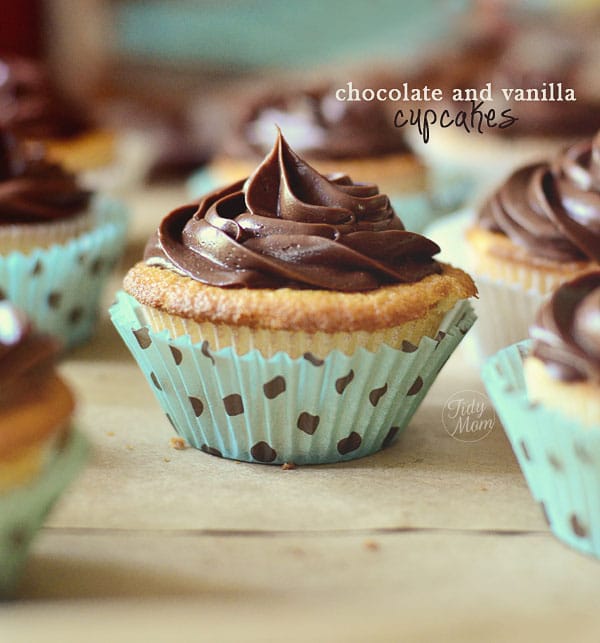 You have to know something about my husband,  he doesn't eat a lot of what I bake for the blog.  Now, don't get me wrong, he doesn't shun sugar by any means!  He actually may be one of the biggest sweet eaters I know, just like my dad was.  Growing up I could always count on my Dad to eat anything I whipped up in the kitchen!  My husband, on the other hand, he's a pretty simple man.  He doesn't care for stuffed and gooey, raspberry and lemon, or a luscious panna cotta.  What he does love is a simple classic vanilla cupcake with chocolate frosting.
A few weeks ago I was in the kitchen stuffing lemon cupcakes with raspberry ice cream for the Ice Cream Cupcake Challenge over at the Cupcake Project, when I realized the next day was Father's Day.  Now Steve may not be MY father, but he is one fantastic father to our girls………and all I could think about was how disappointed he was going to be when he found out I was making cupcakes again, and they were not chocolate and vanilla.
Now, this is where I have to tell you, that he's perfectly happy with a boxed mix (especially when I doctor it up to make perfect cupcakes) and some canned frosting.  But, as luck would have it, I did not have a vanilla, yellow or white cake mix in the house.  So I thought I'd see what I could find online.
People let me tell you………this is THE BEST Vanilla cake I've ever had! or at least the best I've ever made!  I was a little leery, because, like I said, I usually start with a box mix.  Last year I thought I'd get my June Clever on and make him a yellow cake from scratch and it was terrible! None of us liked it, we actually threw 3/4 of that cake out, and needless to say, it never made it to the blog.
This time I thought I'd look for a white cake, and quickly found a recipe that promised to be easy and delightful. A white cake that tastes like a cross between an angel food cake, with a light almond-vanilla flavor, and a pound cake, without the heaviness. Simply flavored, sweet, moist with a medium crumb. SOLD!!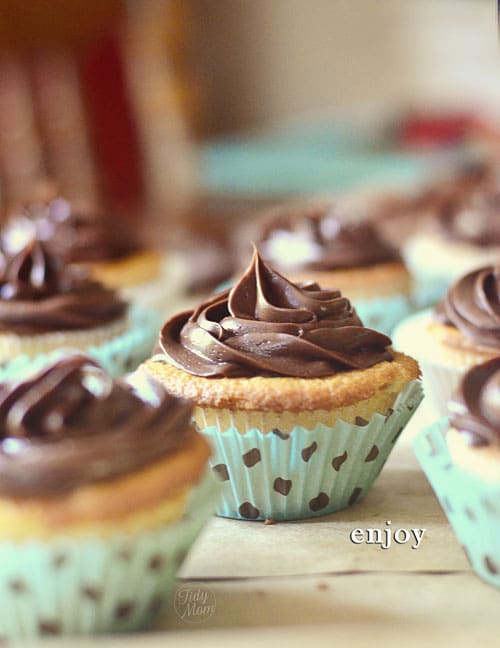 Delicious Classic Vanilla Cupcakes with Chocolate Frosting
These cupcakes delivered on EVERY promise!
I'm not one to eat cake without frosting, but these cupcakes smelled so incredible when they came out of the oven, I had to try one as soon as they cooled off……..I almost didn't even bother with frosting.  They were that good.  Not only was the flavor a beautiful marriage of almond and vanilla, but each cupcake had a slightly crisp crusty edge that melted my heart!
Top them off with our favorite Chocolate Frosting from Martha Stewart and you have one Classic Chocolate and Vanilla Cupcake that will stand up next to any stuffed fluffy ooey gooey cupcake you can dream up!……..I knew there was a reason I fell in love with that man!
You NEED to print this Recipe! because you are going to want to make these cupcakes!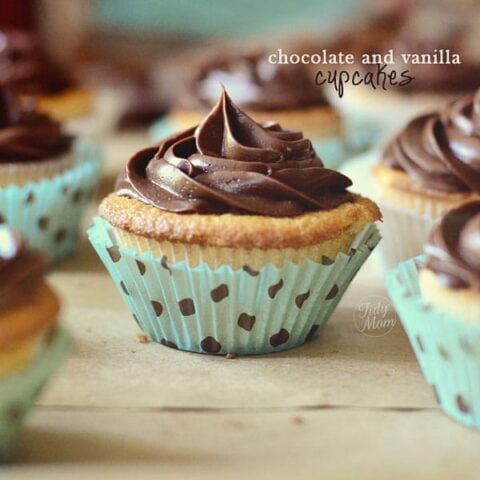 Vanilla Cupcakes with Chocolate Frosting
Yield:
30-32 cupcakes and 3 cups frosting
Additional Time:
45 minutes
Total Time:
1 hour
23 minutes
Simply flavored, sweet, moist white cupcake with a delightful light almond-vanilla flavor and a perfect medium crumb, smothered with the perfect chocolate frosting.
Ingredients
¾ cup milk, room temperature
¼ cup heavy whipping cream, room temperature
6 egg whites
1 teaspoon almond extract
1 teaspoon vanilla bean paste
2¼ cups cake flour
1¾ cups sugar
4 teaspoon baking powder
1 teaspoon salt
¾ cup butter (1½ sticks), softened
Easy Chocolate Frosting
Instructions
For Vanilla Cupcakes:
Preheat oven to 350° F and line cupcake tins with paper liners
Using a small bowl, combine milk, cream, egg whites, almond extract, and vanilla bean with a fork and set aside.
In the bowl of an electric mixer, whisk flour, sugar, baking powder, and salt on low speed. Then using the paddle attachment add the butter and beat at slow speed until the mixture looks like wet sand.
Add half of the milk mixture and beat at medium speed for 90 seconds.
Add the remaining milk mixture and beat for an additional 30 seconds, scraping the sides of the bowl if necessary. Do not over-mix.
Divide the batter evenly between cupcake wells and gently shake the pan to even out the batter. Bake 18-20 minutes or until a toothpick inserted into the center cupcakes comes out clean.
Let cupcakes cool completely before frosting.
For Chocolate Frosting:
In a large mixing bowl, sift powdered sugar and cocoa powder.
Add remaining ingredients and beat with an electric mixer until well blended and smooth.
Notes
Unfrosted cupcakes can be frozen in a covered container for 1-2 weeks.
If not using frosting immediately, it can be refrigerated up to 5 days in an airtight container. Before using, bring to room temperature, and beat on low speed until smooth again.
Recommended Products
As an Amazon Associate and member of other affiliate programs, I earn from qualifying purchases.
Nutrition Information:
Yield:

32
Serving Size:

1
Amount Per Serving:
Calories:

134
Total Fat:

5g
Saturated Fat:

3g
Trans Fat:

0g
Unsaturated Fat:

2g
Cholesterol:

14mg
Sodium:

177mg
Carbohydrates:

20g
Fiber:

0g
Sugar:

12g
Protein:

2g
Nutrition information is estimated based on the ingredients and cooking instructions as described in each recipe and is intended to be used for informational purposes only. Please note that nutrition details may vary based on methods of preparation, origin, and freshness of ingredients used.
I really think the vanilla bean paste adds SO much to this recipe.  Of course, you can simply use vanilla extract,  but I BEG of you, if you've never tried vanilla bean paste, try it with this recipe.  I promise you will fall in love!
This batter was even so incredible that I'm planning to find a recipe for cake batter ice cream! Oh, now that would be TO. DIE. FOR!!
 So chocolate or vanilla……..which do you choose?
Like this Classic Vanilla Cupcakes recipe? Pin It!