Classic Vanilla Cupcakes with Chocolate Frosting
Homemade Vanilla Bean Cupcake – A moist classic white cake saturated with vanilla bean notes and just a touch of almond, topped with homemade chocolate buttercream frosting. These decadent vanilla cupcakes will seriously make you ditch the boxed cake mixes!
Be sure to sign up for my email… to get new recipes and ideas in your inbox!
If you're looking for more simple and sweet cupcake recipes, try our Strawberry Milkshake Cupcakes, Pumpkin Cupcakes, and Chocolate Chip Cookie Dough Cupcakes.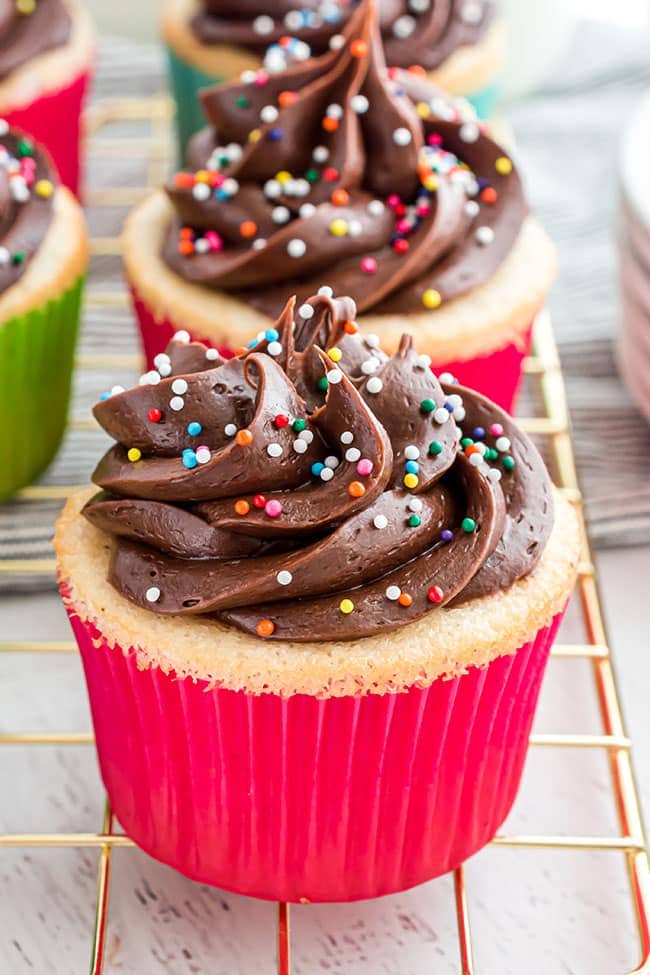 Why This Vanilla Cupcake Recipe Is The Best!
I don't know about you, but sometimes I just crave a simple vanilla cupcake. The warm creamy vanilla notes from vanilla bean paste bring layers and depth making these light and tender white cupcakes from scratch anything but ordinary, the best homemade recipe for perfect cupcakes any time.
Can be used to make cupcakes or cake
A white cake that tastes like a cross between an angel food cake, with a light almond-vanilla flavor, and a pound cake, without the heaviness.
Simply flavored, sweet, and moist with a medium crumb.
Easy and delightful
These cupcakes deliver on EVERY promise!
I'm not one to eat cake without frosting, but these cupcakes smell so incredible when they come out of the oven, I almost always sneak one……..I don't even bother with frosting.
People let me tell you………this is THE BEST Vanilla cake I've ever had!
Top them off with our favorite Chocolate Frosting and you have one classic chocolate and vanilla cupcake that will stand up next to any fluffy ooey-gooey stuffed cupcake you can dream up!
If you are looking to make 24 cupcakes, a 9×13-inch sheet cake, or an 8 or 9-inch layer cake, this vanilla cake recipe is what you need in your recipe box. You can use any frosting, but chocolate buttercream is my family's favorite.
Ingredients For Best Vanilla Bean Cupcakes
(full printable recipe at the end of this post)
Milk, heavy whipping cream, and egg whites should all be at room temperature so that they incorporate easily.
Vanilla bean paste and almond extract round out the wet ingredients. True vanilla enhance flavors in baking just as salt does in cooking.
Cake flour is key as it provides these vanilla bean cupcakes with a lighter, tender texture due to lower gluten content when baking.
Sugar, baking powder, and salt round out our usual suspects. Just make sure your baking powder is fresh!
Butter should be softened, not melted, as it changes the makeup of the batter.
Easy Chocolate Frosting with Ghiradelli cocoa powder, yum!
How To Make Vanilla Cupcakes From Scratch
STEP ONE: Place paper liners in a cupcake pan and preheat the oven to 350° F
STEP TWO: Combine the wet ingredients except for butter and set aside.
STEP THREE: With an electric mixer, whisk the dry ingredients together, add the butter and mix until the mixture looks like wet sand.
STEP FOUR: Add half of the milk mixture and beat at medium speed for 90 seconds. Then add the remaining milk mixture and beat for an additional 30 seconds.
STEP FIVE: Divide the vanilla cupcake batter into the lined cupcake pan. Bake, cool completely, frost, and try not to eat too many!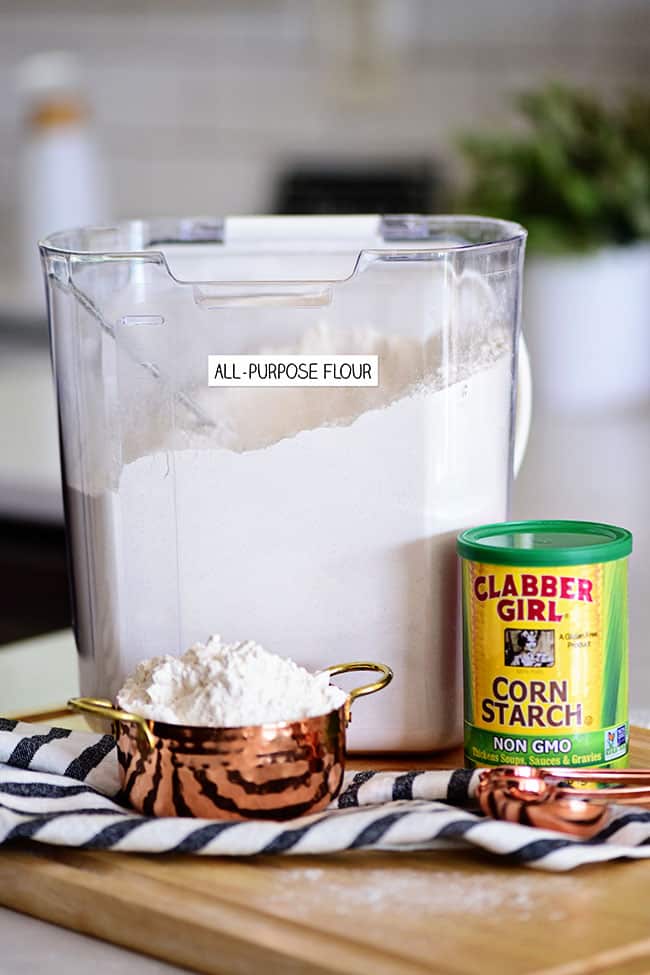 How To Substitute All-Purpose Flour For Cake Flour
No cake flour? No problem! You can substitute all-purpose flour, but your cupcakes will be a bit denser. All-purpose flour has a higher protein content and won't be as light and airy, which is A-ok if that is what you prefer!
There is an easy hack to use all-purpose flour by adding cornstarch. For every measured and leveled cup of flour, remove 2 tablespoons and replace it with 2 tablespoons of cornstarch. Whisk that together and for optimum results, sift the combined flour and cornstarch together – twice!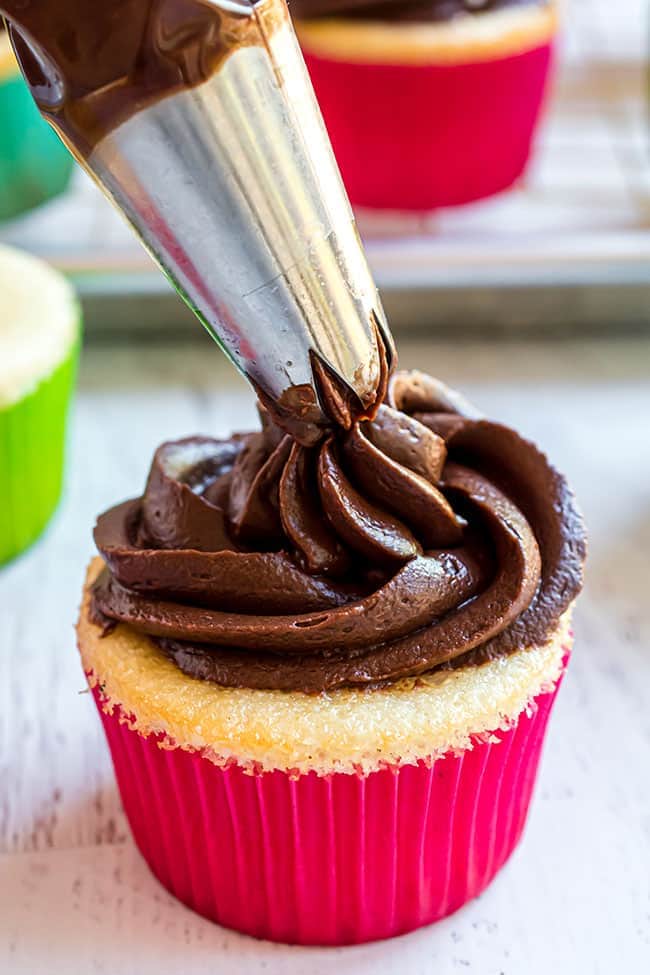 Best Way To Store Frosted Cupcakes
Cupcakes with buttercream can be stored at room temperature for up to 2 days (as long as your house isn't too warm – try to keep them in the coolest room then or store them in fridge as explained below)
Frosted cupcakes can be stored in an air-tight container (deep enough to hold your cupcakes) in the refrigerator for up to 5 days. Take the cupcakes out of the fridge, remove them from the container and let them sit at room temperature for at least an hour before serving.
Unfrosted cupcakes will keep well in an airtight container at room temperature for up to 3 days.
For make-ahead cupcakes, cover completely cooled unfrosted vanilla cupcakes individually with plastic wrap then place in a freezer-safe plastic bag or container. Freeze for up to 3 months. Thaw before frosting. Remove plastic wrap and let them come to room temperature on the counter.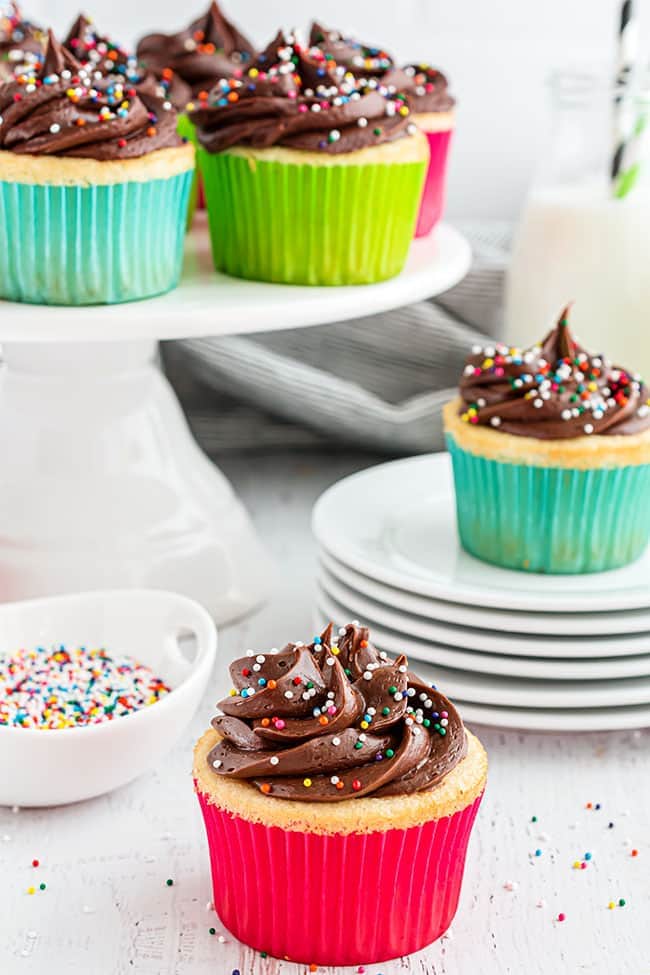 Vanilla Cupcake Tips
Use vanilla bean paste instead of vanilla extract for the best vanilla flavor. It can be a little pricey (see notes below), but vanilla is the main flavor in these cupcakes, making it worth the splurge.
If you can't use vanilla bean paste, use vanilla extract (you can even make your own vanilla), just do not use artificial vanilla flavoring aka imitation vanilla. While it may smell like vanilla, it doesn't compare to the complex floral and woodsy notes in real vanilla.
Don't overmix the batter, to keep the cake light and fluffy.
Make sure ingredients are at room temperature.
Use a medium cookie scoop to evenly fill each of the wells of the cupcake pan with 2 tablespoons of batter (yields about 30 cupcakes)
Make sure cupcakes have cooled completely before frosting, or your buttercream will start to melt if the cake is still warm. Cool on a wire rack to allow air to circulate under the cupcakes for faster cooling.
Wait! Why Is Vanilla Bean Paste So Expensive?
First, the vanilla bean comes from an orchid plant, and that should start to give you a hint of why vanilla is expensive. Add to that, a problem with the loss of plants in Madagascar due to a devasting storm a few years ago caused the price of vanilla to skyrocket.
Madagascar supplies almost 80% of the world's vanilla supply, and vanilla was selling for over $500/kg at one point. It's down quite a bit at about half that amount now.
If this is your first foray into using real vanilla bean paste for baking, you might get a little sticker shock. The vanilla bean industry is considered one of the most volatile agricultural products globally. Fortunately for us, the prices are starting to slide back down the other side of mount crazy expensive, yay!
Does Using Vanilla Bean Paste Really Matter?
Yes, using real vanilla bean paste for this vanilla cupcake impacts the flavor profile so intensely that you should at least try it and decide for yourself.
Most pastry chefs will maintain that using vanilla bean paste matters the most when vanilla is the primary flavor of your baked good or confection.
With that said, what makes these vanilla bean cupcakes so dreamy and delectable is the vanilla bean paste! If you haven't worked with vanilla bean paste before, then you are in for a treat!
I have some other informative FAQs about vanilla below.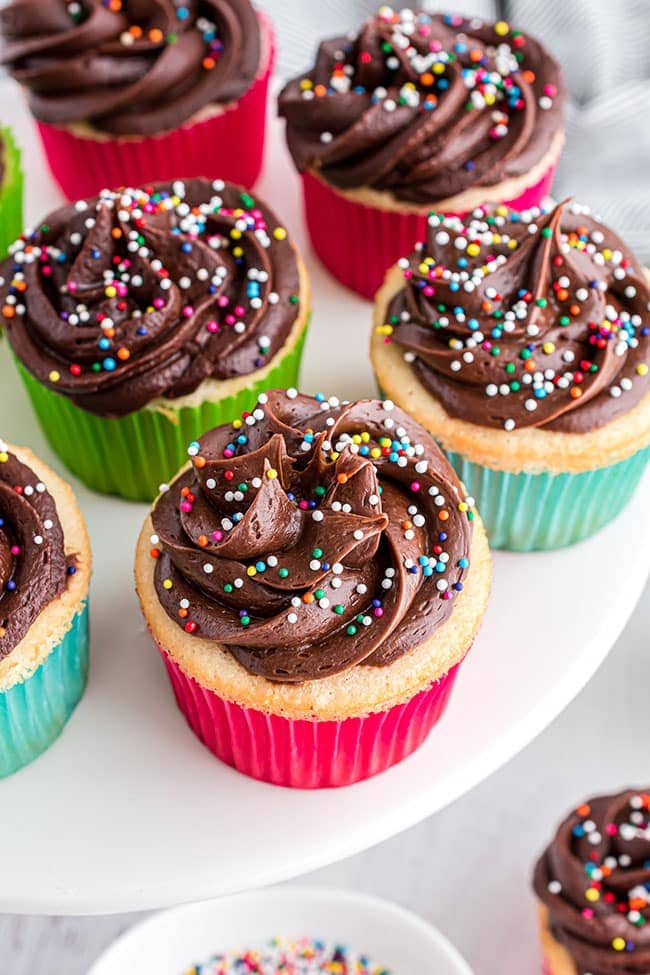 Vanilla and Vanilla Bean FAQs
Here's a quick explanation of several variations of vanilla you will find if you explore the world of the vanilla bean!
What is the difference between vanilla extract and vanilla flavor?
Alcohol. Both use vanilla beans, but extracts are made with alcohol, so they cannot be labeled as extracts when alcohol is not used.
Extracts are regulated in the US. If the label says "pure" vanilla extract, it will contain only three ingredients: alcohol, vanilla bean, and water.
What is the difference between vanilla and vanillin?
Vanillin is actually one of the plant compounds contained in the vanilla bean. The vanillin compound is what tastes like vanilla to us. All forms of vanilla will have a vanillin compound, although all forms of vanillin are not the same.
Is vanilla flavoring the same as imitation vanilla?
No, and not just in the sense of alcohol extract vs. non-alcohol flavoring. Vanilla flavoring will contain vanillin from the vanilla bean.
Imitation vanilla uses synthetic vanillin; as explained above, the compound that mimics the vanilla flavor. This synthetic vanillin is derived from a plethora of sources; some are not too appetizing or healthy.
Bottom line: when a baking recipe calls for real vanilla bean or pure vanilla extract, the less expensive version of imitation vanilla may seem appealing, but if at all possible, resist the urge.
Like This Vanilla Bean Cupcake Recipe? Pin It!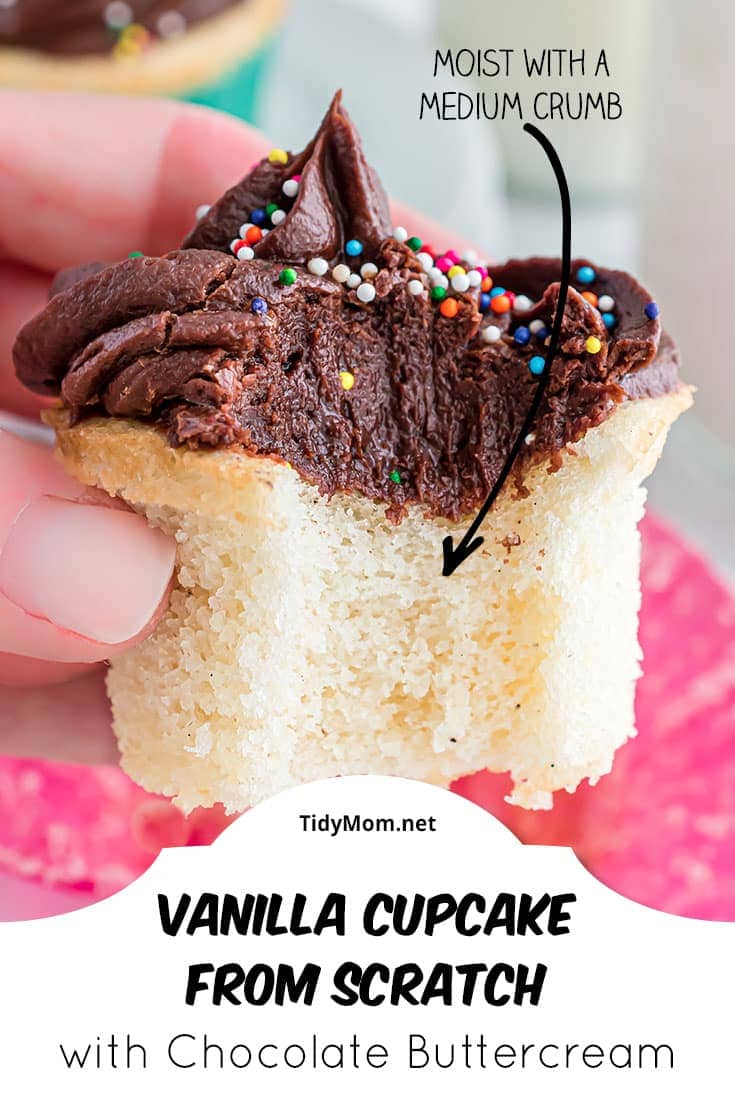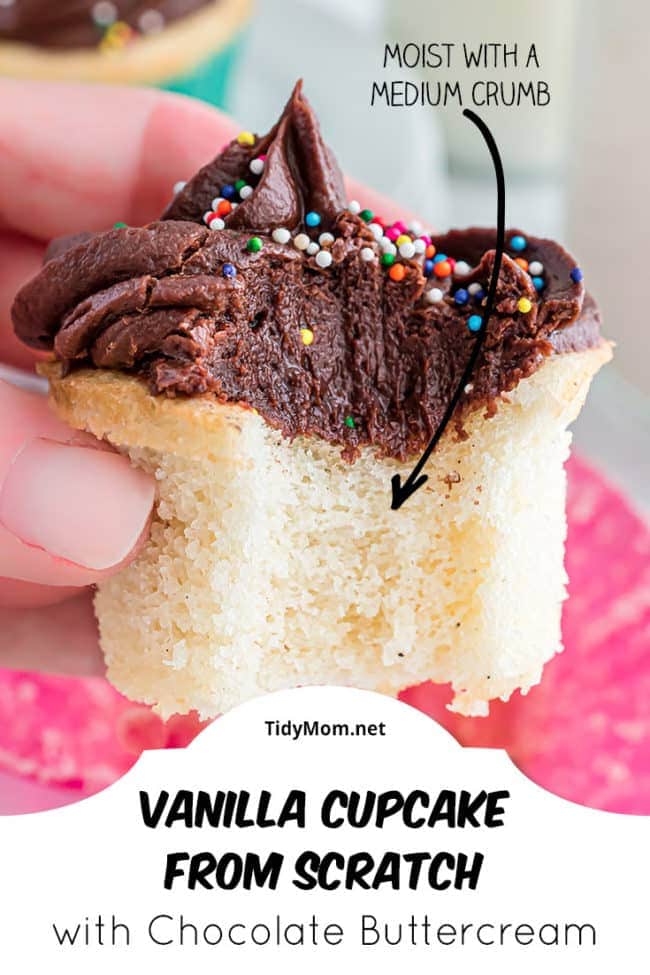 Originally posted in June 2012. UPDATED June 2022. We spiffed up this post with more info and better pictures! No changes to the original recipe.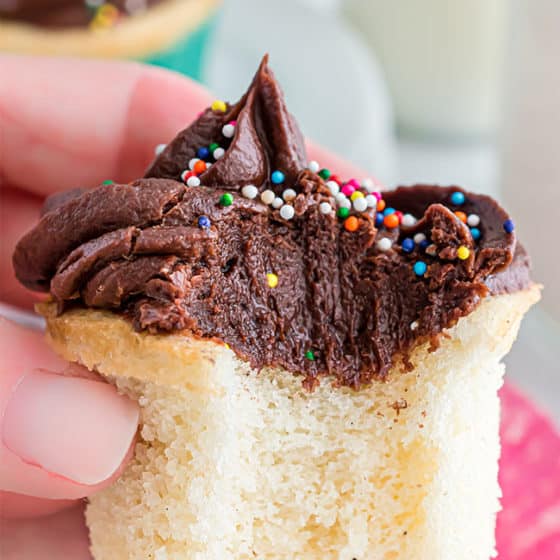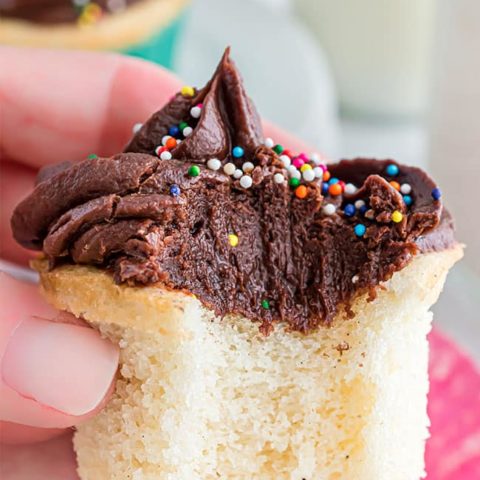 Vanilla Cupcakes
Yield: 30-32 cupcakes
Prep Time: 20 minutes
Cook Time: 18 minutes
Additional Time: 45 minutes
Total Time: 1 hour 23 minutes
Simply flavored, sweet, moist white cupcake with a delightful light almond-vanilla flavor and a perfect medium crumb.
Ingredients
¾ cup milk, room temperature
¼ cup heavy whipping cream, room temperature
6 egg whites
1 teaspoon almond extract
1 teaspoon vanilla bean paste
2¼ cups cake flour
1¾ cups sugar
4 teaspoon baking powder
1 teaspoon salt
¾ cup butter (1½ sticks), softened
Instructions
For Vanilla Cupcakes:
Preheat oven to 350° F and line cupcake tins with paper liners
Using a small bowl, combine milk, cream, egg whites, almond extract, and vanilla bean with a fork and set aside.
In the bowl of an electric mixer, whisk flour, sugar, baking powder, and salt on low speed. Then using the paddle attachment add the butter and beat at slow speed until the mixture looks like wet sand.
Add half of the milk mixture and beat at medium speed for 90 seconds.
Add the remaining milk mixture and beat for an additional 30 seconds, scraping the sides of the bowl if necessary. Do not over-mix.
Divide the batter evenly between cupcake wells (2 tablespoons per cupcake) and gently shake the pan to even out the batter. Bake 18-20 minutes or until a toothpick inserted into the center cupcakes comes out clean.
Let cupcakes cool completely before frosting.
Notes
Unfrosted cupcakes can be frozen in a covered container for 1-2 weeks.
**Nutrition information does not include frosting**
Recommended Products
As an Amazon Associate and member of other affiliate programs, I earn from qualifying purchases.
Nutrition Information:
Yield: 32
Serving Size: 1
Amount Per Serving:
Calories: 129
Total Fat: 5g
Saturated Fat: 3g
Trans Fat: 0g
Unsaturated Fat: 2g
Cholesterol: 14mg
Sodium: 175mg
Carbohydrates: 19g
Fiber: 0g
Sugar: 11g
Protein: 2g
Nutrition information is estimated based on the ingredients and cooking instructions as described in each recipe and is intended to be used for informational purposes only. Please note that nutrition details may vary based on methods of preparation, origin, and freshness of ingredients used.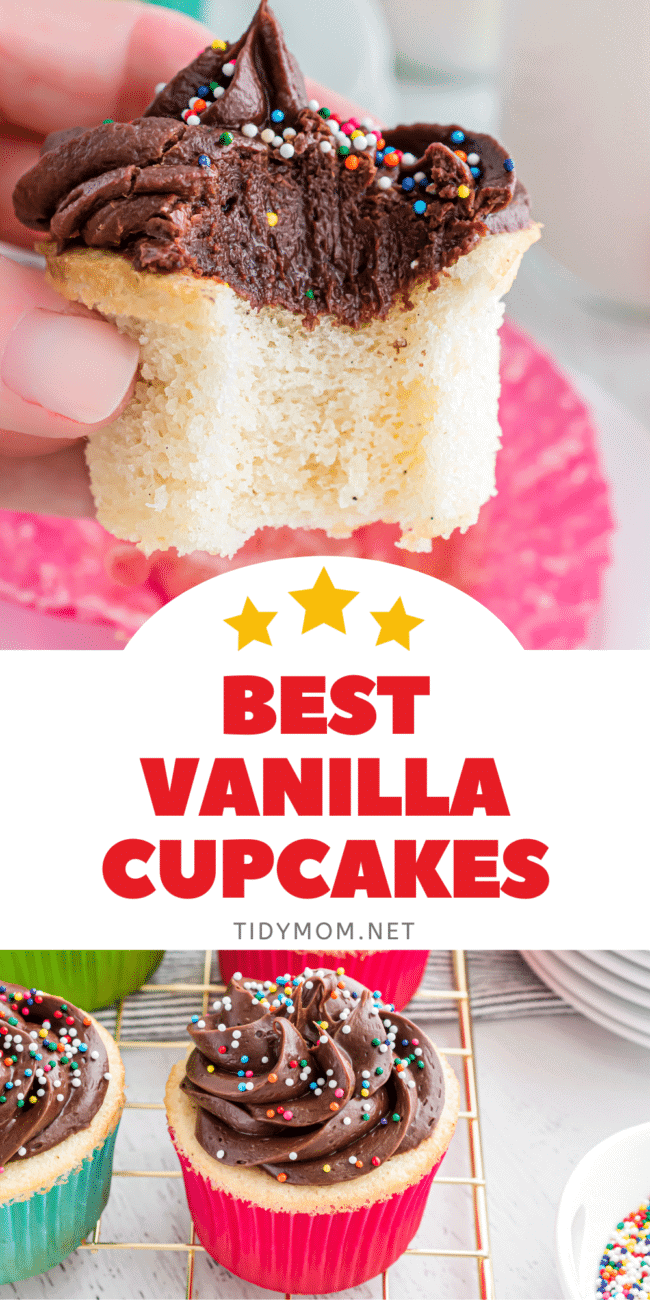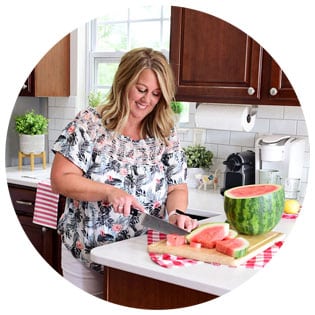 Hi there, I'm Cheryl!
As a wife, mom, and caffeine enthusiast, my journey has taken me from bustling mornings with my family to sharing delicious recipes, home care tips, and heartfelt decorating insights with wonderful readers like you. My love for baking, photography, and tidiness shines through every post I craft. Dive into my world and discover the art of homemaking, one tidy moment at a time. Read more...
Tidymom is a participant in the amazon services llc associates program, an affiliate advertising program designed to provide a means for sites to earn advertising fees by advertising and linking to Amazon.com.
Please respect my work, recipes and photographs. If you do use a recipe in your own writing, please give proper credit and link back to the original post.