Summer Love! Peach Sangria Recipe (With Rosé)
Peach Rosé Sangria is elegant, fruity, and refreshing; ripe summer peaches, berries, and citrus slices, deliciously steeped in blushing rosé and peach vodka. A new summer love!
This peach sangria needs to become part of your summer cocktail arsenal along with our Sangria Mexican Mule, Ginger Peach Bourbon Smash, Watermelon Grapefruit Wine Slushie, Peach Frosé, or Rosé Summer Sangria With Berries. All party-perfect or for porch sipping.
Be sure to sign up for my email… to get new recipes and ideas in your inbox!
Why You'll Love Peach Sangria With Vodka
Fresh fruity, and inviting peach sangria will blow your guests away! A punch-packing summer sangria recipe with rosé and the mischievously crafty addition of vodka infused with real peach juice!
Quick and Easy! Slice some fruit and pour wine and vodka.
Make-Ahead Cocktail. Mix most of the ingredients together, then let it sit in the fridge several hours.
Flavorful. Fruity, sweet, and delicious, an invigorating summer love peach sangria recipe with the added benefit of antioxidant-rich berries. (who doesn't love a health boon to their booze?)
Peach vodka enhances the gorgeous aromatics and flavor of fresh peaches in rosé sangria by using real peach juice.
Made For Easy Entertaining. Rosé sangria with peaches is easy to serve in elegant stemware; gorgeous to look at, but even better to savor and enjoy!
Rosé or White Wine – you're choice.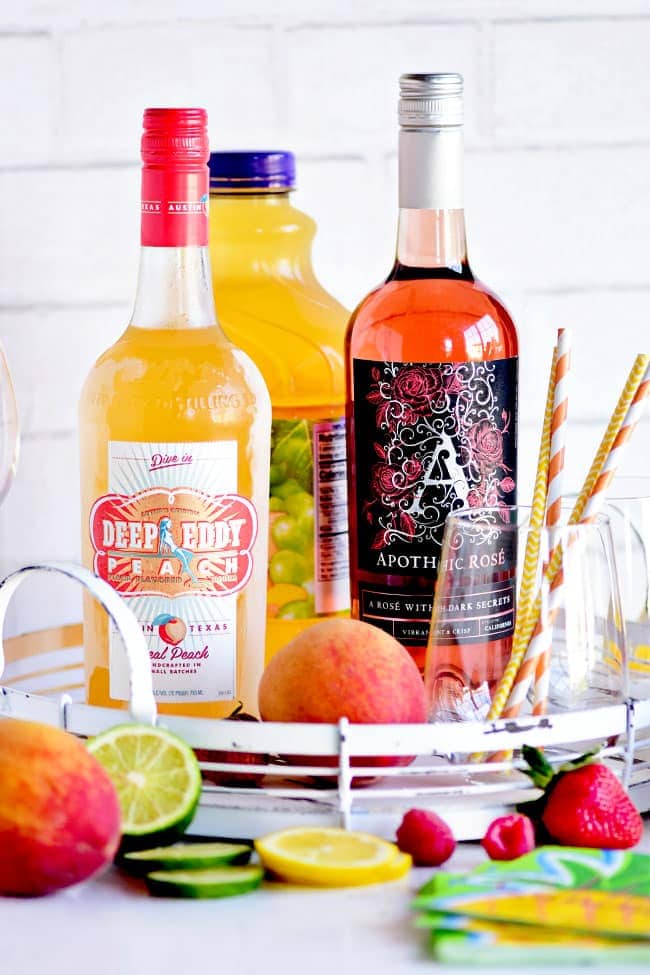 Peach Sangria With Rosé Wine Ingredients
(full printable recipe at the end of this post)
White Grape Peach Juice – you can also use straight-up peach juice or peach juice with pear if you can't find white grape peach juice. Just make sure it's 100% juice.
Rosé Wine – hits softer, fruity notes without the complex oaky tannin elements. These days, most rosés tend to be less sweet and a skosh drier. This is balanced out beautifully by peach juice. White wine is also a winner; go for fruit-forward wines and leave the oaks for grilled fish and veggies.
Peach Vodka – we like Deep Eddy's Peach Vodka. Hand-crafted, award-winning, small-batch vodka with real peach juice. You can use regular vodka or other fruit-infused flavors on hand that will complement the fruit.
Fresh Lime & Lemon Slices – select smooth, unblemished fruit and wash well. You don't want to leave citrus fruit marinating for extended periods because it can turn bitter.
Fresh Peaches – choose fresh peaches based on how quickly you want to make peach sangria. See the FAQs for more info. Please don't squeeze the Charmin; I mean peaches! Squeezing peaches damage and bruise the fruit.
Fresh Raspberries & Strawberries – do not wash fresh berries until you are ready to serve. Berries start breaking down from extra moisture and become mushy more quickly.
Home Mixologist Tips
Prep lemon & lime slices in advance and freeze in an airtight container. Store the extra slices in the freezer for the next pitcher of sangria or additional garnishes.
Store vodka in the freezer! This way it's always cold and ready to use.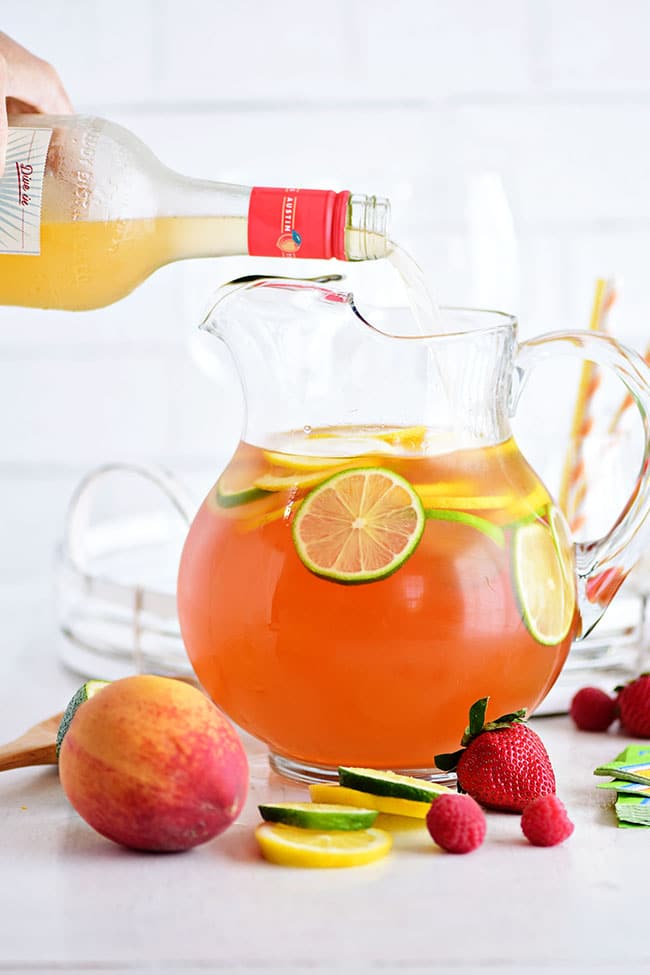 How Do You Make Sangria With Rosé Wine?
STEP ONE: Combine vodka, rosé, juice, and citrus in a pitcher. Cover and give it a good chill.
STEP TWO: Add peaches and berries an hour before serving over ice and garnish with extra fruit and fresh mint.
Voila! rosé peach sangria recipe is so simple you'll want to make it on repeat all summer long.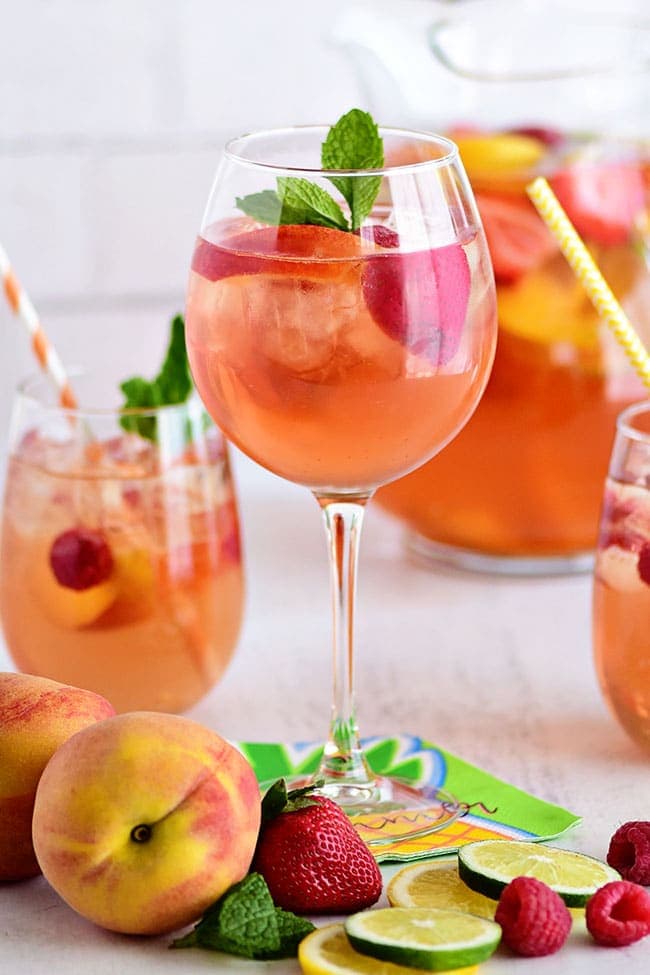 White Sangria Recipe Notes
Chill sangria ingredients ahead of time to cut down on chill time.
Pre-chilled peach sangria ingredients will still need to marinate together for a few hours for the yummy flavors to bloom and fuse.
If you catch yourself short on time, using frozen berries makes perfect frozen "berry cubes" to help chill wine and infuse flavors.
Rosé ice cubes are another option when serving sangria without watering it down. Grab an extra bottle of rosé and freeze some in ice cube trays. You could even drop berries in to freeze with the rosé.
Substitute rosé with a Reisling, pinot grigio, or sweet Moscato.
Sauvignon Blanc is my favorite if you prefer something drier and less sweet.
If dietary restrictions preclude you from the addition of white grape peach juice, here are some lower-sugar options. You can try Bubly peach sparkling water, peach Vitamin Water or Sprite.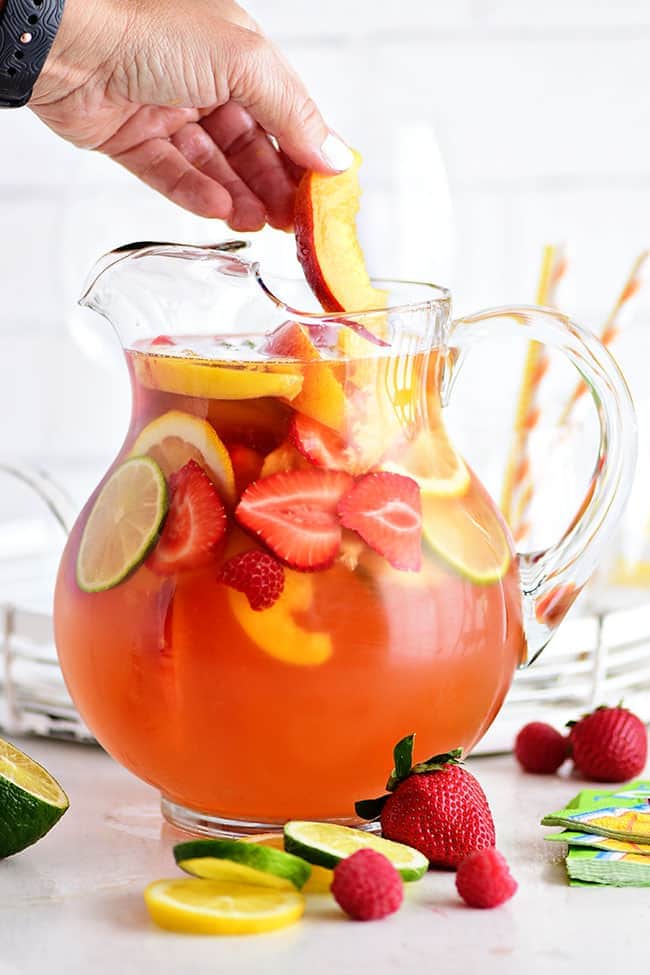 White Sangria With Peaches FAQs
What if my peaches are hard? What's the best way to ripen peaches for sangria?
Ripen peaches in a single layer in a closed paper bag at room temperature before refrigerating. You can add apples or bananas to the bag to speed up the process. Once the peaches are ripe you can store them in the refrigerator. The cool temperature slows down ripening.
Peaches that are refrigerated unripened will turn mealy when they ripen up later.
How Long Will Peach Sangria Last In the Fridge?
Leftover white sangria with peaches will keep in the fridge for up to 5 days. I recommend removing the citrus. If you hold onto the peach sangria for a couple days, I would strain all the fruit out and freeze it in a freezer-safe plastic bag. When ready to enjoy, drop the frozen fruit back in the sangria. (Or make yourself a tall glass of soda water and use the steeped fruit as ice cubes; waste not, want not!)
Can I Freeze Peach Sangria With Berries?
Yes, remove the fruit and transfer sangria to a freezer-safe container to freeze for an extended period. To thaw, transfer to the refrigerator overnight and add fresh fruit before serving. Peach sangria with vodka should keep 3-4 months in the freezer.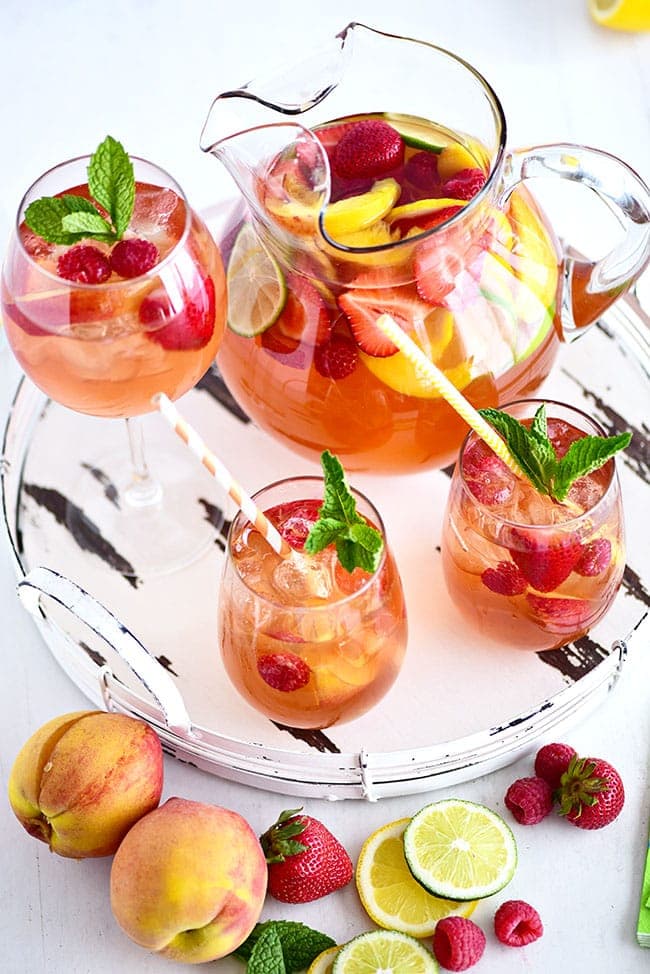 How do I pick peaches for sangria?
Color – Don't focus on the blushing red part of the fruit (like I always did); look at the yellow portion of the peach. The color should be a warm yellow to golden color.
Weight – an indicator of ripeness is the density of the fruit. As the sugars ripen, the heavier the peach feels when you heft it.
Smell – simple; if there is no fruity, floral, heavenly peach aroma, it ain't ripe! Always sniff the stem area of the fruit (something else I didn't know)
Do I need to peel peaches for white sangria?
Well, do you like the skins on peaches? I love them and would never think of wasting the nutrient-packed skins. Plus, they add extra dimension and color to peach sangria.
Can I freeze leftover peaches?
Of course, it's a perfect way to have extra summer peaches sliced and ready for summer sangria with peach vodka. No need to thaw; just take what you want and add to the sangria, then plop the rest back into the freezer.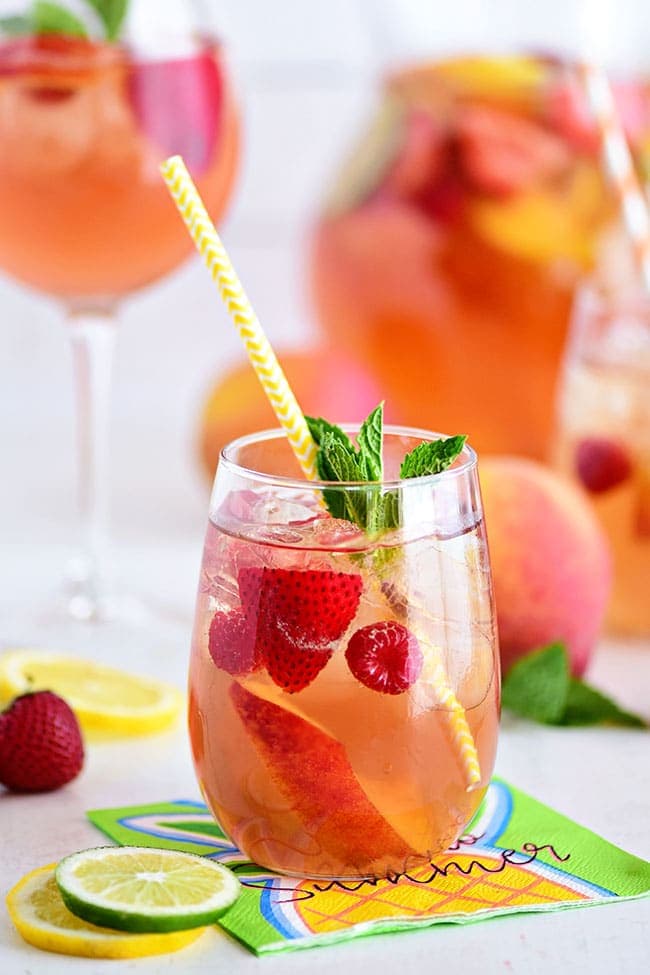 What to Serve With Sangria?
Try any or all of these recipes:
Zesty Shrimp Bowl with Roasted Corn
Easy & Elegant Meat and Cheese Board
Grilled Grape Brie and Arugula Flatbread Pizza
Like This Peach Sangria Recipe? Pin It!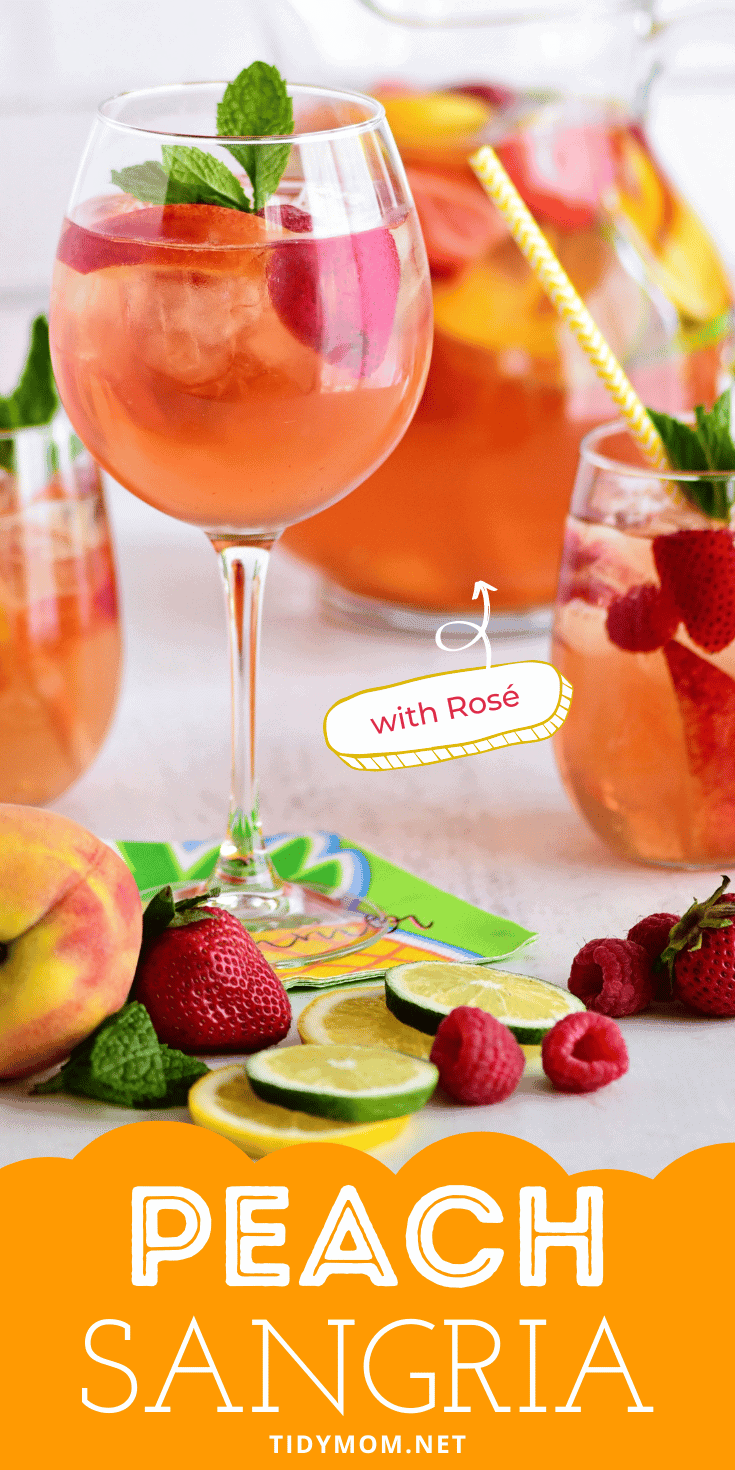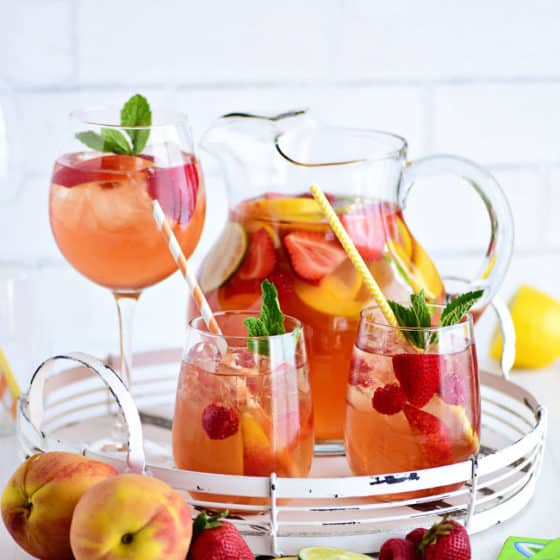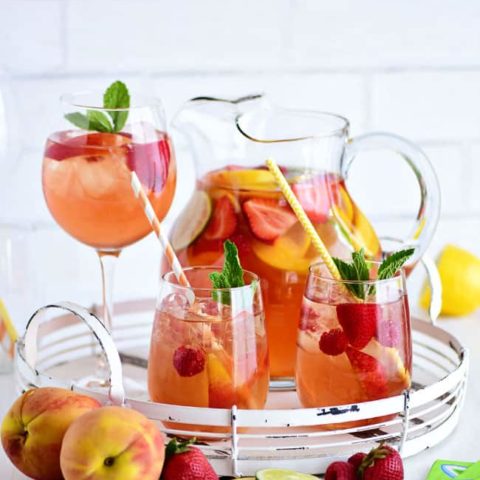 Peach Sangria
Yield: 12
Prep Time: 10 minutes
Chill Time: 3 hours
Total Time: 3 hours 10 minutes
Fresh fruity, and inviting PEACH SANGRIA will blow your guests away! A punch-packing summer sangria recipe with rosé and the mischievously crafty addition of vodka infused with real peach juice!
Ingredients
1 (64 ounce) bottle white grape peach juice
1 (750 ml) bottle of rosé wine (or white wine - see notes)
1 cup peach vodka
1 lime, thinly sliced
1 lemon, thinly sliced
2 fresh peaches, sliced *+extra for garnish
1/2 cup fresh raspberries *+extra for garnish
5-6 fresh strawberries, sliced *+extra for garnish
fresh mint for garnish
Instructions
In a large pitcher, combine juice, wine, vodka, lemon, and lime slices. Stir to mix well, cover, and chill for several hours.
30-60 minutes before serving add peaches and berries to the pitcher.
Serve over ice in a wine glass with extra fruit and fresh mint.
Notes
Chill everything ahead of time to cut down on chill time. You will still want the mix to chill a few hours for the flavors to mingle.
Substitute rosé with Reisling. Pino Grigio or a sweet Mascato will work. If you prefer something drier and less sweet, Sauvignon Blanc is my favorite.
We like Deep Eddy peach vodka (keep it in the freezer so it's nice and cold)
Save some fruit for garnish/serving
Don't have fresh fruit? frozen will work too!
Leftover Sangria will keep in the fridge for up to 5 days. or 3-4 months in the freezer. To freeze; remove the fruit and transfer sangria to a freezer-safe container. To thaw, transfer to the refrigerator overnight and add fruit before serving.
Recommended Products
As an Amazon Associate and member of other affiliate programs, I earn from qualifying purchases.
Nutrition Information:
Yield: 12
Serving Size: 1
Amount Per Serving:
Calories: 117
Total Fat: 0g
Saturated Fat: 0g
Trans Fat: 0g
Unsaturated Fat: 0g
Cholesterol: 0mg
Sodium: 6mg
Carbohydrates: 17g
Fiber: 2g
Sugar: 14g
Protein: 1g
Nutrition information is estimated based on the ingredients and cooking instructions as described in each recipe and is intended to be used for informational purposes only. Please note that nutrition details may vary based on methods of preparation, origin, and freshness of ingredients used and are just estimates. We encourage, especially if these numbers are important to you, to calculate these on your own for most accurate results.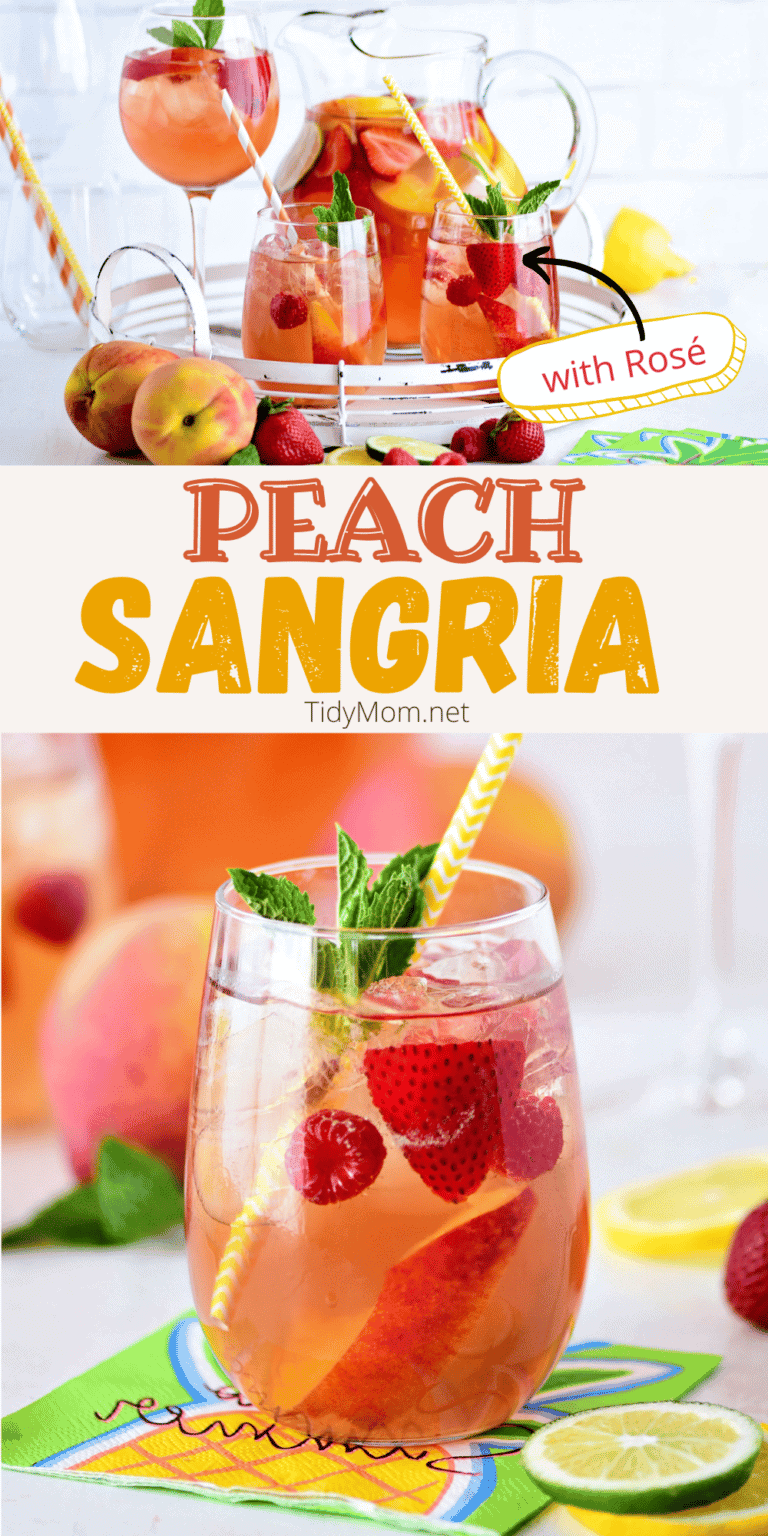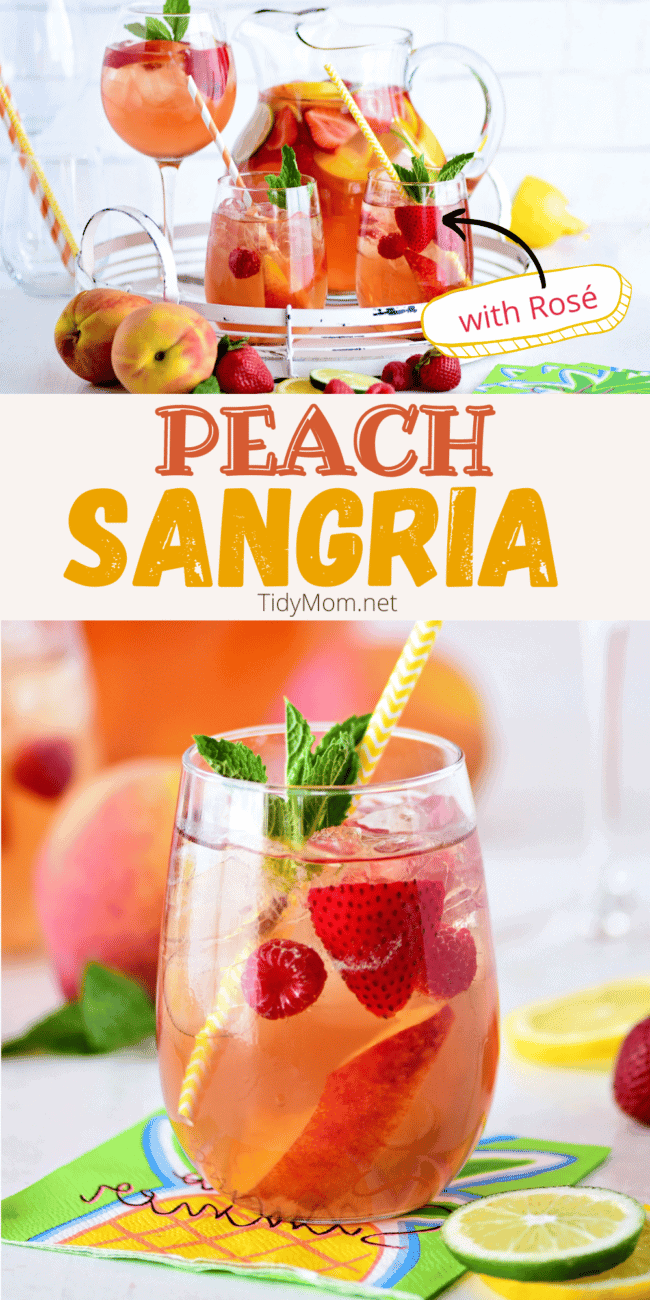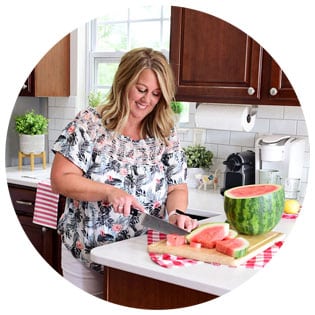 Hi there, I'm Cheryl!
As a wife, mom, and caffeine enthusiast, my journey has taken me from bustling mornings with my family to sharing delicious recipes, home care tips, and heartfelt decorating insights with wonderful readers like you. My love for baking, photography, and tidiness shines through every post I craft. Dive into my world and discover the art of homemaking, one tidy moment at a time. Read more...
Tidymom is a participant in the amazon services llc associates program, an affiliate advertising program designed to provide a means for sites to earn advertising fees by advertising and linking to Amazon.com.
Please respect my work, recipes and photographs. If you do use a recipe in your own writing, please give proper credit and link back to the original post.