Grilled Grape Brie and Arugula Flatbread Pizza
Creamy brie, blue cheese and juicy grapes come together for a fresh new take on artisan pizza, Grilled Grape Brie and Arugula Flatbread Pizza.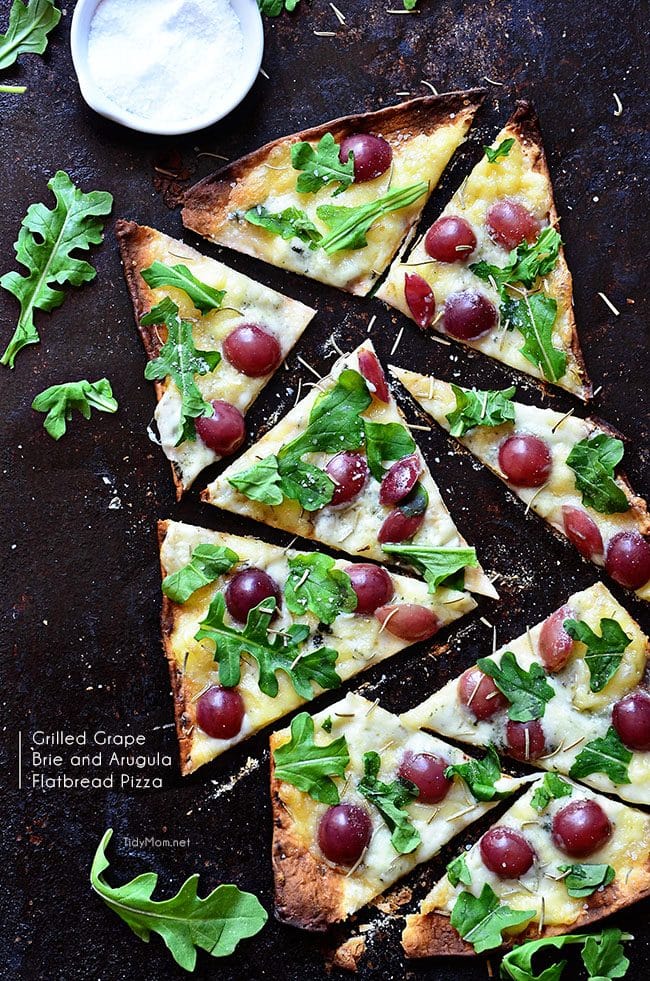 As summer winds down, I find myself looking for recipes that require minimal effort and time. Grilling pizza always fits both of those requirements! It's also a great option when the weather is warm and I don't want to turn on my oven. You can't beat how dang fast it is to grill pizza.
I know what you're thinking……"grapes on pizza?" . But stay with me a minute, I promise you wont be sorry. This pizza begins with glorious brie cheese, which pairs wonderfully with fruit in sandwiches and salads. Topping them together on pizza is even more amazing, the cheese is able to melt and the grapes add a burst of sweetness. The thin, grilled crisp crust of the flatbread provides the perfect delivery…. don't skip the sea salt, the sweet and salty combo really elevates this flatbread to a whole new level.

This Grilled Grape Brie and Arugula Pizza starts with a pre-made flatbread pizza crust (I love the Flatout Artisan Thin Pizza Crust) which adds to my "minimal effort" requirement. Simply top the flatbread crust with some brie, blue cheese, sliced grapes and rosemary, place on a hot grill until the cheese melts (2-3 minutes) then top with some arugula and a sprinkle of sea salt. That's it!
This Grilled Grape Brie and Arugula Pizza makes a fabulous appetizer and would be wonderful served at a brunch or luncheon.
I love that all the ingredients can be found year round, so I can make this flatbread pizza any time, and if it's too cold to fire up the grill, just toss it in the oven. You could also make your own flatbread crust, you'll just need to allow a little more prep and cooking time.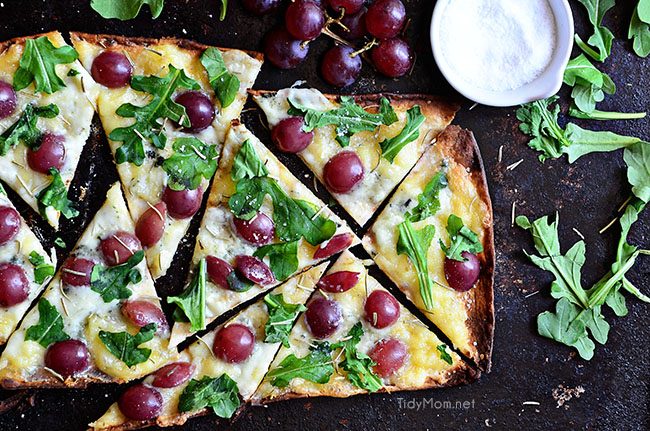 Juicy grapes, creamy brie cheese, and arugula is one of the most delicious combinations that could ever be put on a pizza. A delicious appetizer (or snack) that you'll be serving time and again.  Or serve alongside Beef Tenderloin Salad with Homemade Honey Mustard for a complete meal!
Grilled Grape Brie and Arugula Flatbread Pizza Recipe
Grilled Grape Brie and Arugula Flatbread Pizza
Ingredients:
Directions:
Preheat grill to medium indirect heat.
Top flatbread evenly with cheeses, grapes, and rosemary.
Place pizza on grill, close the grill and cook until the cheese is melted and the bottom of the crust is crispy, 2-3 minutes.  Stay close by and watch closely.
Carefully remove pizza from grill, top with arugula and sprinkle with sea salt. Cut and serve hot.
This isn't really a recipe. It's more of a list of toppings and simple assembly.  The quantities will vary based on the size of your crust, or how many pizzas you make and your desired taste.
Making this recipe? Share it with us on Instagram using the hashtag #TidyMom so we can see what you're creating in the kitchen!
Want more great recipes like this? Follow my TidyMom Easy Recipes Pinterest Board