Grilled Lemon Rosemary Chicken Tenders
This post may contain Amazon or other affiliate links. As an Amazon associate, I earn from qualifying purchases.
Say goodbye to dinner dilemmas with these moist and juicy Grilled Chicken Tenders! Perfect for busy evenings, this quick and easy recipe will have dinner on the table in no time. With fresh rosemary, garlic, and a pop of lemon plus golden notes of honey for grilling, baking, or air-frying chicken. It's love at first bite with kids and adults!
Looking for more easy chicken recipes? We've got you covered! Try Chicken Waldorf Salad, Sheet Pan Chicken Fajitas, Mississippi Chicken, or Greek Chicken Wrap (delicious when using leftover grilled lemon rosemary chicken, too!)
Be sure to sign up for my email… to get new recipes and ideas in your inbox!
Why You'll Love These Grilled Chicken Tenders
This lemon rosemary grilled chicken recipe is a family favorite all year long. It's one of my go-to recipes for a quick dinner idea.
Marinated grilled chicken tenders take less than 10 minutes from grill to table.
Homemade chicken tenders are a lean and nutritious choice that you can feel good about serving, and enjoying –unlike most fast food.
Grilled chicken tenderloins are perfect for a summer barbecue or a weeknight meal.
Rosemary lemon chicken marinade is ideal for grilling, roasting, or pan-frying chicken; shrimp too!
Double the grilled rosemary basil chicken recipe to use for meal-prep recipes or use leftovers for my Summer Chicken Salad with fruit.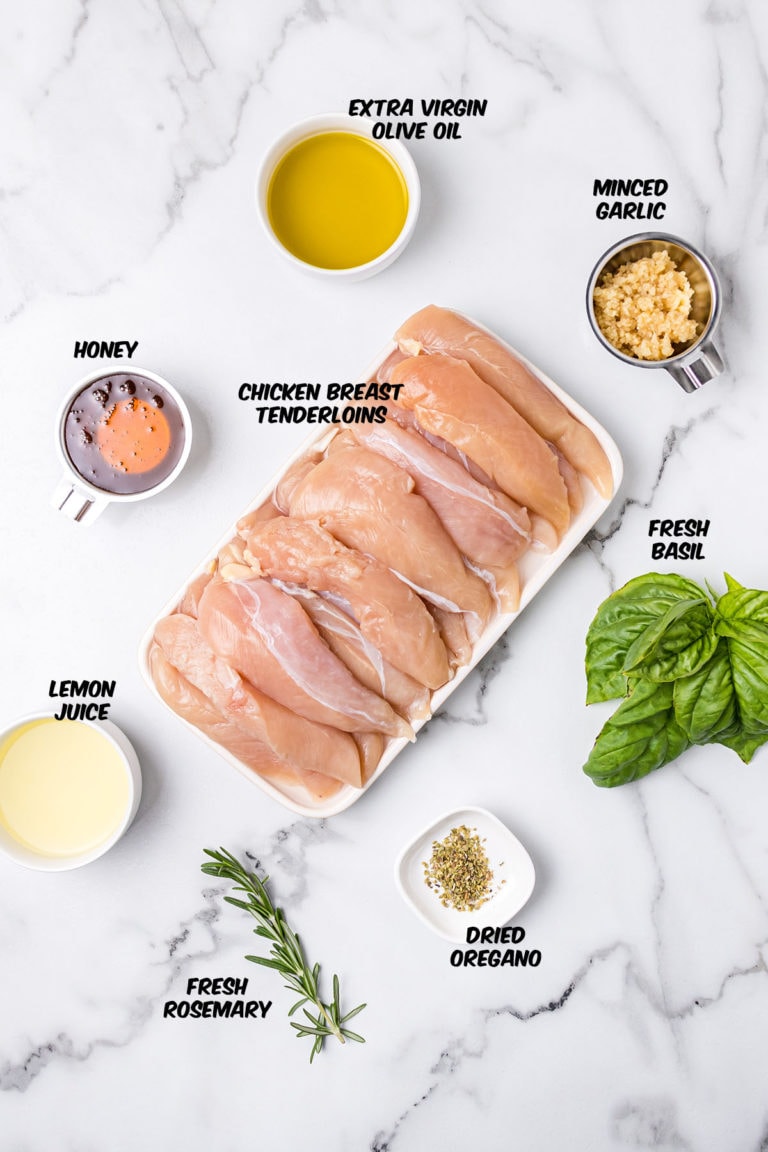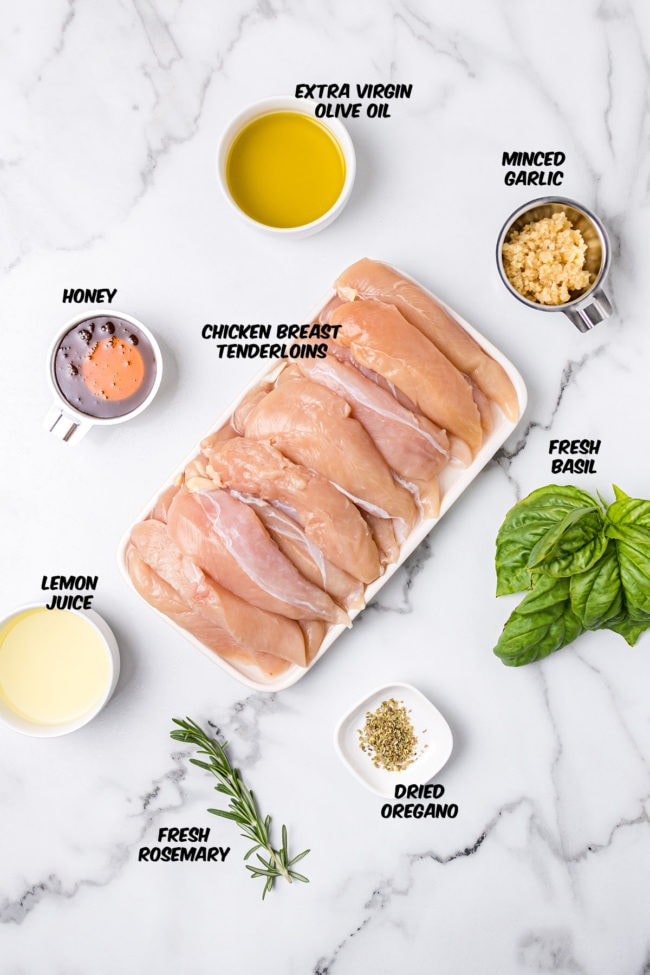 Ingredients For Grilled Rosemary Lemon Chicken
The easy marinade does all the work in as little as 30 minutes or up to 8 hours while you are at work.
For specific amounts, please refer to the printable recipe card at the bottom of the post.
Chicken Breast Tenderloins – are best for grilling up a quick and easy summer meal. You can make your own out of chicken breast. (see below)
Extra Virgin Olive Oil – (EVOO) adds moisture* to grilled chicken and helps transfer fat-soluble flavors to the poultry.
Lemon Juice – is the acidic element that breaks down the protein to tenderize the chicken and add that tangy note to grilled chicken. Use freshly squeezed lemon juice when you can.
Honey – adds a hint of sweetness to balance the aromatic herbs.
Garlic – fresh minced garlic.
Dried Oregano & Fresh Rosemary lend a bit of the Mediterranean with robust warmth, minty pepper, and earthy, woodsy pine and citrus notes.
Fresh Basil – adds gorgeous vibrant color and bright notes of floral, woodsy green, and citrus.
*Chef's Tip: Keep a spray bottle with olive oil next to the grill and give your meats and vegetables a spritz after turning them the first time. This will keep your grilled foods very moist and protect them from burning/charring before they are done.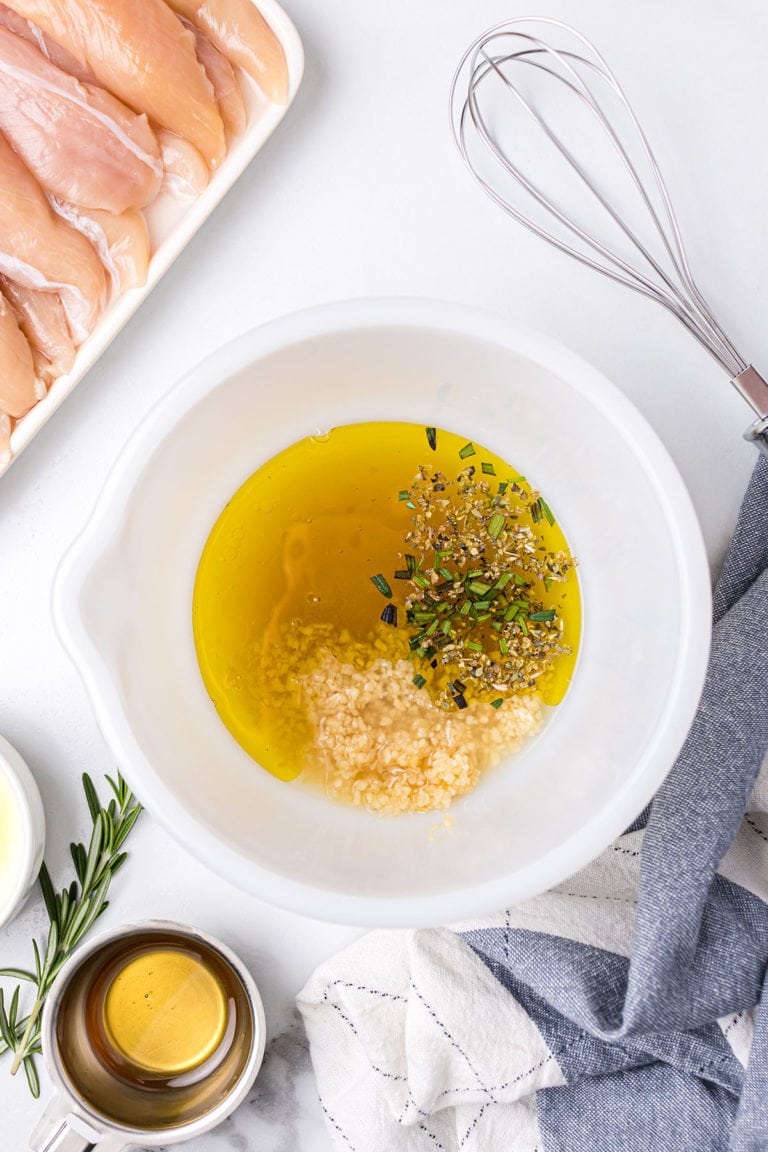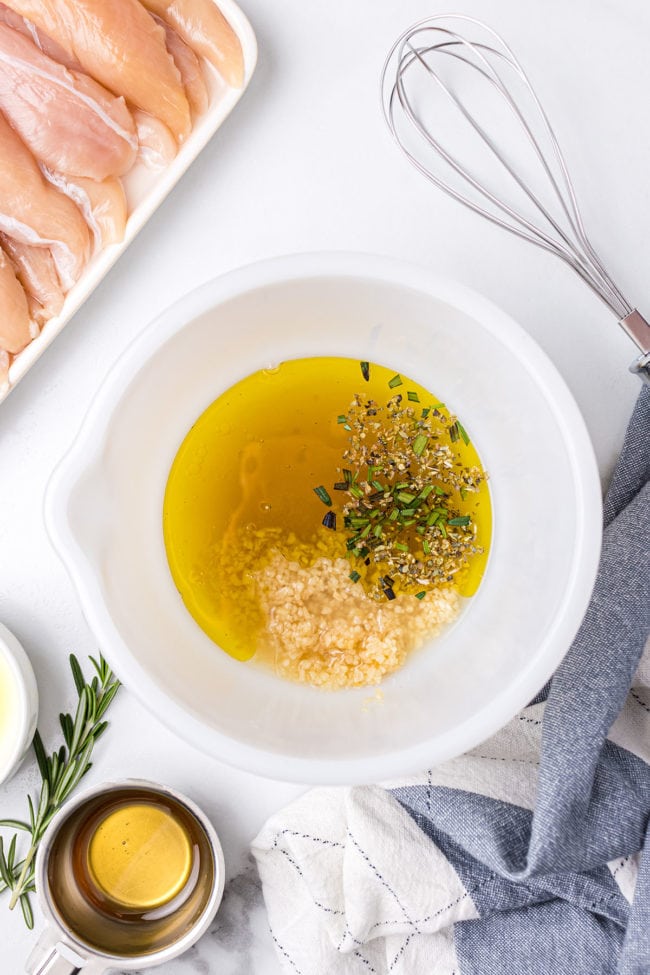 This post may contain affiliate links. Please read my disclosure policy here.
How To Make Grilled Chicken Tenders
I like to whip up this easy chicken marinade recipe beforehand so the flavors have enough time to blend. Grab a whisk, bowl, zip-top plastic bag, and a lidded jar if making lemon marinade in advance.
When you are making this recipe, you'll want to use the full recipe at the bottom of the page.
Mix together the marinade ingredients and coat the chicken tenderloins with the mixture, reserving some for basting.
Marinate chicken for 30 minutes or up to 6 hours in the fridge.
Grill chicken on medium for 2-3 minutes per side (or to an internal temperature of 165°F), basting with reserved rosemary lemon marinade.
Keep warm and garnish with fresh basil when serving.
Chef's Note: It is essential to throw away used marinade after marinating chicken tenderloins. Chicken marinades can contain harmful bacteria and salmonella, which causes food poisoning.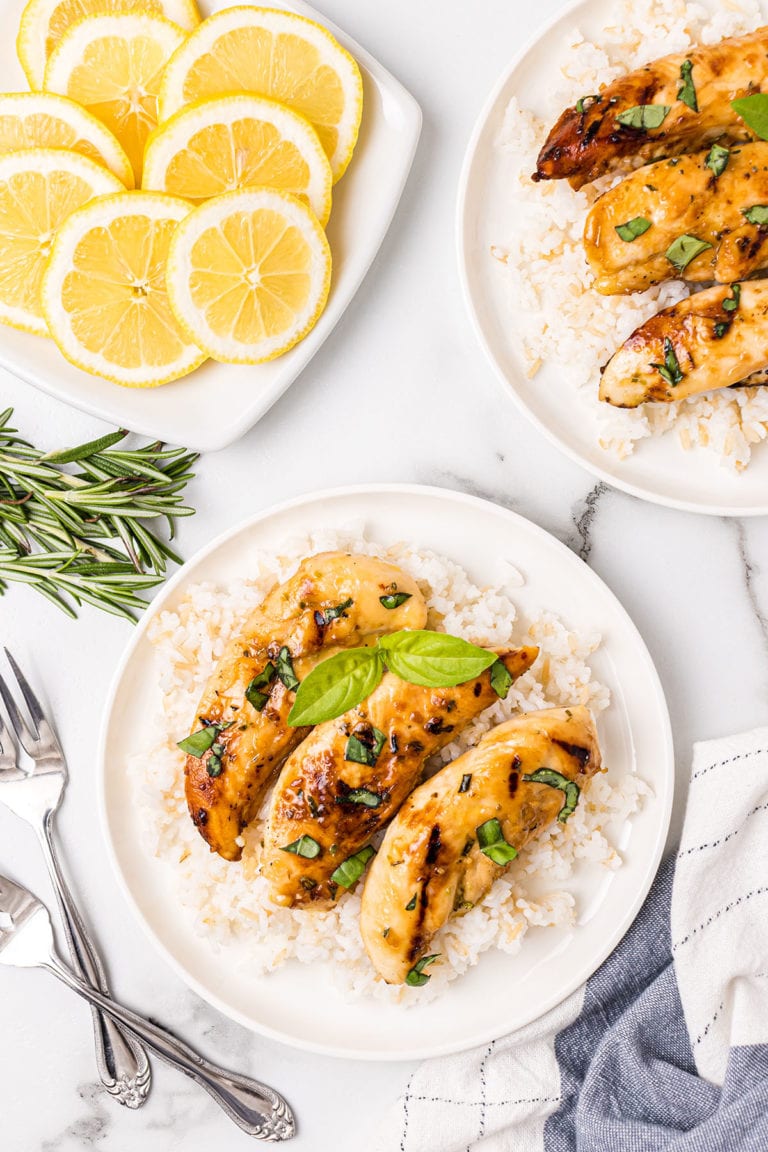 Recipe Notes And Tips
No grill? No Problem! Easy chicken marinade imparts a wonderful flavor to chicken tenderloins baked in the oven, cooked in a grill pan on the stove or a countertop Foreman Grill. (The Foreman is my go-to when the weather isn't my friend.)
Always check your olive oil; over time, oils break down, turn rancid, and develop a strong, bitter flavor, especially during summer. Oxidized oil forms harmful compounds and can ruin the taste of your marinade recipes.
Prep your clean and heated grill grates by rubbing them with olive oil using a grill brush, a clean cloth, or a paper towel. Before cooking, you can't go wrong with a non-stick grilling spray on hot grates so the rosemary basil chicken doesn't stick.
The benefit of using chicken tenderloins is they cook up quickly. You can easily make your own by butterflying a whole breast or pounding it out, then cut into strips with a sharp knife.
Avoid using high heat and grill chicken tenders over medium, indirect heat on the grill. Keep the lid closed to grill the chicken evenly. To ensure chicken is cooked safely, use a meat thermometer to see if it reads 165°F before serving. If you don't have a thermometer, cut into the thickest part to check if the juices run clear and the meat is opaque.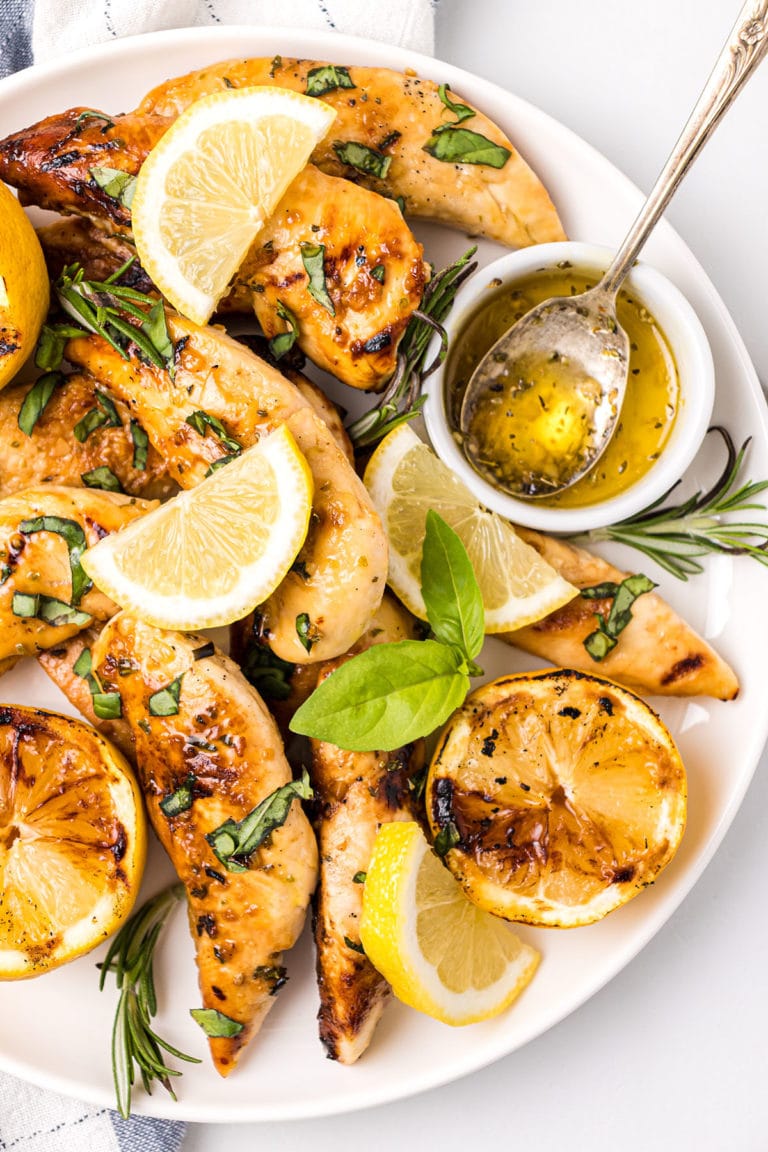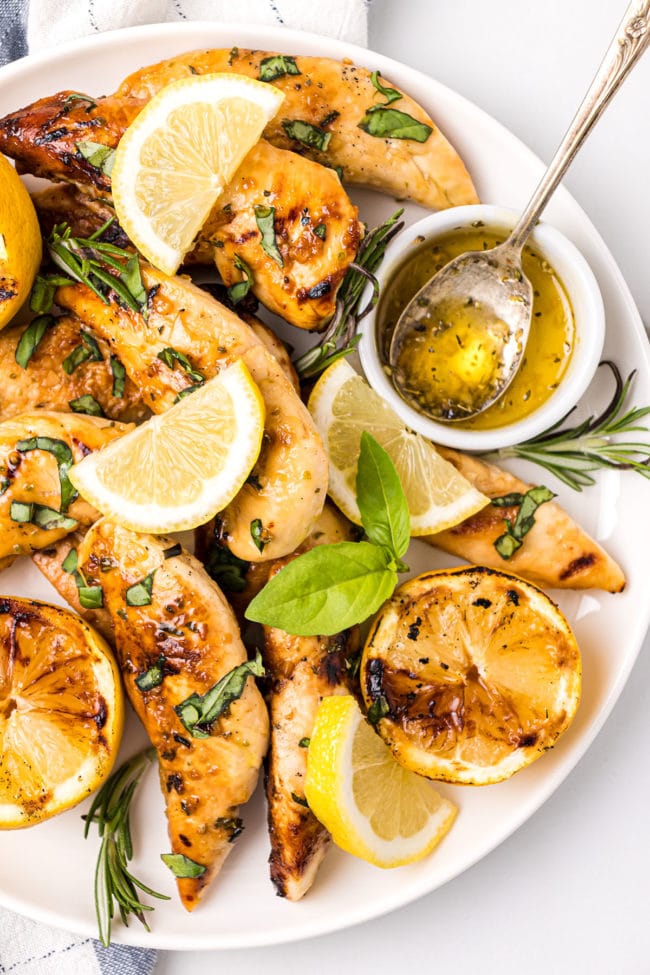 How To Store Grilled Chicken Tenderloins
As I mentioned before, immediately throw out any USED chicken marinade. Unused lemon rosemary marinade can be stored in a tightly sealed container and refrigerated for about a week.
Refrigerate/Leftovers
Completely cool the chicken, then wrap tightly and refrigerate. Use leftover chicken within 3-4 days.
Freeze
You can freeze grilled chicken tightly wrapped in a freezer-safe storage container or bag for up to 3 months.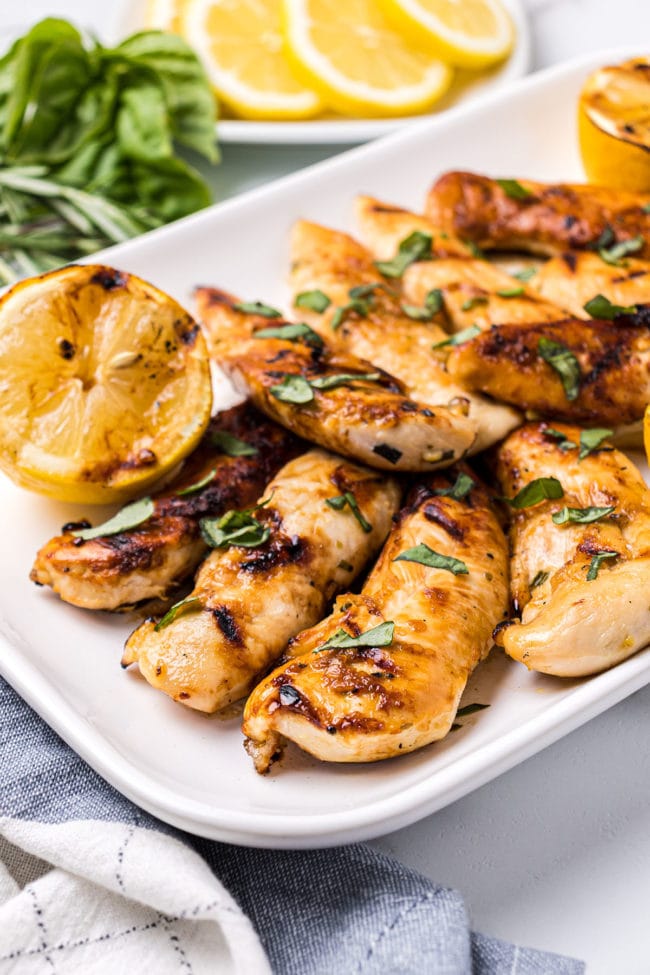 FAQs
Can I Bake Chicken Tenders In The Oven?
You can easily make chicken tenders in the oven by baking them on a sheet pan at 400°F for approximately 20 minutes or until they reach an internal temperature of 165°F. It's a hassle-free and equally delicious method to enjoy tender and juicy chicken tenders without the need for grilling.
How long do you cook chicken tenders on the grill?
Grill chicken tenders over medium-high heat for about 6-8 minutes, flipping halfway through, until they reach an internal temperature of 165°F. Adjust cooking time based on the thickness of the tenders. This is much faster than grilling whole chicken breasts which take about 10-12 minutes per side, or until the internal temperature reaches 165°F. The larger size whole chicken breasts will require a longer cooking time, as well.
How much protein is in Grilled Chicken Tenders?
3 ounces (85 grams) of chicken tenders has 18 grams of protein.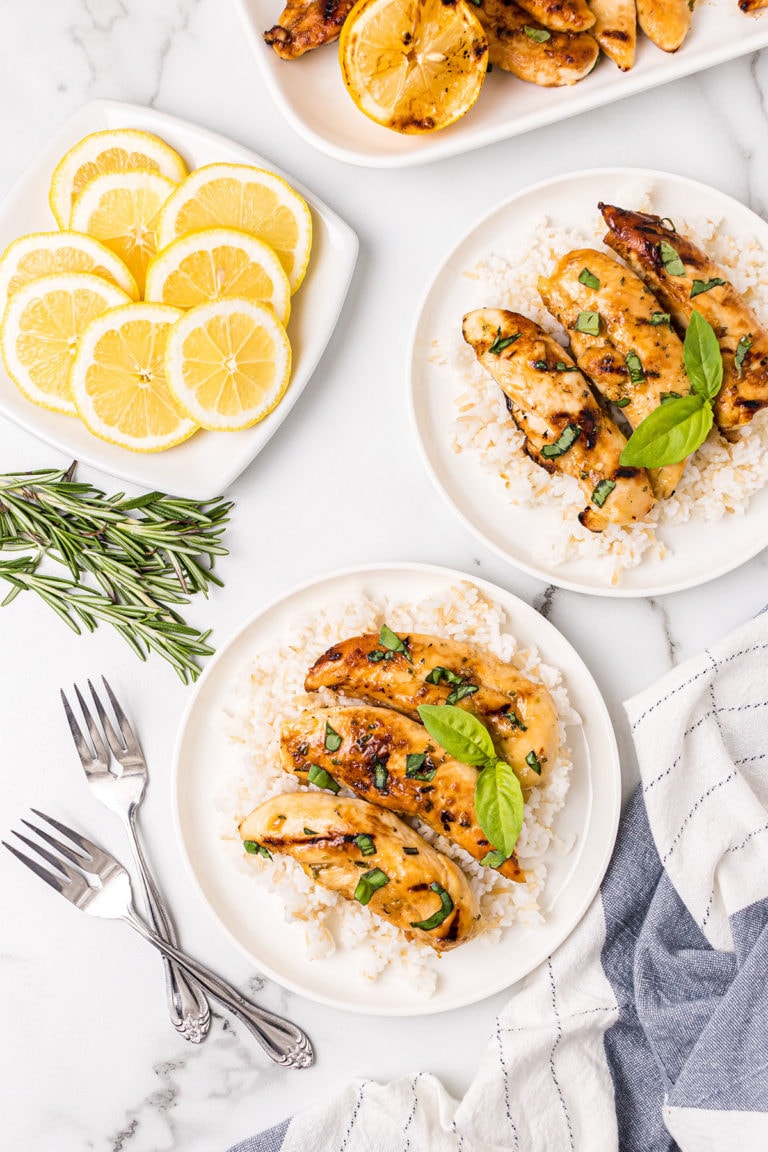 Serving Suggestions
Look no further than grilled chicken tenders for an easy meal! This juicy and flavorful dish is perfect for a barbecue or a weeknight dinner. Grill chicken tenderloins to perfection and serve with your favorite side dishes and desserts!
Like This Recipe? Pin It!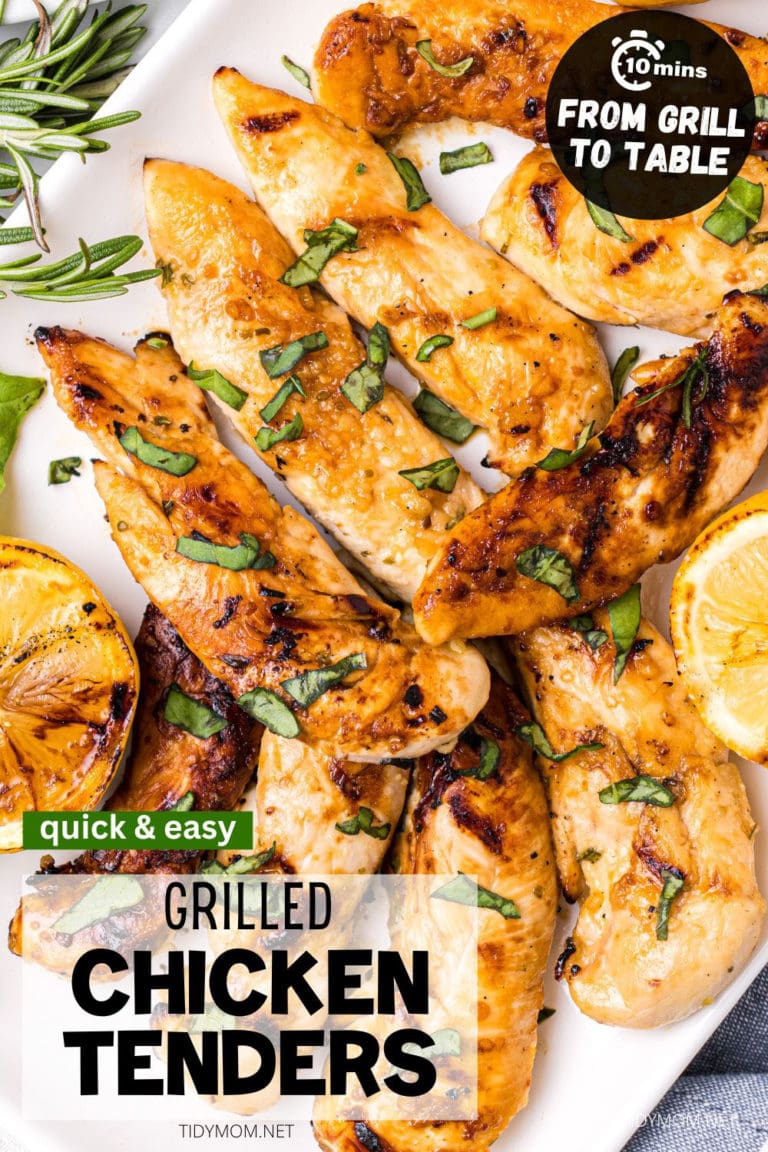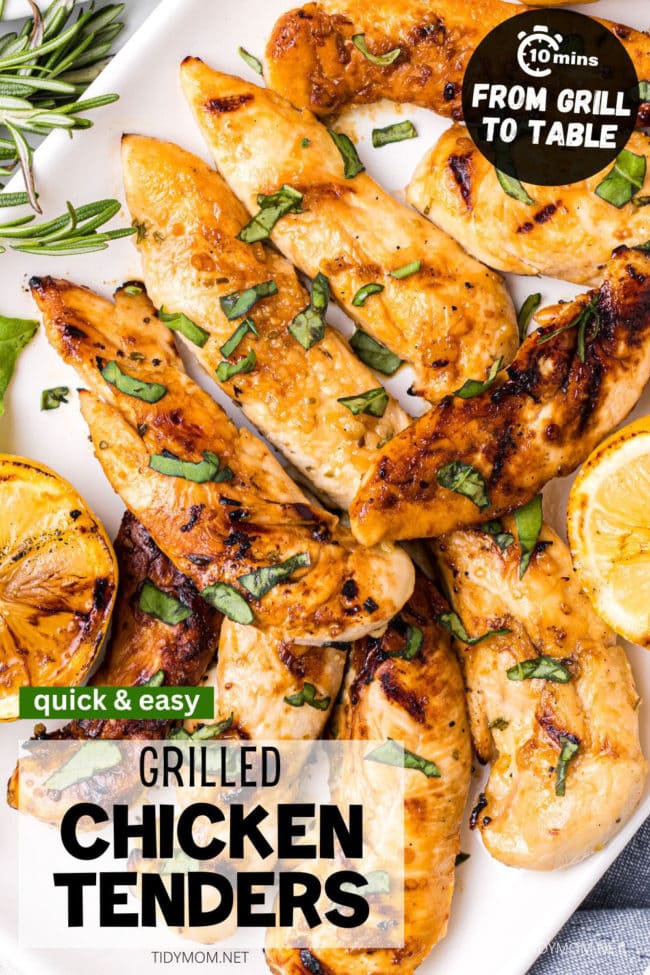 Originally posted in October 2009. UPDATED November 2018 and September 2023. We spiffed up this post with more information and 1 change to the recipe: I now use white chili beans in place of cannellini beans.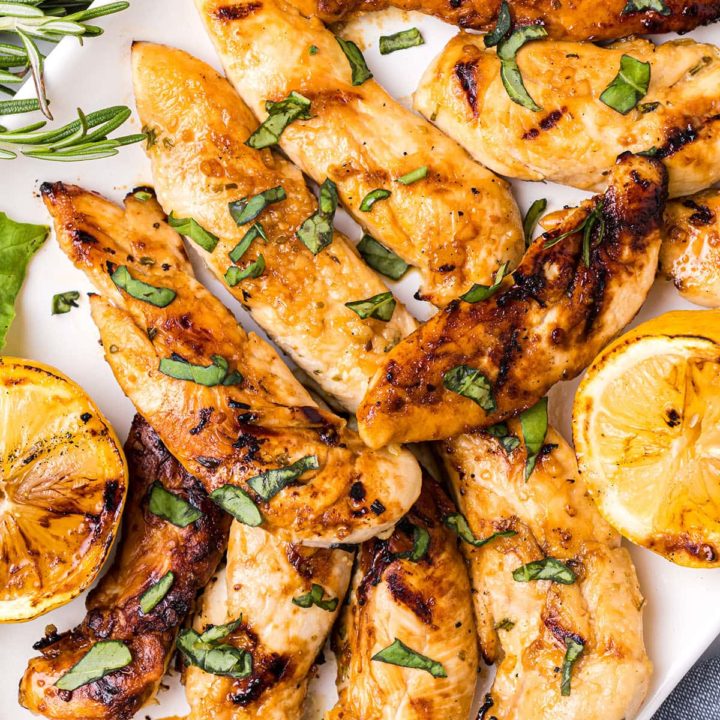 Lemon Rosemary Grilled Chicken Tenders
Yield: 4 servings
Minimum Marinate Time: 30 minutes
Cook Time: 6 minutes
Total Time: 36 minutes
Lemon Rosemary Grilled Chicken Tenders cook up on the grill in under 10 minutes! Marinate ahead of time for a quick, healthy, and delicious chicken dinner.
Ingredients
12 Chicken Breast Tenderloins
4 Tablespoons extra virgin olive oil
1/4 cup lemon juice
1/3 cup honey
3 cloves garlic, minced
1/4 teaspoon dried oregano
1/4 teaspoon rosemary
1/4 cup fresh basil
Instructions
Using a small bowl, whisk together olive oil, honey, lemon juice, garlic, oregano, and rosemary.
Place tenderloins in dish or zip-top bag and pour marinade over chicken, reserving a few tablespoons for basting.
Refrigerate for 30 minutes or up to 6 hours.
Heat grill to medium indirect heat and add chicken. Cook for 2-3 minutes then flip. Baste with extra marinade and cook an additional 2-3 minutes.
Remove chicken from grill and tent with foil for 3-5 minutes or until ready to serve.
Top with a sprinkle of fresh basil when serving.

Notes
GRILLING OPTIONS
You could also grill with an indoor grill, like a George Foreman Grill or a grill pan on your cooktop. If you'd rather BAKE, place chicken in a 400° F oven for 20 minutes or until internal temp reached 165°F. Baste halfway thru or more often. DISCARD any used marinade that has touched the chicken.
STORAGE
Refrigerate -
Completely cool the chicken, then wrap tightly and refrigerate. Use leftover chicken within 3-4 days.
Freeze -
You can freeze grilled chicken tightly wrapped in a freezer-safe storage container or bag for up to 3 months. Thaw in refrigerator overnight and reheat.
Recommended Products
As an Amazon Associate and member of other affiliate programs, I earn from qualifying purchases.
Nutrition Information:
Yield: 4
Serving Size: 1
Amount Per Serving:
Calories: 434
Total Fat: 18g
Saturated Fat: 3g
Trans Fat: 0g
Unsaturated Fat: 14g
Cholesterol: 115mg
Sodium: 105mg
Carbohydrates: 25g
Fiber: 0g
Sugar: 23g
Protein: 42g
Nutrition information is estimated based on the ingredients and cooking instructions as described in each recipe and is intended to be used for informational purposes only. Please note that nutrition details may vary based on methods of preparation, origin, and freshness of ingredients used and are just estimates. We encourage, especially if these numbers are important to you, to calculate these on your own for most accurate results.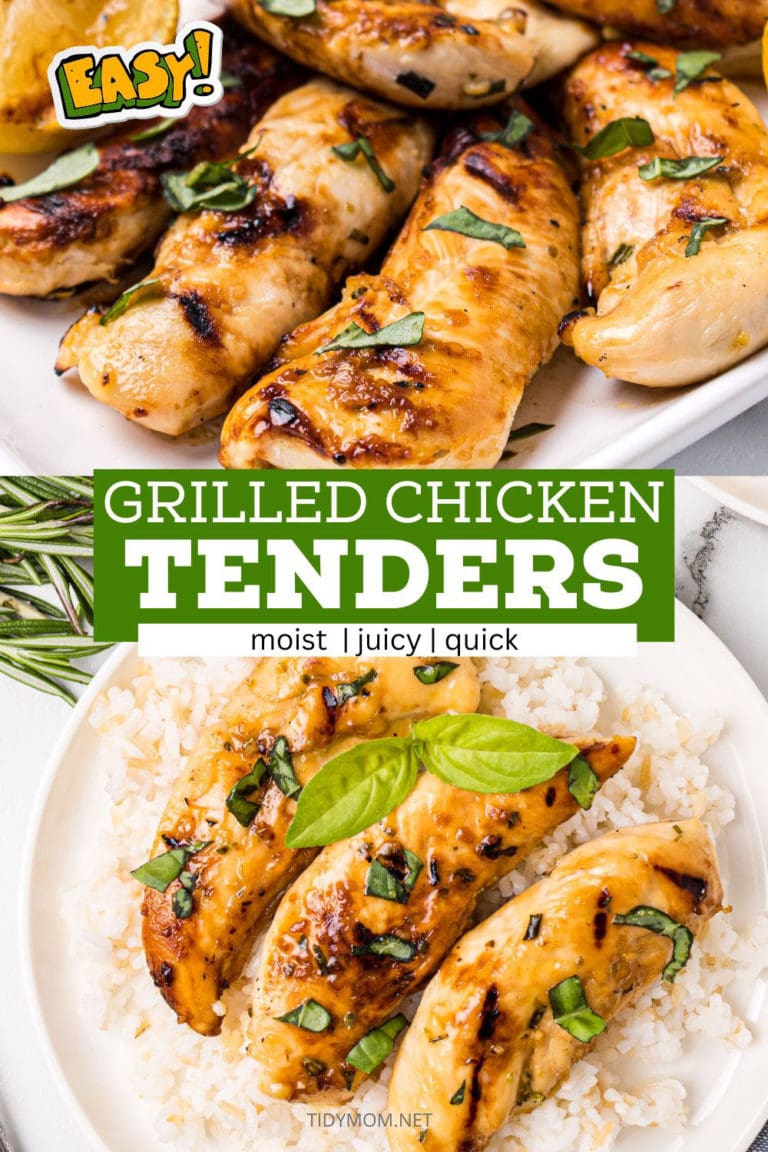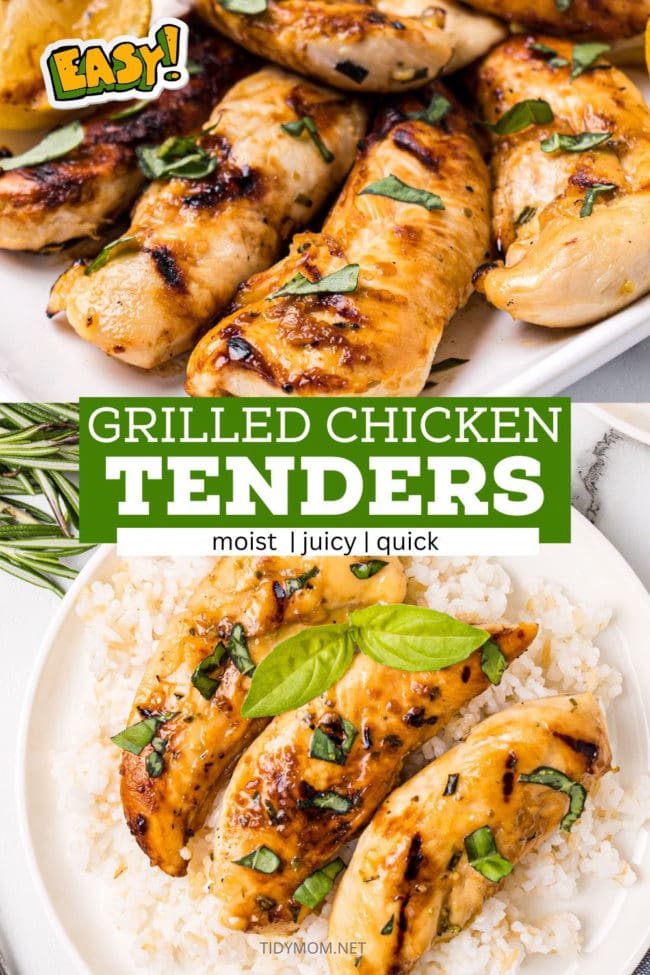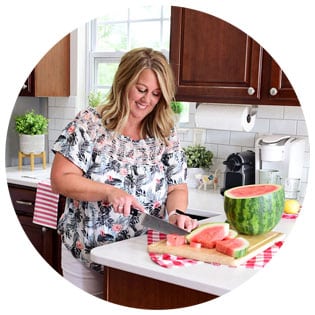 Hi there, I'm Cheryl!
As a wife, mom, and caffeine enthusiast, my journey has taken me from bustling mornings with my family to sharing delicious recipes, home care tips, and heartfelt decorating insights with wonderful readers like you. My love for baking, photography, and tidiness shines through every post I craft. Dive into my world and discover the art of homemaking, one tidy moment at a time. Read more...
Tidymom is a participant in the amazon services llc associates program, an affiliate advertising program designed to provide a means for sites to earn advertising fees by advertising and linking to Amazon.com.
Please respect my work, recipes and photographs. If you do use a recipe in your own writing, please give proper credit and link back to the original post.