Summer Chicken Salad with Fruit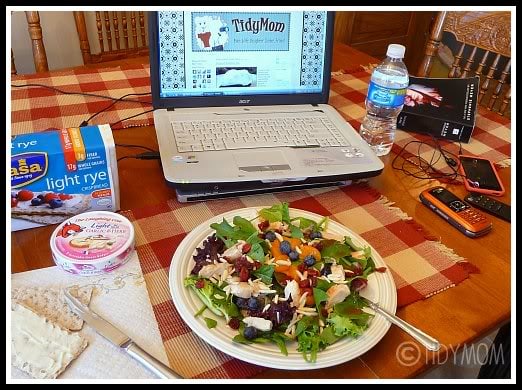 One of the things I like most about summer time, is GREAT summer salads!
I've been fixing this great salad for a few months now, but as summer heats up, I know I'll be looking for ways to stay cool and comfortable. Consuming light meals are both cool and refreshing!
This salad is such a treat I could eat it every day!
Summer Chicken Salad with Fruit

I pile my plate full of spinach and a little Spring Lettuce Mix.
*Top with Tyson Grilled chicken breast strips
*dried cranberries
*fresh blueberries
*mandarin oranges
*sliced almonds
Drizzle with Light Raspberry Vinaigrette dressing and enjoy!
Like salads? Find more GREAT salad recipes at A Heart for Home Salad Carnival!
 Craving more? Sign up for the TidyMom newsletter to stay on top of what's new right to your inbox! And stay in touch on Facebook, Twitter, Google+ and Pinterest for all of the latest updates