Spinach Dip With Knorr Vegetable Recipe Mix
This post may contain Amazon or other affiliate links. As an Amazon associate, I earn from qualifying purchases.
Game on! Turn up the competition with an extra special twist on a classic Knorr SPINACH DIP recipe. A creamy, cold veggie dip for any get-together, potluck, holiday, or sports viewing party!
Looking for more crowd-pleasing appetizers? Try our Asian Meatballs, Smoky Gouda Cheese Ball, and Pull Apart Garlic Cheese Bread for fast and easy throw-together ideas. Don't miss, the highly popular "little black dress" of appetizers, Pub-Style Beer Cheese Dip.
Be sure to sign up for my email… to get new recipes and ideas in your inbox!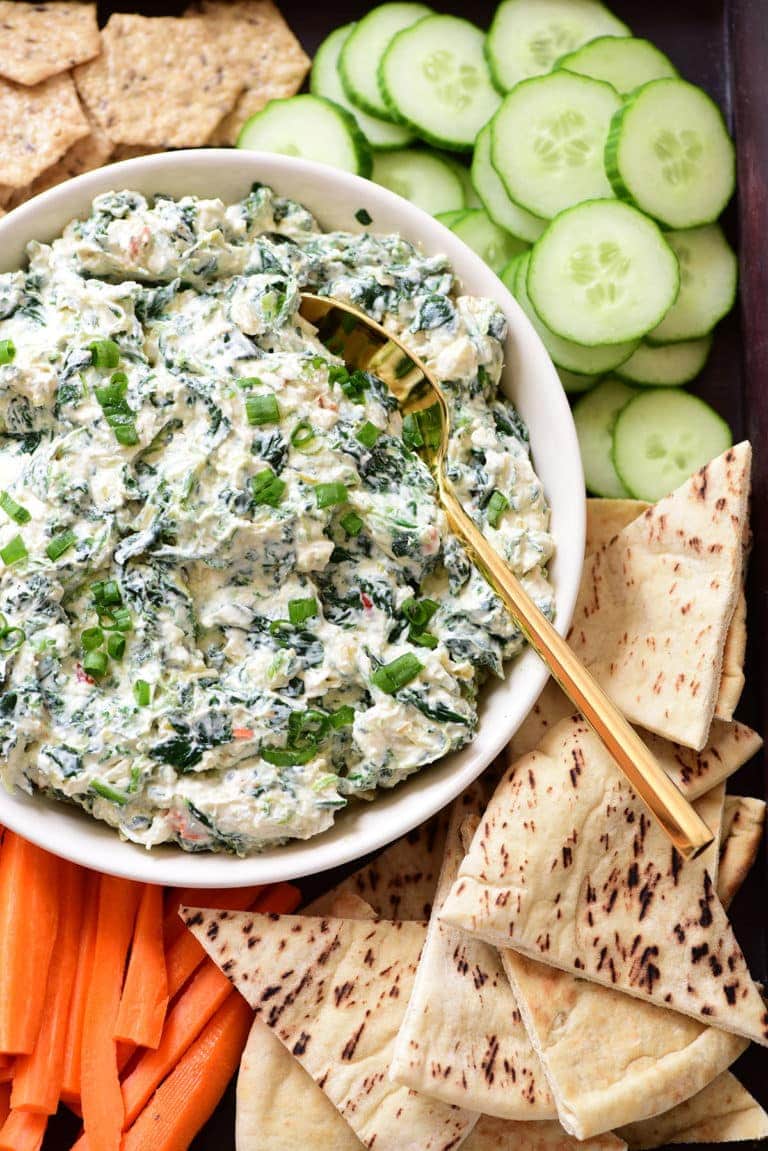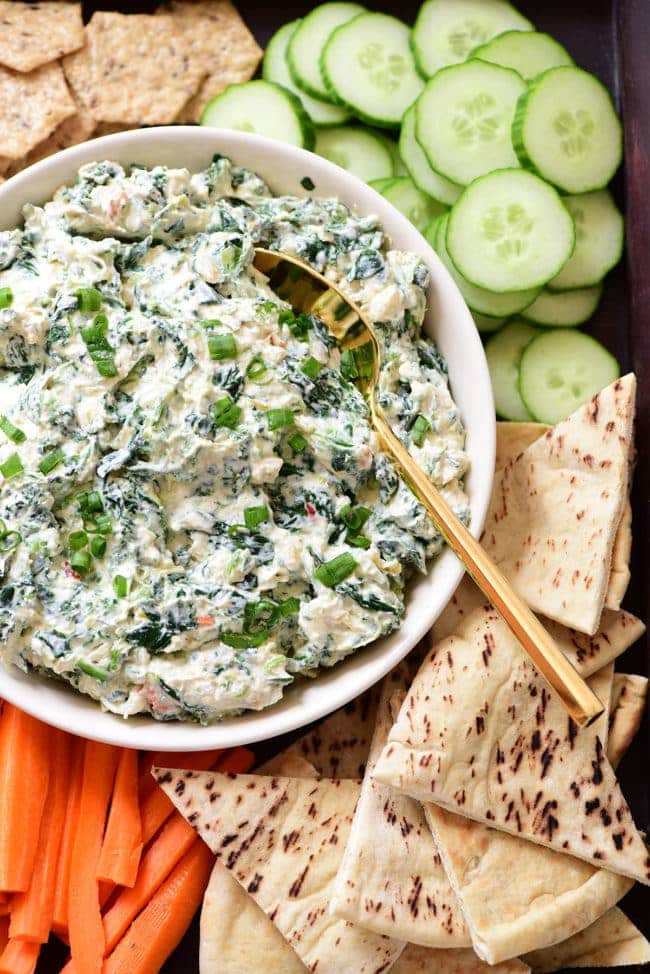 This post may contain affiliate links. Please read my disclosure policy here.
I love using the classic Knorr vegetable recipe mix as the base for my spinach dip. There's just something about the incredible flavor that goes hand in hand with a great spinach dip. And, just so you know, this isn't a sponsored post either! LOL Frankly, most people expect that distinct flavor combination even if they don't realize it comes from a Knorr vegetable mix. You know, kinda like it's hard to call a green bean casserole…a green bean casserole without the fried onions?
Why You'll Love This Extra Special Spinach Dip
A fast and easy spinach dip recipe to pull together on a busy schedule, it's the best make-ahead dish for optimum flavor!
Knorr spinach dip recipe is a classic, and we've added just enough "extra" to make it special!
Beautifully presented in a bread bowl or with crackers and crudités.
Homemade spinach dip is adaptable for any crowd, smooth and creamy, or chunky and crisp to the bite.
Knorr vegetable dip with spinach is wonderful as a sandwich spread to make individual appetizers and more!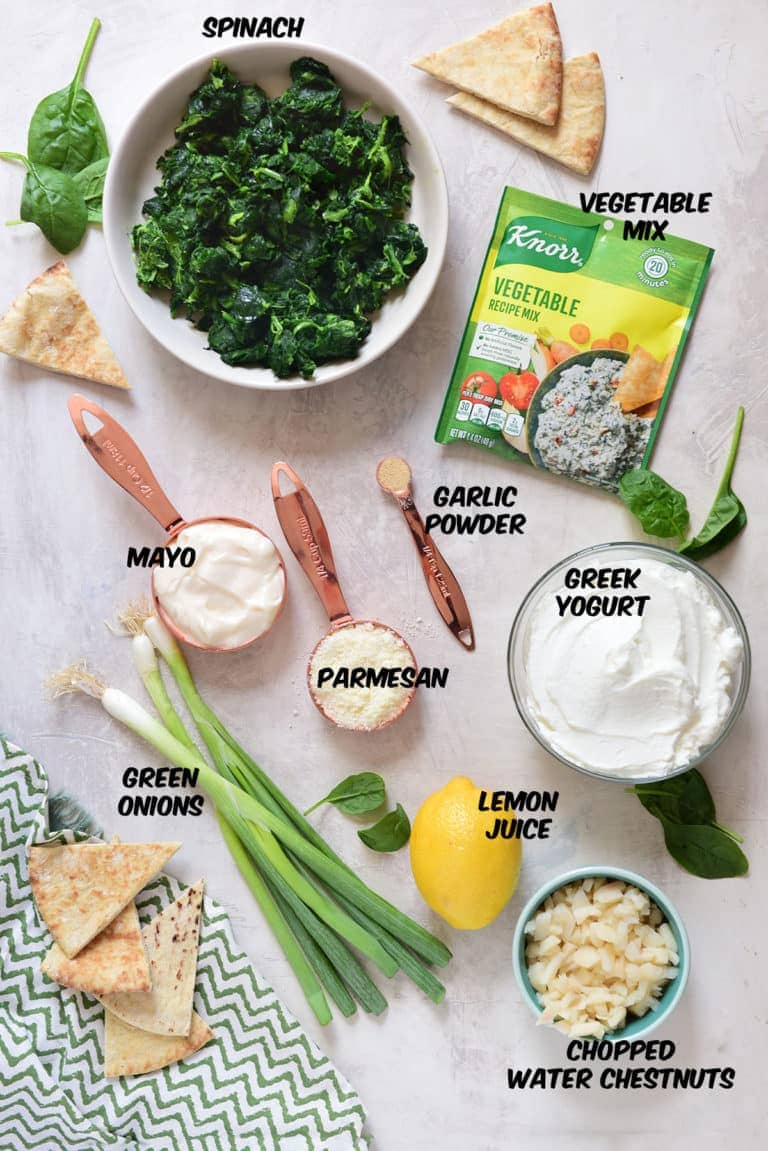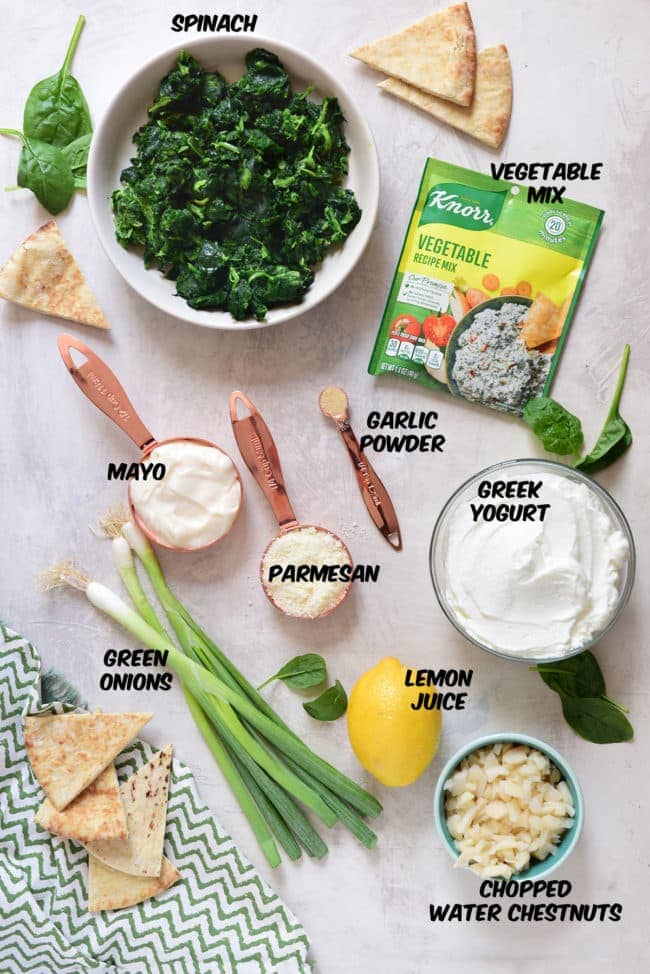 Ingredients That Make Your Knorr Spinach Dip Recipe Extra Special
By the way, this recipe is super simple to double if you are feeding a large crowd. Plus, you might want some leftovers because spinach dip is very versatile.
(See the serving suggestions section below.)
Frozen Chopped Spinach – a 10 oz package is about 1 ½ cups when thawed; 24 ounces of fresh spinach is the equivalent of 10 ounces of frozen spinach when cooked down and drained.
Plain Greek Yogurt – is thicker and has a much higher protein content than sour cream. Both will taste so similar in a spinach dip recipe I doubt anyone can tell the difference.
Mayonnaise – the creamy emulsion cold dressing that acts as a binder in spinach dip and enhances the smooth mouthfeel. If "tang" is your "thang," Miracle Whip dressing works too.
Parmesan Cheese – grated Parm is one of those special "extras" in this spinach dip recipe that creates a rich and tangy depth.
Lemon Juice – fresh or bottled, the acidity gives the spinach dip added brightness and extra "pop."
Garlic Powder
Knorr Vegetable Recipe Mix – One 1.8 ounce envelope seasons the whole batch of homemade dip.
Water Chestnuts – drain and chop. Neutrally flavored with a trademark crunch, water chestnuts add a pleasurable bite and texture.
Green Onions – finely chop the slender white "bulb" portion and add to spinach dip. Use the trimmed and sliced green stems for garnish.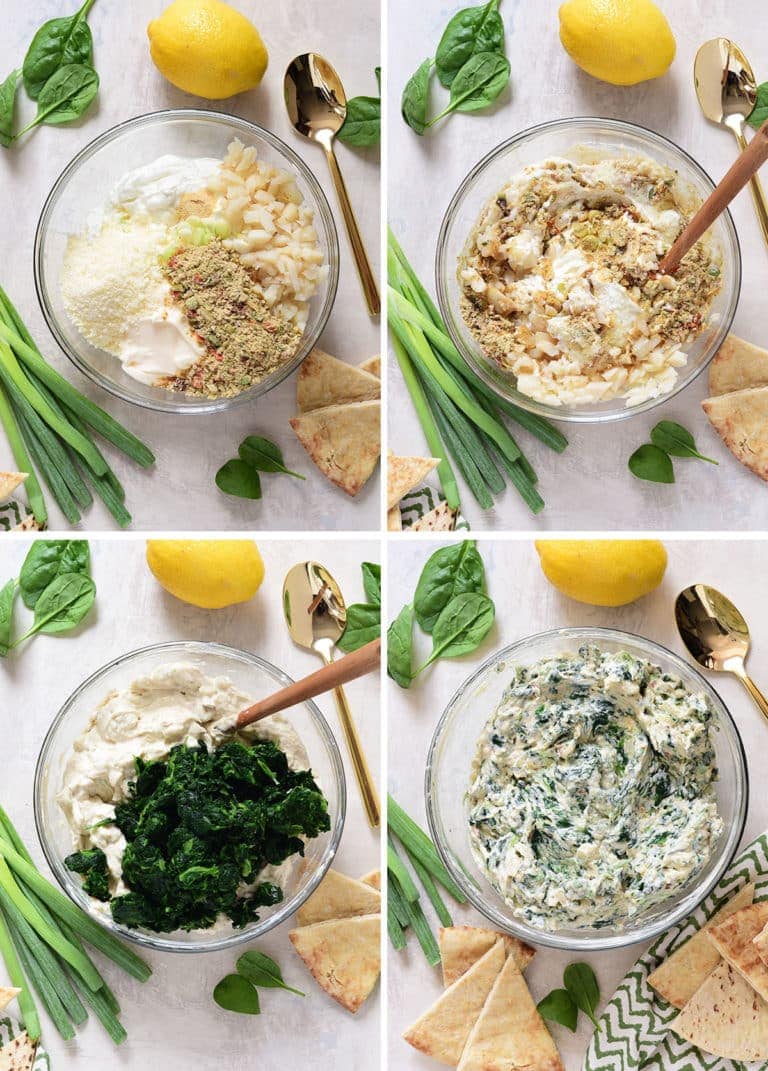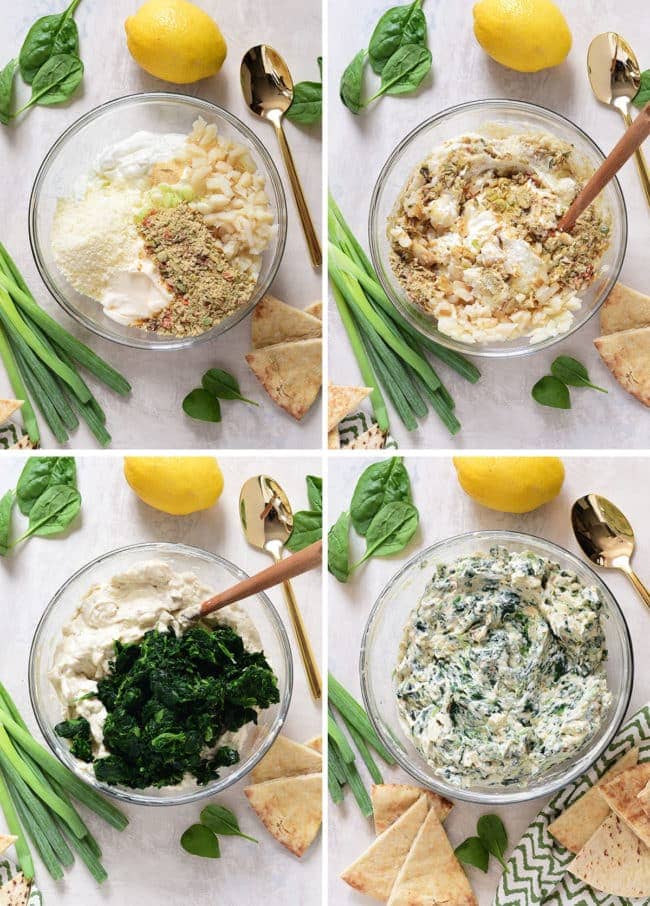 How To Make Easy Spinach Dip With Knorr Vegetable Mix
Especially for tight schedules, homemade spinach dip is easy to throw together and best when made ahead. The longer it sits, 12-24 hours is ideal, the better! Three easy steps: thaw, mix, and chill.
(full printable recipe at the end of this post)
Thaw and squeeze spinach until dry. (For tips & ideas, see How To Thaw And Dry Spinach For Knorr Veggie Dip below.)
Mix all the spinach dip ingredients in a medium bowl until well combined.
Refrigerate in an airtight container or well-covered bowl for several hours or overnight.
Serve spinach dip in a bowl with anything yummy: pita, crackers, bread, pretzels, and/or a selection of veggies.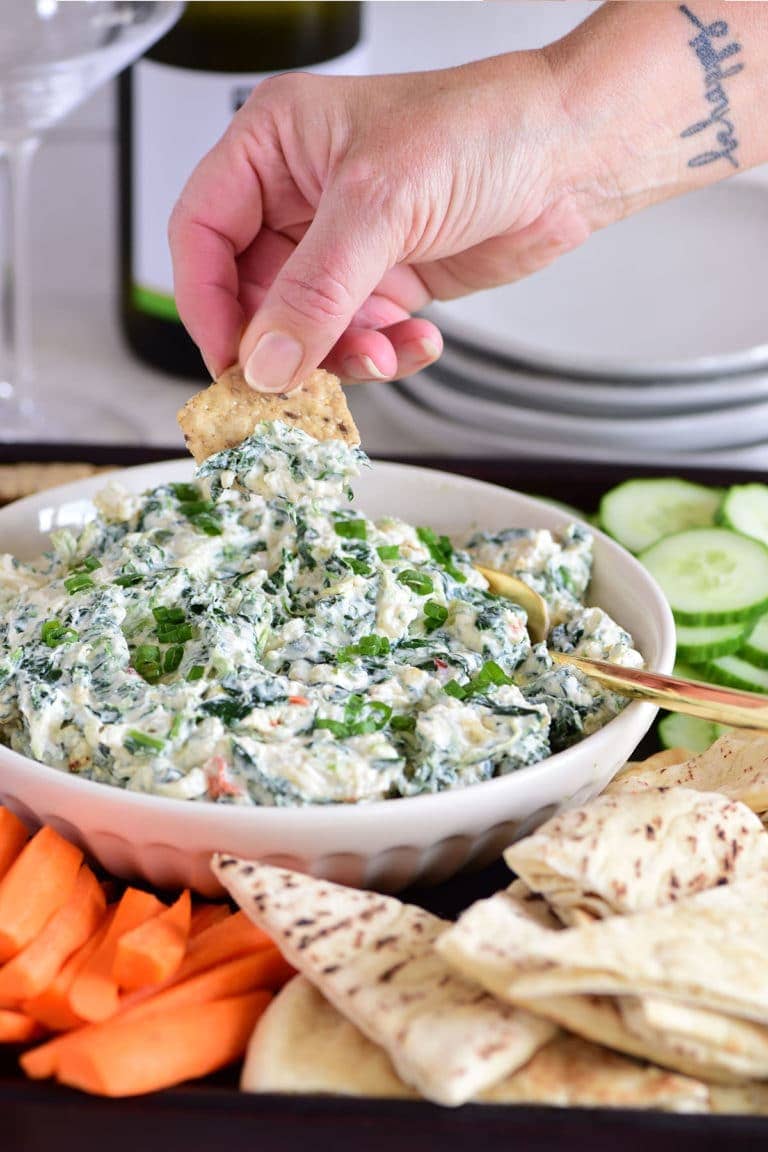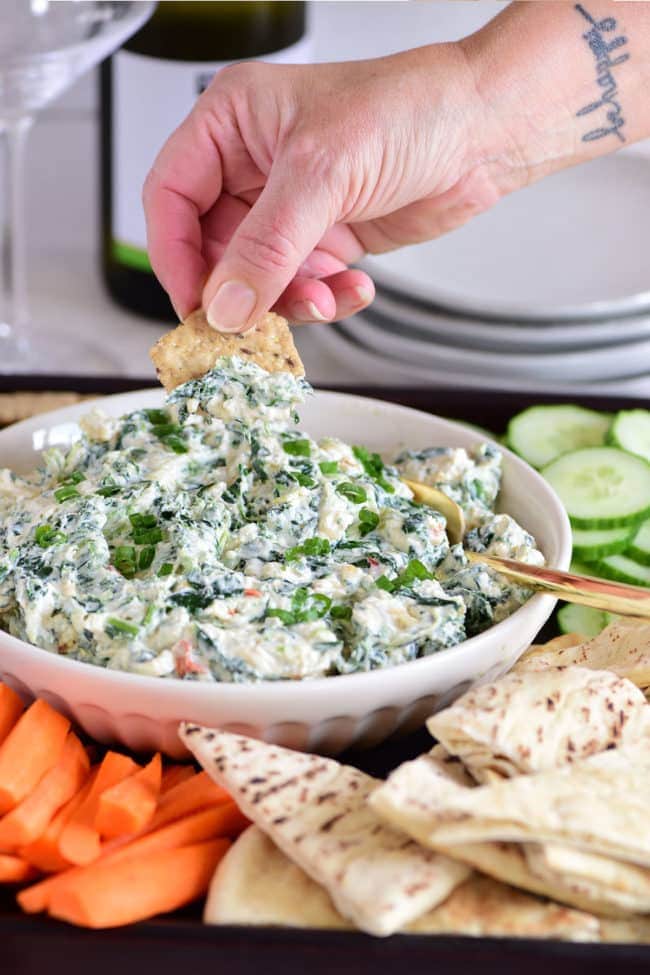 Homemade Spinach Dip Recipe Notes/Tips
For a smoother consistency, put everything except the spinach in a food processor and pulse for 30-60 seconds. Add the spinach to the dip in a bowl and combine.
If you like a little crunch in your junk, hand mix your dip.
Looking to use fresh spinach instead of frozen in your homemade spinach dip? You will need to cook down the fresh spinach and squeeze it dry.
*Chef's Note: If you end up with a lot of spinach juice, freeze in an ice-cube tray and store to use later in soups or stews for added nutrition benefits.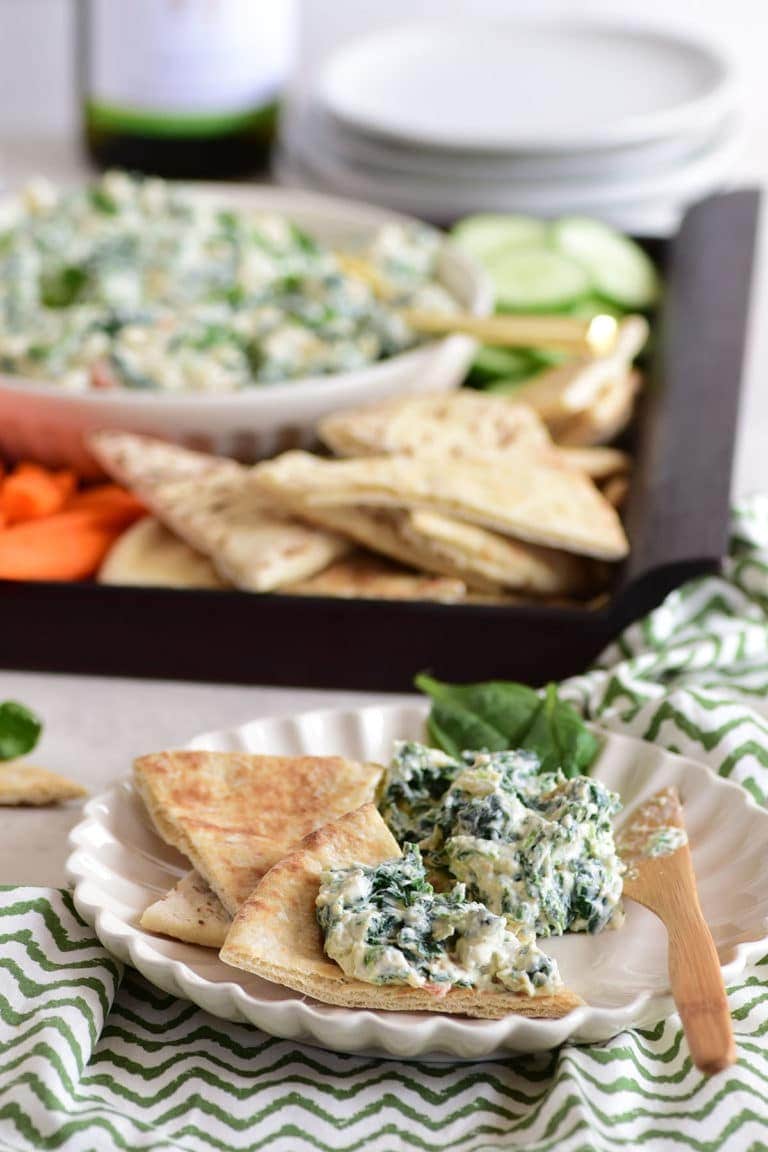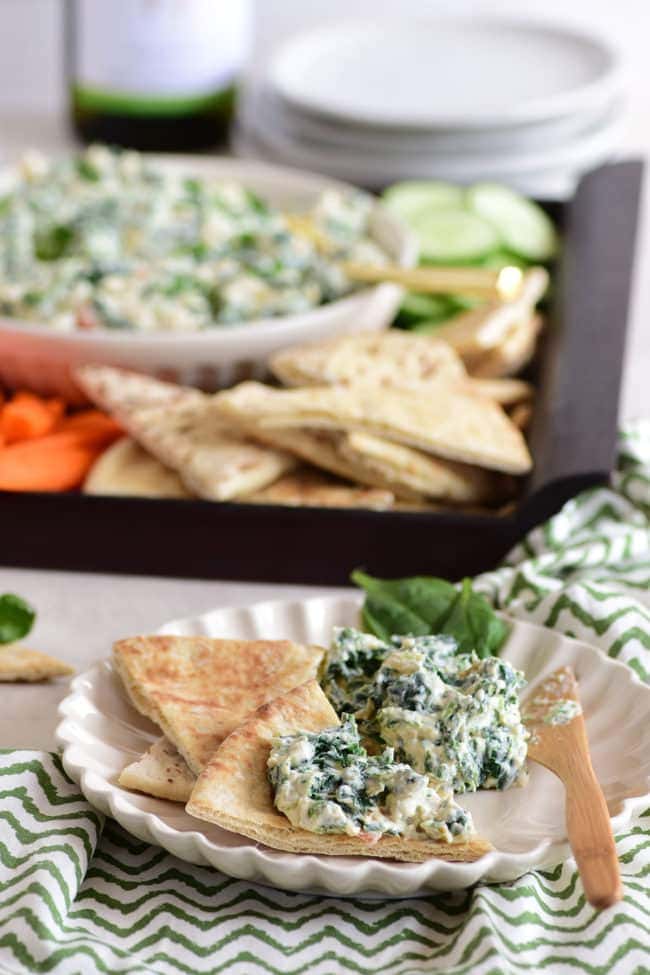 How To Store Spinach Dip
Store homemade dip in an airtight container in the fridge for up to a week.
If you are serving a few people or making a double batch of homemade spinach dip for a large crowd, keep ½ or ⅔ of the dip in the fridge to replenish as it is eaten. This cuts down on the time the spinach dip sets out and the possibility of cross-contamination when refilling a used bowl.
Extra Special Spinach Dip Additions
Want to put a little more "extra" into an already special spinach dip? Try adding any or all of these additions to your homemade dip if you feel "extra" audacious today!
Salad-Sized Cooked Shrimp
Well Drained Chopped Artichoke Hearts
Teaspoon Worcestershire Sauce
Banana Peppers Well Drained
Crispy Bacon Bits (yes, I went there!)
Need a little extra protein? Use a food processor or finely dice a couple of hard-cooked eggs.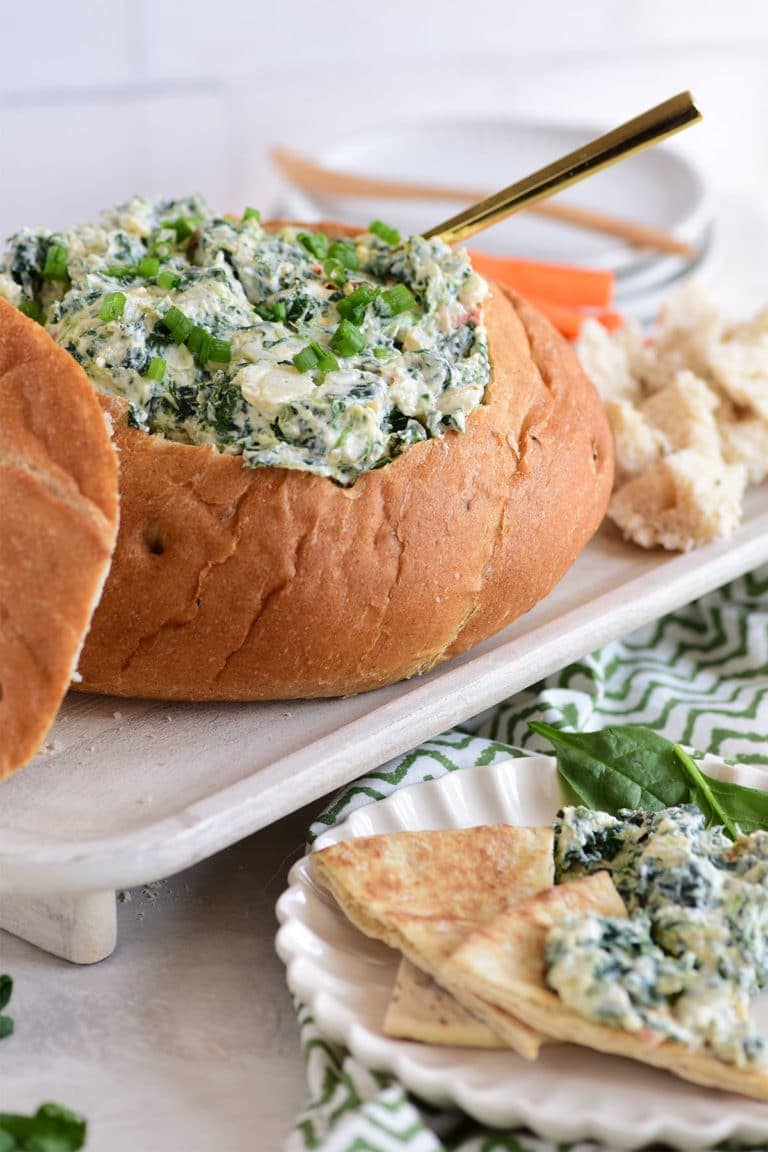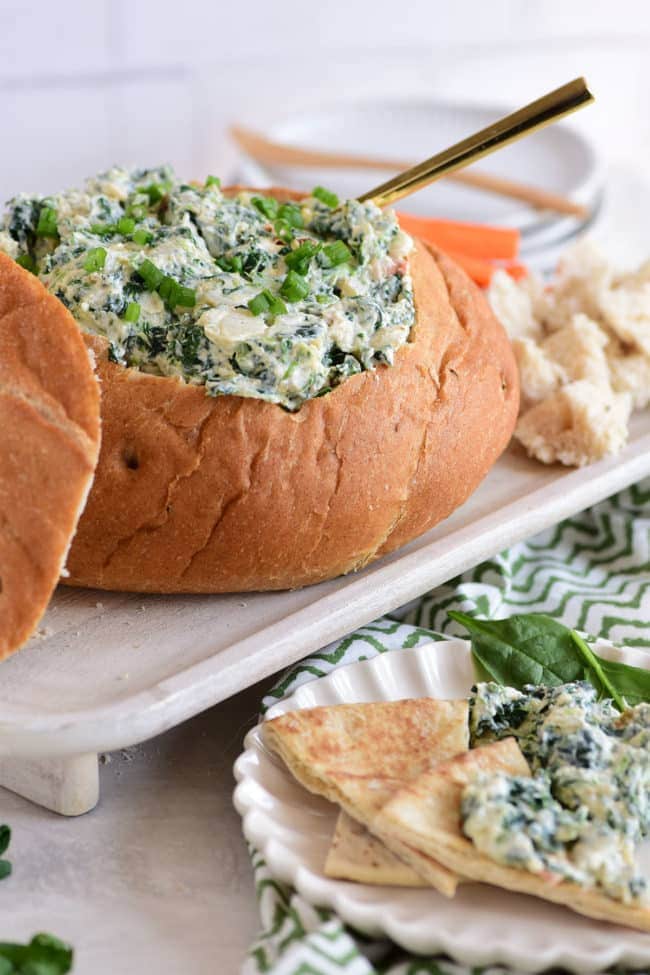 Homemade Spinach Dip Serving Suggestions
Spinach dip is excellent on bagels with sliced garden tomato and green lettuce; a perfect way to use up leftovers if you have any!
Serve homemade spinach dip in a rye or sourdough bread bowl.*
Use as a spread for wraps, pita pockets, and sandwiches in place of mayonnaise or dressings.
Mix one diced hardboiled egg to 1 tablespoon of spinach dip for a tasty egg salad on the fly; use bread or go animal style with Boston bib lettuce or butter leaves.
Serve spinach dip on crostinis (or melba toast) with a thin slice of cucumber, and sprinkle with different spices or herbs to taste.
For football fans where wings are the thing, serve this knorr spinach dip in place of dressing with celery and carrot sticks at your next game viewing. "…and the crowd goes wild!!!"
* Spinach Dip Bread Bowl Note: Don't have one readily available? Try this amazing No-Knead Dutch Oven Bread recipe using a 4qt or smaller dutch oven and make your own bread bowl.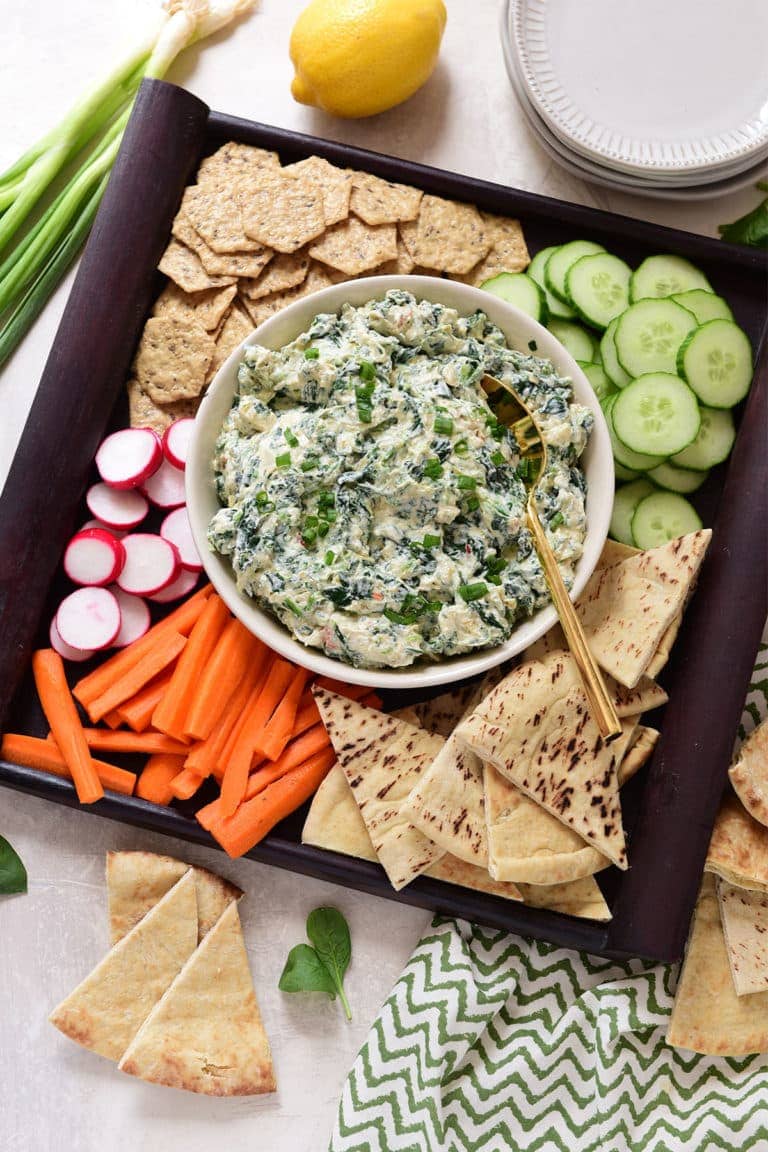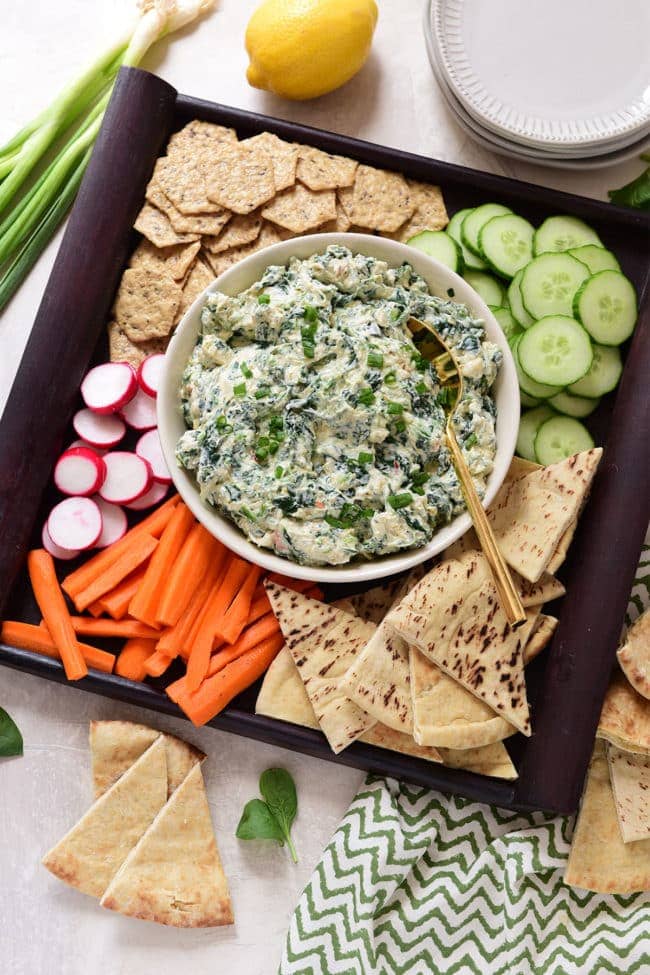 Homemade Spinach Dip FAQs
What are water chestnuts?
Water chestnuts are root bulbs grown in fresh water, aka aquatic tubers. They are round white bulbs encased in brown papery skin and look like chestnuts. They come fresh or canned and have a crisp, juicy crunch. Canned water chestnuts are pretty neutral in flavor when added to dips or stir-fry.
Find water chestnuts with other Asian products in the grocery store.
Are you supposed to eat spinach dip cold or hot?
The answer depends on the spinach dip recipe. There are creamy cold spinach dips, like this one and there are hot spinach dip recipes that are baked in the oven until the top is crisp and inside cheese has melted. Both are delicious.
What goes with spinach dip?
Most anything you like in the bread and cracker category: flatbread, melba toast, roasted garlic rye chips, naan, baked pita chips, pretzels, pretzel crisps, kettle-cooked potato chips. Add a selection of veggies: carrots, celery, broccoli, cauliflower, cucumber, bell peppers, etc.

Spinach dip pairs beautifully with crudités and charcuterie board. Might as well wow them with a Lemon Meringue Martini or Sparkling Cucumber Gimlet too! Just sayin'!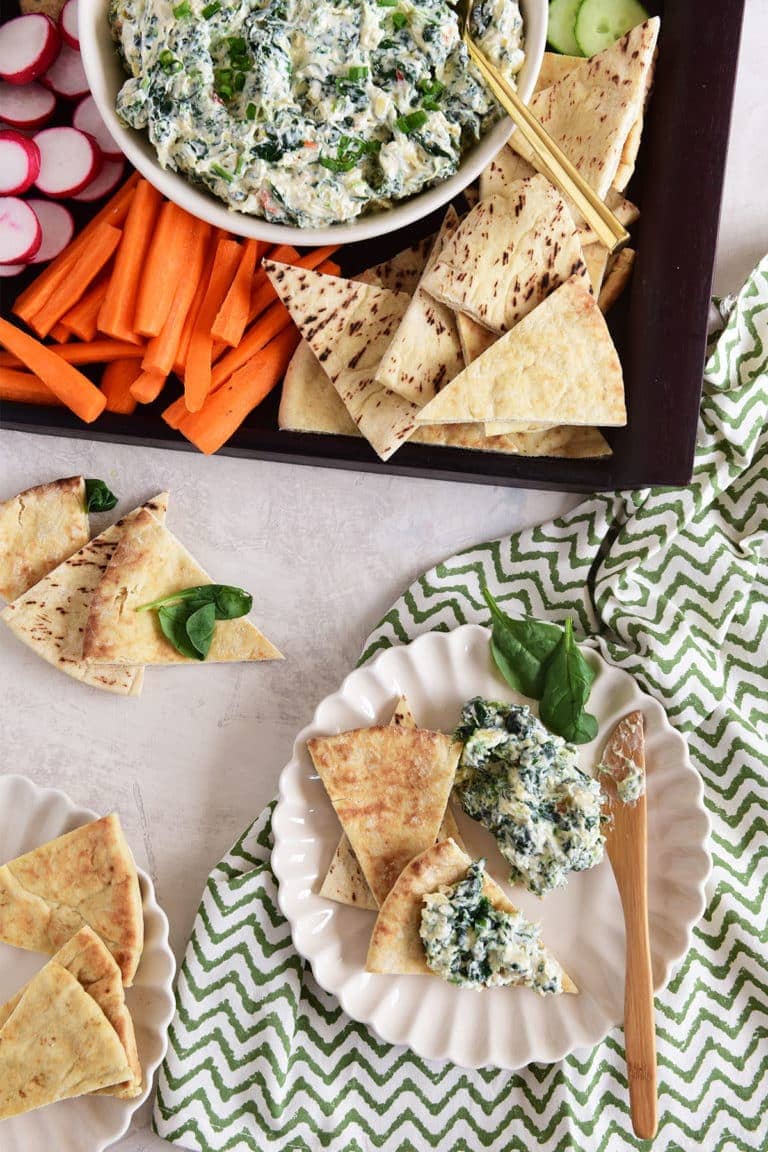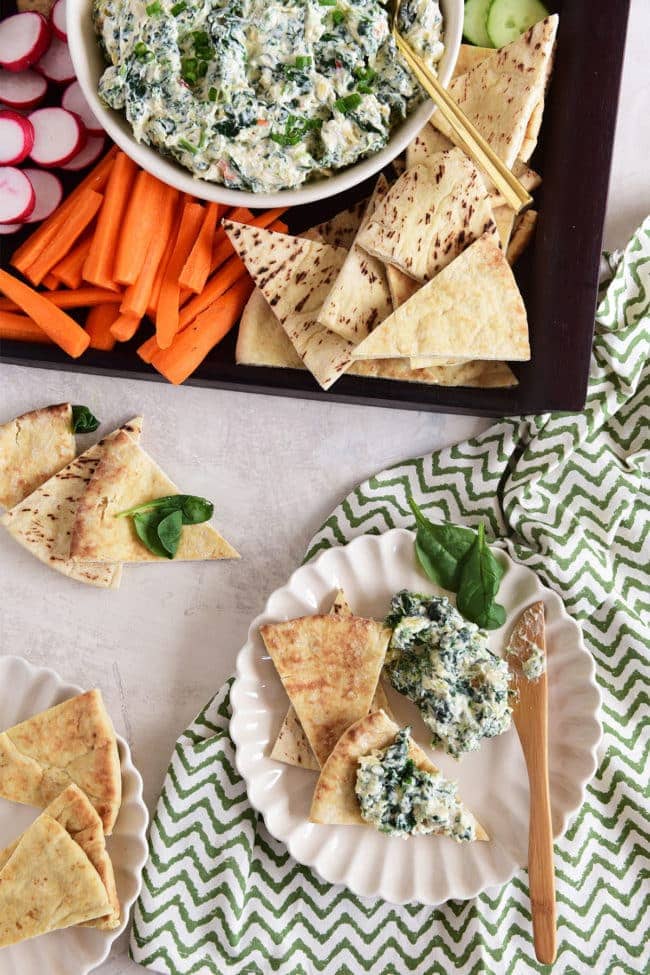 How To Thaw And Dry Spinach For Knorr Veggie Dip
"Drying" spinach for spinach dip the first time can sound a little intimidating, but like anything, once you do it, it's no biggie. There are several ways to go about draining and drying frozen spinach.
THAWING AND DRAINING FROZEN SPINACH
Too Darn Busy: Put a block of frozen spinach in a colander and set it in a bowl to catch the juice. Place a piece of plastic wrap over the top and set it in the fridge to thaw overnight or as you go about your day.
Stuff To Do: Run frozen spinach under cool water (some prefer warm water) using a finer-grade strainer. Set the strainer in a bowl on the counter and allow it to drain, shaking it off every once.
Gotta Have It: Lightly rinse the ice off of the spinach block and put it in a large microwave-safe bowl. Set your microwave to defrost and stir/break apart the spinach every 45-60 seconds to avoid hot spots.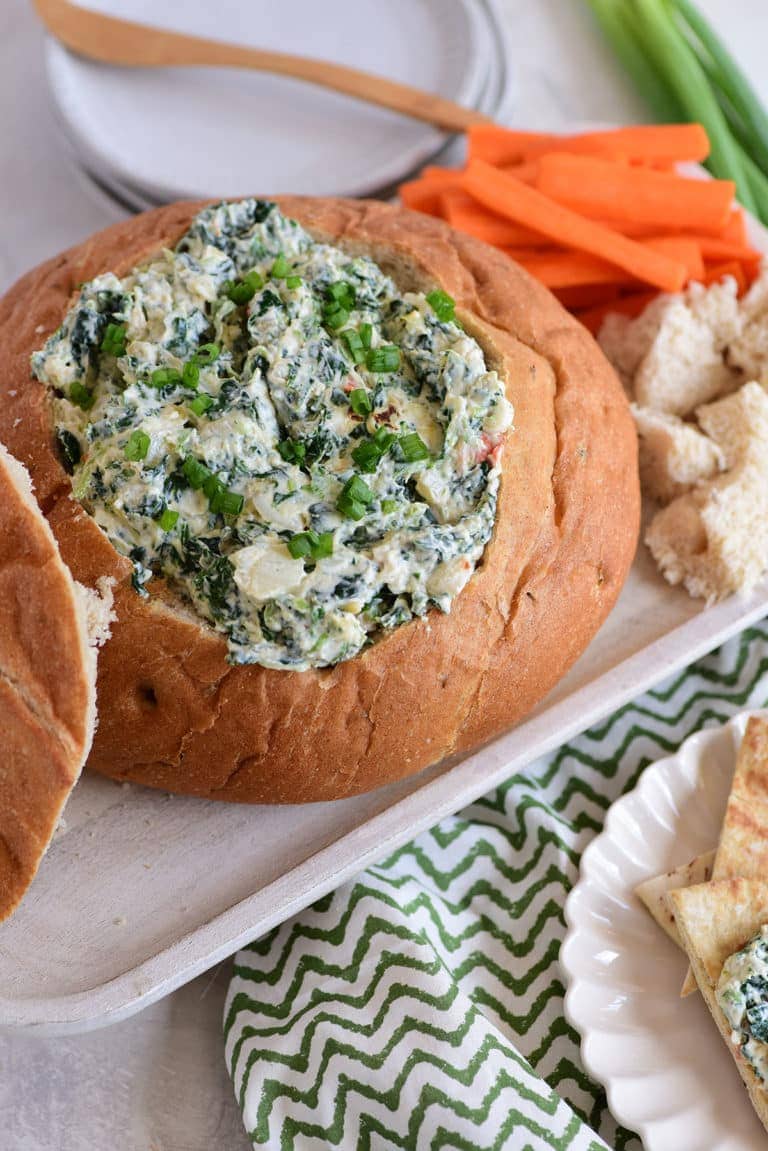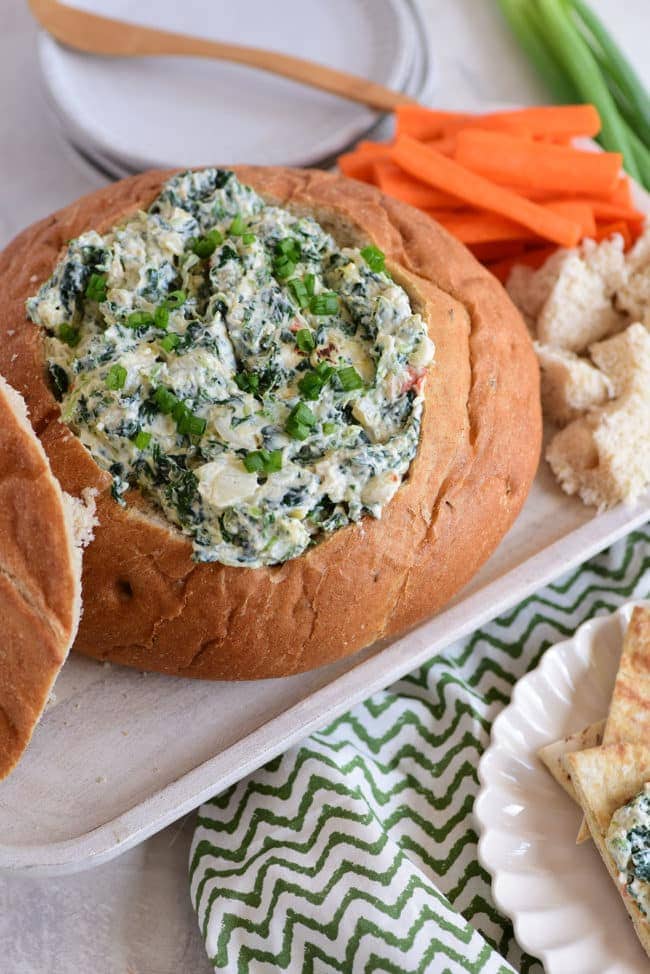 DRYING SPINACH FOR DIP
Hands Down: The quickest and easiest, IMO, is to squeeze a handful of spinach at a time until you have it "dried" to a point it won't cause the spinach dip to be runny.
Don't Touch: Use a soup ladle or large spoon to press the spinach down, forcing the juice out of the colander or sieve.
Paper Trail: Use paper towels to draw and squeeze out excess water. (Check your paper towels; there's no lint in the spinach dip ingredient list!) 🙂
Spinner Alert: Line a salad spinner's interior basket with paper towels and go to town. Lining the spin basket keeps smaller spinach pieces from being spun out through basket weaving.
Old Fashioned: Cheesecloth! Place the thawed spinach in the cheesecloth and twist it around until you have a tight ball and squeeze. Brings back memories of my grandmother.
Like This Recipe? Pin It!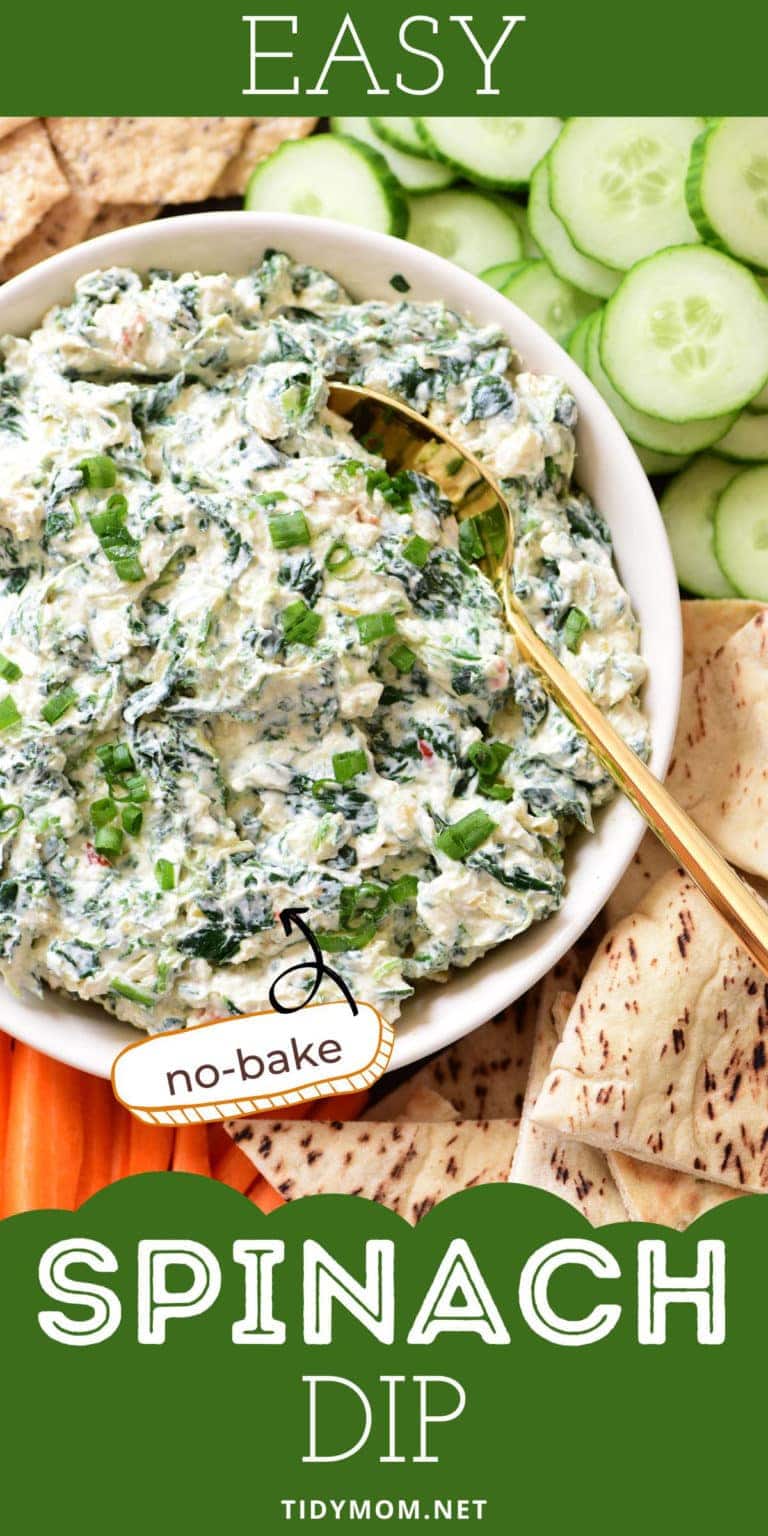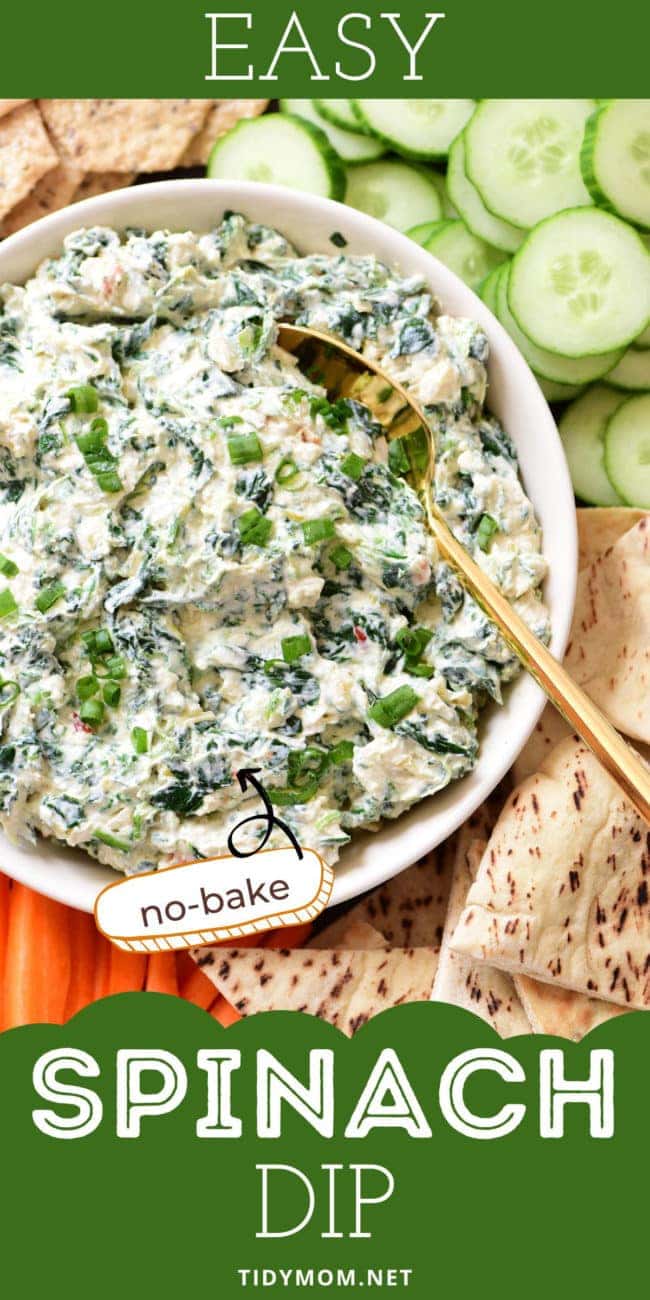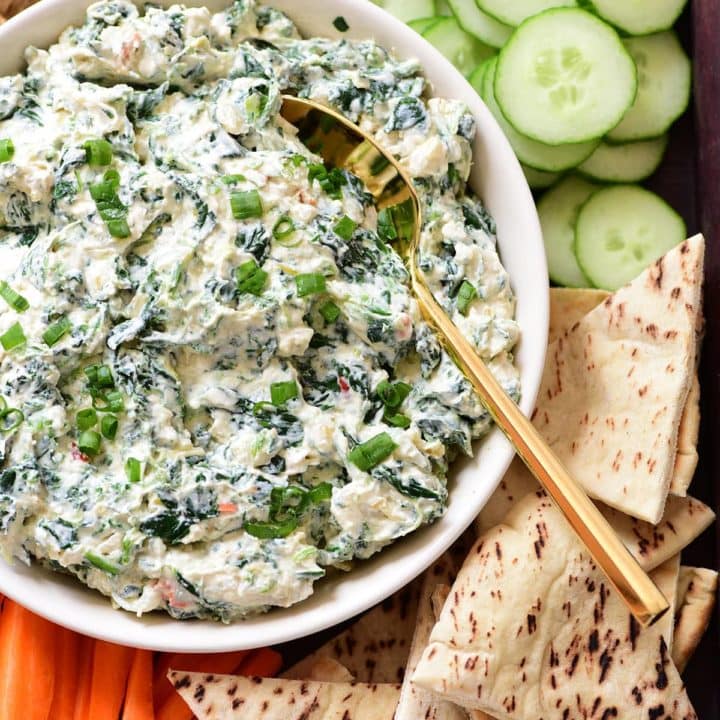 Extra Special Spinach Dip
Yield: 3 cups
Prep Time: 5 minutes
Total Time: 5 minutes
Turn up the competition with an extra special twist on a classic Knorr spinach dip recipe. A creamy, cold veggie dip for any get-together, potluck, holiday, or sports viewing party!
Ingredients
10 ounces frozen chopped spinach, thawed
16 ounces 2% plain Greek yogurt (or sour cream)
½ cup mayonnaise
¼ cup grated parmesan cheese
½ teaspoon lemon juice
¼ teaspoon garlic powder
1 envelope (1.8 ounce) Knorr Vegetable Recipe Mix
8 ounce can water chestnuts, drained and chopped
3 green onions, finely chopped (use the green part for a little garnish)
Instructions
Squeeze spinach until dry.
Mix all of the ingredients together in a medium bowl until well combined. Chill in the refrigerator several hours, or overnight. The longer it sits the better 12-24 hours is ideal.
Serve in a bowl with crackers, bread, pretzels, baked pita chips, or veggies (carrots, celery, broccoli, cauliflower, cucumber, bell peppers etc.)
Notes
Store the dip in an air-tight container in the fridge for up to a week.
OPTIONS:
Serve in a bread bowl
For a smoother consistency put everything except for the spinach in a food processor and pulse for 30-60 seconds. Place in a bowl and stir in spinach.
Use as a spread for wraps and sandwiches
you can replace frozen spinach with fresh spinach. You will need to cook down the fresh spinach and squeeze it dry
Add salad-sized cooked shrimp
Add well-drained chopped artichoke hearts
Add teaspoon Worcestershire sauce
Recommended Products
As an Amazon Associate and member of other affiliate programs, I earn from qualifying purchases.
Nutrition Information:
Yield: 32
Serving Size: 1
Amount Per Serving:
Calories: 48
Total Fat: 3g
Saturated Fat: 1g
Trans Fat: 0g
Unsaturated Fat: 2g
Cholesterol: 4mg
Sodium: 49mg
Carbohydrates: 3g
Fiber: 1g
Sugar: 1g
Protein: 2g
Nutrition information is estimated based on the ingredients and cooking instructions as described in each recipe and is intended to be used for informational purposes only. Please note that nutrition details may vary based on methods of preparation, origin, and freshness of ingredients used and are just estimates. We encourage, especially if these numbers are important to you, to calculate these on your own for most accurate results.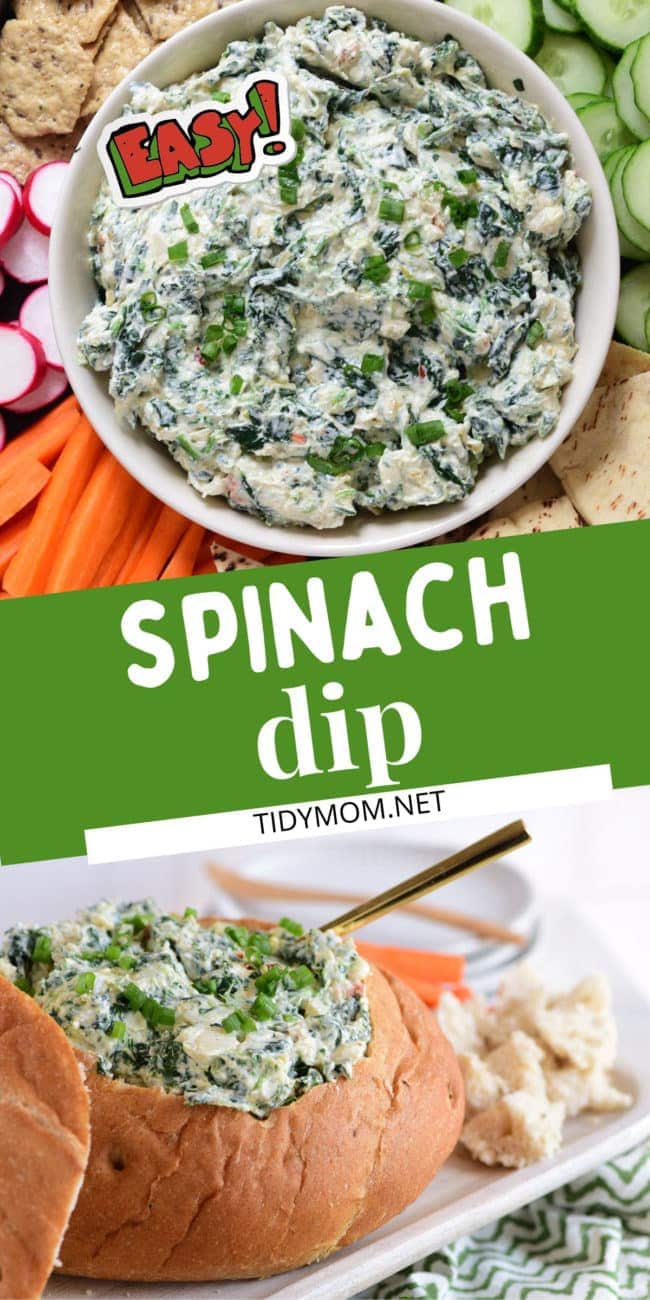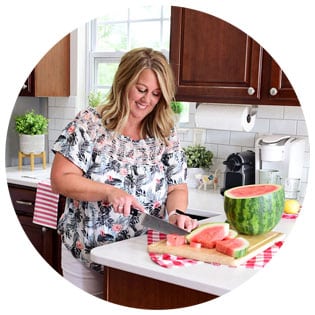 Hi there, I'm Cheryl!
As a wife, mom, and caffeine enthusiast, my journey has taken me from bustling mornings with my family to sharing delicious recipes, home care tips, and heartfelt decorating insights with wonderful readers like you. My love for baking, photography, and tidiness shines through every post I craft. Dive into my world and discover the art of homemaking, one tidy moment at a time. Read more...
Tidymom is a participant in the amazon services llc associates program, an affiliate advertising program designed to provide a means for sites to earn advertising fees by advertising and linking to Amazon.com.
Please respect my work, recipes and photographs. If you do use a recipe in your own writing, please give proper credit and link back to the original post.