The Perfect Fall Charcuterie Board
No gathering is complete without a spectacular charcuterie or cheese board. You'll impress your guests with this Perfect Fall Charcuterie Board that includes a Smoky Cheese Ball, Homemade Cheese Crisps, figs, nuts, pears, and more.
Be sure to sign up for my email… to get new recipes and ideas in your inbox!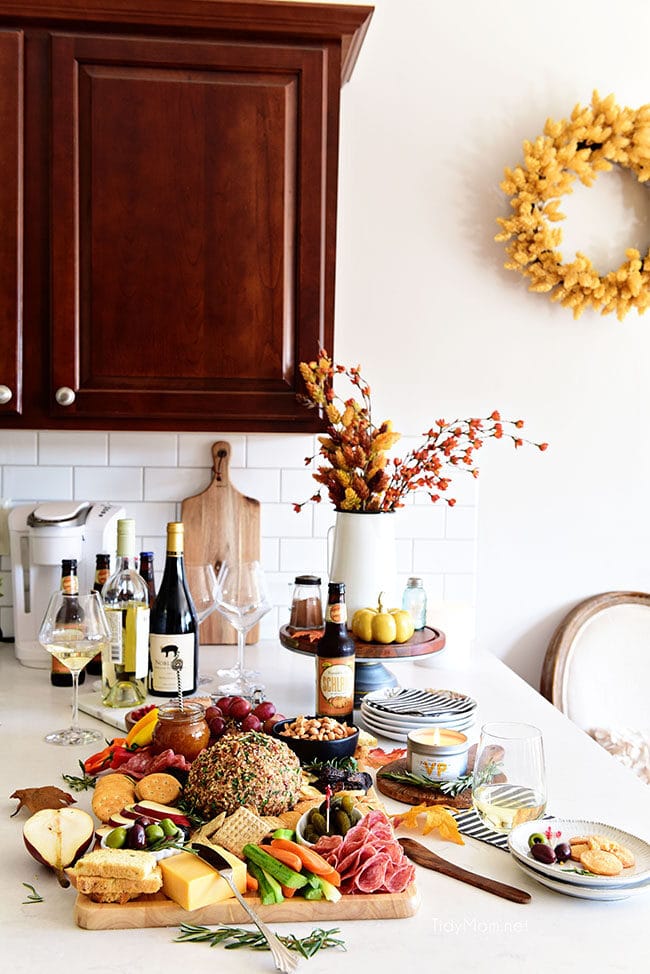 The Perfect Fall Charcuterie Board
Peak entertaining season is coming up fast, which means you need to have an arsenal of great party recipes ready to go at a moment's notice. Years ago I learned that the best way to impress any guests, especially during the holidays, is to put together an amazing charcuterie board.
Who doesn't love a good spread of meats and cheeses right? This master list of everything you'll need for the perfect fall charcuterie board will be your new go-to all season long. The best part is you don't need to go out and buy hundreds of dollars worth of ingredients. This list incorporates a mix of basic pantry essentials and homemade ingredients that will set your appetizer apart from all the others.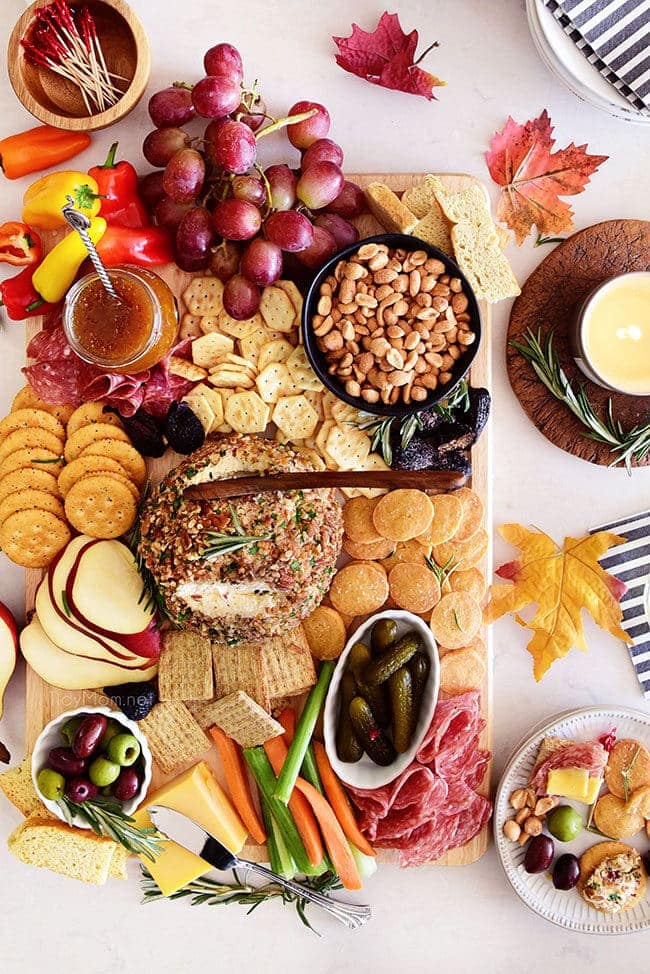 What is Charcuterie?
You might be thinking right now, what in the world is charcuterie, and do I even want to eat that? Well, I promise you that charcuterie isn't nearly as weird as the name might suggest.
Charcuterie is a French word that essentially refers to deli meats. The charcuterie branch of cooking is devoted to prepared meat products, such as bacon, ham, sausage, terrines, galantines, ballotines, pâtés, and confit which are primarily derived from pork.
The meats are prepared in a way that would help preserve the meat before refrigeration was an option, they are prepared today for their flavors derived from the preservation processes. You will often see charcuterie paired with cheese, served on an appetizer board.
Where To Begin When Making The Perfect Charcuterie Board
Add texture and color
You want to make sure you add a variety of different colored cheeses and, different types of meat to make everything stand out. If there's too much of one color the whole board will look too blah, and not as appealing.
To add texture, I like to add a few different types of crackers. Something rough like Triscuits, and then something soft and smooth like these savory shortbread cheese crips that can be easily prepped the night before.
Make sure your serving platter is food safe
Whenever you're making a charcuterie board, you'll want to make sure you have a nice large serving platter or board, just be sure it's safe to have food served off of it. If you're not sure, the safe bet is to place a piece of parchment paper over the surface to protect the food.
Don't forget to add some spreads or dips
While everyone loves all the meats and cheeses, you'll want something to mix it up and give the board some variety. Adding jam, chutney, honey, and cheese dips will be sure to make your charcuterie board top-notch! I like to prep this smoky cheese ball the night before to add to the board. It's always a huge hit, and so easy to make.
Tips to Pick the Best Charcuterie and Cheese Pairings
If you really want to be the hostess with the mostess at your dinner party, you'll definitely want to learn to put together the best charcuteries and cheese pairing to make an A+ charcuterie board.
Don't worry about trying to head out to any specialty stores to find the most expensive cheese, you can find pretty good quality options at most grocery stores near the deli section.
Here are a few tips and tricks for getting the right pairings to keep everyone happy:
There are a lot of very scientific rules of how to pair the best cheese and the best meat, but I don't think any of us are trying to get that technical, so the good rule of thumb is to just offer a wide variety.
Select a variety of textures and flavors when it comes to both the cheese and the charcuterie. You'll want to have a mix of both mellow and strong flavors. You also want to have a mix of hard cheese and soft cheese, as well as hard and soft charcuterie.
To really take your meat and cheese pairing to the next level for this charcuterie board, you can try combining the best of both worlds of crackers and cheese and making these savory shortbread cheese crisps. Just prep them the night before and they'll be ready to add to the board.
What To Serve Along With A Fall Charcuterie Board
If you make a charcuterie board the right way, like this one, then you might not even need to pair much with it at all. This recipe is perfect for a small gathering and will keep everyone satisfied through a night of catching up. It pairs perfectly with a good glass of red or white wine, along with any beer or cocktails like our favorite Bourbon Apple Cider Cocktail or Smashing Pumpkin Cocktail.
If you want a few more amazing appetizer ideas, be sure to check out some of the recipes below!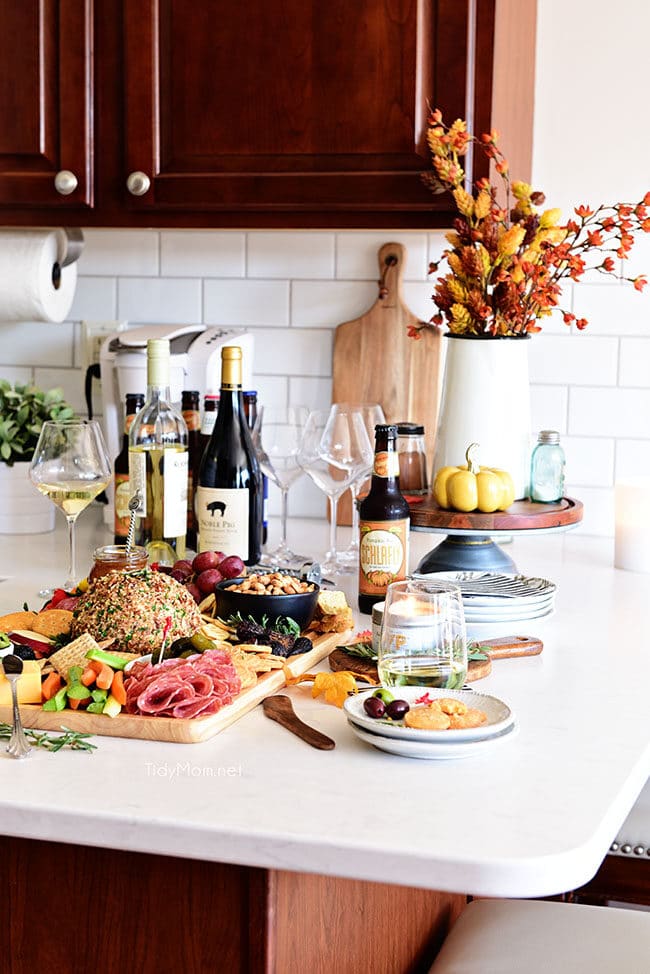 More Amazing Fall Appetizer Recipes You'll Love!
Garlic Roasted Shrimp – Takes almost no time to make and it's bursting with flavor. Making it the perfect party appetizer or quick healthy dinner idea.
Sweet and Tangy Asian Meatballs – Cook up in no time with a homemade sticky teriyaki sauce. They make a sensational appetizer for a party or dinner idea when served over rice and broccoli.
Cranberry Cream Cheese Dip – A snap to make and only gets better with age. With a hint of tangy sweetness, both kids and adults will gobble it up.
Antipasto Skewers – An easy make-ahead appetizer with a new delicious discovery in every bite. Perfect for any occasion, this party food comes together fast and is endlessly customizable.
Cheesy Olive Bites – A delicious finger food. They are cocktail party perfect! Just bite into one of these sharp cheddar shortbread-wrapped gems and be surprised by a pimento-stuffed cocktail olive.
Like This Fall Charcuterie Board? Pin It!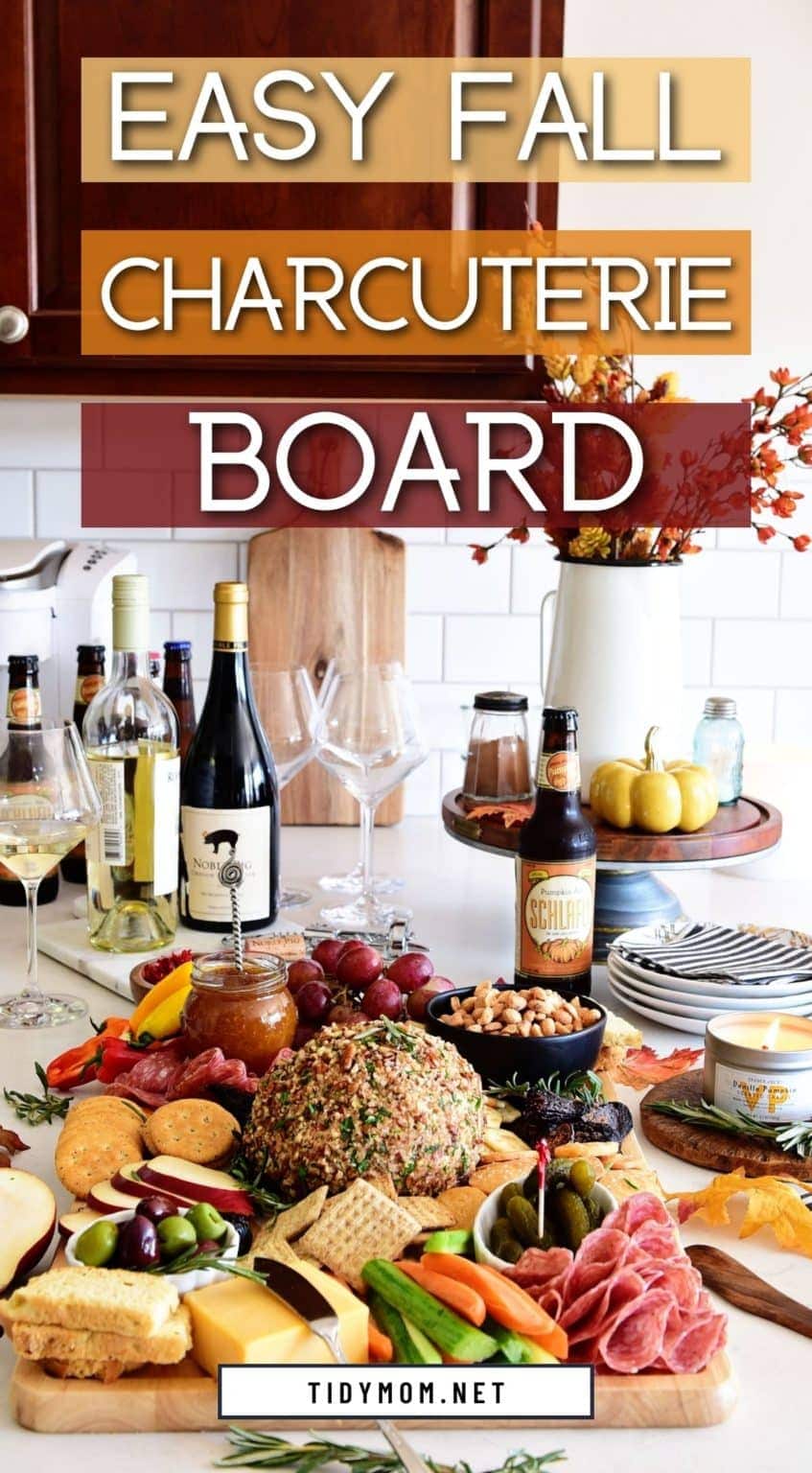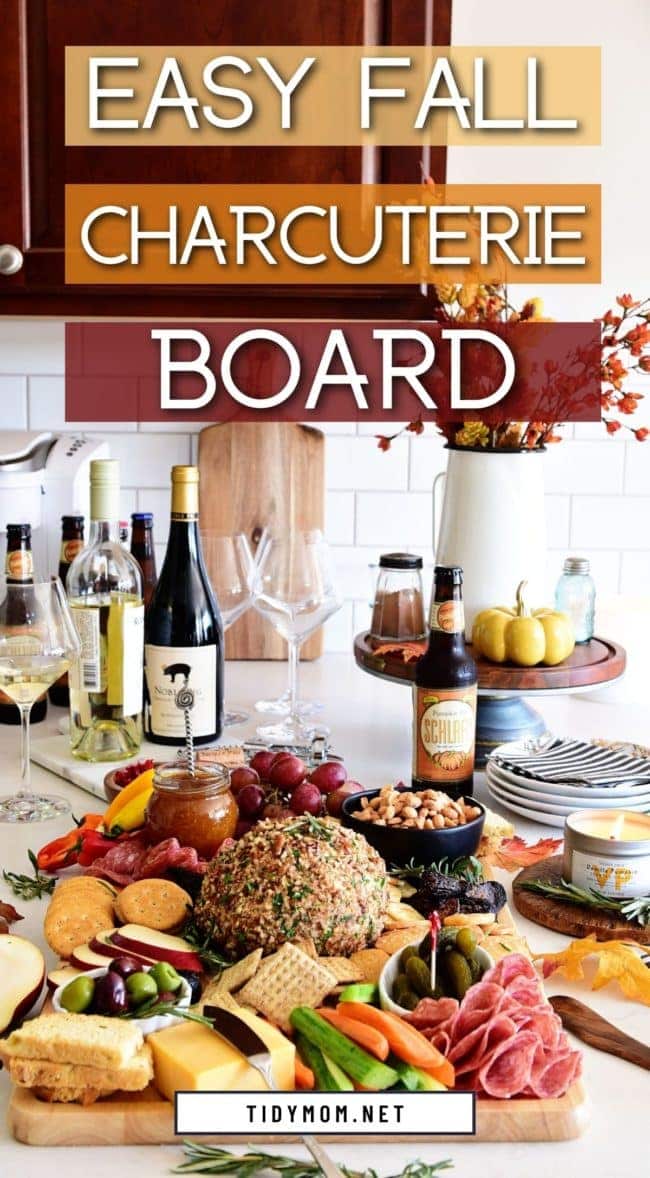 This post may contain affiliate links. Please read my disclosure policy here.
Tools Used to Make The Perfect Fall Charcuterie Board
Rustic Serving Tray or Rectangular Serving Tray
A go-to tray for serving and entertaining, and it's big enough to carry anything you might want to serve.
Don't forget to add a few cheese spreaders like these to the table with the charcuterie board so everyone can enjoy their appetizer with ease.
A few small bowls to gather small ingredients into are essential for making a charcuterie board.
The Perfect Fall Charcuterie Board
Yield: 12 servings
Prep Time: 15 minutes
Total Time: 15 minutes
No gathering is complete without a spectacular charcuterie or cheese board. You'll impress your guests with this Perfect Fall Charcuterie Board that includes a Smoky Cheese Ball, Homemade Cheese Crisps, figs, nuts, pears and more. You can easily cut back, double, or triple the ingredients as needed.
Ingredients
homemade cheese crisps
1 wedge aged cheddar
4 ounces cured meats, sliced (I used Genoa salami)
1 red pear, sliced
2-3 bunches grapes
1/2 cup dry roasted peanuts
1/3 c. olives
1/3 c. midget sweet pickles
mini sweet peppers
celery and carrot sticks
jam, chutney, or honey (I used tangerine spread)
assorted crackers and bread
Rosemary for garnish
Instructions
Place peanuts, olives, pickles, and jam in small bowls and place on a food-safe platter or wooden cheese board.
Arrange cheeses, crackers, meat, pear slices, grapes, figs, and vegetables around the bowls on the platter or board.
Garnish with fresh rosemary and serve. Enjoy with your favorite, wine, beer or cocktails.
Notes
Swap out anything to suit your own taste. I mainly went through our pantry and refrigerator and used a lot of what I already had on hand.
Recommended Products
As an Amazon Associate and member of other affiliate programs, I earn from qualifying purchases.
Originally posted in October 2009. UPDATED November 2018 and September 2023. We spiffed up this post with more information and 1 change to the recipe: I now use white chili beans in place of cannellini beans.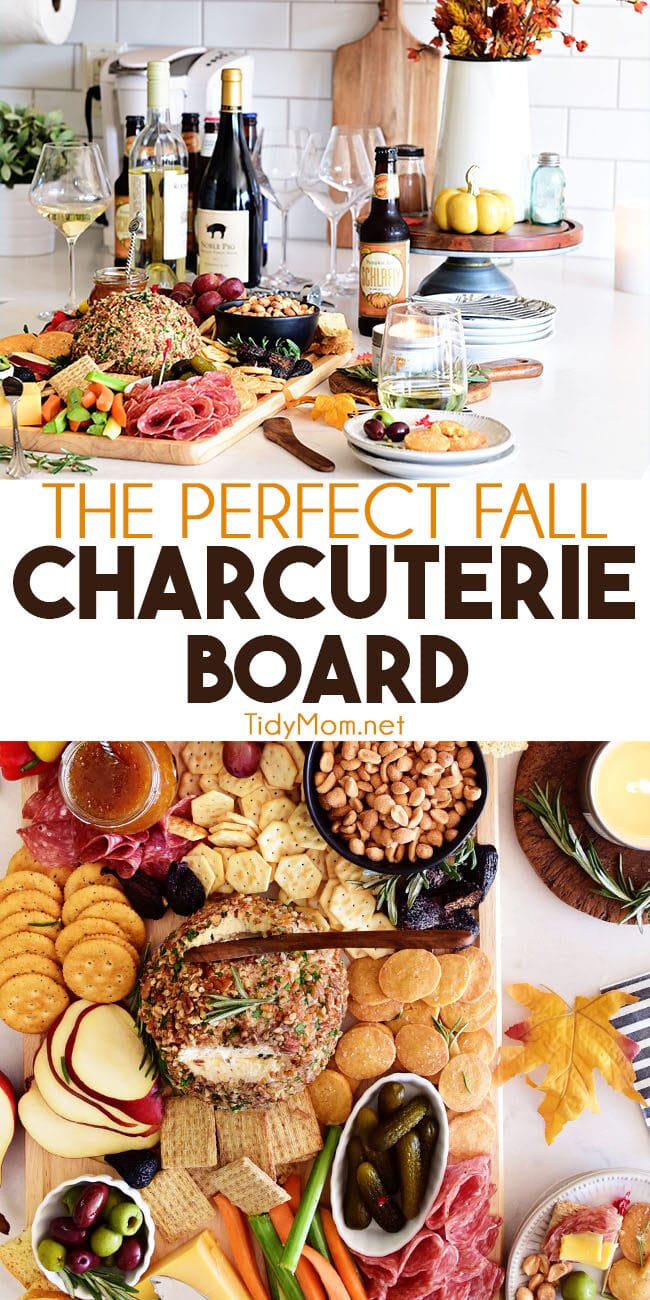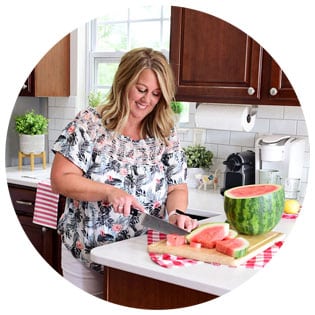 Hi there, I'm Cheryl!
As a wife, mom, and caffeine enthusiast, my journey has taken me from bustling mornings with my family to sharing delicious recipes, home care tips, and heartfelt decorating insights with wonderful readers like you. My love for baking, photography, and tidiness shines through every post I craft. Dive into my world and discover the art of homemaking, one tidy moment at a time. Read more...
Tidymom is a participant in the amazon services llc associates program, an affiliate advertising program designed to provide a means for sites to earn advertising fees by advertising and linking to Amazon.com.
Please respect my work, recipes and photographs. If you do use a recipe in your own writing, please give proper credit and link back to the original post.