Lasagna Soup Recipe & Salsiccia (Italian Sausage)
Easy lasagna soup is filled with the complex tastes of traditional lasagna. Hearty salsiccia, full-bodied tomato base, savory three cheese blend, vibrant Italian seasonings, and sturdy bites of pasta create a deliciously layered and robust soup recipe.
Savory soups are always a favorite this time of year. We're excited to share some of our favorites with you like, Creamy Chicken & Wild Rice Soup or Easy Butternut Squash Soup recipes. Last year's fan favorite, Old Fashioned Vegetable Beef Soup, along with Homemade No-Knead Dutch Oven Bread.
Be sure to sign up for my email… to get new recipes and ideas in your inbox!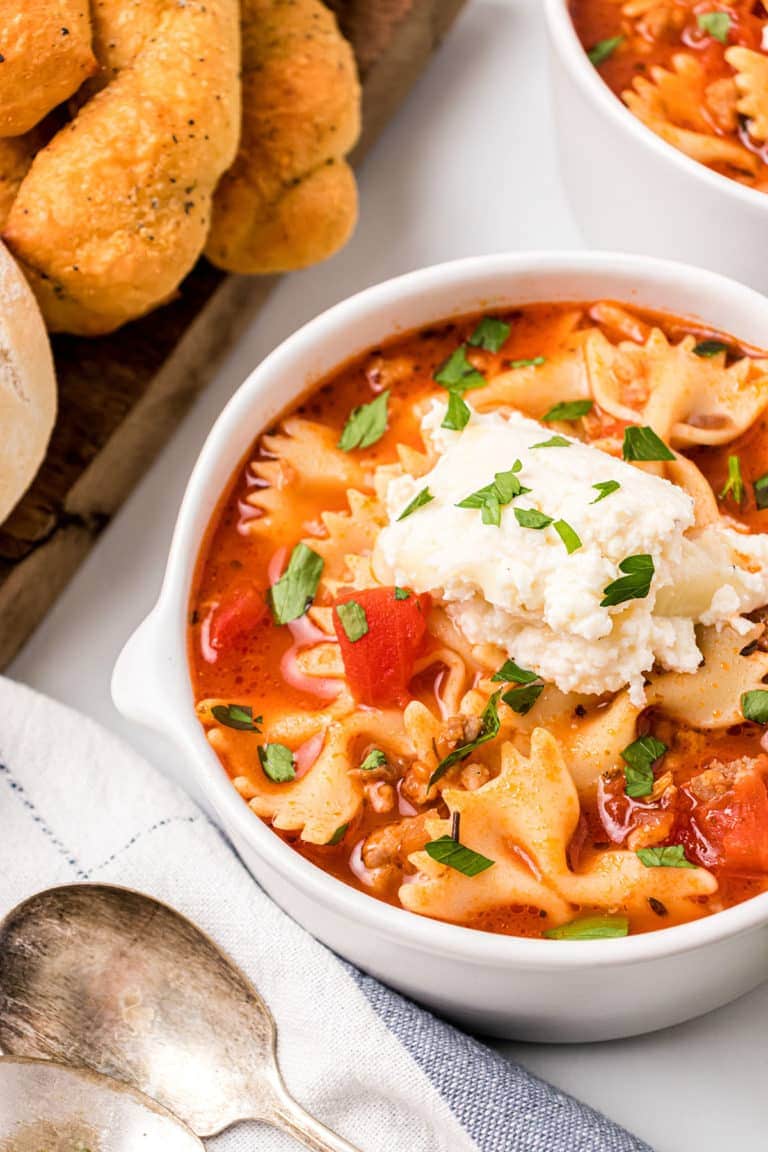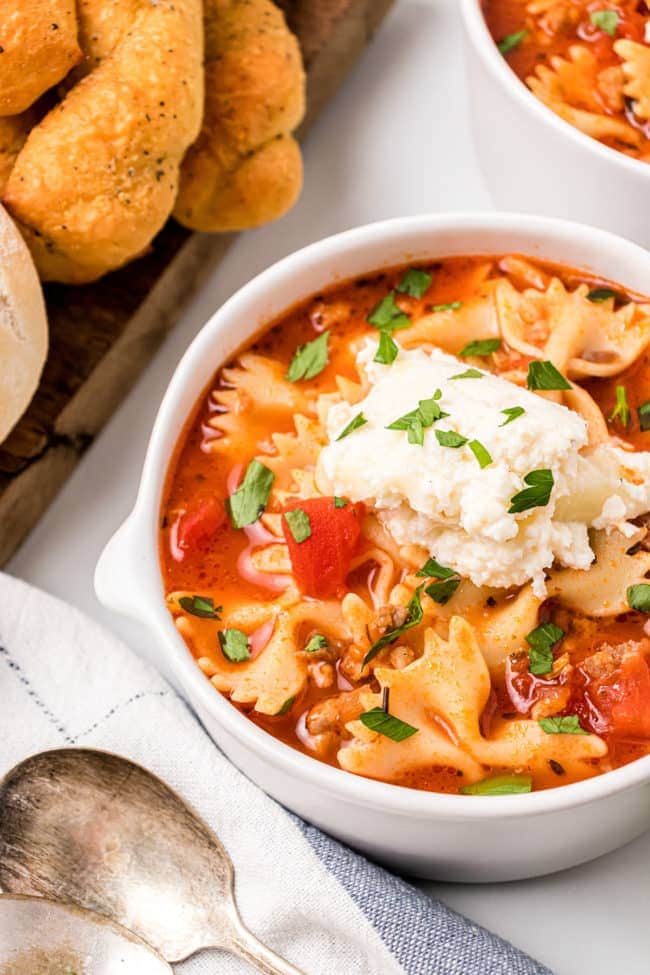 Why You'll Love Lasagna Soup
Lasagna soup tastes as yummy as the traditional pasta meal.
Easy recipe that's on the table in under an hour.
A surprising and artful way to serve a lasagna dish without all the labor; great for guests!
A hearty and robust Italian-style soup recipe with ground sausage will satisfy even the toughest crowds!
Lasagna soup, crusty bread, and a simple salad are perfect for friends and family game or movie nights.
You only need to substitute two ingredients to make a delicious comfort soup for vegetarian diets.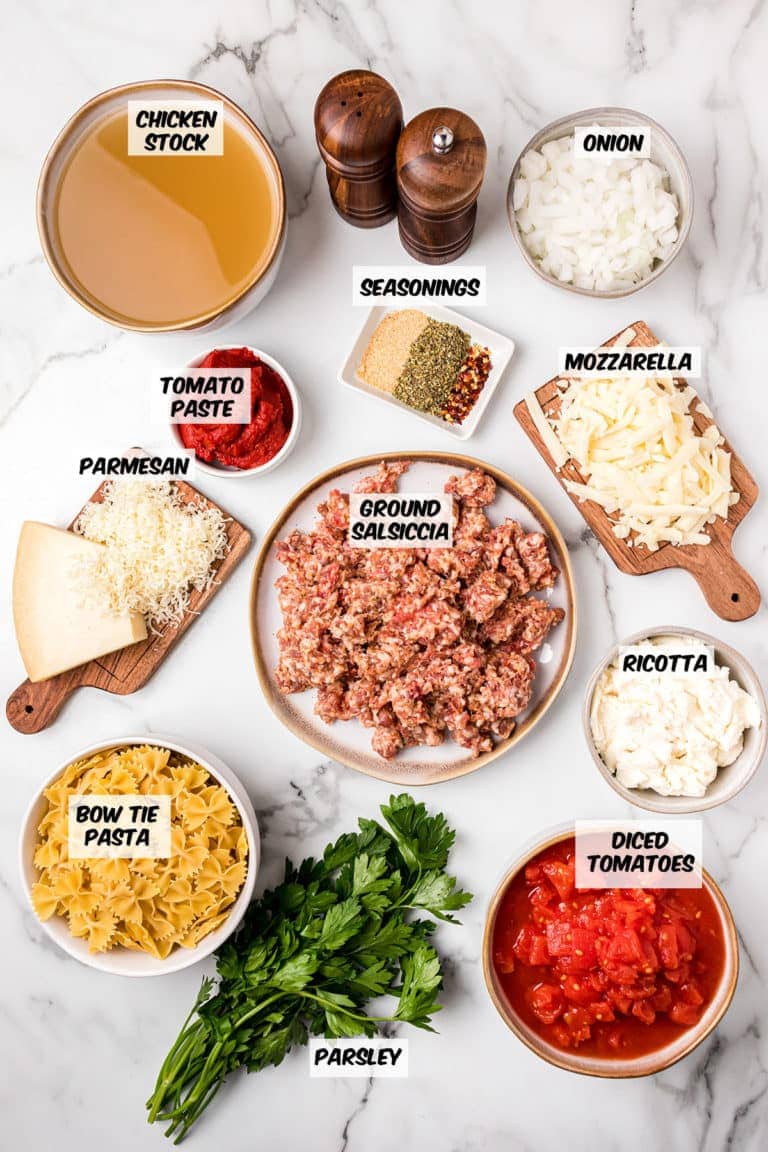 What You'll Need To Make Lasagna Soup With Italian Sausage
Don't let the list fool you; this lasagne soup comes together effortlessly. Everything is thrown into one pot except for cooking the pasta and mixing three delicious Italian cheeses together. This tomato-based Italian soup adapts easily to dietary restrictions.
Salsiccia – is the Italian word for sausage. Italian sausage is a mixture of fresh meat, usually pork and bits of pancetta, herbs, and the distinct taste of fennel seed.
Garlic Salt and a Small Onion
Tomato Paste – highly concentrated tomato mash with a rich, tangy, and deeply layered flavor.
Diced Tomatoes – are conveniently cut pieces of fresh, sun-ripened tomatoes, canned in their juices, and cook-down well in soups.
Chicken Stock – provides a richer, more nutrient-dense, and full-flavored liquid base for lasagna soup.
Italian Seasoning Blend – Purchased blends can have any number of combinations of herbs. The bottle I have in my pantry contains marjoram, oregano, thyme, rosemary, savory, basil, and sage. See FAQs below if you want to make your own.
Crushed Red Pepper Flakes – a touch of heat and the actual pepper flavor brighten and lift tomatoes in a soup recipe.
Dry Bow Tie Pasta (Farfalle) – is the perfect density and adds a touch of elegance when serving guests this soup recipe. Broken lasagna shells are also an option; either way, it's gonna taste yummy!
Ricotta Cheese* – is made from whey, the liquid left after making other cheeses. Ricotta has less sodium and fat than most standard cheeses, with a slightly grainy yet smooth texture. Recipes use ricotta in both savory and sweet dishes and baking.
Shredded Mozzarella Cheese – a fresh (not aged) cheese higher in water content that basically tastes like milk with a touch of salt and a slight tang.
Parmesan Cheese – aged Italian low-moisture hard cheese is salty with a granular consistency and a nutty, fruity flavor. It's best to grate your own or purchase 100% freshly grated Parm. Shaker blends contain anti-caking ingredients that don't incorporate well into lasagna soup recipes.
Salt And Pepper
Garnish – Fresh parsley or basil.
*DYK? Ricotta isn't really a cheese? Nope, it is a latticino, a dairy (by)product made out of leftover whey from cheese; making lasagne soup molto bene!! Love those Italiani with the "waste not, want not" philosophy!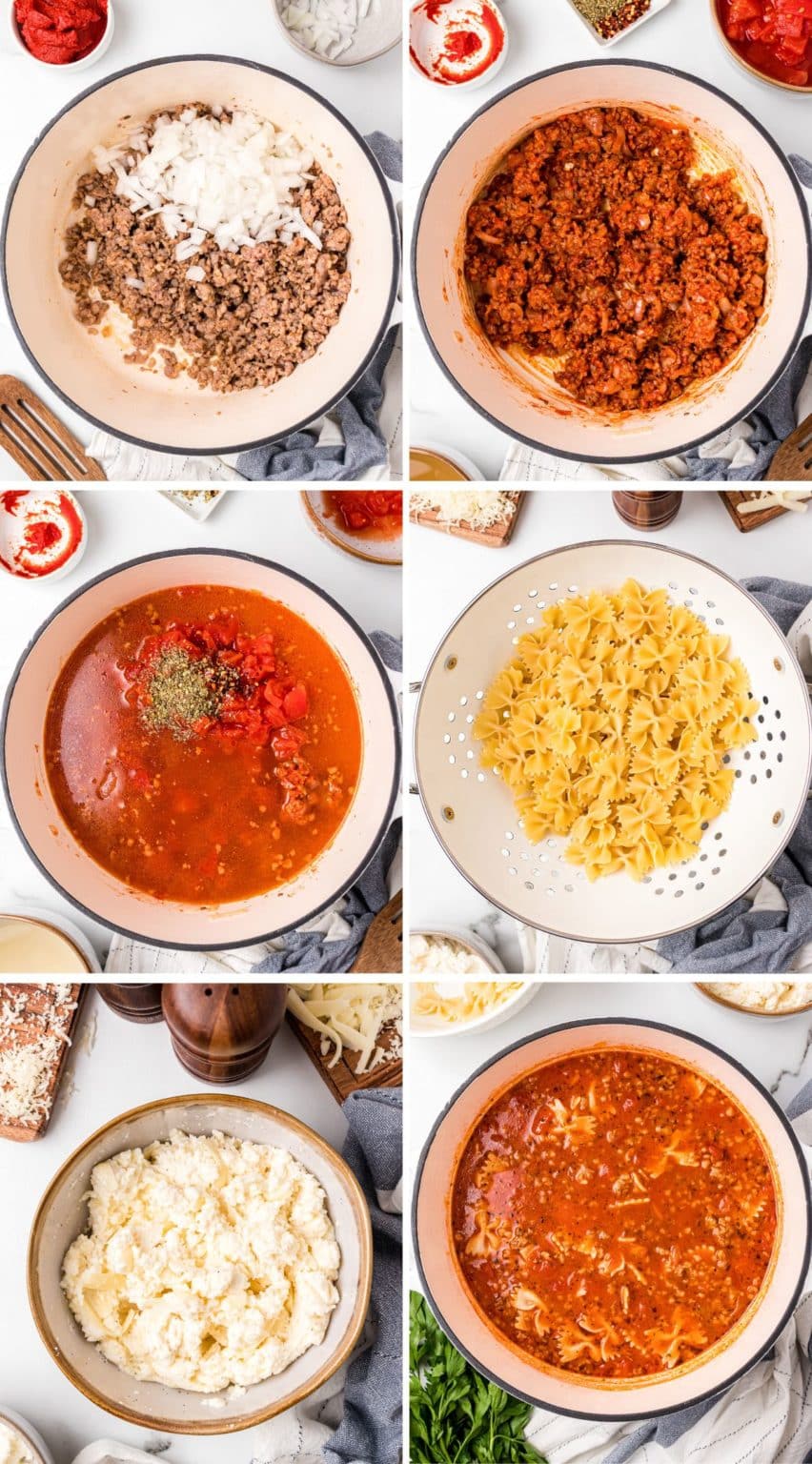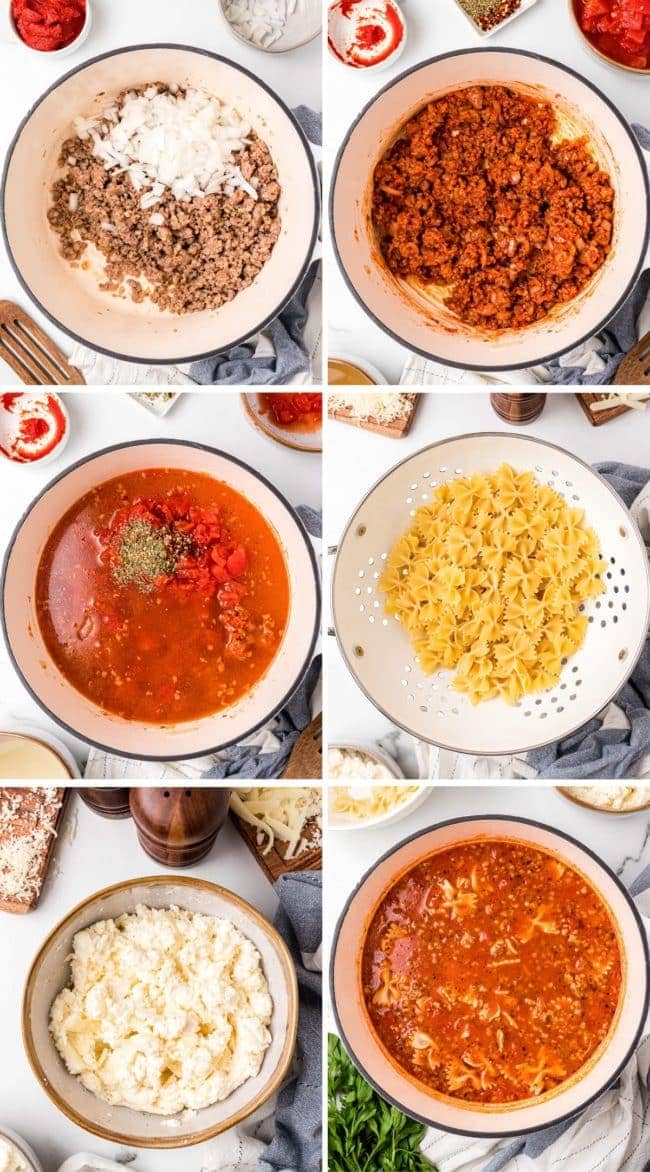 This post may contain affiliate links. Please read my disclosure policy here.
How To Make Lasagna Soup With Ground Pork
This recipe for easy lasagna soup is, as advertised, easy! A hearty, complex-tasting soup with layers of full-bodied flavors. Effortlessly adapt this soup recipe for dietary restrictions or personal taste.
(full printable recipe at the end of this post)
Step 1: Brown the Italian sausage and garlic salt, add chopped onions and cook until translucent.
Step 2: Stir in tomato paste and cook for a few mininutes. Add diced tomatoes, chicken stock, Italian seasoning, and pepper flakes, then bring to a boil. Reduce heat, cover, and simmer.
Step 3: While the soup simmers, cook pasta according to package instructions.
Step 4: In a small bowl combine ricotta, mozzarella, and parmesan cheeses and season with salt and pepper to taste.
Step 5: Serving: Stir cooked pasta into lasagna soup just before serving.* Ladle soup into bowls, top with cheese mixture, and garnish.
*If you expect to have leftovers, the pasta can get mushy, so it's best to add the cooked pasta to each bowl when serving.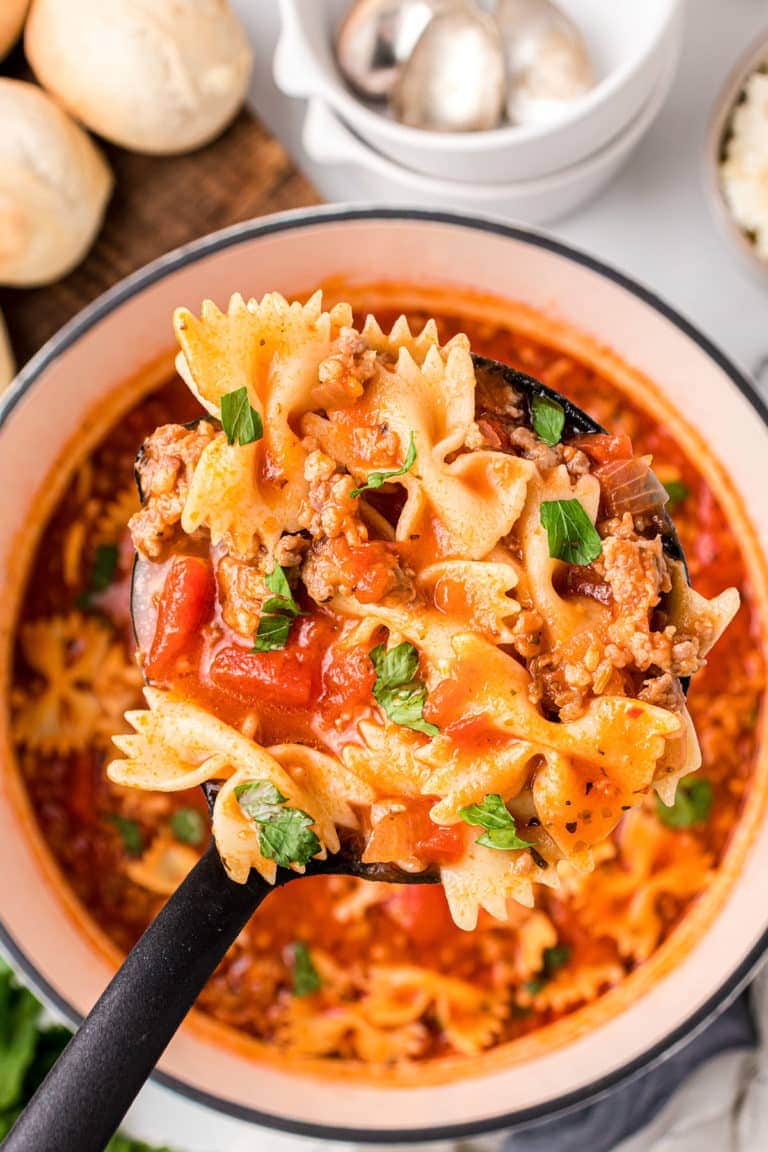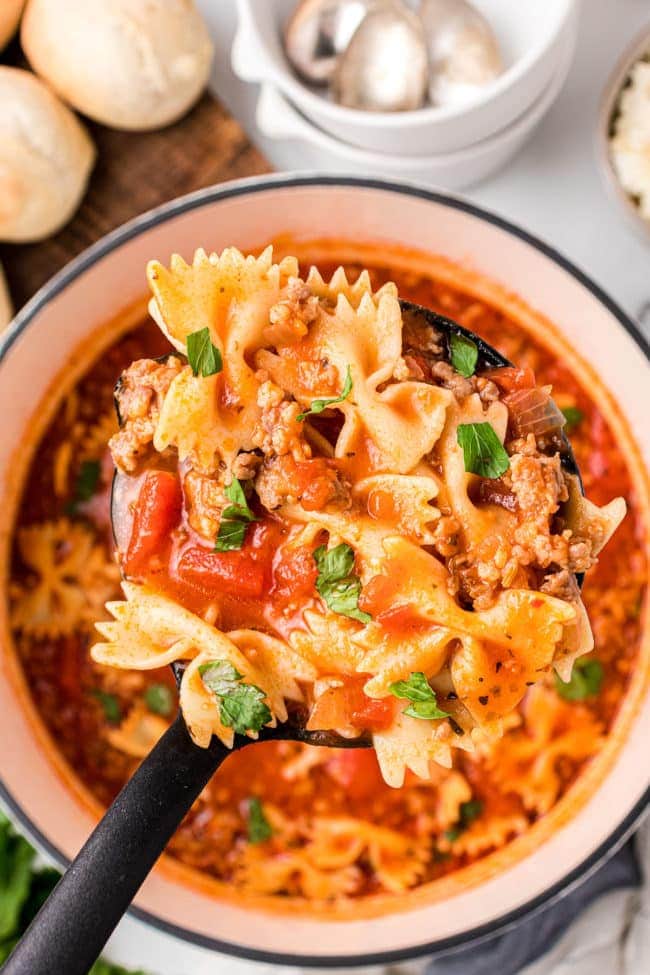 Salsiccia Lasagna Soup Recipe Notes/Tips
Salsiccia is usually found in the meat department and packaged as mild, sweet, and hot. You'll want to remove the casing if your grocer only sells sausage links.
If you use ground pork instead of Italian sausage, you can keep the actual flavor of salsiccia in your lasagna soup recipe; first and foremost, add ground or lightly mortared fennel seed!
Spices typically found in Italian sausage are pepper, parsley paprika, coriander, nutmeg, and even anise. Add any that you like to ground pork while browning.
It's a good idea to keep extra chicken stock on hand if the lasagna soup needs thinning.
Making vegetarian lasagna soup is easy by using vegetable broth and leaving the sausage out.
You can add the cheese mixture to the bottom of the bowl and ladle soup over it, or add it on top. Either way, it will melt into the hot lasagna soup; YUM! (I think it looks nicer on top!)
You can use broken lasagna noodles (duh), mafalda pasta or any thicker cut of pasta in place of farfalle noodles. Don't forget whole wheat or gluten-free options as well!
If you plan on having leftovers, keep the pasta out of the soup and put a portion into each bowl before adding the cheese.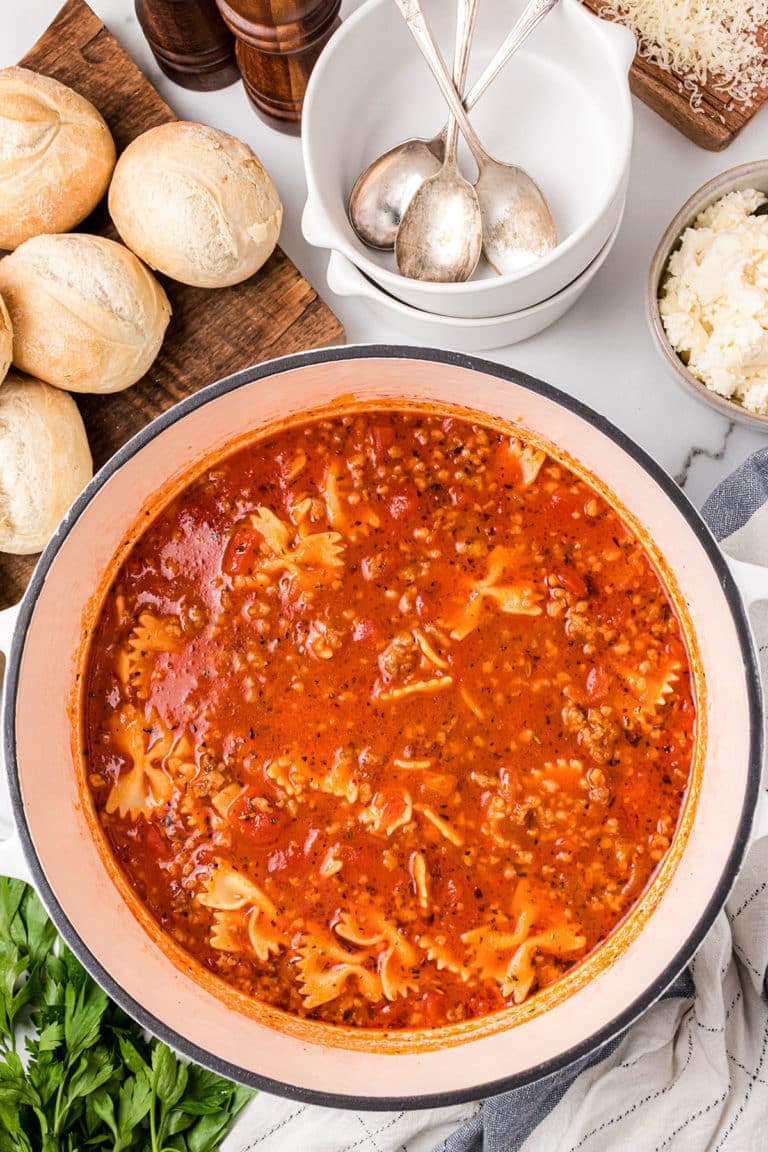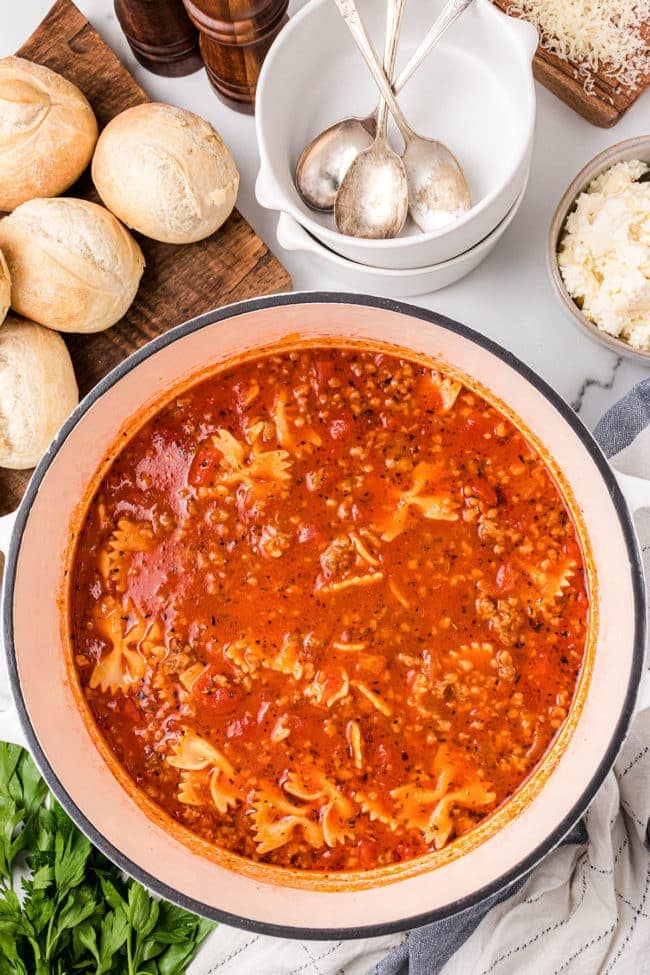 How To Store Lasagna Soup
Refrigerate/Leftovers:
Store leftover lasagna soup with Italian sausage in the fridge in an airtight container for up to 5 days. If you don't keep the pasta separate, it will soak up the liquid. If this happens, add more broth when you reheat.
Freeze:
You can freeze lasagna soup after it cools and put in an airtight container. Remove any remaining pasta before freezing because it will get mushy. Freezing cheese is always an iffy prospect, BUT if you have a lot leftover and are of the same "waste not, want not"* mentality, go for it!
Freezing Cheese:
You can use large ice cub trays to freeze the cheese in individual servings, then toss frozen cheese chunks into a plastic freezer bag. Since the cheese cubes will melt into the hot lasagna soup when reheated, the texture won't make a difference.
Reheat:
Thaw lasagna soup in the fridge overnight or on the counter until slushy.
Reheat gently and increase to a slow simmer for 5-10 minutes.
Do not boil.
Use freshly cooked pasta, thawed or freshly made cheese mixture, and garnish.
*Chef's Tip: If you are comfortable going off script for some recipes, use up any extra cheese for an excuse to make yummy hot Spinach Artichoke Dip. Just sayin'!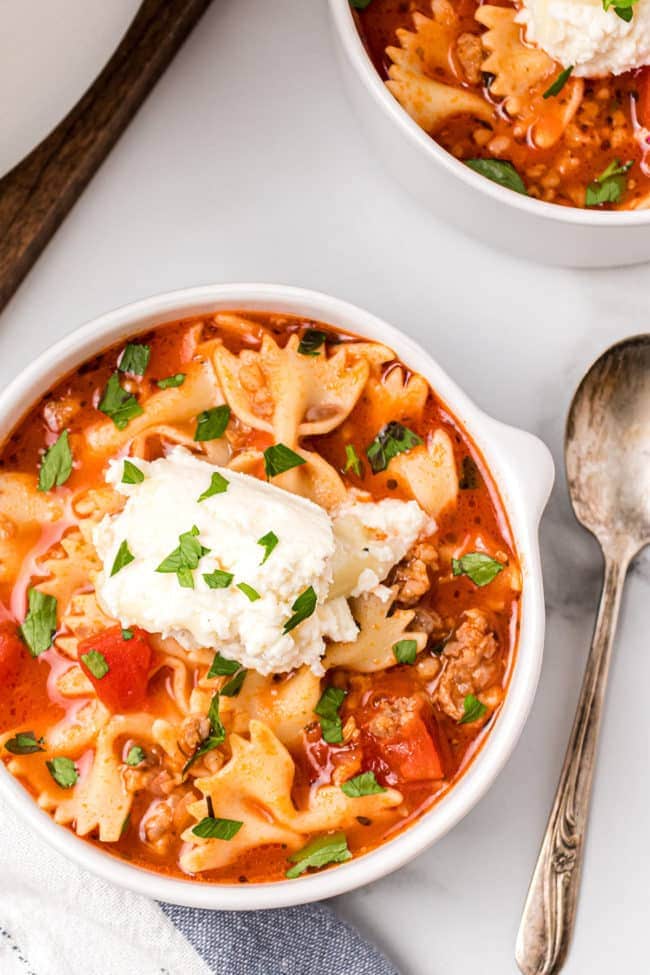 Recipe FAQs
Can you make lasagna soup ahead?
Absolutely! Especially if you want to make a double batch, you can freeze a large portion of it without adding the pasta or cheese. Allow the soup to cool completely, then freeze portioned soup into airtight containers.

I like to freeze single servings of lasagna soup too. Perfect for lunches or those nights when the other half is out. Make some fresh pasta and pull out a single serving of the cheese mixture, and you're all set!

How do I make my own Italian seasoning?
You can easily make Italian seasoning for lasagna soup and other recipes with herbs you have on hand. The most common herbs for Italian seasoning are basil, oregano, rosemary, thyme, and marjoram. Parsley or sage powder make excellent additions to lasagna soup and homemade Italian seasoning blends.
How do you remove Italian sausage casing?
Butterfly uncooked sausage by cutting in the center ¾ of the way into it and from end to end. Flip the cut side down, peel the casing up ½ an inch, and use your thumb to keep it in place. Pull the casing in a smooth and even pressure. It should pull right off!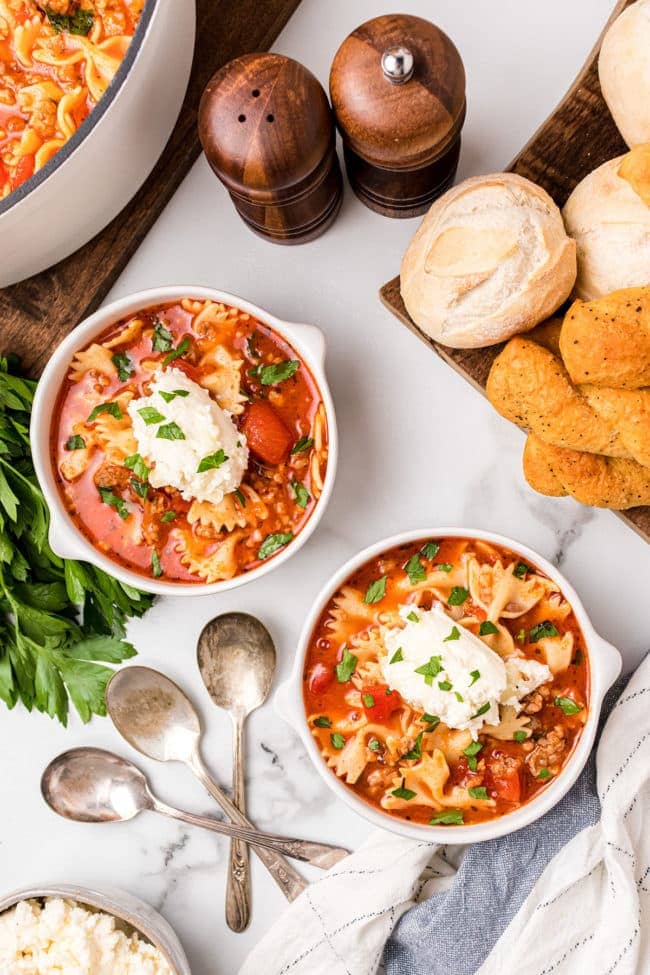 Variations/Substitutions & Additions
Italian sausage can be swapped out for ground turkey, chicken, beef, or ground pork. Add a swirl of olive oil to brown chicken or turkey.
Replace chicken stock with chicken broth or vegetable broth. Use the equivalent of chicken or vegetable bullion if your heart is set on lasagna soup and no broth or stock is available.
If you don't have Italian Seasoning, you can use 2 teaspoons dried basil and 1 teaspoon dried oregano OR skip the dried seasonings and use 3 tablespoons finely chopped fresh basil leaves. If using fresh basil, add it at the very end. Turn off the heat and stir in fresh basil before serving.
Replace ricotta cheese with a blend of ½ cottage cheese and ½ cream cheese. Throw it in a food processor and pulse until creamy. I like to mix in a hit of parsley or basil for flavor and because it's pretty! 🙂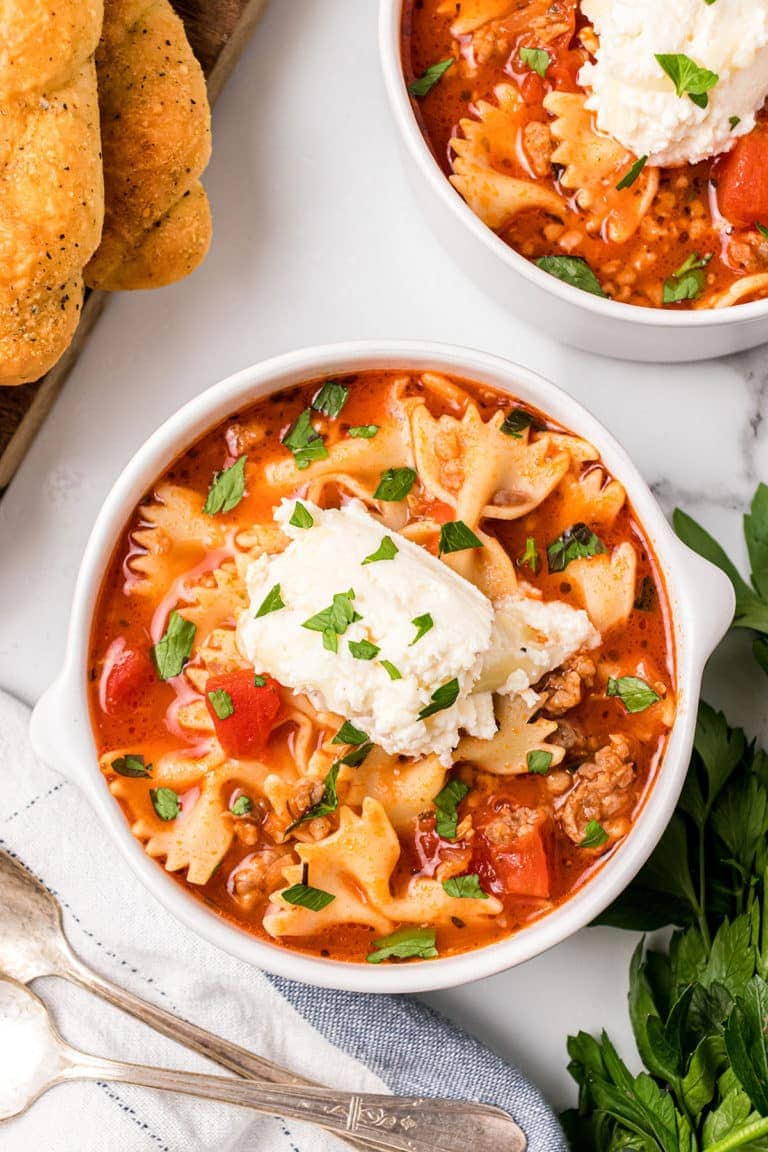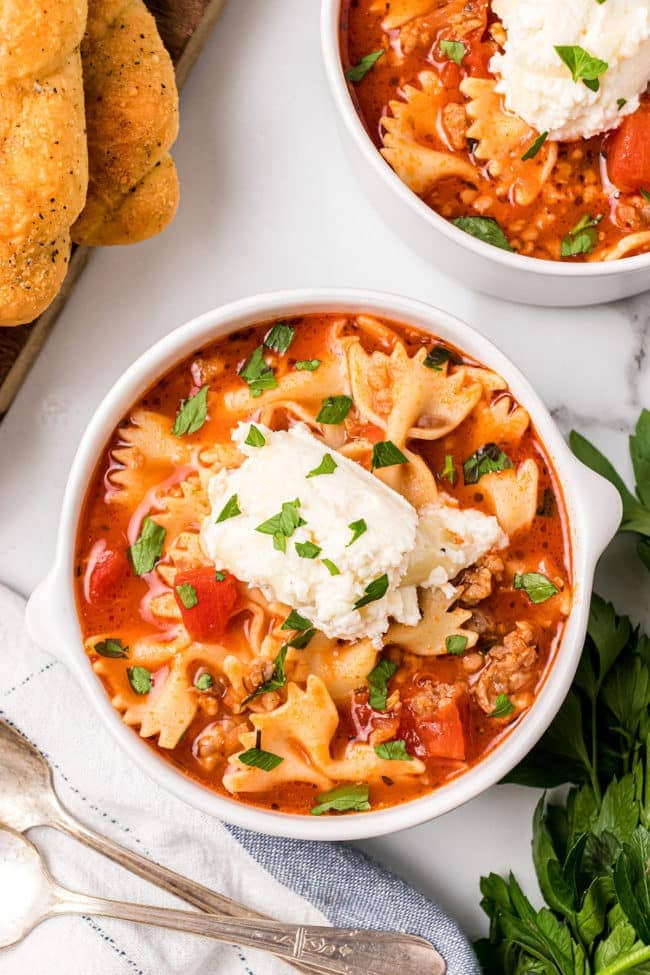 Like This Recipe? Pin It!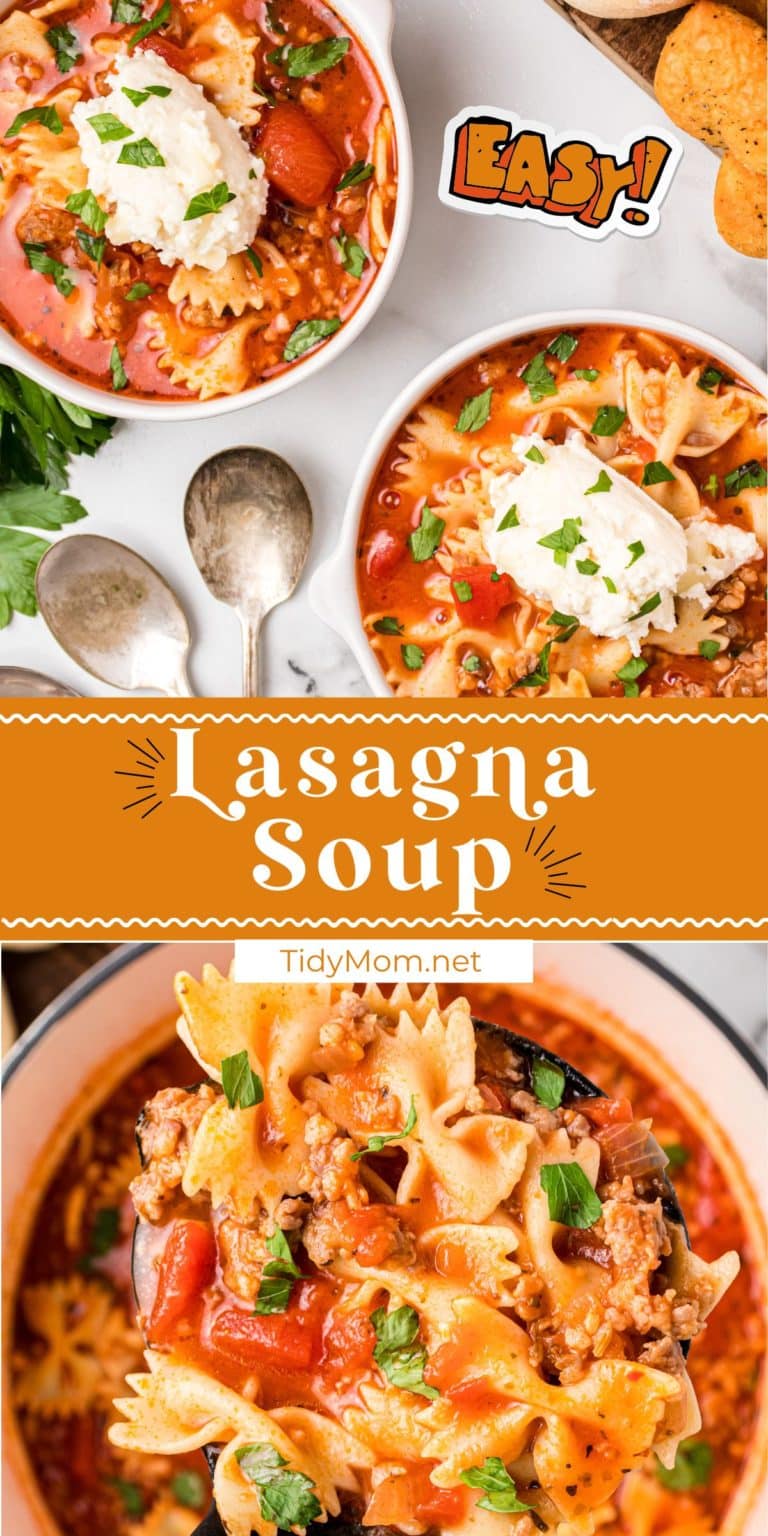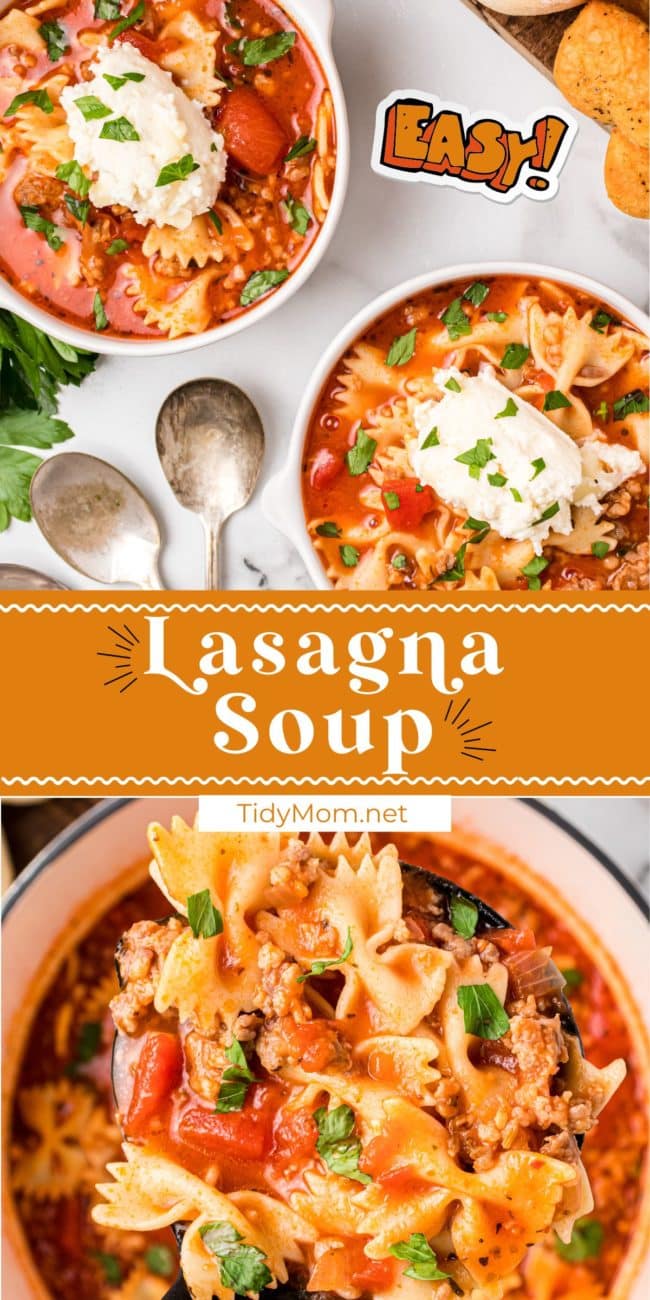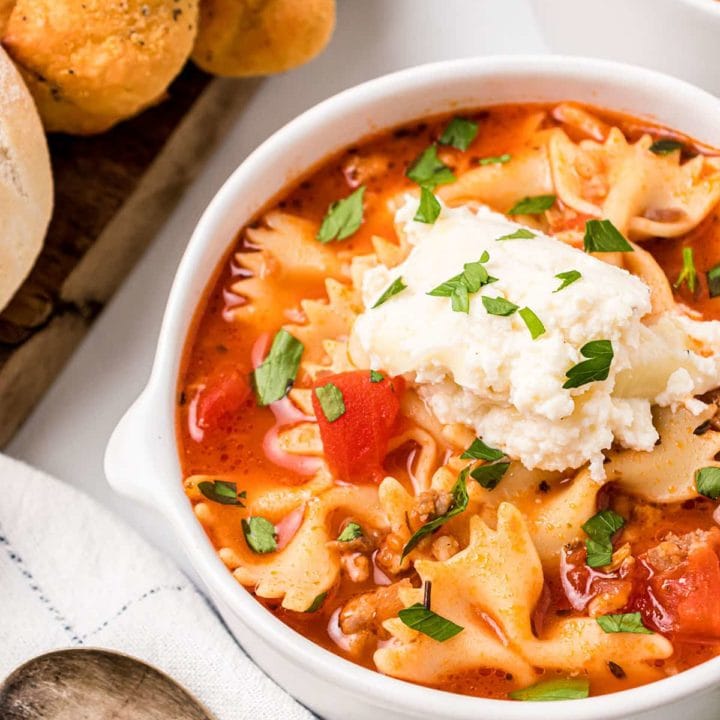 Easy Lasagna Soup
Yield: 6 servings
Prep Time: 10 minutes
Cook Time: 30 minutes
Total Time: 40 minutes
Easy lasagna soup is filled with the complex tastes of traditional lasagna. Hearty salsiccia, full-bodied tomato base, savory three cheese blend, vibrant Italian seasonings, and sturdy bites of pasta create a deliciously layered and robust soup recipe.
Ingredients
1 pound ground salsiccia (Italian sausage)
1 teaspoon garlic salt
1 small onion, chopped
6 ounce can tomato paste
28 ounce can diced tomatoes
4 cups chicken stock (or vegetable)*
1 tablespoon Italian seasoning blend
¼ teaspoon crushed red pepper flakes
2 cups of dry bow tie pasta (farfalle)
8 ounces ricotta cheese
1 cup shredded mozzarella cheese
¼ cup grated parmesan cheese
Salt and pepper
fresh parsley or basil for garnish
Instructions
In a large dutch oven or soup pot over medium-high heat brown the ground pork, season with garlic salt. Add chopped onions and continue to cook until translucent (about 5 minutes)
Add tomato paste, stir to incorporate and cook for another 3-4 minutes stirring occasionally.
Add in diced tomatoes, chicken stock, Italian seasoning, and crushed red pepper flakes. Bring to a boil, then reduce heat to medium-low, cover and simmer 20-30 minutes.
Meanwhile, cook pasta according to package instructions.
While pasta is cooking, prepare the cheese mixture in a small bowl. Combine ricotta, mozzarella and parmesan. Season with salt and pepper to taste.
Stir cooked pasta into soup just before serving.** see notes.
Ladle soup into bowls, add a dollop of the cheese mixture on top and garnish with chopped parsley or basil leaves.
Notes
Store leftovers in the refrigerator in an airtight container for up to 5 days.
You can use chicken (or vegetable) stock or broth. Stock is a bit thicker and a little more flavorful.
You can add a dollop of cheese mixture to the bottom of the bowl and ladle soup over, or add a dollop on top of the soup. Either way, it will melt into the hot soup.
While the ricotta cheese mixture is my favorite, if you don't have any or want to skip it, you can turn off the heat and sprinkle the top of the soup with the mozzarella and parmesan - or do this with each bowl when serving.
** If you expect to have leftovers, the pasta can get mushy so it's best to just add the cooked pasta to each bowl when serving.
Recommended Products
As an Amazon Associate and member of other affiliate programs, I earn from qualifying purchases.
Nutrition Information:
Yield: 6
Serving Size: 1
Amount Per Serving:
Calories: 287
Total Fat: 10g
Saturated Fat: 5g
Trans Fat: 0g
Unsaturated Fat: 4g
Cholesterol: 29mg
Sodium: 922mg
Carbohydrates: 33g
Fiber: 5g
Sugar: 11g
Protein: 18g
Nutrition information is estimated based on the ingredients and cooking instructions as described in each recipe and is intended to be used for informational purposes only. Please note that nutrition details may vary based on methods of preparation, origin, and freshness of ingredients used and are just estimates. We encourage, especially if these numbers are important to you, to calculate these on your own for most accurate results.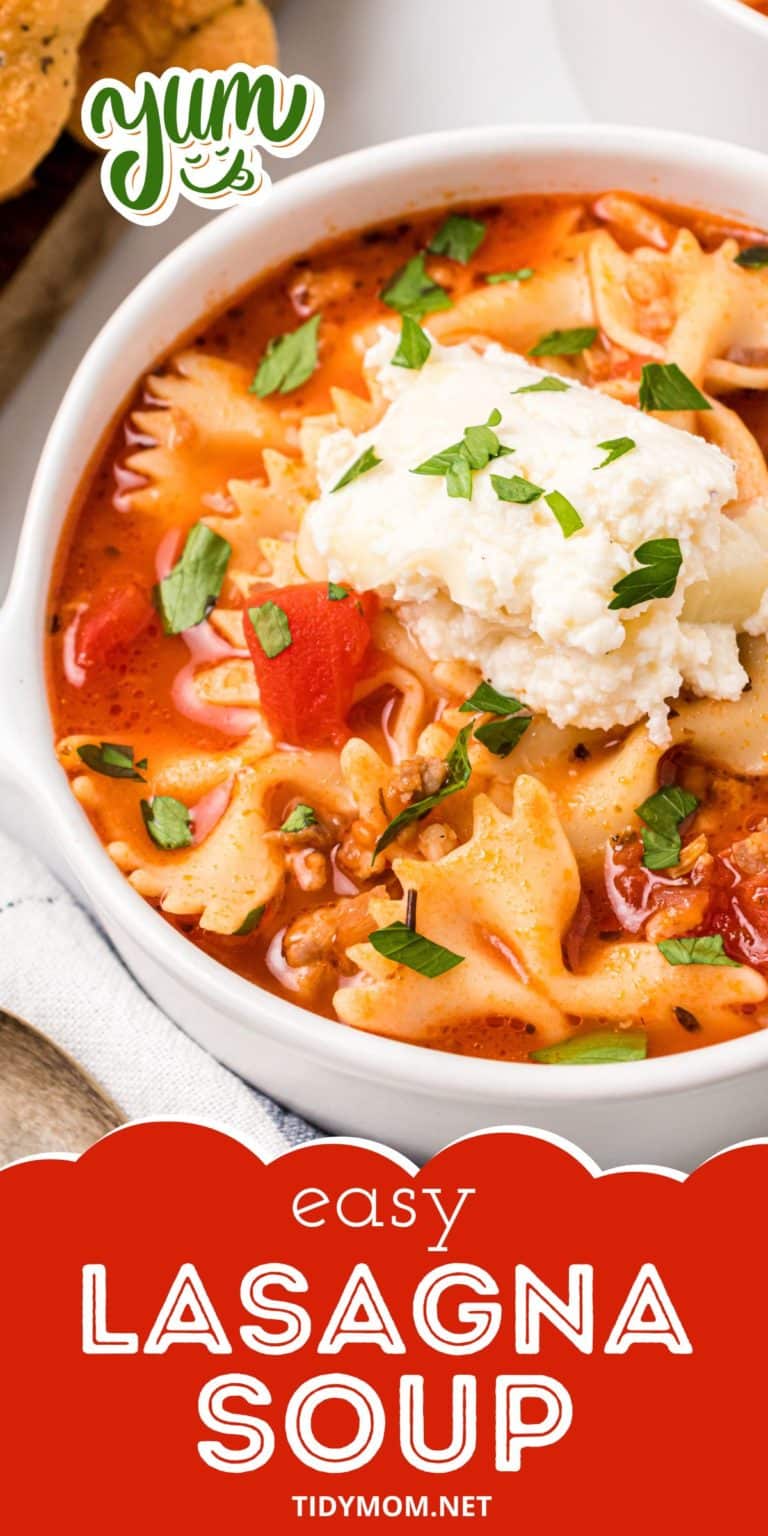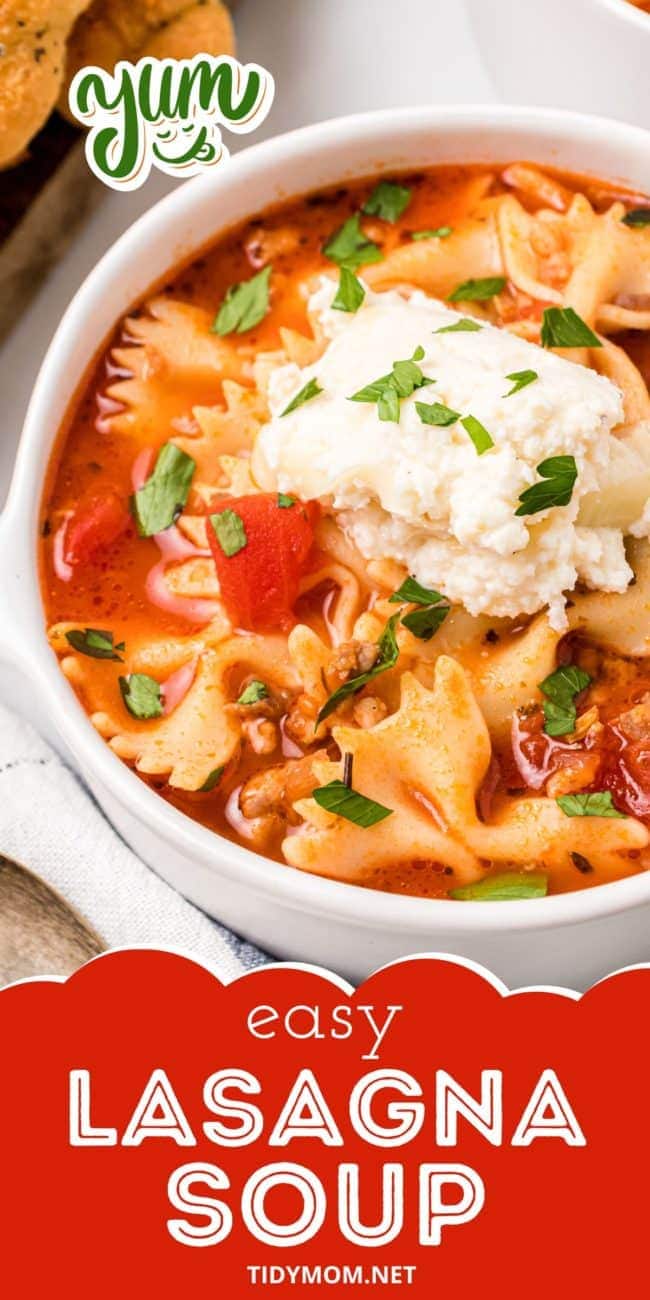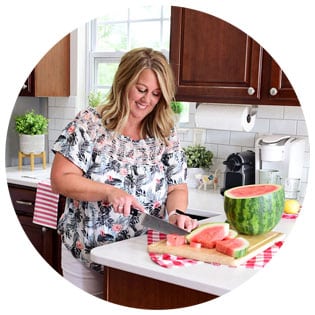 Hi there, I'm Cheryl!
As a wife, mom, and caffeine enthusiast, my journey has taken me from bustling mornings with my family to sharing delicious recipes, home care tips, and heartfelt decorating insights with wonderful readers like you. My love for baking, photography, and tidiness shines through every post I craft. Dive into my world and discover the art of homemaking, one tidy moment at a time. Read more...
Tidymom is a participant in the amazon services llc associates program, an affiliate advertising program designed to provide a means for sites to earn advertising fees by advertising and linking to Amazon.com.
Please respect my work, recipes and photographs. If you do use a recipe in your own writing, please give proper credit and link back to the original post.