Creamy Chicken And Wild Rice Soup {VIDEO}
Panera Copycat recipe
Panera Copycat Creamy Chicken And Wild Rice Soup -A cozy, creamy, stick-to-your-ribs soup that is loaded with carrots, celery, chicken breasts, and of course, wild rice! Easy to make at home and serve with crusty bread and a fresh side salad and you have a perfect meal.
When cooler weather rolls around, nothing satisfies like hearty homemade soup with homemade Croutons or fresh, crusty bread. Some of my favorite rich and hearty soups include Easy Roasted Tomato Soup, Old Fashioned Vegetable Beef Soup, Slow Cooker Taco Soup, and Chicken Gnocchi Soup.
Be sure to sign up for my email… to get new recipes and ideas in your inbox!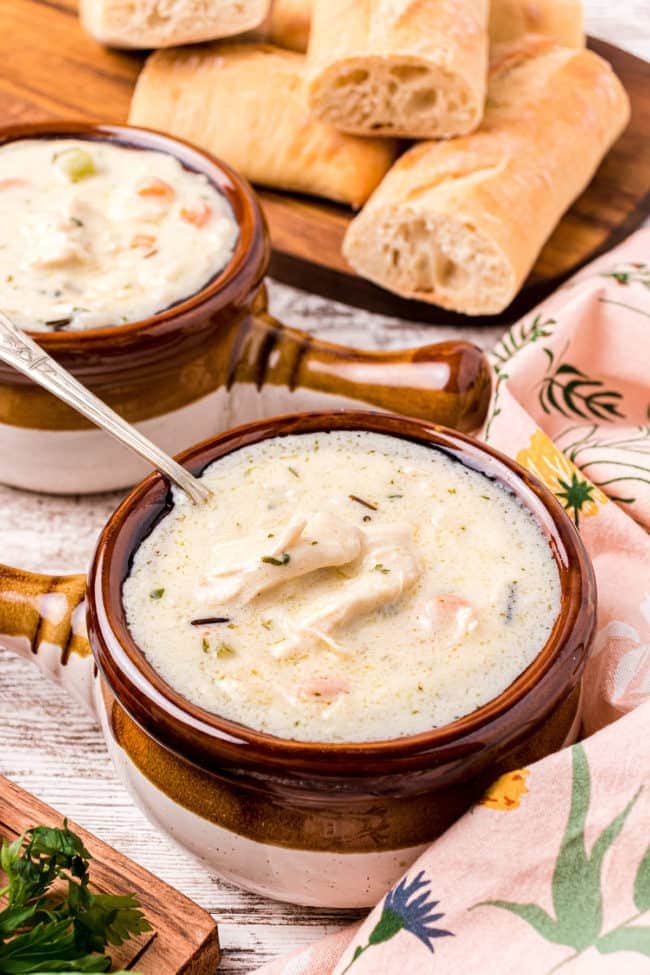 Why We Love Copycat Panera Chicken And Wild Rice Soup
There is something so wonderful about eating something warm and hearty when it's cold outside. Ultra creamy, ultra-satisfying wild rice chicken soup is a step away from chicken noodle soup. Wild rice offers a more textured and nutty/sweet bite bursting with flavor and hearty goodness!
Cozy, hearty, and easy to make.
Use leftover chicken or store-bought rotisserie chicken and you can throw together a delicious pot of soup with very little effort.
The seasoning packet from the box of wild rice blooms to life when sauteed in butter; it's a flavor explosion.
Creamy chicken and wild rice soup is a great make-ahead recipe since it keeps well in the refrigerator for a few days. Allowing the flavors to develop overnight makes this soup even better the next day.
Make ahead and have easy dinners and lunches for the week.
Easy Chicken And Wild Rice Soup Ingredients
Are you ready for tender chicken, simmered veggies, and flavor-infused wild rice in a wholesome, comforting, creamy soup base? Rice seasonings are bloomed in butter and incorporated into a rich, white roux for intense flavor. The kicker? The wild rice absorbs the seasoned broth as it cooks and is full of flavor!
(full printable recipe at the end of this post)
Olive Oil – Use lower heat to avoid overheating and burning the garlic.
Garlic – Use freshly minced cloves or jarred minced garlic.
Carrots & Celery – diced, sliced, or shredded to your preference, but I recommend equally proportioned pieces.
Chicken Broth – You can use chicken bone broth for extra nutrition and more intense flavor. For those with dietary restrictions, unsalted chicken broth is fine.
Water
Chicken Breast – cooked, boneless breasts, shredded. Rotisserie chicken is a real-time saver here. 
Seasoned Long Grain And Wild Rice – Look for quick-cooking rice that contains a seasoning packet, like Rice-A-Roni. NOTE: Seasoning Packet – will be used separately in the roux mixture.
Salt & Ground Black Pepper
Flour – all-purpose flour is fine here
Butter – will be melted in the saucepan when making the roux.
Heavy Cream – mixes with the buttery roux paste to become a thickener that gives wild rice chicken soup a smooth, dense, creamy base.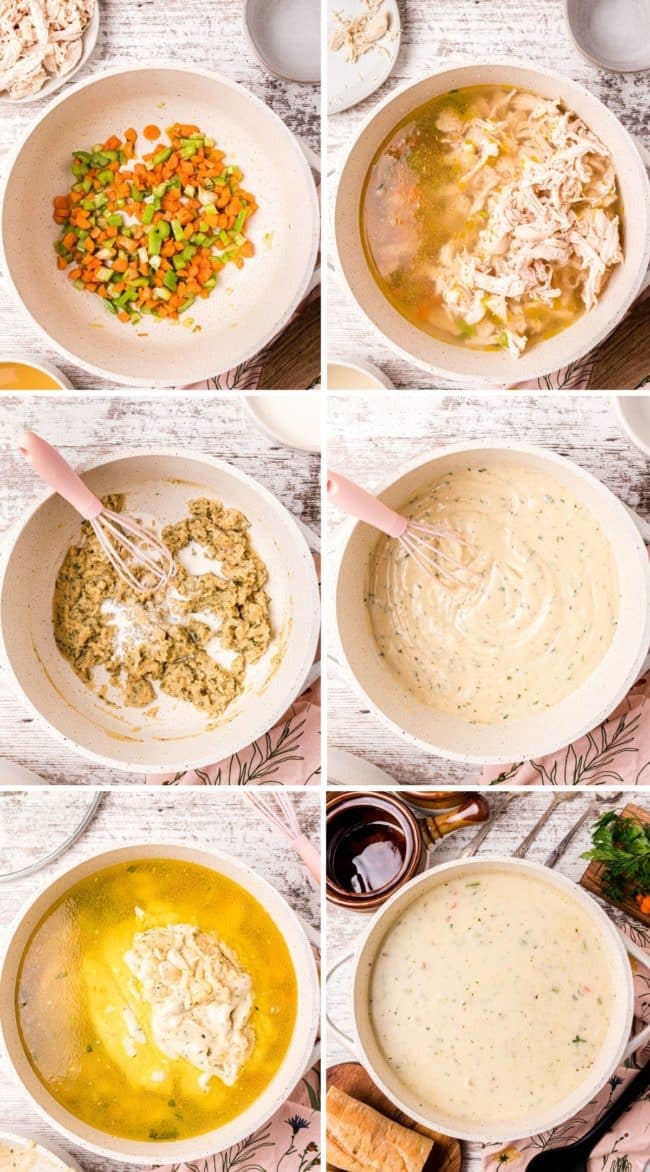 This post may contain affiliate links. Please read my disclosure policy here.
How To Make Creamy Chicken And Wild Rice Soup
You will need to break out a large pot, a medium saucepan or sauté pan, a wooden spoon, and a wire whisk for this chicken and rice soup.
Cook The Veggies: Sautee minced garlic in olive oil, add carrot and celery and saute for a few minutes until softened.
Make The Juice: Combine broth, water, and shredded chicken with veggies and heat to a boil. Stir in the rice, cover, and remove from heat.
Do The Roux: Melt butter, then stir in the rice seasoning packet until it's bubbly. On low heat, stir in the salt, pepper, and flour a bit at a time until combined. Slowly whisk the cream until it is smooth and cook for 5 minutes.
Simmer The Soup: Slowly stir the cream mixture into the chicken and rice soup; cook for 10 to 15 minutes. Break out the bowls and enjoy!
WHAT IS ROUX: Roux is the shortened French phrase, beurre roux, which translates literally to brown butter. A roux results from cooking a fat and flour mixture added to soups, sauces, casseroles, gravies, etc. A roux helps to bind high-fat ingredients, so you end up with a smooth, creamy, and dense dish.
Recipe Notes/Tips
I'm all about saving time and making things easier for busy families, especially during the Fall and Winter season hustle. So, the next time you make chicken cook up some extra, cool, shred, and freeze airtight. You're ready to go when you want to make chicken and wild rice soup! Easy-peasy! Here are a few more tips for copycat chicken and wild rice soup!
Keep whisking the roux at a slow and steady heat because the cream mixture will start to thicken quickly. Do not overcook!
When you add the heavy cream to the roux, keep the heat below the boiling point so the cream doesn't separate.
For a truly authentic Panera copycat recipe, look for a wild rice seasoning packet that contains onion powder and any/or all of these spices: turmeric, thyme, tarragon, and parsley.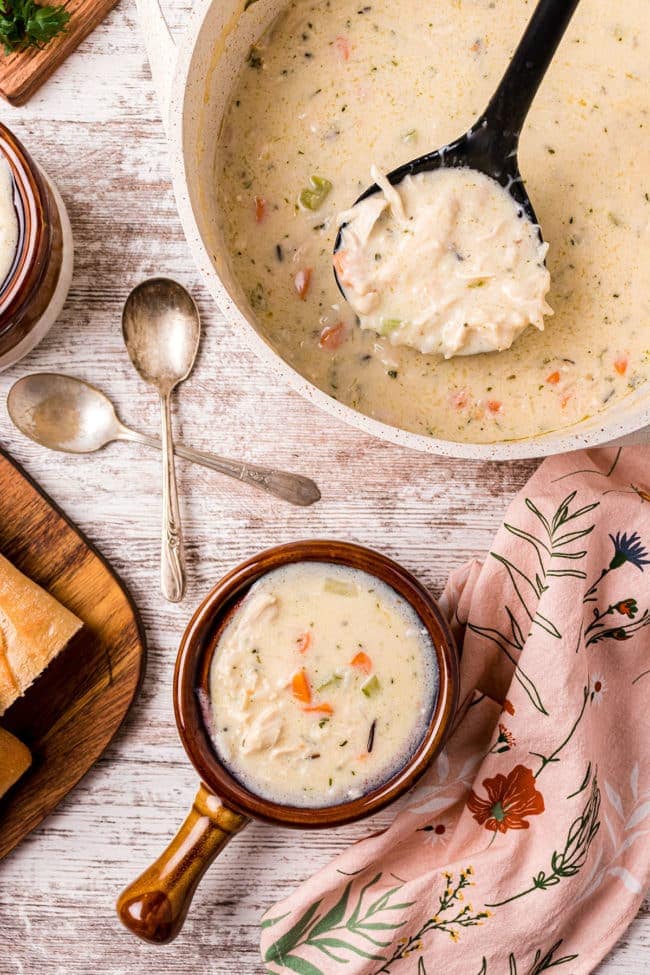 Wild Rice Chicken Soup Substitutions & Additions
You can use white and/or dark chicken or turkey. Canned chicken will work in a pinch
There are several other fat options if you prefer not to use butter in the roux: ghee, lard, Crisco, vegetable oils, and other fats. Avoid strongly flavored fats, i.e., peanut or sesame oil.
If reducing some of the rich, creamy consistency is ok with you, you can substitute whole milk in place of heavy cream.
I know someone who swears by adding sauteed mushrooms to this Panera copycat soup.
Need a little green? Consider adding one or more of these green veggies: spinach, kale, shredded cabbage, or peas.
Storing and Freezing Creamy Chicken and Rice Soup
Leftovers
Creamy chicken and rice soup will keep in the refrigerator for about 4 days and can easily be reheated on the stovetop or in the microwave.
How to Freeze
Dairy doesn't freeze well, it can separate once it's defrosted. Cream-based soups often have texture and flavor changes when frozen and defrosted. So, I don't recommend freezing this soup.
Serving Suggestions
Like This Recipe? Pin It!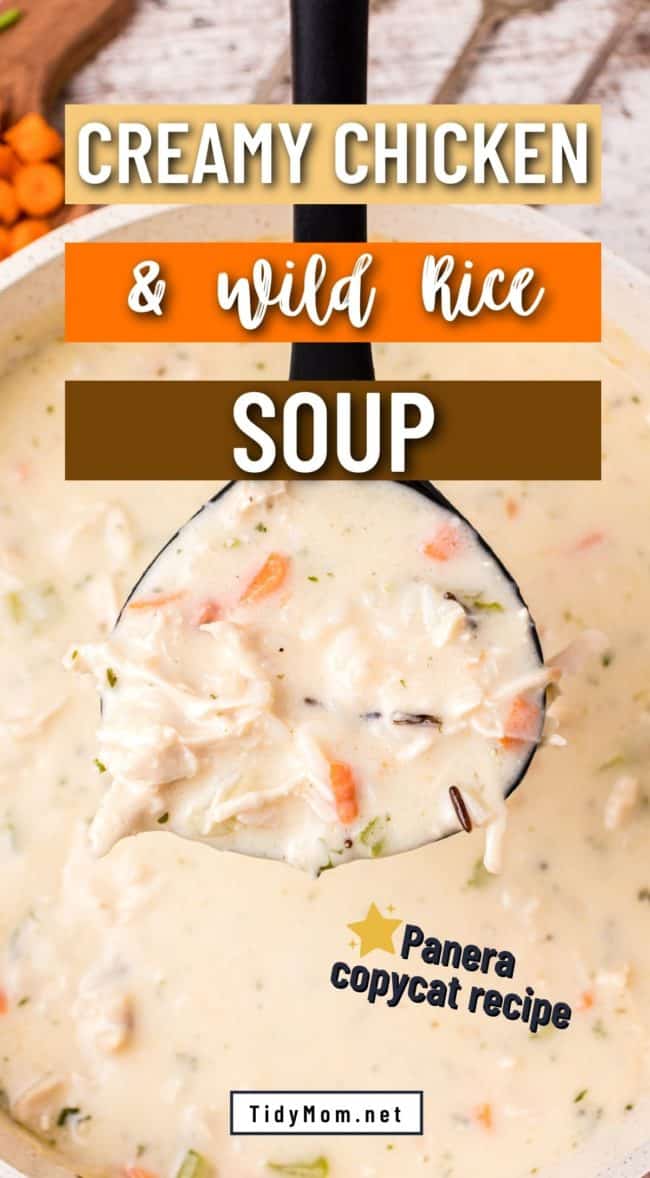 Originally posted in September 2019. UPDATED September 2022. We spiffed up this post with more info! No changes to the original recipe.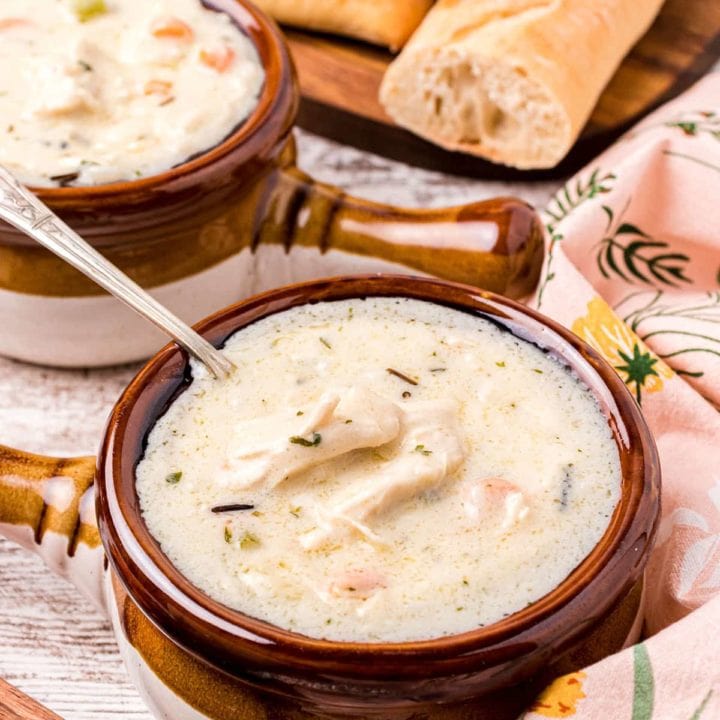 Creamy Chicken And Wild Rice Soup
This Panera Copycat Creamy Chicken and Wild Rice Soup is delicious and hearty, perfect for cold winter nights.
Ingredients
2-3 Tablespoons Olive Oil
2 cloves garlic
 1/2 cup carrots
 1/2 celery
 4 cups chicken broth
 2 cups water
 2 cooked, boneless chicken breast halves, shredded
 1 (4.5 ounce) package quick cooking long grain and wild rice with seasoning packet
 1/2 teaspoon salt
 1/2 teaspoon ground black pepper
 3/4 cup all-purpose flour
 1/2 cup butter
 2 cups heavy cream
Instructions
In a large pot over medium heat saute garlic cloves in olive oil, then add carrot and celery and saute for a few minutes until softened.
Add broth, water, and shredded chicken. Bring just to boiling, then stir in rice, reserving seasoning packet. Cover and remove from heat.
In a small bowl, combine salt, pepper and flour and set aside.
In a medium saucepan over medium heat, melt butter. Stir in contents of seasoning packet until mixture is bubbly. Reduce heat to low, then stir in flour mixture with a wooden spoon by tablespoons, until thick, to form a roux. Whisk in cream, a little at a time, until fully mixed and smooth. Cook until thickened about 5 minutes.
Add cream mixture into broth and rice, stir slowly. Cook over medium heat until heated through, about 10 to 15 minutes.
Recommended Products
As an Amazon Associate and member of other affiliate programs, I earn from qualifying purchases.
Nutrition Information:
Yield:

8
Serving Size:

1
Amount Per Serving:
Calories:

474
Total Fat:

40g
Saturated Fat:

22g
Trans Fat:

1g
Unsaturated Fat:

15g
Cholesterol:

126mg
Sodium:

782mg
Carbohydrates:

17g
Fiber:

1g
Sugar:

3g
Protein:

14g