Hello Dollies, Legendary Cookie Bar Recipe
This post may contain Amazon or other affiliate links. As an Amazon associate, I earn from qualifying purchases.
Hello Dolly Bars! Golden buttery crust with layers of rich chocolate, creamy butterscotch, toasty coconut, and crunchy pecans covered in sweetened condensed milk. Grab one of these magical 7-layer cookie bars quick: this crowd-pleasing favorite disappears fast!
Looking for more dessert bar recipes? Try our favorite Pumpkin Spice Carmelita Bars, Copycat Tagalong Bars, Dark Chocolate Peppermint Cookie Bars, and Chocolate Pecan Pie Bars.
Be sure to sign up for my email… to get new recipes and ideas in your inbox!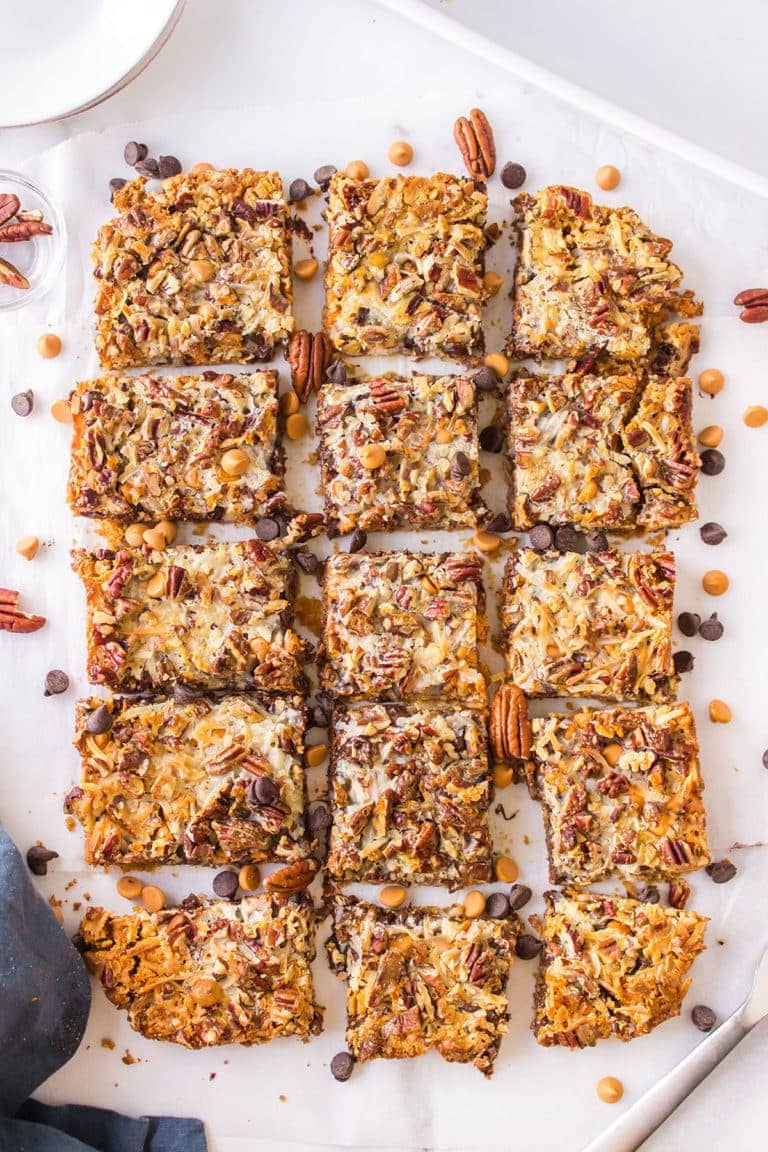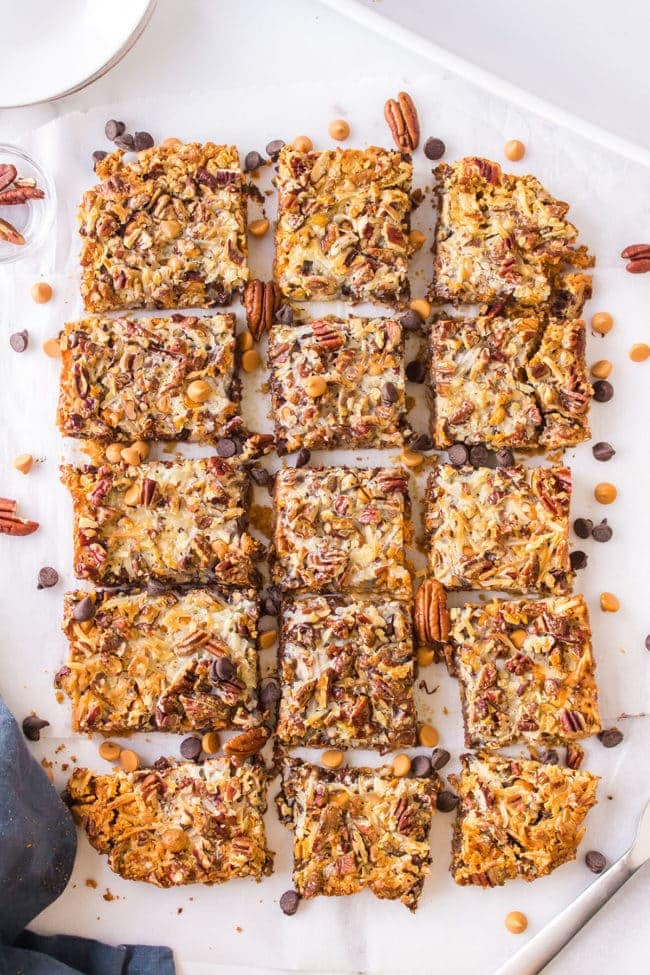 Why are they called Hello Dolly bars?
Many people ask this question and more dedicated internet sleuths than I have attempted to find out! This legendary cookie bar recipe hit the scene like gangbusters during the heyday of a 1960s broadway musical called Hello, Dolly! So far, no one seems to know the true correlation between the Hello Dolly cookie bar and the musical.
These legendary cookie bars go by several names: Hello Dollies, Hello Dolly Bars, Magic Bars, Miracle Bars, 7 Layer Bars, Magical Cookie Bars, and sometimes even Coconut Dream Bars.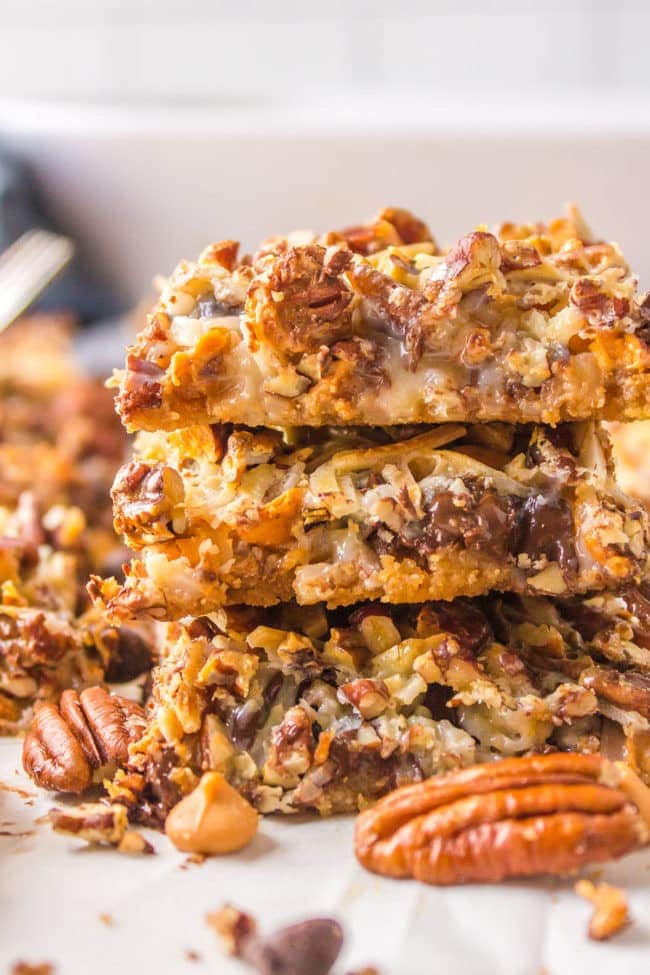 Why You'll Love 7 Layer Hello Dollies
No one will care what you call this decadently sweet cookie bar recipe between the creamy-crunchy textures and delicious taste. Hello Dolly bars are a time-honored taste combination that never gets old. This just popped into my mind, "You can call me anything you want; just don't call me late for magic cookie bars!"
Three easy steps: press, sprinkle, pour, and viola! An easy dessert for any occasion.
Hello Dollies are always a crowd favorite any time of year.
The real magic is how easy these bars are to make, no mixing, just layering.
5 minutes of prep, and you have delicious cookie bars ready to enjoy in less than an hour.
Easy to put your own twist on by changing the layers to your taste.
Great way to satisfy a sweet tooth.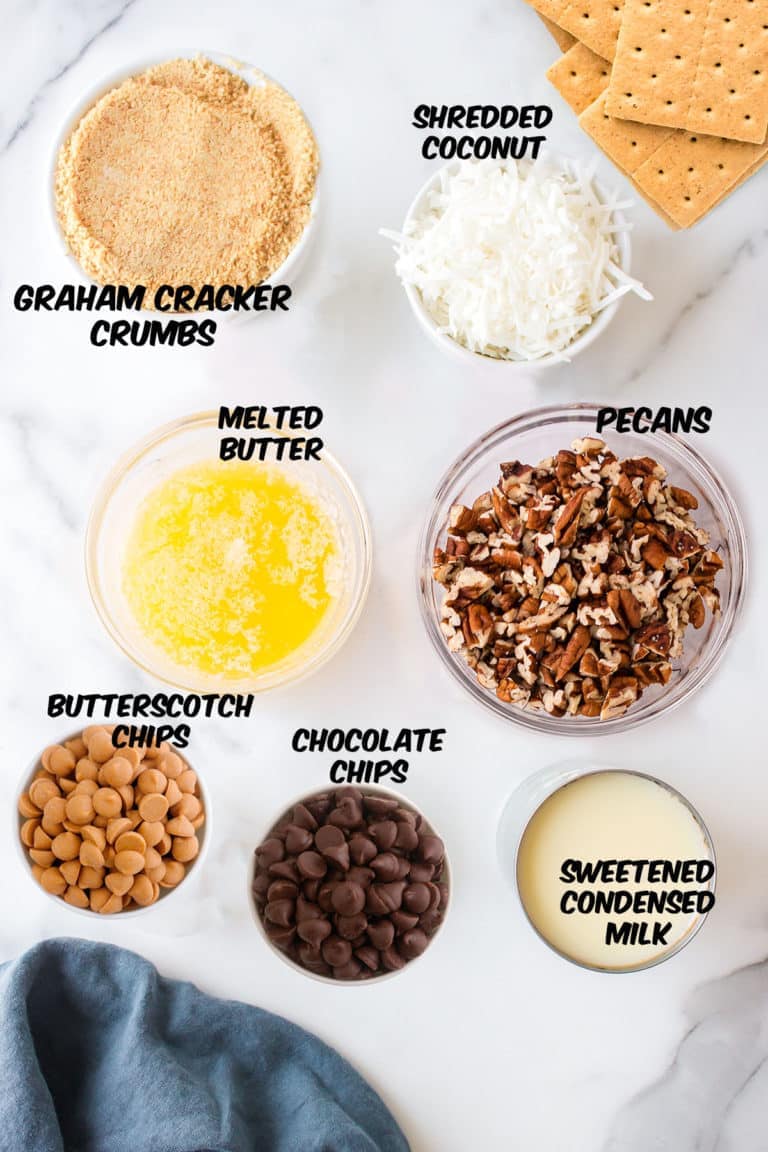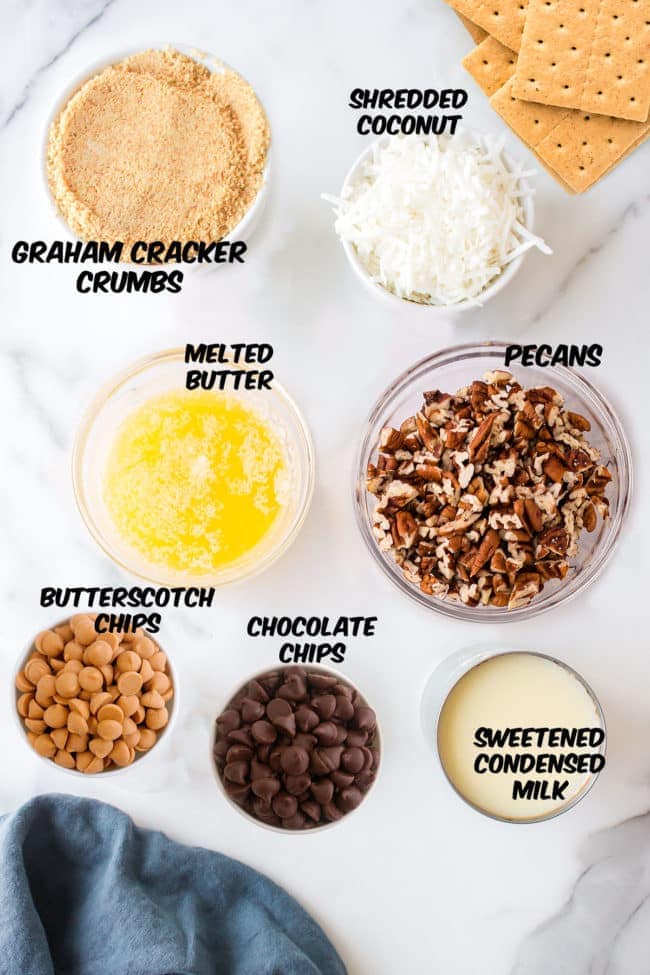 Hello Dollies Simple Ingredients
7 ingredients, 7 layers, and a flavor 7 times greater than you imagined. One bite of this magical cookie bar, and you'll have no doubt why Hello Dolly bars are as legendary as the iconic broadway show itself!
Melted Butter – holds the graham cracker crust together.
Graham Cracker Crumbs – You can buy graham cracker crumbs or make your own by using a food processor or crush graham crackers with a rolling pin in a sturdy plastic food bag.
Chocolate Chips – can be tailored to your preference by choosing from the gamut of chocolates from milk to dark.
Butterscotch Chips – are a standard addition to Hello Dollies dating back to the original recipes that became wildly popular in the 1960s.
Shredded Coconut – pairs perfectly with the gooey layers in 7-layer bars with its chewy texture.
Chopped Pecans – are ideal for enhancing the understated toffee notes. Still, Hello Dolly bars are so versatile that any nut you like will rock this cookie bar recipe!
Sweetened Condensed Milk – is the unifying ingredient that holds it all together and caramelizes as it bakes, giving Hello Dollies its signature flavor. Be sure to buy sweetened condensed milk, not evaporated milk.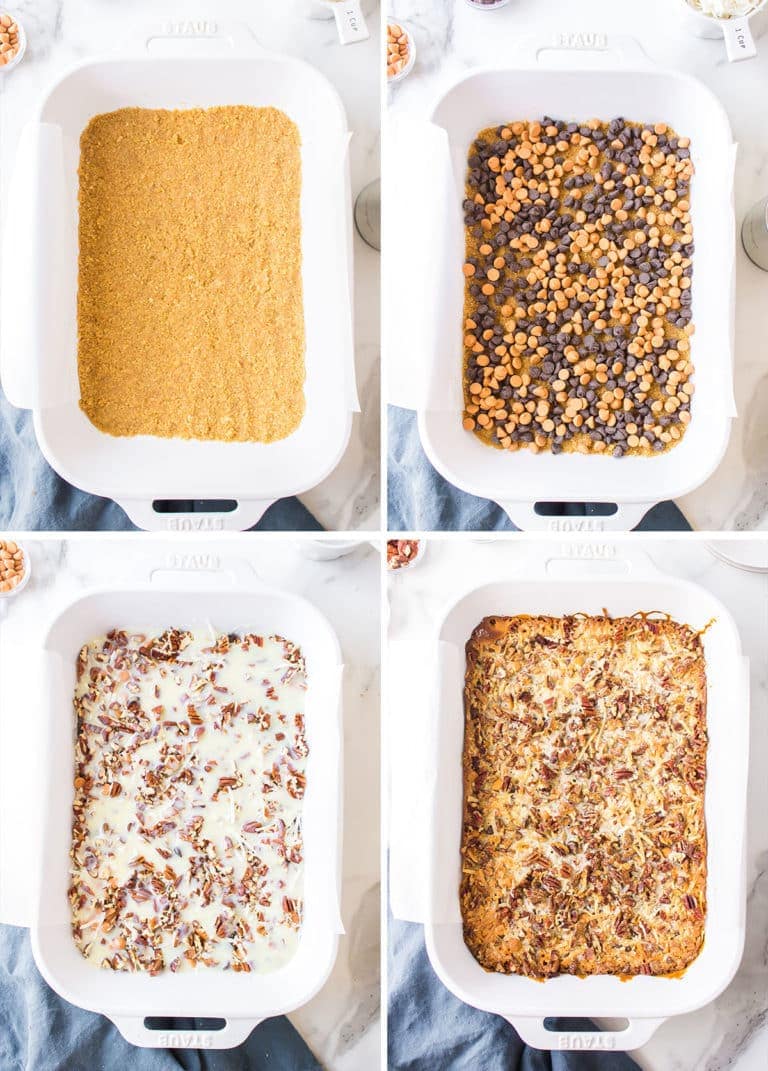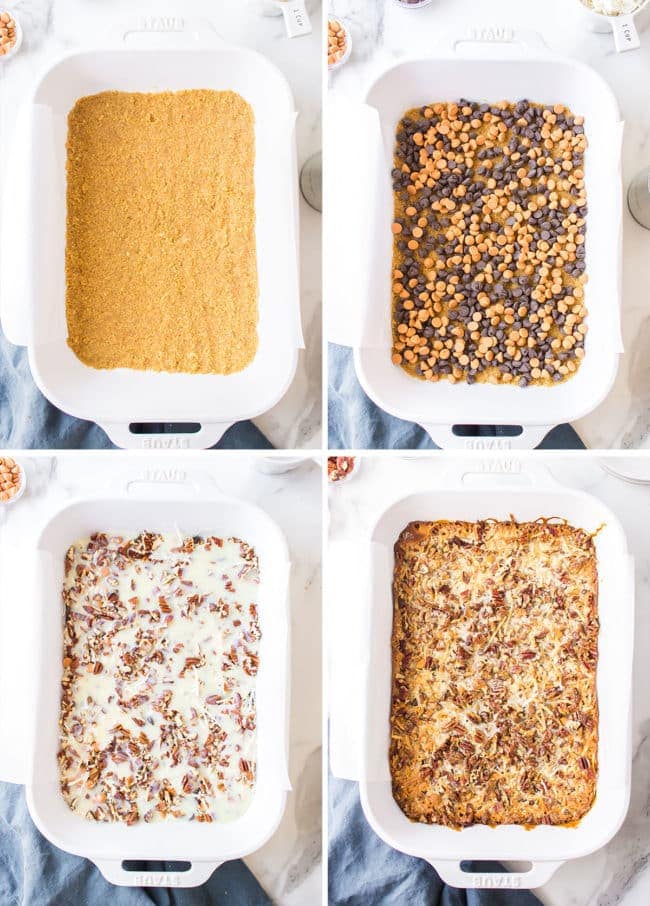 How To Make Hello Dollies Cookie Bar Recipe
Grab a small mixing bowl, a 9 x 13-inch baking pan, parchment paper, and a wire cooling rack.
(full printable recipe at the end of this post)
Press graham cracker crumbs and melted butter into the bottom of the prepared pan.
Sprinkle crust with chocolate chips, butterscotch chips, shredded coconut, and pecans, building each layer one after the other.
Pour sweetened condensed milk evenly over the whole pan of cookie bars without stirring.
Bake for 25-30 minutes or until edges are golden brown.
Cool completely and cut* the Hello Dollies into 24 bars.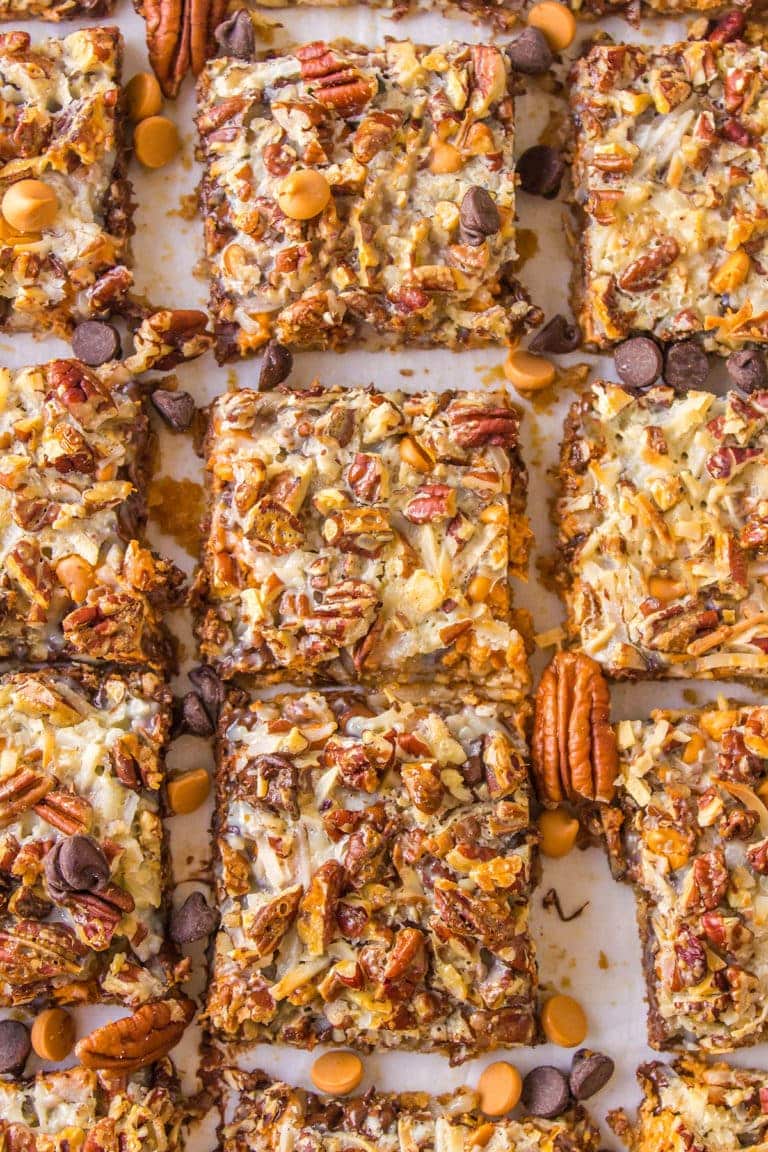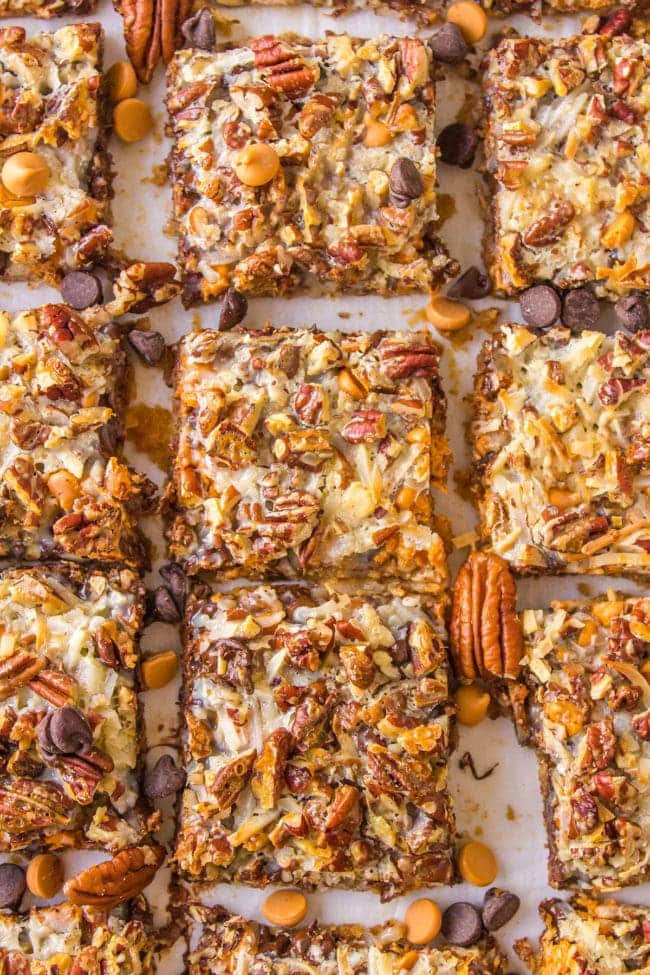 Tips For Cutting Cookie Bars
If you want to see clean edges and evenly cut cookie bars every time, here are a few tips for the most gorgeous cuts without sacrificing at least one piece to the cookie bar gods. Gather a large cutting board, sharp chef's knife, clean towel, and cooking spray or a tall glass of hot water.
Always line your baking dish with parchment paper or aluminum foil, extending it a few inches over the edge of the pan. If using foil, lightly spray with non-stick cooking spray.
Leave enough overhang to easily lift the cookie bars out of the pan when completely cooled.
Use the overhang to lift the baked and cooled Hello Dollies out of the pan and onto a cutting board.
Prep your knife by coating it with non-stick spray or dipping it in hot water; either method, wipe with a clean towel.
Make your first cut in the center long ways, then cut the two halves into quarters, repeating the knife prep after each cut.
Rotate the bars 90 degrees and continue the process again, starting in the middle and halving until you have the size bars you want. Always prep the knife before each cut.
If Hello Dollies seem too soft to cut, cover and refrigerate the cookie bars for a few hours until they are firm enough to hold together.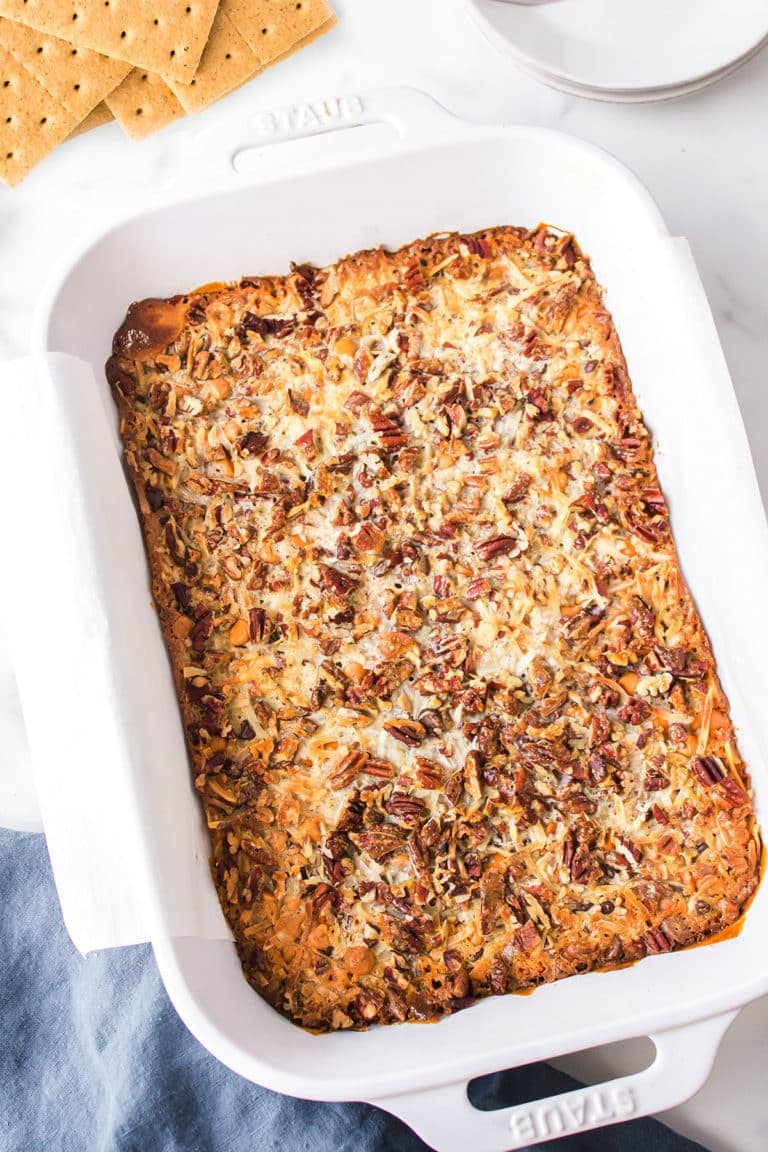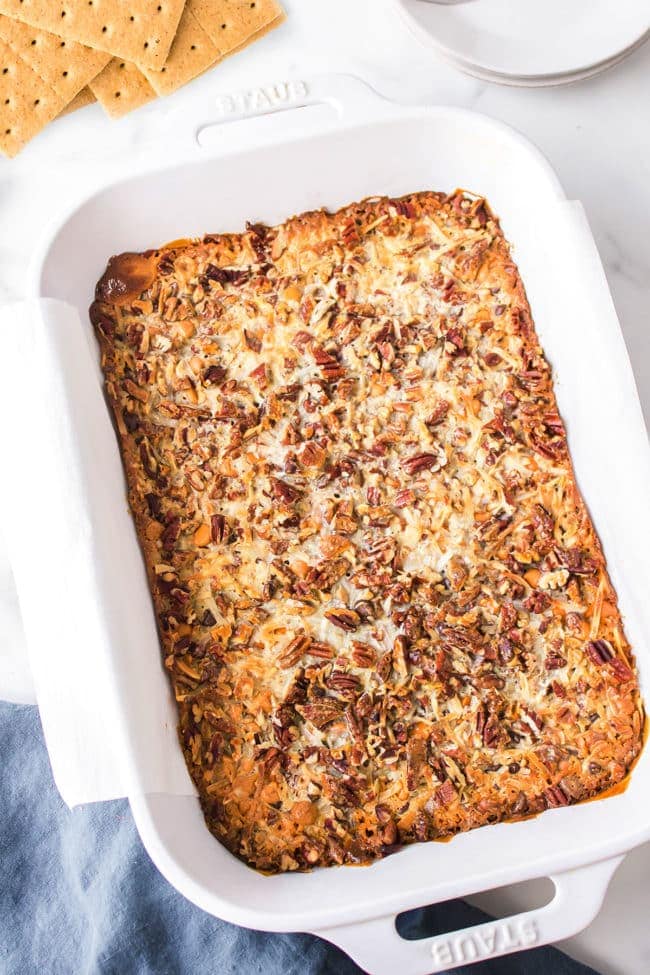 How Do You Store Hello Dollies, aka Magic Bars?
You can keep Hello Dolly bars on the counter well covered for up to five days. They will last even longer in the fridge, up to a week, and can be eaten cold or room temp.
How to Freeze
Hello Dollies freeze very nicely when layered in wax or parchment paper and wrapped tightly. Remove the whole lot to thaw in the fridge overnight, or set them on the counter for at least 60 minutes. Hello Dolly bars won't hard freeze, so you can eat them right out of the freezer for a frozen treat.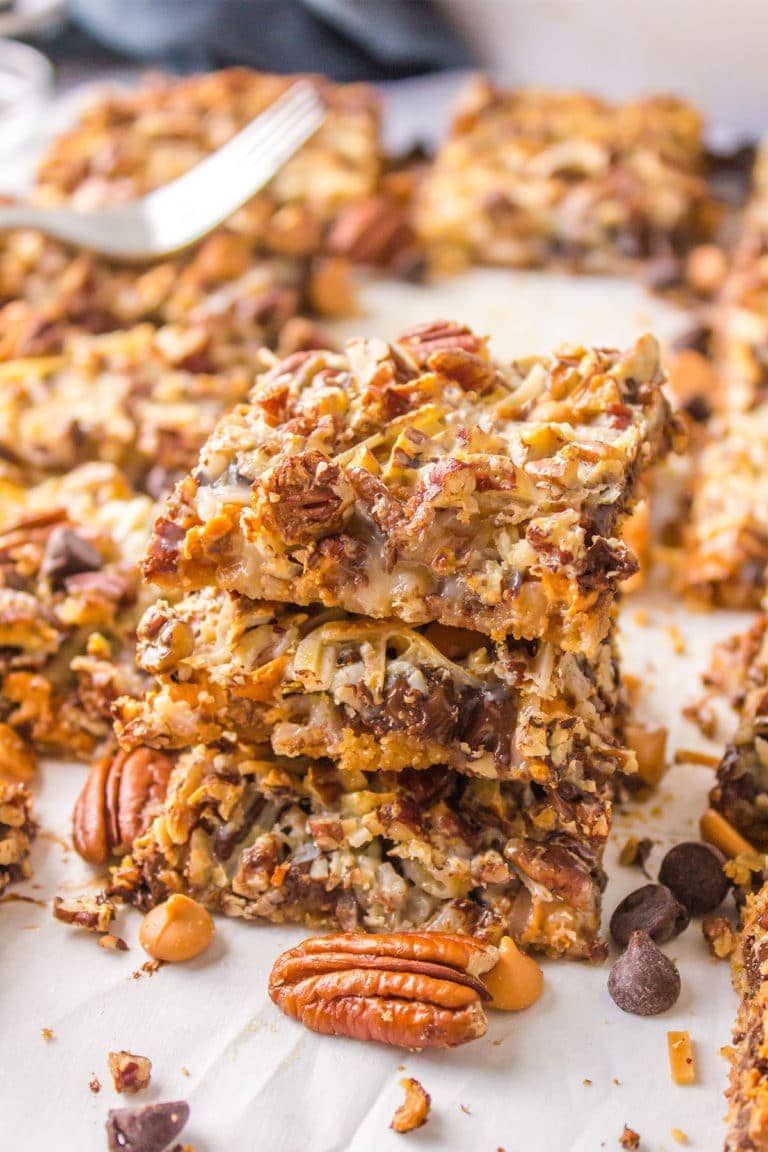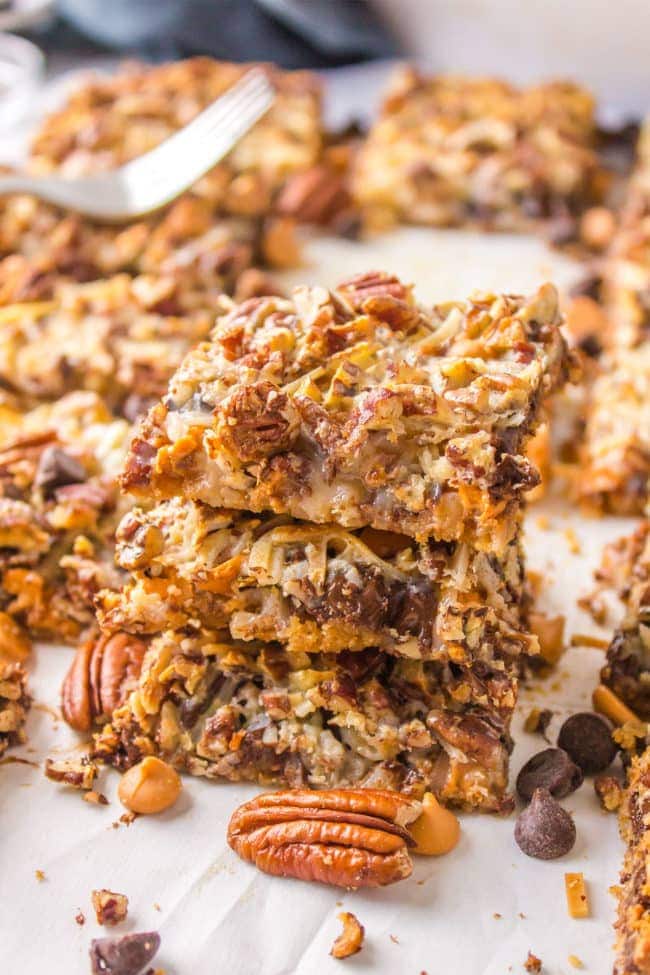 This post may contain affiliate links. Please read my disclosure policy here.
Substitutions For Almost Everything In A "Hello Dolly 7-Layer Magic Bar!"
The title says it all, so I'll start with the crust and work my way up. With so many variations and substitutions, there's no way even the pickiest cookie bar eater won't find a magic bar combination to love!
Crust Alternatives
Chocolate or Cinnamon Graham Crackers
Chocolate Wafer Cookies
Pretzel Sticks (GF)
Ritz crackers
Vanilla wafers
Gingersnaps
Butter Alternatives
Salted or Unsalted Butter
Coconut Oil
Shortening
Almond Butter
Chocolate Chip Varieties
Dark, Semi-Sweet, Milk or White Chocolate Chips
Butterscotch Chips Alternatives
Peanut Butter Baking Chips
Espresso Baking Chips
Toffee Chips
Strawberries & Cream Morsels
Pumpkin Spice Morsels
Mini M&M candies
Sweetened Coconut Alternatives
Unsweetened Coconut Shreds
Sunflower Seeds
Dried Cherries or Craisins
Mini Marshmallows
Pecans Alternatives
Almonds
Macadamia Nuts
Walnuts
Any nut you prefer, from tree nuts to peanuts.
Sweetened Condensed Milk Alternatives
a few great dairy free options!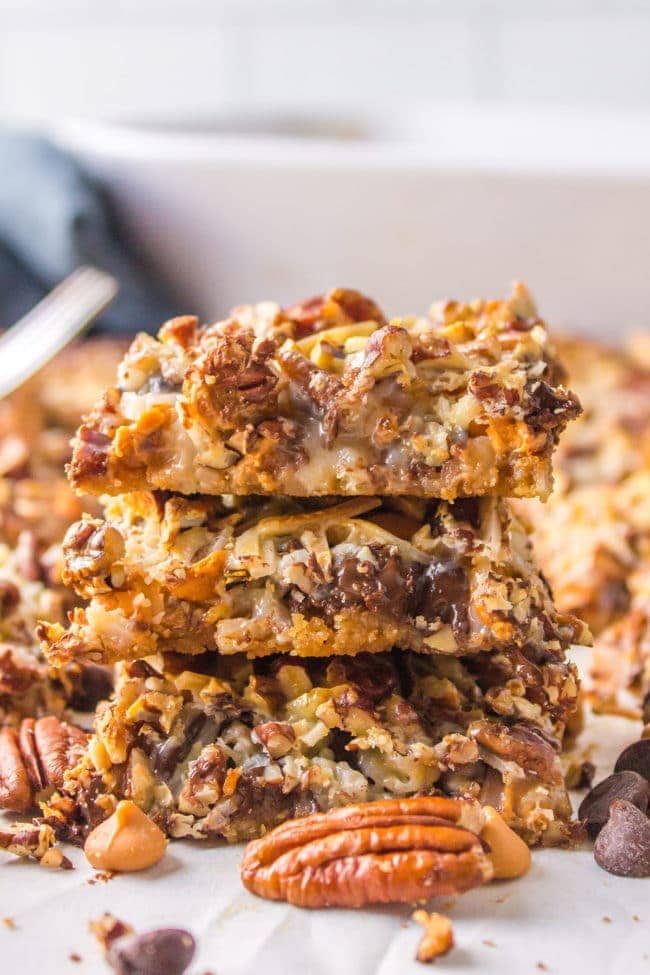 Legendary Hello Dollies Bar FAQs
How do you make graham cracker crumbs?
You can actually buy a box of graham cracker crumbs at the grocery store, but I'm going to tell you how you can make your own graham cracker crumbs using whole sheets of graham crackers.

The two most common options are rolling them out or using a food processor.

I like to use my food processor to easily crush graham crackers. Simply break the sheets up and place them in the bowl of your food processor, then pulse until they become fine crumbs.
You can also crush your graham crackers in a zip-top bag with a rolling pin or heavy can from your pantry.
How long does it take to bake Hello Dollies
Most Hello Dolly recipes, as well as Magic Bars and 7-Layer Bars take about 25-30 minutes in the oven.
Do Hello Dollies need to be refrigerated?
No, they do not need to be refrigerated. But, they will last a few days longer if refrigerated, up to a week, and can be eaten cold or room temp.
Like This Recipe? Pin It!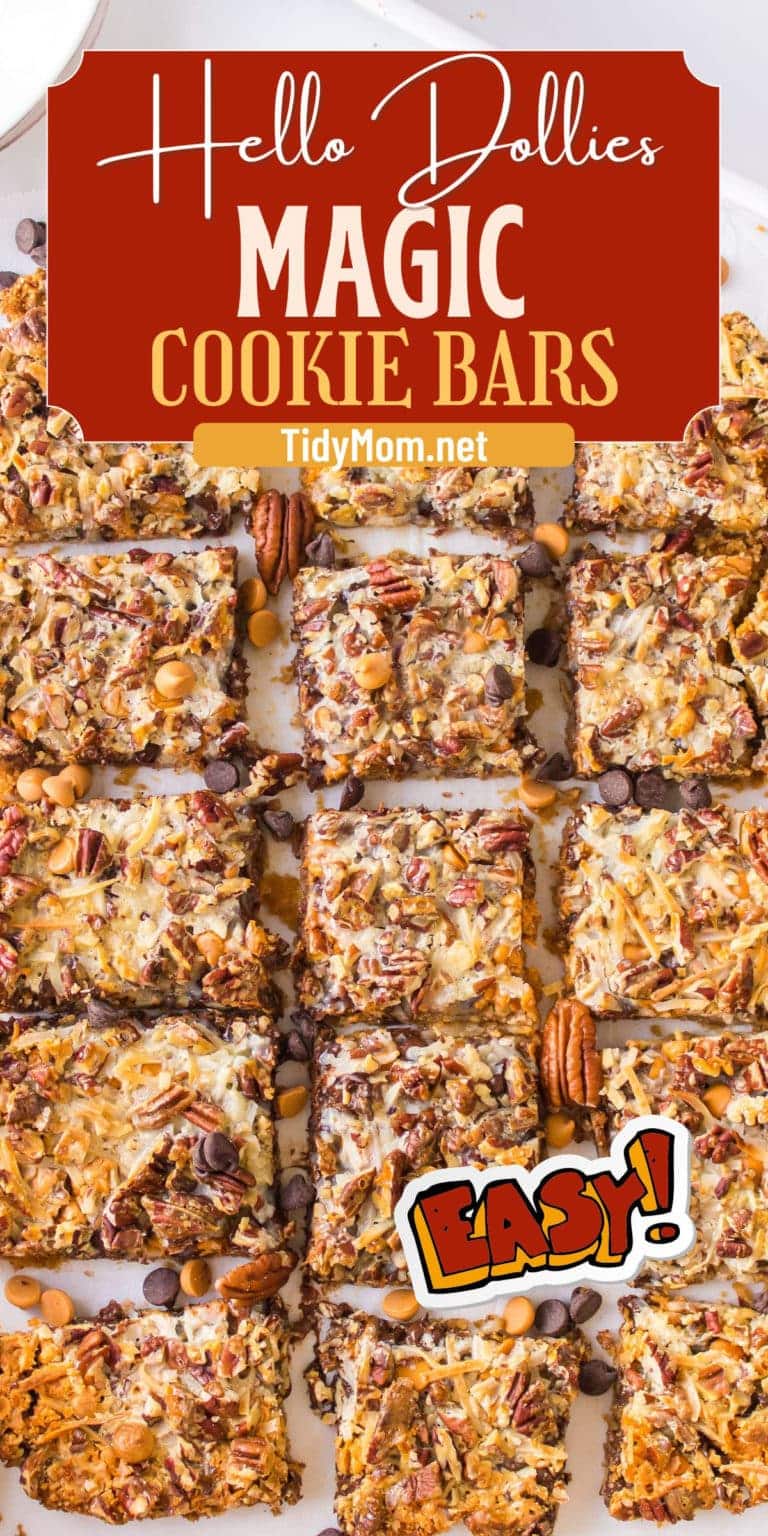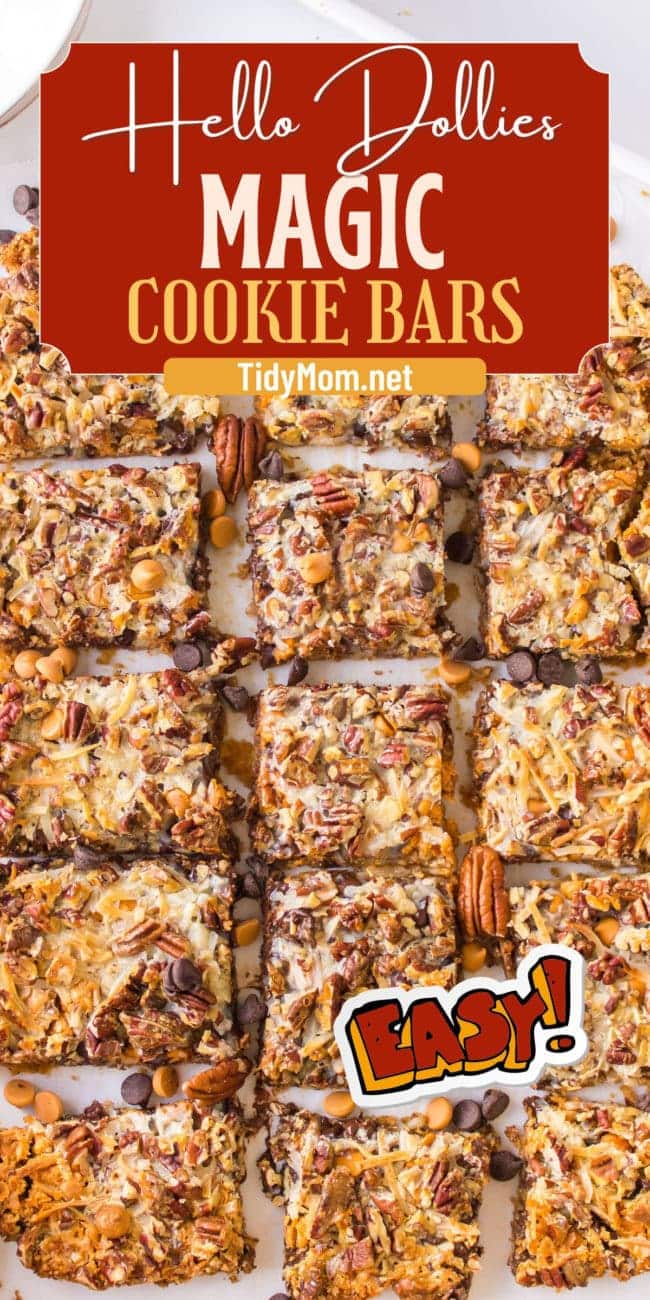 Hello Dollies Cookie Bars
Yield: 24
Prep Time: 5 minutes
Cook Time: 25 minutes
Total Time: 30 minutes
7 ingredients, 7 layers, and a flavor 7 times greater than you imagined. One bite of this magic cookie bar, and you'll have no doubt why Hello Dolly bars are as legendary as the iconic broadway show itself!
Ingredients
1½ cups graham cracker crumbs
½ cup (8 tablespoons) butter, melted
1 cup chocolate chips
1 cup butterscotch chips
1 cup shredded coconut
1 cup chopped pecans
14 ounce can sweetened condensed milk
Instructions
Preheat oven to 350° F. Grease a 9x13-inch pan, or line with parchment or aluminum foil to easily remove from the pan for perfectly cut bars.
In a small bowl, combine melted butter and graham cracker crumbs until well incorporated. Then press into the bottom of the prepared pan.
Sprinkle chocolate chips evenly over the crust layer.
Top with a layer of butterscotch chips.
Sprinkle coconut evenly over the chips.
Next add an even layer of chopped pecans.
Finally pour the sweetened condensed milk over the whole pan. DO NOT STIR.
Place the pan in the center of the preheated oven for 25-30 minutes or until the edges are golden brown.
Cool completely and cut into bars. *see notes below
Notes
Bars will keep in an airtight container on the counter for up to 5 days. Lay a piece of wax or parchment paper between layers.
For perfectly cut bars you will want to remove the dessert from the pan as a whole, so you will want to line your 9x13-inch pan with parchment paper or aluminum foil, extending it a few inches over the edge of the pan. If using foil, lightly spray the foil with non-stick cooking spray.
Once the baked bars have cooled, use the overhang to lift the dessert out of the pan and onto a cutting board to cut into bars with a sharp knife. If they are too soft to cut into, cover them and refrigerate for a few hours until firm enough to hold together. Use a warm knife, by running the knife under warm water, then dry on a kitchen towel, cut, and repeat for each cut.
Recommended Products
As an Amazon Associate and member of other affiliate programs, I earn from qualifying purchases.
Nutrition Information:
Yield: 24
Serving Size: 1
Amount Per Serving:
Calories: 215
Total Fat: 11g
Saturated Fat: 6g
Trans Fat: 0g
Unsaturated Fat: 5g
Cholesterol: 8mg
Sodium: 70mg
Carbohydrates: 28g
Fiber: 1g
Sugar: 24g
Protein: 3g
Nutrition information is estimated based on the ingredients and cooking instructions as described in each recipe and is intended to be used for informational purposes only. Please note that nutrition details may vary based on methods of preparation, origin, and freshness of ingredients used and are just estimates. We encourage, especially if these numbers are important to you, to calculate these on your own for most accurate results.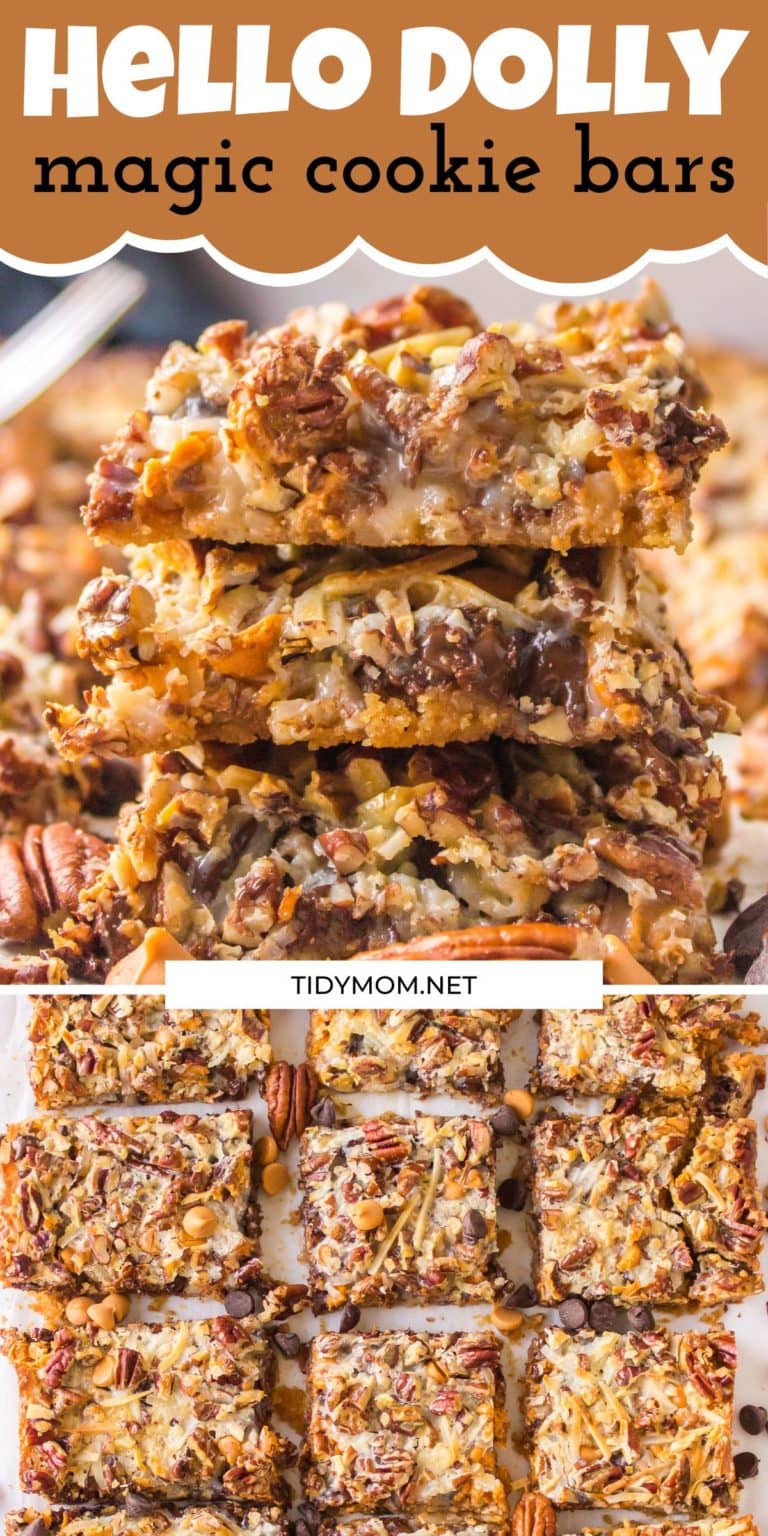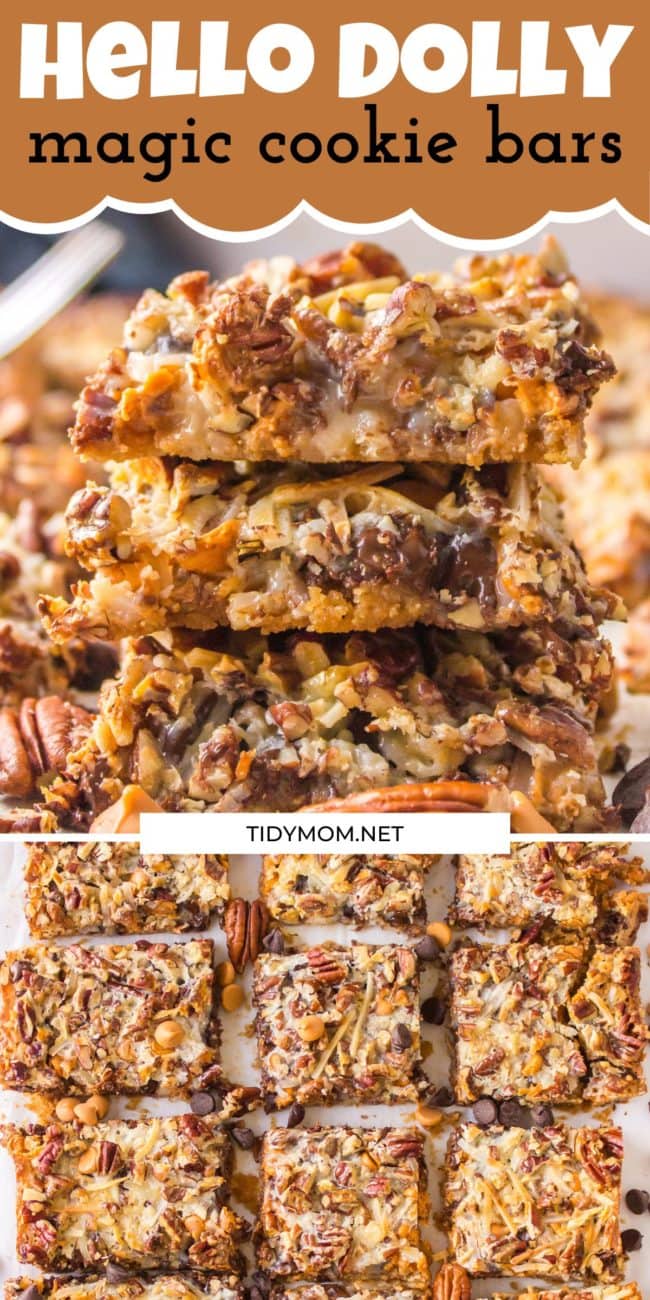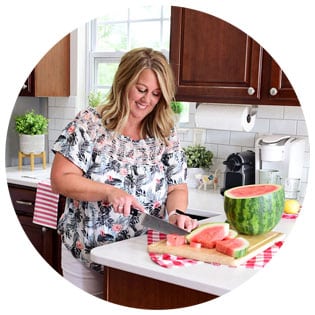 Hi there, I'm Cheryl!
As a wife, mom, and caffeine enthusiast, my journey has taken me from bustling mornings with my family to sharing delicious recipes, home care tips, and heartfelt decorating insights with wonderful readers like you. My love for baking, photography, and tidiness shines through every post I craft. Dive into my world and discover the art of homemaking, one tidy moment at a time. Read more...
Tidymom is a participant in the amazon services llc associates program, an affiliate advertising program designed to provide a means for sites to earn advertising fees by advertising and linking to Amazon.com.
Please respect my work, recipes and photographs. If you do use a recipe in your own writing, please give proper credit and link back to the original post.