Upside Down Pecan Apple Pie Recipe + (VIDEO)
This, my friends, is an apple pie like no other! Upside-Down Pecan Apple Pie is a self-glazing, award-winning pie that is sure to please any crowd. If you like pecan pie and apple pie, you're going to want this apple pie recipe!
Whether you champion apple dishes or pecan goodies we've got you covered! The cooler weather ahead has me craving Easy Apple Crisp, Apple Pie Bars, and Apple Pie Crepes. And for pecan lovers like me, Butter Pecan Cookies, Chocolate Pecan Pie Bars, and Pecan Pie Gooey Butter Cake.
Be sure to sign up for my email… to get new recipes and ideas in your inbox!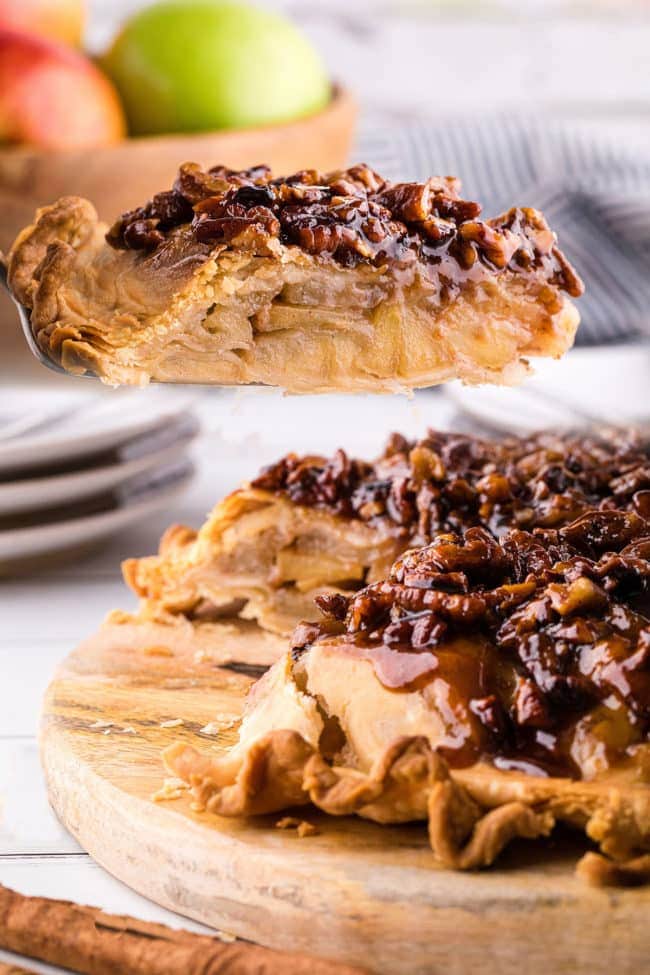 This is my all-time favorite way to make apple pie!! 25+ years ago, I stumbled across the award-winning, upside-down pie recipe in a Pillsbury Pie Cookbook. Apple pecan upside-down pie has won several pie contests over the decades since its national debut as Pillsbury's 1951 Bake-Off winner.
Why We Love This Upside-Down Apple Pie With Pecans
I was hooked the first time I made this upside-down pie recipe; it was love at first bite.
Pecan apple pie is self-glazing, utterly unique, and delicious.
Using refrigerated pie crusts is a real time saver!
No fancy pie crust skills are needed.
Upside down apple pecan pie recipe uses simple ingredients, easy to make, and is gorgeous to look at!
Award-winning apple upside-down pie will win the hearts of any crowd.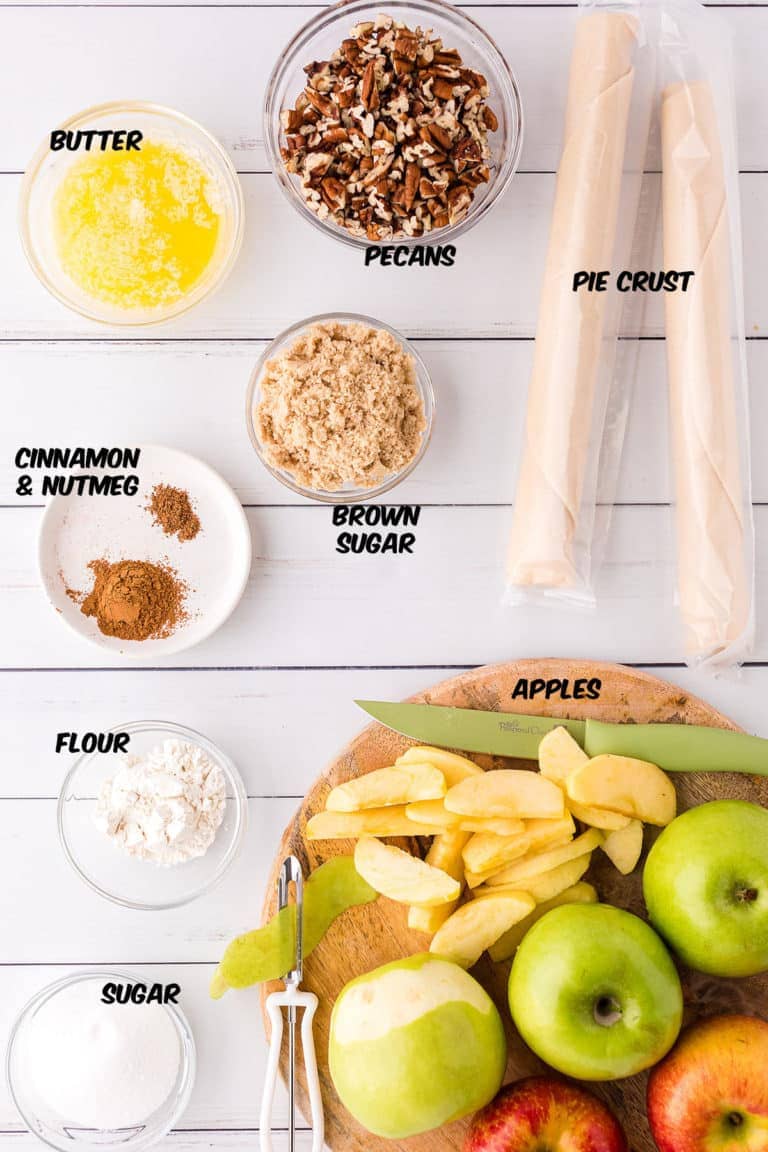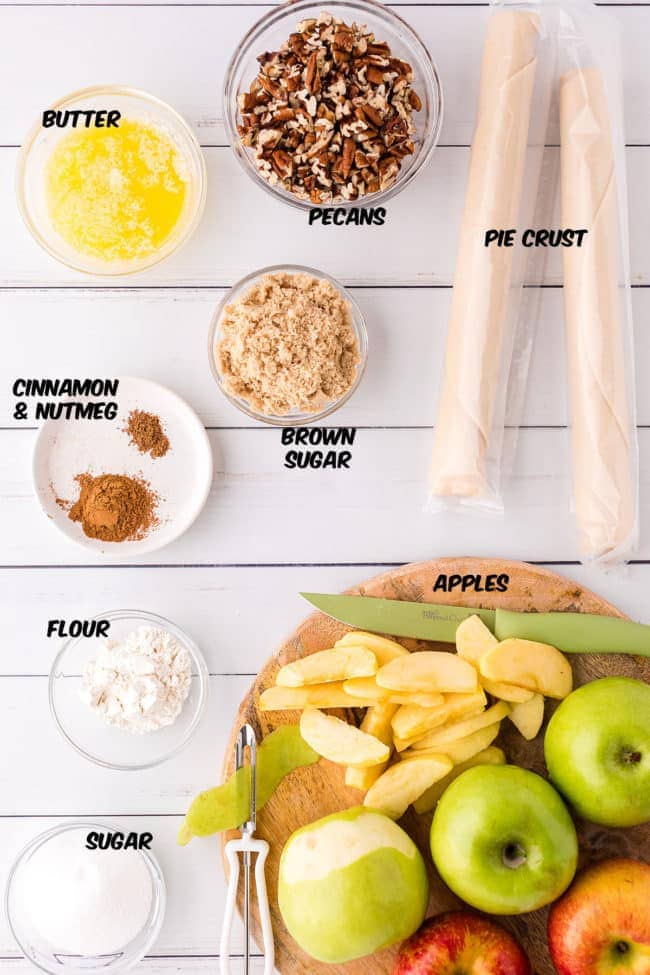 Ingredients For Upside Down Pecan Apple Pie
Pecan pie lovers and apple pie fans alike are enchanted with this unique upside-down twist on apple pie.
Chopped Pecans – added crunch for the upside-down sweet sticky glazed topping.
Brown Sugar – be sure to firmly pack when measuring for the caramelized glaze.
Butter – melted
Package Refrigerated Pie Crusts – I Prefer Pillsbury All Ready Pie Crust, or you can make your own pie crust. Just note you need 2 pie crusts.
Flour – All-purpose is fine
Apples – peeled and sliced. I prefer tart Granny Smith and Braeburn apples.
Sugar – white granulated sugar
Cinnamon – mixed with sugar is commonly used to flavor apples, as in this upside-down pecan apple pie.
Nutmeg – is a popular spice available both whole and ground. It is known for its warm, nutty flavor, making it the perfect addition to this pecan apple pie recipe.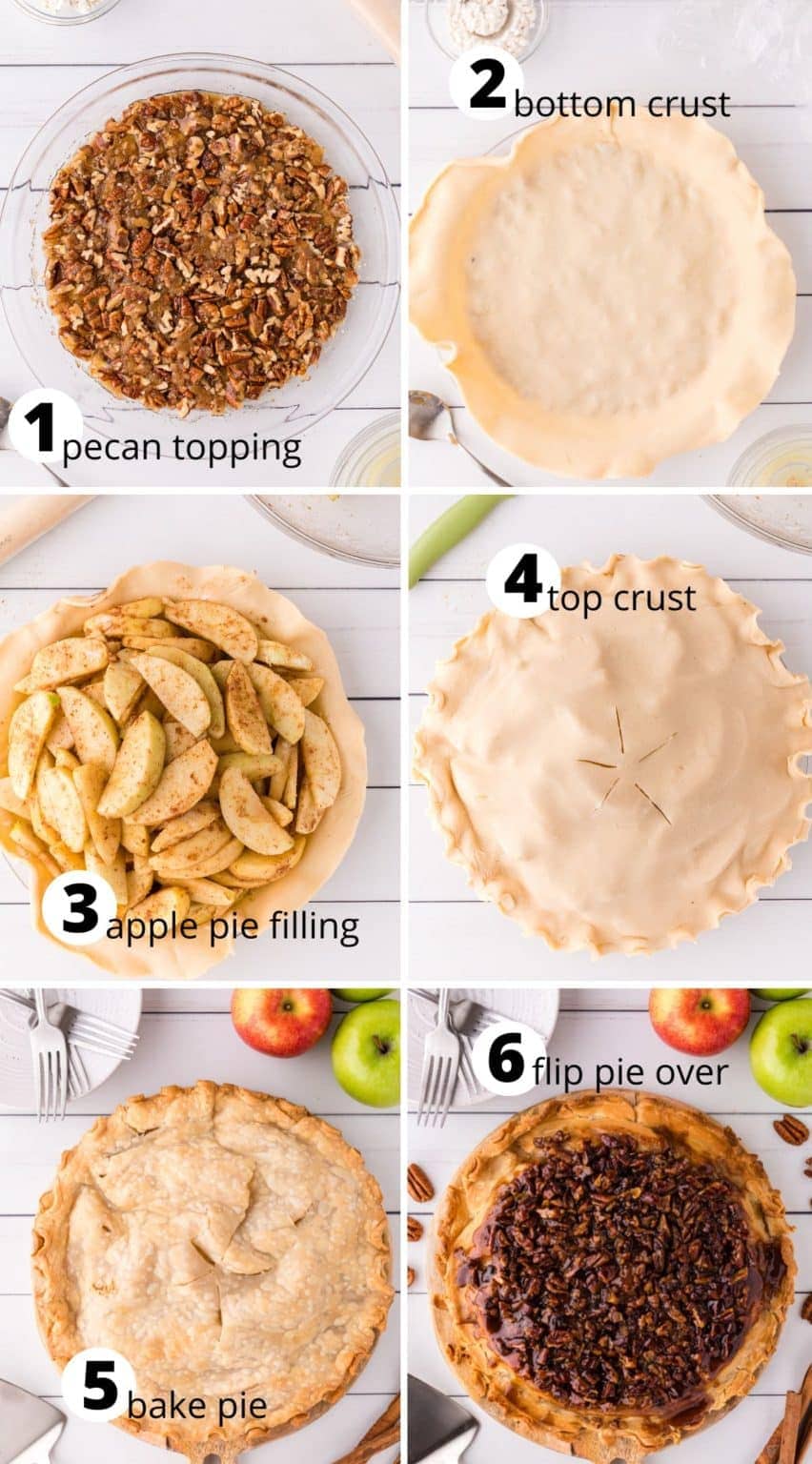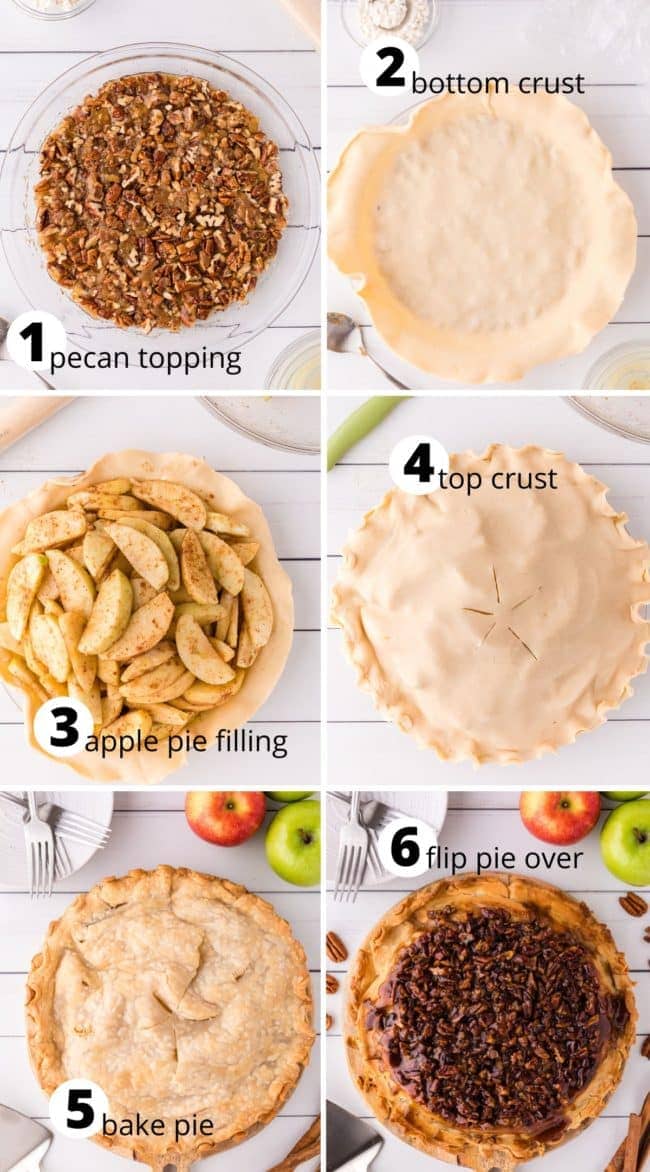 How To Make An Upside Down Apple Pecan Pie
This pie is a must for Thanksgiving dessert!! Grab a 9-inch pie plate, baking sheet, mixing bowl, and a wire cooling rack, and you are good to go!
(full printable recipe at the end of this post)
Combine pecans, butter, and brown sugar in the pie pan.
Press and mold the pie crust over the pecan mixture and dust with flour.
Lightly mix apples, sugar, flour, cinnamon, and nutmeg. Spoon the apples into the crust-lined plate.
Top with the second pie crust, flute, then cut a few slits on the top.
Set the pie on a baking sheet and bake for 40-50 minutes or until the crust is golden brown.
Cool on a wire rack for 5 minutes. (And get ready for the fun part!)
Hold a serving plate over the apple pecan pie and carefully invert the hot pie, and carefully remove pie plate. Some nuts may remain in the pan, replace on the pie with a knife. (you will want to use oven mitts for this).
Cool at least 1 hour before serving.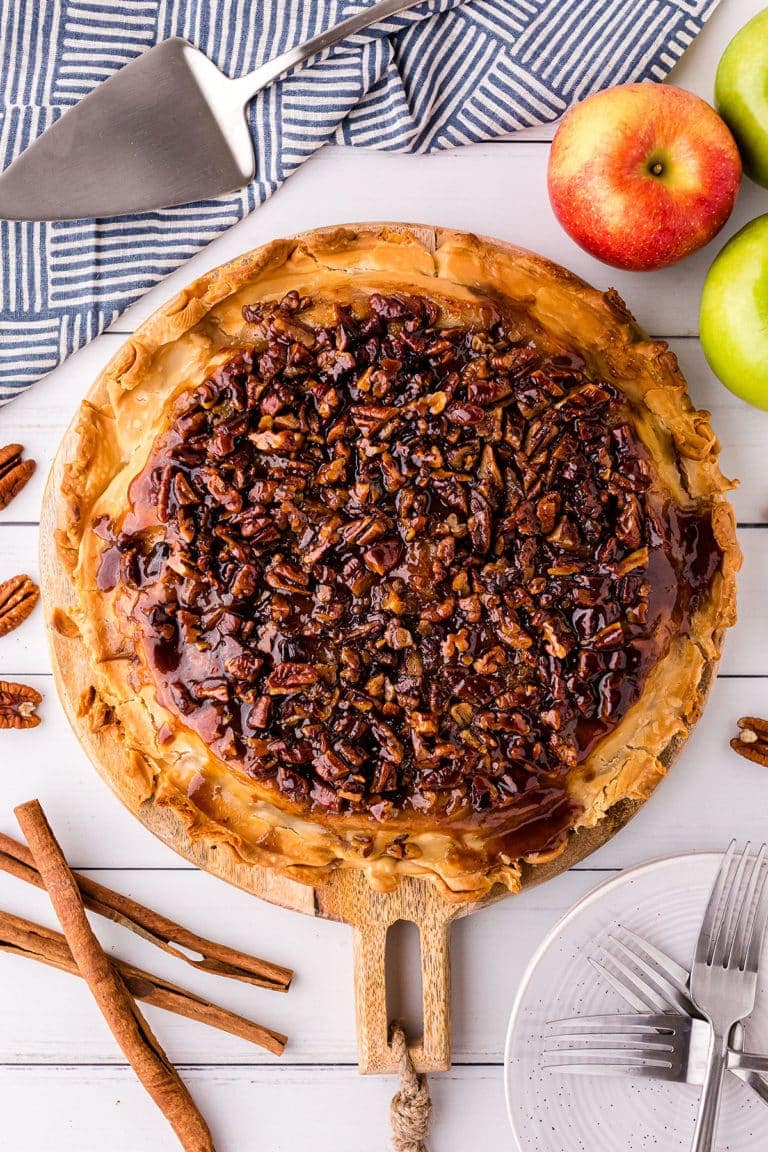 Recipe Notes & Tips
Try using a combination of apples that suit your taste for more complex and layered flavors in baked apple desserts.
Choose apples for your upside-down apple pie that hold their shape and won't turn to mush.
Besides using a cookie sheet to catch boilovers from the upside-down apple pecan pie, go ahead and line it with foil or parchment for a quick and easy clean-up. (keep that oven clean, people!)
For a visually stunning upside-down apple pie, arrange pecan halves in a design and use chopped pecans to fill the areas that aren't covered.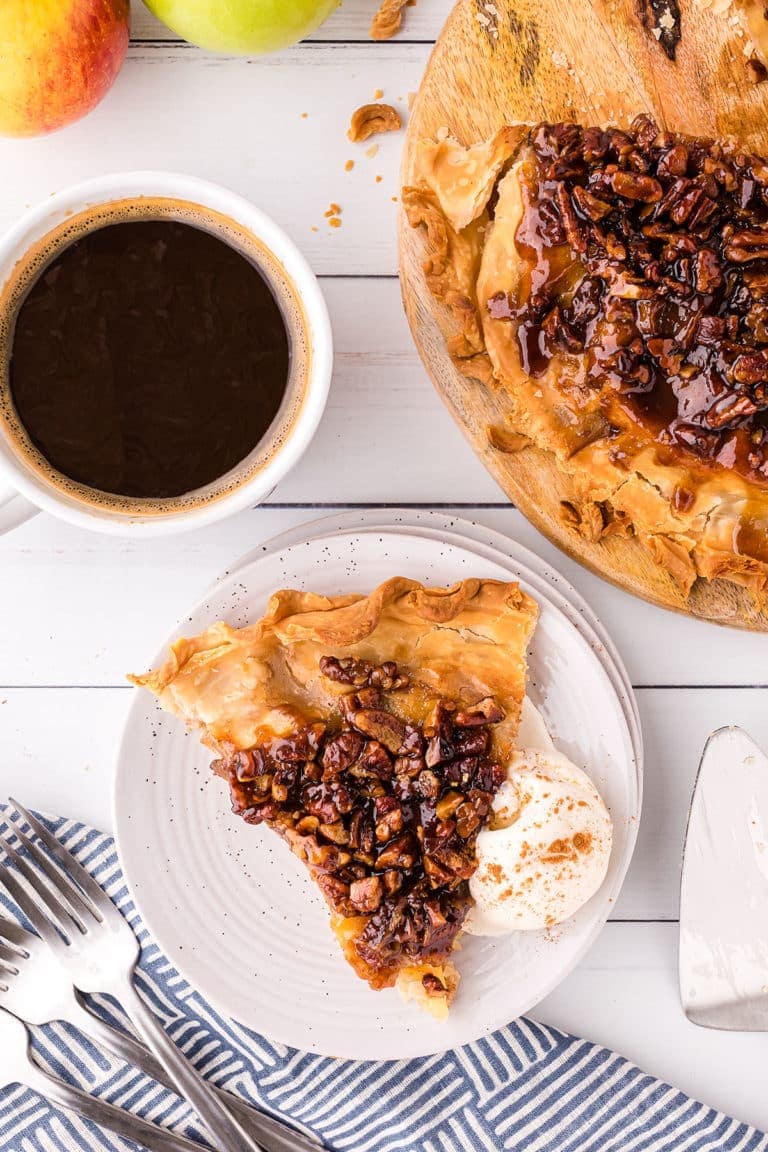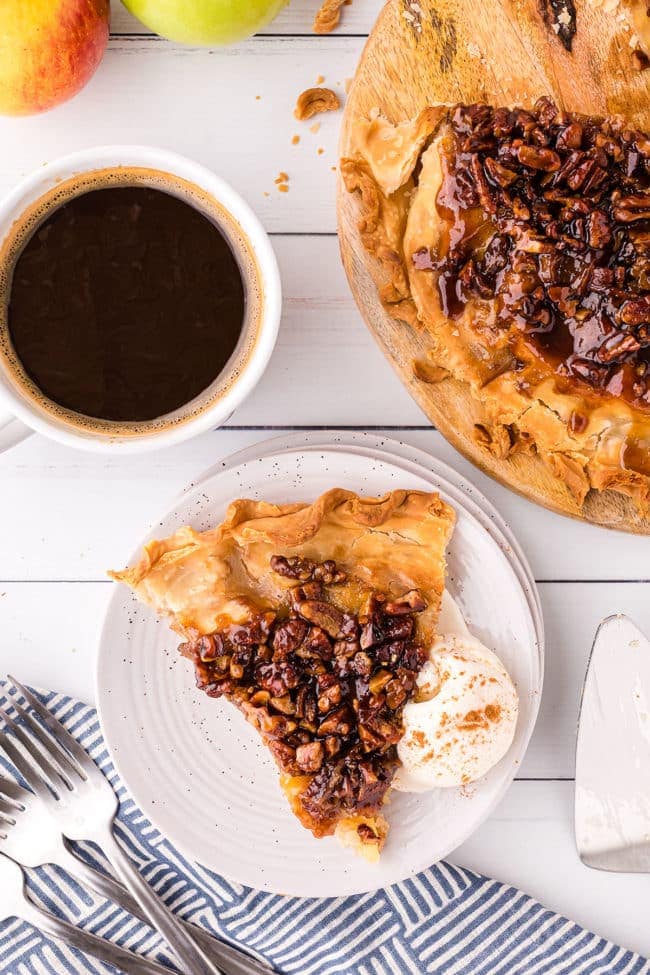 How To Store This Upside Down Apple Pie
Since this pie can be kept covered on the counter for a couple of days, it's a great make-ahead Thanksgiving dessert. Put it in the fridge if you are more disciplined than me and want to stretch this treat out as long as possible, but honestly, we never have any leftover.
Serving Suggestions
Upside-down apple pie is a must for a Thanksgiving dessert table, right alongside the pumpkin pie.
What's apple pie without a scoop of vanilla ice cream?!!
Besides the unique presentation, it's pretty much a self-contained one and done. It's so good it doesn't require much besides a good cup of coffee and a fork!!
Variations/Popular Substitutions & Additions
One of my favorite things about fall is new apple crops and pulling out baked apple recipes that have been tucked away since last year. Just remember, the best apples for apple pies are the ones you enjoy eating in an apple dessert.
Although I recommend Granny Smith or Braeburn Apples for their bright tart flavor, tangy-sweet Pink Lady or cidery Winesap are delicious options.
If you prefer, you can make your own pie crust; just double the recipe.
Opt for tapioca, arrowroot, or cornstarch if you're not keen on using extra flour as a thickener in an apple pie.
Craisins or golden raisins might shake somebody's tree, but it won't upset the apple cart! (Or should I say turn it upside-down?!)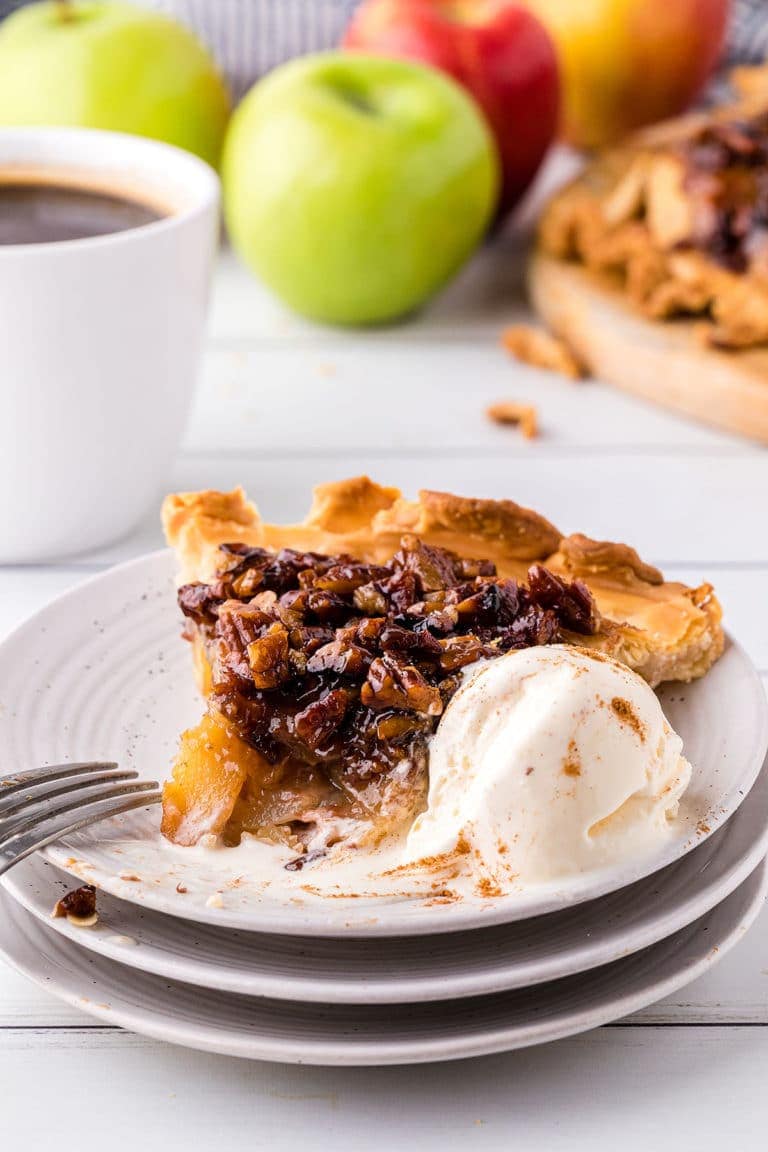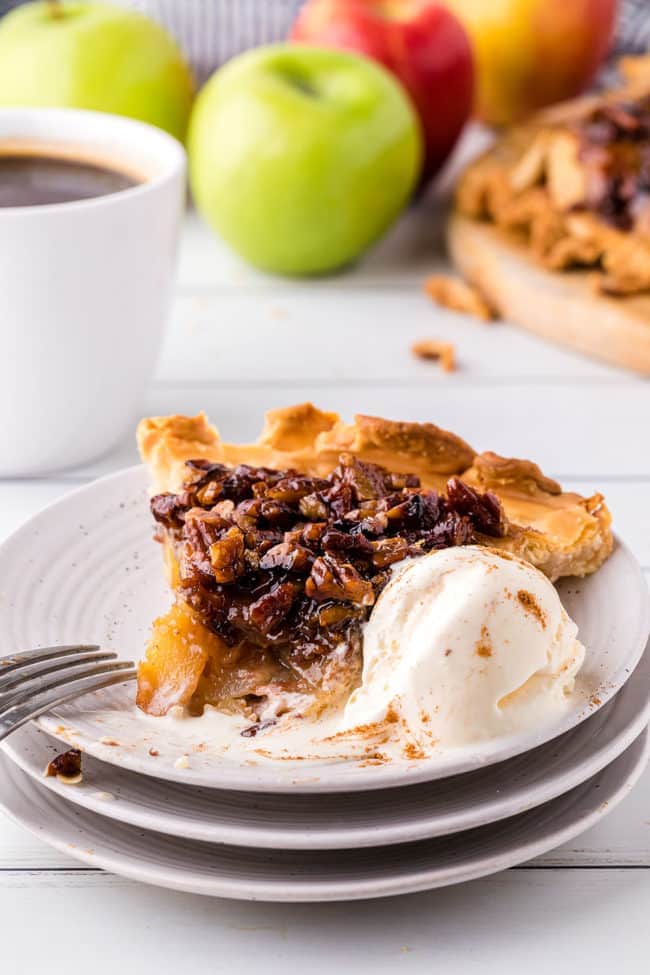 Apple Pecan Upside Down Pie FAQs:
Does the crust get soggy in an upside-down pie?
The answer is no, but it is a common question that's asked a lot. The pecans and the crust glaze and meld together, so the crust becomes part of the topping. Upside-down apple pecan pie is more like a one-crust pie after it is baked. Trust me on this!! I've made this pie more times than I can count over the last 25+ years, and I'm ALWAYS asked for the recipe!!
Should I peel apples for pie?
While leaving the skin on can add color to your apple pie, the peel can become tuff when baked in your pie. Peeling your apples will yield a softer filling, so I recommend peeling apples for pie.
Is it better to slice or dice apples for apple pie?
There's actually no wrong way to cut apples for apple pie. Peel and thinly slice the apples (about 1/4-inch thick) for a soft filling. Alternately chop the peeled apples into chunks for a chunkier filling. Either way, try to uniformly slice or dice your apples for pie, so they cook evenly.
How long to let an upside-down pie cool?
It's best to let your pie cool on a wire cooling rack, to allow air to circulate. A pecan apple upside-down pie should cool for about an hour so everything has time to set. If you cut in too early, it's more likely to fall apart.
What apples should not be used for apple pie?
Fuji, Gala, McIntosh, and Red Delicious are not good apples for pie baking. They are too soft and won't withstand a long baking time.
What is the best apple to bake with?
Granny Smith and Honeycrisp are firm and crisp varieties that are popular and have long been considered the favorites to use in apple pie and apple crisp.
How to transport pie without messing it up?
Wrap the cooled pie completely in aluminum foil. Then place the wrapped pie on a baking sheet and cover the pan and pie with foil to secure.
Like This Recipe? Pin It!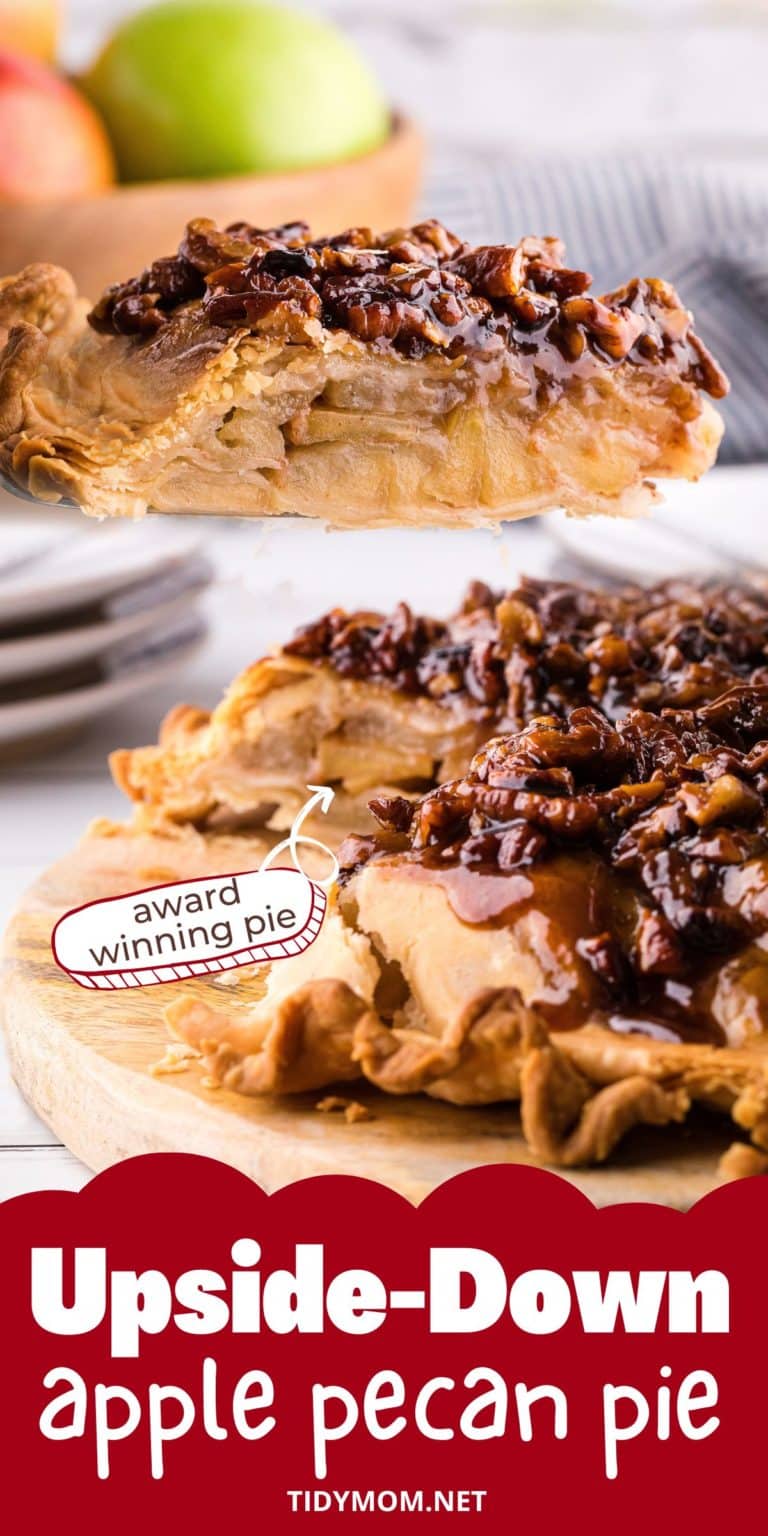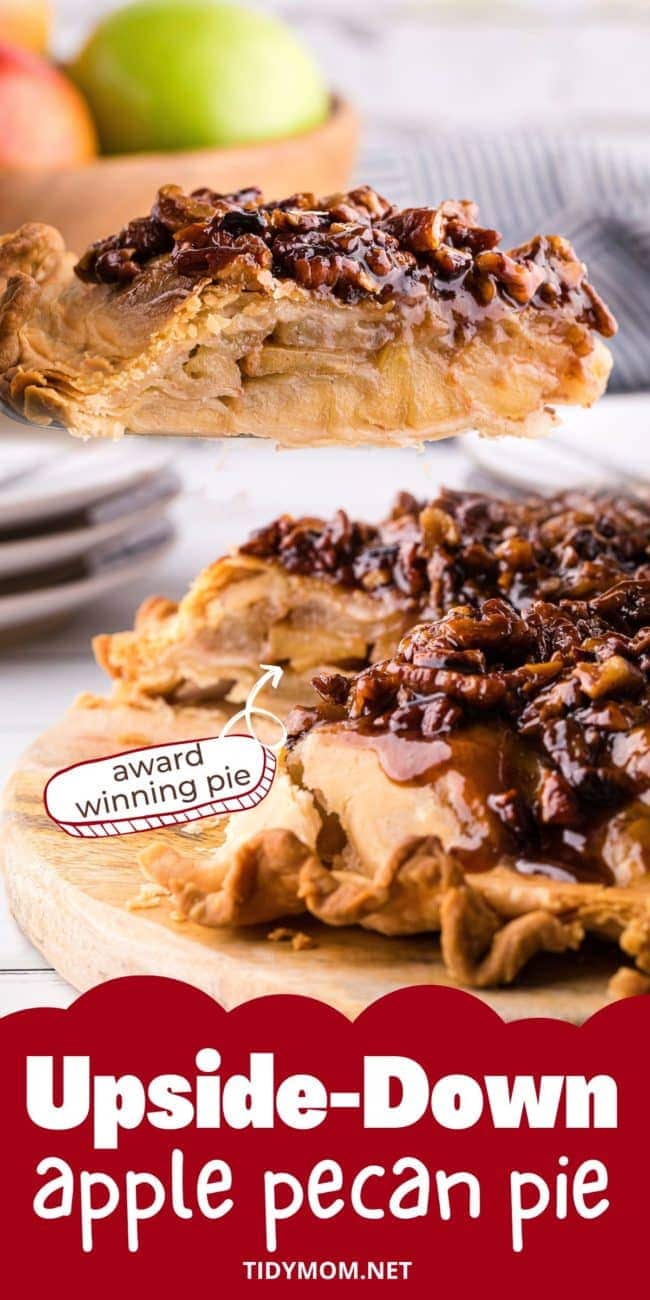 This Upside-down Pecan Apple Pie will be the coveted dessert at your Thanksgiving or Christmas dessert table!
Originally posted in October 2009. UPDATED November 2018 and September 2023. We spiffed up this post with more information and 1 change to the recipe: I now use white chili beans in place of cannellini beans.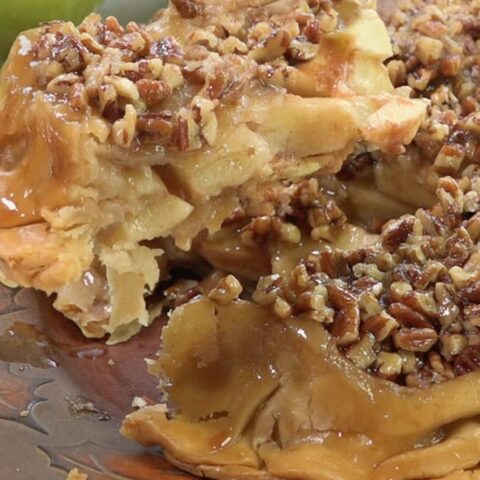 Upside-Down Apple Pecan Pie
Yield: 8 servings
Prep Time: 15 minutes
Cook Time: 50 minutes
Total Time: 1 hour 5 minutes
This self-glazing, award-winning Upside-Down Apple Pecan Pie is sure to please any crowd. It's an apple pie like no other!
Ingredients
1 cup chopped pecans
1/2 cup firmly packed brown sugar
1/3 cup butter, melted
1 box of package refrigerated pie crusts (I prefer Pillsbury All Ready Pie Crust or you can make your own pie crust)
1 teaspoon flour
6 medium apples, sliced & peeled (I prefer Granny Smith and Braeburn apples)
1/4 cup sugar
2 tablespoons flour
1/2 teaspoon cinnamon
1/8 teaspoon nutmeg
Instructions
Heat oven to 375°F
Using a 9-inch pie plate, combine pecans, brown sugar and butter; spread evenly over bottom of pan.
Place bottom pie crust over pecan mixture in pan. Press crust down around sides of pan and sprinkle with 1 teaspoon flour.
In large bowl, combine apples, sugar, flour, cinnamon and nutmeg. mix lightly. Spoon into pie crust-lined plate.
Top with second pie crust, and flute. Cut 4-5 slits in top crust, for steam to escape. Place pie plate on cookie sheet and bake at 375° for 40-50 minutes or until crust is golden brown.
Remove pie from oven, and cool on wire rack for 5 minutes. Place serving plate over pie and carefully invert hot pie. Remove pie plate. Some nuts may remain in pan, replace on pie with a knife
Cool at least 1 hour before serving.
Recommended Products
As an Amazon Associate and member of other affiliate programs, I earn from qualifying purchases.
Nutrition Information:
Yield: 8
Serving Size: 1
Amount Per Serving:
Calories: 406
Total Fat: 23g
Saturated Fat: 7g
Trans Fat: 0g
Unsaturated Fat: 14g
Cholesterol: 20mg
Sodium: 155mg
Carbohydrates: 51g
Fiber: 5g
Sugar: 33g
Protein: 3g
Nutrition information is estimated based on the ingredients and cooking instructions as described in each recipe and is intended to be used for informational purposes only. Please note that nutrition details may vary based on methods of preparation, origin, and freshness of ingredients used and are just estimates. We encourage, especially if these numbers are important to you, to calculate these on your own for most accurate results.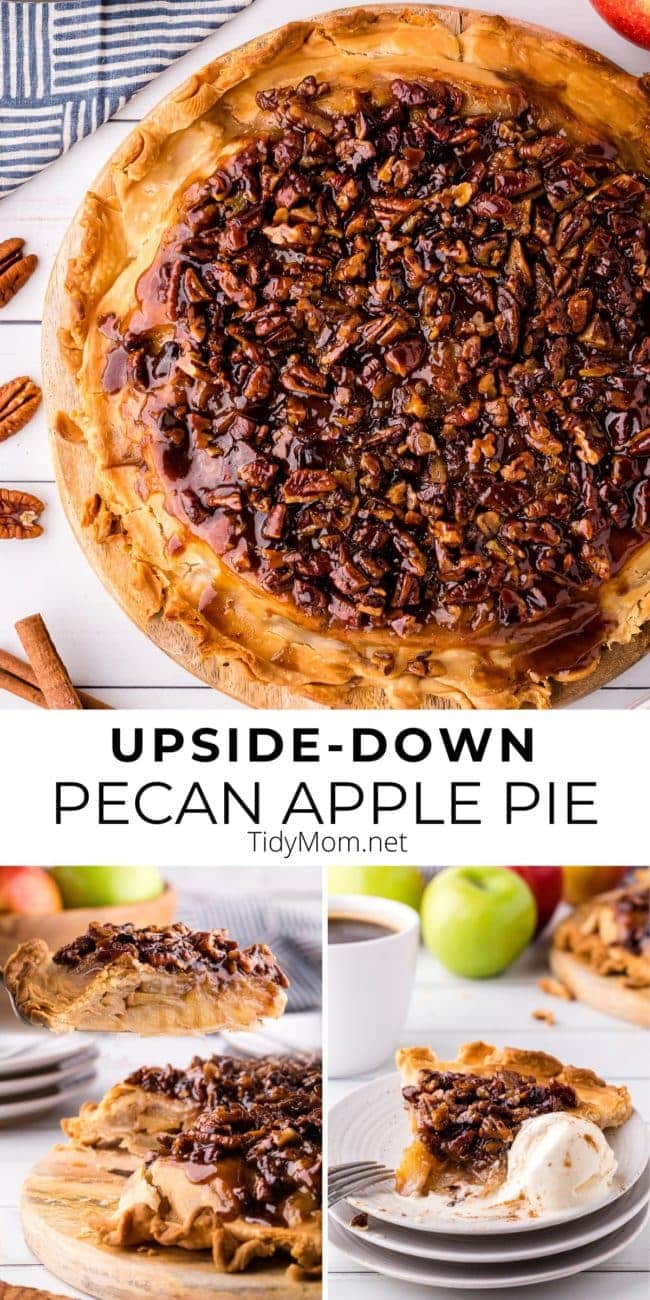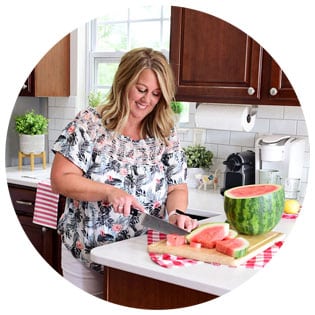 Hi there, I'm Cheryl!
As a wife, mom, and caffeine enthusiast, my journey has taken me from bustling mornings with my family to sharing delicious recipes, home care tips, and heartfelt decorating insights with wonderful readers like you. My love for baking, photography, and tidiness shines through every post I craft. Dive into my world and discover the art of homemaking, one tidy moment at a time. Read more...
Tidymom is a participant in the amazon services llc associates program, an affiliate advertising program designed to provide a means for sites to earn advertising fees by advertising and linking to Amazon.com.
Please respect my work, recipes and photographs. If you do use a recipe in your own writing, please give proper credit and link back to the original post.