Easy Apple Crisp
Apple lovers rejoice! A delicious Apple Crisp recipe is the perfect way to kick start the fall season! Tender baked apples, cinnamon, and lots of crunchy, buttery oat streusel. Easy on time and loaded with flavor!
From the epic Upside-Down Apple Pecan Pie to Apple Pie Bars, Apple Cider Donuts, and Apple Spice Muffins you can never have too many apple recipes!
Be sure to sign up for my email… to get new recipes and ideas in your inbox!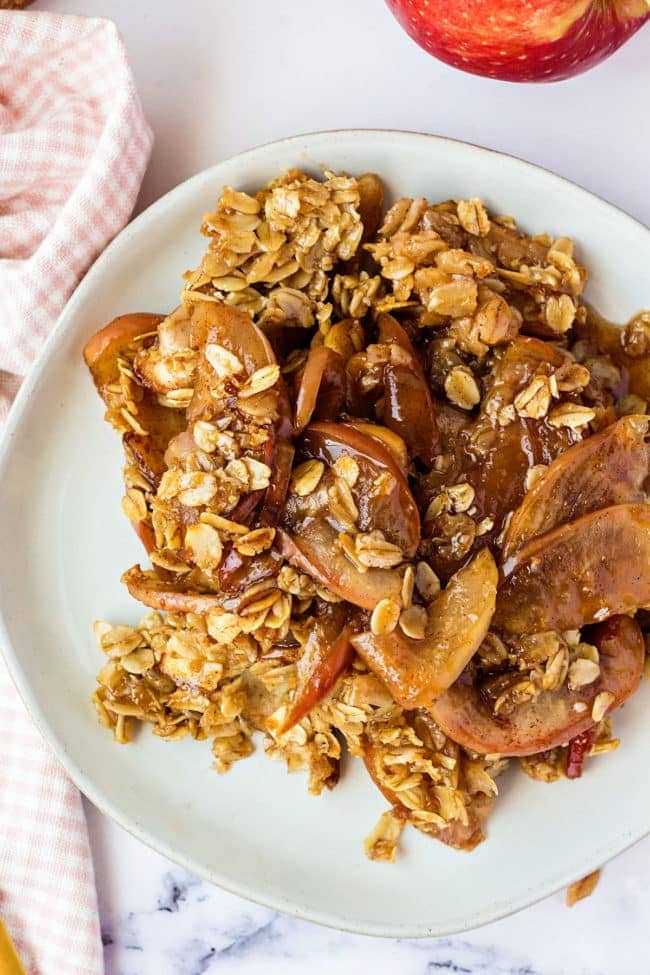 Why You'll Love This Super Easy Apple Crisp Recipe
Apple oat crisp is quick and easy to throw together with pantry staples and apples.
Only ten minutes of prep to create a delicious apple dessert that is ready to serve in under an hour.
Best way ever to get your "apple-a-day!" (or maybe two?!)
Rich, sweet, crunchy oat streusel provides fantastic texture and taste, especially with Honeycrisp apples.
Easy to make ahead apple crisp recipe, and it freezes great to pull out for guests at the last minute.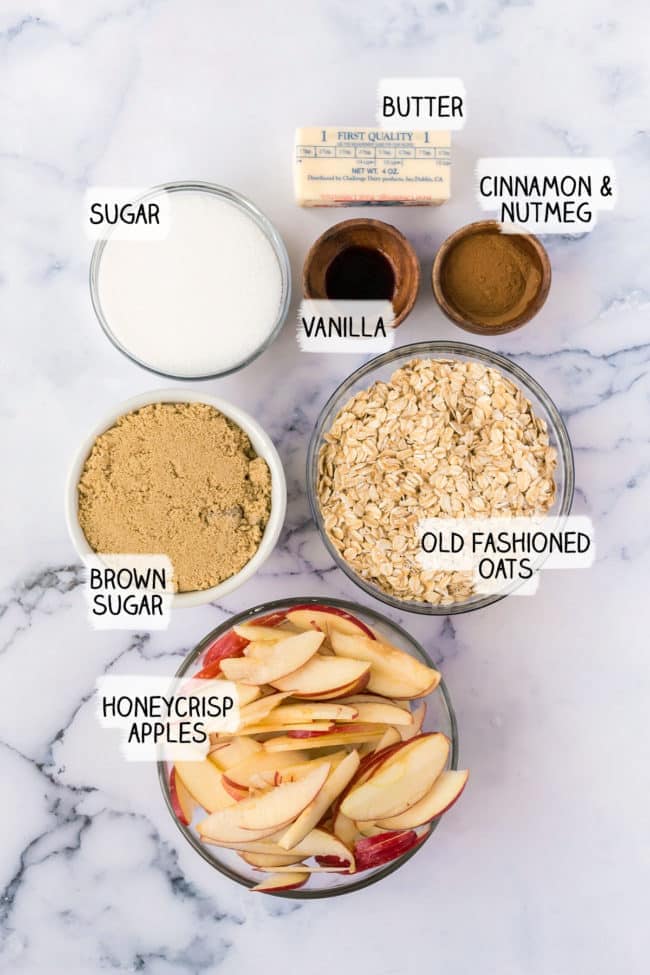 Ingredients For Apple Crisp with Honeycrisp Apples
Scrumptiously covered with a crisp, buttery streusel and oat topping. The best apple for apple crisp is the Honeycrisp apple, but you can choose your favorite. Fresh flavor-packed Honeycrisp apples tossed with vanilla, cinnamon, and nutmeg make short work of this easy crisp recipe. (I'm ok with thinking this is just what the doctor had in mind!) 🙂
Old Fashioned Oats – also known as rolled oats, are the right thickness for crunchy streusel.
Light Brown Sugar – should be firmly packed because of the air pockets from the moist molasses content.
Salted Butter – melted but not overheated.
Vanilla Extract – has a sweet and creamy aroma that enhances the sweet flavor of baked goods.
Ground Cinnamon – a pungent, aromatic woody spice with a hint of citrus.
Ground Nutmeg – nutty flavor similar to allspice or clove that marries well with woody cinnamon in an apple dessert.
White Granulated Sugar – you can opt for using ½ white and ½ brown sugar if you want to up the caramel flavor.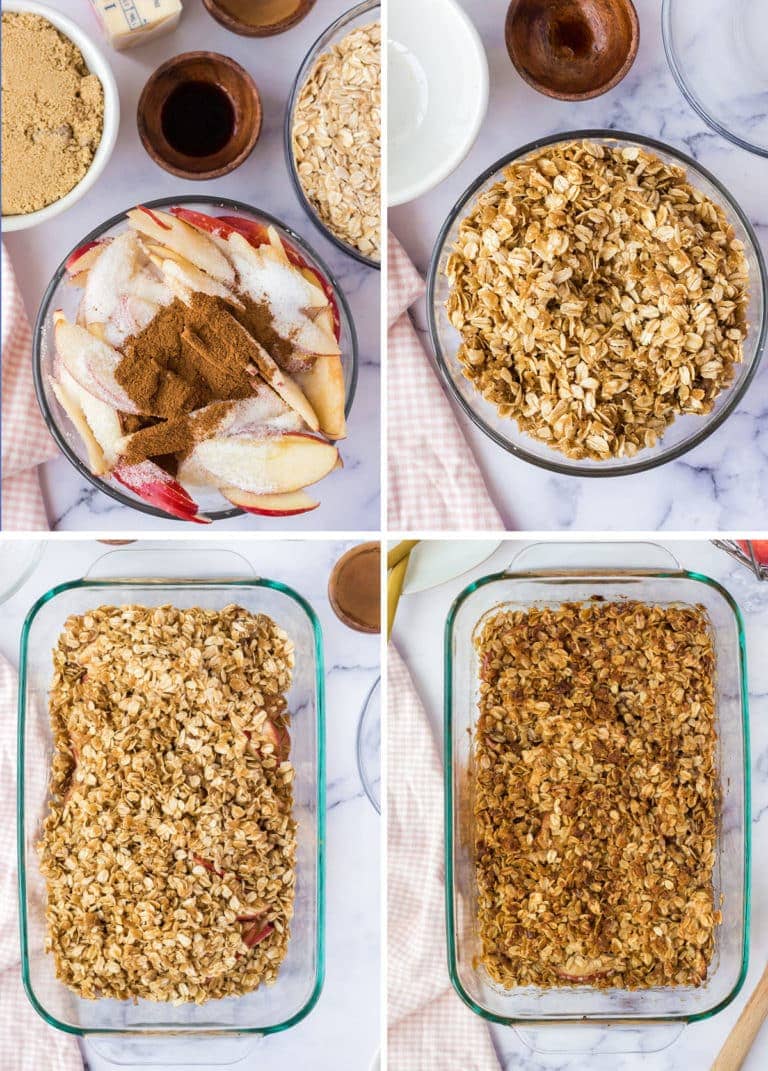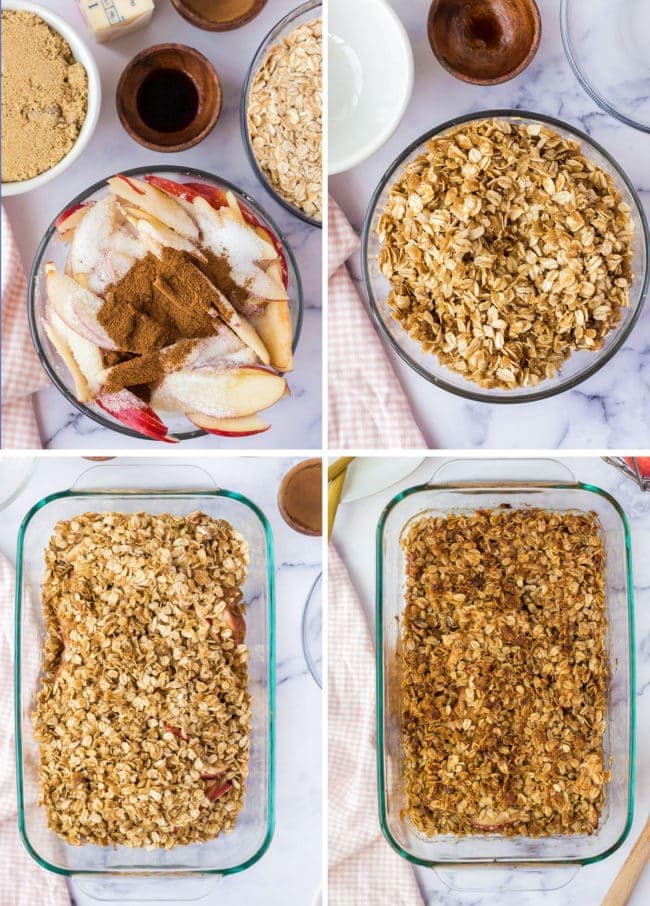 How To Make An Apple Oat Crisp
In under an hour, you can make a delicious apple crisp dessert the whole family will enjoy. "Easy as pie" to pull together, but lighter on calories and heavy on the flavor. Homemade crisp will give a store-bought apple pie a run for the money every time!
(full printable recipe at the end of this post)
Start by tossing Honeycrisp apples, spices, and sugar together until evenly coated.
Next, stir the oats, brown sugar, butter, and vanilla together.
Then layer the apples and oat crisp into a baking dish.
After assembling, bake the crisp for 40 minutes.
Lastly, cool slightly before serving with ice cream, caramel sauce, or whipped cream.
Enjoy your easy apple crisp with Honeycrisp apples!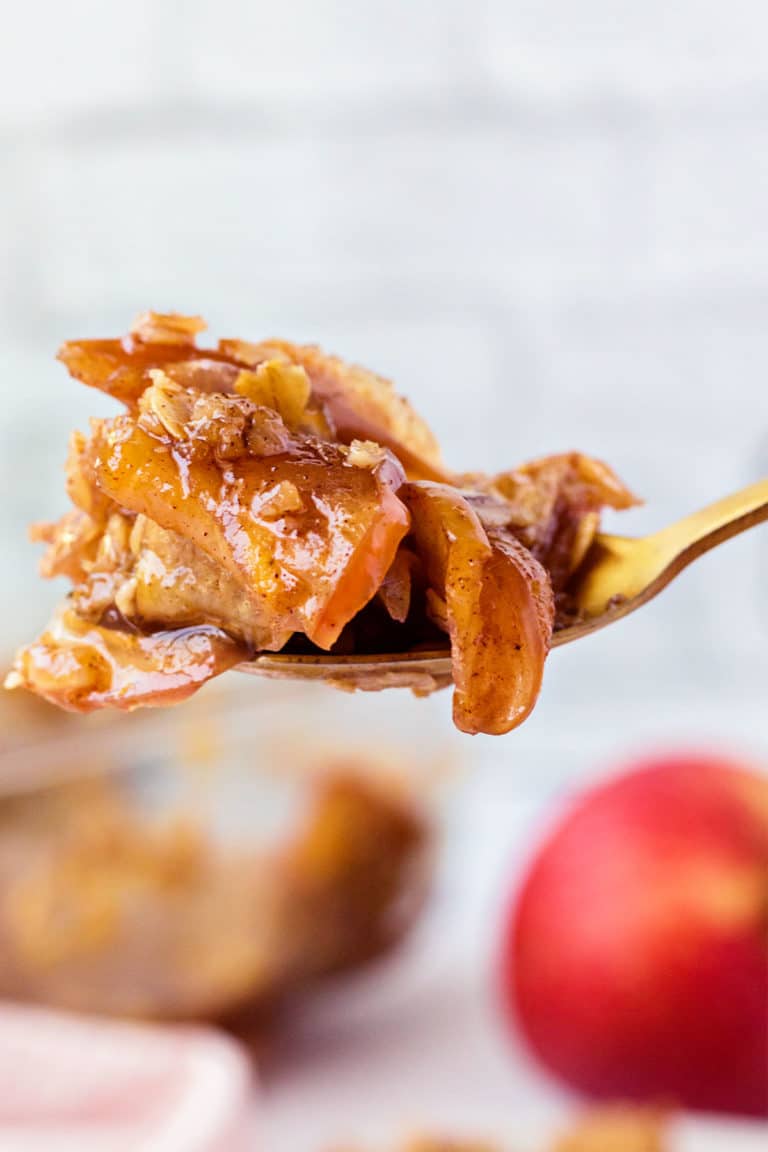 This post may contain affiliate links. Please read my disclosure policy here.
How About Them Apples? Recipe Notes
You can use any type of apple you prefer with this apple crisp recipe. I've found Honeycrisp apples release the most flavor with their perfectly balanced tart and sweet flavor profile.
Another apple crisp option uses both Gala and Granny Smith apples, combining a sweet apple and a tart apple. Some bakers like to use several different types for a layered flavor.
If your choice is a sweeter apple for this crisp recipe, toss in a dash of lemon juice and cut back some sugar to taste. If you use tart apples, you can add sweetness with sugar or some maple syrup for an extra layer of flavor.
To peel or not to peel… it's all up to personal preference. With thinly sliced apples, you can hardly tell the peel is there. Proponents of the no-peel apple crisp like the extra bit of texture and the benefits of the additional nutrients.
If you end up with a few "extra" apple slices and oat streusel topping, make a couple of single-serving ramekins. Pack one in a lunch and stash one in the freezer for a "me day!"
Apple Crisp Variations
Complement the apples with other fruits like fresh cranberries, raspberries, blueberries, or frozen tart cherries.
Rhubarb (veggie) is not "owned" by strawberries! When paired up with an apple crisp recipe, it's a perfect tart contrast for sweet apples.
Go a little nutty by adding buttery glazed pecans or toasting other favorites like walnuts or slivered almonds to the streusel topping with oats.
Really shake up your apple dessert recipe with some dried fruit, like craisins, golden raisins, dried cherries, or currents.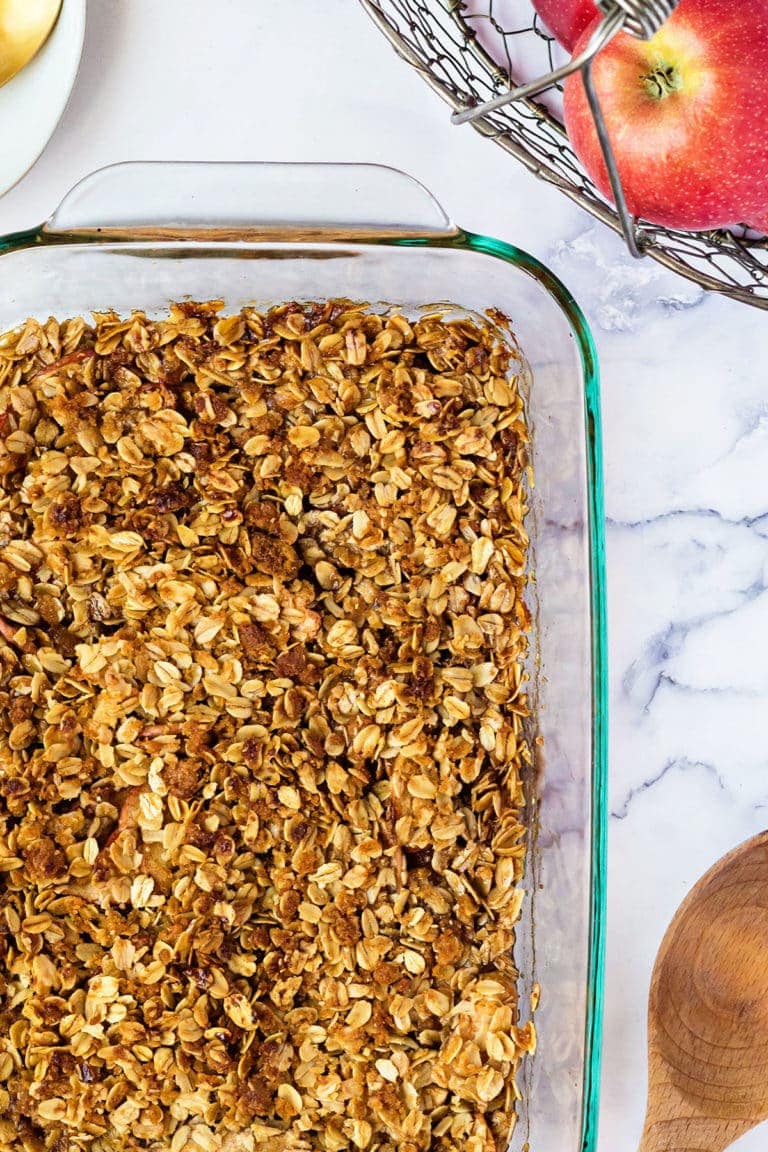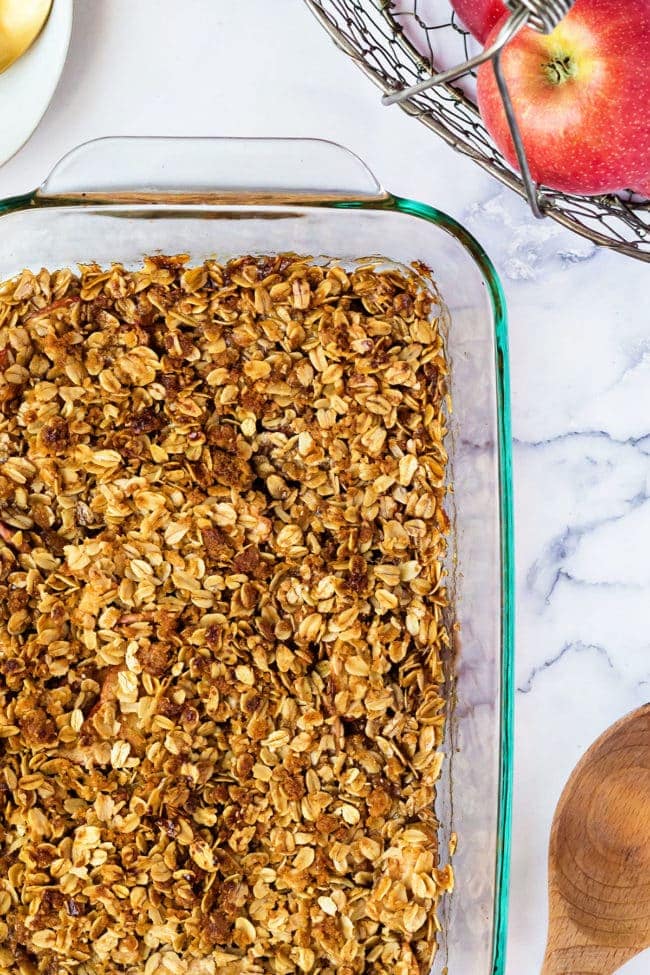 How To Store Homemade Apple Crisp
You can leave apple crisp out for a short time while serving, but once it reaches the two-hour mark, it's best to wrap it up and put it in the fridge!
Refrigerate Leftovers
Apple oat crisp will stay good for up to 4 days in the fridge. Make sure to cover well with plastic wrap or in an airtight container.
How To Freeze
When you make an apple crisp ahead and want to freeze it, the apple dessert has to cool completely. Then, cover it tightly with plastic wrap and foil and store it in the freezer for up to 2-3 months (and up to 6 months if you have a deep freezer). Allow to thaw, then reheat at 350° F just until warm (about 20-30 minutes).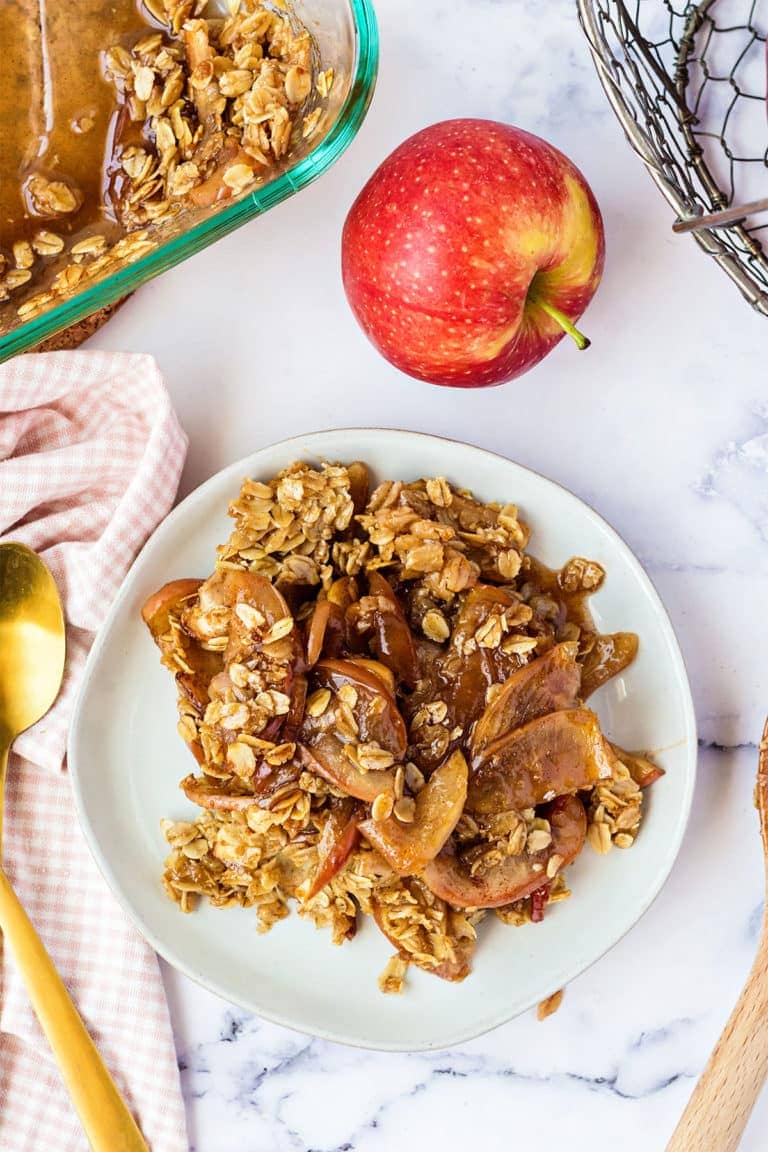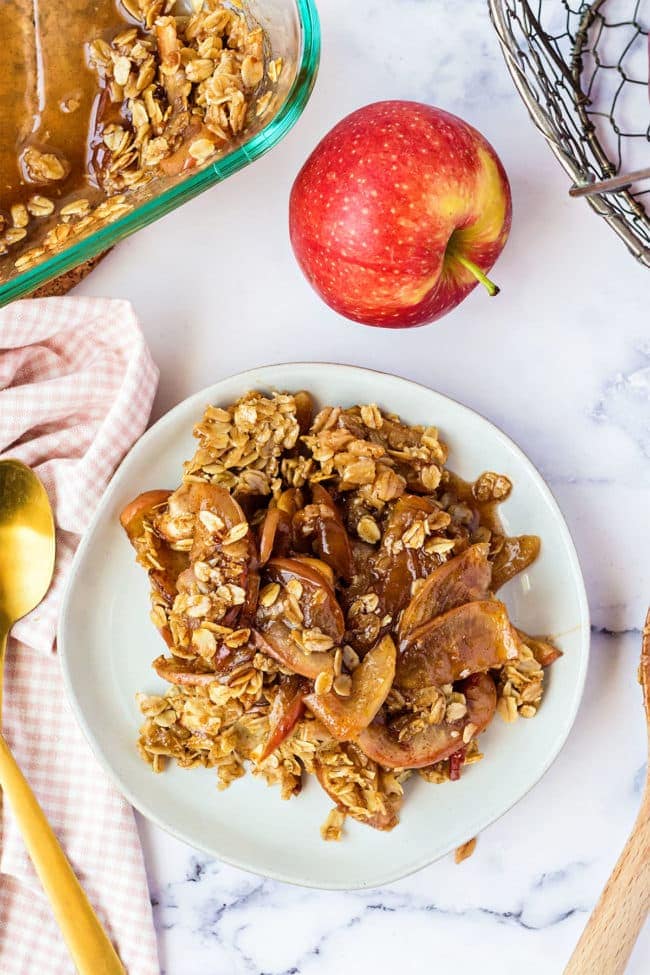 Serving Suggestions
The best way to enjoy apple crisp is warm with a cold scoop of vanilla ice cream drizzled with caramel sauce, or top with cinnamon whipped cream.
Make single serving apple crisp by baking the dessert in 6-8 ounce ramekins. The time shouldn't be too different, but I'd start checking the individual servings around 30-35 minutes, looking for the top to brown.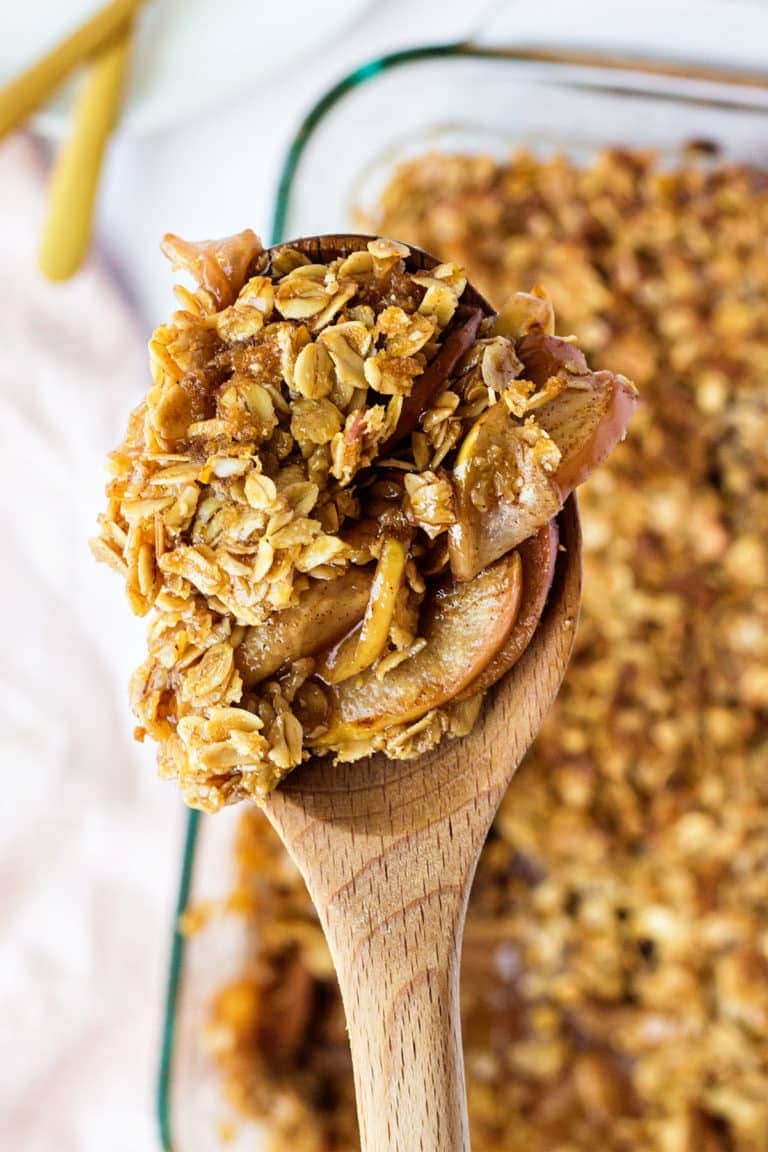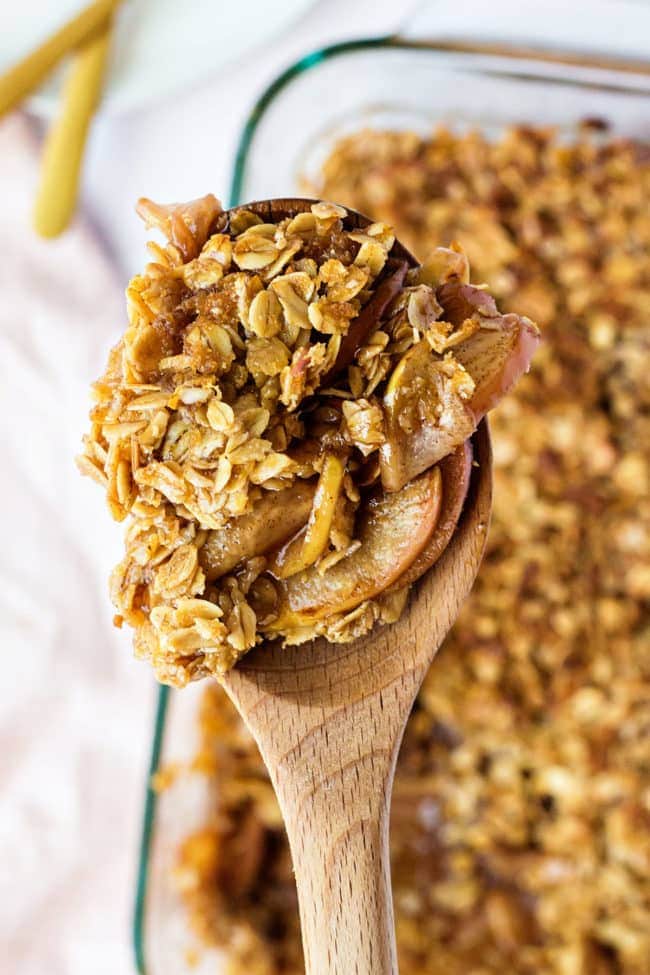 Homemade Apple Crisp Recipe FAQs
What is the difference between apple crisp and apple crumble?
As a rule, oats. Traditionally flour, butter, and sugar are the base streusel ingredients for a crumble. When you add oats to a streusel, with or without the flour, you get a "crisp." Think of it this way; a crumble is between a cake-like cobbler topping and the buttery oat crisp topping.
What is apple crisp topping made of?
Oats, sugar, and butter are the foundation of an apple crisp topping. There is no hard and fast rule on what goes into a crisp topping due to 1,001 variations. (ok, maybe that's an exaggeration, or it's not!) Here are a few examples to give you an idea:

*Oats – Old-fashioned aka rolled, quick oats (some use steel cut-wow!)
*Flours – all-purpose, gluten-free, almond
*Fats- butter, coconut oil, grapeseed oil
*Sweeteners – brown or white sugar, honey, coconut sugar, molasses
*Flavorings & spices – vanilla, cinnamon, ginger
*Nuts – pecans, walnuts, almonds

Can you use quick oats instead of old-fashioned oats in apple crisp?
You can, but! Old-fashioned (rolled) oats are groats that are steamed and then flattened to a certain thickness. Quick oats are rolled flatter than the old-fashioned and cook more quickly. These thinner quick oats can easily be substituted in the crisp, but they tend to cook up a little softer and won't give you as much texture or crunch as their counterpart.
Can I use instant oats instead of rolled oats?
I'd like to give you a hard no, but that's not entirely true. Instant oats are thin, cooked, dried, and made to dissolve into a creamy oatmeal (mushy) dish. In an apple crisp topping, they will give you the flavor you want, but hard to say if you'll have much of a texture beyond what a crumble would have.

What Is A Honeycrisp Apple?
Decades in the making, a Honeycrisp apple is a cold hardy cultivar. This means the apples were painstakingly created from selective cross-pollination. The seeds of the fruit produced are grown into seedlings; then, the buds are grafted to a rootstock. These beauties were bred purely for taste, thanks to the University of Minnesota. The best apple for apple crisp recipes, in my opinion, is the Honeycrisp apple.
How Does A Honeycrisp Apple Taste?
For me, it has a mild apple, almost pear-like flavor, but it has more smell than taste. The Honeycrisp apples I've eaten are more sweet than tangy; it's so crisp and refreshing that it feels like the flesh is almost icy.

Honeycrisp apples are known to be soft-skinned, perfectly balanced sweet, and tart flavored apple has a crisp and explosively juicy bite. The large, low-acid cells are full of juice and crush easily when eaten.

According to the University of Minnesota, Honeycrisp apples can be kept in common storage for up to 7 months and several more months in CA, controlled atmosphere storage. Bonus!
Like This Apple Crisp Recipe? Pin It!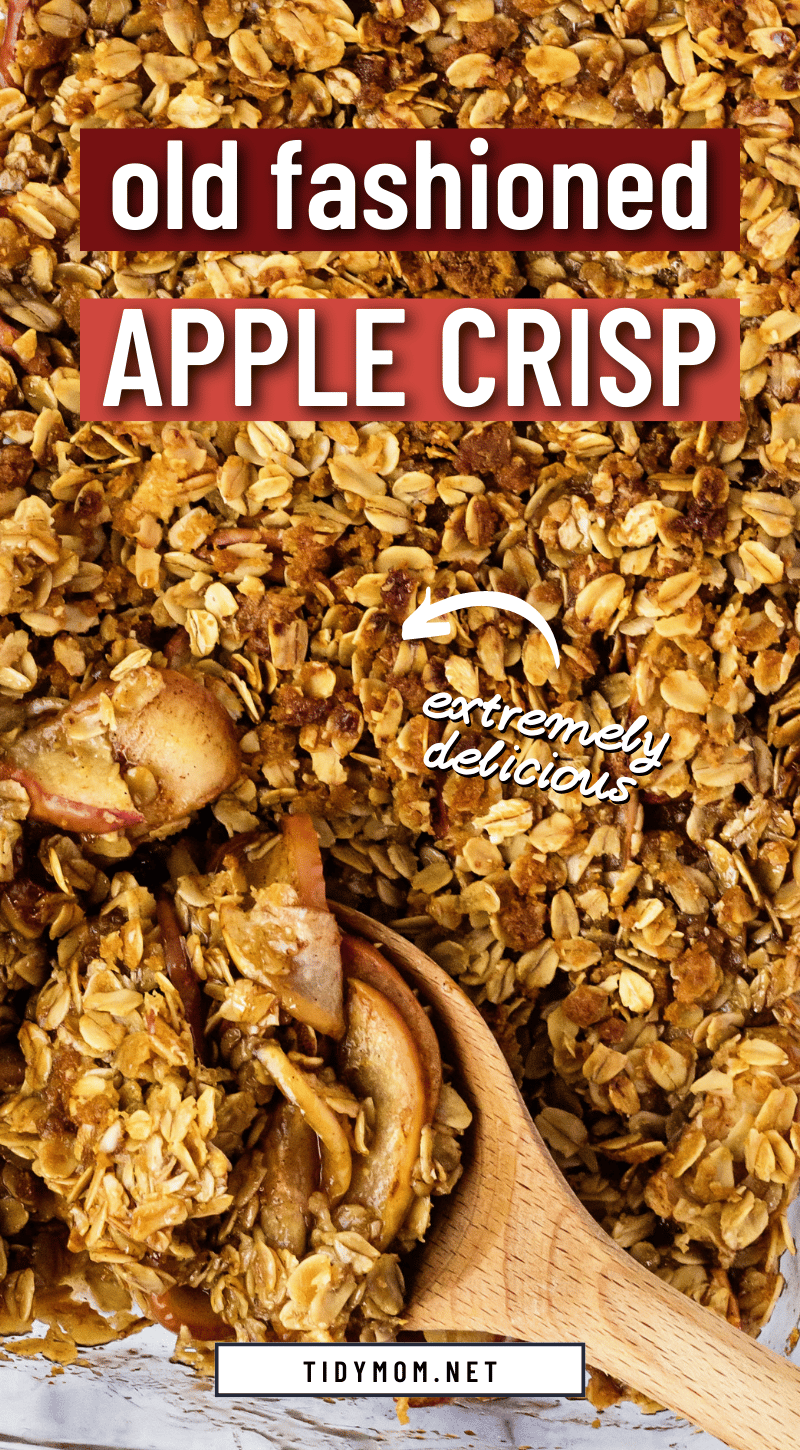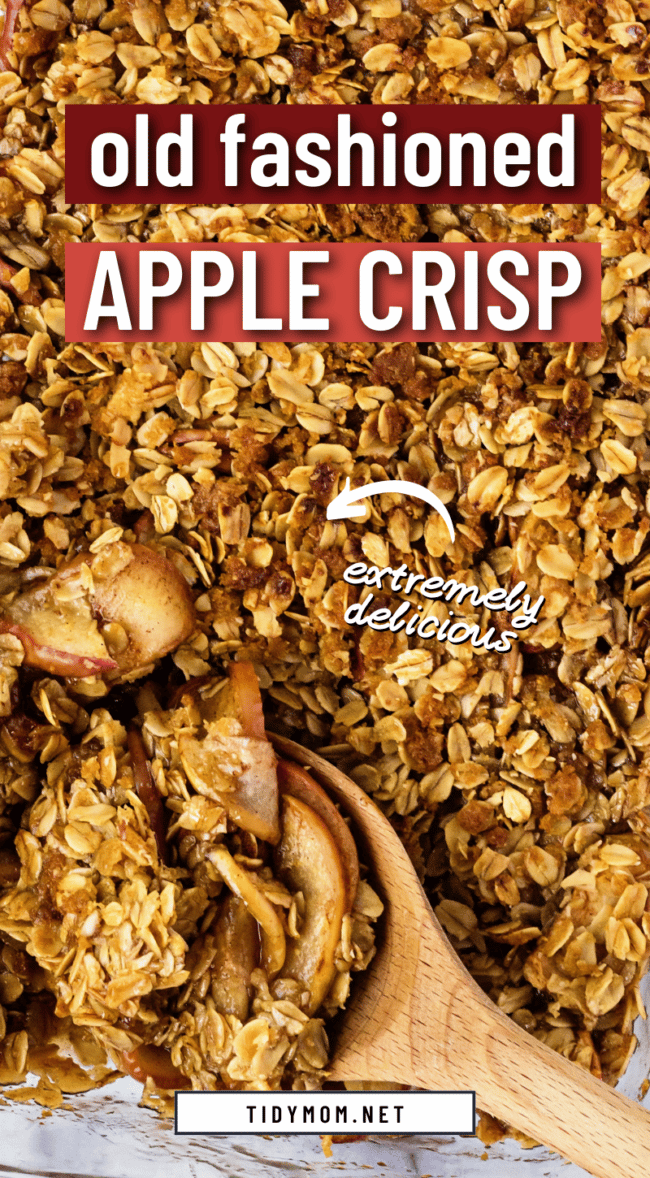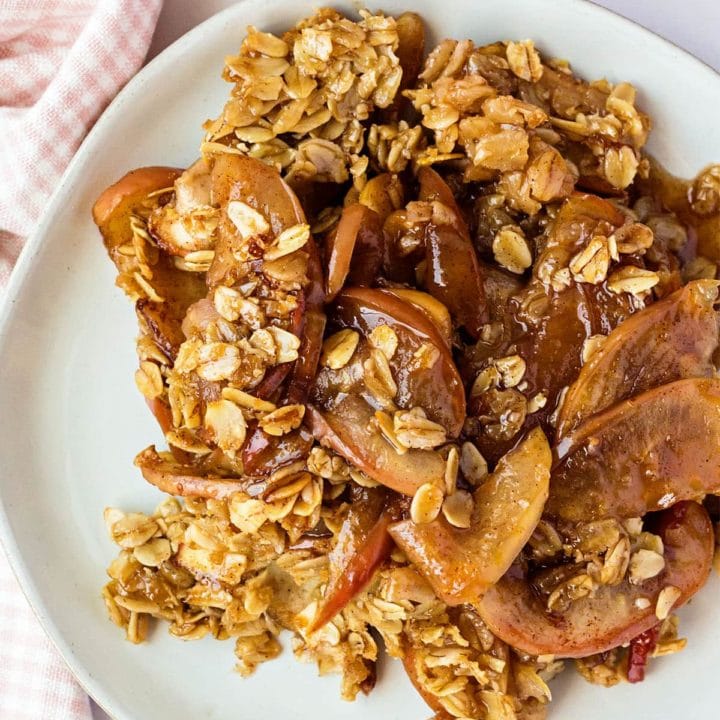 Easy Apple Crisp
Yield: 6-8 servings
Prep Time: 10 minutes
Cook Time: 40 minutes
Total Time: 50 minutes
A delicious Apple Crisp recipe is the perfect way to kick start the fall season! Tender baked apples, cinnamon, and lots of crunchy, buttery oat streusel. Easy on time and loaded with flavor!
Ingredients
2 cups old fashioned oats
1 cup light brown sugar
¼ cup salted butter, melted
1 teaspoon vanilla extract
1 teaspoon ground cinnamon
1 teaspoon ground nutmeg
3 large apples, sliced
½ cup white granulated sugar
Instructions
Preheat the oven to 425° F
In a medium-sized bowl, toss together the apples, ground cinnamon, ground nutmeg, and sugar until the apple slices are evenly coated in the dry ingredients. Set this bowl aside.
In a separate bowl, assemble the crumble topping by stirring together the oats, brown sugar, butter, and vanilla until well combined.
Dump the apple mixture into a 7x11 inch baking dish and top the apples with the crumble topping.
Bake the apple crumble for 40 minutes, or until the top begins to brown, and allow it to cool slightly before serving.
Notes
This crisp will stay good in the fridge for up to 4 days in the fridge.
You can also store this dessert in the freezer for 2-3 months. When reheating it from the freezer, simply reheat the dish at 425°F until heated all the way through (you may want to cover it with foil for the first 15-20 minutes).
You can use any type of apple for this recipe, but I found honey crisp apples released the most flavor. Other types of apples that work well include Gala and Granny Smith.
Recommended Products
As an Amazon Associate and member of other affiliate programs, I earn from qualifying purchases.
Nutrition Information:
Yield: 8
Serving Size: 1
Amount Per Serving:
Calories: 310
Total Fat: 7g
Saturated Fat: 4g
Trans Fat: 0g
Unsaturated Fat: 3g
Cholesterol: 15mg
Sodium: 54mg
Carbohydrates: 61g
Fiber: 4g
Sugar: 44g
Protein: 3g
Nutrition information is estimated based on the ingredients and cooking instructions as described in each recipe and is intended to be used for informational purposes only. Please note that nutrition details may vary based on methods of preparation, origin, and freshness of ingredients used and are just estimates. We encourage, especially if these numbers are important to you, to calculate these on your own for most accurate results.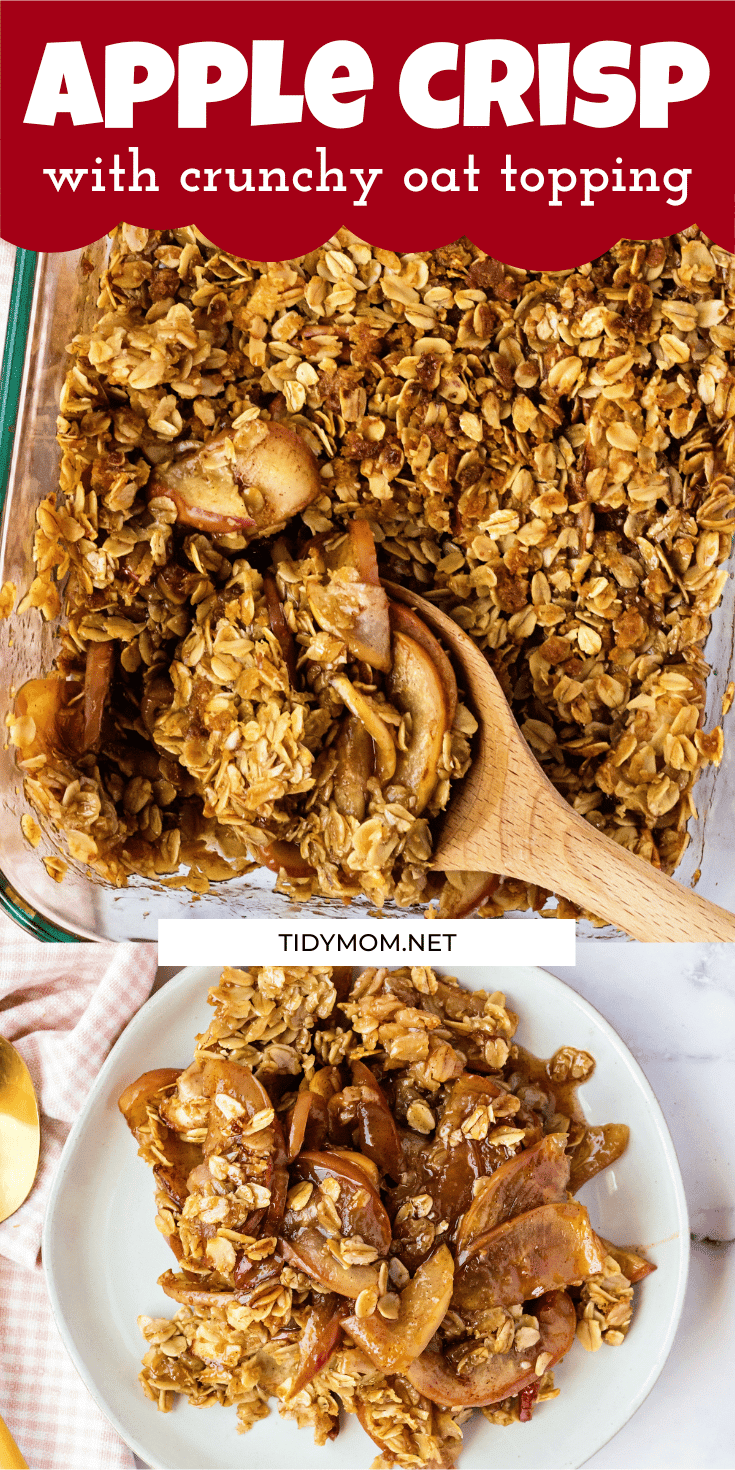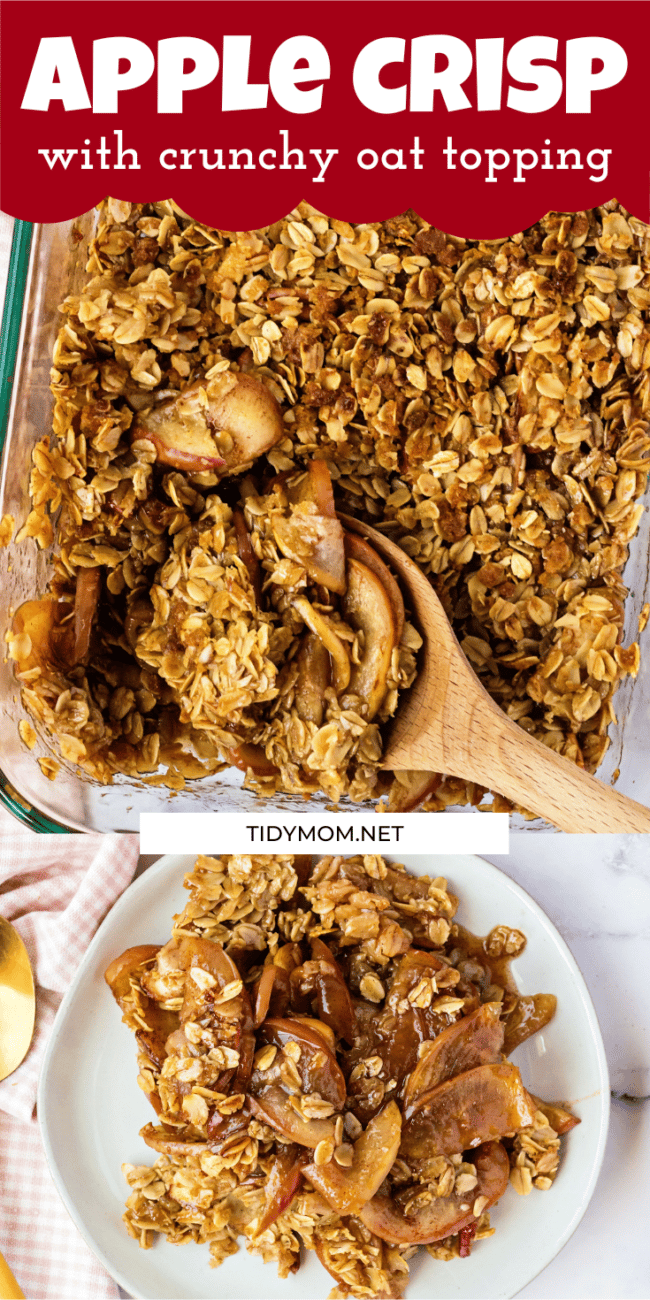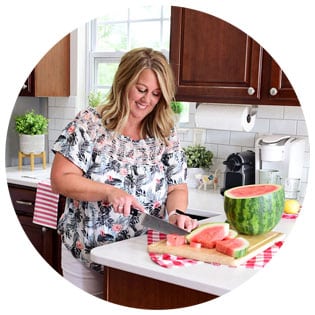 Hi there, I'm Cheryl!
As a wife, mom, and caffeine enthusiast, my journey has taken me from bustling mornings with my family to sharing delicious recipes, home care tips, and heartfelt decorating insights with wonderful readers like you. My love for baking, photography, and tidiness shines through every post I craft. Dive into my world and discover the art of homemaking, one tidy moment at a time. Read more...
Tidymom is a participant in the amazon services llc associates program, an affiliate advertising program designed to provide a means for sites to earn advertising fees by advertising and linking to Amazon.com.
Please respect my work, recipes and photographs. If you do use a recipe in your own writing, please give proper credit and link back to the original post.