Easy Vanilla Bean Ice Cream Recipe – Philadelphia style
 Vanilla Bean Ice Cream Recipe – Everyone should have a truly-easy and delicious no-cook vanilla ice cream recipe in their arsenal.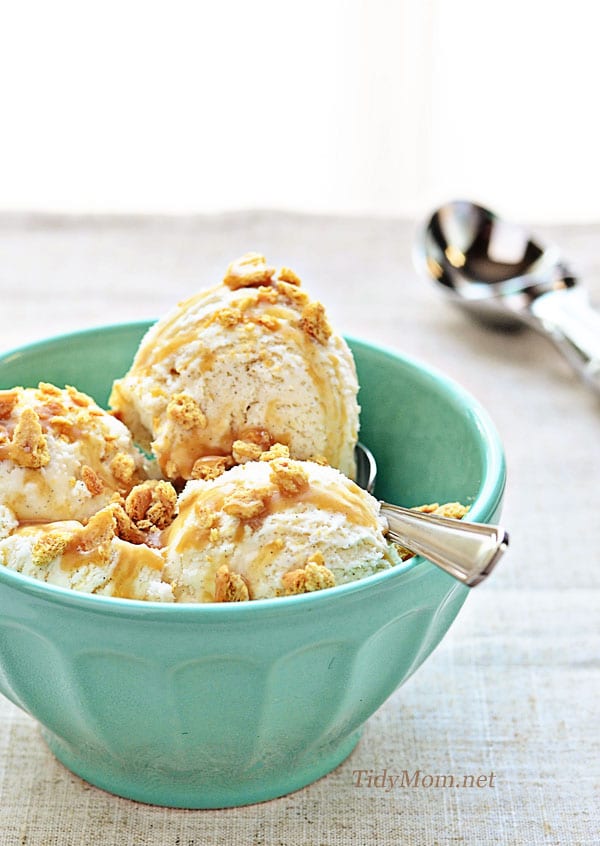 This post may contain affiliate links. Please read my disclosure policy here.
I thought since July is National Ice Cream Month, I should close out the month with a good easy Vanilla Bean Ice Cream!
As much as I love over the top flavors of ice cream, I'm a true vanilla girl at heart! It's a creamy classic delicious flavor all on it's own, but also makes a great base for toppings, mix-ins, shakes or on top of a piece of cobbler or cake! Let's face it, Vanilla Ice Cream is the most versatile dessert you can make.  I highly suggest a good ice cream machine……or get the Kitchenaid Ice Cream Maker Attachment (it's on my wish list, but I've used it when I visited the World of Whirlpool and loved it!)
A few weeks ago I shared a recipe for Frozen Custard…….. Roasted Peach Frozen Custard to be exact. Frozen Custard, or 'French -Style' has a custard base that contains cooked egg yolks and produces a creamy texture and rich flavor. Frozen custard generally takes a little more time to make because there is cooking involved as well as a long chill time.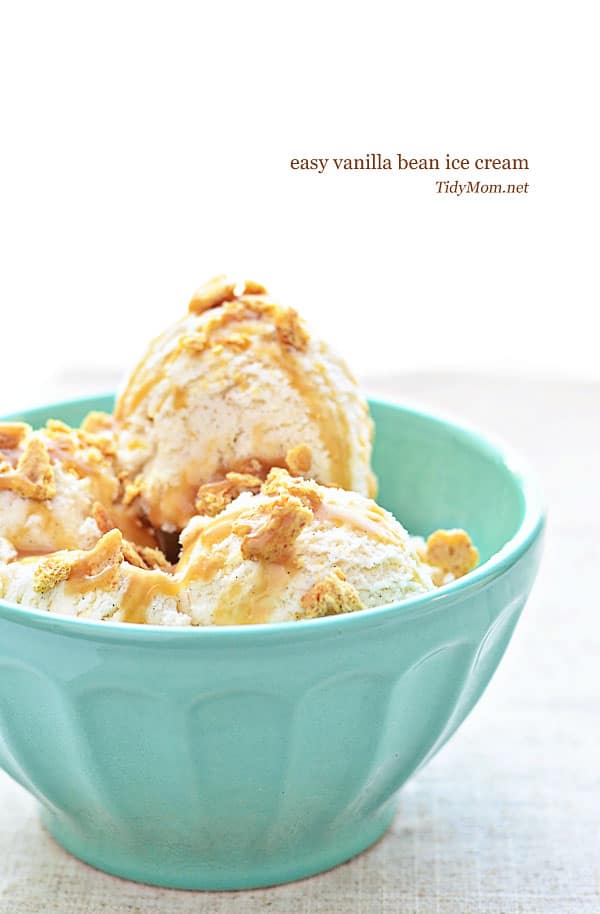 Today I'm going to share a good easy 'Philadelphia Style' ice cream. Philadelphia style ice creams are quicker to make, don't involve any cooking, and have a heavy cream/milk mixture for the base.
Both are good, but they do taste completely different.  If I had to choose, I would say the custard base is my favorite, because I love how rich and creamy it is.  Yet I love the light crisp taste of the Philadelphia style ice cream and you can't beat how easy it is to make!
If you like fruity sherbet, you'll want to try my quick 2 minute, 2-ingredient Peach Sherbet recipe……it's the perfect treat when you need a quick frozen treat!!
 Homemade Vanilla Bean Ice Cream Recipe
I've been topping my Vanilla Ice Cream with caramel sauce and graham crackers lately. How do you like to eat vanilla ice cream?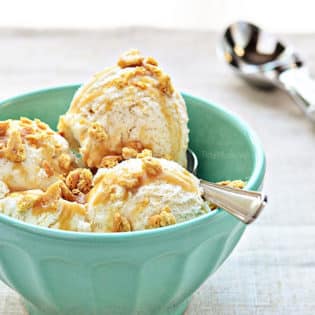 Easy Vanilla Bean Ice Cream
'Philadelphia Style' ice cream is quicker to make, doesn't involve any cooking, and has a heavy cream/milk mixture for the base.
Ingredients:
2 cups heavy cream
2 cups whole milk
1/2 cup granulated sugar
2 tablespoon vanilla bean paste
pinch of sea salt
Directions:
Combine all ingredients in blender (or you can use a hand mixer). Blend until thoroughly combined.
Place in ice cream maker and freeze according to manufacturer's directions.
Serve immediately for soft-serve style, or place in well covered container in freezer and allow to harden for firmer results.
I LOVE using vanilla bean paste, it's much easier and cheaper than vanilla beans, and more flavorful than extract, plus I love the flecks of vanilla beans. If you don't have vanilla bean paste, you can use vanilla extract instead.
You can mix up this ice cream base ahead of time and throw in the in the ice cream maker later - like the following day.
Making this recipe? Share it with us on Instagram using the hashtag #TidyMom so we can see what you're creating in the kitchen!
Want more great recipes like this? Follow my TidyMom Easy Recipes Pinterest Board
More Homemade Ice Cream Recipes to try
Old Fashioned Banana Pudding Ice Cream
Like this Vanilla Bean Ice Cream Recipe? Pin It!