Roasted Brown Sugar Peach Frozen Custard
When the days are filled with bike rides, swimming, frozen treats, and fresh fruit …..combine the signs of summer into a delicious creamy Roasted Peach Frozen Custard.

What goes better with summer than ice cream? In a cone or a bowl, plain or complicated, any kind of ice cream will do!  I remember as a child watching my mom or dad pour the salt and crank the handle to the ice cream maker while I ever so patiently waited to lick the beater.  I'm sure we made many flavors, but homemade peach frozen custard is the cold creamy dessert I remember most.
Sometimes I want really easy, and I make peach sherbet with just two ingredients.  Thankfully these days, you don't have to take turns cranking a machine, although that might be fun to do one evening! This summer I hope to keep the freezer stocked with lots of homemade ice cream and frozen custard.  If you're curious about the difference in frozen custard and ice cream,  according to Wikipedia: The high percentage of butterfat and egg yolk gives frozen custard a thick, creamy texture and a smoother consistency than ice cream.  I decided to kick off summer with homemade Peach Frozen Custard.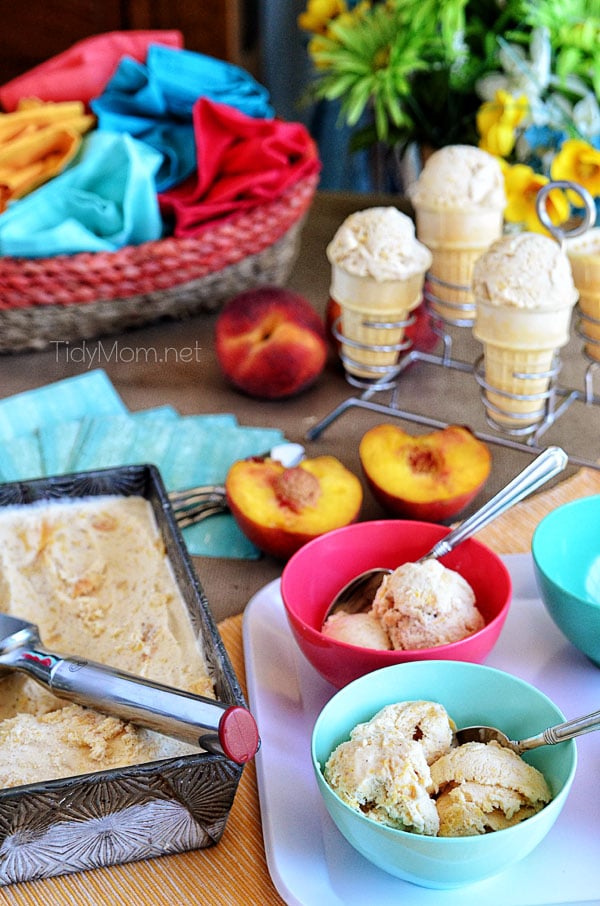 Start with simple, high-quality ingredients like cream and sugar, pour the base into the ice cream machine, then end up with a cold, creamy dessert.
The highlight of this frozen custard is the flavor of the roasted peaches. Add a touch of cinnamon and a small bit of brown sugar to the peaches before roasting them for a short time in a hot oven.  You can really taste the cinnamon and brown sugar, so go light, if you want the peach flavor to shine alone, just omit the cinnamon and brown sugar — you won't be disappointed!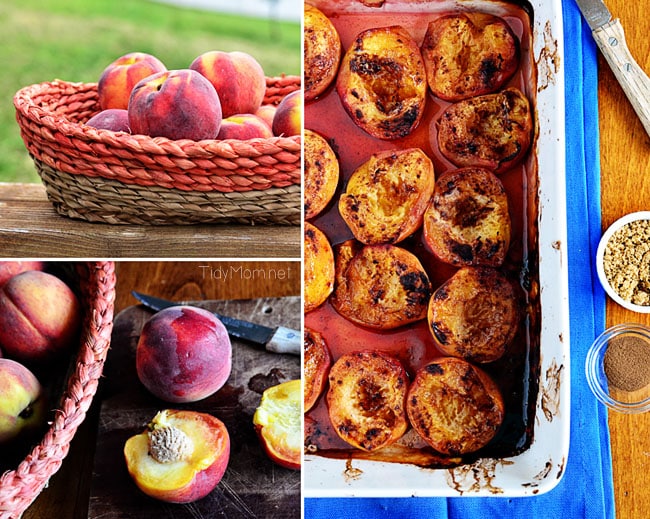 With a basic vanilla custard in your arsenal,  you can experiment with other flavors by mixing in at the end.  On this day I made two batches, one I kept just vanilla and we ate it right out of the machine like soft serve. – OMG was this good!!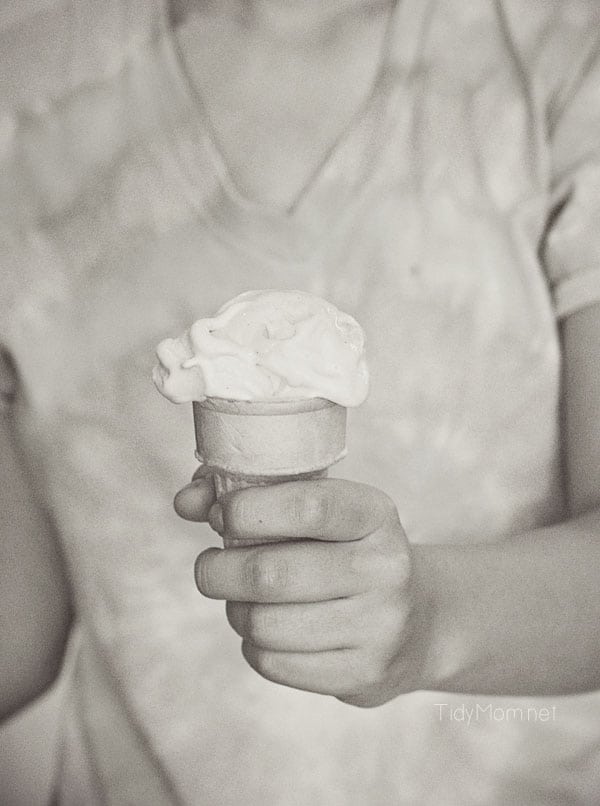 The other batch I added in the roasted peaches and froze overnight for a scoopable frozen treat the next day!
Frozen Custard is really quite simple to make at home, but because it is made with so few ingredients the quality of those ingredients is key.  You will also need an ice cream machine to process the base until it's nearly frozen.   It's ready to eat right out of the machine as a 'soft serve' or a few hours more in the freezer produce a wonderful firm frozen custard.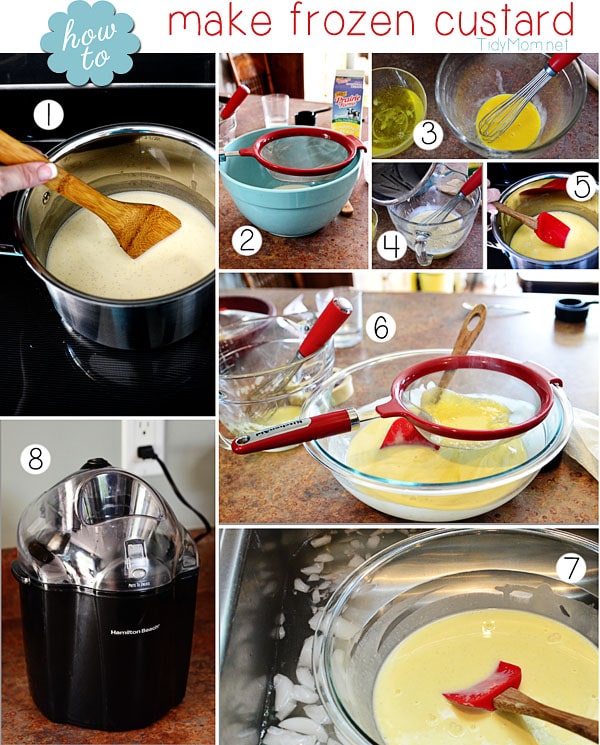 How to make Frozen Custard at Home: (full recipe at end of this post)
Warm milk, sugar, 1 cup of the heavy cream, vanilla bean paste and salt in a medium saucepan over low heat, stirring until the sugar is dissolved.  Then remove from the heat, cover and let steep at room temperature for 30 minutes.
Pour the remaining 1 cup heavy cream into a large bowl and place a fine-mesh sieve on top and set aside.
Separate 6 eggs, and whisk egg yolks. (don't throw the whites out, you can store egg whites)
Slowly pour the warmed milk mixture into the egg yolks, whisking constantly.
Pour mixture back into the saucepan, and cook over low heat, stirring constantly, until custard coats the spoon, about 2 minutes.
Remove custard from heat and strain through a fine-mesh strainer into the bowl of remaining cream to remove any lumps and stir to combine. (my bowl changed colors in the pictures because I was making 2 batches and took the pictures at different times.  Step 2 and 6 will be the same bowl)
Place bowl of custard base in ice bath to cool to room temperature, about 10 to 15 minutes, stirring occasionally. (I just fill my kitchen sink with a few inches of cold ice water).  Once cooled, cover bowl and place in the refrigerator to chill completely, at least 3 hours or overnight.
Once chilled, pour into the freezer bowl of your electric ice cream maker. Turn on and churn according to the manufacturer's directions. (This is where you will add your mix-ins – like the chilled roasted peaches).  Serve immediately or transfer to a freezer-safe container and store in the freezer.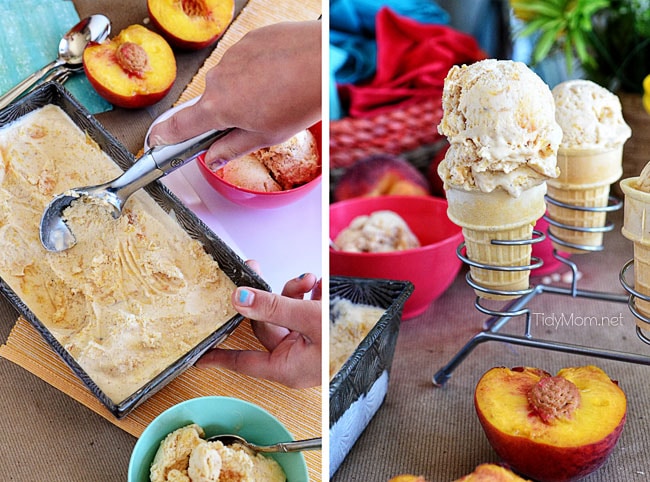 Homemade ice cream is best kept for about a week, after which the flavor weakens. To prevent frozen custard or ice cream from forming ice crystals, press some waxed paper on top each time you scoop some out to preserve flavor and texture. (this works with store bought ice cream as well).
Every bit as delicious as I had imagined!  and SO worth the brain freeze!!
Brain Freeze supplies: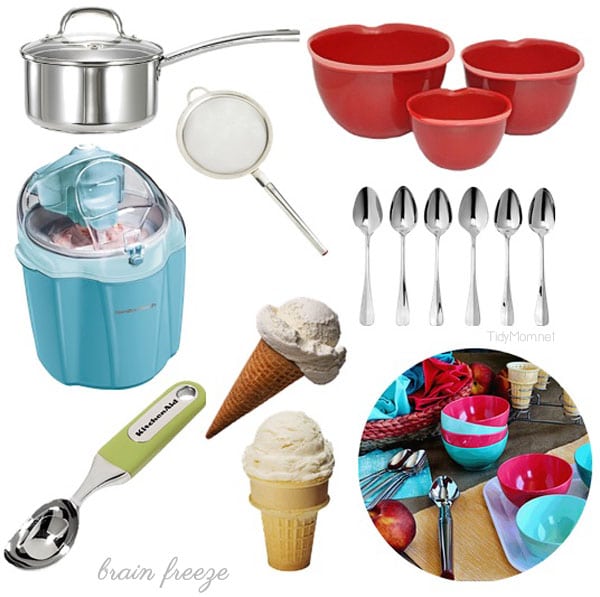 sauce pan | sieve | mixing bowls | spoons | ice cream machine | cones | ice cream scooper | bowls
 If you're braving the hot, summer weather right now, and could use a quick, cool summer treat, this is a great recipe.
Want more great recipes like this? Follow my TidyMom Easy Recipes Pinterest Board
What's your favorite ice cream flavor on a hot summer day?
Like this Roasted Brown Sugar Peach Frozen Custard recipe? Pin it!



Disclaimer: I'm excited to have a working partnership with Target , sharing lots of fun and surprises this summer. All opinions and views are all my own. Thank you for supporting the brands I love that keep bigger and better tasty food and tidy life tips coming straight to your inbox! post contains affiliate links.