Peach Kuchen (German Peach Cake)
This post may contain Amazon or other affiliate links. As an Amazon associate, I earn from qualifying purchases.
Peach Kuchen Recipe – delicious peach slices basking in thick, creamy vanilla custard and encased in a golden, buttery cake mix crust sprinkled with cinnamon sugar. An easy dessert that's sure to impress!
If you're asking yourself "What can I make with peaches?" I'm glad you asked!! We love peaches! You might want to try our Peach Cobbler recipe, feta, peach, & prosciutto salad, roasted peach frozen custard, peach sherbet, or pour a sip of peach sangria, peach frosé, or ginger peach bourbon smash.
Be sure to sign up for my email… to get new recipes and ideas in your inbox!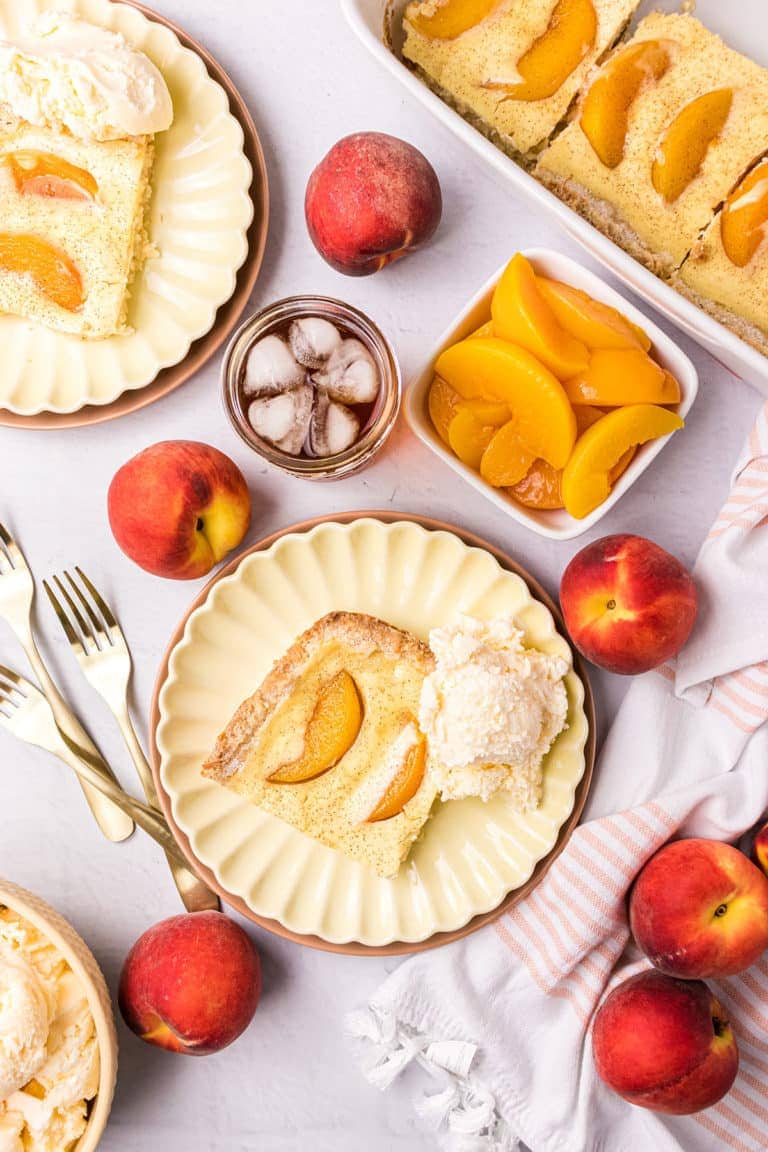 What Is A Kuchen?
Kuchen is a German word loosely translated as cake. First, kuchen sounds like "cuuh-hen" when pronounced correctly in German, but the English version sounds more like coo-ken. No matter what the name sounds like coming out of your mouth, once this peach kuchen goes in it, all you'll hear are contented sighs.
Like everything in our global community, kuchen is defined by who or where it is made. I wonder if that sentence could be more vague? Kuchen can refer to a warm golden fruit/custard pie/cake, a coffee cake, or savory variations.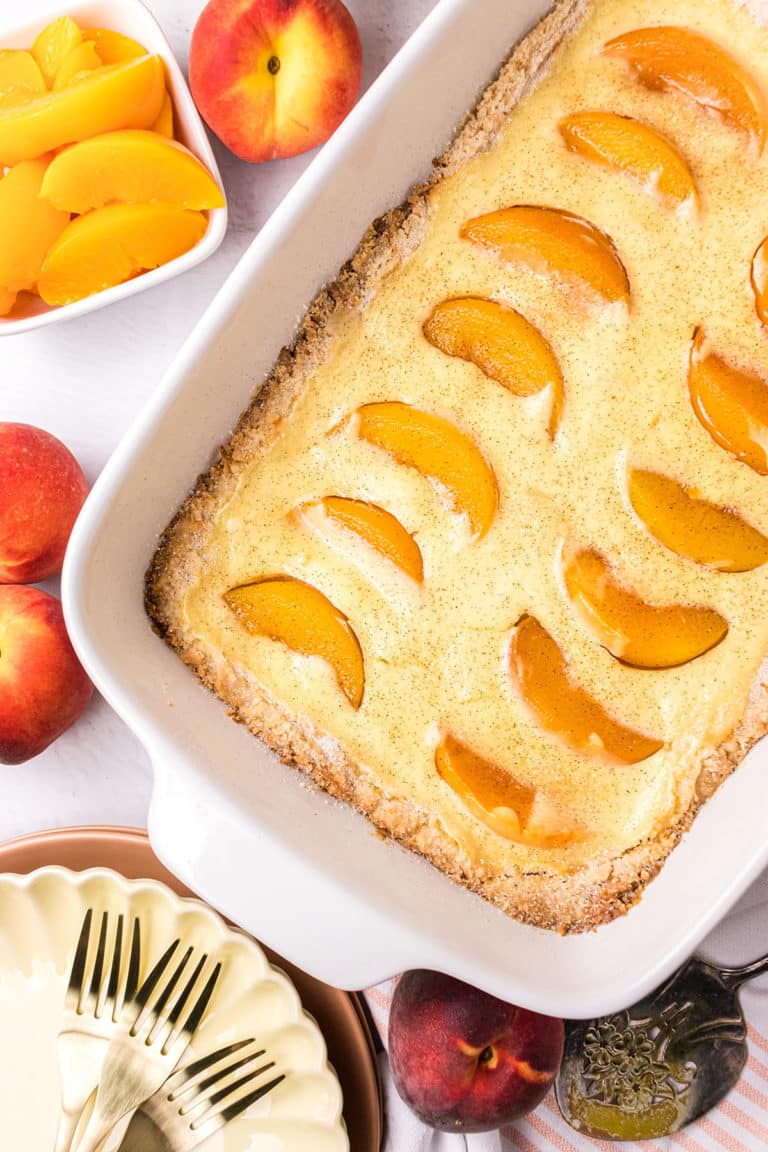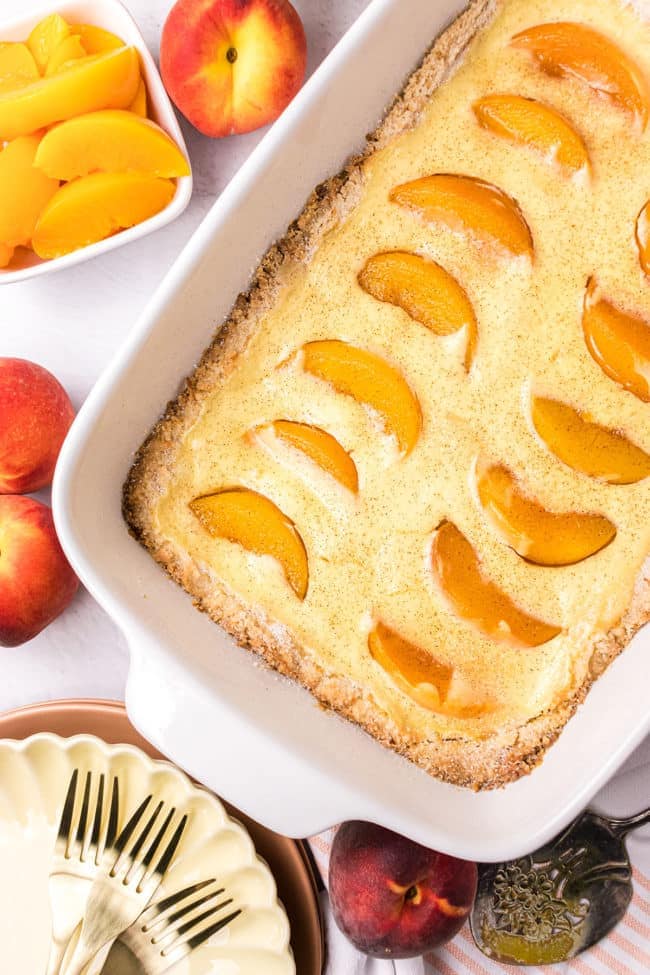 How Is Peach Kuchen With Cake Mix Different From Traditional Kuchen?
This peach kuchen recipe with cake mix is time-saving. It makes a sweeter, more flavorsome, buttery crust than a traditional kuchen recipe. Traditional kuchen is usually a plain pastry dough, although it can also be sweet. It requires yeast dough and a little "love labor" when prepared from scratch. So when trying to figure out what to do with peaches, kuchen with cake mix is an ideal go-to for peaches, either canned, frozen, or fresh!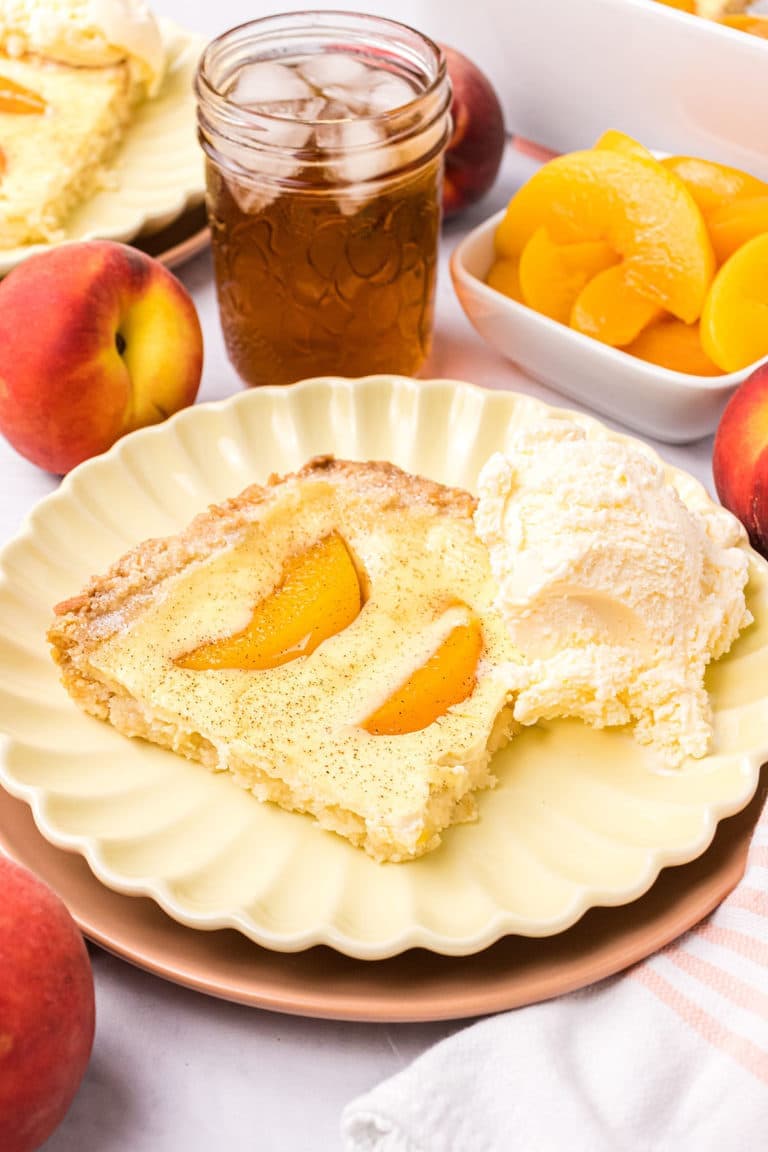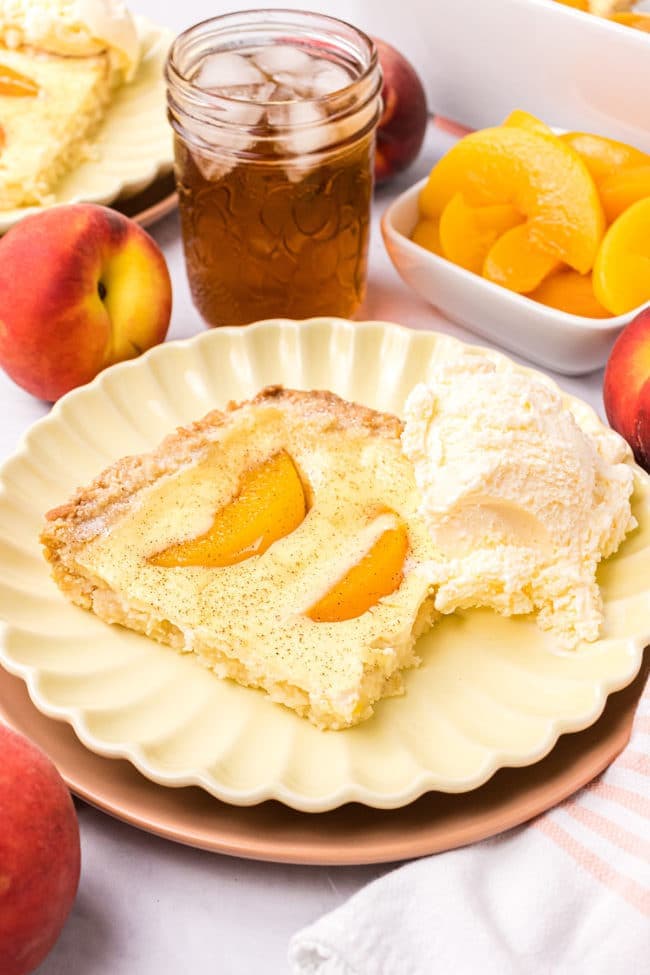 Why You'll Love Peach Kuchen Recipe
Whenever you wonder, "What can I do with peaches?" This inspiring peach kuchen with a cake mix will fit the bill!
Peach kuchen can be a dinner dessert or novel addition to afternoon tea.
Uses basic pantry staples to throw together last minute for unexpected company.
Cake mix makes this peach kuchen recipe simple to prepare and an imaginative idea for what to do with peaches.
Buttery and flavorful crust cradles sweet peaches and custard for a balanced and tender bite.
Canned, fresh, or frozen peaches will make a delightful kuchen.
Quickly adapted to a breakfast or coffee cake by adding a simple streusel topping.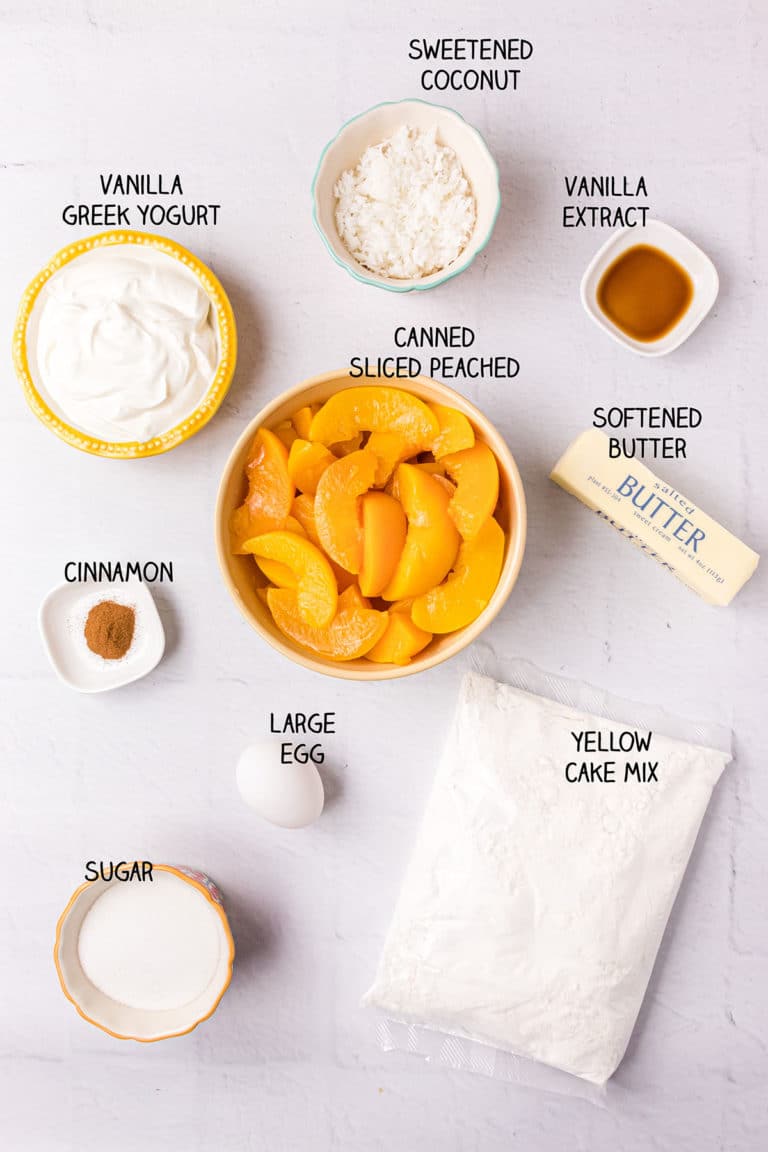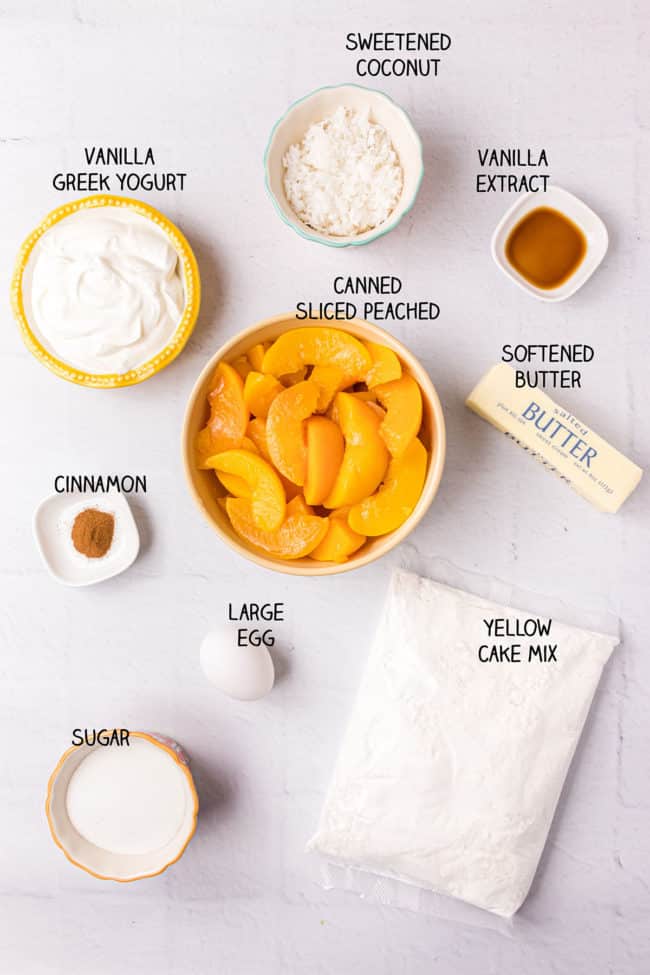 Peach Kuchen Ingredients
This peach kuchen recipe with cake mix saves time and takes all the fuse out of a making kuchen recipe. Light, sweet golden buttery cake mix crust with fragrant toasted coconut is the perfect framework to encase luscious tender peaches and a custard-style filling.
Cake Mix – Boxed yellow cake mix (or a butter cake mix).
Butter – soften (not melt) butter. When gently pressed should make a slight indentation but not warm enough to take on an oily sheen.
Shredded Sweetened Coconut – provides texture and added depth as some of the coconut toasts while the crust is pre-baking.
Sugar – this recipe calls for white granulated sugar. If you prefer a more rustic kuchen, use ½ white and ½ brown sugar.
Cinnamon – an aromatic woody spice that provides warm complexity.
Sliced Peaches – canned peaches should be well-drained. To reduce the sugar hit, use peaches packed in juice, not heavy syrup. See the notes below if you want to use fresh or frozen peaches.
Vanilla Greek Yogurt – mixed with the egg, provide the custardy goodness of the kuchen. Use full-fat yogurt (sour cream or plain Greek yogurt) at room temperature for the best results!
Egg – you'll also want the egg at room temp when preparing this kuchen recipe.
Vanilla Extract – adds warmth, sweetness, and complexity to baked goods. It's one of those ingredients that enhance exponentially, like salt, that you never think about until it is left out!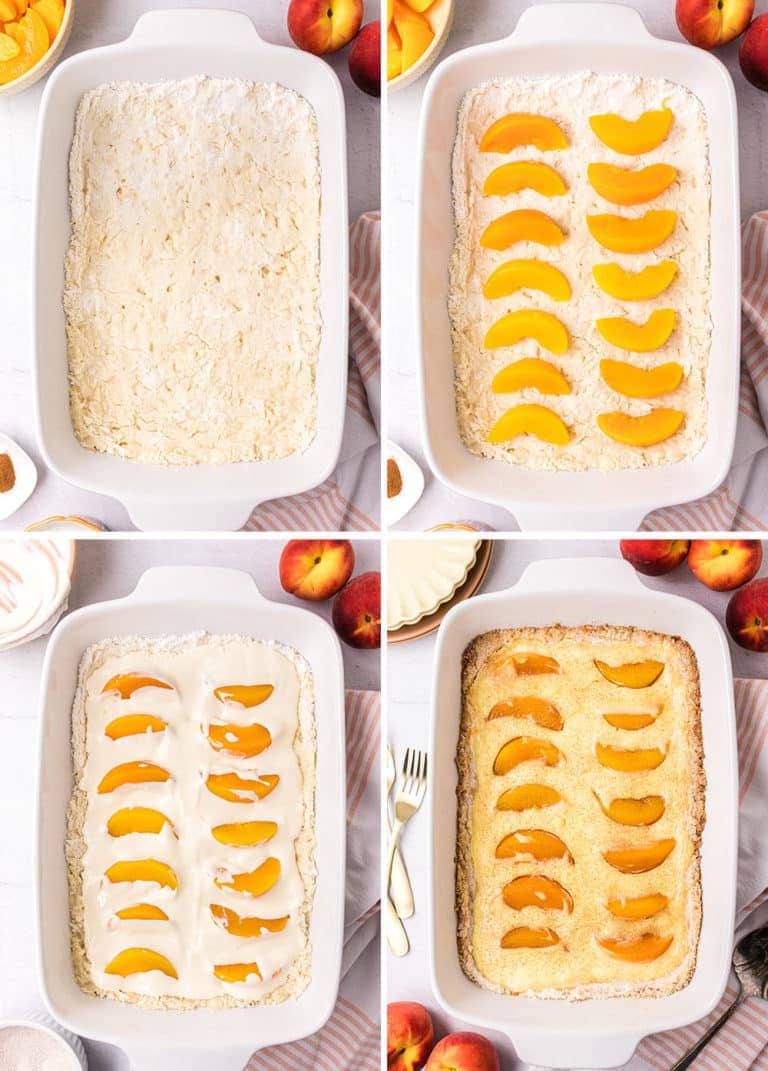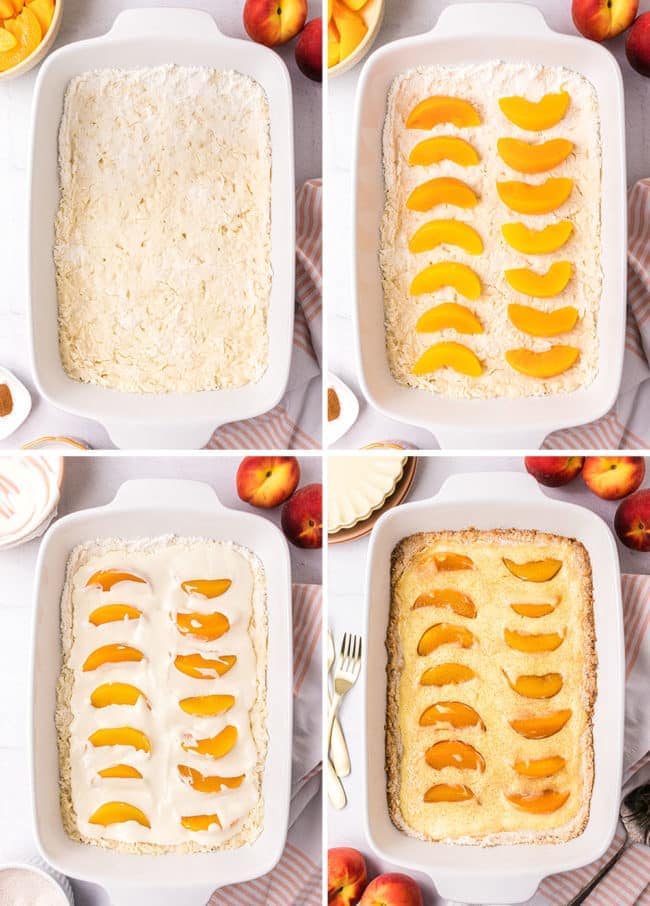 How To Make Peach Kuchen
(full printable recipe at the end of this post)
Step 1. Cut butter into dry cake mix until crumbly.
Step 2. Stir in coconut, then pat into an ungreased 9×13 pan, building up the edges slightly.
Step 3. Bake kuchen for 10 minutes, then arrange peach slices on the warm crust.
Step 4. Whisk yogurt, egg, and vanilla until smooth, and pour over the peaches.
Step 5. Bake peach kuchen until topping is set and edges are golden, until a toothpick inserted in the center comes out clean. Do not overbake.
Step 6. Cool on a rack for 10 minutes and sprinkle with the mixed cinnamon and sugar.
Step 7. Serve kuchen warm with ice cream, cinnamon whipped cream (or just a fork).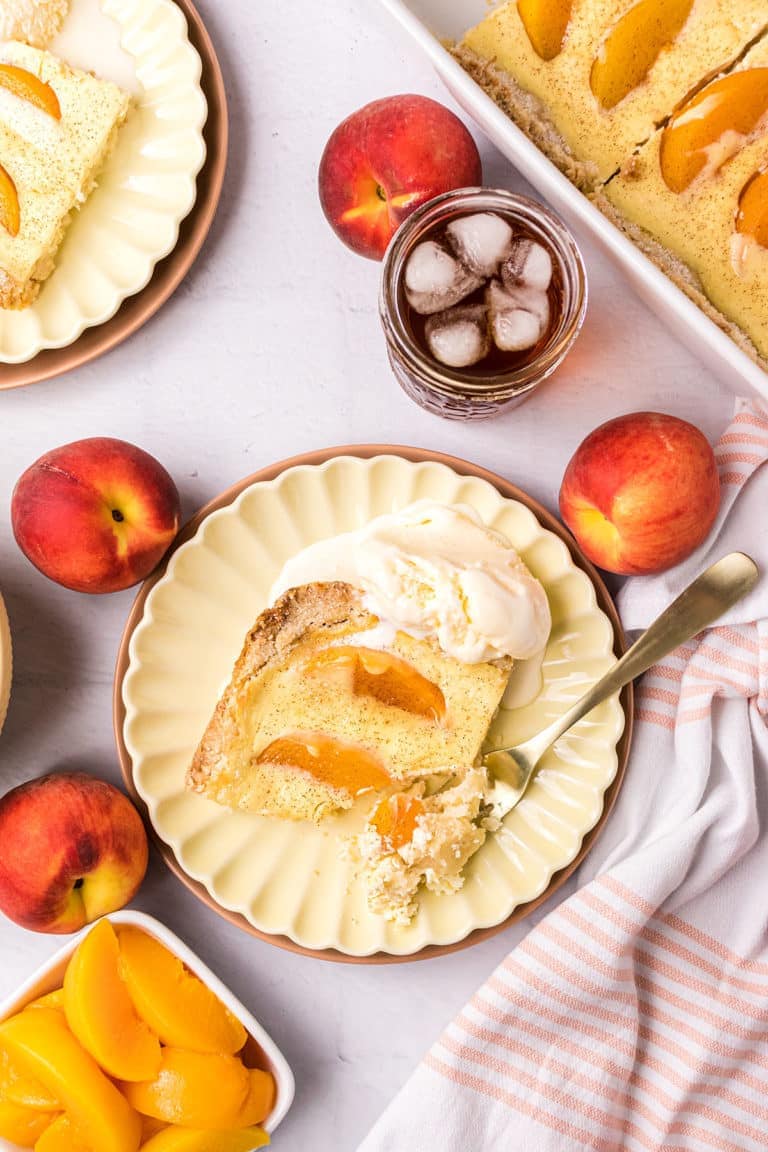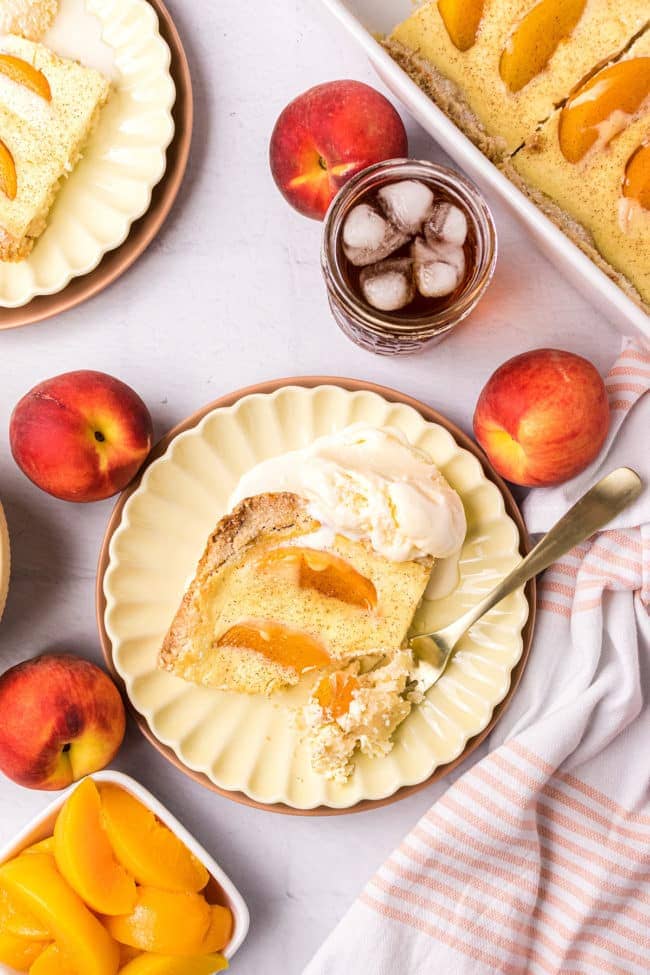 Peach Kuchen Substitutions & Notes
Kuchens are very versatile and easily adapted to your personal preference or to the staples you have on hand. You can use almost any fruit you would typically use in a pie; even rhubarb is used in a kuchen.
Peach Kuchen Recipes With Cake Mix Substitutions
Use sour cream or plain Greek yogurt in place of vanilla Greek yogurt.
Swap vanilla extract for almond (or hazelnut) extract.
Not a coconut fan? Try replacing it with oats for texture. Or chopped nuts such as macadamia, pistachios, or almonds.
Substitute a white cake mix for the yellow or butter cake.
If you try raspberries or strawberries, be creative and use a chocolate cake mix.
What about a lemon cake mix with blueberries when you finally use up your summer peaches?
Notes For Peach Kuchen
Feel free to omit shredded coconut but test out a couple of alternatives for texture and added flavor.
Sprinkle crushed or toasted pecans over cinnamon and sugar.
Serve as a breakfast cake or dessert after dinner.
This kuchen can be made in a 9-inch round cake or springform pan but will require a longer oven time. I would bake the crust for 15 minutes, then the peaches and kuchen filling for 30 minutes, checking with a toothpick for doneness.
What To Do With Peaches: Canned, Frozen, Or Fresh For Kuchen
Canned: The peaches must be thoroughly drained; then dry on a paper towel-lined tray.
Frozen: Use one 16 oz. bag of frozen peaches, thawed and drained.
Fresh: You will need 3 cups of ½ in sliced fresh peaches. (peeled if you wish)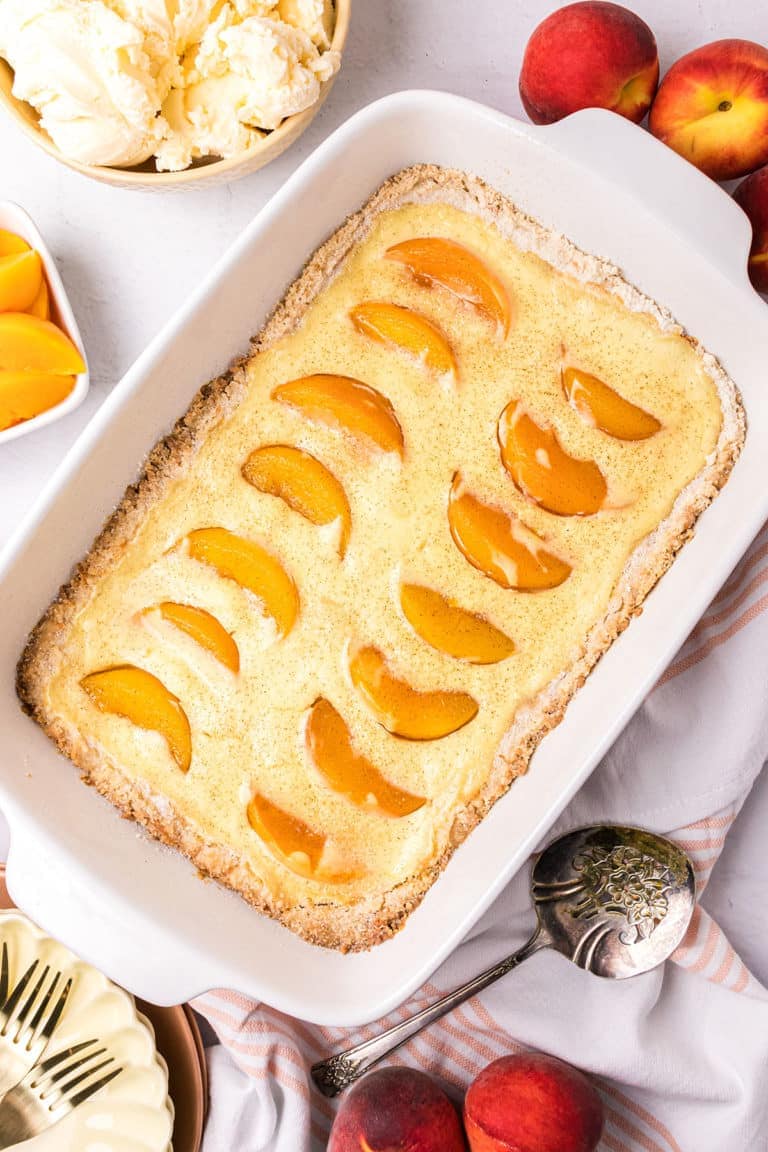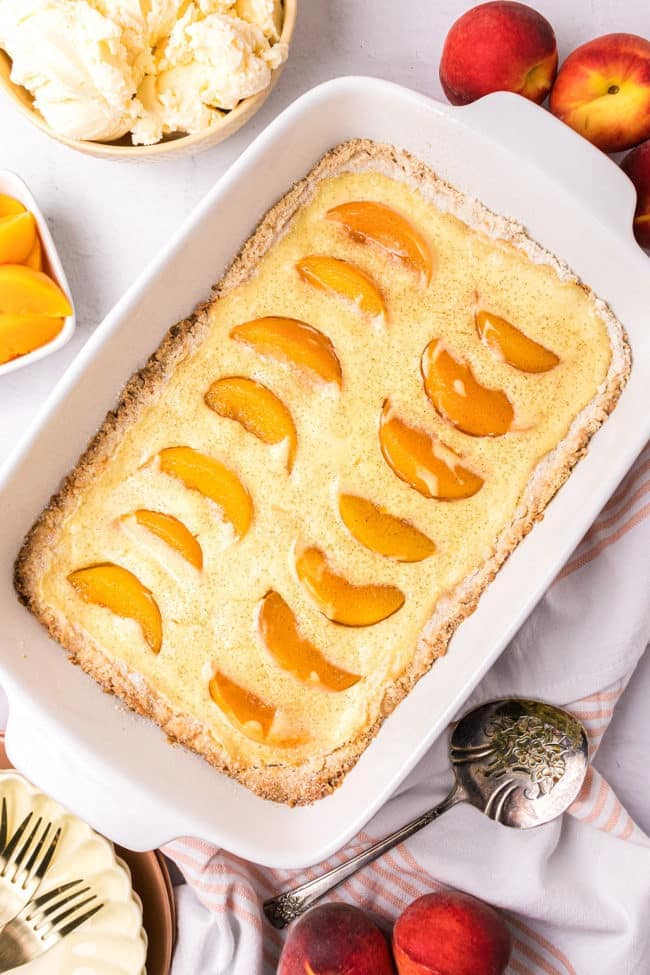 How to Store Peach Kuchen
Leftovers
You can store leftover kuchen covered in the refrigerator for up to 3 days.
How to Freeze
Freeze peach kuchen double-wrapped or in an air-tight container for up to 3 months. Thaw to serve.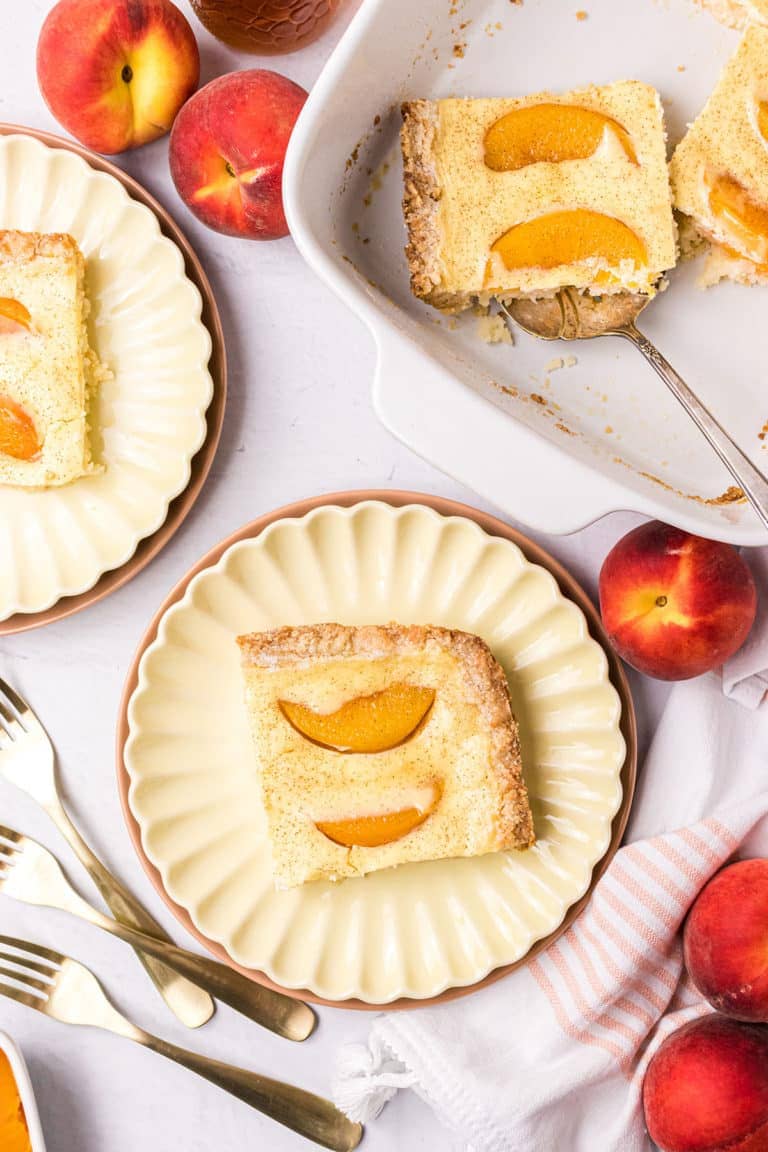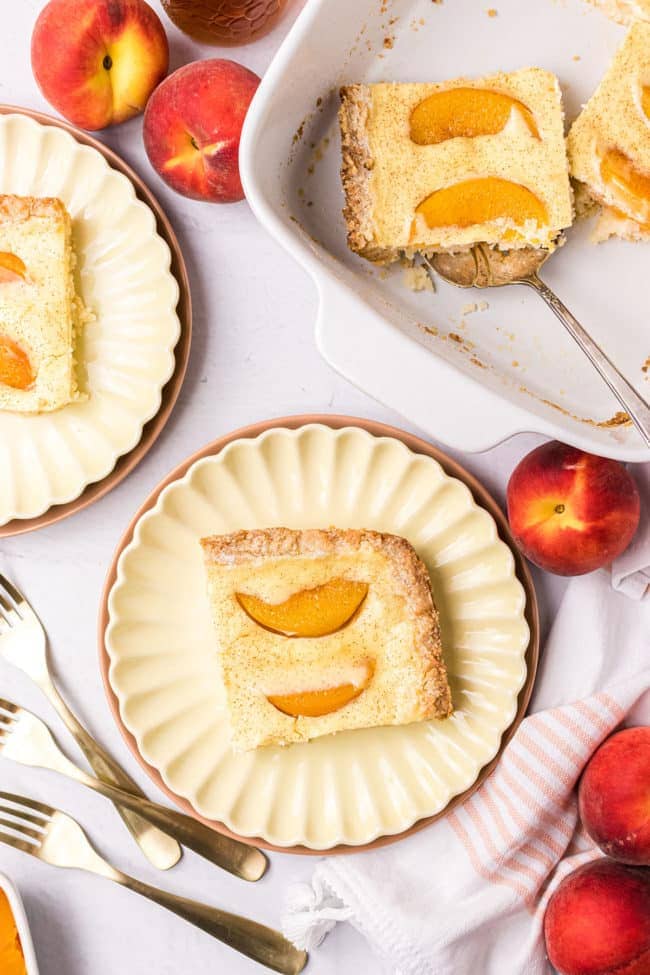 Serving Suggestions
Serve with vanilla ice cream
Serve with homemade whipped cream
Serve peach kuchen warm or cold
Serve alongside your favorite hot coffee or tea
Enjoy for breakfast or dessert
Like This Recipe? Pin It!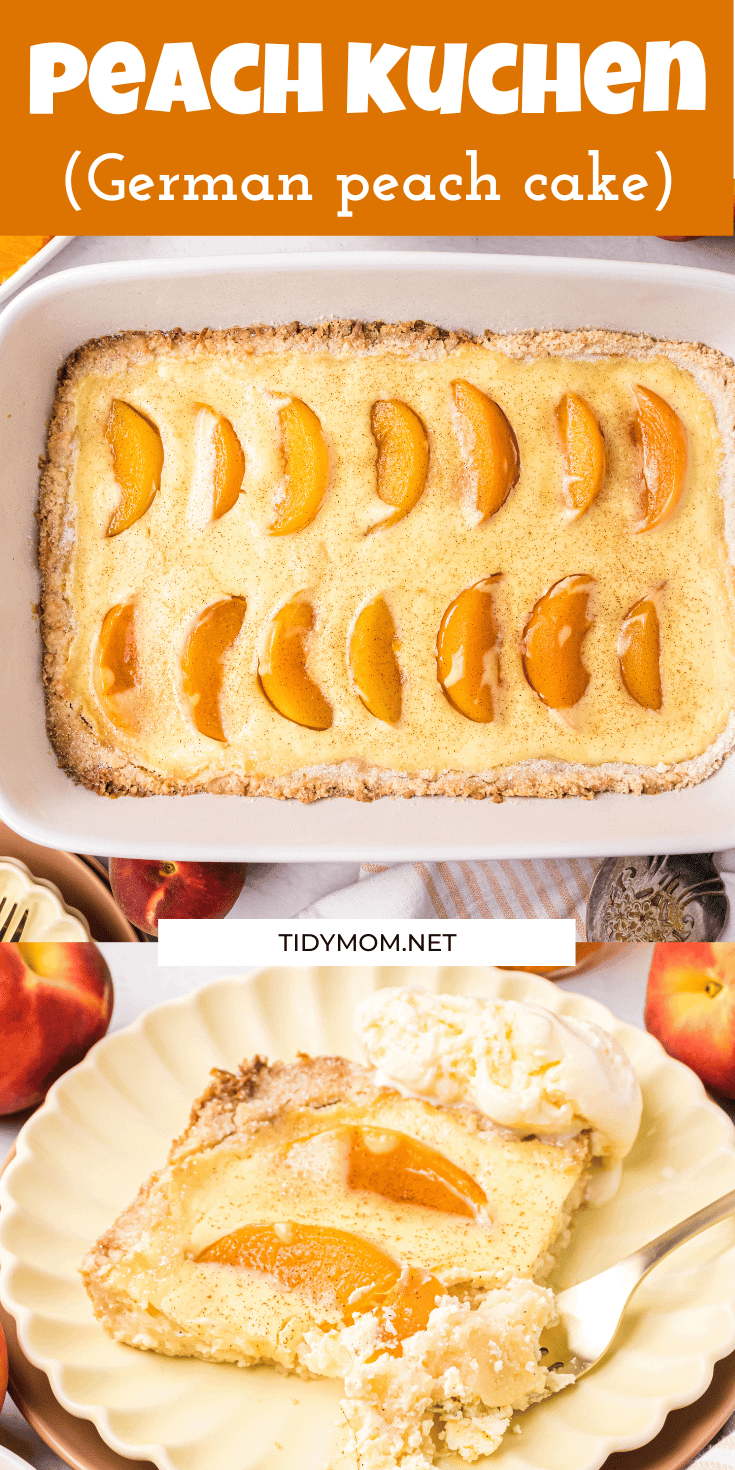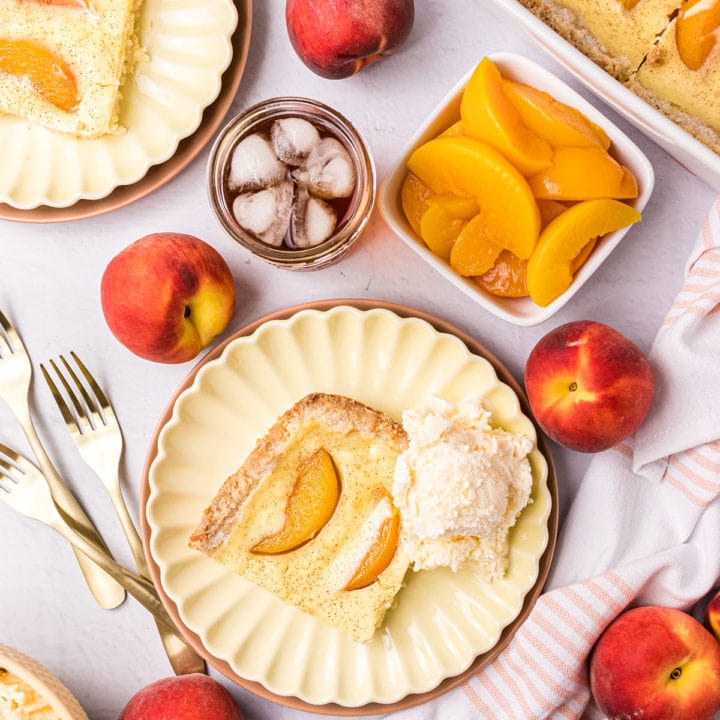 Peach Kuchen
Yield: 12-15
Prep Time: 10 minutes
Cook Time: 35 minutes
Total Time: 45 minutes
Ingredients
1 (15 ounce) box yellow cake mix (or butter cake mix)
1/2 cup soft butter (NOT melted)
1/2 cup shredded sweetened coconut
1/2 cup sugar
1 teaspoon cinnamon
1 (29 ounce) can sliced peaches, well drained
1 cup vanilla Greek yogurt (or sour cream)
1 egg
1/2 teaspoon vanilla extract
Instructions
Preheat oven to 350° F
Use a large mixing bowl, cut butter into dry cake mix until crumbly. Mix in coconut and pat mixture lightly into an ungreased 9x13 pan, building up the edges slightly. Bake crust for 10 minutes.
Meanwhile, combine cinnamon and sugar in a small bowl and set aside.
Remove crust from oven (leave the oven on) and arrange peach slices in rows on warm crust.
Whisk yogurt egg and vanilla in a small bowl until smooth. Pour over peaches (note: topping will not completely cover peaches). Bake for 25 minutes or until topping is set and edges are golden (or until toothpick inserted in center comes out clean). Do not overbake.
Remove from the oven and cool on a rack for 10 minutes. Sprinkle with cinnamon and sugar.
Serve warm with ice cream, whipped cream, or just a fork.
Notes
Use sour cream in place of the vanilla Greek yogurt.
Sprinkle crushed pecans over cinnamon and sugar.
Swap vanilla extract for almond extract
Feel free to omit the coconut.
Substitute the yellow or butter cake mix for a white cake mix.
For best results, drain the peaches then let them dry on a paper towel-lined tray.
You can use fresh or frozen peach if you'd like. You will probably need 3 cups of 1/2-inch sliced fresh peaches or 1 (16 oz) bag of frozen (thawed and drained) peaches.
This Kuchen can also be made in a 9-inch round cake pan or springform pan. But will require a little longer in the oven. I would bake the crust for 15 minutes. Then when it goes back in the oven with peaches and topping start checking with a toothpick around 30 minutes.
Serve as a breakfast cake or dessert after dinner.
Recommended Products
As an Amazon Associate and member of other affiliate programs, I earn from qualifying purchases.
Nutrition Information:
Yield: 15
Serving Size: 1
Amount Per Serving:
Calories: 280
Total Fat: 9g
Saturated Fat: 5g
Trans Fat: 0g
Unsaturated Fat: 2g
Cholesterol: 29mg
Sodium: 321mg
Carbohydrates: 40g
Fiber: 1g
Sugar: 26g
Protein: 3g
Nutrition information is estimated based on the ingredients and cooking instructions as described in each recipe and is intended to be used for informational purposes only. Please note that nutrition details may vary based on methods of preparation, origin, and freshness of ingredients used and are just estimates. We encourage, especially if these numbers are important to you, to calculate these on your own for most accurate results.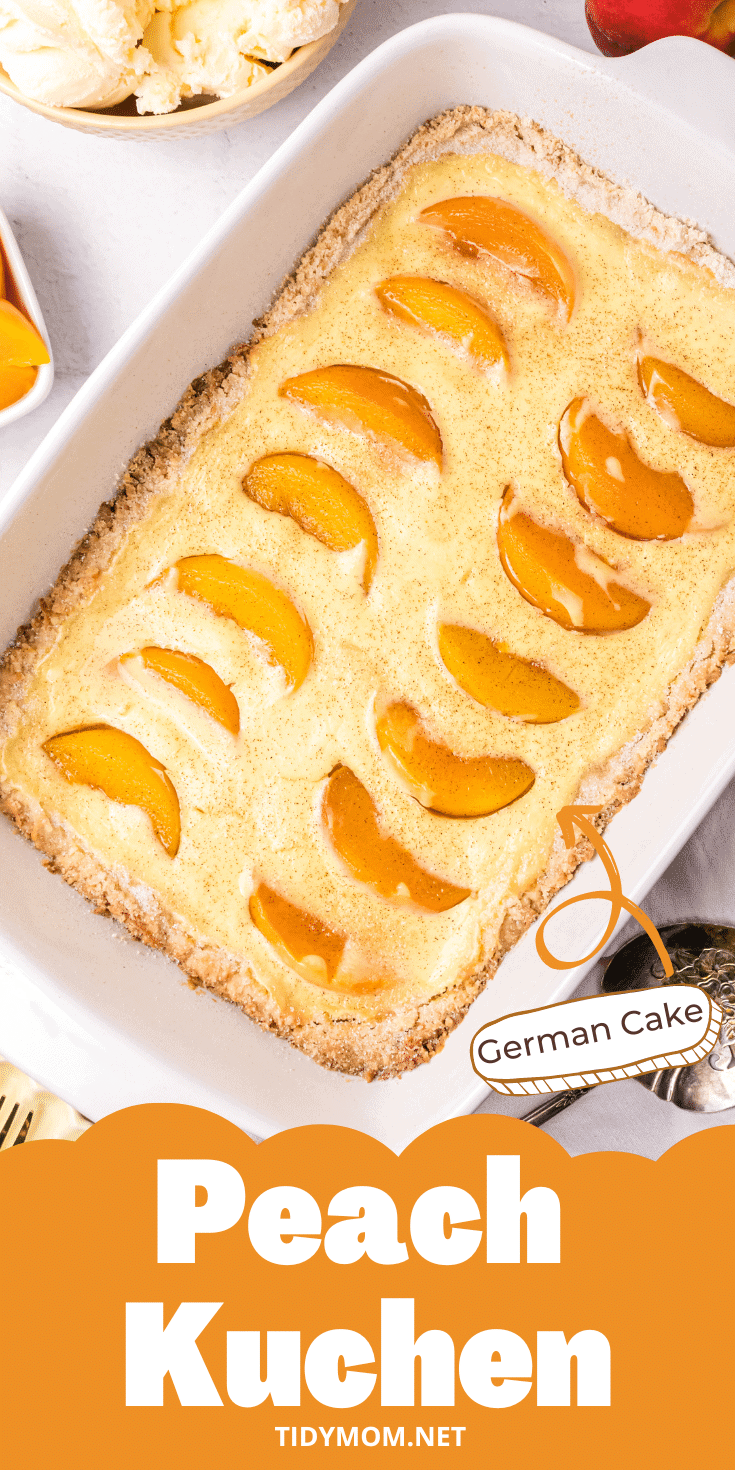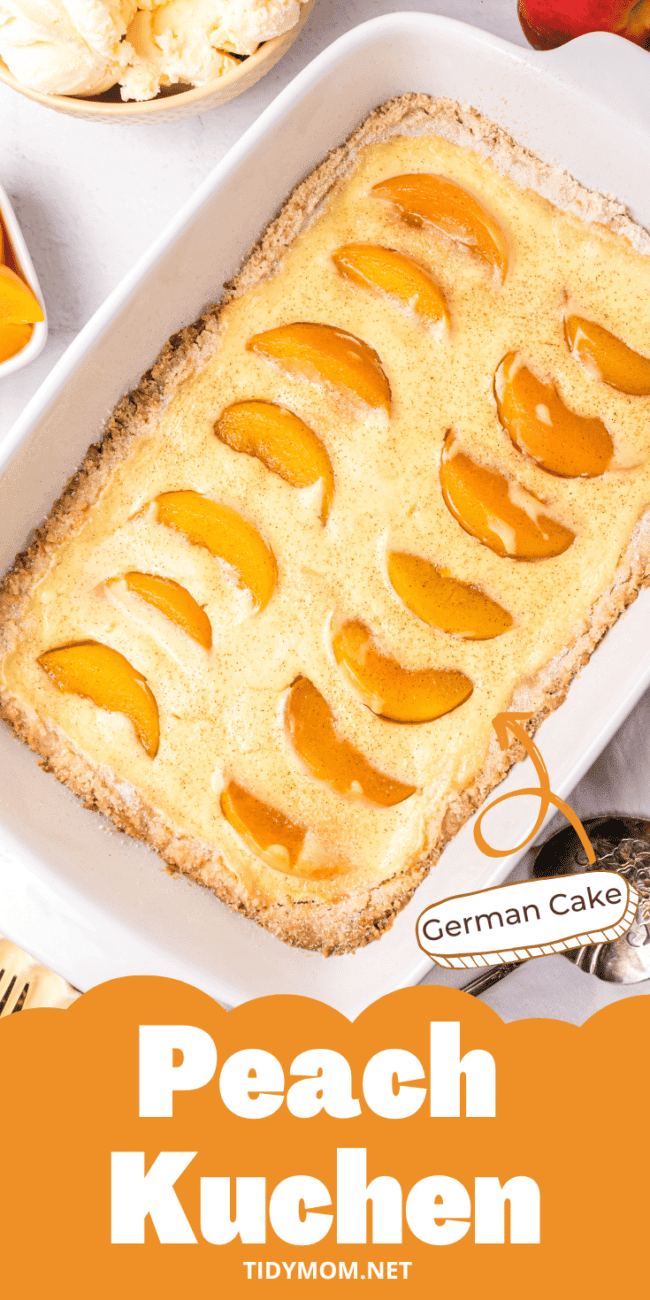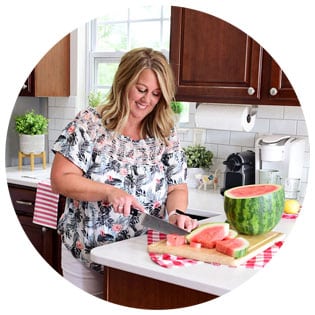 Hi there, I'm Cheryl!
As a wife, mom, and caffeine enthusiast, my journey has taken me from bustling mornings with my family to sharing delicious recipes, home care tips, and heartfelt decorating insights with wonderful readers like you. My love for baking, photography, and tidiness shines through every post I craft. Dive into my world and discover the art of homemaking, one tidy moment at a time. Read more...
Tidymom is a participant in the amazon services llc associates program, an affiliate advertising program designed to provide a means for sites to earn advertising fees by advertising and linking to Amazon.com.
Please respect my work, recipes and photographs. If you do use a recipe in your own writing, please give proper credit and link back to the original post.