No-Bake Frozen Peanut Butter Pie
Frozen Peanut Butter Pie is the ultimate summer treat! A graham cracker crust filled to the brim with fluffy peanut butter and cream cheese filling make up this retro dessert. It's a no bake-pie that has been a favorite in our home for decades…..so you know it's gotta be good!
Peanut butter recipes are always popular including Chocolate Peanut Butter Pie, Peanut Butter Blowout Cookies, Chocolate Peanut Butter Fudge, and my personal favorite Peanut Butter Cheesecake. If you like our frozen peanut butter pie, you'll love these.
Be sure to sign up for my email… to get new recipes and ideas in your inbox!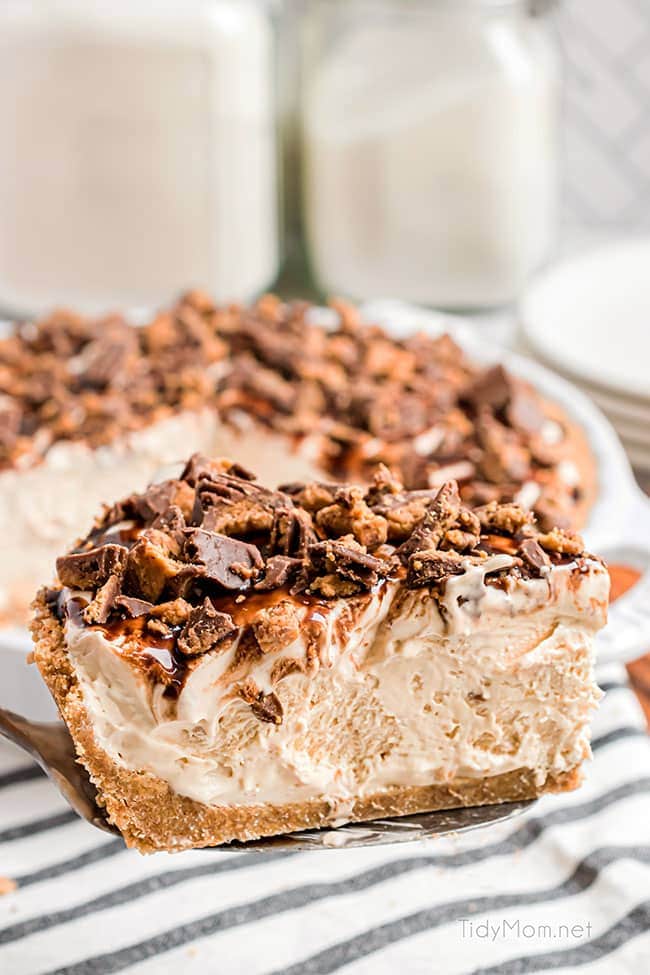 Why We Love Frozen Peanut Butter Pie
My household is full of peanut butter addicts! Cookies, brownies, pies, and of course sandwiches, you name it and we'll figure out a way to add peanut butter to it.
This pie is no exception. A favorite for generations, this peanut butter pie is so easy to make! The graham cracker crust is simple, or just grab a ready make graham cracker crust from the store! Mix up the no-bake filling and let it sit in the fridge or freezer! Perfect for warm weather (let's be honest, we make this year-round) this recipe is sure to delight. Serve frozen or cold and drizzle with chocolate syrup or chopped Reese's cups as an irresistible garnish.
This peanut butter pie only takes about 10-15 minutes of prep time but does require at least 4-6 hours to freeze. However, it can be served chilled if you get too impatient! The perfect make-ahead dessert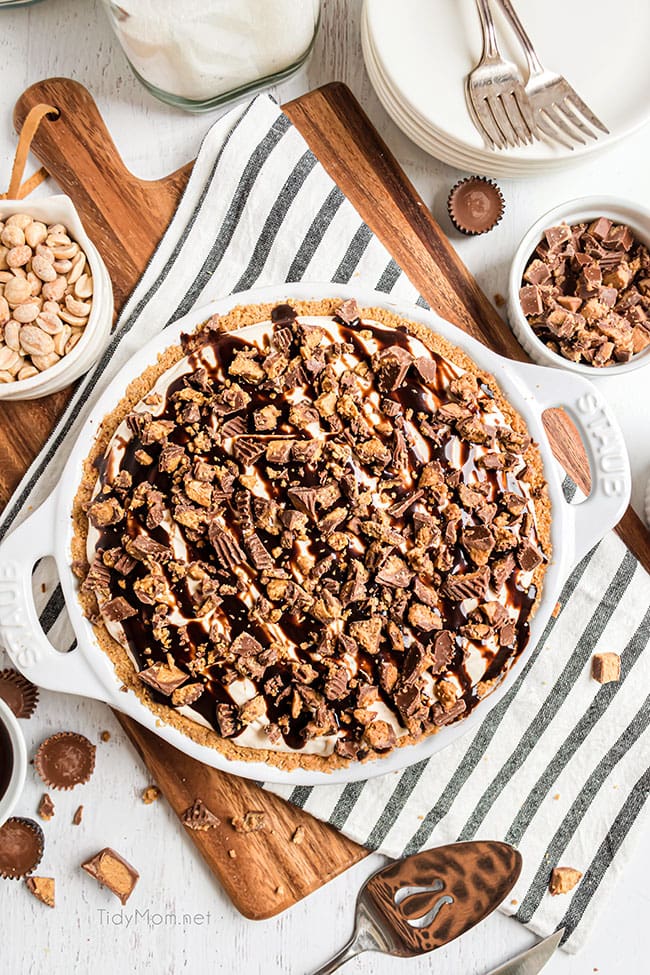 Ingredients For Frozen Peanut Butter Pie
No-bake and easy to make? Sign us up for some of this sweetness!
graham cracker pie crust – You can make your own, it's super simple, or use a ready-made graham cracker crust from the store.
peanut butter – You obviously can't have peanut butter pie without the peanut butter! Our family prefers chunky peanut butter to create a nice texture and added crunch, but creamy will work just as well.
cream cheese – Make sure the cream cheese is softened before combining ingredients. This makes for a smoother texture for the peanut butter pie filling.
powdered sugar – Powdered sugar ensures a smooth texture as well. Granulated sugar can make the pie gritty since this is a no-bake recipe and the sugar doesn't melt into the mixture.
milk – I use whatever I have on hand, which is usually 2% or whole milk.
Cool Whip – Be sure to take it out in time to thaw (see tips below). If you don't have Cool Whip, homemade whipped cream should work as well! (just note, I've always used Cool Whip)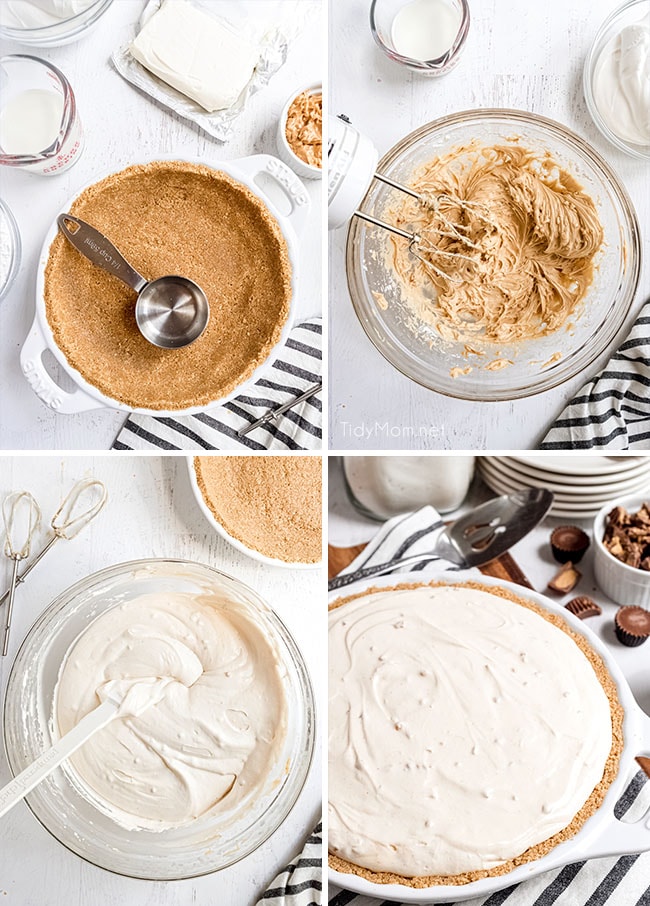 Make No-Bake Peanut Butter Pie From Scratch
(full printable recipe at the end of this post)
How to whip up the perfect no-bake peanut butter pie in minutes:
Step One: Using an electric mixer whip the softened cream cheese until light and fluffy. Add the peanut butter and powdered sugar and beat until smooth.
Step Two: Slowly add the milk and blend thoroughly.
Step Three: Fold in the Cool Whip and spoon the mixture into the graham cracker crust.
Step Four: Freeze for several hours, or chill for a few hours for a softer pie. Serve, and enjoy!
Optional Garnish: I highly suggest topping your pie with chocolate syrup or hot fudge sauce and chopped peanut butter cups to add even more decadence to this rich dessert!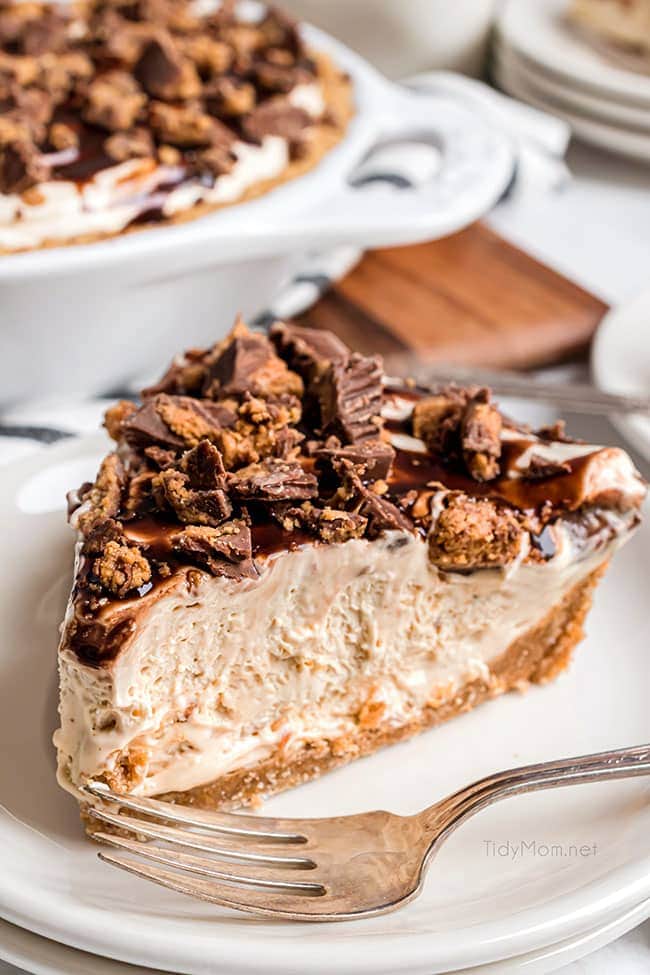 Tips & Variations For Making The Best Peanut Butter Pie
Peanut butter pie can be served frozen or cold from the refrigerator. If the pie is frozen solid, remove the pie from the freezer about 20 minutes before serving to thaw just a little so you're able to cut and bite into it.
You can use a premade graham cracker crust or chocolate cookie crust to save time. Of course, you can make your own homemade crust if you'd prefer!
Try other crusts, such as chocolate graham crackers, chocolate cookies, nutter butter cookies, or cookie butter cookies (like Biscoff). All make a wonderful crust for this peanut butter pie.
Sometimes I add a layer of chocolate between the crust and filling. Simply melt 1/2 cup chocolate chips and spread evenly over the crust; place the pan in the freezer until the chocolate is set, 5-10 minutes. then layer peanut butter filling on top of the chocolate layer.
Replace peanut butter with Nutella or Biscoff spread for a delicious alternative!
There many ways you can garnish a peanut butter pie. We usually add chocolate syrup and chopped peanut butter cups. You could also garnish with additional Cool Whip or whipped cream and chocolate shavings, chopped peanuts, or no topping at all.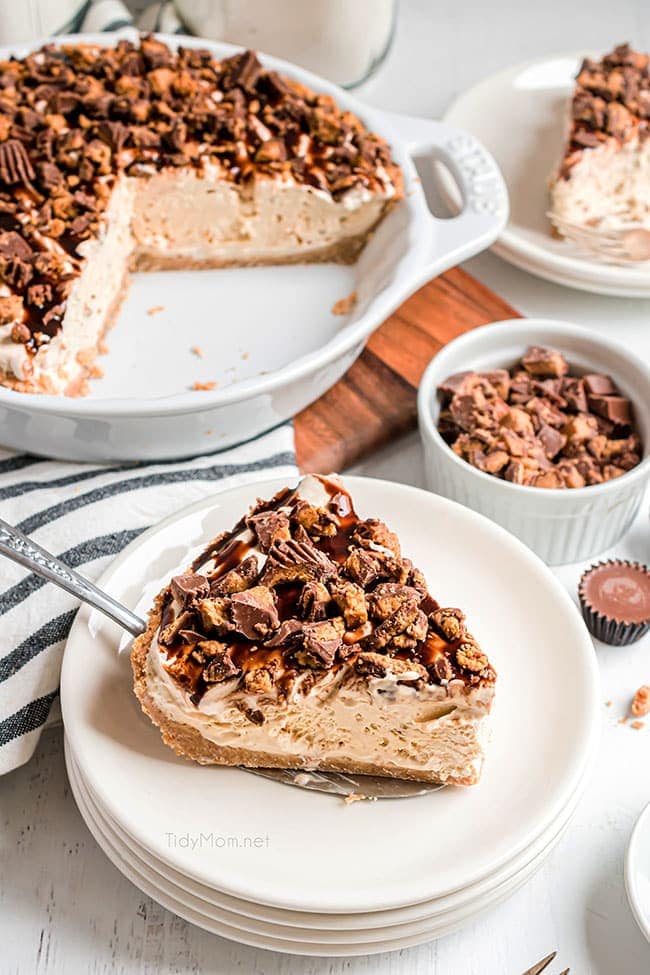 Storing Peanut Butter Pie
How long will a peanut butter pie keep in the refrigerator? For storage, tightly cover the pie in plastic wrap. It will stay fresh in the refrigerator for 3-4 days, not that we've ever had any left for that long 😉
How long will a no-bake peanut butter pie keep in the freezer? Cover tightly and store in the freezer for up to 3 months.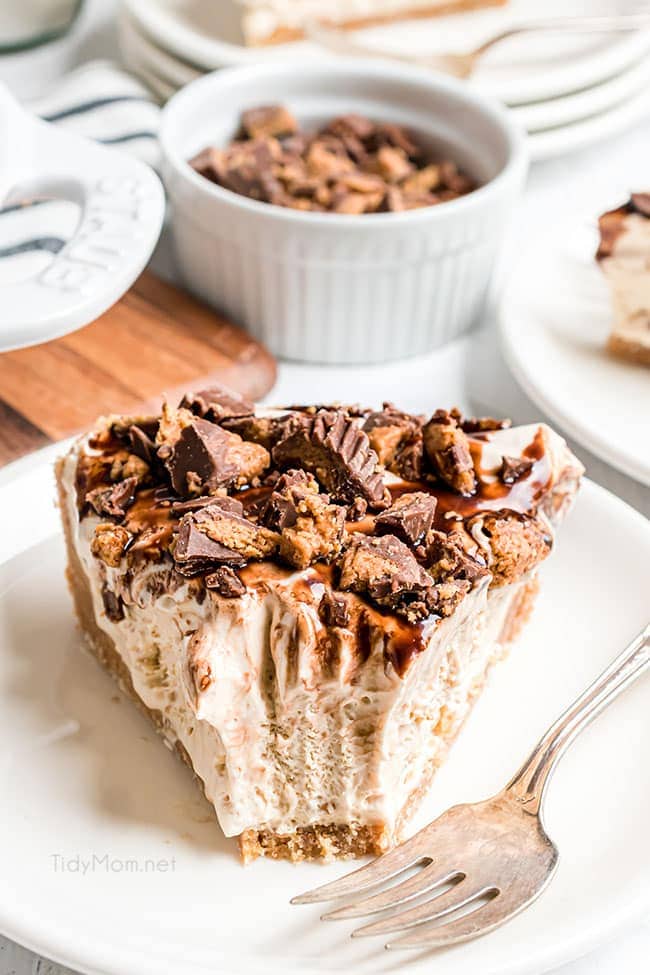 Peanut Butter Pie FAQs
What crust is best for peanut butter pie?
Graham cracker is the most popular crust for peanut butter pie. But you can't go wrong with chocolate graham cracker or chocolate cookie crust either
How long does it take to freeze a no-bake pie?
Freeze the no-bake peanut butter pie for at least 8 hours, or overnight.
How Do You Thaw Cool Whip?
Cool Whip is an imitation whipped cream that is sold in the freezer section at grocers in the US. It works well in many recipes because it holds its shape and freezes well, creating a great texture overall. Most recipes require it to be thawed when mixing into a recipe, or topping a dessert.
The refrigerator is the best option for thawing Cool Whip. If you have the time to put it in the refrigerator for 4-5 hours (you can even put it in there several days ahead). This will help maintain its intended texture.
Thawing Cool Whip on the counter or microwave is not recommended. But if you like to live on the edge, don't leave it out on the counter for more than an hour (for safety reasons and texture).
Like this No-Bake Frozen Peanut Butter Pie Recipe? Pin It!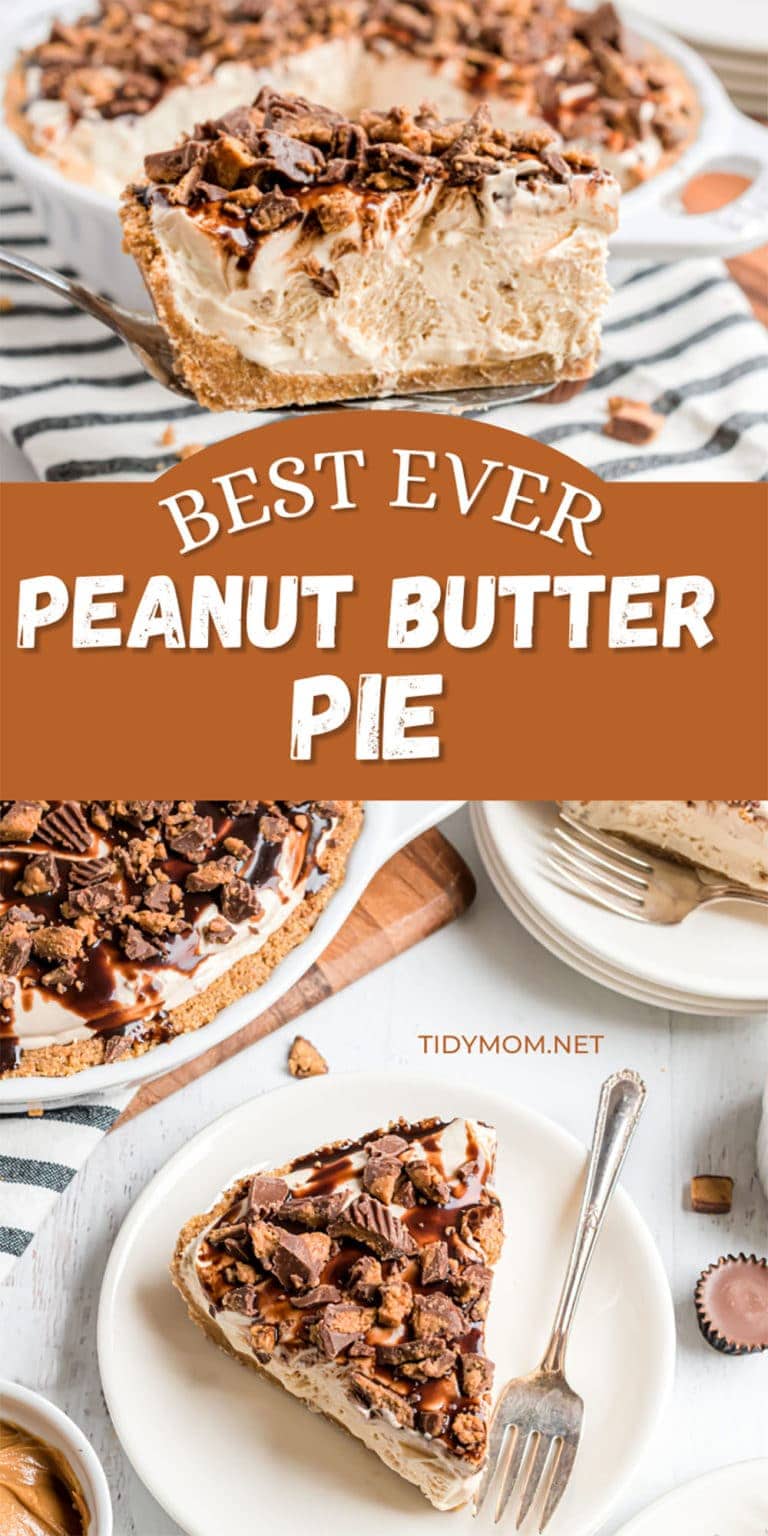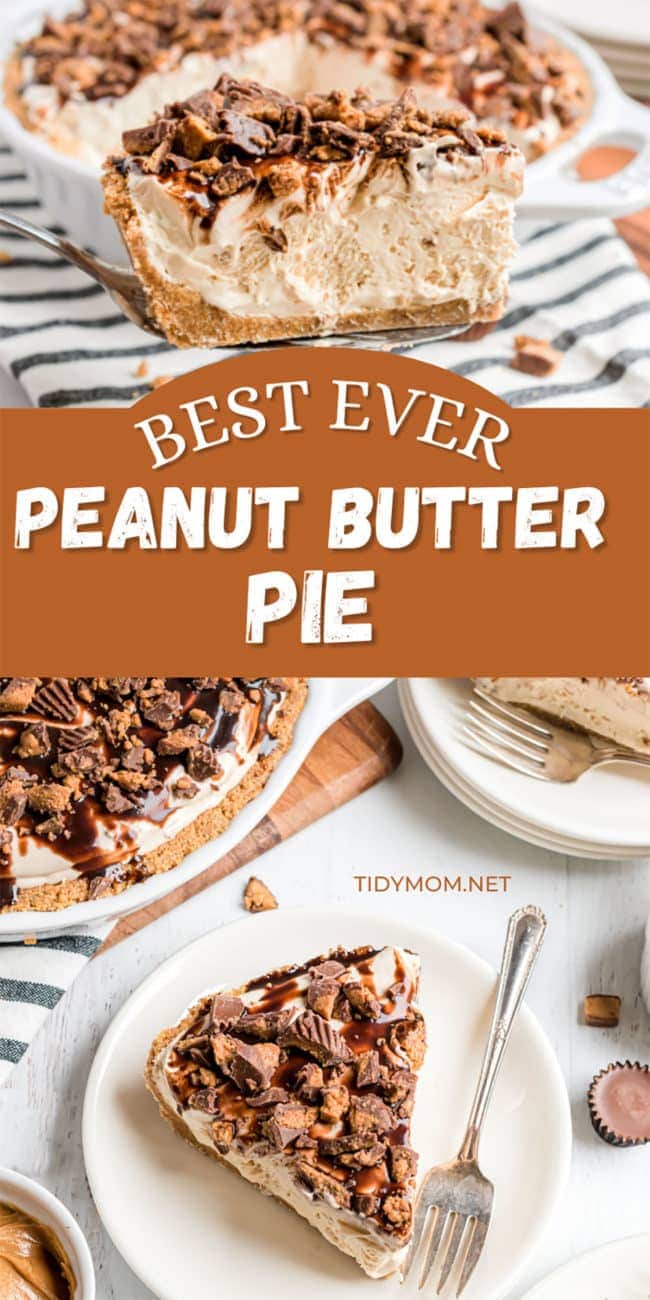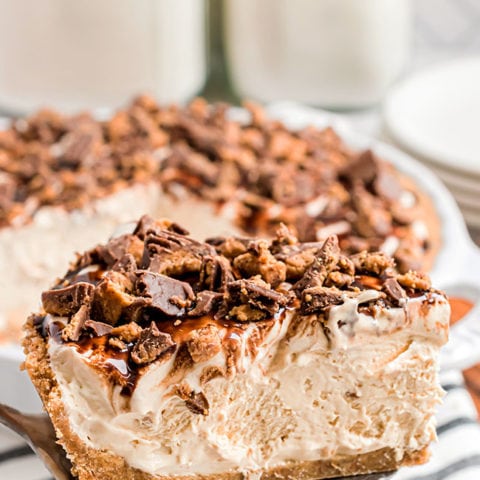 Frozen Peanut Butter Pie
Yield: 10 servings

Prep Time: 15 minutes

Freezer Time: 6 minutes

Total Time: 21 minutes

Peanut butter lovers will rejoice over this retro Frozen Peanut Butter Pie with cream cheese and peanut butter filling and graham cracker crust that's ideal for any occasion. The rich decadent no bake-pie can be served chilled or frozen.
Ingredients
for graham cracker crust
1½ cups graham cracker crumbs (or about 10 graham cracker sheets pulverized with food processor)
⅓ cup sugar
½ cup (1 stick) of butter, melted
For Peanut Butter Pie Filling
1/2 cup chunky peanut butter (chunky is best, but smooth will work too)
8 oz cream cheese, softened
1 cup powdered sugar
1/2 cup milk
8 ounces Cool Whip Topping, thawed
Instructions
For Graham Cracker Crust *(see notes for chocolate cookie crust)
Combine the graham cracker crumbs, sugar, and melted butter in a mixing bowl, and stir until well combined. Press the mixture into the bottom and up the sides of a 9-inch pie dish. Use the flat bottom of a glass or measuring cup to press the crust to make it tight and compressed.
Place the crust in the refrigerator for about 2 hours to set and ensure a tight crust. (or you can bake the crust for 10 minutes in a 300° oven and cool completely before filling)
For The Peanut Butter Pie

In a medium bowl using an electric mixer whip cream cheese until soft and fluffy. Add peanut butter and sugar and beat until well combined and smooth.
Slowly add milk, and blend thoroughly.
Fold in Cool Whip.
Spoon pie filling into chilled graham cracker crust.
Freeze for several hours before serving. (If you're in a hurry, simply chill for 1-2 hours for a softer pie)
Optional: garnish with whipped cream, chocolate syrup, and/or chopped peanut butter cups.
Notes
For a Chocolate Cookie Crust
Using a food processor or blender pulverize 25 chocolate sandwich cookies (like Oreo's - just don't use the double stuffed) to fine crumbs. Transfer crumbs to pie pan. Pour 4 tablespoons of melted butter over crumbs and stir with a fork to combine. Press into pie pan as described above and refrigerate for 30-60 minutes before filling.

Serving:
If the pie is frozen solid, you will need to let it sit out about 10-20 minutes before serving. I also like to serve this pie cold, not frozen, both are good!
Variations:
Melt 1/2 cup chocolate chips and spread over the bottom of the crust, then layer peanut butter filling on top of the chocolate layer
Use a chocolate cookie crust.
Replace peanut butter with Nutella or cookie butter for a great alternative
Recommended Products
As an Amazon Associate and member of other affiliate programs, I earn from qualifying purchases.
Nutrition Information:
Yield: 10 Serving Size: 1
Amount Per Serving: Calories: 361Total Fat: 22gSaturated Fat: 11gTrans Fat: 0gUnsaturated Fat: 9gCholesterol: 25mgSodium: 209mgCarbohydrates: 37gFiber: 1gSugar: 28gProtein: 6g

Nutrition information is estimated based on the ingredients and cooking instructions as described in each recipe and is intended to be used for informational purposes only. Please note that nutrition details may vary based on methods of preparation, origin, and freshness of ingredients used.

Originally posted in August 2011. UPDATED June 2021. We spiffed up this post with more info and better pictures! No changes to the original recipe.