Peanut Butter Cheesecake Minis
Small in size, big in flavor. This mini peanut butter cheesecake is like a little slice of heaven.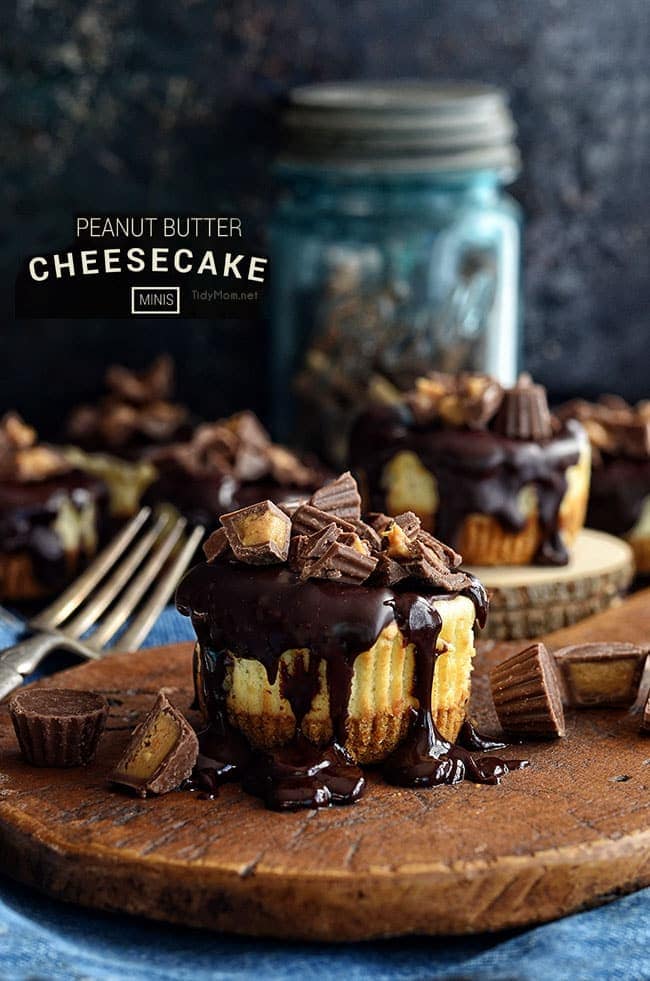 I've been told I'm good at being bossy……….so bear with me, but you MUST make these Peanut Butter Cheesecake Minis. Like NOW!  Throw a coat on (it suddenly got really cold here!), put your hair up in a ponytail, swipe some lip stick on, grab your sunglasses and run to the store for the ingredients!
Running will make you feel less guilty when you eat peanut butter cheesecake for breakfast tomorrow. 😉  Yes, they taste as good as they look—hard to go wrong with a peanut butter and cheesecake covered in chocolate.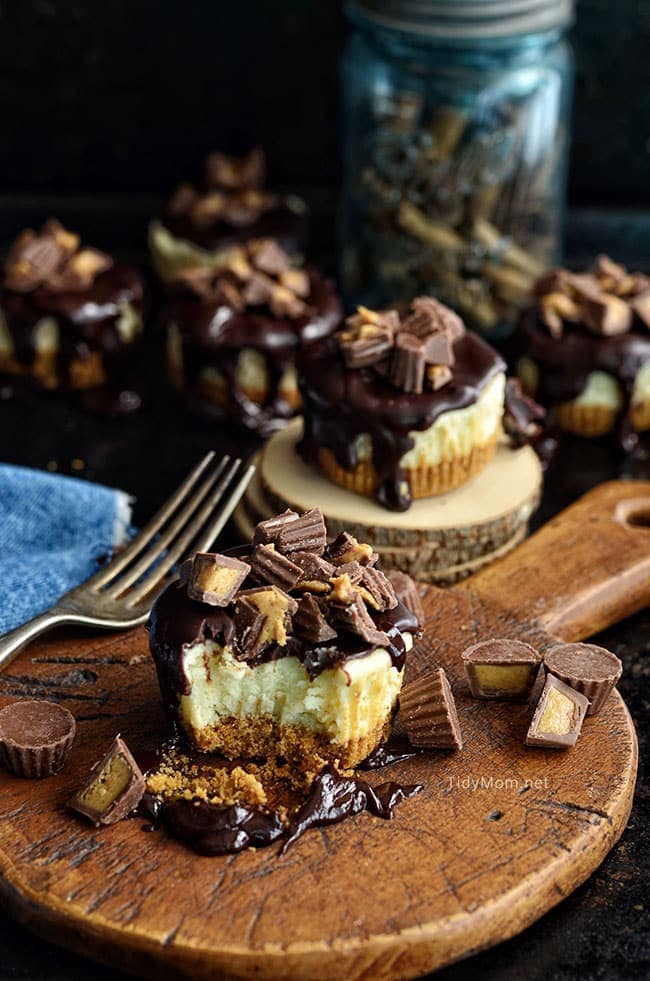 The only thing better than peanut butter cheesecake, is mini peanut butter cheesecake with peanut butter cups!
These little gems are rich, luscious and oh so decadent.  One peanut butter cheesecake mini is plenty for one serving, but they will definitely tempt your taste buds towards having seconds.  They are really easy to make, so you'll have no excuse not to make these peanut butter cheesecake minis.  For another variation, you could always skip the ganache and finish with some whipped cream and chocolate shavings. Either way, they are impressive and can be made ahead of time.  Perfect for holiday entertaining.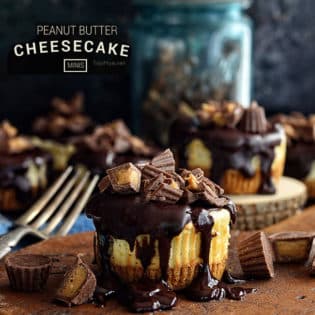 Peanut Butter Cheesecake Minis
Small in size, big in flavor. This mini peanut butter cheesecake is like a little slice of heaven.
Ingredients:
1-1/2 cups graham cracker crumbs
4 tablespoons sugar
1/4 cup butter, melted
12 bite-size peanut butter cups
Filling:
2 (8-ounce) packages cream cheese, at room temperature
1/2 cup creamy peanut butter
1 cup sugar
1/4 cup all-purpose flour
1 teaspoon pure vanilla extract or almond extract
2 eggs
Ganache
8 ounces chocolate
8 ounces heavy cream
1 tablespoon butter
peanut butter cups, chopped (for garnish)
Directions:
Preheat oven to 350 degrees F and line a muffin pan with cupcake paper
To make crust, in a bowl, combine graham cracker crumbs, sugar and melted butter until crumbs are moistened. Press crust into bottom of each muffin cup (I used the bottom of a glass to press crust). Put 1 peanut butter cup into the center of each crust.
Beat cream cheese and peanut butter with an electric mixer until fluffy. Add sugar, flour, and vanilla, beating well. Add eggs, 1 at a time, beating well after each addition. Spoon cream cheese mixture over peanut butter cups and graham cracker crusts. Bake until just set and no longer jiggle when you move the pan, about 20 minutes. Turn the oven off and open oven door a crack, and let the cheesecakes cool off for 15 minutes.  Remove from oven and let sit to cool completely and chill in refrigerator for at least one hour.
While cheesecakes are cooling, make ganache.
Place chocolate chips, butter and cream in a medium glass bowl.  Heat in microwave on high for 45 seconds.  Stir and heat for another 30 seconds.  Remove from microwave and stir with spatula until chocolate is melted and smooth. It will look like it's not coming together, but just keep stirring (this may take several minutes)
Pour ganche over cold cheesecakes, and top with chopped peanut butter cups.  Refrigerate at least another 2 hours before serving.
Making this recipe? Share it with us on Instagram using the hashtag #TidyMom so we can see what you're creating in the kitchen!
Want more great recipes like this? Follow my TidyMom Easy Recipes Pinterest Board