Brownie Bottom Cheesecake with Cherry Pie Filling
This post may contain Amazon or other affiliate links. As an Amazon associate, I earn from qualifying purchases.
Brownie Bottom Cherry Cheesecake – luscious sweet cherries layered on a fudgy brownie bottom crust cushion a smooth, creamy cheesecake. Gloriously topped with whipped cream, cherries, and chocolate. The ultimate union for cheesecake and brownie lovers!
Be sure to sign up for my email… to get new recipes and ideas in your inbox!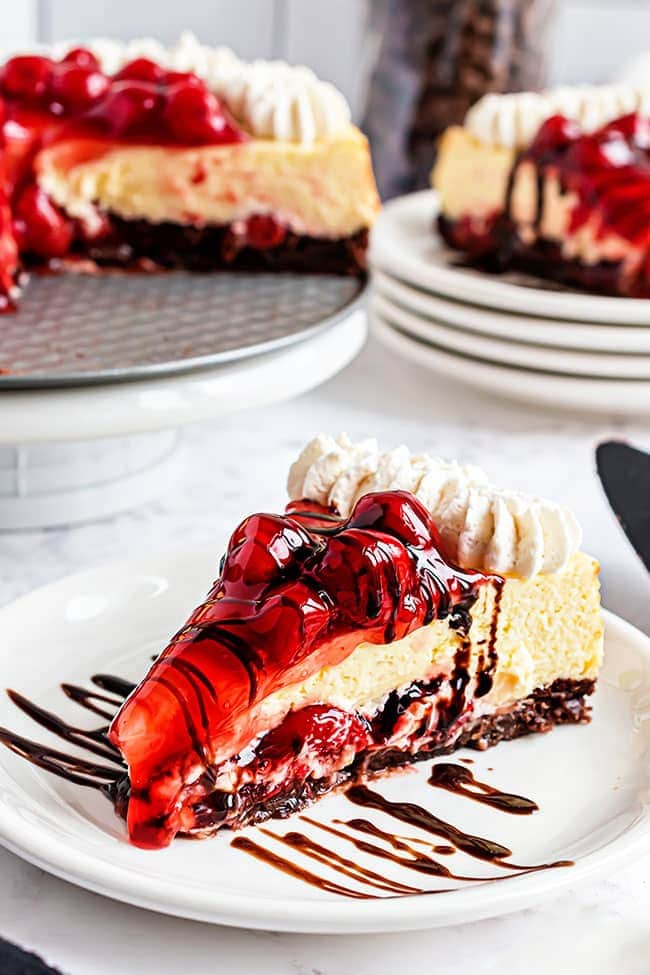 Why You'll Love This Cherry Cheesecake With A Brownie Crust
Deliciously decadent and satisfying for cheesecake and brownie lovers alike.
A goldilocks cheesecake recipe, not too rich, not too dense, just the right amount of chocolatey, cherry, tart &, creamy, deliciousness.
Brownie mix makes a homemade fudgy brownie bottom crust that sets this cherry cheesecake apart from the hum-drum.
A cheesecake with cherry pie filling is a gorgeous centerpiece for any occasion and can't fail to impress.
The Stuff You Need For Brownie Bottom Cheese Cake Recipe With Cherry Pie Filling
Brownie Mix – is the rich, fudgy foundation for the cherry cheesecake crust. (Packing the brownie bottom crust too hard can cause it to be tough).
Eggs – should be at room temperature for the best results.
Canola Oil – has a neutral flavor and won't overpower the brownie crust.
Mini Semisweet Chocolate Chips – adds a heightened level of chocolate intensity and offsets the sweetness of the cherries.
Softened Cream Cheese – there is no brownie cherry cheesecake without the cream cheese! Use full-fat cheese to get the perfect texture and creamy consistency.
Sugar – white granulated.
Cherry Pie Filling – use a trusted brand with whole juicy cherries and a just-right balance of sweet and tart.
Cool Whip – or whipped cream for serving cherry cheesecake with a brownie crust.
Chocolate Syrup – a decorative drizzle for the finishing touch.
How To Make A Cherry Cheesecake With A Brownie Crust
After you've softened the cream cheese and gathered the ingredients for your brownie cherry cheesecake, you'll need the following tools: mixing bowls, an electric mixer, a 9" springform pan, and a baking belt(optional).
MIX – together brownie mix, one egg, and oil until just combined, and fold in mini chocolate chips.
BAKE – brownie bottom crust in prepared springform pan until just set, not completely done, 10-12 minutes.
BEAT – "softened" cream cheese and sugar until smooth, then combine remaining eggs on low. (Do not overbeat eggs to avoid adding too much air.)
SPOON – cherry pie filling into the center of brownie bottom crust, leaving a two-inch border.
SPREAD – dolloped cream cheese mixture carefully to the edges of the pan.
BAKE – in a springform pan until the center is slightly jiggly.
CHILL – four hours after cooling in the pan for an hour.
TOP -. brownie bottom cheesecake with remaining cherry pie filling, garnish with whipped cream and chocolate syrup.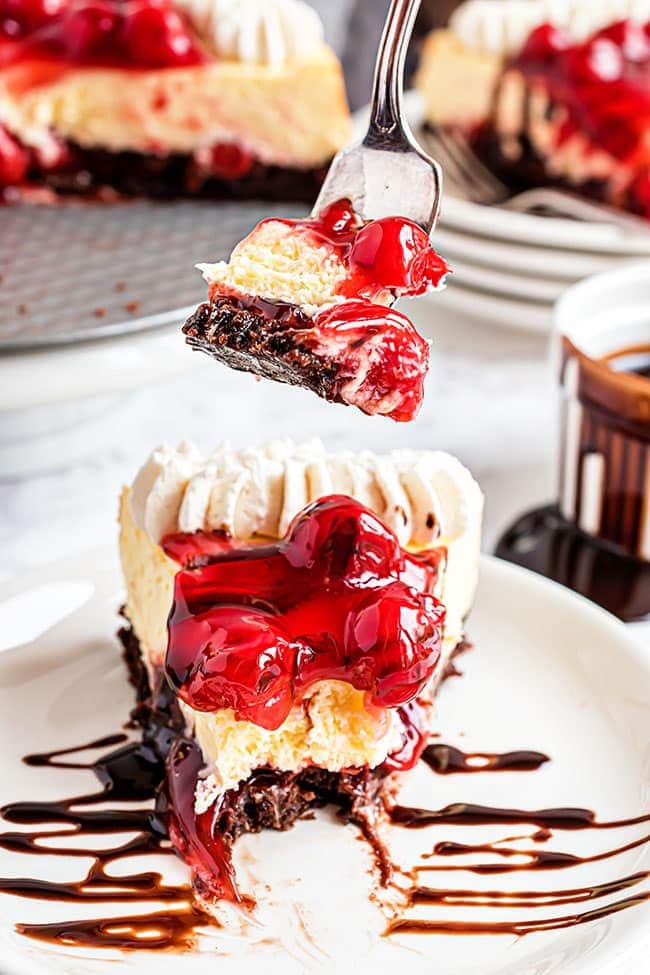 Sunday brunch, Girl's Night, Church Social, nothing says "special" like a cheesecake! Here are a few other favorites that are sure to have guests raving! Salted Caramel Cheesecake is always a winner. How about a no-bake option? Strawberry Cheesecake Lush with a Golden Oreo crust or Raspberry Cheesecake with a chocolate chip cookie crust!
"Crack-Hacks!" Tips For Brownie Bottom Cherry Cheesecake
Tip #1: Just Do It! Do you see beautiful, tempting pictures of recipes like this brownie cherry cheesecake, get wistfully sucked in for a moment, and then say "forget it" because of the "dos and don'ts?" I've got to tell you, making cheesecake is easier than you think, even with all the "how to avoid…this, that, and the other things."
Tip #2: Full-fat cream cheese should always be your go-to for brownie cherry cheesecake; you get a firmer texture and richer flavor. Reduced or no-fat versions add "extra" ingredients, including water, to compensate for the missing fat.
Tip #3: Don't beat too much air into your cherry cheesecake batter when you add the eggs. It causes the cheesecake to rise too much and creates bubbles on the surface.
Tip #4: Remember, the common pitfalls for you to avoid are all laid out with online recipes! Take advantage of how and why based on others' experiences (and fails).
Professional Chef's Tip: ALWAYS read your recipe thoroughly and follow each step precisely.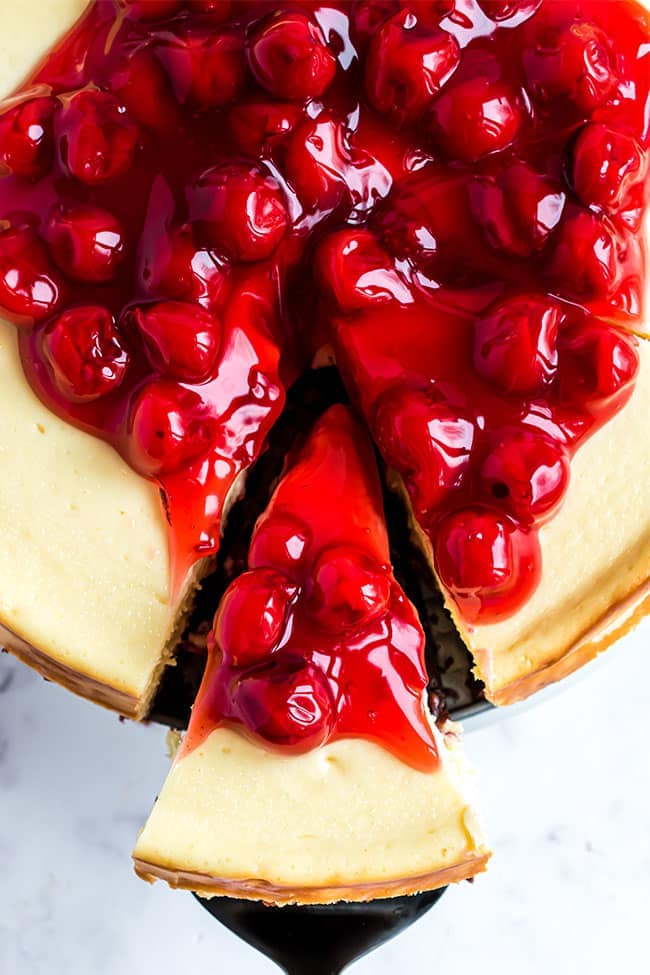 "Crack Hacks!" How To Keep Cheesecake From Cracking:
A crucial tip for beautiful flat cheesecakes without cracking is having all your ingredients at room temperature. Baking recipes are timed based on room temperature ingredients (unless otherwise specified) to avoid over or underbaking.
To water bath or not to water bath, that is not the question. The question is how to water bath. Water bath hack: place a pan of water on the shelf directly beneath the cheesecake. Creating a moist environment keeps the top from setting too quickly. The humidity is what gives you a crack-free brownie bottom cherry cheesecake.
Insulated cake strips or a Baking Belt will provide insulation for a gorgeous flat and crack-free cherry cheesecake. It keeps the sides from baking too quickly if you don't water bath. You can also try the DIY route before buying convenient (and foil-saving) baking strips. For die-hards who wouldn't think of making a brownie cherry cheesecake without a water bath, try this foolproof innovation; Easy Bath springform pan protector.
Another "crack hack" is a couple of tablespoons of flour beaten into the cream cheese before adding the eggs. The flour coats the egg proteins and keeps them from coagulating, which causes cracking. Need a gluten-free alternative? Use one tablespoon of corn starch instead.
Keep that oven door shut! The temperature change can deflate and crack even the most carefully prepared brownie cherry cheesecake.
Best crack hack ever: when the center is still jiggly, turn the oven off and crack the door about two inches. Allow the brownie bottom cherry cheesecake to cool in the oven for an hour. No "falling" or cracking due to drastic temperature changes. (Meaning 350° oven to 75° A/C!)

Remember, cracked or not, this stuff will rock any cheesecake and brownie lovers world!
How To Chill & Store Brownie Bottom Cheesecake with Cherry Pie Filling
I know you are excited about cutting into this rock star brownie cherry cheesecake. Still, I can't stress enough about changing the temperature too quickly. While the cherry brownie cheesecake is cooling, it is still cooking/setting in the center; be patient, and you'll have a gorgeous cheesecake without cracks or a sunken middle.
After the brownie cheesecake with cherry pie filling has cooled for at least an hour and the pan is cool to the touch, place in the fridge still in the pan to chill.
Best Way To Store Cherry Brownie Cheesecake
After the cheesecake has chilled and been removed from the pan, be sure to wrap well and keep it in the fridge until you are ready to serve. Your brownie bottom cheesecake will last in the fridge for up to five days; doubtful it will be around that long.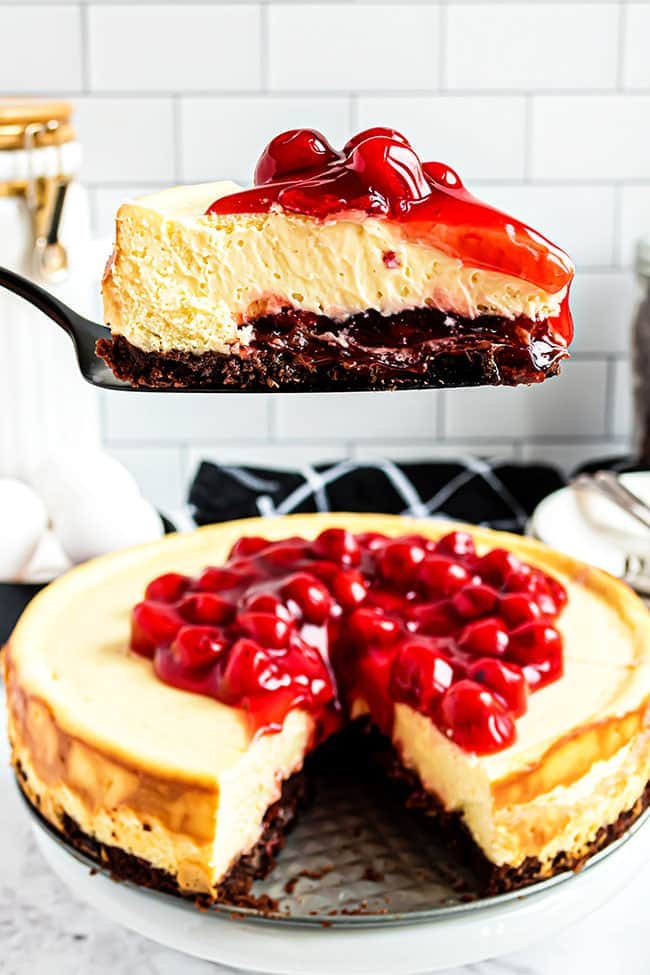 Brownie Cherry Cheesecake FAQs
Here is a fact, not a FAQ: The more you make it, the less you break it…ok, or something like that. Following the tips for cheesecake makes brownie bottom cherry cheesecake way less stressful and far more successful, trust me!
Why do cheesecakes crack?
Overbeating
Undercooking
Overcooking
Uneven baking
Not using humidity/water bath
Drastic temperature change
Cooling too fast
Why water bath cheesecake?
A water bath for cheesecake provides two essential elements for a beautiful, flat-top crack-free brownie cherry cheesecake. One, the water bath creates the perfect humid environment, so the top doesn't set too fast. Two, it also provides insulation, so the sides don't cook too quickly.
Do I have to use a cheesecake water bath?
No, but I do recommend placing a pan of water in the oven and using a baking belt or strips if you don't use a water bath for the best results. This really does help keep the edges from browning too much and the center from falling or cracking. See the above tips for more info.
There's no question we like brownies and cheesecake at our house! Peanut Butter Snickers Cheesecake Brownies and Marbled Cheesecake Brownies will also do the trick when the craving hits!
Like This Brownie Cherry Cheesecake Recipe? Pin It!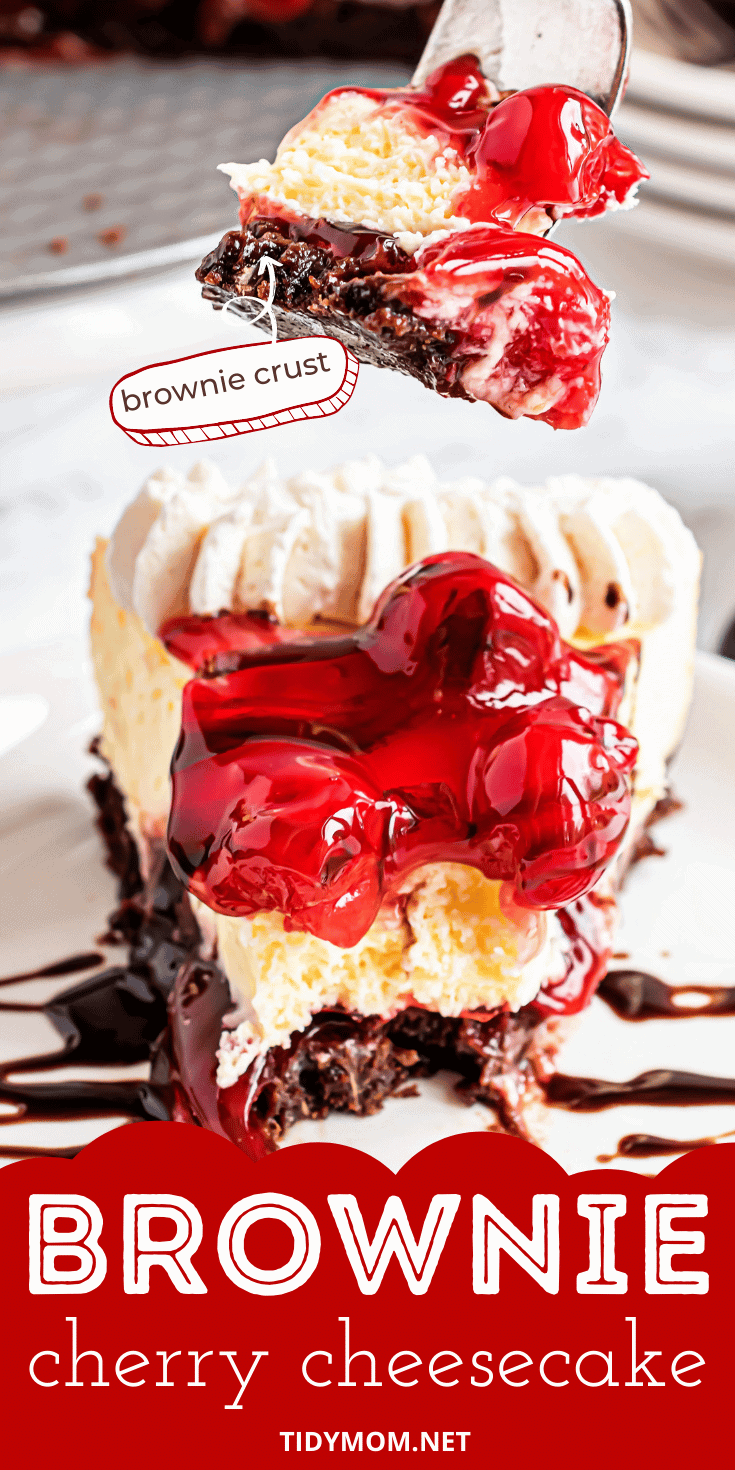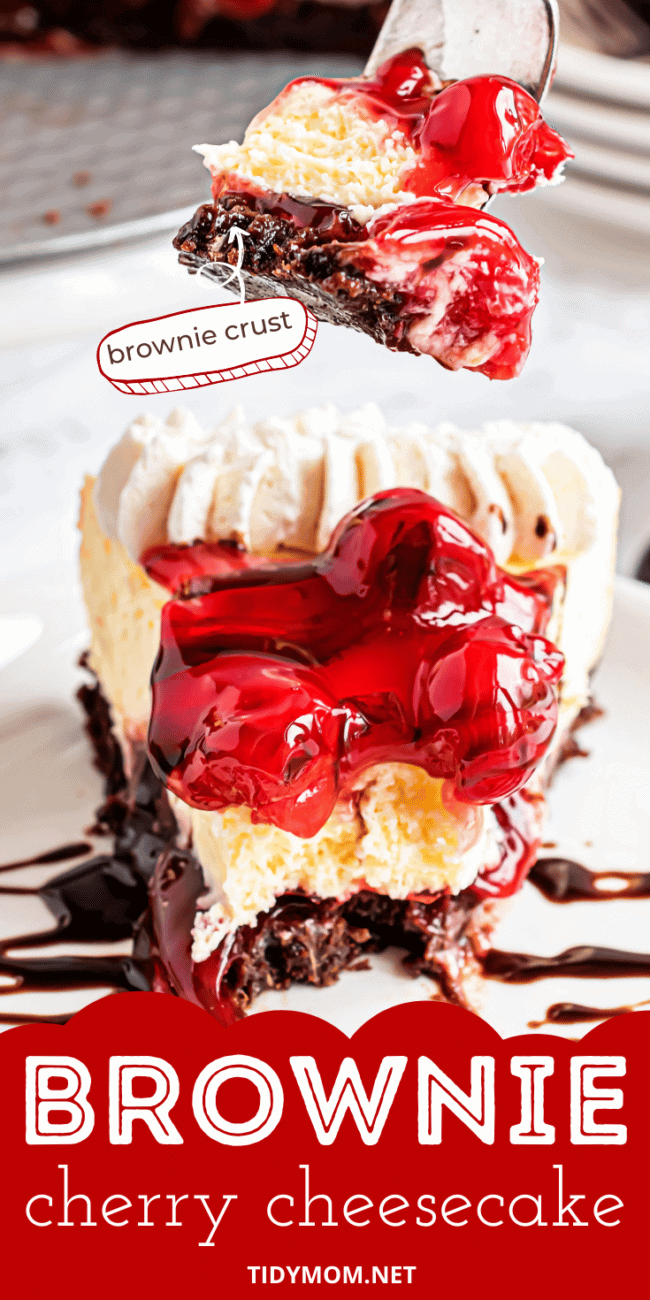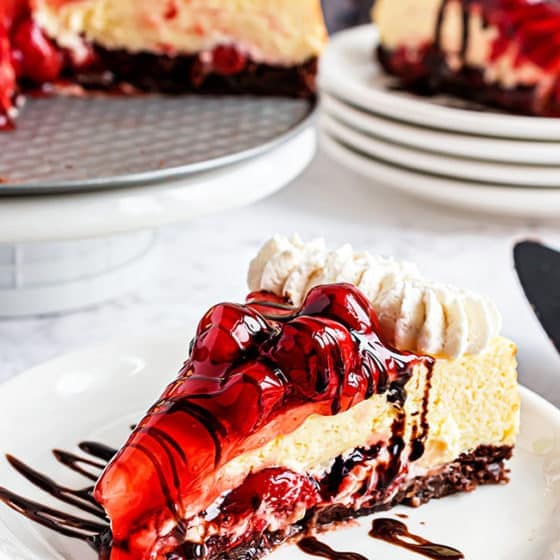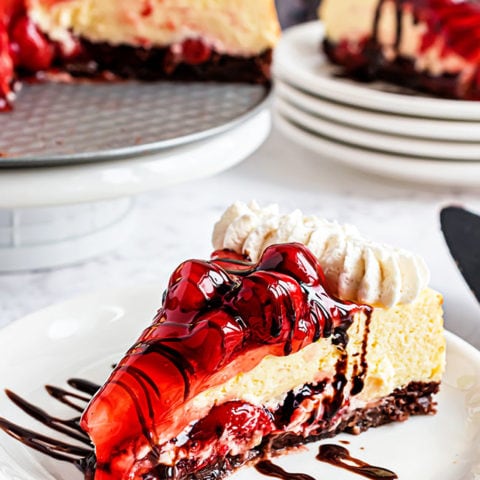 Brownie Cherry Cheesecake
Yield: 8 servings
Prep Time: 20 minutes
Cook Time: 1 hour
Additional Time: 5 hours
Total Time: 6 hours 20 minutes
This Brownie Cherry Cheesecake starts with a fudgy brownie crust, and is topped with cherry pie filling and cheesecake. The BEST cheesecake for any brownie lover!
Ingredients
1 (8-ounce package) of brownie mix or 1⅔ cup brownie mix
4 eggs, divided
1 Tablespoon canola oil
1/2 cup mini semisweet chocolate chips
3 (8-ounce) packages cream cheese, softened
3/4 cup sugar
1 (21-ounce) can Cherry Pie Filling
COOL WHIP whipped topping, thawed
chocolate syrup (optional garnish)
Instructions
Preheat oven to 350° F. Coat 9-inch springform pan with cooking spray and set aside.
In a medium bowl, stir together brownie mix, one egg and oil until combined. Stir in chocolate chips. Spread batter in prepared pan. Bake for 10-12 minutes or until brownie is just set. (will not be completely done at this point)
Meanwhile, in a large bowl, beat cream cheese and sugar on medium speed until well combined and smooth. Add in the remaining 3 eggs on low speed and set the mixture aside.
Carefully spoon 1/2 can (1 cup) of pie filling into the center of brownie, leave a 2-inch brownie border along sides of pan.
Dollop cream cheese mixture over surface; carefully spread to edges of pan. Bake for 35-40 minutes or until center is set, but jiggles when the pan is lightly tapped.
Cool in pan on a wire rack for 1 hour.
Cover and chill at least 4 hours before serving.
Top cheesecake with remaining cherry pie filling. Garnish with COOL WHIP and chocolate syrup. if desired.
Notes
recipe courtesy of Lucky Leaf
Nutrition Information:
Yield: 8
Serving Size: 1
Amount Per Serving:
Calories: 411
Total Fat: 16g
Saturated Fat: 5g
Trans Fat: 0g
Unsaturated Fat: 10g
Cholesterol: 97mg
Sodium: 194mg
Carbohydrates: 65g
Fiber: 1g
Sugar: 25g
Protein: 6g
Nutrition information is estimated based on the ingredients and cooking instructions as described in each recipe and is intended to be used for informational purposes only. Please note that nutrition details may vary based on methods of preparation, origin, and freshness of ingredients used and are just estimates. We encourage, especially if these numbers are important to you, to calculate these on your own for most accurate results.
Originally posted in May 2-12. UPDATED APRIL 2022. We spiffed up this post with more info and better pictures! No changes to the original recipe.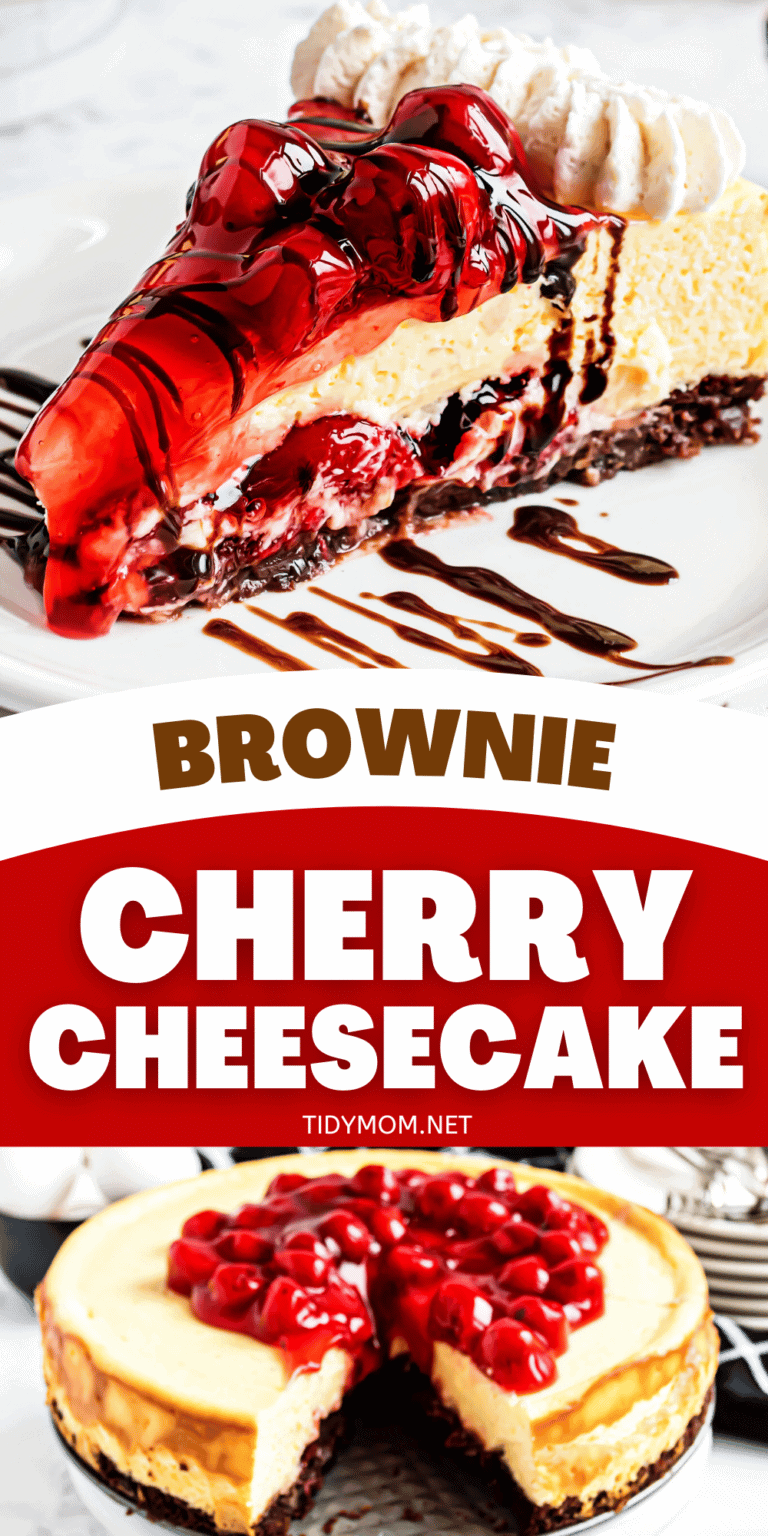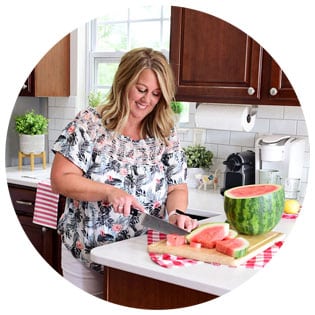 Hi there, I'm Cheryl!
As a wife, mom, and caffeine enthusiast, my journey has taken me from bustling mornings with my family to sharing delicious recipes, home care tips, and heartfelt decorating insights with wonderful readers like you. My love for baking, photography, and tidiness shines through every post I craft. Dive into my world and discover the art of homemaking, one tidy moment at a time. Read more...
Tidymom is a participant in the amazon services llc associates program, an affiliate advertising program designed to provide a means for sites to earn advertising fees by advertising and linking to Amazon.com.
Please respect my work, recipes and photographs. If you do use a recipe in your own writing, please give proper credit and link back to the original post.