Black Bean Roasted Corn Salad (VIDEO)
This simple, fresh Black Bean Roasted Corn Salad adds delicious variety to grilled foods, such as salmon, burgers, chicken or pork. It's incredibly delicious, easy to make, and travels well.
We love side dishes that we can enjoy in the warm weather months including Classic Bean Salad, Caprese Pasta Salad, Chinese Slaw and BLT Red Potato Salad.
Be sure to sign up for my email… to get new recipes and ideas in your inbox!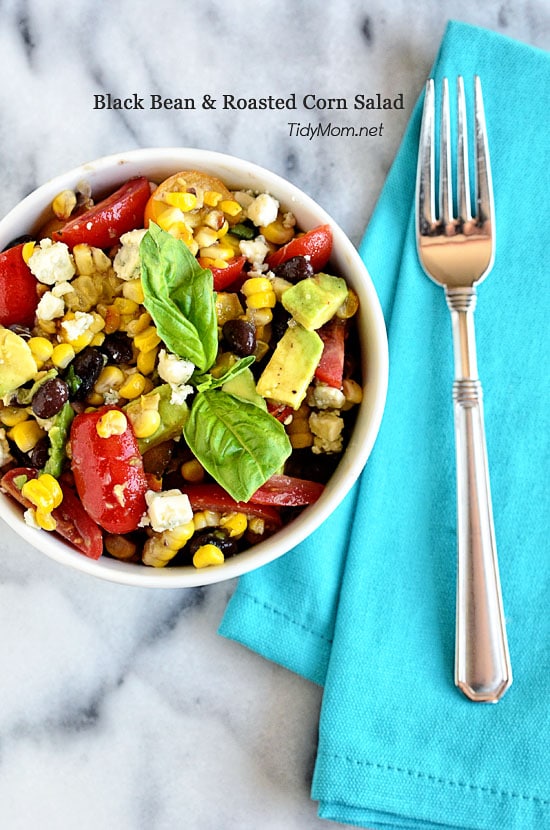 Click HERE to save recipe to Pinterest!
Black Bean Roasted Corn Salad
I love corn season! During the summer we could eat corn on the cob nearly every night!
I never realized that there were so many calories in an ear of corn! Did you know that a large ear of corn has about 120 calories! Then if you top it with butter and salt! You can really rack up the calories quick, so I love to find ways to enjoy corn where I don't feel compelled to eat a whole ear.
Our favorite way to cook corn?……GRILLED! You already know about my love affair of grilling. There is something about how it fills the air with the smell of smoke and flavorful char………the essence that embodies Summer! Am I right?
Last year I wrote a post about how to Grill Corn on the Cob -it's so easy and delicious! You'll never boil a pot of water for corn again!
click to see more of my recipe videos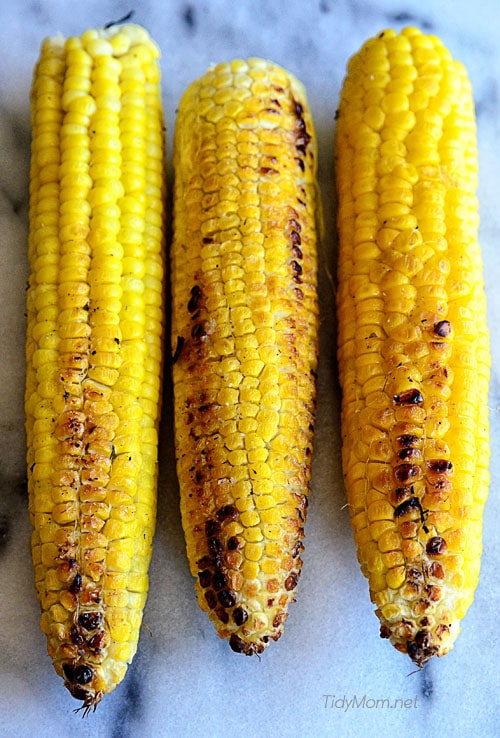 So if you are looking for a little bit of a healthier way to eat corn, you're going to love this sweet, fresh and juicy roasted corn summer salad that just screams summer!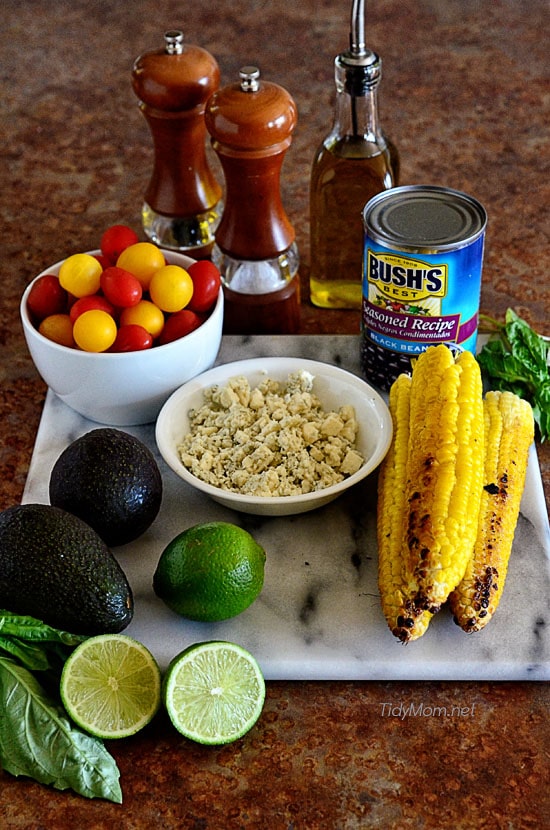 The ingredients are simple. Tender, smoky grilled corn, juicy grape tomatoes, buttery avocado, seasoned black beans, and fresh basil, it's like summer in a bowl. This Black Bean Roasted Corn Salad was so delicious and satisfying I ate it for lunch one day and as a side for dinner another day.
It kept perfectly fine in the fridge for 24 hours, I can't vouch for much past that, because……..well, there wasn't any left.
It's a perfect summer dish to eat al fresco and take to a picnic, BBQ or potluck……….or eat it at your desk with the AC blasting like I did! It requires no heat in the kitchen and takes no time at all to whip up!
Feel free to roast/grill your corn a day ahead if you'd like, or it would be a great way to use up leftover corn.
One of the wonderful things about this salad recipe is you can easily change it up according to what you like or have on hand. Next time I think I'll add some cucumber and bell peppers!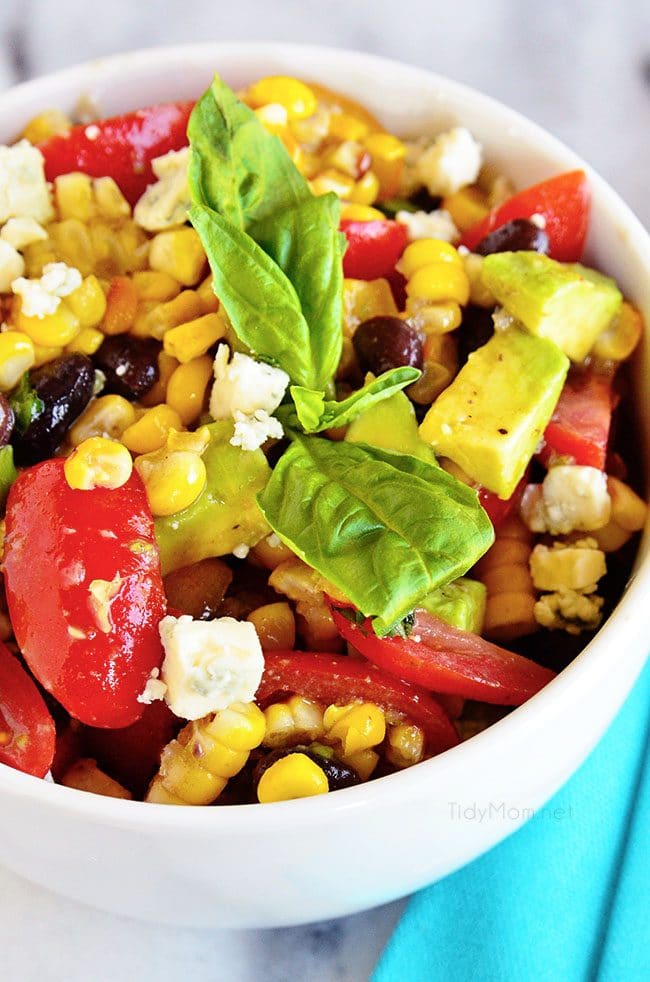 Let's make Black Bean Roasted Corn Salad!
(full printable recipe is at the end of this post)
Black bean roasted corn salad is SO easy to throw together.
Just grab a large serving bowl. Combine roasted corn, tomatoes, seasoned black beans, and avocado. Add a little olive oil, lime juice, salt, garlic salt and black pepper and toss until it's all well coated.
Top the salad with crumbled blue cheese and basil to serve.
If you have leftovers or want to make it ahead of time, cover well and store the salad in the refrigerator. Black Bean Roasted Corn salad should keep for 2-3 days in the refrigerator.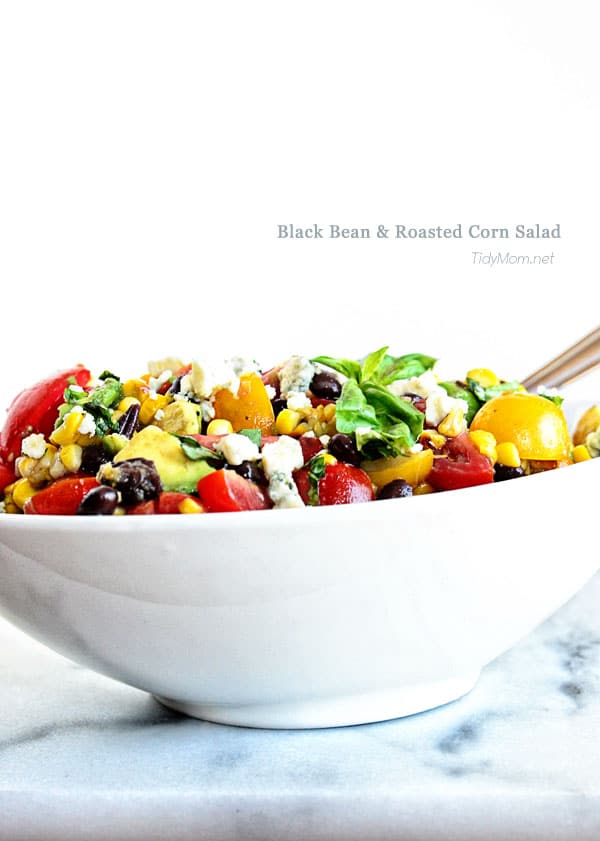 Doesn't that just scream summer?!!!
What's your favorite Summer side dish?
More Roasted Corn Recipes you might enjoy
Goat Cheese and Roasted Corn Guacamole Adding crumbled goat cheese to guacamole means it is irresistibly creamy. If you want your guacamole so spicy it hurts so good, then this is the guac recipe for you!
Roasted Corn & Black Bean Soup It doesn't have to be summer to enjoy roasted corn. This is a delicious, hearty, full of flavor soup that is sure to warm you up when it is cold outside
Roasted Corn Chowder is such a great way to use up all that summer corn, and plus corn chowder is the best kind of chowder.
Roasted Corn & Red Pepper Guacamole is a great appetizer for any summer BBQ! You'll be hooked after one bite.
Like this Black Bean Roasted Corn Salad Recipe? Pin It!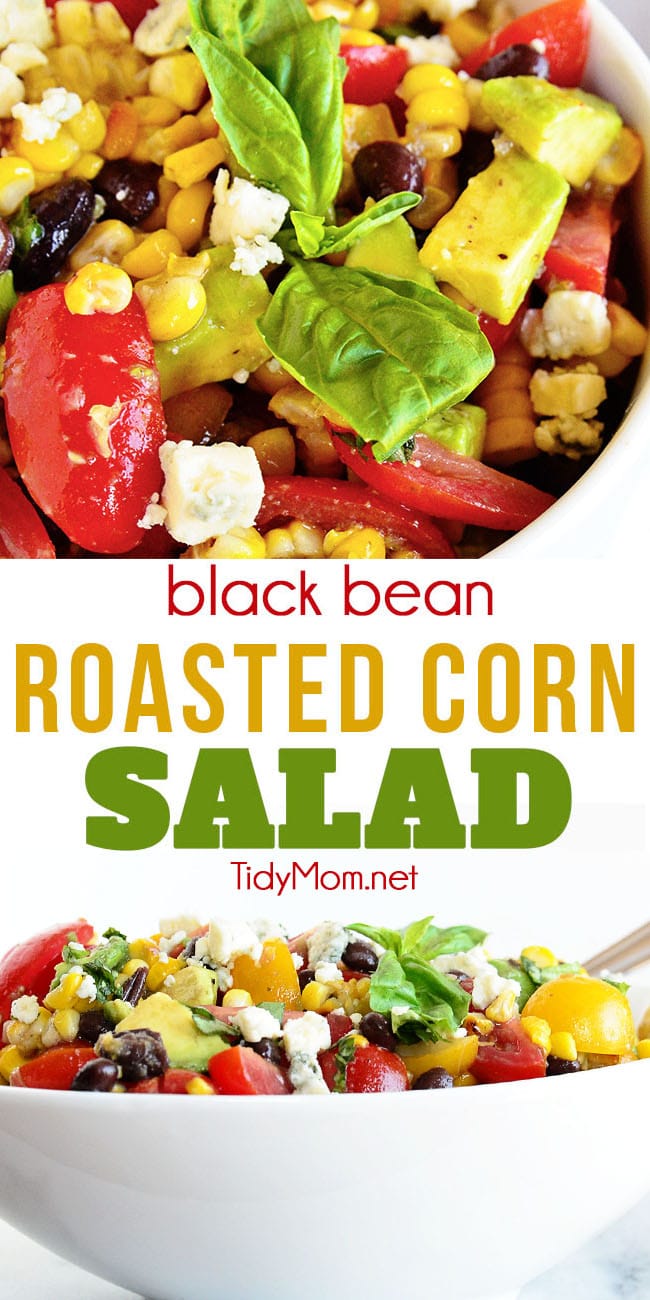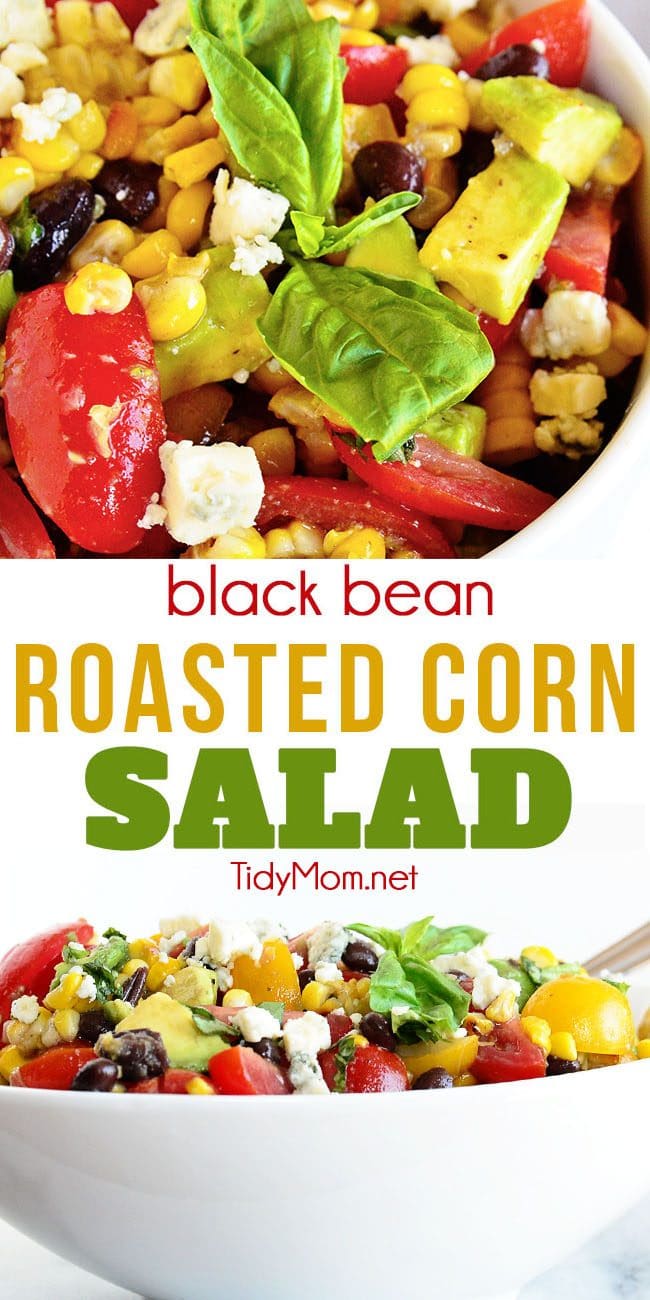 I created a fun little group on facebook and I'd love for you to join in! It's a place where you can share YOUR favorite recipes, home tips, creative ideas and ask questions and see what's new with TidyMom! If you'd like to check it out, you can request to join HERE. Be sure to follow me on Instagram and tag #tidymom so I can see all the wonderful TidyMom recipes YOU make and tips YOU use!
Connect with TidyMom! Facebook|Twitter|Pinterest|Instagram
Sign up to receive an email in your inbox for each new recipe: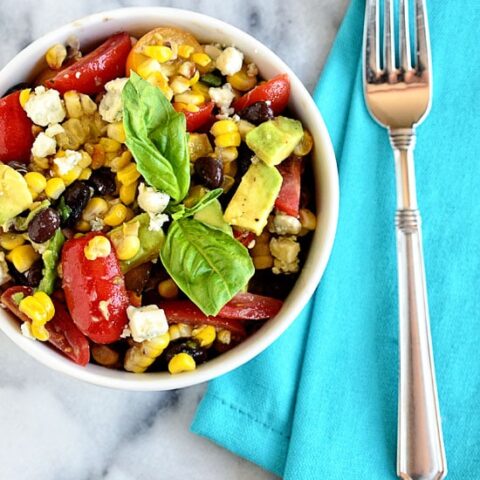 BLACK BEAN & ROASTED CORN SALAD
This summer salad recipe is super flexible and can be made the way you want with your favorite vegetables. Corn can be grilled ahead of time to make it a breeze to throw together any time.
Ingredients
3 ears grilled sweet corn, cut off the cob
1 pint grape tomatoes
1 avocado sliced
1 cup black beans, drained (I prefer BUSH'S® Black Beans )
1/4 teaspoon salt
1/4 teaspoon garlic salt
1/4 teaspoon pepper
the juice of one lime
2 teaspoons olive oil
3 ounces blue cheese, crumbled
2 tablespoons fresh basil leaves, chopped
Instructions
Combine corn, tomatoes, beans and avocado, in a large bowl. Add oil, lime juice, salts and pepper toss until well coated. Top with crumbled blue cheese and basil to serve.
Cover well. Should keep for 2-3 days in the refrigerator.



Disclaimer: I grew up in a house who used Bush's Beans, I am now proud to be a brand ambassador for them. All opinions and views are my own.