Creamy Cucumber & Onion Salad (Sour Cream Recipe)
This post may contain Amazon or other affiliate links. As an Amazon associate, I earn from qualifying purchases.
Creamy Cucumber With Sour Cream Salad – cool, crave-worthy cucumber salad, with a satisfying crunch balanced by the tart and creamy sour cream and infused with fresh dill. The ideal side dish with everything all summer long What's not to love?!
Be sure to sign up for my email… to get new recipes and ideas in your inbox!
This cucumber salad is a perfect complement to a spring get-together or summer BBQ, especially when entertaining guests trying to keep to a low carb or keto diet. They'll be thrilled with this fresh, creamy cucumber delight, and so will everyone else!
Another perfect low-carb addition to the BBQ menu is Grilled Blackened Salmon, Spicey Coconut & Lime Grilled Shrimp, or Lemon Rosemary Grilled Chicken. Running out of room on the grill? Try Garlic Roasted Shrimp and Oven Roasted Asparagus; let's not forget the adult beverages like Rosé Summer Sangria.
Round out a lovely spring or summer get-together with a delicious tropical Easy Ambrosia Salad or another low-carb option with Crustless Strawberry Pie for a guiltless finish! (If you can't be guilted, here's an Espresso Martini and a solid thumbs-up!)
No matter how you pair this cool and creamy cucumber salad with dill combo, you're sure to want to make it again and again!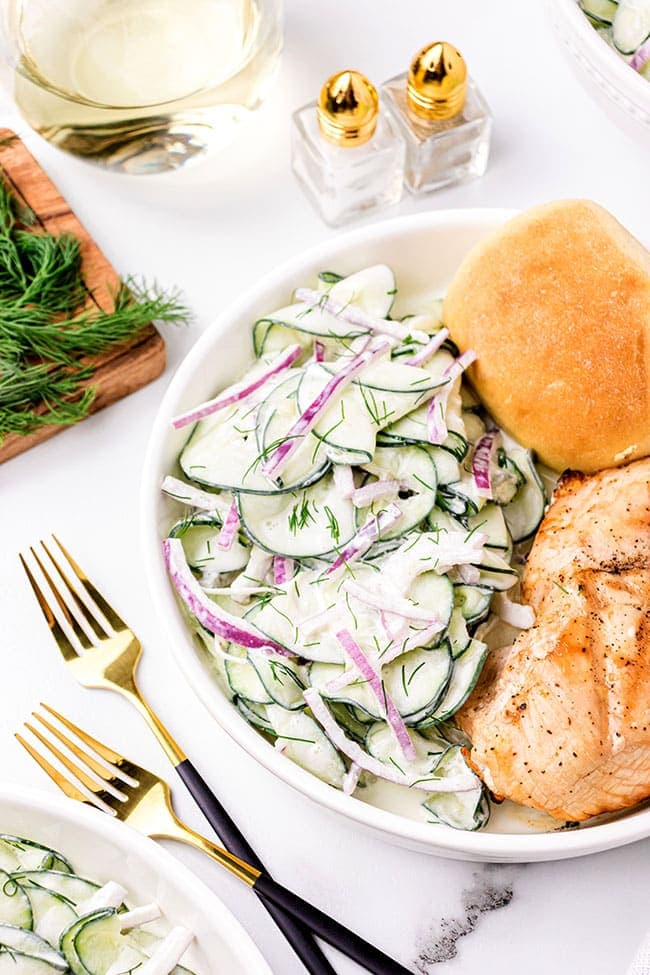 Why You'll Love This Cucumber Salad With Sour Cream
Light, refreshing cucumber salad, and one bite leads to another!
Keto and low-carb diet friendly!
Quick and easy to prepare, and keeps in the fridge for several days.
A perfect make ahead-salad for large get-togethers.
Pairs beautifully with numerous dishes and is an appealing addition to Summer BBQ Ideas.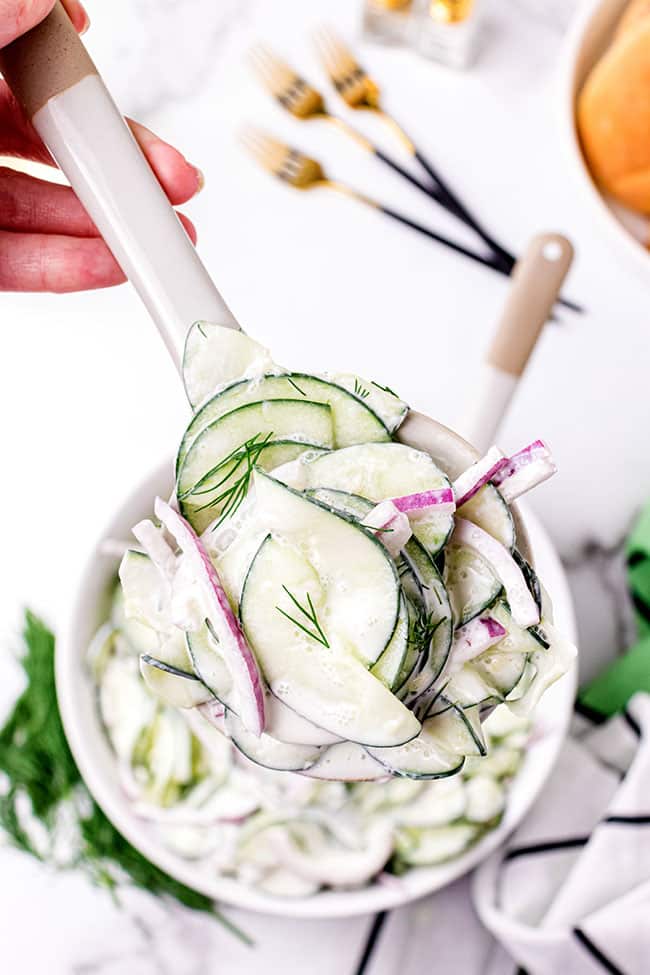 Grab these Ingredients For Cucumber Onion Sour Cream Salad
(full printable recipe at the end of this post)
Large Cucumbers (I prefer English cucumbers) – if you use regular cucumbers, you may want to remove the waxy skin.
Sour Cream – brings a tart and creamy balance to the cucumber's sweetness.
Red Onion – the sweet, pungent magenta flesh adds a splash of color throughout creamy cucumber salad and delivers a satisfying crunchy texture.
Lemon Juice – always use fresh when you can. Before juicing, zest* the fruit and freeze it for future use!
Fresh Dill – brings a light, lovely, signature taste to cucumber salad. For other options, see below in the substitution section.
Cracked Black Pepper & Salt – remember to taste as you go; you can always add more seasoning if needed.
*You can use the zest for my super delicious, Easy Lemon Brownies; bonus, there's a "how-to" if you're new to zesting.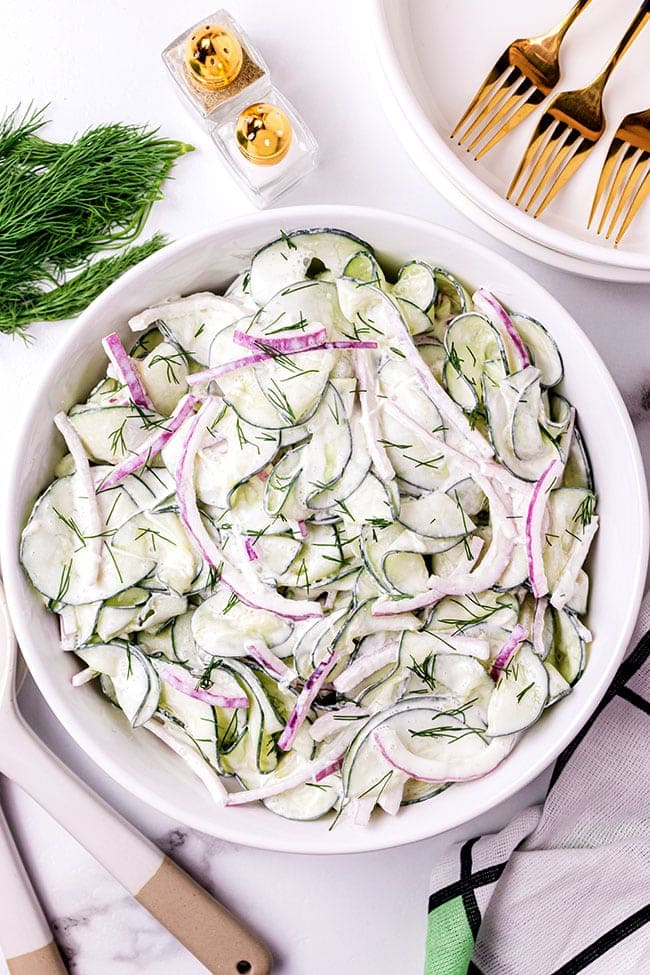 What Is An English Cucumber?
An English cucumber is a slender cylindrical fruit with a smooth, channeled, forest green skin, no discernable seeds, and averages 14" in length. The English cucumber, also known as a hothouse variety, tends to be sweeter than field cucumbers and is wrapped in plastic due to the delicate skin. Mini cucumbers are from the same hothouse variety, only 5-6" long and smaller in circumference.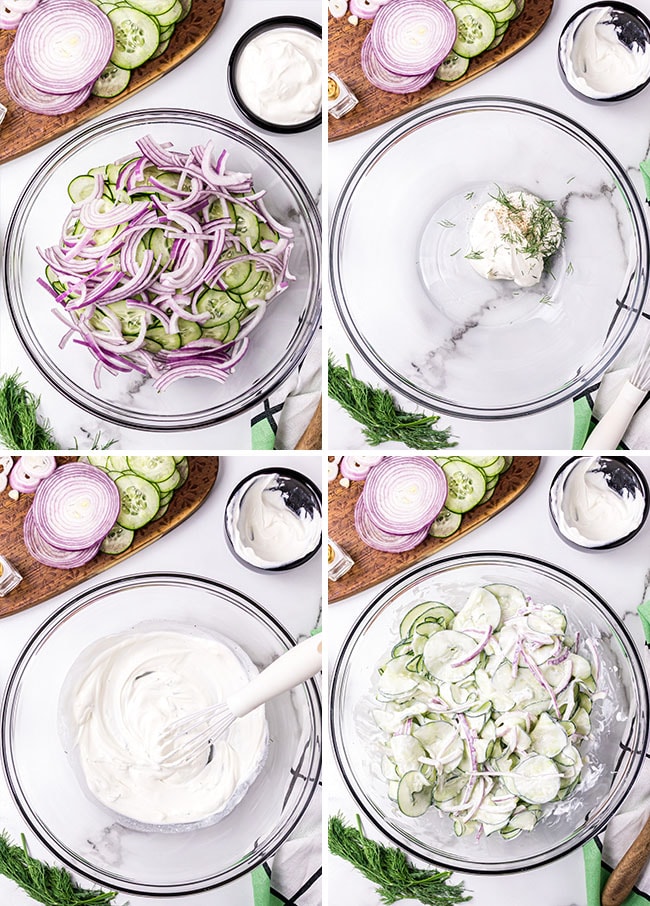 How To Make Creamy Cucumber Salad With Fresh Dill
(full printable recipe at the end of this post)
This delicious side dish couldn't be easier!
After slicing the onion and cucumbers, whisk the remaining ingredients. Fold everything together and chill. Viola! A creamy and fresh salad to grace any meal!
Should I Peel The Cucumbers For This Creamy Cucumber Salad Recipe?
Yes, if using regular cucumbers with a waxed peel. The common cucumber tends to have a thicker, more bitter peel and large seeds depending on its maturity. (And of course, if you prefer not to peel, I won't tell! But try this milking technique, and let me know if it works for you!)
There is no need to peel if you use an English cucumber (hothouse), Persian, or mini cucumber for this salad with sour cream. The skins of these varieties are thin and have a sweet, delicate flavor (plus, the verdant skin is where the most antioxidants, minerals, and fiber hang out.)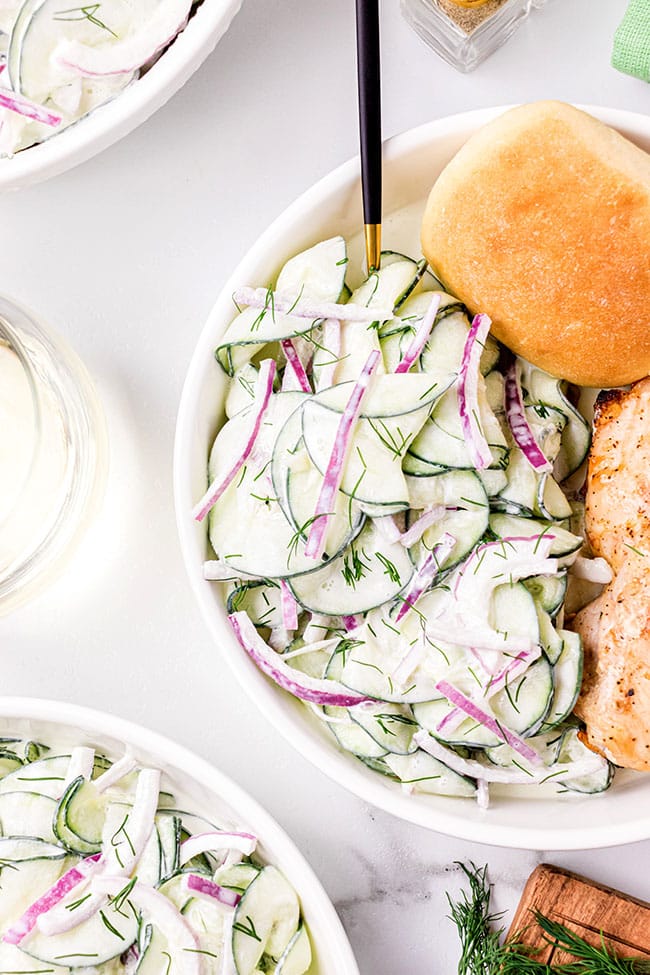 Popular Cucumber Salad With Sour Cream Substitutions & Additions
Use plain or Greek yogurt instead of sour cream. Greek yogurt is much thicker and will hold up well if your cucumbers tend to get watery.
Persian or mini cucumbers make gorgeous green and bite-sized wheels that don't need to be peeled or seeded.
Dried dill is easily substituted for fresh dill weed at a 1tsp dried to 1tbs fresh ratio, and vice versa.
No dill or not a fan? You can use fennel fern, tarragon, thyme, parsley, and even cilantro, to name a few.
White or sweet onions can be substituted for the red onions and still carry the pungently sweet flavor to creamy cucumber salad.
For a festive addition and garnish, top with diced tomatoes and/or crisp crumbled bacon bits.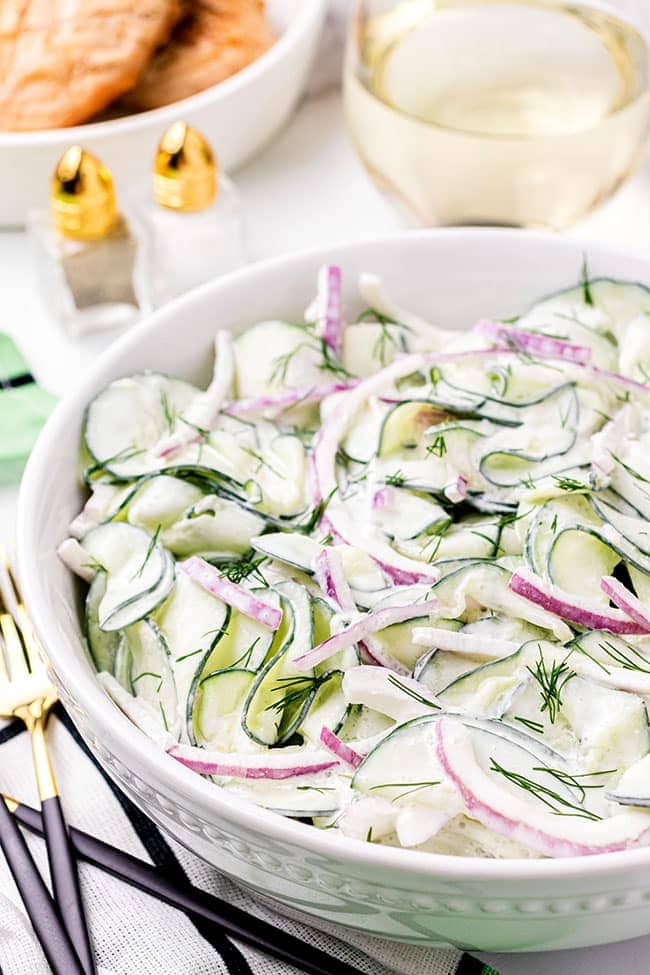 How To Store Creamy Cucumber Salad
The best way to store cucumber salad with sour cream is to refrigerate it in an airtight container. It should last 3-5 days, but it is best to keep it away from the coldest part of your fridge as cucumbers are cold-sensitive.
What Can I Do If My Leftover Cucumber Salad Is Watery?
If there is separation and you can see the water independent of the salad, try tipping the bowl and dab with a paper towel to absorb the excess liquid.
You can also mix in plain greek yogurt with a much thicker consistency than sour cream and add more seasoning.
To avoid creamy cucumber salad from becoming watery from the start, try the salting process before combining the cucumbers with the sour cream and dill mixture.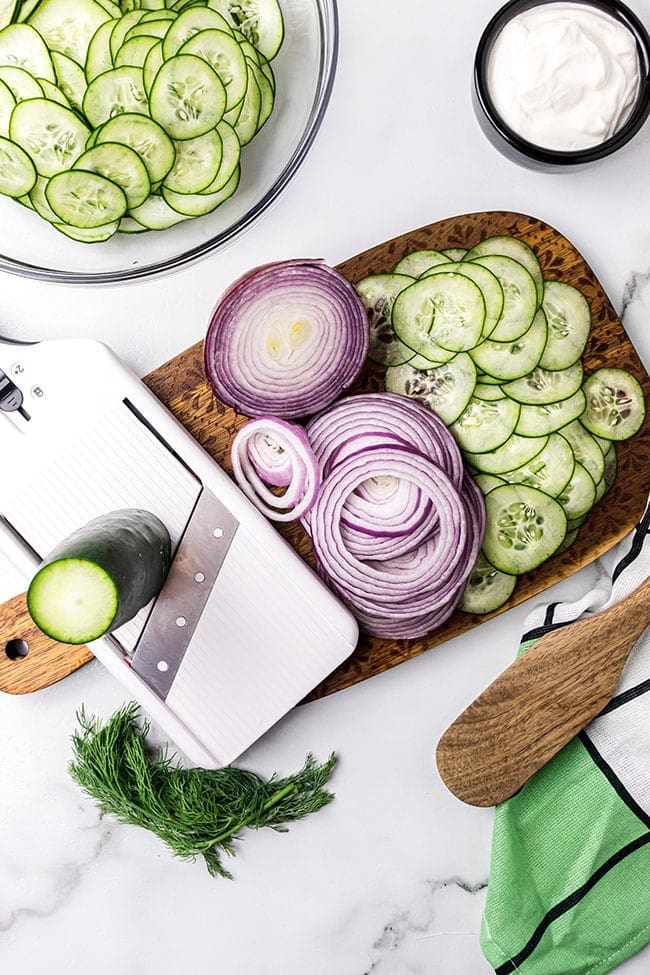 Creamy Cucumber Dill Salad FAQs
This post may contain affiliate links. Please read my disclosure policy here.
How Do You Slice Cucumbers for Salad?
For evenly sliced cucumber, and onion a mandoline is key!
Not only will you have thin even slices, but it makes the whole slicing process go really quick!
A good sharp chef's knife will work too, but once you buy a mandoline you'll wonder why you didn't get one sooner!!
Is Salting Cucumbers Before Making This Salad A Good Idea?
Absolutely, if you want to maintain a crisp crunch and avoid cucumbers with sour cream becoming watery. Salting is the process of osmosis, which draws water content out of the cucumber.
To remove excess water, prep, and slice cucumbers, layer salted cucumbers in a colander, and let drain at least 20 minutes or longer. Pat dry with a paper towel or rinse, then dry. Most of the salt should drain away during the process, but if you are overly sensitive or trying to cut down on sodium, you may prefer to rinse.
What Is Dill?
Dill is a feathery green plant part of the Apiaceae family, including celery, fennel, and parsley. Dill is both an herb (the leafy part called "weed") and a spice (dried "seeds").
You'll find dill weed to have a fresh, soft and sweet, grassy flavor with a hint of licorice. Dill weed is more flavorful when fresh. Instead of drying unused portions, blend with just enough water to make a paste, freeze the paste in an ice cube tray, and store cubes in a freezer-safe bag.
What Is The Difference Between Using Dill Weed VS. Dill Seed?
Dill seed (spice) and dill weed (herb) have a similar flavor profile with the licorice/anise undertones, yet the seeds can also convey caraway.
Dill weed is delicate and pairs best with creamy dressings and dips, vinaigrettes, egg salad, herbed butters, and enhances many dishes used as a garnish.
Dill seed is used more often in cooked or heated dishes. Where dill weed tends to lose its potency the longer it cooks, the impact of dill seed will intensify in the cooking process.
Like This Creamy Cucumber Salad Recipe? Pin It!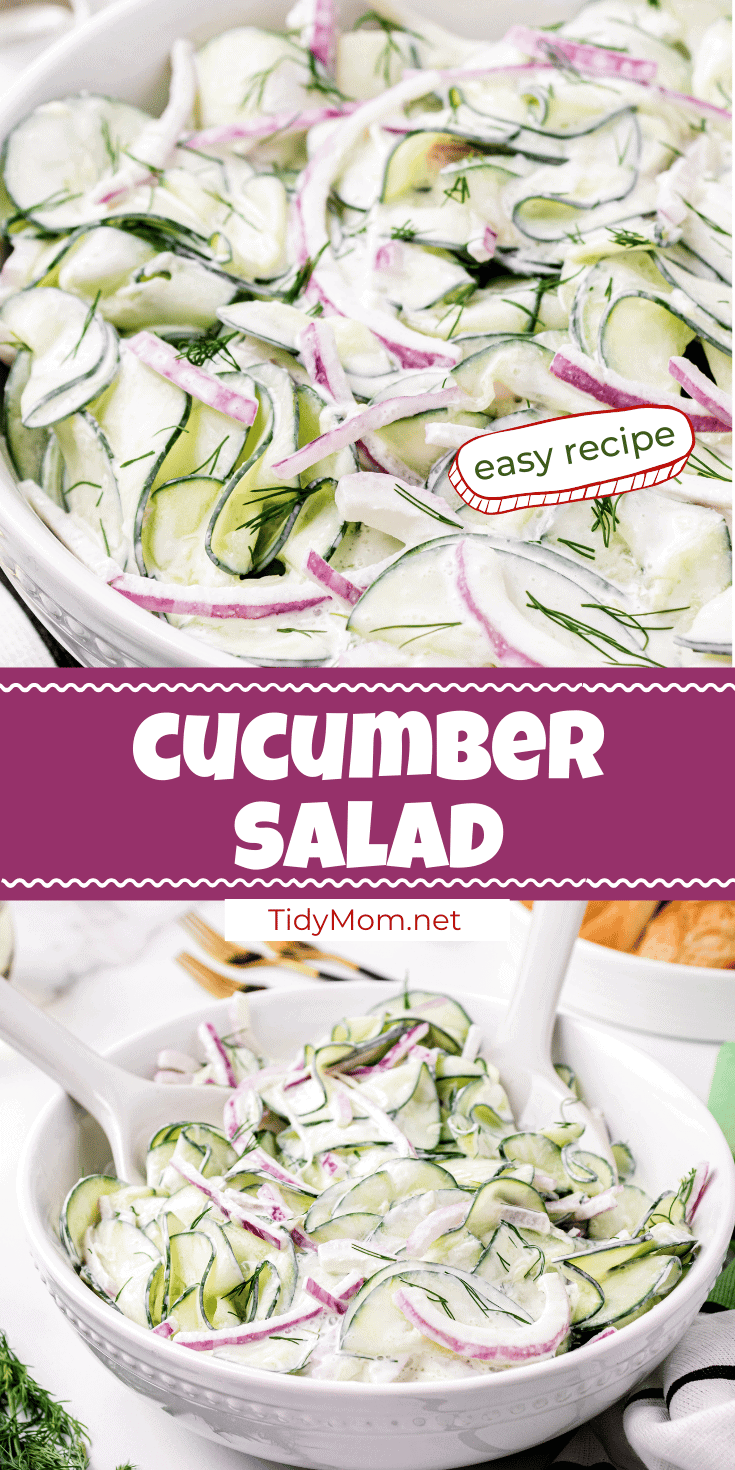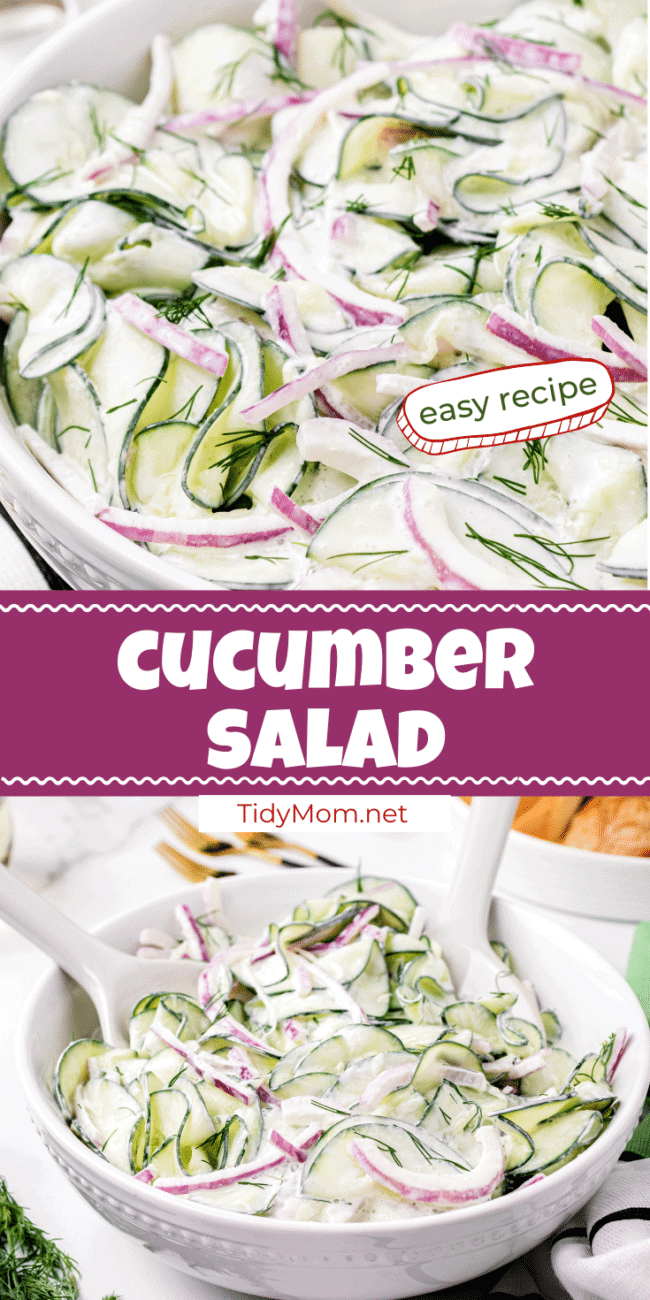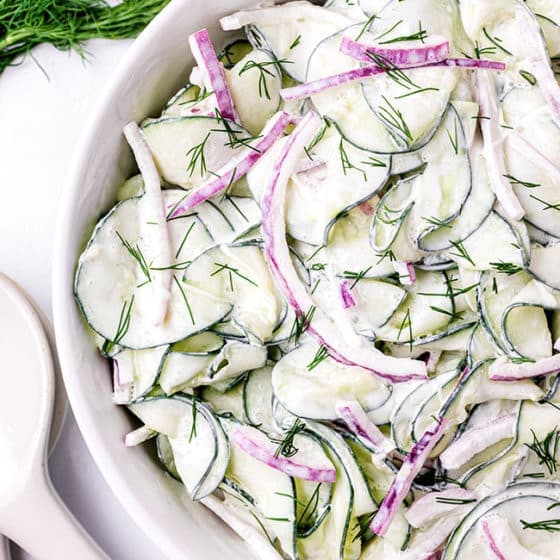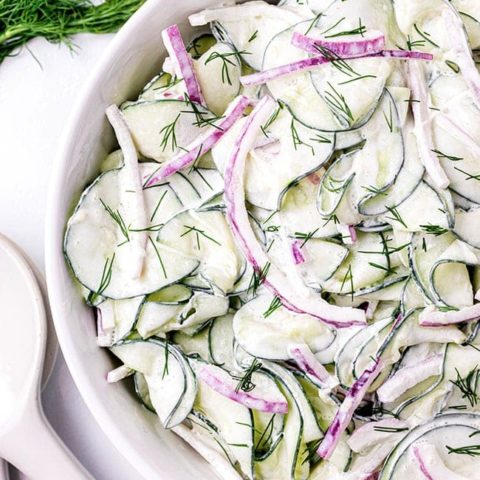 Creamy Cucumber Salad
Yield: 12 servings
Prep Time: 15 minutes
Total Time: 15 minutes
Cool, crave-worthy CUCUMBER SALAD, with a satisfying crunch balanced by the tart and creamy sour cream and infused with fresh dill. It's the ideal side dish with everything all summer long!
Ingredients
3 large cucumbers (I prefer Engligh cucumbers), thinly sliced
1 cup sour cream
½ cup thinly sliced red onion
1 tablespoon lemon juice
1 tablespoon fresh dill
½ teaspoon of salt
¼ teaspoon cracked black pepper
Instructions
Whisk together the sour cream, lemon juice, fresh dill, and salt and pepper in a large mixing bowl.
Add cucumber and onion and toss to coat. Taste to see if you prefer more salt and/or pepper.
Cover and chill for 1-2 hours before serving.
Notes
TIP: You can use regular cucumbers, but English cucumbers tend to be sweeter, have thinner skin, and have fewer seeds than regular cucumbers.
TIP: use a mandoline to slice cucumbers and onion for quick even results.
TO KEEP: This salad will last up to one week stored in an airtight container in the fridge.
TO MAKE AHEAD: Place the sliced cucumbers and onion in a bowl or zip-top bag, combine the creamy dressing in a separate bowl. Cover and refrigerate both. 1-2 hours before serving, fold everything together, cover and refrigerator until ready to eat.
Recommended Products
As an Amazon Associate and member of other affiliate programs, I earn from qualifying purchases.
Nutrition Information:
Yield: 12
Serving Size: 1
Amount Per Serving:
Calories: 53
Total Fat: 4g
Saturated Fat: 2g
Trans Fat: 0g
Unsaturated Fat: 1g
Cholesterol: 11mg
Sodium: 96mg
Carbohydrates: 4g
Fiber: 1g
Sugar: 2g
Protein: 1g
Nutrition information is estimated based on the ingredients and cooking instructions as described in each recipe and is intended to be used for informational purposes only. Please note that nutrition details may vary based on methods of preparation, origin, and freshness of ingredients used.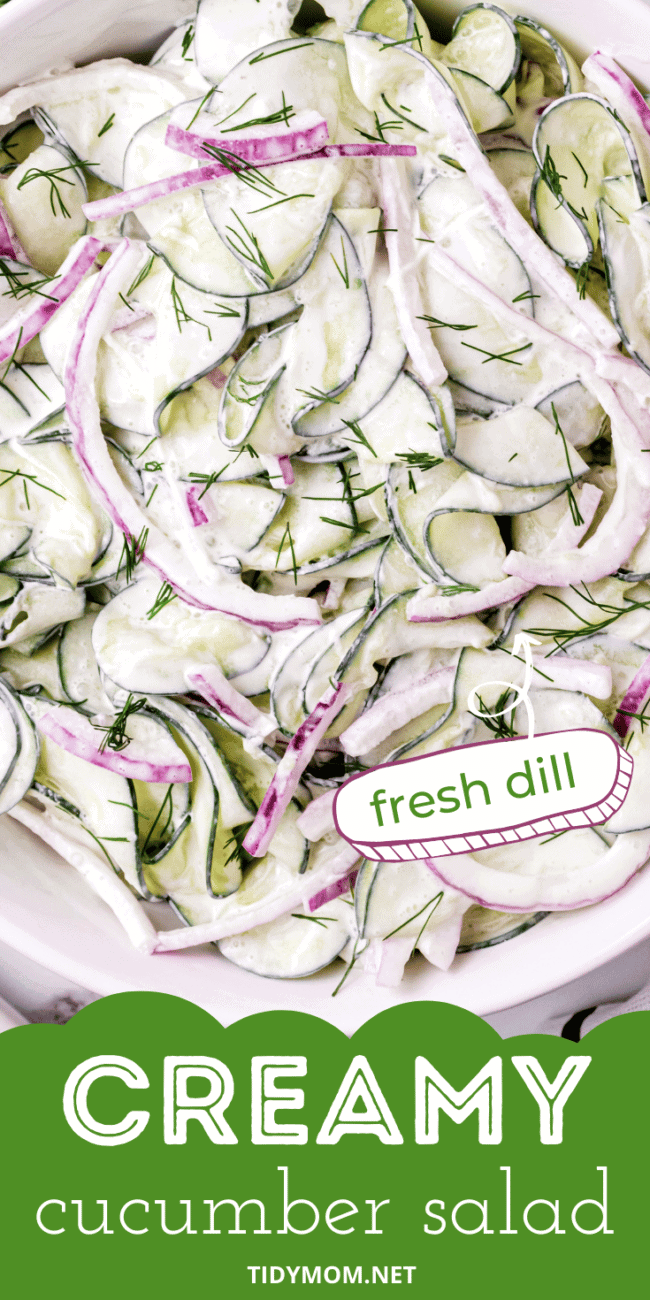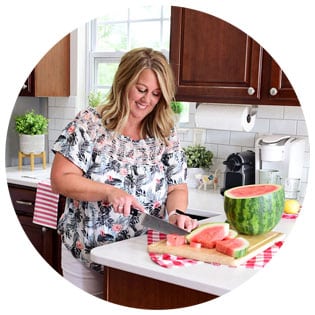 Hi there, I'm Cheryl!
As a wife, mom, and caffeine enthusiast, my journey has taken me from bustling mornings with my family to sharing delicious recipes, home care tips, and heartfelt decorating insights with wonderful readers like you. My love for baking, photography, and tidiness shines through every post I craft. Dive into my world and discover the art of homemaking, one tidy moment at a time. Read more...
Tidymom is a participant in the amazon services llc associates program, an affiliate advertising program designed to provide a means for sites to earn advertising fees by advertising and linking to Amazon.com.
Please respect my work, recipes and photographs. If you do use a recipe in your own writing, please give proper credit and link back to the original post.