Creamy Whipped Feta with Fresh Herbs
This post may contain Amazon or other affiliate links. As an Amazon associate, I earn from qualifying purchases.
This Creamy Whipped Feta with fresh herbs is about to become your new obsession. Perfect appetizer as a dip or alongside roasted cauliflower as a side dish. Drizzle with Sepectrum® Organic Rosemary Olive Oil and you'll really take it over the top and seal the deal!
Be sure to sign up for my email… to get new recipes and ideas in your inbox!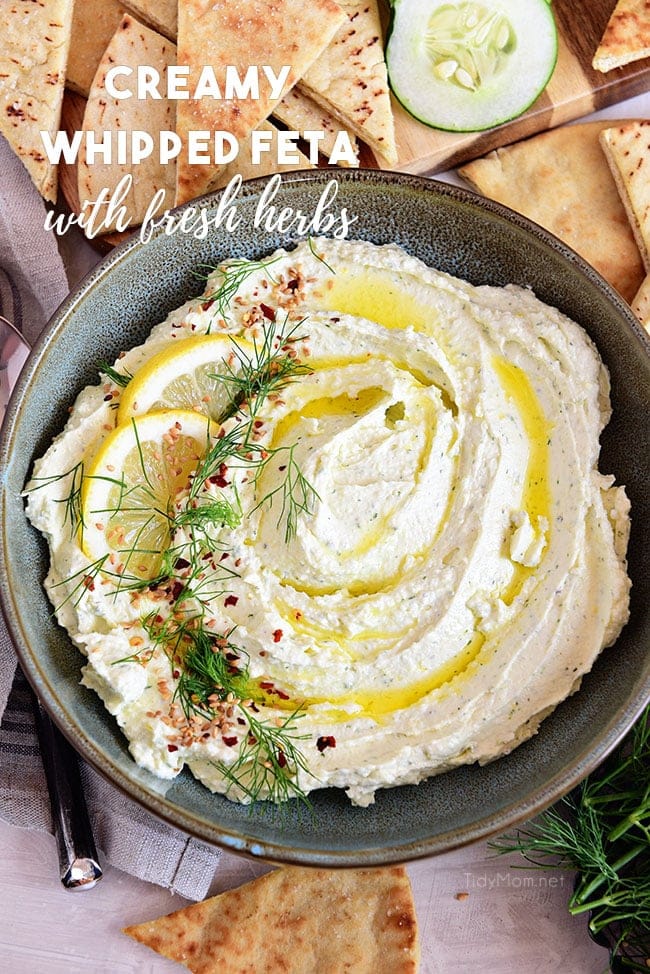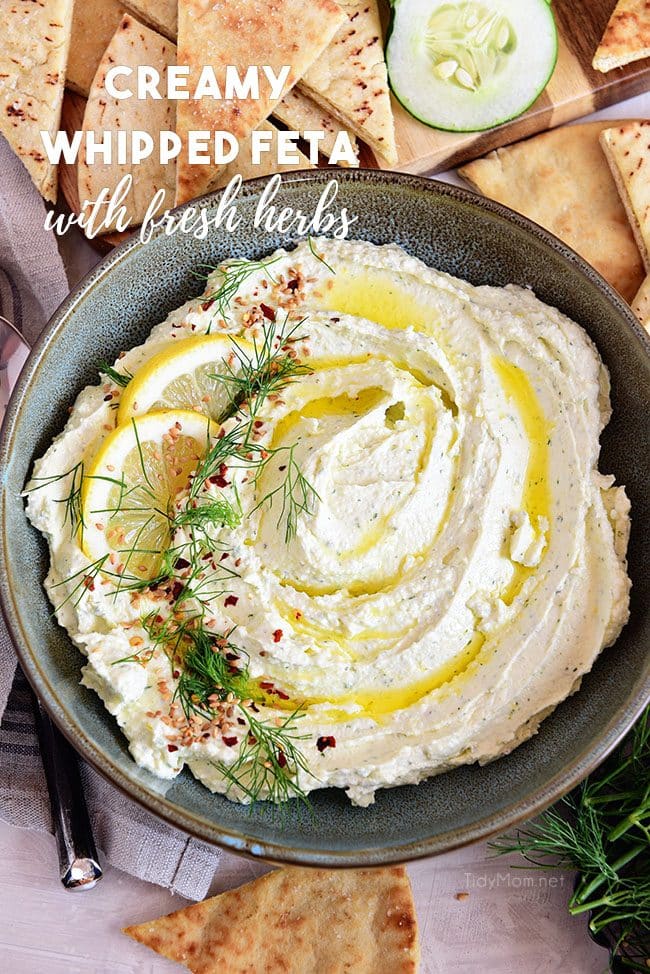 Whipped Feta With Fresh Herbs
Instead of serving feta crumbled, it's whipped in a food processor with fresh herbs into a gloriously creamy, tangy dip. A shot of rosemary-infused olive oil drizzled over top seals the deal, making this a flavorful appetizer.
It's a spreadable dip when served fresh, and stores beautifully in the fridge for several days.
The star of this recipe is the flavor Spectrum® Organic Rosemary Olive Oil provides. It's 100% organic and 100% first cold pressed, with a robust, fruity aroma and rich nutty flavor infused with rosemary.
Spectrum® has an amazing line of natural and organic culinary oils and vinegars that features more than 30 varieties of seed, nut, and plant oils including coconut oil.
They always have what I need to take ordinary recipes to the next level and this whipped feta is certainly no exception.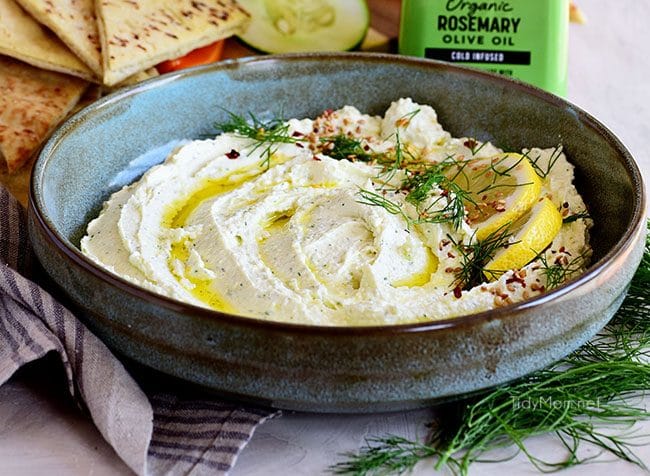 This post is in partnership with Spectrum® Organics All views, opinions, and love of good food are all my own. Thanks for supporting the brands we love.
What is Feta Cheese?
Oh, feta. I've only known you for a few short years, but now I'm wondering where you were all my life. You couldn't be bothered to show up until my 50s?
In case you are late to the feta party too, feta cheese is a rich and creamy soft cheese from Greece made from sheep's milk. The grainy, aged cheese has a salty and tangy flavor. Quite possibly one of the best things I have ever tasted.
Feta is often touted to be a healthier cheese. It's lower in fat and calories than aged cheeses and has more calcium and B vitamins than soft cheeses. It crumbles easily making it a popular choice in salads, on top of a pizza or flatbread, stuffed in a pita or as a selection on meat and cheese boards.
Feta quickly becomes a dip for crunchy vegetables or pita chips by blending it with a little lemon juice and olive oil like the whipped feta recipe I'm sharing today.
What's In A Whipped Feta Recipe?
With just a few simple ingredients, whipped feta might be one of the easiest appetizers you can make.
a block of feta cheese – let it come to room temperature for the best flavor.
cream cheese softened – feta-to-cream cheese ratio should be about 2:1 (i.e., if you use a 6-ounce block of feta cheese, use 3 ounces of cream cheese)
Spectrum® Organic Rosemary Olive Oil, adds a tantalizing flavor for a dip you can't put down.
fresh herbs – use what you like (or have on hand). I used dill, oregano, and chives.
fresh lemon zest and juice
minced garlic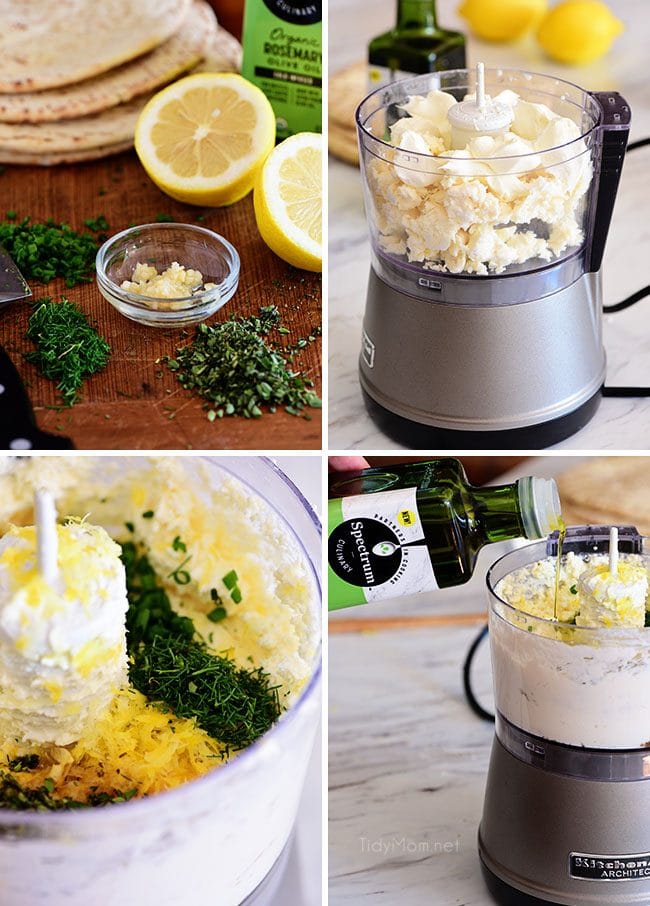 How To Make Whipped Feta With Fresh Herbs
(full printable recipe at the end of the post)
Take my word for it, this simple creamy mixture is about to become your go-to dip or spread.
You're going to need a food processor, I use my little food chopper.
Crumble room temperature feta and pulse until it's fine and airy. Then add softened cream cheese and process until well-whipped (I pulse it for about 3-4 minutes), stopping to scrape down the sides of the bowl a time or two.
Add a drizzle of Spectrum® Organic Rosemary Olive Oil and process for an additional 30 seconds. Add your chopped herbs, a little lemon zest, freshly squeezed lemon juice, and salt and pepper. Note: feta is a brined cheese, go light on the salt….taste it and you can always add more if you need it.
This was plenty creamy for me, but if you would prefer a creamier spread, add a splash of heavy cream. Everything can be adjusted to your taste depending on how tangy and how creamy you want your dip.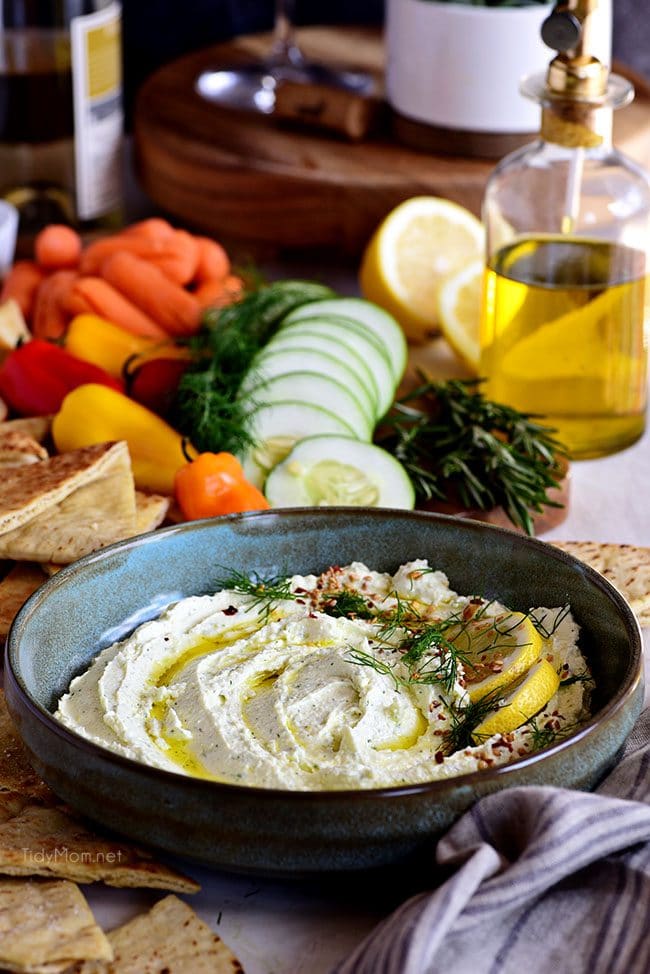 How To Make Toasted Pita Chips For Whipped Feta
5 Pitas
4 Tablespoons of Spectrum Rosemary Olive Oil
sea salt for seasoning
To make the toasted pita, brush the bread with rosemary-infused olive oil on both sides and sprinkle with a pinch of salt.
Cut each bread into 8 triangles. Place on a lined baking sheet and bake for 10 minutes in a 350°F oven.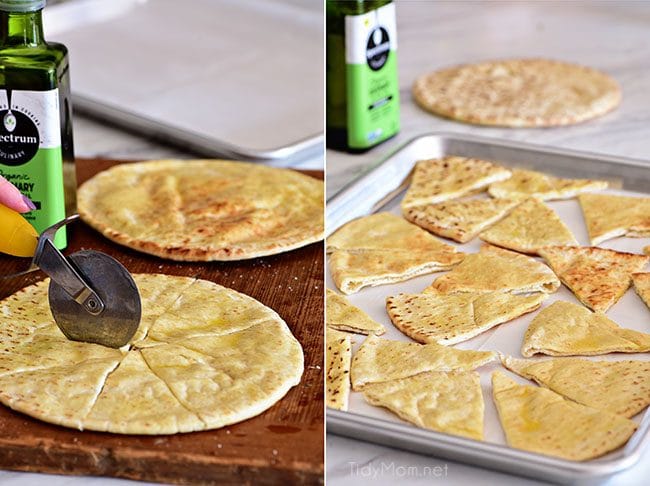 Tips For Serving Whipped Feta
Make A Dip Platter: Eat it just like hummus pairing it with fresh vegetables and toasted pita wedges on a platter, and garnish with crushed red pepper flakes, fresh lemon, dill, toasted sesame seeds, and rosemary olive oil drizzled on top.
Spread On Your Favorite Foods: This whipped feta is soft and fluffy making it perfect to spread on just about anything. I love spreading it on top of a flatbread with some favorite topping and tossing it on the grill. Or spread it on a sandwich.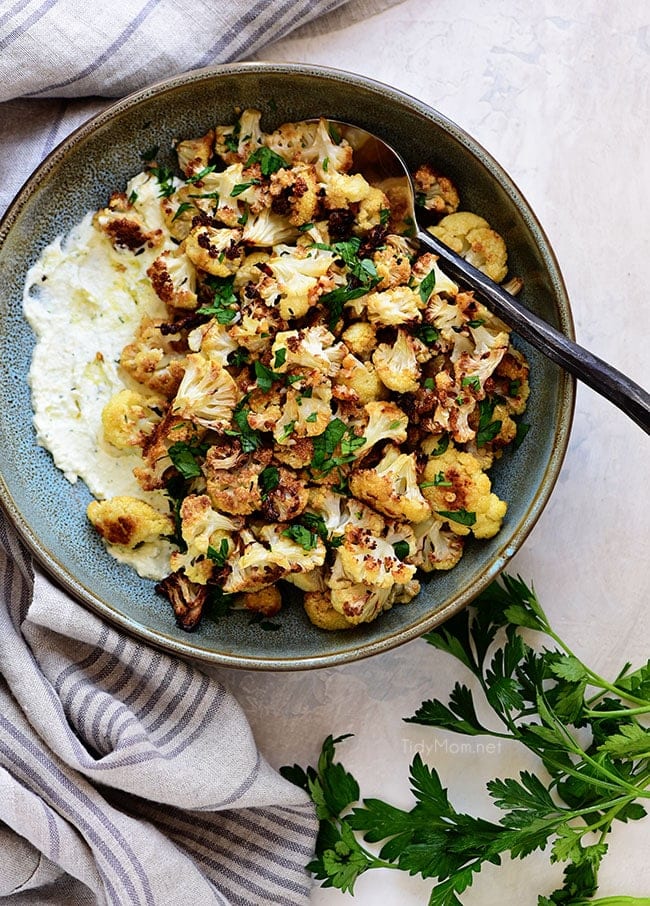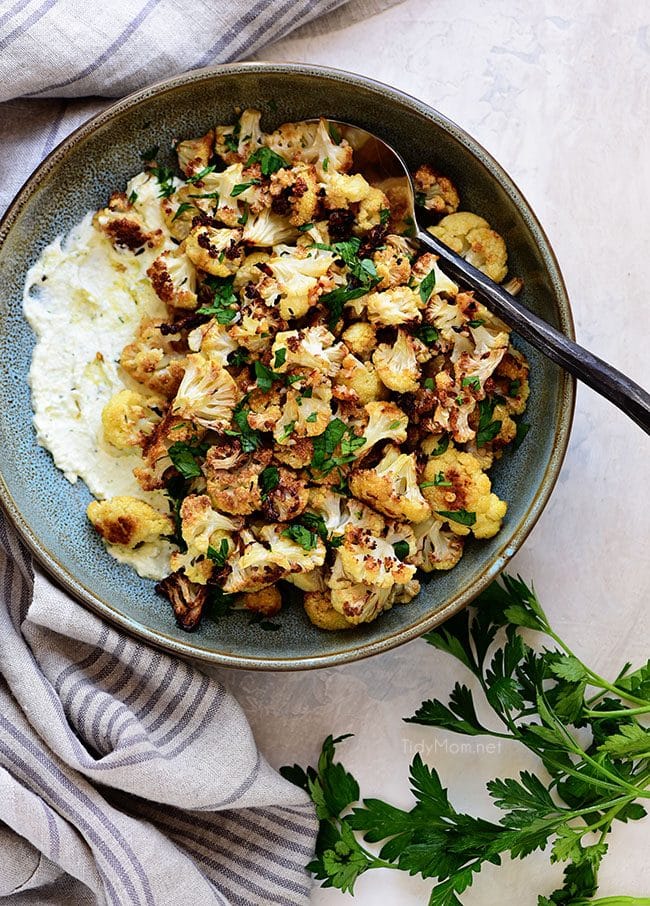 Create A Dressing: You can also add a few tablespoons of milk to the dip to make a sauce or salad dressing-like consistency.
Mix It With Roasted Veggies: The best way to make your roasted veggies go from drab to foodie fab in a matter of minutes is to mix them up in a bowl with some of this cheese spread. I kid you not, you will be in flavor heaven! My favorite combo is roasted Cauliflower with the whipped feta recipe.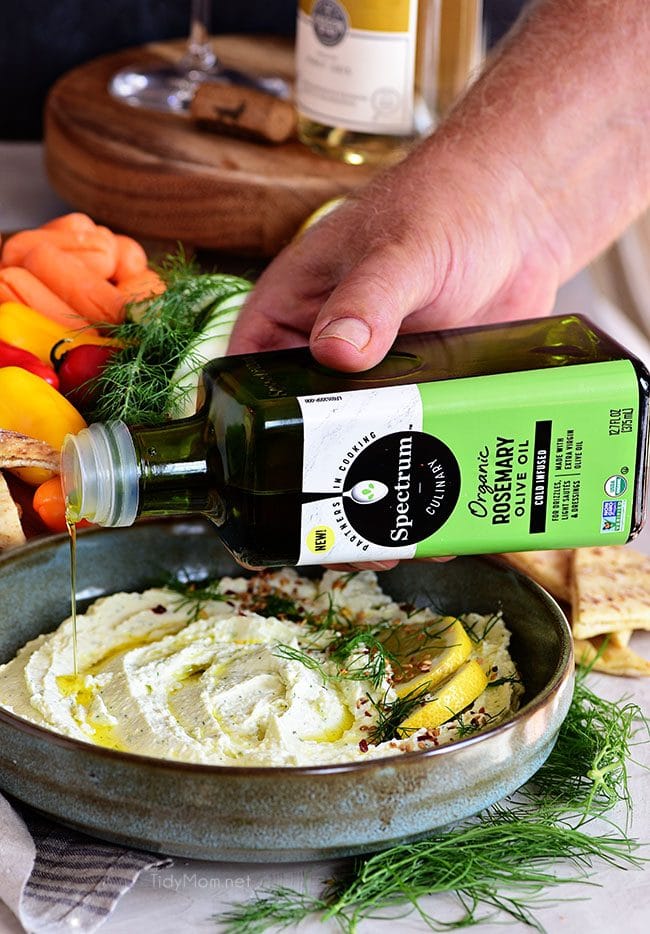 This is definitely my new go-to appetizer. Now you just need to invite me over.
More Dips and Spreads For Your Next Party
Beer Cheese Dip Serve warm or cold, everyone will love this dip. It's perfect for game day or anytime you need a cheesy snack.
Butternut Squash Smoked Gouda Cheese Dip A delicious fall appetizer served in a gourd with buttery seasoned pitas, perfect for fall holiday entertaining.
Ruben Dip This easy cream cheese dip recipe deconstructs a classic Reuben sandwich and turns it into a delicious hot Reuben dip!
Caramelized Black Bean Spread This versatile recipe works as either a dip or a spread and has a sweet and toasty flavor thanks to the caramelized onions.
Olive Spread This 5-minute spread is perfect for game day, an after-school snack, or a last minute bite if you have unexpected guests!
Like This Whipped Feta Dip Recipe? Pin It!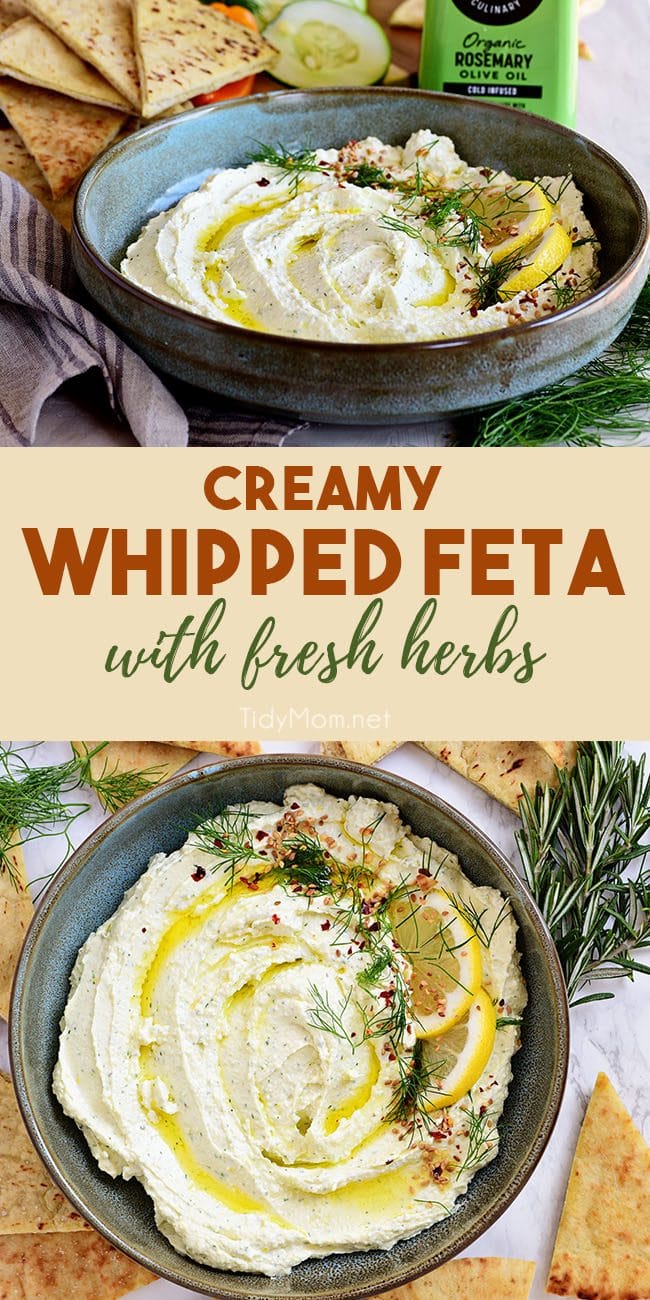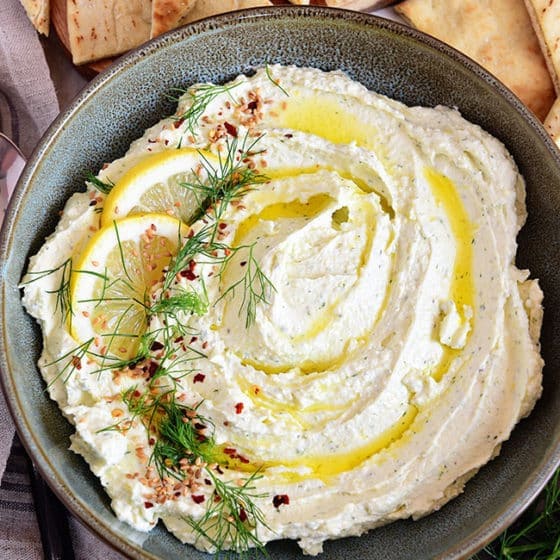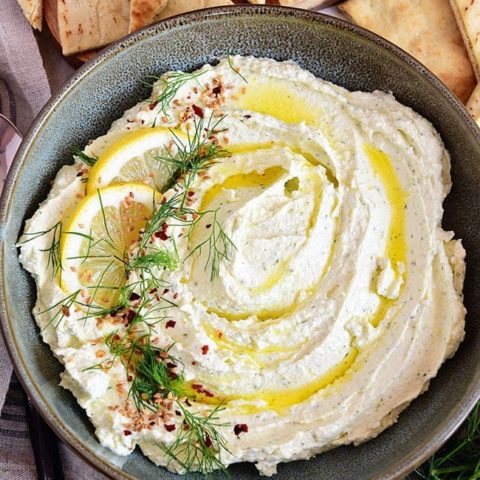 Whipped Feta with Fresh Herbs
Yield: 1 cup
Prep Time: 10 minutes
Total Time: 10 minutes
This Creamy Whipped Feta with fresh herbs is about to become your new obsession. Drizzle with Rosemary olive oil and you'll really take it over the top!
Ingredients
1 (6 ounce) block feta, room temperature
3 ounces cream cheese, softened
1/4 cup Spectrum Rosemary Olive Oil plus more for serving
1 tablespoon fresh chopped basil
1 tablespoon fresh chopped dill
1 tablespoon fresh chopped chives
1/2 teaspoon minced garlic
zest and juice from one 1 lemon
salt and pepper to taste (start light and add if needed)
optional garnishes: toasted sesame seeds, red pepper flakes, fresh herbs and additional rosemary olive oil.
Instructions
Crumble softened feta into the bowl of a food processor. Process until light and airy, then add cream cheese and continue processing until well combined (about 3-4 minutes).
Add olive oil, fresh herbs, garlic, lemon zest, lemon juice, salt and pepper. Pulse until creamy and well combined. (taste to see if you need more salt or pepper)
Serve immediately, garnished with a generous drizzle of olive oil on top and a sprinkle of toasted sesame seeds, red pepper flakes and fresh dill
Notes
if you would prefer a creamier spread, add a splash of heavy cream. Everything can be adjusted to your taste depending on how tangy and how creamy you want your dip.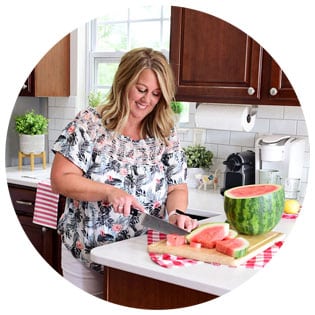 Hi there, I'm Cheryl!
As a wife, mom, and caffeine enthusiast, my journey has taken me from bustling mornings with my family to sharing delicious recipes, home care tips, and heartfelt decorating insights with wonderful readers like you. My love for baking, photography, and tidiness shines through every post I craft. Dive into my world and discover the art of homemaking, one tidy moment at a time. Read more...
Tidymom is a participant in the amazon services llc associates program, an affiliate advertising program designed to provide a means for sites to earn advertising fees by advertising and linking to Amazon.com.
Please respect my work, recipes and photographs. If you do use a recipe in your own writing, please give proper credit and link back to the original post.