Roasted Cauliflower with Feta & Garlic Crumbs
Roasted cauliflower goes to a whole new level when you add sweet Italian dressing, feta cheese, and brown butter and garlic crumbs!
Be sure to sign up for my email… to get new recipes and ideas in your inbox!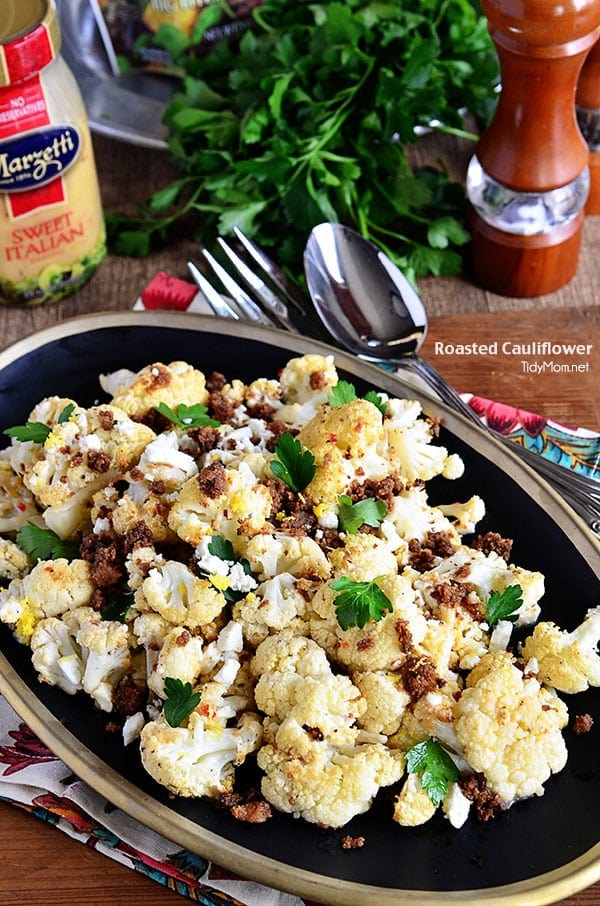 Click HERE to save recipe to Pinterest!
If you are not a fan of cooked cauliflower, I am about to turn you into one. Up until recently the only way I would eat cook cauliflower was if you covered it in a cheese sauce. And let's be honest…….I was eating it for the cheese!
Well, call it the power of suggestion if you will, but I heard a few friends talk about roasting vegetables lately, and I've seen a few drool-worthy recipes shared on Pinterest that piqued my interest. My mom always steamed cauliflower, so maybe roasting would change how I felt about it?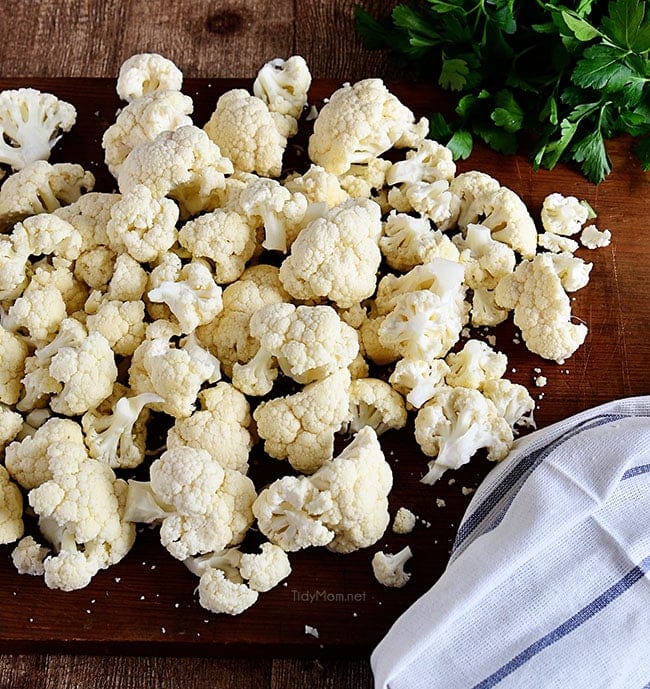 I was right!! There's something magical that happens when this beautiful white vegetable gets roasted. The golden brown color brings out a beautiful nutty flavor! Now, I could have just stopped right there, as delicious as it was, I wanted to play with adding a few companions to my new found friend!
May I introduce, Roasted Cauliflower with Feta & Brown Butter and Garlic Crumbs, or heaven for short! 😉
How To Make The BEST Roasted Cauliflower
I started with a nice large head of cauliflower and cut the florets off into pieces.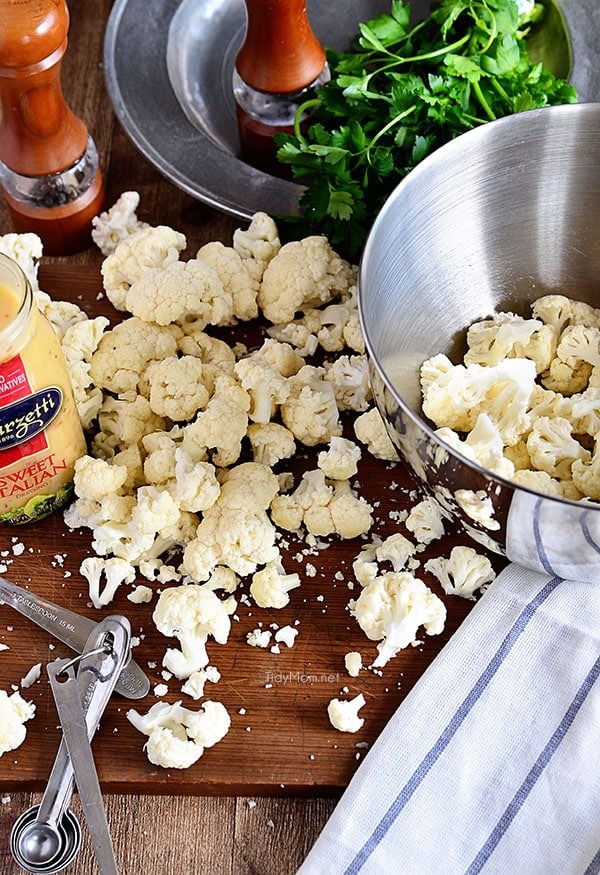 I then transferred the florets in a bowl and tossed them with a little Marzetti® Sweet Italian Dressing, salt and pepper. Next, I scattered the seasoned florets evenly over a buttered pan and roasted about 30 minutes, turning halfway, until golden brown on each side.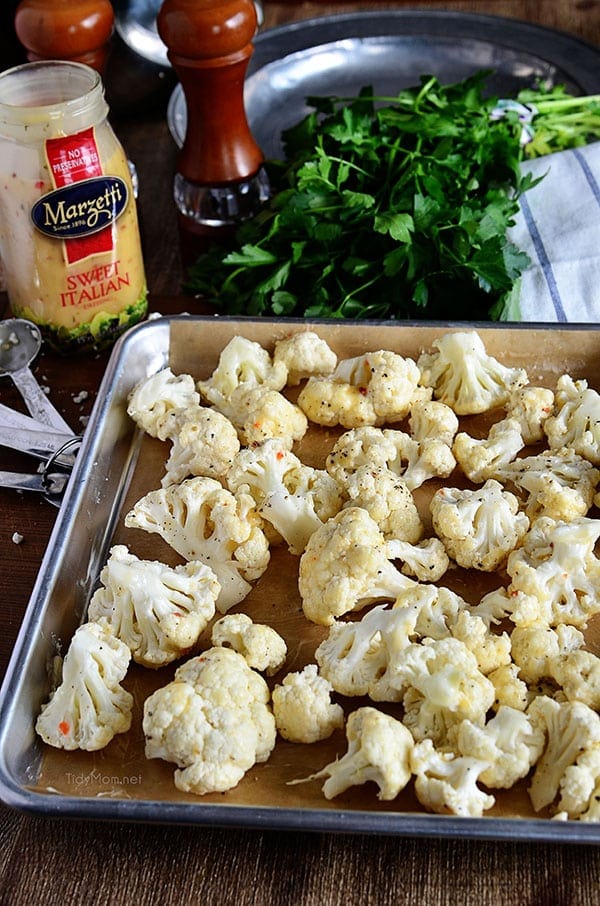 While the cauliflower was in the oven, I made the most delicious crumbs to sprinkle on top and give the cauliflower a bit of crunch.
I browned a few tablespoons of butter, added a little garlic then mixed in Texas Toast™ Garlic & Butter Croutons that I had crushed into crumbs.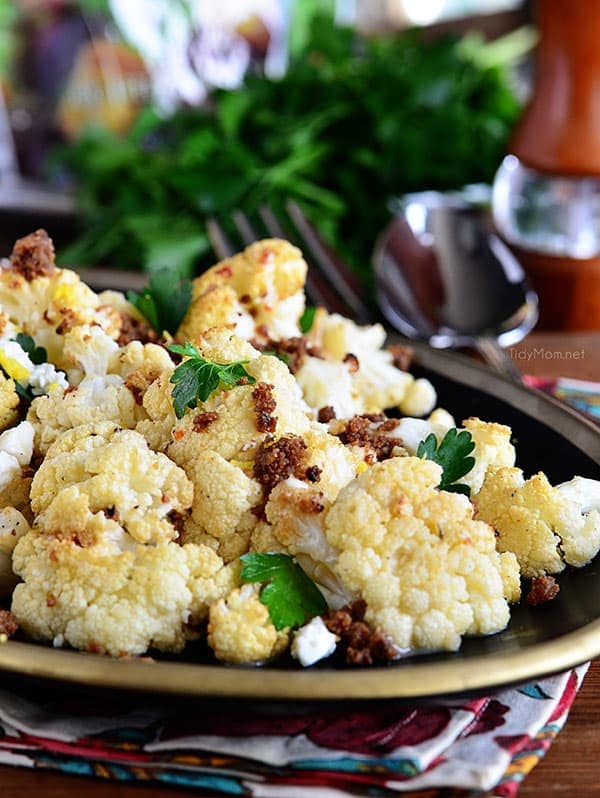 When the cauliflower came out of the oven, I placed the florets in the bowl I had used earlier and tossed them with a little lemon juice and more Marzetti Sweet Italian Dressing and salt and pepper to taste.
I then placed the fragrant cauliflower in a pretty serving dish, sprinkled with the brown butter-drenched garlic crouton crumbs, a little feta cheese and scattered a few gratings of lemon zest and parsley before placing it on the table.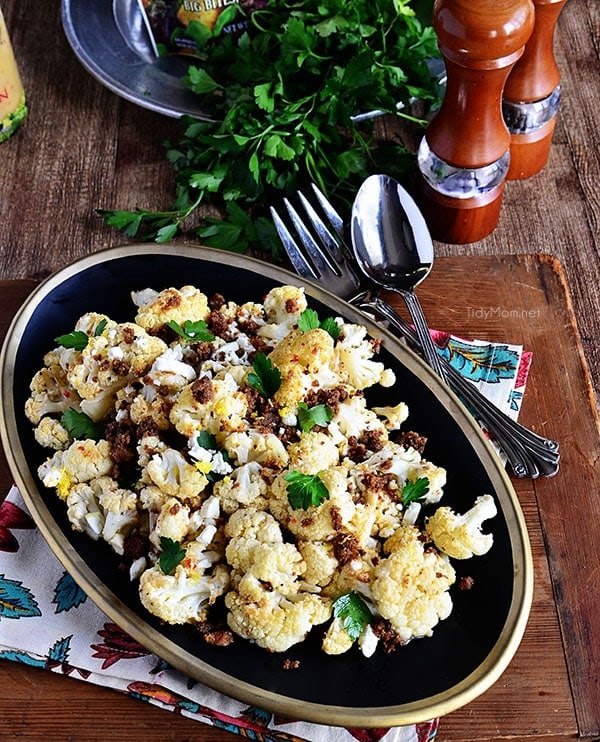 It was love at first bite………but I have to tell you, I almost enjoyed it more as it sat and cooled to room temperature, and OMG if you get some of the last serving, all the good stuff falls to the bottom and you get the BEST serving!!
You guys! My non-vegetable eating husband tried this!! THAT was a shocker, but even more, so…..he actually said HE LIKED IT!!! Score one for ME!!! Roasted Cauliflower with Feta & Garlic Crumbs 1, bad eating habits -ZERO!
This is a great side dish served with chicken, like Honey Soy Baked Chicken or Crispy Oven Fried Buffalo Ranch Chicken Strips
Print this roasted cauliflower recipe below
This is a great side dish for a weeknight meal, company or would be wonderful at an Easter dinner table!
You can even make the crumbs in advance to make it all even a little quicker.
So tell me…….are you a fan of Cauliflower?
Like This Roasted Cauliflower Recipe? Pin It!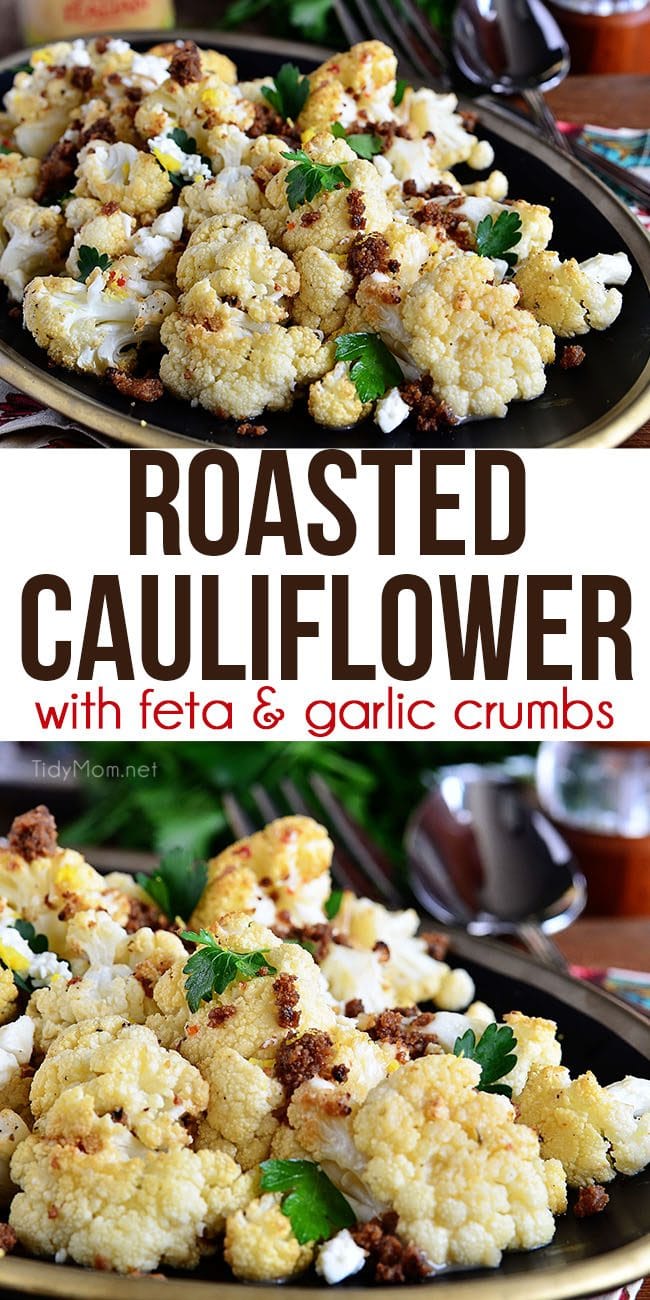 I created a fun little group on facebook and I'd love for you to join in! It's a place where you can share YOUR favorite recipes, home tips, creative ideas and ask questions and see what's new with TidyMom! If you'd like to check it out, you can request to join HERE. Be sure to follow me on Instagram and tag #tidymom so I can see all the wonderful TidyMom recipes YOU make and tips YOU use!
Connect with TidyMom! Facebook | Twitter | Google+ | Pinterest | Instagram
Sign up to receive an email in your inbox for each new recipe: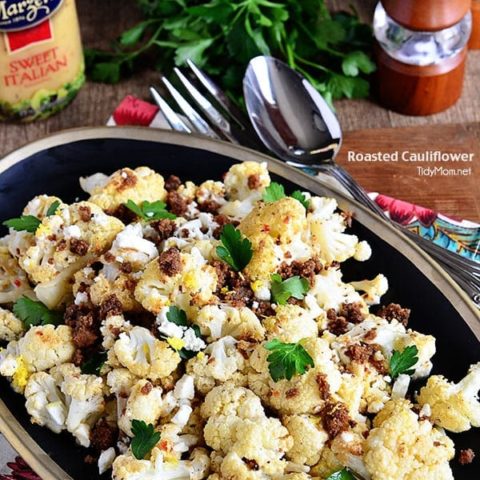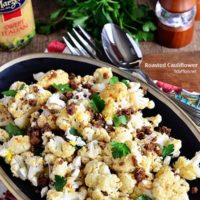 Roasted Cauliflower with Brown Butter & Garlic Crumbs
Yield: 6 servings
Prep Time: 10 minutes
Cook Time: 30 minutes
Total Time: 40 minutes
Roasted cauliflower goes to a whole new level when you add sweet Italian dressing, feta cheese and brown butter and garlic crumbs!
Ingredients
1 head cauliflower, about 2 lbs.
5 tablespoons butter (separated)
Salt and freshly ground black pepper
1/3 cup sweet Italian Dressing (separated)
3/4 cup crushed Texas Toast Garlic and Butter Croutons
1 teaspoon minced garlic
1 tablespoon lemon juice
4 ounces feta cheese, crumbled
Few gratings of lemon zest
2 tablespoons chopped fresh parsley
Instructions
Preheat the oven to 400°F. Smear 1 tablespoon softened butter over the bottom of a parchment lined sheet pan using your hands then set aside.
Cut cauliflower into florets. Transfer to a large bowl and gently toss with 3 tablespoons of Marzetti Sweet Italian Dressing, salt and pepper.
Scatter seasoned florets evenly over pan and roast 12 to 15 minutes or until golden brown. Using a spatula, turn the pieces over and roast an additional 10-15 minutes or until the other side is golden brown and easily pierced with a knife.
Make Brown Butter Garlic CrumbsWhile cauliflower is roasting, melt 4 tablespoons of butter in a heavy skillet over medium heat. Continue to cook butter after it is melted until it's slightly brown, and smells toasty. Add the crushed croutons, garlic, salt and pepper and cook together, stirring frequently about 5-10 minutes until crumbs are a shade darker.
To Assemble DishPlace cauliflower florets in a bowl. Toss gently with lemon juice, remaining Italian dressing, salt and pepper to taste. Spoon crumbs and feta over cauliflower. Serve warm or room temp in a low serving dish or bowl, garnish with lemon zest and parsley.
Notes
You can make the crumbs ahead of time for quicker prep.
We enjoyed this side dish both warm and at room temperature.
If you don't have croutons, you could use breadcrumbs.

Disclaimer: I have a working relationship with Marzetti as part of their ambassador program. As always, all views and opinions are my own.
Tidymom is a participant in the amazon services llc associates program, an affiliate advertising program designed to provide a means for sites to earn advertising fees by advertising and linking to Amazon.com.
Please respect my work, recipes and photographs. If you do use a recipe in your own writing, please give proper credit and link back to the original post.