Caramel Butter Pecan Cake with Bourbon Frosting
This Caramel Butter Pecan Cake With Bourbon Frosting is the best way to spice up dessert. Every bite is filled with a perfect mix of crunchy toasted pecans, silky smooth caramel, and sweet fluffy frosting with a hint of bourbon, making it sinfully delicious.
Be sure to sign up for my email… to get new recipes and ideas in your inbox!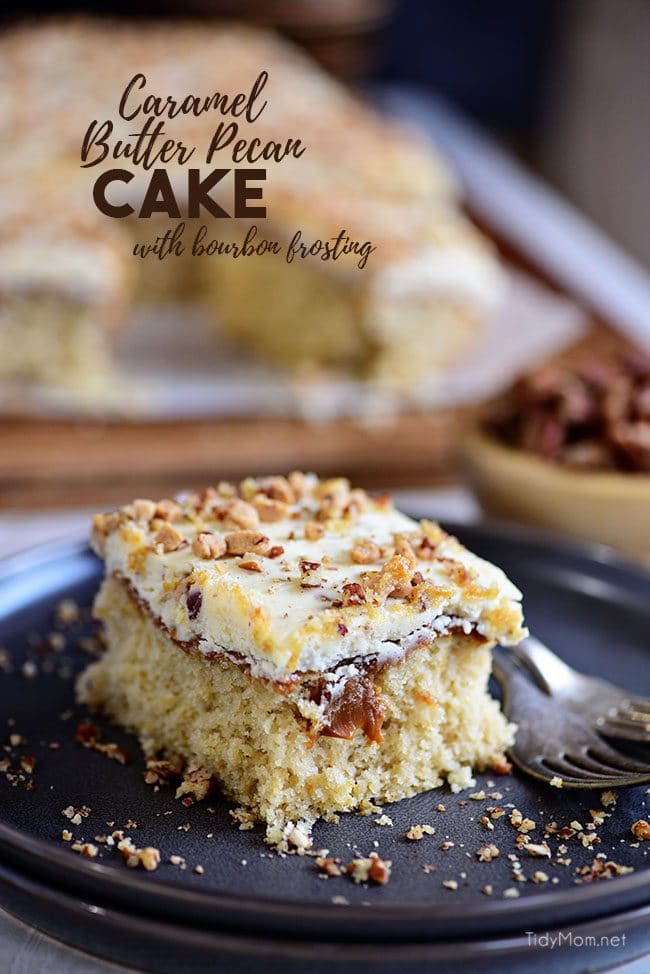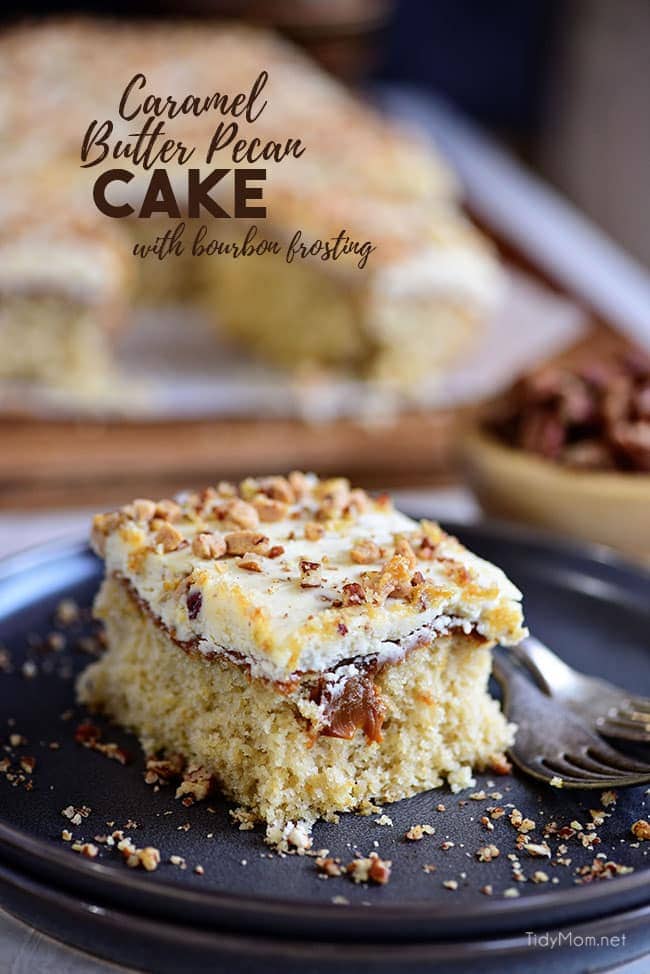 Click HERE to save recipe to Pinterest!
Caramel Butter Pecan Cake With Bourbon Frosting
I'm a firm believer that taking shortcuts isn't something to be ashamed of. It means you have extra time in your day, and that something to celebrate! That's why I'm so excited to share this caramel butter pecan cake with bourbon frosting that's made with a box mix!
It's time to get a little boozy with a cake that packs just enough punch to set it apart! This soft and moist spiced cake is taken to the next level, loaded with toasted pecans, rich caramel, and topped with homemade bourbon frosting that will change your life!
It's the perfect recipe for any baking beginners, but delicious enough to make it look like it took pro-level skills.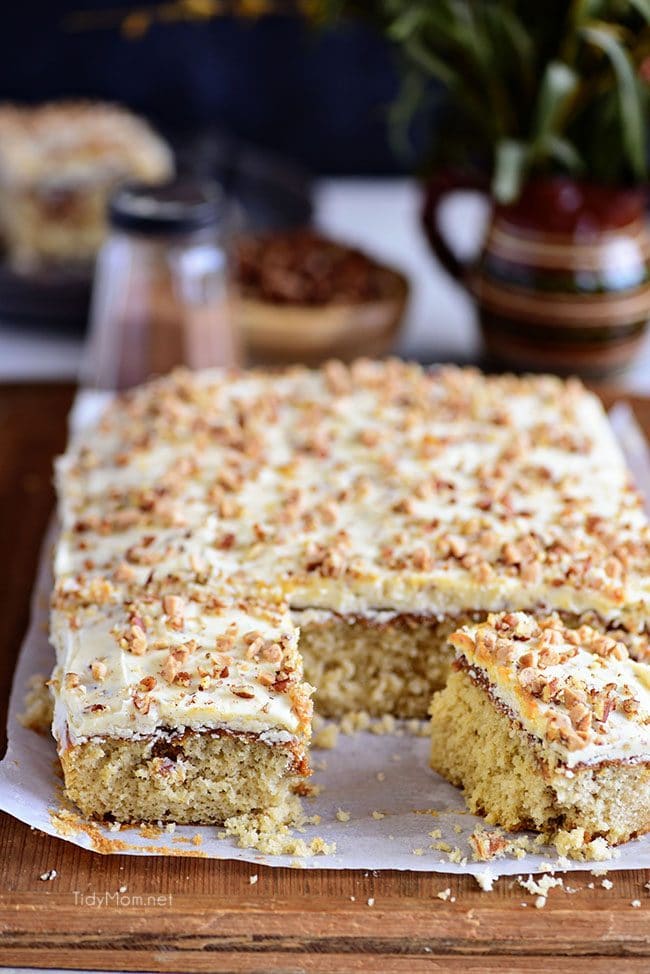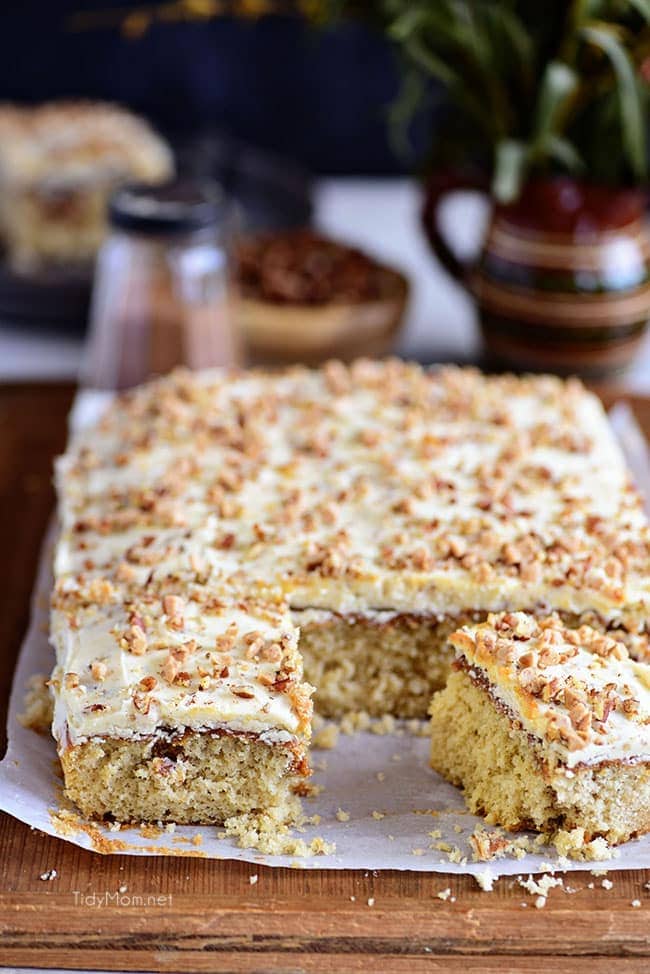 How To Make Bourbon Frosting
(full printable recipe at end of post)
Homemade frosting can seem intimidating sometimes, especially when you can easily just buy some canned frosting to slap on any cake. While yes that will always be easier, I promise homemade frosting is actually pretty simple to make, and SO worth it!
To make this bourbon frosting its a simple as following these simple steps:
Using an electric mixer beat the butter and egg yolk then beat in the sugar.
Mix in the cream, vanilla, bourbon, and salt until fluffy.
Stir in toasted pecans into the frosting.
Can I make it non-alcoholic? YES! To make this recipe completely alcohol free just skip the bourbon and increase the cream by 2 tablespoons and you'll be good to go!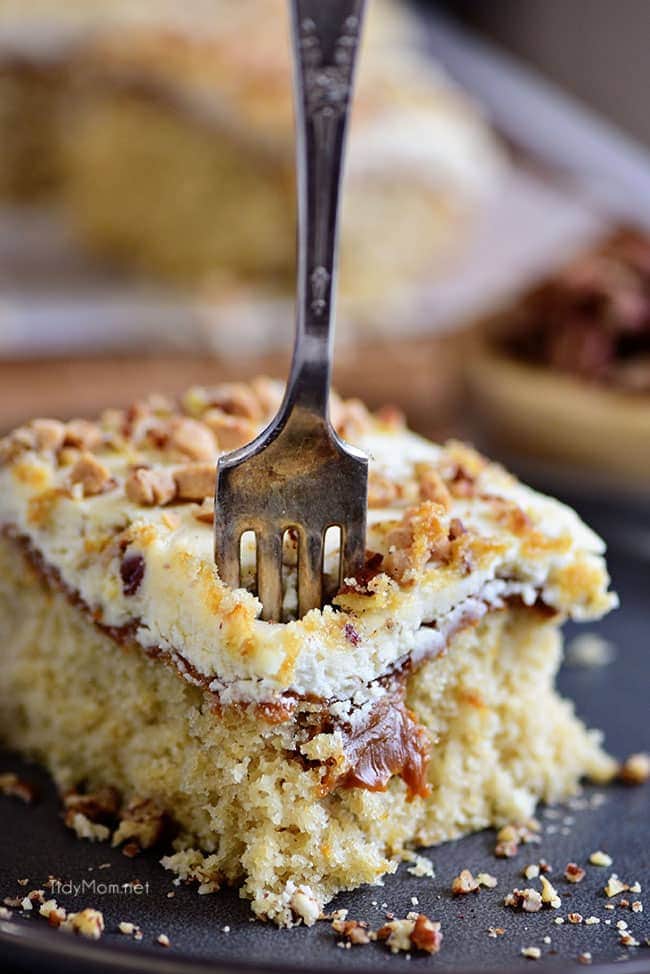 Tips for a Quick and Easy Butter Pecan Cake Recipe
Follow the box directions: I used a Betty Crocker cake mix, if you use another brand, follow their ingredients and directions on the box for making the cake in this recipe — or if you have a butter pecan cake recipe you love, just prepare and bake according to that recipe.
Where to find dulce de leche: I sometimes have trouble finding dulce de leche in the grocery store – look either in the baking aisle near the sweetened condensed milk or in the Mexican section by the taco shells.  You can also buy it from Amazon or Williams-Sonoma.
How to store the leftover cake: It's best to keep the cake refrigerated in an airtight container to avoid premature spoiling. It will last in the refrigerator for up to one week. If stored in the freezer, it will keep for up to 3 months.
Can I Make This A Layered Butter Pecan Cake?
Of course! If you're looking to amp up the presentation of the cake, or you only have round pans then you can definitely make the recipe as a layered cake instead!
Just follow these simple modifications and you'll be smooth sailing all the way to a bakery style cake!
Grease and flour 2 (9-inch) cake pans. Cut 2 circles of parchment paper to fit the bottoms of the pans, then press them in (this will make it easier to remove the cake from the pan).
Adjust the baking time to 30-35 minutes or until a toothpick comes out clean
Run a knife around edge of cakes to loosen from pan. Turn upside down onto cooling racks, placing waxed paper under racks to catch drips. Leave pans over cakes 1 minute before removing. Cool completely, about 1 hour.
Spread 1/3- 1/2 of the frosting and caramel in between the 2 layers, saving the rest for just the top or top and sides based on your decorating preferences.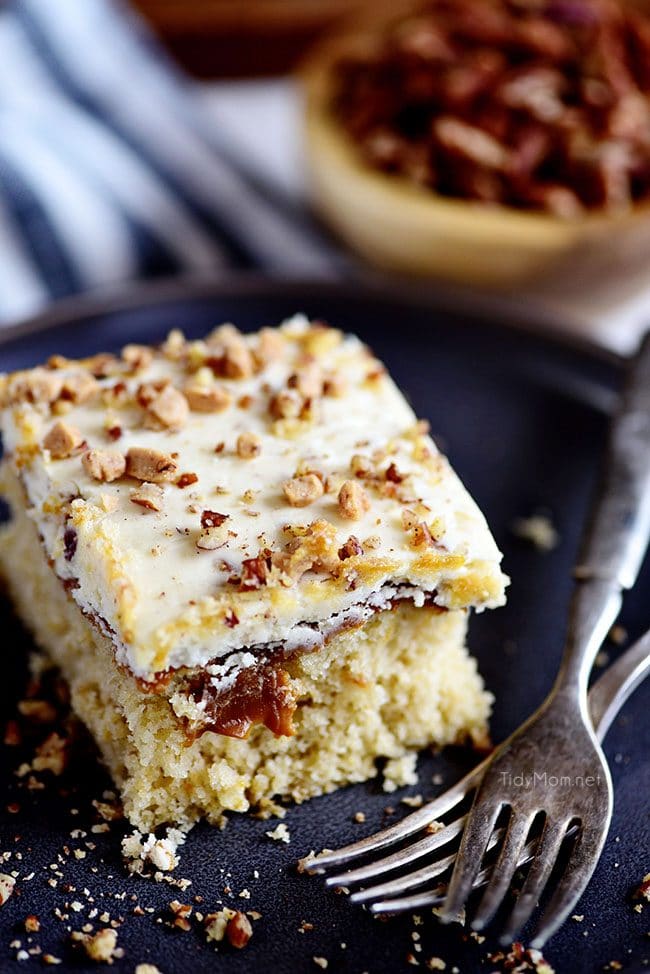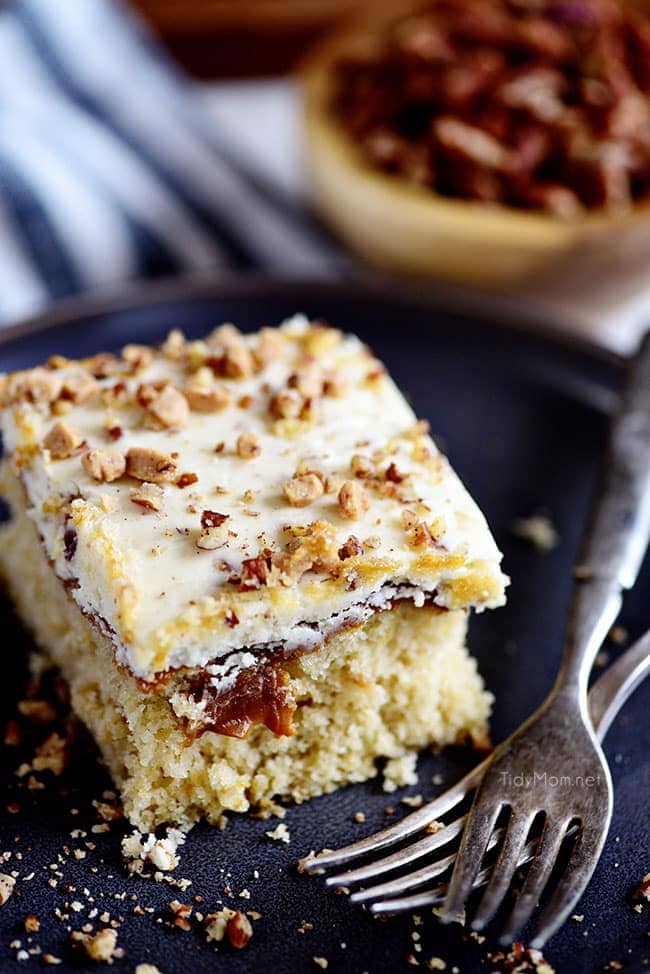 Order Up! Serving A Butter Pecan Cake
This is definitely one of those cakes where I want to eat a slice a soon as the last bit of frosting is spread! Can you blame me with a cake that looks this good?
Let me tell you, it's pretty amazing fresh and room temperature, but you haven't lived until you try this butter pecan cake right out of the refrigerator the next day.
In that 12 hours as the cake sits overnight, something magical happens and all the ingredients really get to know each other creating the most amazing flavors! I highly recommend serving it up that way, alongside a Smashing Pumpkin Cocktail to really get you in the fall mode!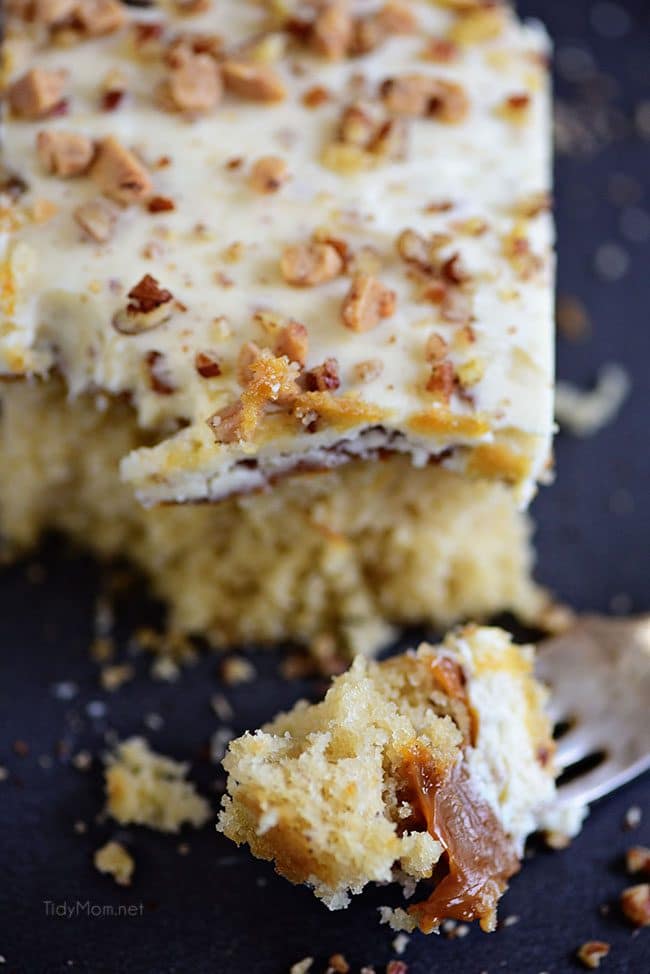 Have Your Cake and Eat It Too with More Cake Recipes
Malted Chocolate Cake With Marshmallow Filling If you only have the chance once in your life to eat chocolate cake, let it be this Malted Chocolate Cake with Toasted Marshmallow Filling.  You'll die happy and complete, I promise.
Sour Cream Pound Cake This pound cake is velvety, buttery, rich and perfectly creamy filled with the moistness and flavor of sour cream. This generational recipe will become a true classic in your family for years to come.
Salted Caramel Cheesecake With Chocolate Ganache topped with a sticky caramel sauce, chocolate ganache and a sprinkle of sea salt, you'll be in heaven after the first bite!
Old Fashioned Peanut Butter Cake a good old Southern potluck staple that's reached cult status.  The hot peanutty frosting gets poured right onto the warm cake, and the whole thing gets showered with roasted peanuts.
Chocolate Raspberry Bundt Cake an intense chocolate cake with a surprise raspberry filling and a hint of raspberry liquor in every bite.  Covered in a Chocolate Chambord Glaze and simply garnished with fresh raspberries.
Cinnamon Apple Layer Cake incredibly moist, made with fresh apples and has the most amazing apple filling! It's the perfect fall cake!
LIKE This Caramel Butter Pecan Cake Recipe? Pin it!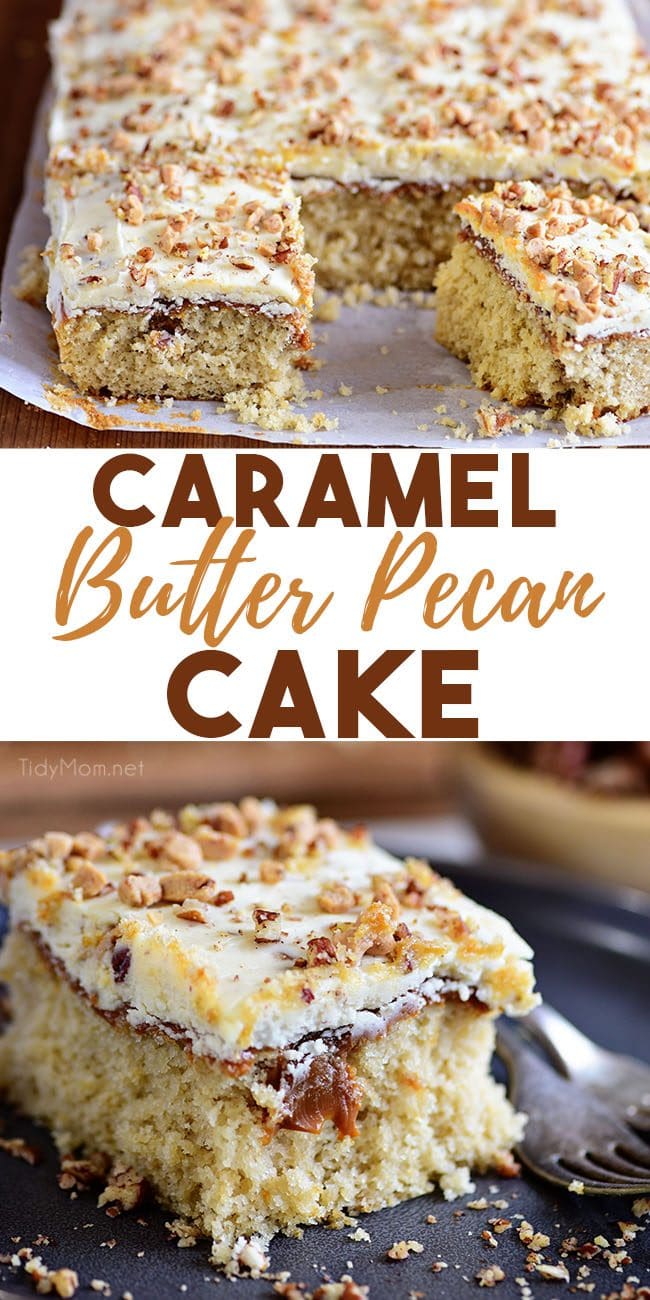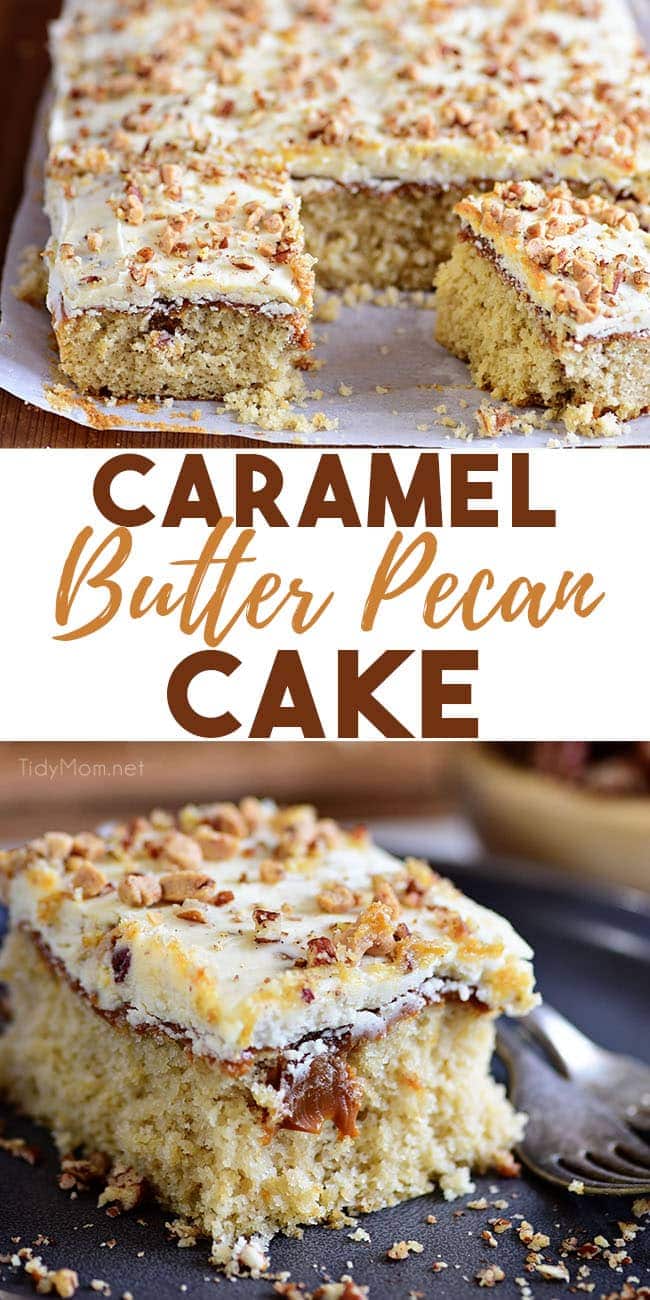 The only regrets you'll have with this butter pecan cake is that you didn't make a double batch. So, don't waste any more time, you only need a few minutes to whip up the recipe, and what better time than now? I can't wait to hear about how much you love it!
I created a fun little group on facebook and I'd love for you to join in! It's a place where you can share YOUR favorite recipes, home tips, creative ideas and ask questions and see what's new with TidyMom! If you'd like to check it out, you can request to join HERE.
Be sure to follow me on Instagram and tag #tidymom so I can see all the wonderful TidyMom recipes YOU make and tips YOU use!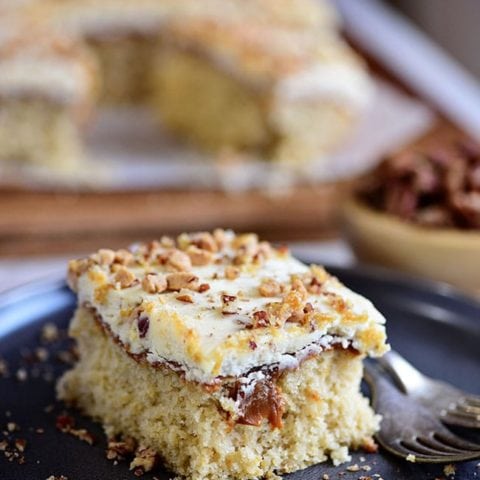 Caramel Butter Pecan Cake with Bourbon Frosting
Total Time:
1 hour
20 minutes
This Caramel Butter Pecan Cake With Bourbon Frosting is the best way to spice up dessert. Every bite is filled with a perfect mix of crunchy toasted pecans, silky smooth caramel, and sweet fluffy frosting with a hint of bourbon, making it sinfully delicious.
Ingredients
for cake
1 box Butter Pecan Cake mix (I used Betty Crocker)
3 large eggs
1/2 cup vegetable oil
1 cup water
for frosting
1 cup unsalted butter, softened
1 large egg yolk
1 pound (or 4 cups) powdered sugar
1/4 cup + 2 tablespoons heavy cream
2 tablespoons bourbon
pinch of salt
garnish
toffee bits or toasted pecans, chopped
Instructions
for cake
Heat the oven to 350° F. Grease or spray bottom only of 13x9-inch pan.
In a large bowl, beat cake mix, water, oil, eggs with electric mixer on low speed for 30 seconds, then on medium speed 2 minutes, scraping bowl occasionally. Pour into pan. bake 28-33 minutes, until the cake is golden and a toothpick inserted into the center of the cake comes out clean. Remove the cake from the oven and cool completely.
Using the handle of a clean wooden spoon, poke holes in the cake, almost to the bottom of the pan, about every inch. Place dulce de leche in microwave safe bowl and microwave on high for about 30 seconds. Stir and see if it's pourable. If not continue to microwave in 10-second intervals, stopping to stir. Pour the dulce de leche over the top of the cake using a rubber spatula to spread it out and fill the holes.
for frosting
In a standing mixer fitted with the whisk, beat the butter and egg yolk at medium-high speed until creamy. Beat in the sugar at low speed. Beat in the cream, vanilla, bourbon, and salt, then beat at medium-high speed until fluffy, 3 minutes longer. Beat the toasted pecans into the frosting.
Spread frosting over cake layer and top with toffee bits or toasted pecan pieces. Slice and serve. Store cake covered in the refrigerator.
Notes
I used a Betty Crocker cake mix, if you use another brand, follow their ingredients and directions on the box for making the cake in this recipe -- or if you have a butter pecan cake recipe you love, just prepare and bake according to that recipe.
I sometimes have trouble finding dulce de leche in the grocery store - look either in the baking aisle near the sweetened condensed milk or in the Mexican section by the taco shells. You can also buy it from Amazon or Williams-Sonoma.
If you want to leave out the bourbon, you may need to just increase the cream by 1-2 tablespoons.
recipe adapted from Jo Cooks