Malted Chocolate Cake with Toasted Marshmallow Filling
If you only have the chance once in your life to eat chocolate cake, let it be this Malted Chocolate Cake with Toasted Marshmallow Filling.  You'll die happy and complete, I promise.

I have a confession to make………cake decorating kind of scares me.  I'm not sure why, but it does.  For years I always just made cake using a 9×13 pan, frosted the top with a knife and called it a day.
Then not long after I started blogging, I began reading blogs that inspired me to try new things. So many share the most mouth watering, hip widening confections.  Many believe cakes should be beautiful from the inside out.  They generously share HOW to make and decorate cakes on their blogs.
I made my very first layered decorated cake, learned tips to decorate a Thin Mint Cake for my mom, I felt like a star when I made a gorgeous Rose Cake for my Aunt, and started to think creatively when I decorated a cake covered in chocolate chips for a friend's birthday .  Yep, I have baking bloggers to thank for all those amazing cakes!
Malted Chocolate Cake with Toasted Marshmallow Filling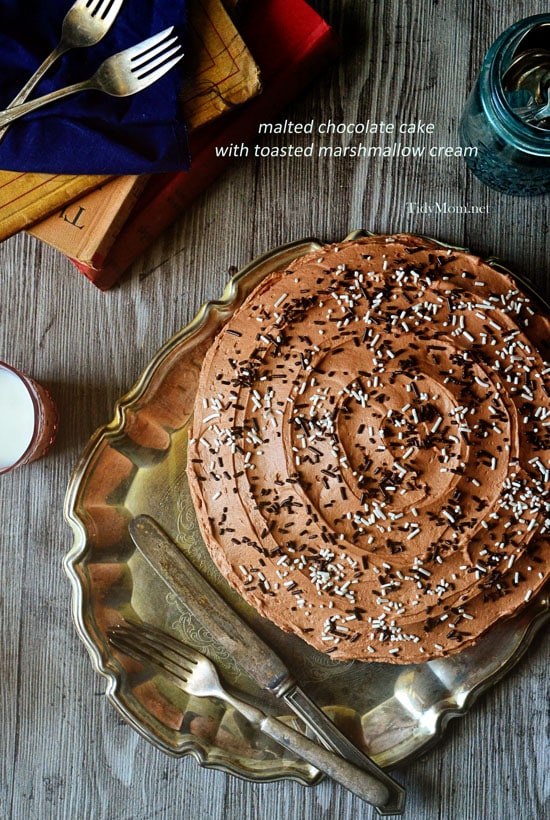 The cake I made today is a chocolate lovers dream cake!  I first spotted the cake over at Brown Eyed Baker in six layers of glory!  Michelle slightly adapted the cake recipe from Rosie at Sweetapolita.
If you hang around here much, you know how much I LOVE to doctor the Duncan Hines Dark Chocolate Fudge cake mix just a little.  It's my very favorite for a rich, moist delicious chocolate cake.
I wanted to keep this cake more simple all around.  So I made it using just 2 nine-inch cake layers, with just one layer of the most amazing Toasted Marshmallow Cream Filling.   This stuff people was DREAMY!!! I've had marshmallow cream filling before, but toasting 16 large marshmallows to mix in with the marshmallow fluff is what puts this cream filling over the top.  I'm already dreaming up more recipes I can use it in……….so stay tuned for another appearance of that star!
If you wanted to make a 4 layer cake instead, you could easily do so with the cake mix by using 8″ cake pans and cut your layers in half.  But again…………simple was my goal here.
Since my cake was smaller, I only made half the Malted Chocolate Frosting that Rosie and Michelle made for six layers – so keep that in mind if you choose to make 4-6 layers.
Like this Malted Chocolate Cake with Toasted Marshmallow Filling? PIN IT
Let's get baking this Malted Chocolate Cake
don't let the length of this recipe scare you.  It's really pretty simple, and believe me, it's worth every moment!!
Want more great recipes like this? Follow my TidyMom Easy Recipes Pinterest Board