Dark Chocolate Frosted Yellow Cake with Raspberry Preserves
Dark Chocolate Frosted Yellow Cake with Raspberry Preserves: A moist yellow cake with deep-dark, fudgy chocolate icing covered in chocolate chips and a layer of raspberry preserves inside makes this cake the ultimate treat for any occasion.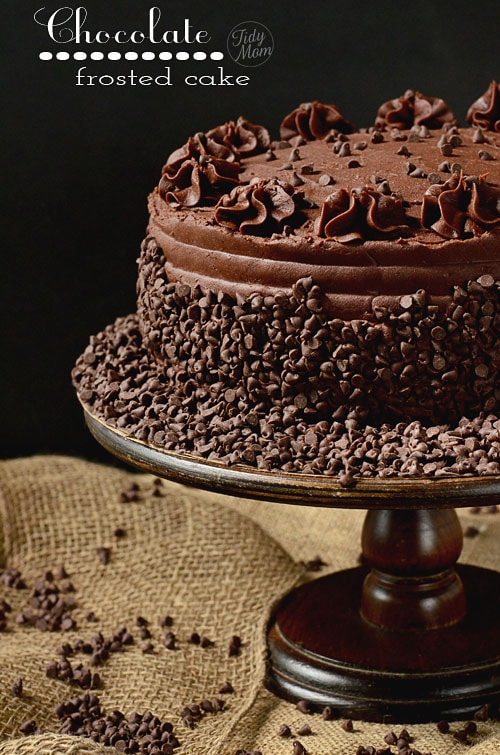 Don't you love when you manage to pull off something as good as you had imagined it would be?  That's what happened with this Chocolate Frosted Yellow Cake!
The frosting get's all the glory in the picture, but let me tell you, the yellow cake with raspberry filling was every bit as worthy!
Our oldest daughter, Heather recently asked me if I could make a birthday treat for one of the other stylists at work.  The birthday girl wanted a yellow cake with chocolate frosting.
I was getting a little tired of cupcakes, so thought I'd throw caution to the wind and make a cake, but I wasn't quite sure how to decorate it.
Isn't it funny how life can throw you little hints?
I was surfing a few decorating blogs one day because I'm getting new kitchen appliances and I'm wanting new family room furniture too……let's just say, I'd love to re-decorate the whole house!
Any who….. I happened to be viewing a kitchen makeover that had a gorgeous chocolate cake just sitting on the counter.  A chocolate cake covered in mini chocolate chips!  BINGO!! I could do THAT!
This cake not only turned out fun and delicious, but was really so easy to make!  No "mad" pastry or cake decorating skills needed!
I doctored up a boxed cake mix a bit, used frozen raspberries and raspberry jam for the filling and a simple Chocolate Frosting recipe from Martha Stewart. (recipes below)
The only small issue I had was with the frosting recipe.  I first looked it up online and it didn't take long to realize the recipe was off……4 1/2 sticks of butter, but only 1/4 cup powdered sugar? – yeah it was WAY runny.

So I pulled out my Martha Stewart Cupcakes book and found the Dark Chocolate Frosting recipe in there on page 302, and found it to be quite different, calling for only 3 sticks of butter with 1/2 cup powdered sugar.  So since I had already incorporated 4 1/2 sticks of butter, I had to guess how much sugar I should add………and it still seemed way to runny, so I just kept adding sugar and mixing.  I'm going to guess I used about 2 cups of powdered sugar, and it worked just great, and still tasted amazing, smooth and very chocolatey.
How to Decorate a Chocolate Frosted Yellow Cake:
place cake on cardboard or cake round and crumb coat cake with frosting (see how and why to crumb coat a cake)
frost cake (how to frost a cake for a blank canvas) – be sure to save some frosting for decorating the top of the cake
Go around sides of cake with a Wilton Triangle Cake Decorating Comb (I only did the top half, because the bottom half will be covered in chocolate chips)
Press handfuls of mini chocolate chips into the side of the cake (I wore candy handling gloves to keep the chocolate from melting all over my hands) – go all the way around until you've covered the entire bottom half or 2/3 of the cake.
Using a 1M tip and pastry bag gently squeeze bag to form a small star-shaped flower around the top of the cake
Sprinkle the top of cake with a few mini chocolate chips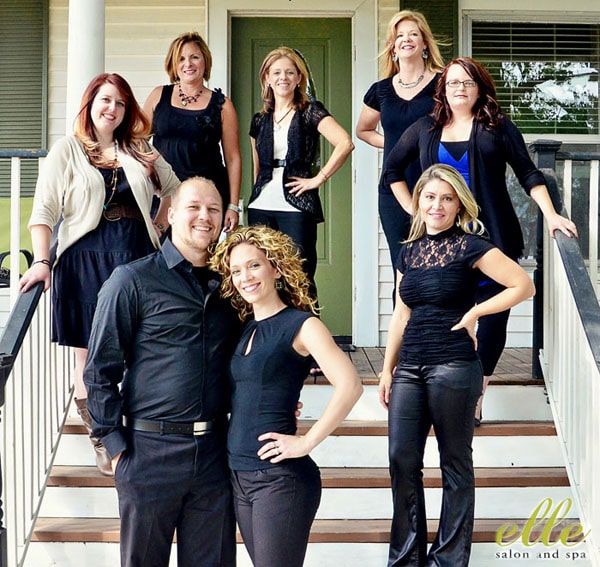 I delivered the cake on Friday and brought along my camera to take some pictures of the staff at the salon so they can update their website and use them to announce that they just won BEST SALON in St. Louis County!!
So if you're in the area and if you love Aveda products, I highly suggest you check out Elle Salon and Spa in Eureka, MO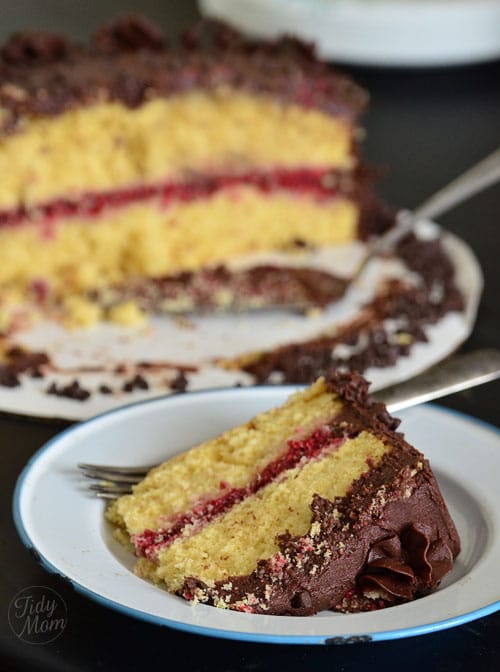 If you follow me on Twitter, you may have heard my cry last week asking for filling suggestions.  Some great suggestions were made, and the birthday girl chose raspberry.
The rasberry filling was just what this cake needed! I think the tangy raspberries offset the sweet frosting and made this cake taste every bit as decadent as it looked!
One last look at the whole cake…………..
What's your favorite cake and frosting flavor combination?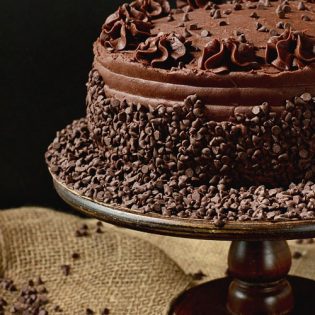 Dark Chocolate Frosted Yellow Cake with Raspberry Preserves
Ingredients:
For Cake
1 Box Duncan Hines Classic Yellow Cake Mix
1 scant cup water (a little less than a cup, but more than 3/4)
1/3 cup butter, melted
3 eggs
For Raspberry Filling
1 cup Frozen Raspberries, thawed and drained
2/3 cup raspberry preserves
For Dark Chocolate Frosting
1/2 cup plus 1 tablespoon unsweetened cocoa powder (I used Ghirardelli)
1/2 cup plus 1 tablespoon boiling water
2 1/4 cups (4 1/2 sticks) unsalted butter, room temperature
2 cups powdered sugar, sifted
1/4 teaspoon salt
1 1/2 pounds semisweet chocolate, melted and cooled (I used Ghirardelli)
12 oz mini chocolate chips for decorating
Directions:
For Cake:
Heat oven to 350°. Grease and flour two 9 inch round cake pans (I like to simply spray my pans with Pam Baking Spray
Using a large mixing bowl, combine cake mix, water, butter and eggs and mix with electric mixer on low for one minute, scrape sides, then mix on high for one minute. Pour evenly into the two prepared pans.
Bake for 25 to 30 minutes in preheated oven, until a toothpick inserted comes out clean. Cool for 10 minutes before removing from pans to cool completely.
For Raspberry Filling:
In a small bowl, combine raspberries and preserves.
Place one cake layer, bottom side up on cardboard with 2 pieces of parchment paper between cake and cardboard; spread cake with raspberry mixture, leaving a 1-inch border. Top with second cake layer, bottom side up.
For Dark Chocolate Frosting:
Combine cocoa and the boiling water, stirring until cocoa has dissolved. With an electric mixer on medium-high speed, beat butter, confectioners' sugar, and salt until pale and fluffy. Reduce speed to low. Add melted and cooled chocolate, beating until combined and scraping down sides of bowl as needed. Beat in the cocoa mixture.
http://www.marthastewart.com/355400/dark-chocolate-frostingFrost cake, remove parchment paper from under cake, then garnish with mini chocolate chips.
Making this recipe? Share it with us on Instagram using the hashtag #TidyMom so we can see what you're creating in the kitchen!
Want more great recipes like this? Follow my TidyMom Easy Recipes Pinterest Board