Morning Glory Muffins (& Energy Snack)
This post may contain Amazon or other affiliate links. As an Amazon associate, I earn from qualifying purchases.
Power start your day with delicious, hearty, nutrient-packed Morning Glory Muffins. A satisfying energy snack muffin with veggies, fruits, and nuts. Freeze for a grab & go the whole family will love!
Looking for other delicious snack and breakfast muffin recipes? Try light, moist, Easy Cinnamon Roll Muffins, tasty, tangy Cranberry Pecan Muffins, and moist, cake-like Glazed Pumpkin Doughnut Muffins (not just for Fall anymore!).
Be sure to sign up for my email… to get new recipes and ideas in your inbox!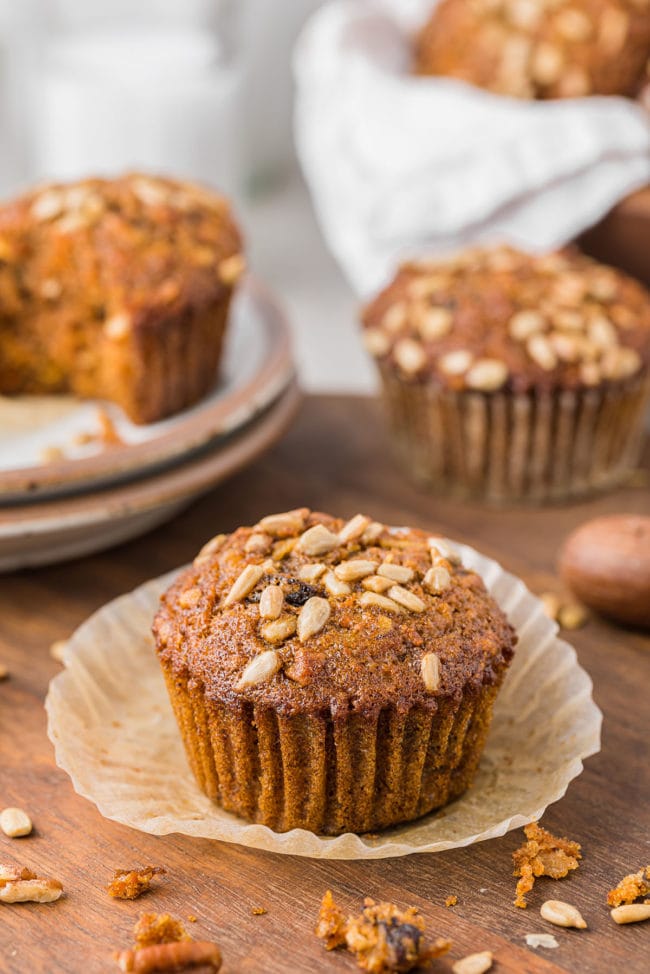 Why Morning Glory Muffins Make Glorious Mornings
Don't let the "morning" in the morning glory muffin recipe fool you. This scrumptious energy snack muffin offers a crunchy, chewy, appetite-crushing nosh that will hold you over for hours!
Good & Plenty: Packed with carrots, coconut, apples, raisins, and your favorite nut in a moist, pleasing texture.
Tasty & Healthy: Delicious healthy alternative to pre-packaged, snooze-inducing toaster pastries or other sugar-laden "snacks."
Bake & Take: A sturdy hold-together breakfast muffin or after-school snack that won't trash your car!
Time-Saving: These snack muffins are marvelous for making a double batch and freezing for later.
Grab & Go: Morning glory muffins are ideal for grabbing on a busy day when a nutrient-packed afternoon energy boost is required!
Easy & Adaptable: No fuss sub-ins for healthy flavor variations or a pesky ingredient shortage.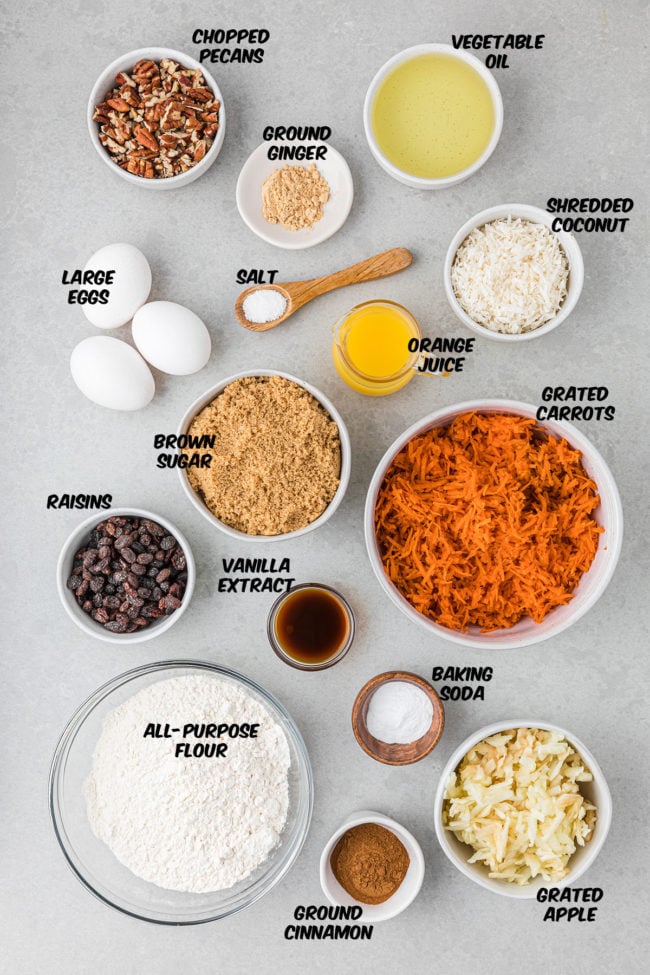 Morning Glory Muffin Recipe Ingredients
For specific amounts, please refer to the printable recipe card at the bottom of the post.
Dry Muffin Batter Ingredients:
All-Purpose Flour – you can use white, wheat, or half of each. Use the fluff, spoon, and level method to measure or weigh the flour on a food scale for the best results.
Brown Sugar – packed
Baking Soda – fresh baking soda is a MUST for a beautiful, fully domed muffin.
Ground Cinnamon & Ginger – fresh ground spices emit a pungent aroma when you open the bottle.
Salt
To test baking soda, place a few tablespoons of vinegar in a small dish and stir in about a teaspoon of baking soda. The mixture should immediately begin to fizz if the baking soda is still active; if there's little to no reaction, it's time to replace it.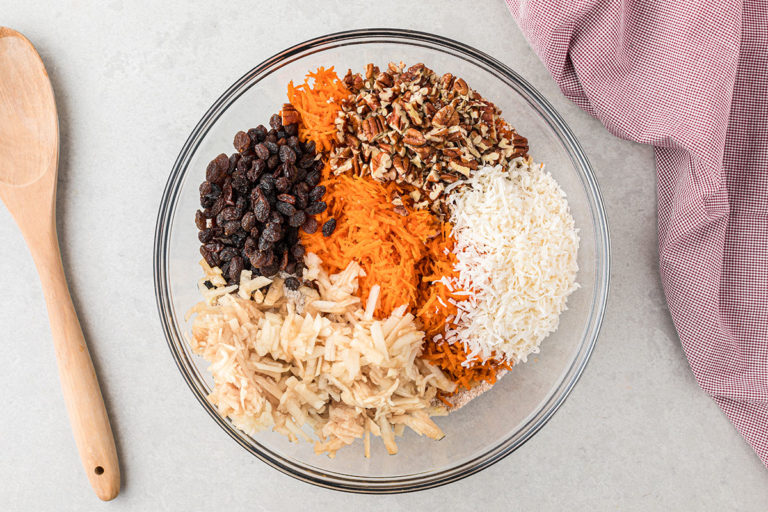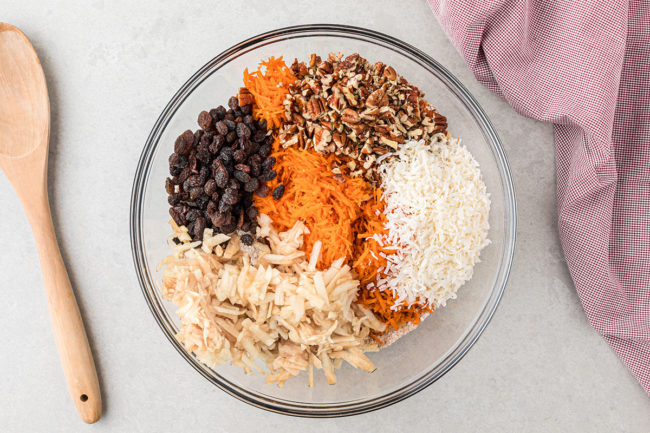 Veggie, Fruits & Nut Elements
Grated Carrots – wash, pat dry, and grate four large carrots.
Raisins – golden or dark raisins or a mixture.
Pecans Or Walnuts – chopped (and lightly toasted). You can use any of your favorite nuts: almonds, pistachios, or pepitas. Even Macadamians are yummy.
Coconut – sweetened or unsweetened, shredded.
Apple – preferably large and tart, peeled or not, and grated.
Wet Muffin Batter Ingredients
Eggs – room temperature will help the batter ingredients come together
Vegetable Oil – any neutral flavored or coconut oil lends a sweet, tropical aroma.
Orange Juice – you'll only need one decent-sized orange for freshly squeezed juice.
Vanilla Extract – use pure vanilla extract.
Optional Garnish: sunflower seeds. You can also use extra chopped nuts or coconut flakes.
DYK? The top two muffin mistakes (and quick bread) are caused by improperly measuring the flour and older (impotent) baking soda/powder.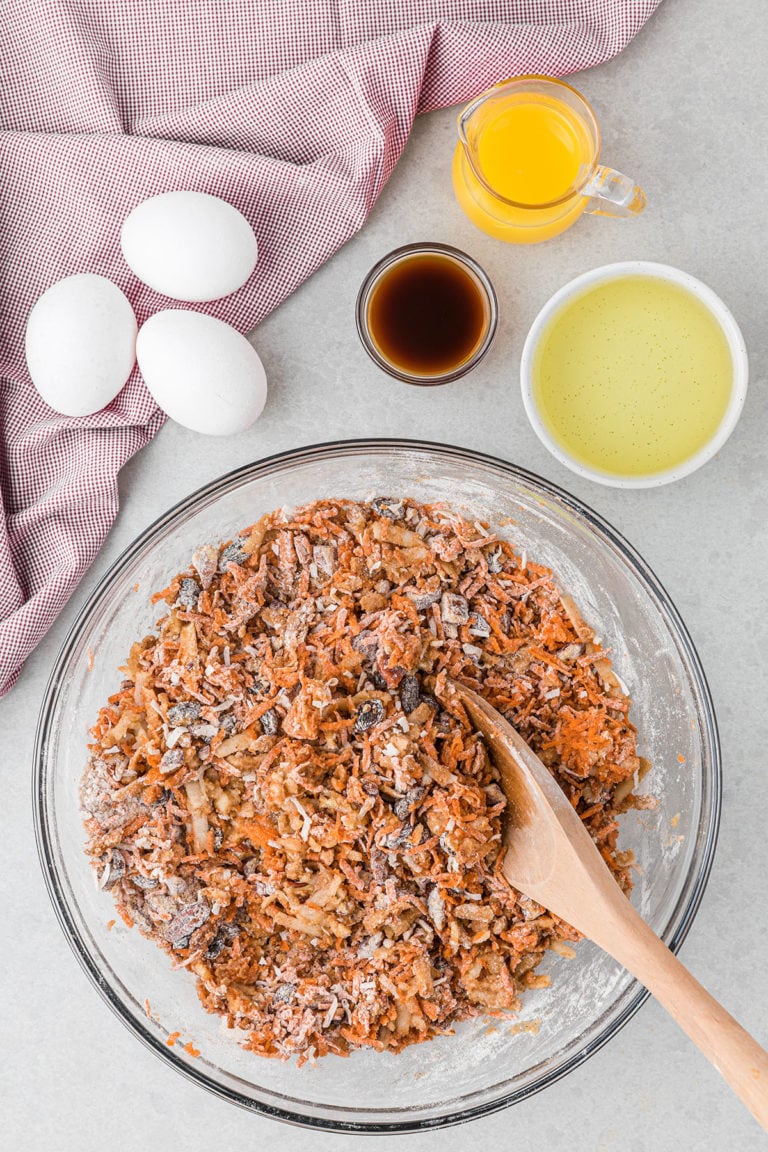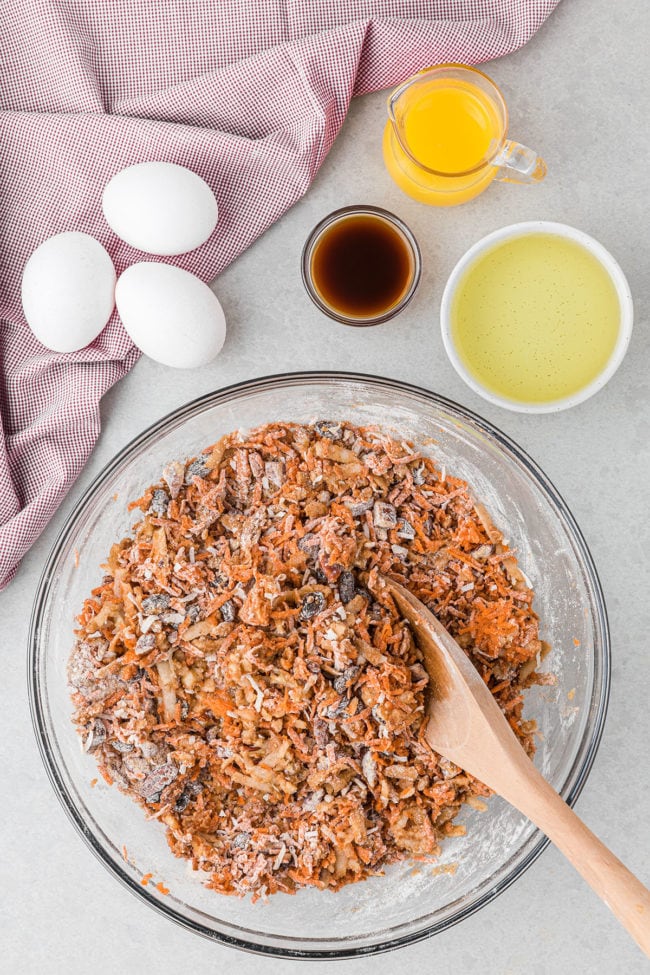 This post may contain affiliate links. Please read my disclosure policy here.
How To Make Morning Glory Muffins
Homemade morning glory muffins are a healthy, guilt-free way to start your day with a bunch of good stuff rolled into one high-energy food that will sustain you to lunch. So gather up your ingredients and tools: muffin tin, liners, bowls, grater or food processor, and wire rack.
When you are baking, you'll want to use the full recipe at the bottom of the page.
Combine the sifted, dry muffin batter ingredients with the prepared veggie, fruit, and nut ingredients.
Beat the wet muffin ingredients together, then stir into the flour mixture just until moistened. (No over-mixing!!)
Spoon morning glory batter into prepared muffin tins; fill to the top* and sprinkle with sunflower seeds.
Bake 20 minutes until tops are nicely domed and a toothpick inserted in the center comes out clean.
Cool muffins for 5-10 minutes, then transfer them to a wire rack.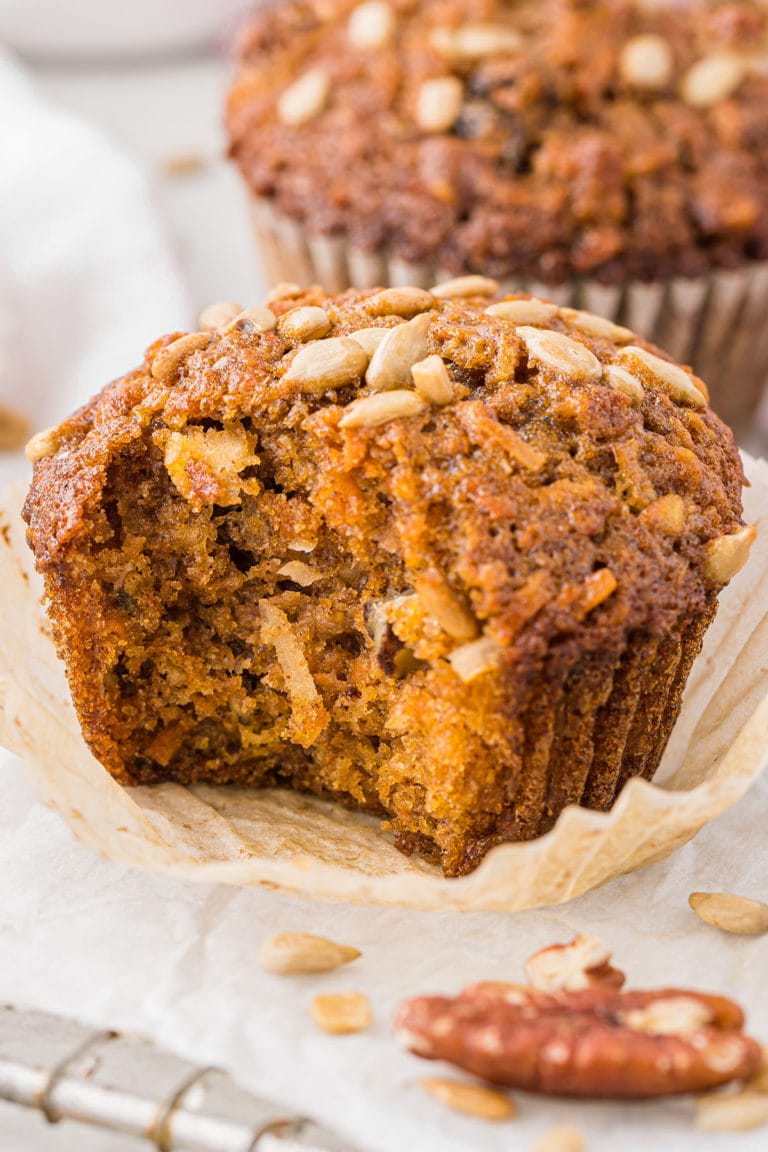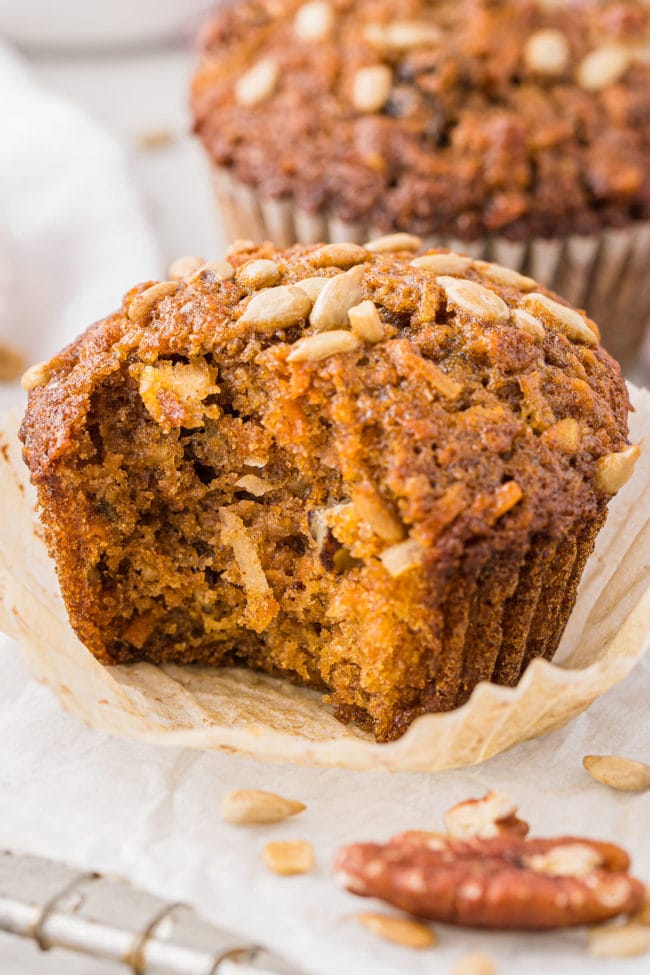 Morning Glory Muffins Recipe Notes and Tips
Too much flour will dry and densify morning glory muffins. BE SURE to correctly measure your flour. Weighing is the most accurate method or use the fluff, spoon, and level method.
A tried and true box grater for shredding the apple and carrots will give you great results, but a food processor will save elbow grease.
If you don't mind the peel, you can skip peeling the apples for morning glory muffins.
A quick prep tip, purchase pre-packaged shredded carrots to save time in the kitchen.
Increase the moistness of morning glory muffins by plumping your raisins. Just pour boiling water over the raisins for a few minutes.
When time permits, I prefer to lightly toast the nuts. This brings out the flavor more and helps them stay crunchier after freezing.
Pre-wrap several of these healthy morning muffins for hassle-free grab & go.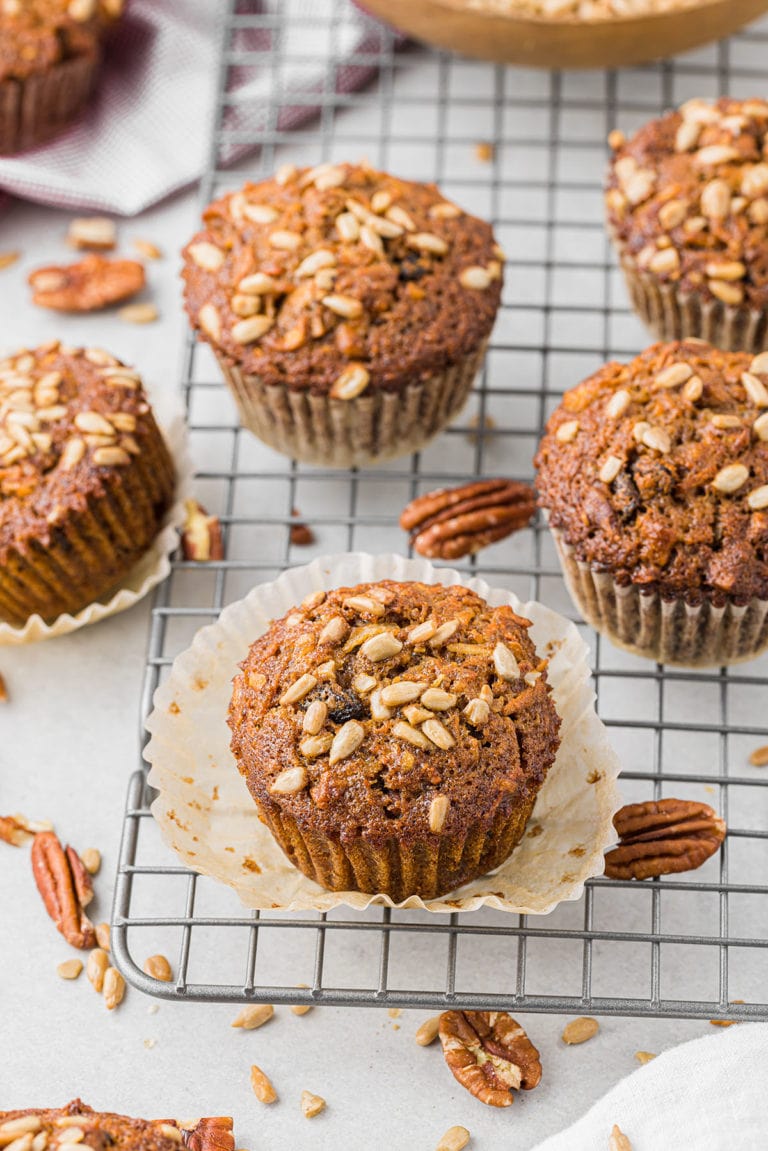 How To Store Morning Glory Muffin Energy Snacks
Extra moist morning glory muffins can stay fresh for two to three days at room temperature, depending on how humid and warm it is in your kitchen.
Keep the muffins in an airtight container. Place a napkin in the bottom of the container to absorb condensation in warmer kitchens.
Refrigerate
Morning glory muffins will keep in the fridge for up to a week. If you plan on using these muffins as a take-along energy snack, wrap them individually before putting them in an airtight container.
Freeze
These energy-packed muffins are best stored in an airtight container or zip-top plastic bag in the freezer for up to 3 months.
Thaw and Reheat
Set the muffins on the counter for 3 – 4 hours before serving or in the fridge overnight to thaw. Wrap individual muffins in aluminum foil and reheat them in a 350°F oven or toaster oven.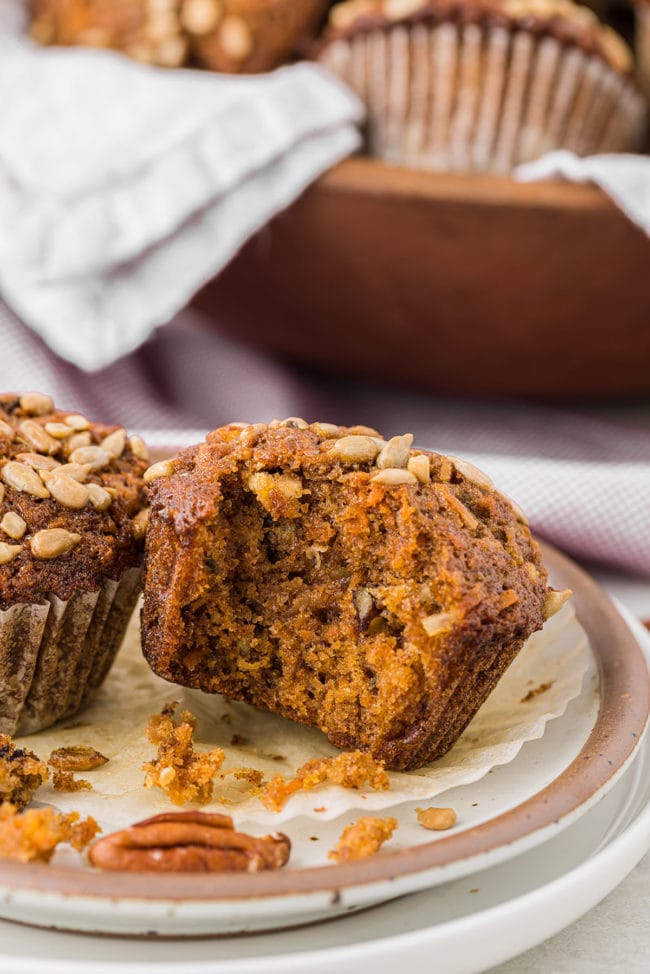 Morning Glory Muffins Recipe FAQs
What is a morning glory muffin?
A morning glory muffin is a hearty snack/breakfast power muffin known for its signature ingredients of carrots, apples, coconuts, and nuts. Spiced with warm notes of vanilla and cinnamon, these moist muffins are packed with various veggies, nuts, and fruits.
Are breakfast muffins good for you?
A breakfast muffin is only as good as its ingredients. That's what sets a homemade breakfast muffin apart from a store-bought muffin. Using natural ingredients, reducing sugars, and without chemicals, dyes, and preservatives in a homemade muffin recipe is the best way to ensure your breakfast muffins are healthy.
What does a morning glory muffin taste like?
A morning glory muffin tastes like a "tropical carrot nut cake" with cinnamon notes. This generalized flavor profile varies based on the morning glory muffin recipe, similar to how a carrot cake or banana bread recipe evokes a familiar flavor.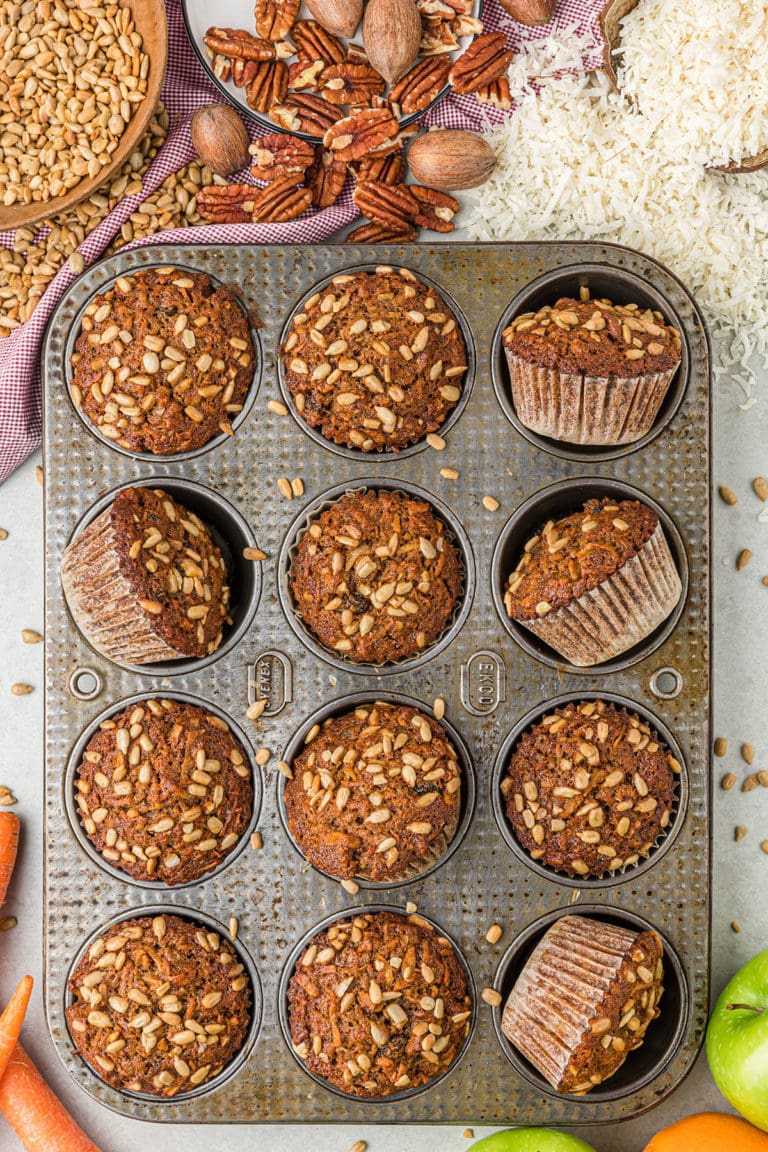 Healthy Morning Glory Muffin Variations
Morning glory muffins are easily customizable with flavor variations, upping this high-energy food's healthy factor!
Up the veggie content with zucchini for apples.
Lower the fat and calories with applesauce for oil.
Decrease wheat sensitivity with gluten-free flour.
Increase fiber content with whole wheat flour.
Add an extra protein bump with 2 tbsp of chia seeds.
Improve digestion and add Omega 3s with 2 tbsp of flax seed.
Add a touch of tropical with Dried Fruit Snacks.
For chocolate lovers, throw in dark chocolate chips!
To make morning glory muffins with pineapple, add an 8-ounce can of crushed pineapple, drained and pressed with paper towels to remove excess juice.
Like This Recipe? Pin It!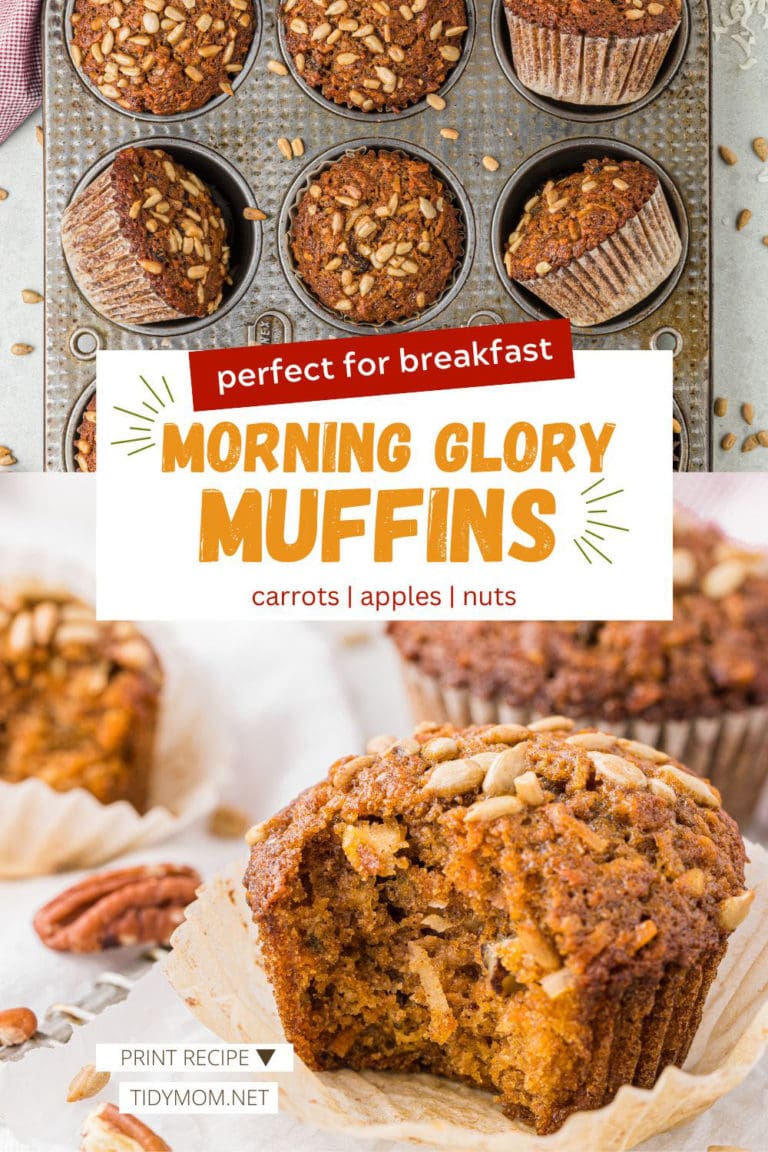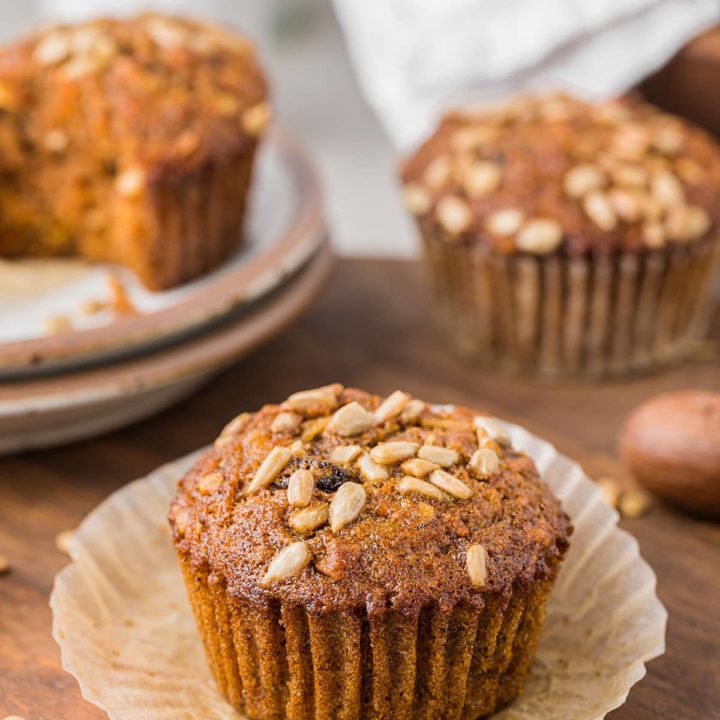 Morning Glory Muffins
Yield: 12 muffins
Prep Time: 10 minutes
Cook Time: 20 minutes
Total Time: 30 minutes
Power start your day with delicious, hearty, nutrient-packed Morning Glory Muffins. A satisfying energy snack muffin with veggies, fruits, and nuts. Freeze for a grab & go the whole family will love!
Ingredients
2 cups (227g) * flour (white or whole wheat) spooned and leveled or weighed.
1 cup packed brown sugar
2 teaspoons baking soda
3 teaspoons ground cinnamon
1 teaspoon ground ginger
1/2 teaspoons salt
2 cups grated carrots (about 4 large carrots)
1/2 cup raisins
2/3 cup chopped pecans or walnuts
1/2 cup shredded coconut (sweetened or unsweetened your choice)
1 large tart apple, peeled, cored & grated
3 eggs
2/3 cup vegetable oil
¼ cup orange juice (about 1 orange)
2 teaspoons vanilla extract
OPTIONAL GARNISH: ⅓ cup sunflower seeds
Instructions
Preheat oven to 350° F. Grease a 12-count muffin pan with nonstick spray or use cupcake liners (you may want to spray the liners as well).
In a large bowl, sift together the flour, sugar, baking soda, cinnamon, ginger, and salt.
Stir in the grated carrots, raisins, nuts, coconut, and apple.
Beat together eggs, oil, orange juice, and vanilla. Stir into flour mixture just until moistened.
Spoon batter into well-greased muffin tins filling all the way to the top. Sprinkle with a few sunflower seeds if desired. Bake 20 minutes until tops are nicely domed and a toothpick inserted in the center comes out clean.
Remove the muffins from the oven and allow them to cool 5-10 minutes in the pan then transfer them to a wire cooling rack to cool completely.
Notes
Cover and store room temp for 2-3 days or in the refrigerator for up to 1 week.
Store in the freezer in an airtight container or zip-top plastic bag for up to 3 months.
Nutrition Information:
Yield: 12
Serving Size: 1
Amount Per Serving:
Calories: 393
Total Fat: 21g
Saturated Fat: 4g
Trans Fat: 0g
Unsaturated Fat: 16g
Cholesterol: 50mg
Sodium: 356mg
Carbohydrates: 49g
Fiber: 3g
Sugar: 26g
Protein: 5g
Nutrition information is estimated based on the ingredients and cooking instructions as described in each recipe and is intended to be used for informational purposes only. Please note that nutrition details may vary based on methods of preparation, origin, and freshness of ingredients used and are just estimates. We encourage, especially if these numbers are important to you, to calculate these on your own for most accurate results.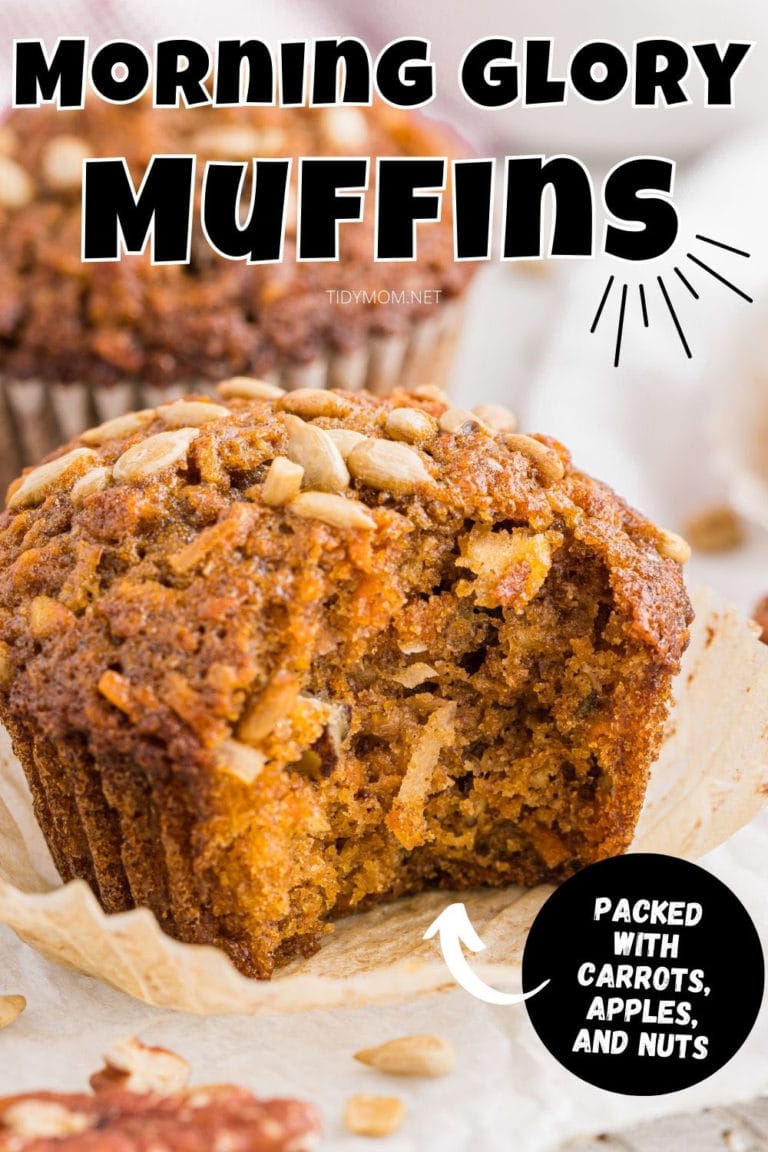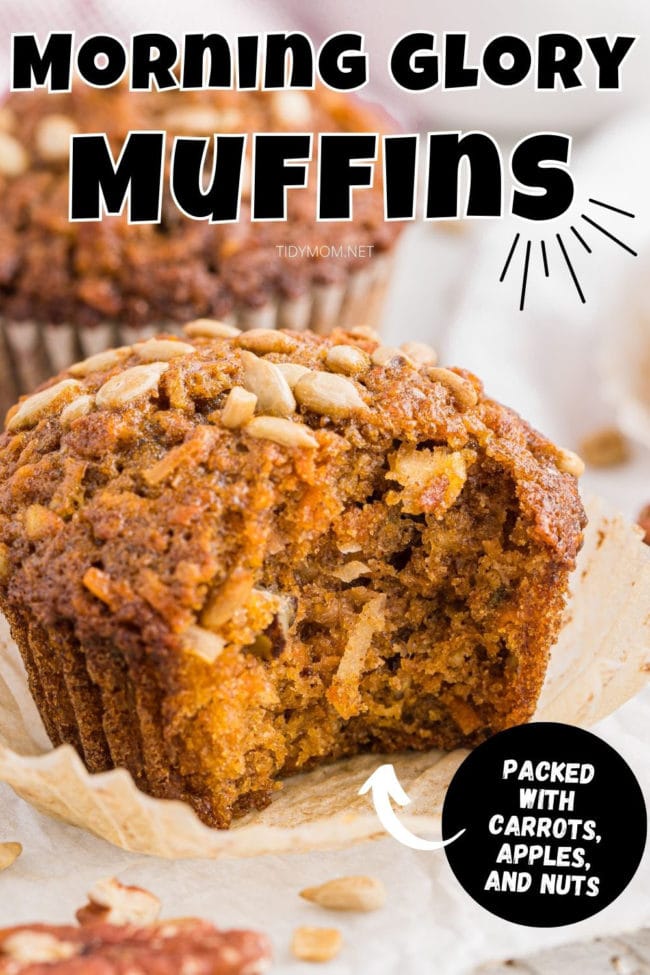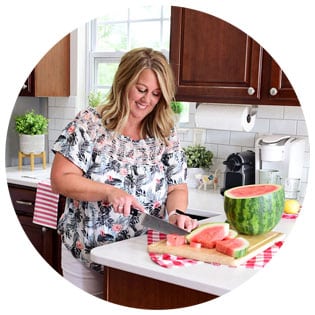 Hi there, I'm Cheryl!
As a wife, mom, and caffeine enthusiast, my journey has taken me from bustling mornings with my family to sharing delicious recipes, home care tips, and heartfelt decorating insights with wonderful readers like you. My love for baking, photography, and tidiness shines through every post I craft. Dive into my world and discover the art of homemaking, one tidy moment at a time. Read more...
Tidymom is a participant in the amazon services llc associates program, an affiliate advertising program designed to provide a means for sites to earn advertising fees by advertising and linking to Amazon.com.
Please respect my work, recipes and photographs. If you do use a recipe in your own writing, please give proper credit and link back to the original post.