Glazed Pumpkin Doughnut Muffins
Glazed Pumpkin Doughnut Muffins are baked and then coated with a pumpkin glaze to taste just like a doughnut!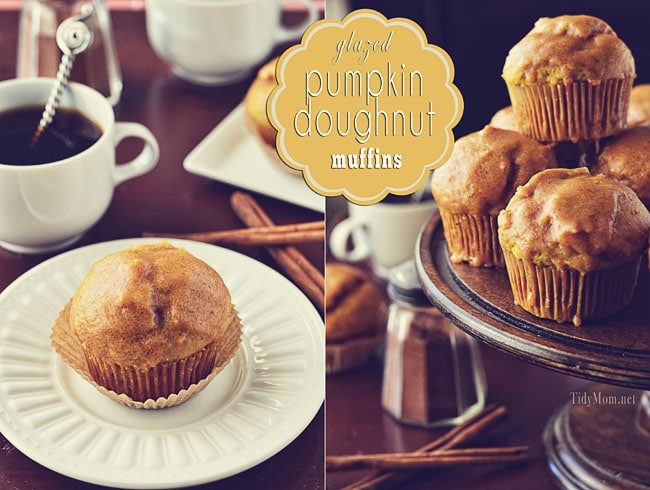 Allison informed me the other day that when she spends the night with friends, their mom's make breakfast.  Then I got the stink eye with "why don't YOU make breakfast for US?"
I didn't really have an answer for her, other than 16-year-olds are rarely up for breakfast on the weekends.  By the time they come strolling into the kitchen I'm ready for lunch, while they're pulling out cereal bowls and milk.
Growing up we did a lot of doughnut eating for a special breakfast treat.  Sitting on my dad's lap dunking my doughnuts in his coffee, he never cared if I held it in there a bit too long and a big piece of the doughnut was left swimming around in his mug.  My favorite was usually cinnamon, chocolate long johns or just a plain old glazed doughnut.
As I got older and Krispy Kreme came around, I discovered their pumpkin spice cake doughnuts, and I suddenly had a new favorite.  The only downfall (or maybe it's a good thing?), Krispy Kreme only sells their pumpkin doughnuts a few short months out of the year.
RELATED:  Cinnamon and Sugar Doughnut Muffins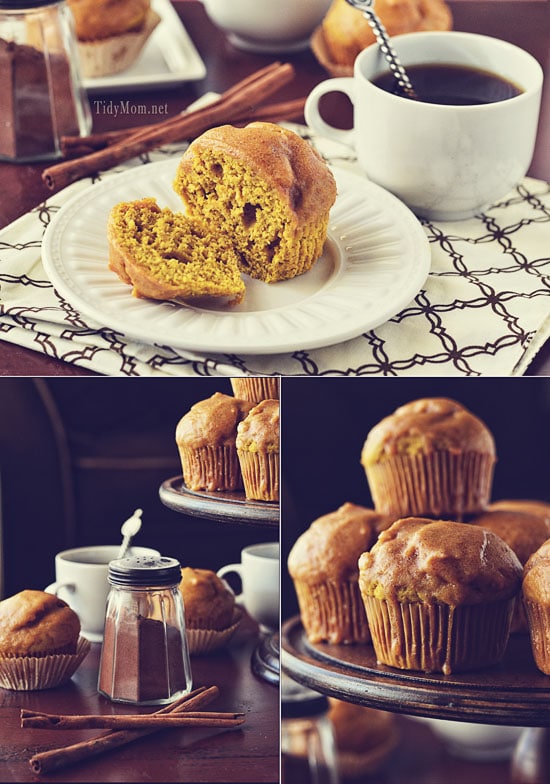 A few years ago I shared a recipe for Sugar and Cinnamon Donut Muffins.  So this year I thought why not a pumpkin doughnut muffin? and let's make it glazed!
I love how much the pumpkin flavor shines through these Glazed Pumpkin Doughnut Muffins.  With their dense 'cake doughnut' texture, that's not overly sweet,  it's perfect with a double dip of pumpkin glaze on top.
They have the advantage of being baked, and not fried. Not as much fat, not as much effort, not as time-consuming, and no trip to Krispy Kreme needed. That translates to a perfect sleepover morning treat! any time of year I want! Next time, I think I'll make mini's and cover the entire muffin in a glaze, just like a doughnut hole!
RELATED: PUMPKIN BREAD RECIPE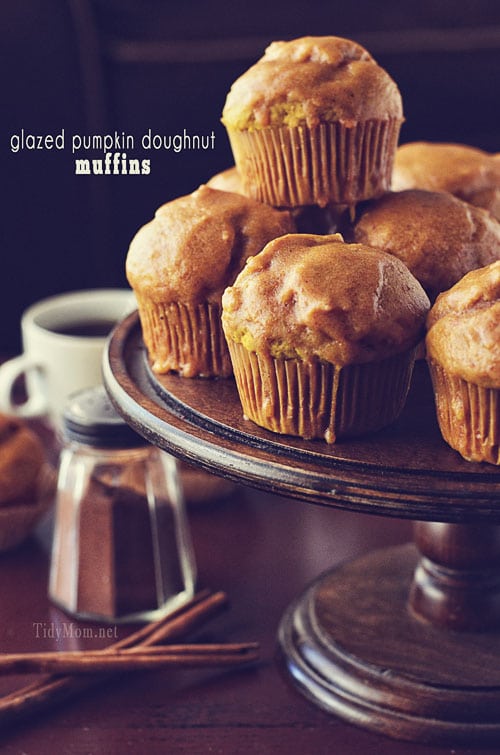 So enough now, I bet you want this Glazed Pumpkin Doughnut Muffins?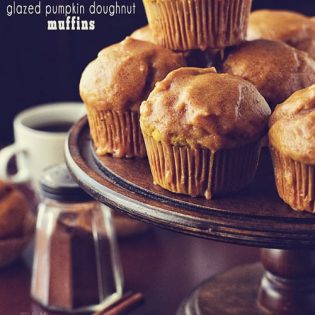 Glazed Pumpkin Doughnut Muffins
Pumpkin muffins are baked and then coated in a pumpkin glaze to taste just like a doughnut!
Ingredients:
For the Muffins
3/4 cup butter (1-1/2 sticks) unsalted butter, room temperature
3 cups all-purpose flour
2 1/2 teaspoons baking powder
1/4 teaspoon baking soda
1 teaspoon coarse salt
1 1/2 teaspoon cinnamon
1 teaspoon nutmeg
1/2 teaspoon ground allspice
1/3 cup buttermilk
1 teaspoon vanilla extract
1 1/4 cups pure pumpkin puree (from a 15-ounce can - save extra for glaze)
1 cup light brown sugar, packed
2 large eggs
For the Glaze
1 cup powdered sugar
1 Tablespoon half & half (or milk)
1/2 teaspoon vanilla extract
2 Tablespoons pure pumpkin puree
1/4 heaping teaspoon pumpkin pie spice
2 Tablespoons butter, melted
Directions:
Preheat oven to 350 degrees. Line 12 standard muffin cups with cupcake papers (or butter and flour if not using liners).
In a medium bowl, whisk together flour, baking powder, baking soda, salt, and spices.
In a small bowl, whisk together buttermilk, vanilla and pumpkin puree.
In a large bowl, using an electric mixer beat butter and brown sugar until light and fluffy. Beat in eggs, one at a time, scraping down the bowl as needed. With the mixer on low, add pumpkin mixture, then flour mixture and beat to combine.
Spoon 1/3 cup batter into the prepared pan, filling the cups nearly full, and bake 25-30 minutes or until a toothpick inserted in center of a muffin comes out clean. Remove pan to a cooling rack and allow muffins to cool for about 10 minutes.
Meanwhile, prepare the glaze by placing powdered sugar in a medium bowl, slowly whisk in milk and vanilla until there are no lumps. Continue to whisk while adding pumpkin puree, spice, and melted butter until smooth.
Place a layer of wax or parchment paper under the cooling rack. Dip the muffin crowns into the glaze, place the muffins back onto the cooling rack and allow the glaze to harden. Dip a second time, if desired.
Making this recipe? Share it with us on Instagram using the hashtag #TidyMom so we can see what you're creating in the kitchen!
Want more great recipes like this? Follow my TidyMom Easy Recipes Pinterest Board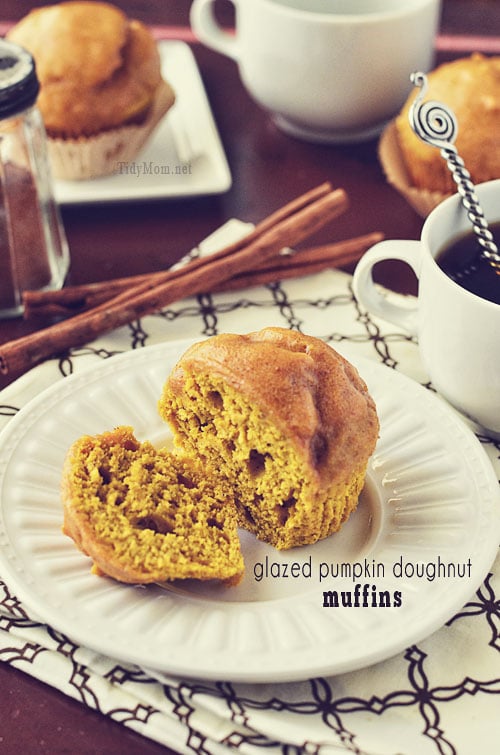 So tell me, what's your favorite kind of doughnut?