Spiced Pumpkin Bars With Browned Butter Frosting
Calling all pumpkin peeps, 'tis our season! Spiced Homemade Pumpkin Bars kick it off with…wait for it…gloriously decadent brown butter frosting! It's a win-win! Great for serving a crowd.
Fall isn't always "all about the pumpkin," said no one ever! Easy homemade pumpkin bars are just the start; here are some pumpkin recipes to add to your Fall lineup. Spreadable yummy Pumpkin Butter, handheld delights, Crustless Mini Pumpkin Pies, and for cookie cravers Pumpkin Snickerdoodles.
Be sure to sign up for my email… to get new recipes and ideas in your inbox!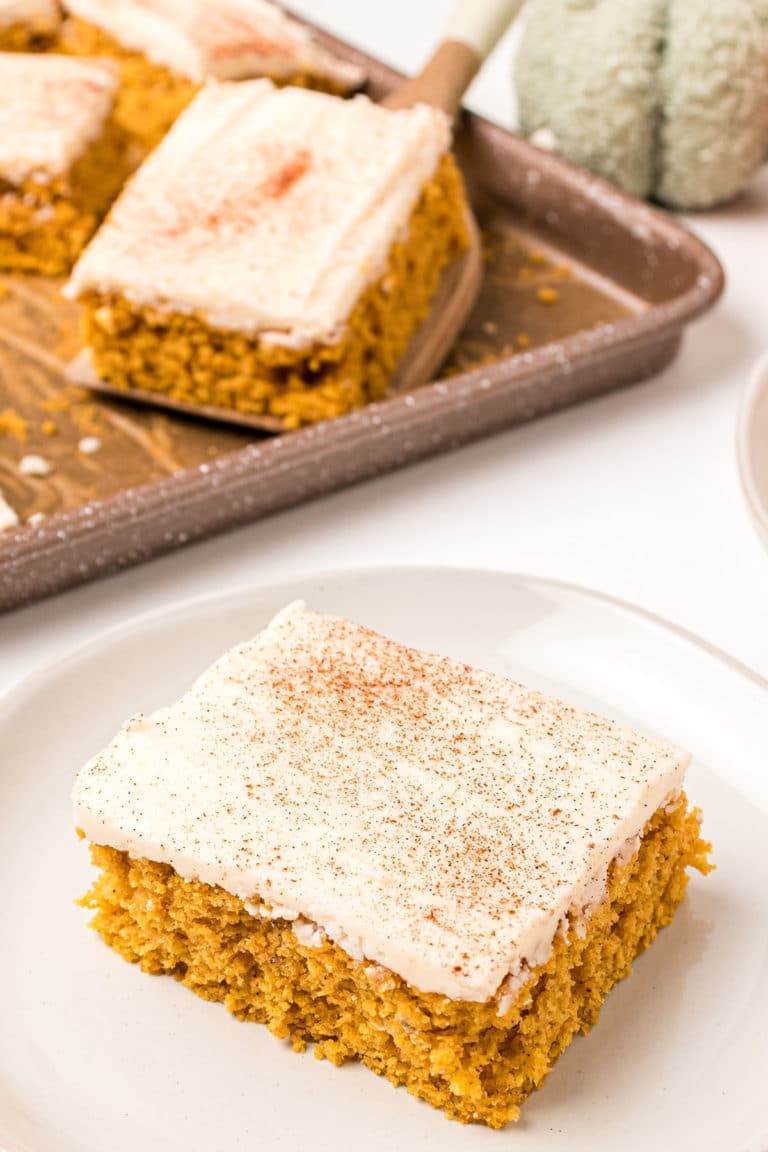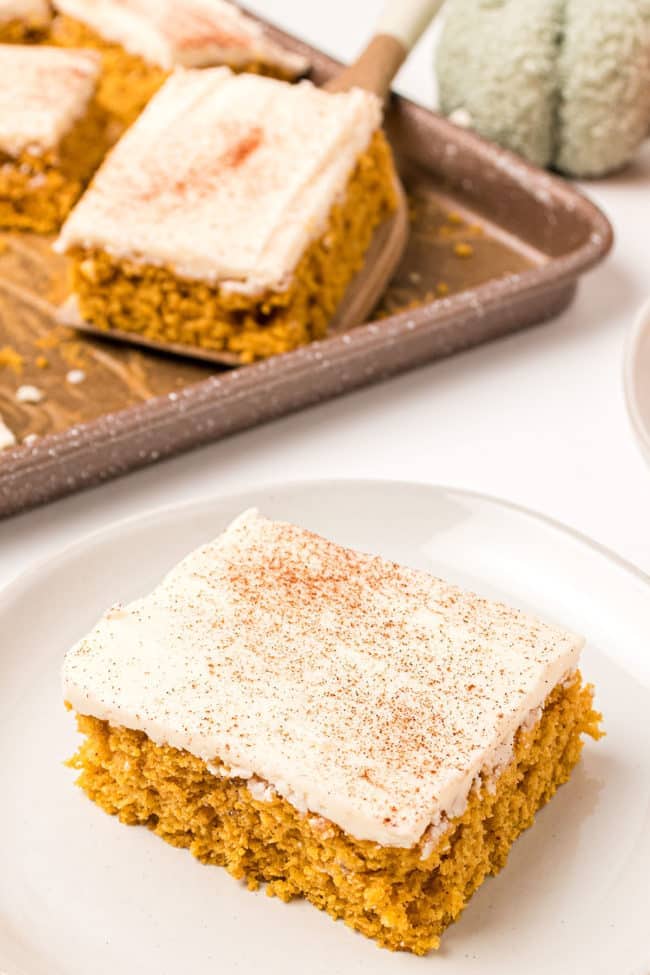 Why We Love Homemade Pumpkin Bars With Brown Butter Frosting
Moist, flavorful cake-like pumpkin squares with the rich buttery taste and consistency of amazing brown butter frosting. I say, "Autumn-colored leaves and pumpkin bars, please!"
Well…, it's pumpkin! And "leaves" you wanting more!
Wonderfully fragrant golden browned butter is rich, nutty, and knocks brown butter frosting out of the park!
Pumpkin squares are very easy to pull together, and brown butter frosting
Autumn pumpkin recipes immediately transport me to my happy place, anticipating cooler weather and Fall family time!
Pairs wonderfully with a pumpkin spice latte or Pumpkin Spice Hot Chocolate!
Spiced pumpkin bars are perfect for work meetings, church groups, Thanksgiving dessert table, or just an afternoon gab session with friends.
Bonus! Save money by using my link below to make your own pumpkin pie spice!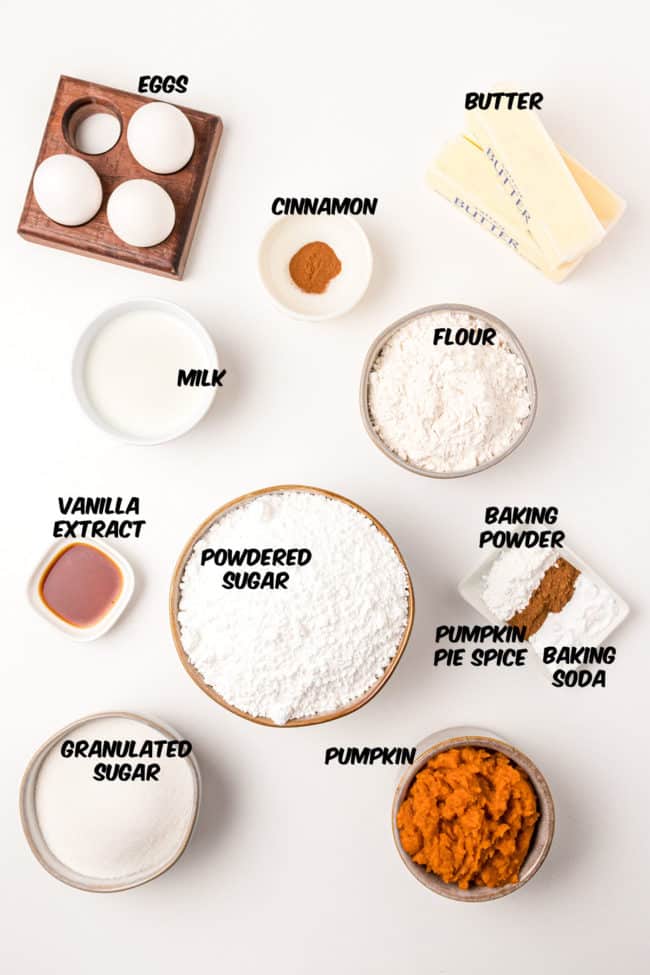 Ingredients For Pumpkin Bars With Canned Pumpkin
Writing about these spiced pumpkin bars seriously whets my appetite for the Autumn season. This easy pumpkin square recipe combines the quintessential harvest fruit favorite and savory sophisticated brown butter.
BROWNED BUTTER FROSTING
Butter – unsalted or salted, either is fine.
Powdered Sugar – is light, silky, and fluffy compared to granulated sugar and dissolves easily for smooth, silky, and creamy brown butter frosting.
Milk – allow the milk to warm before incorporating.
Vanilla Extract – soft aromatic vanilla notes to enhance the flavor and richness of brown butter icing
Garnish Cinnamon Or Nutmeg – or both to add a touch of warmth to complement the rich nutty flavor of browned butter.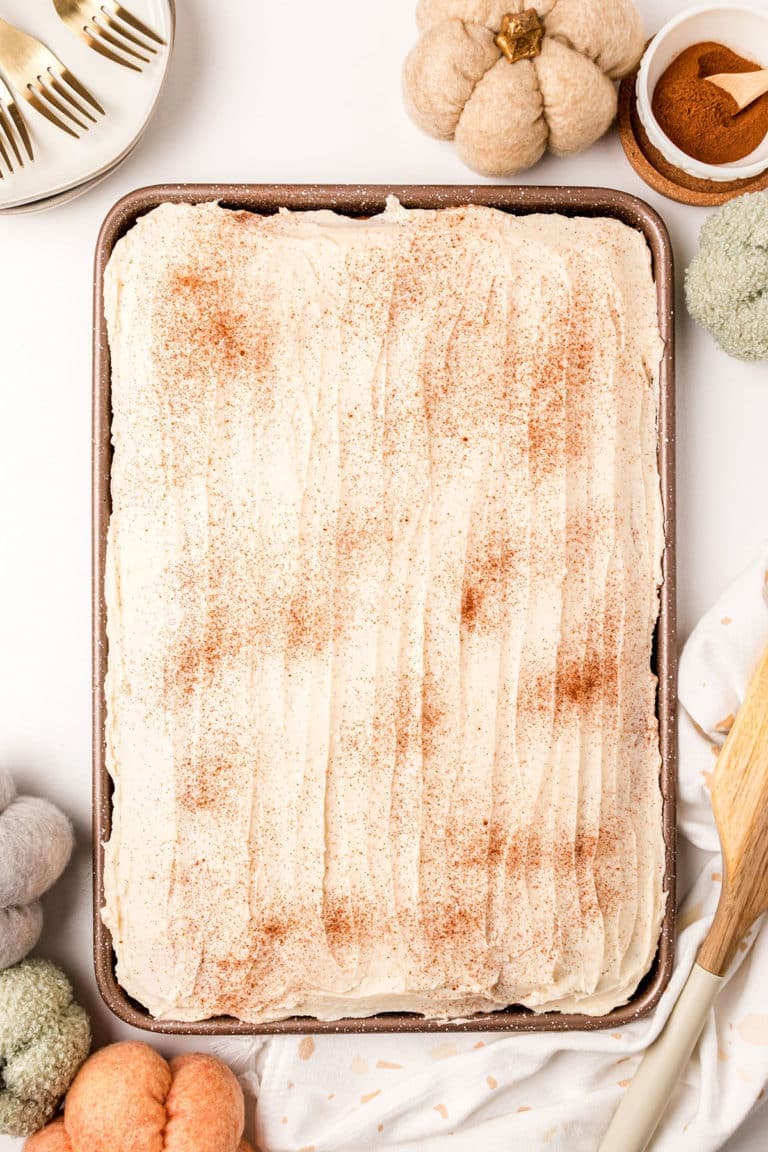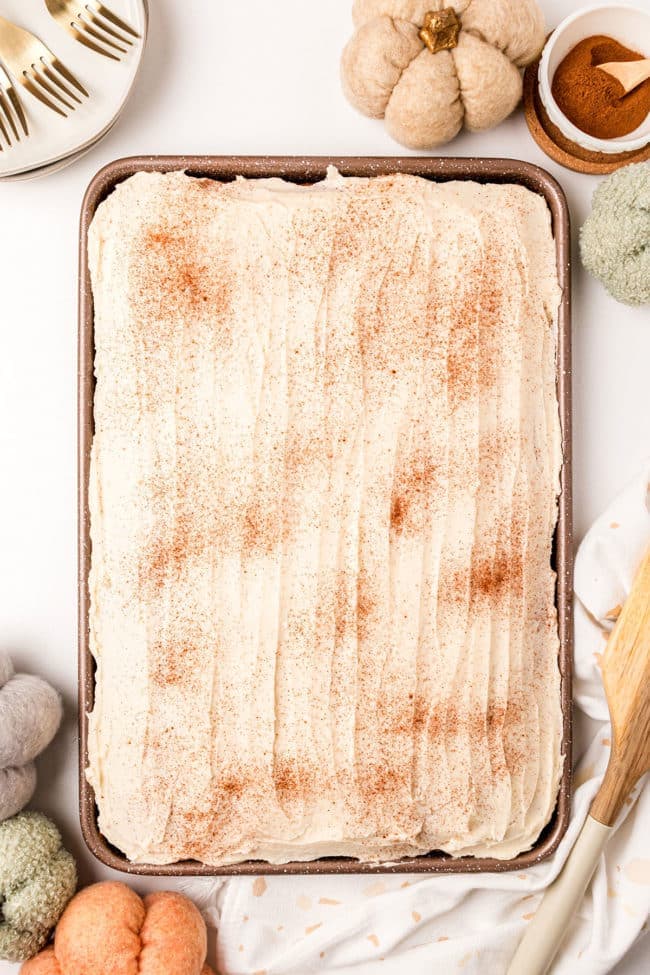 SPICED PUMPKIN BAR
Flour – Fluff, spoon, and level your all-purpose flour when you measure it. Packed flour will yield too much flour in your pumpkin bar recipe.
Granulated Sugar – is also known as white sugar.
Baking Powder & Soda – you need both of these leavening agents for homemade pumpkin bars to rise just right.* Check to make sure they are fresh.
Pumpkin Pie Spice Mix – check out my homemade pumpkin spice mix.
Pumpkin – use canned pumpkin, not pumpkin pie mix.
Butter -Melted.
Large Eggs – lightly beaten room temperature eggs blend into other ingredients better than cold eggs.
Chef's Note: Test your baking powder and baking soda for freshness.
Baking powder loses its potency rather quickly, and your recipe won't rise properly if it's too old. You can test your baking powder for freshness. Simply, pour a little baking powder into hot water — if it fizzes, it's still good to use!
To test baking soda, place a few tablespoons of vinegar in a small dish and stir in about a teaspoon of baking soda. The mixture should immediately begin to fizz if the baking soda is still active; if there's little to no reaction, it's time to replace it.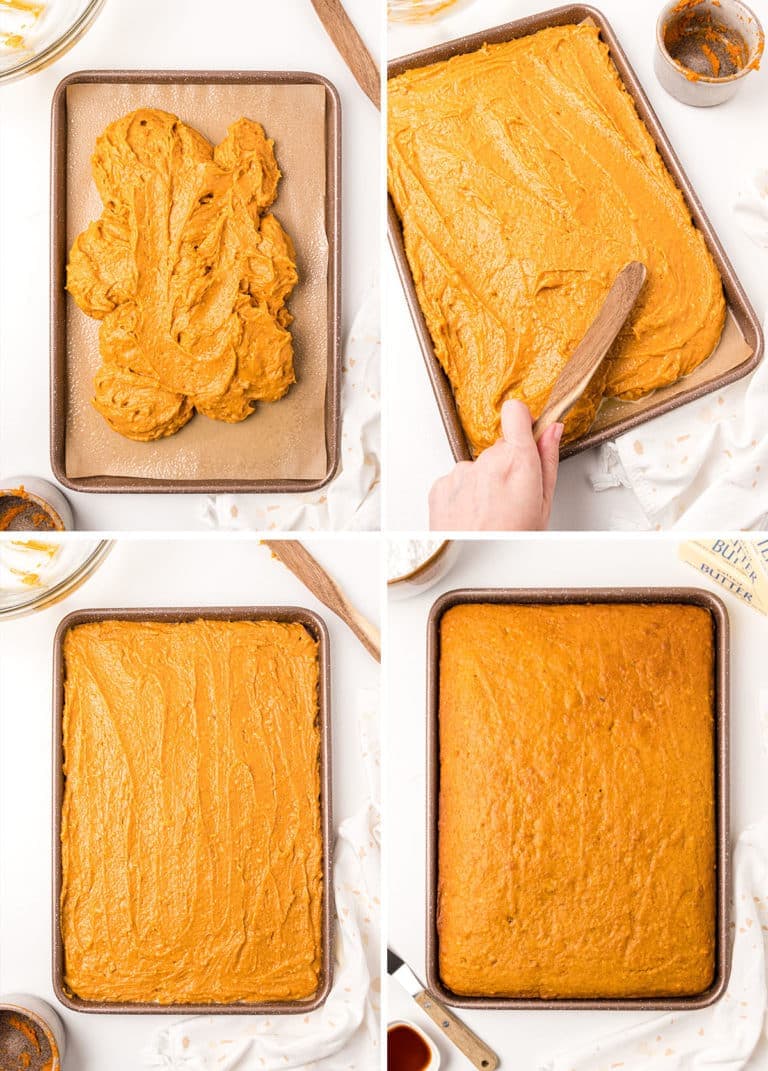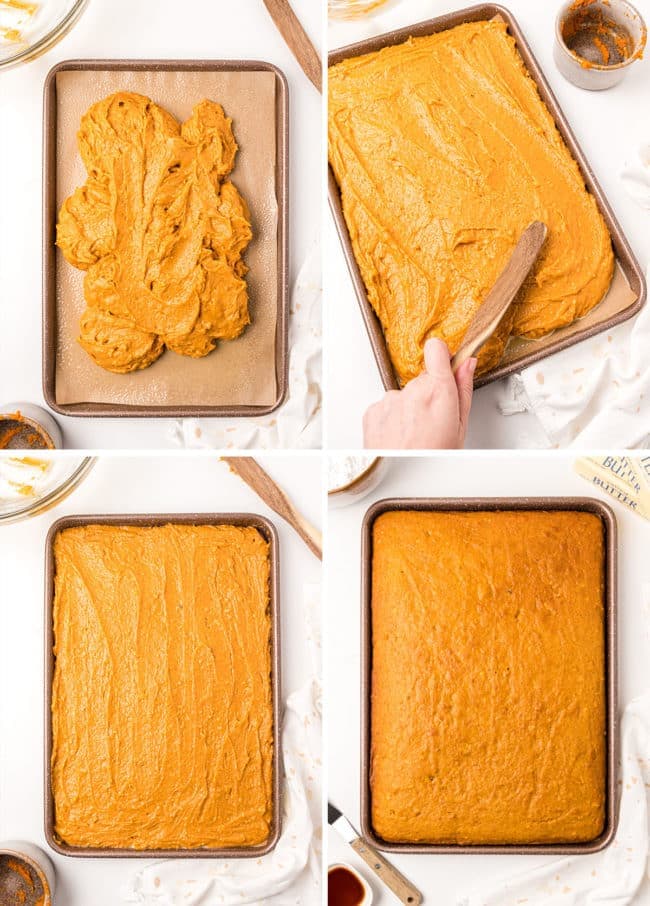 How To Make Homemade Spiced Pumpkin Bars
(full printable recipe at the end of this post)
Gather up your supplies, and let's get started on these easy pumpkin bars! You'll need a 10"x15" jelly roll pan (or smilar size rimmed pan), cooking spray or parchment paper, an electric mixer, a mixing bowl, a toothpick, and a wire rack.
SPICED PUMPKIN BARS
Step 1: Stir together all the dry ingredients.
Step 2: Mix the wet ingredients and pour them into a prepared jelly roll pan.
Step 3: Bake pumpkin bars at the center of a preheated oven for 17-22 minutes.
Step 4: Cool completely in the pan on a wire rack.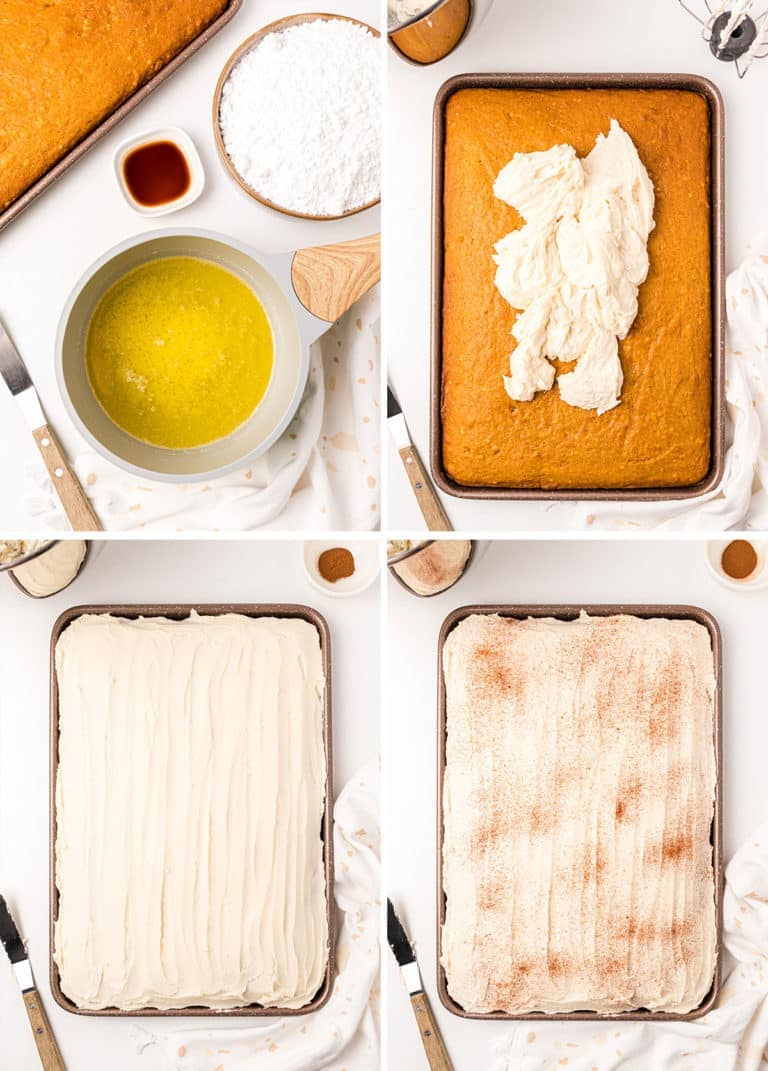 HOW TO MAKE BROWN BUTTER FROSTING
Step 1: Brown the butter over medium heat until it's fragrant and golden.
Step 2: Gradually beat powdered sugar, milk, and vanilla into the browned butter until it is light and fluffy.
Step 3: Frost cooled pumpkin bars and lightly dust with cinnamon or nutmeg
Step 4: Cut the frosted pumpkin bars into 20 squares using a sharp knife.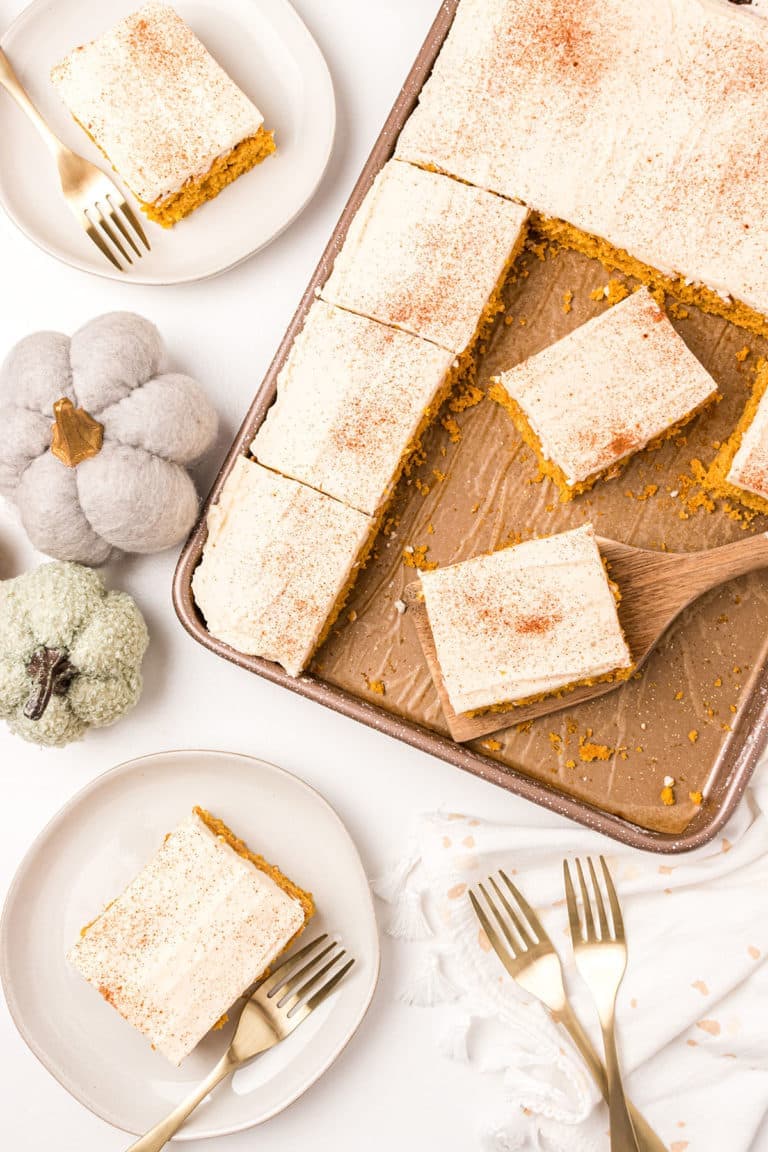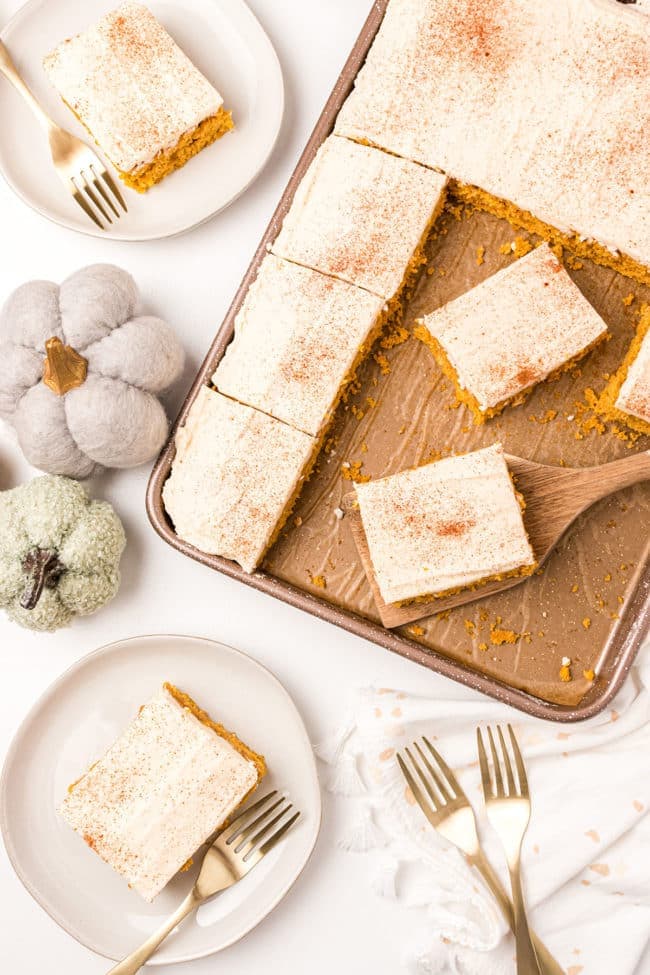 Easy Pumpkin Bars & Brown Butter Frosting Recipe Notes/Tips
If you don't have pumpkin pie spice mix, you can make your own homemade pumpkin pie spice mix or just use 2 teaspoons of ground cinnamon.
Make sure your baking soda and baking powder are not expired and still good. (see Chef's tip above)
If your brown butter frosting is too thick, add a little more milk; if it's too thin, add powdered sugar until you get the desired consistency.
Line the bottom of the sheet pan with parchment paper for easier serving and cleaning up.
Cold cake is easier to cut. Chill spiced pumpkin bars before slicing if you want nice clean slices. Use a sharp knife and wipe excess brown butter frosting off the blade as you go. (No licking!) lol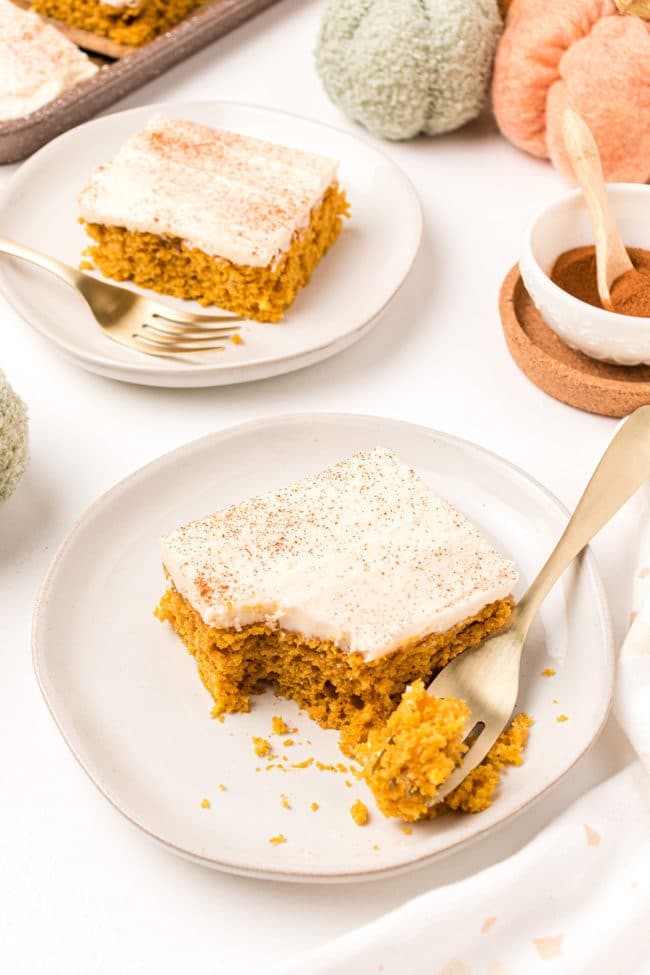 Storing Spiced Pumpkin Bars
HOW TO STORE LEFTOVER PUMPKIN BARS
Covered pumpkin squares can be stored in a single layer in the refrigerator for up to 5 days. Remove spiced pumpkin bars from the fridge and bring to room temperature (about 30 minutes) before serving.
HOW TO FREEZE PUMPKIN BARS
Pumpkin squares, without brown butter frosting can go in the freezer double wrapped for up to 3 months. When you're ready to delight everyone with your homemade pumpkin bars, defrost them overnight in the refrigerator and top them with brown butter frosting.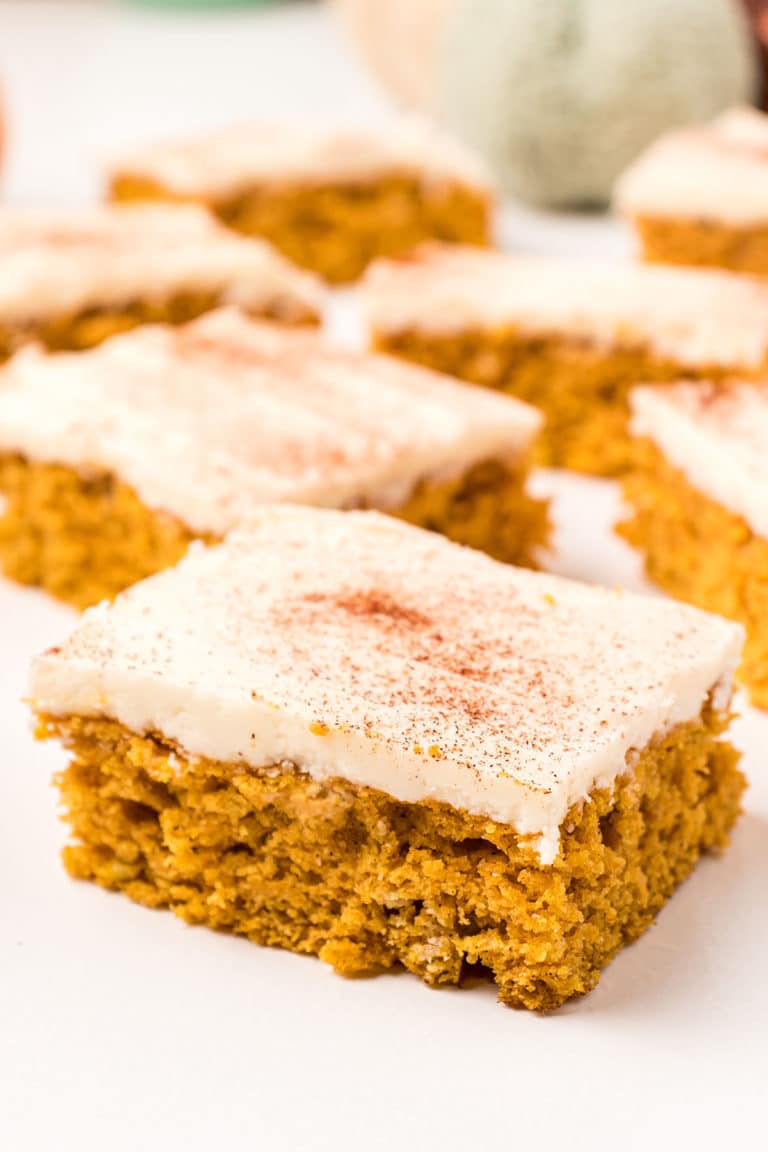 Recipe FAQs
Can I use fresh pumpkin instead of canned?
You can substitute the canned pumpkin for fresh pureed pumpkin (1:1). A 15-ounce can of pumpkin equals 1¾ cups of fresh pumpkin puree. Just make sure the consistency is similar to what's in the can.
Can I use a 9X13-inch pan to make pumpkin bars?
Yes!! You can use a 9×13-inch pan instead of a jelly roll pan. The bars/cake will be thicker, so they will need to bake a little longer, probably around 30 minutes.
How do I make perfect browned butter? (Best Beginner's Tip)
Cooking over medium heat will ensure that your butter will cook evenly. Finish the last few moments of the browning process off the heat!

As soon as the butter is just about the perfect color for your recipe (3-4 minutes after foaming stops), remove it from the heat source immediately and keep whisking. The heat from the pan will complete the browning. Pour into your heat-resistant glass or ceramic bowl (no plastic!) to stop the process and cool.
Why is brown butter foamy?
Water Content! Commercially produced butter usually contains about 15% water. Don't let the foam fool you; you're on the right track allowing the water to evaporate as it foams smoothly. (I adjust my heat down just a bit if the foaming action seems too aggressive.)
What does browned butter frosting taste like?
Delicious, of course! Any recipe that calls for browned butter will carry a rich, intensely nutty, buttery toasted flavor and aroma. Browned butter's warm, savory taste is desired as a dominant flavor that is merely complemented by other ingredients or shares dominance with another flavor.

I can't help but sneak this very addicting Butter Pecan Cookie w/Glazed Pecans recipe in because tasty glazed nuts take on a delicious browned butter flavor. I should have called them crack cookies, no lie!
Like This Recipe? Pin It!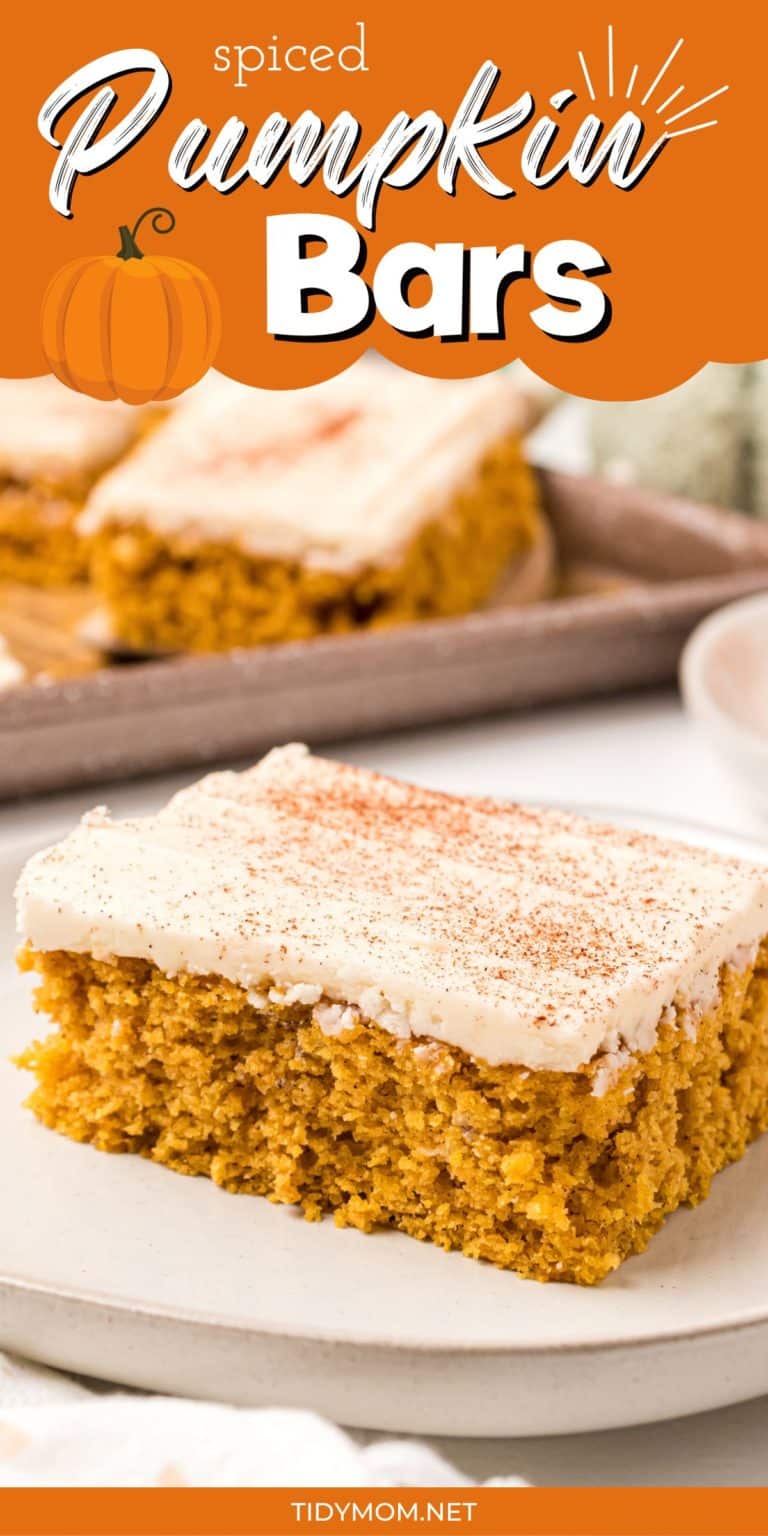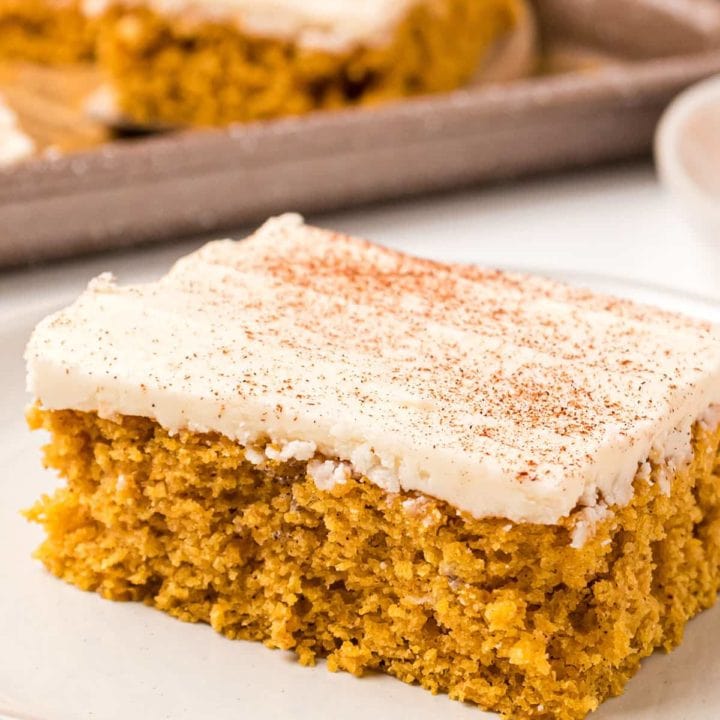 Spiced Pumpkin Bars
Yield: 20
Prep Time: 15 minutes
Cook Time: 17 minutes
Total Time: 32 minutes
Moist, flavorful cake-like pumpkin bars with a rich decadent brown butter frosting! Everyone says these are the absolute BEST Pumpkin Bars! Perfect for feeding a crowd.
Ingredients
Bars:
1 ½ cups all-purpose flour
1 ¼ cups granulated sugar
2 teaspoons baking powder
1 teaspoon baking soda
2 teaspoons pumpkin pie spice mix *see notes
1 (15 ounce) can pure pumpkin
3/4 cup butter, melted
3 large eggs, lightly beaten
Browned Butter Frosting:
3/4 cup butter
4 ½ cups powdered sugar
1/4 cup milk
1 teaspoon vanilla extract
cinnamon or nutmeg for garnish
Instructions
Preheat the oven to 350° F and spray a 10x15-inch rimmed jellyroll pan with non-stick cooking spray and set aside.
In a large mixing bowl, stir together the flour, granulated sugar, baking powder, baking soda, and pumpkin pie spice until well combined. Stir in pumpkin, melted butter, and eggs until well blended. Spread batter onto the prepared baking sheet.
Bake in the center of the oven for 17-22 minutes or until a toothpick inserted in the center comes out clean. Cool completely in the pan on a wire rack.
For Browned Butter Frosting: In a small heavy saucepan, melt butter over medium heat stirring constantly until it's golden brown; about 5-7 minutes. Watch closely not to burn the butter.
Pour the browned butter into a large bowl, leaving behind most of the sediment on the bottom of the pan. Using an electric mixer gradually beat in the powdered sugar, milk, and vanilla, until light and fluffy.
Spread frosting over cooled bars. Lightly dust with cinnamon or nutmeg, if desired.
Using a sharp knife cut into 20 squares.
Notes
2 teaspoons of pumpkin pie mix can be replaced with 2 teaspoons of ground cinnamon
Make sure your baking soda and baking powder are fresh and not expired
If your frosting is a little too thick, add a little more milk, if it's too thin, add more powdered sugar to get the desired consistency.
Line bottom of sheet pan with parchment paper for easier serving.
A cold cake is easier to cut. Chill before slicing if you want nice clean slices. Use a sharp knife wiping excess frosting off the knife as you go
If you would like to use a 9x13-inch pan, increase the baking time to 30 minutes, or until a toothpick comes out clean.
STORE covered in a single layer in the refrigerator. up to 3 days. Remove from refrigerator and bring to room temperature (about 30 minutes) before serving.
FREEZE: They can be frozen without frosting. Double wrap and store in the freezer. When ready to serve, defrost overnight in the refrigerator and top with frosting.
Recommended Products
As an Amazon Associate and member of other affiliate programs, I earn from qualifying purchases.
Nutrition Information:
Yield: 20
Serving Size: 1
Amount Per Serving:
Calories: 318
Total Fat: 15g
Saturated Fat: 9g
Trans Fat: 1g
Unsaturated Fat: 5g
Cholesterol: 65mg
Sodium: 234mg
Carbohydrates: 46g
Fiber: 0g
Sugar: 37g
Protein: 2g
Nutrition information is estimated based on the ingredients and cooking instructions as described in each recipe and is intended to be used for informational purposes only. Please note that nutrition details may vary based on methods of preparation, origin, and freshness of ingredients used and are just estimates. We encourage, especially if these numbers are important to you, to calculate these on your own for most accurate results.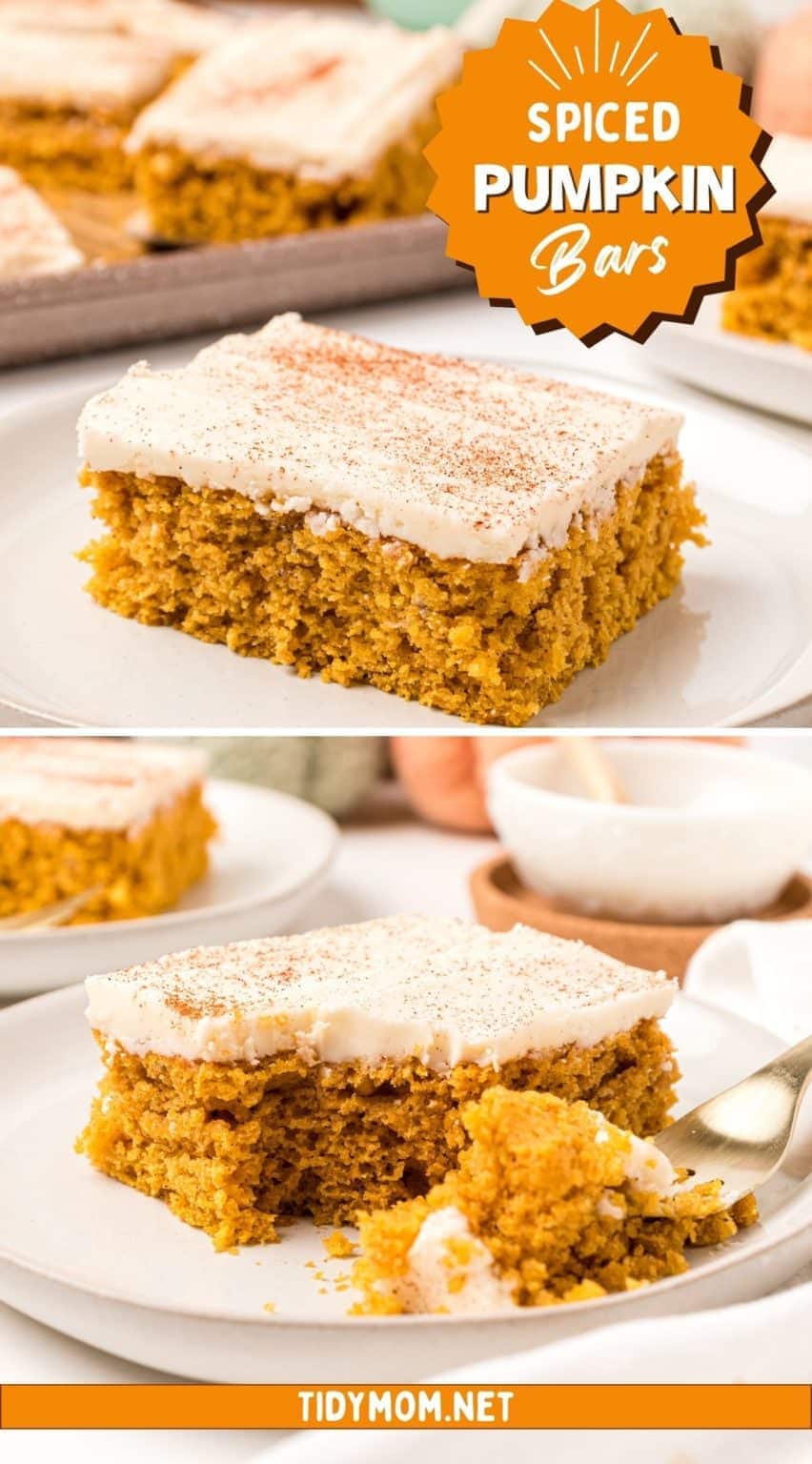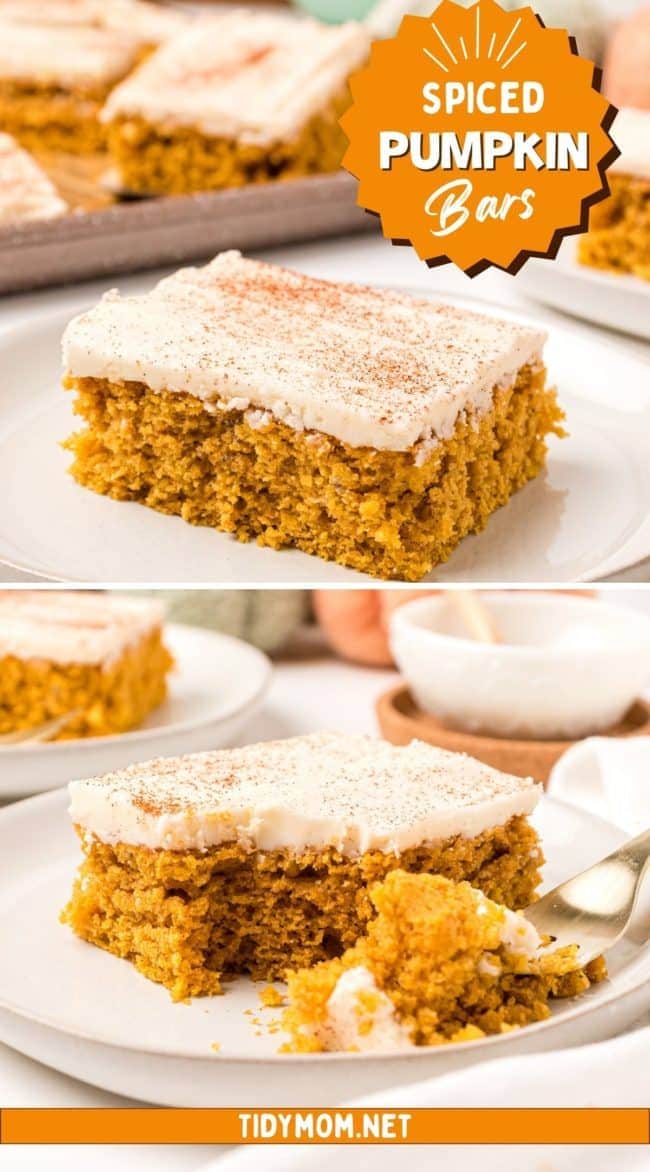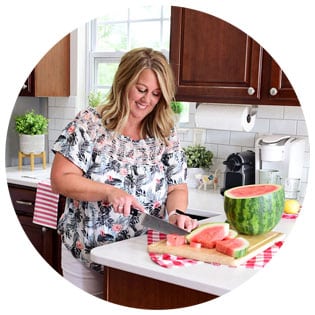 Hi there, I'm Cheryl!
As a wife, mom, and caffeine enthusiast, my journey has taken me from bustling mornings with my family to sharing delicious recipes, home care tips, and heartfelt decorating insights with wonderful readers like you. My love for baking, photography, and tidiness shines through every post I craft. Dive into my world and discover the art of homemaking, one tidy moment at a time. Read more...
Tidymom is a participant in the amazon services llc associates program, an affiliate advertising program designed to provide a means for sites to earn advertising fees by advertising and linking to Amazon.com.
Please respect my work, recipes and photographs. If you do use a recipe in your own writing, please give proper credit and link back to the original post.