Pumpkin Snickerdoodles
Soft and fluffy Pumpkin Snickerdoodles are an easy snickerdoodle recipe with just the right dose of real pumpkin and warm spices. A classic cookie, with a fun fall twist.
If you are big fans of pumpkin cookies like we are, make sure you check out our Pumpkin Spice Cinnamon Roll Cookies and Pumpkin Spice Cookies with Chocolate Chips.
Be sure to sign up for my email… to get new recipes and ideas in your inbox!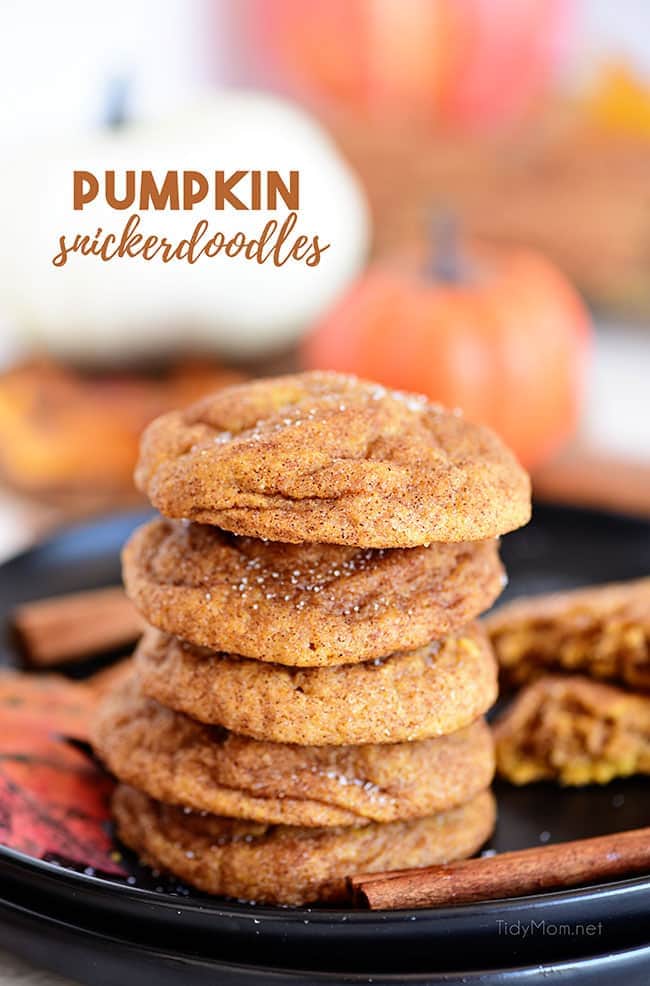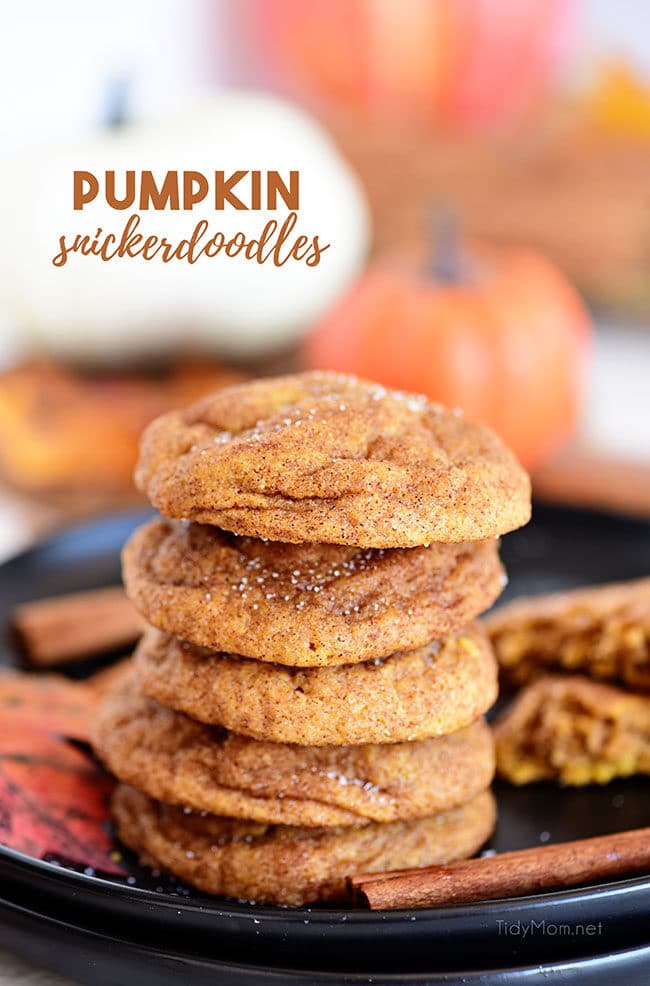 Click HERE to save recipe to Pinterest!
Pumpkin Snickerdoodles
When it comes to cookies, snickerdoodles are one of those timeless classics we all love. Those soft and chewy cinnamon and sugar-coated cookies just can't be resisted. While snickerdoodles are great any time of the year, I thought it was time we took this classic recipe and gave it a little taste of fall.
These pumpkin snickerdoodles take everything you love about the original recipe and make it even better with a little real pumpkin and spice. They are perfect in their simplicity and will have your mouth watering as soon as you smell them baking in the oven. You will love these perfectly plump and puffy cookies that look like they came straight out of a bakery case.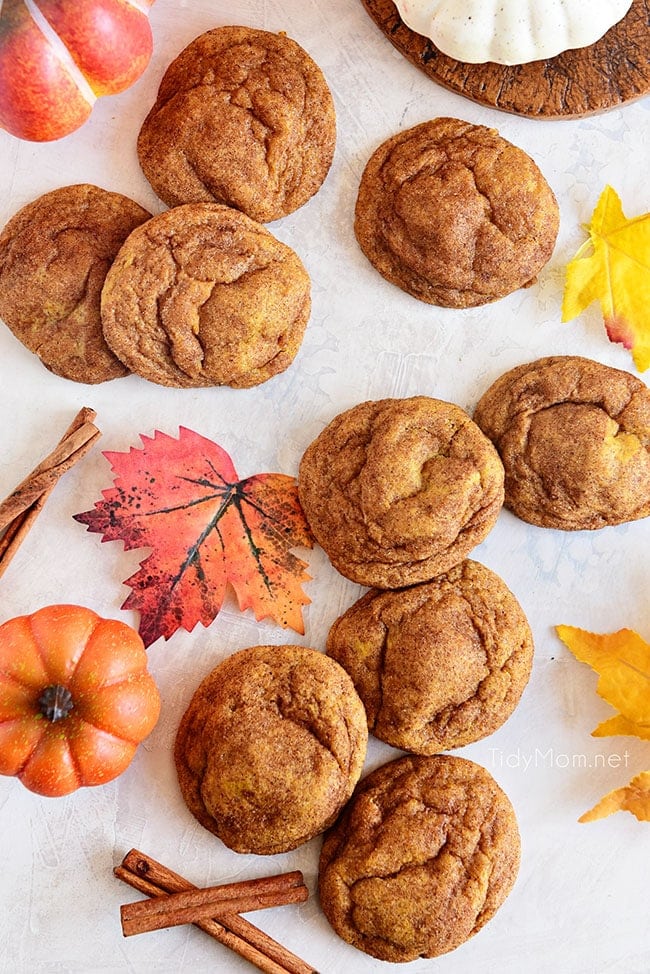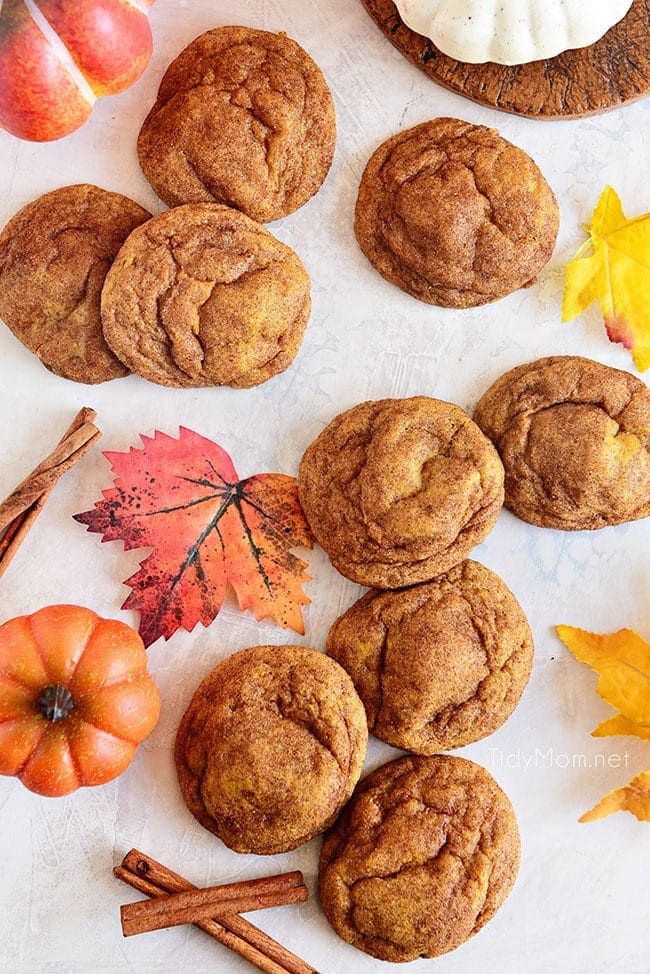 Ingredients Needed To Make Pumpkin Snickerdoodles
I mean it when I say this recipe doesn't throw the beloved snickerdoodle ingredient list out the window. I still wanted to create that infamous flavor combo with just a little bit of a season fall twist that everyone will love.
Butter
Granulated sugar
Brown sugar
Solid pumpkin
Egg
Vanilla extract
All-purpose flour
Pumpkin pie spice
Cream of tartar
Baking soda
Salt
What is Cream of Tartar?
Wait what is cream of tartar and why do I need it for this recipe? Cream of tartar is super important for these pumpkin snickerdoodles, and it's vital that you don't skip over this ingredient.
It's commonly used as a stabilizer and to add volume when making meringue, and is also a component of baking powder. In this recipe, the cream of tartar helps activate the baking soda in a way that provides a distinctive texture to the cookies. I would not try substituting.
You can find cream of tartar in the spice section of your grocery store.
Can I Make My Own Pumpkin Pie Spice?
Yes! Pumpkin pie spice is actually super simple to make! I typically just buy the premade spice from the store just for convenience, but whenever I realize I'm out and forget to buy more I use this recipe to make my own, and it's just as good.
To make homemade pumpkin pie spice you'll combine:
4 teaspoons ground cinnamon
2 teaspoons ground ginger
1 teaspoon ground cloves
1/2 teaspoon ground nutmeg
Stir everything together and place into a small bowl or shaker.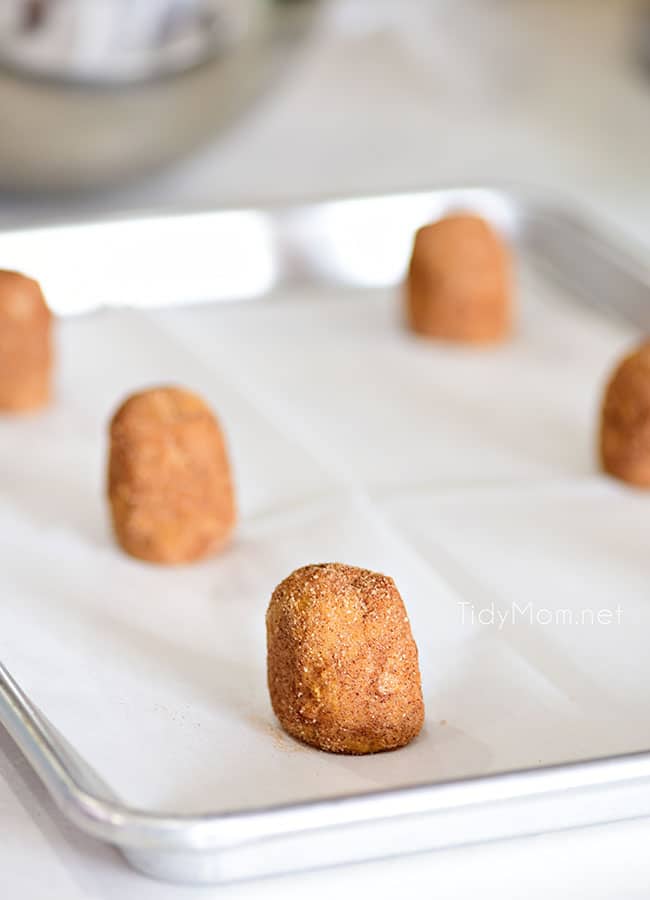 How To Make Pumpkin Snickerdoodle Cookies
(full printable recipe at the end of this post)
This recipe comes with only one word to describe it… WOW. That description comes with it because not only are the flavors so wow-worthy but so are the easy to follow instructions. You seriously won't believe how easy it is to make these little bites of heaven.
First, in a large bowl cream together your butter, and sugars until the mixture is fluffy and well combined. Then, add in the pumpkin, egg, and vanilla, whisking just until combined. Using another bowl mix together all of the dry ingredients until combined. Once you have your wet and dry ingredients prepared, combine the two and Whisk the dry ingredients into the wet ingredients. After mixing, chill the dough for about an hour.
To prepare the cookies for baking, roll 1.5 ounces of cookie dough into a ball, then into a tall log shape(see photo above). Roll each dough "log" in sugar and spice topping and place on prepared pan. Bake until the cookies are slightly puffy but set around the edges. Allow cookies to cool on the baking sheet for 10 minutes then transfer to a wire rack to cool completely.
Do I Have To Make These Snickerdoodles With Pumpkin?
If you want that amazing fall flavor, you should definitely still include the pumpkin! It's not too strong and adds just the right amount of extra flavor, to the overall taste of the cookie.
If you really aren't a fan of pumpkin, you can always just make regular snickerdoodles. For an amazing recipe, head over to my blog post for the perfect snickerdoodle cookie recipe.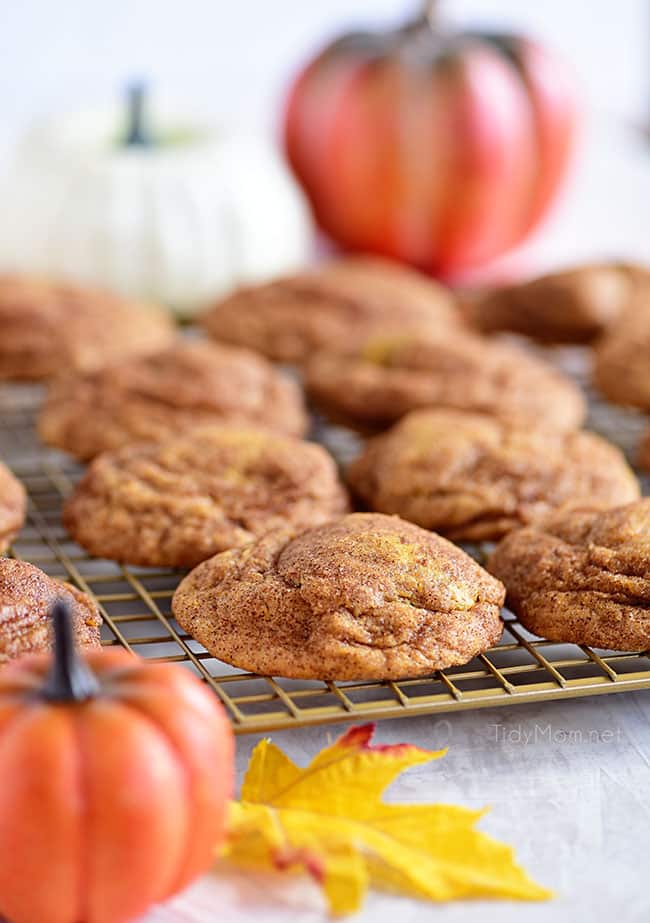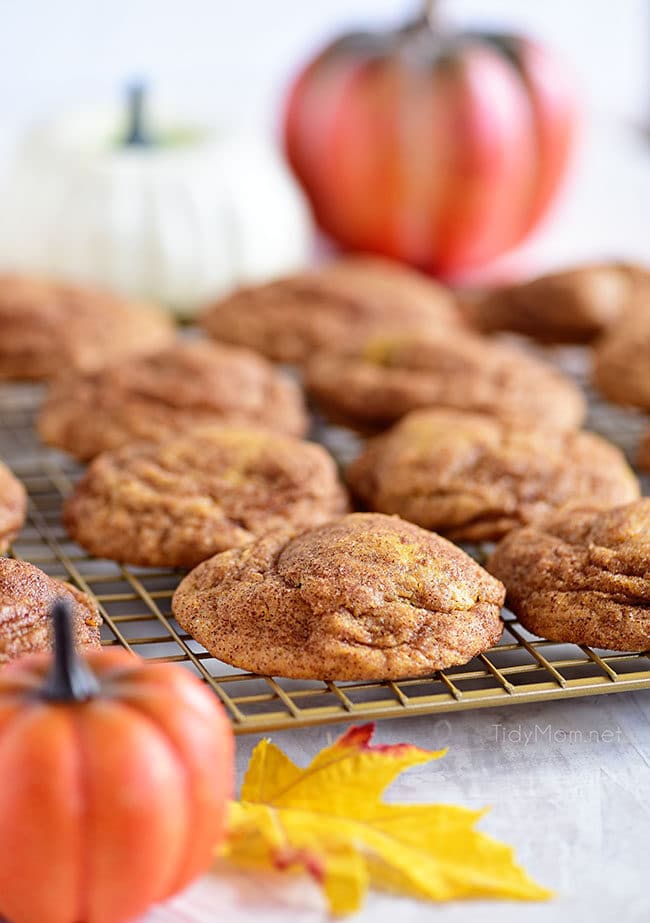 Tips For Making The Best Pumpkin Snickerdoodles
Be sure you are using solid pumpkin NOT pumpkin pie filling. The pumpkin pie filling will be wayyy too runny and sweet. You need just pure pumpkin for this recipe. Either canned or fresh will work.
Use the combo of brown sugar and granulated sugar. The mixture of the two really helps with the consistency and taste of the cookies.
Don't forget to chill dough at least 45 min – 1 hour to be able to handle the dough. Without chilling, the dough will be too sticky.
For an extra seasonal flavor, roll the dough in a pumpkin pie spice and sugar mixture instead of a cinnamon and sugar mixture.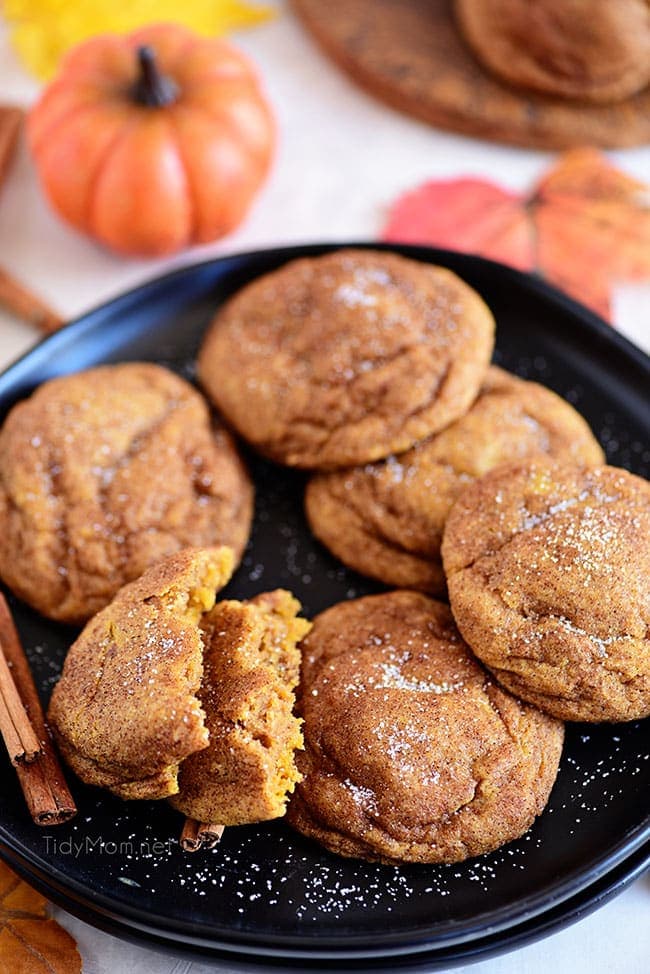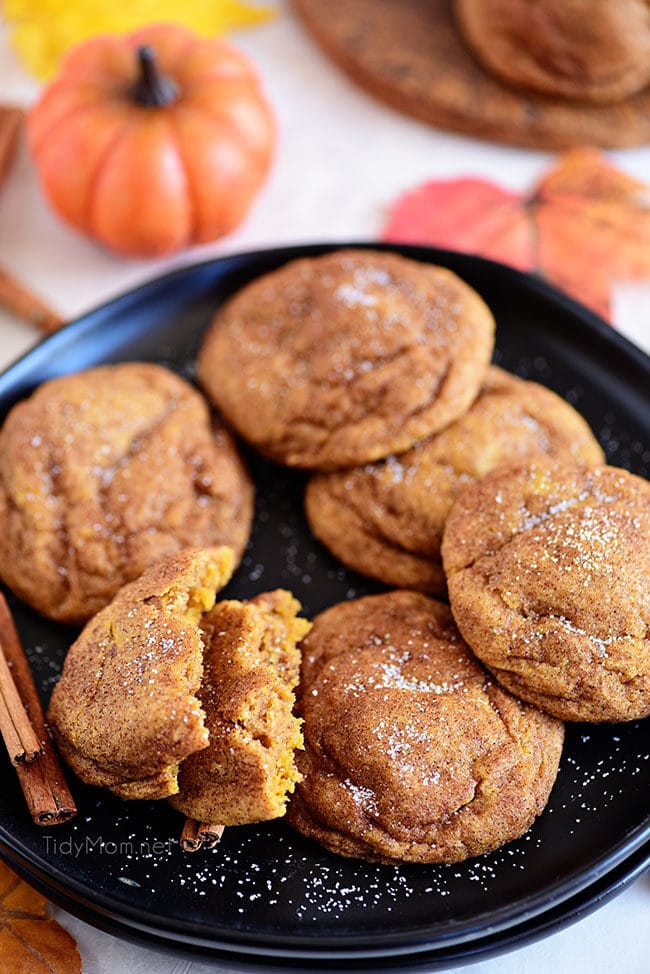 How Do I Store Pumpkin Snickerdoodles?
Snikcerdoodls don't need to be kept in the refrigerator, so you can simply store them in an air-tight container and leave them on the counter. They will last at room temperature for up to 7 days.
You can also freeze your pumpkin snickerdoodles for up to three months. For all the info on the freezing cookies, check out this post on how to freeze cookies that will guide you through the process.
What to Pair with Pumpkin Snickerdoodles
When the chilly fall weather rolls in I love to end the days with a good snack, a hot drink, and a scary movie. It makes for the absolute perfect night!
Lately my go-to has been to cozy up on the couch with a couple of pumpkin snickerdoodles and either a Skinny Caramel Macchiato Latte or Cranberry Mulled Ale. Tonight's movie of choice will be Hocus Pocus! What's your favorite Halloween Movie?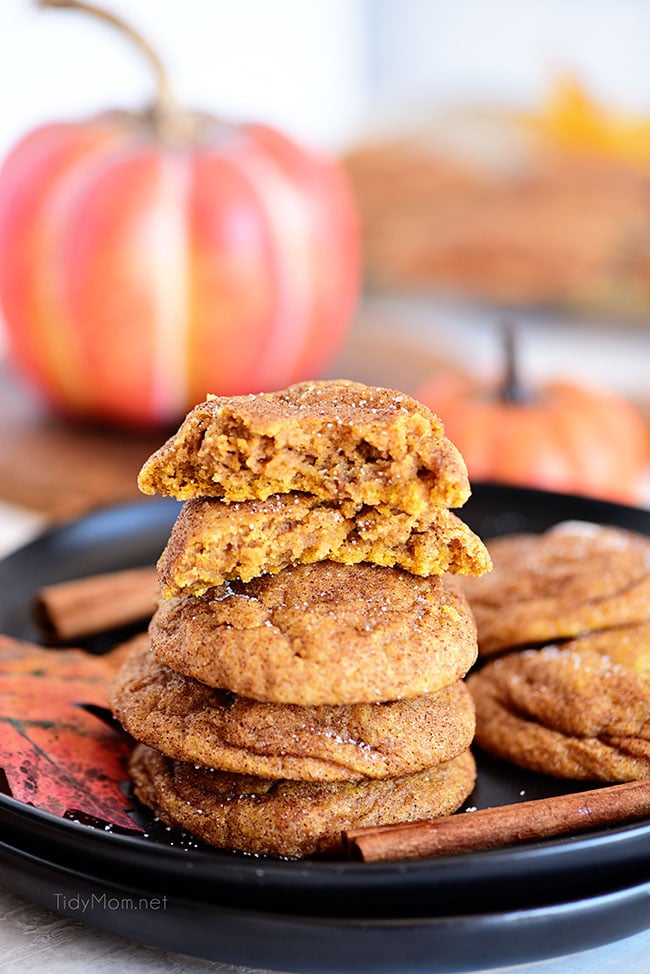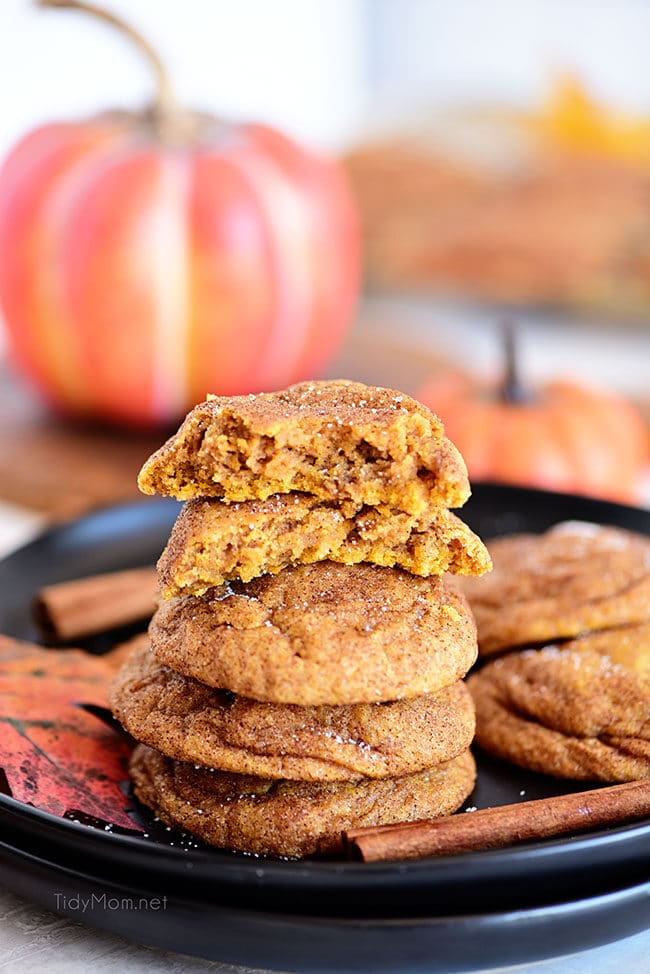 Like This Recipe? Then You'll Love These Cookies!
Toffee Chocolate Chip Shortbread Cookies – The buttery melt-in-your-mouth shortbread is studded with caramelized toffee bits and mini chocolate chips in every bite. They are sure to win a spot on your favorite cookie list.
Easy Holiday Rum Balls – A tender, pecan-filled truffle-like treat that is for adults only. Made with dark rum, they are a delicious way to spread holiday cheer.
Peanut Butter Blowout Cookies – This is not your ordinary peanut butter cookie. This peanut butter cup cookie is packed full of peanut butter, chocolate chips, Reese's Peanut Butter Cup Minis, and honey roasted peanuts.
Like This Pumpkin Snickerdoodles Recipe? Pin It!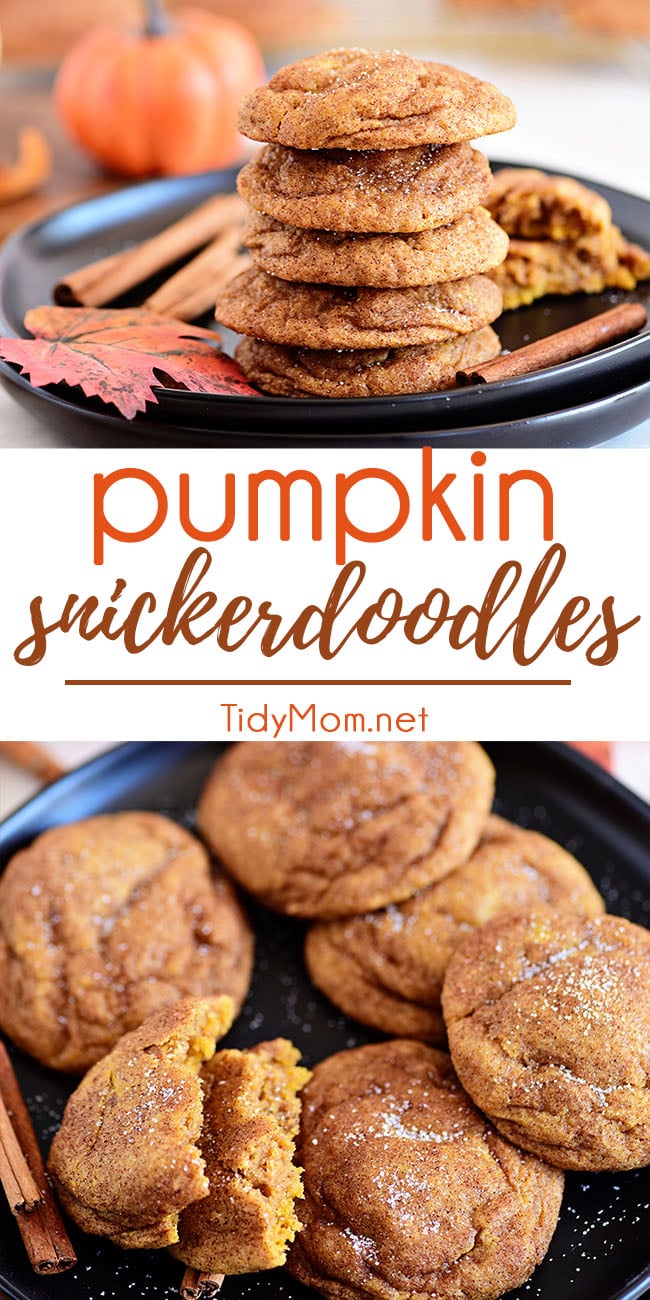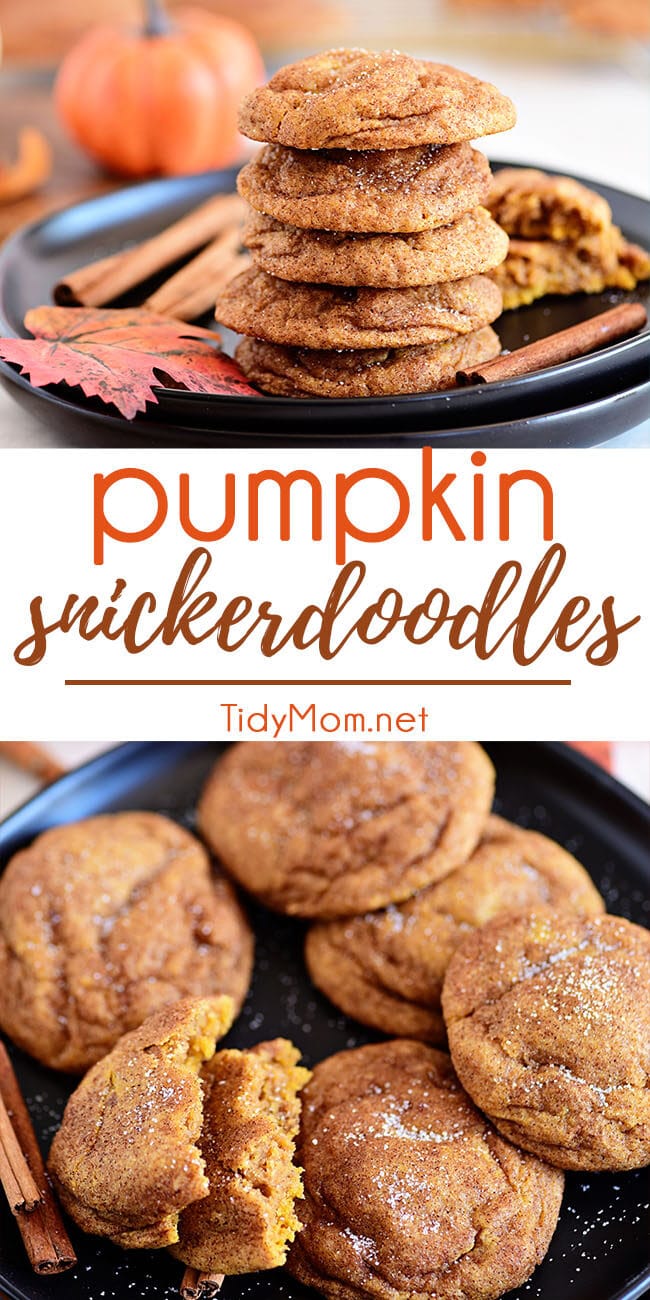 Tools used to make these pumpkin snickerdoodles
This is my favorite sheet pan to use. I have about 4 I use in my kitchen pretty much every time I bake cookies. They are the perfect cookie baking sheet!
The pre-cut parchment sheets are a lifesaver, and they fit perfectly in the above-mentioned sheet pan. You never have to mess with measuring and cutting out parchment paper from the roll again with these.
This is one of these kitchen tools I never knew I needed until I finally got one! It makes it so easy to ensure you are always getting the correct measurements when baking or cooking.
FOLLOW ALONG ON SOCIAL MEDIA
If you're looking for even more inspiration check out the fun little group I created on Facebook, I'd love for you to join in! It's a place where you can share YOUR favorite recipes, home tips, creative ideas and ask questions and see what's new with TidyMom! If you'd like to check it out, you can request to join HERE.
Be sure to follow me on Instagram and tag #tidymom so I can see all the wonderful TidyMom recipes YOU make and tips YOU use!
Connect with TidyMom!
Facebook | Twitter | Pinterest | Instagram
Sign up to receive an email in your inbox for each new recipe: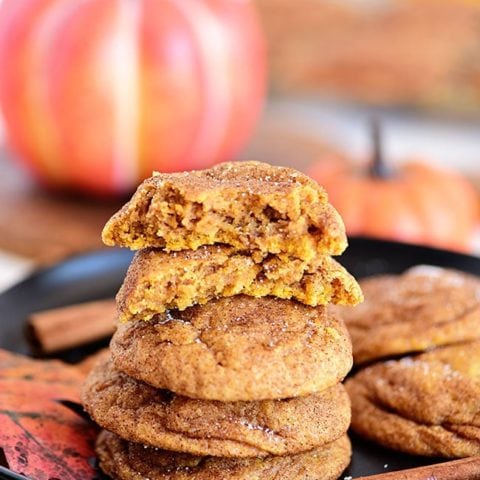 Pumpkin Snickerdoodles
Yield: 20 large cookies

Prep Time: 15 minutes

Cook Time: 19 minutes

Total Time: 34 minutes

Soft and fluffy Pumpkin Snickerdoodles are an easy snickerdoodle recipe with just the right dose of real pumpkin and warm spices. A classic cookie, with a fun fall twist.
Ingredients
1 cup butter, softened
3/4 cup granulated sugar
1/2 cup packed brown sugar
1/2 cup solid pumpkin
1 egg
2 teaspoons vanilla extract
3 cups all-purpose flour
2 teaspoons pumpkin pie spice
2 teaspoons cream of tartar
1 teaspoon baking soda
1/4 tea teaspoon salt
Topping
2 tablespoons granulated sugar
2 tablespoons pumpkin pie spice
Instructions
In a large bowl cream together butter, 3/4 cup granulated sugar and brown sugar until fluffy and well combined. Add in pumpkin, egg, and vanilla. Whisk just until combined.
Using another bowl mix flour, pumpkin pie spice, cream of tartar, baking soda and salt. Whisk to combine then blend into wet ingredients. Don't overmix. Cover tightly and place in the fridge for 45 minutes to 1 hour.
Preheat oven to 325° F. Line a cookie sheet with parchment or Silpat. In a small bowl combine granulated sugar and pumpkin pie spice. Set aside for rolling
For cookies with a chewy center and crisp edge, roll 1.5 ounces of cookie dough into a ball, then into a tall log shape (about 1 inch around and 2 inches tall). Roll each dough "log" in sugar and spice topping and place on prepared pan about 3 inches apart. Bake 17-19 minutes. Do not over bake. The cookies should be slightly puffy when you get them out but set around the edges. Allow cookies to cool on the baking sheet for 10 minutes then transfer to a wire rack to cool completely.
Store in an air-tight container for up to 7 days.
Notes
If you'd rather make smaller cookies, roll chilled cookie dough into 1-inch balls and bake for 11-13 minutes.
Recommended Products
As an Amazon Associate and member of other affiliate programs, I earn from qualifying purchases.