Pumpkin Dump Cake
This post may contain Amazon or other affiliate links. As an Amazon associate, I earn from qualifying purchases.
Pumpkin Dump Cake is the trifecta of pumpkin desserts; cake, pumpkin pie, and cobbler all in one! Full of Fall flavors with layers of creamy pumpkin, golden cake, and crunchy pecans. This simple dessert recipe is an easy option for seasonal get-togethers that everyone loves.
No matter the season, quick and easy desserts are a must! ICYMI, here are a few of my time-saving recipes you need to check out. Easy Apple Crisp, Pumpkin Gooey Butter Cake, Peach Kuchen, No-Bake Margarita Pie. Bonus! One of my classic Fall favs, Easy Bourbon Apple Cider Cocktail (with or without the booze), for some unwind "me-time!"
Be sure to sign up for my email… to get new recipes and ideas in your inbox!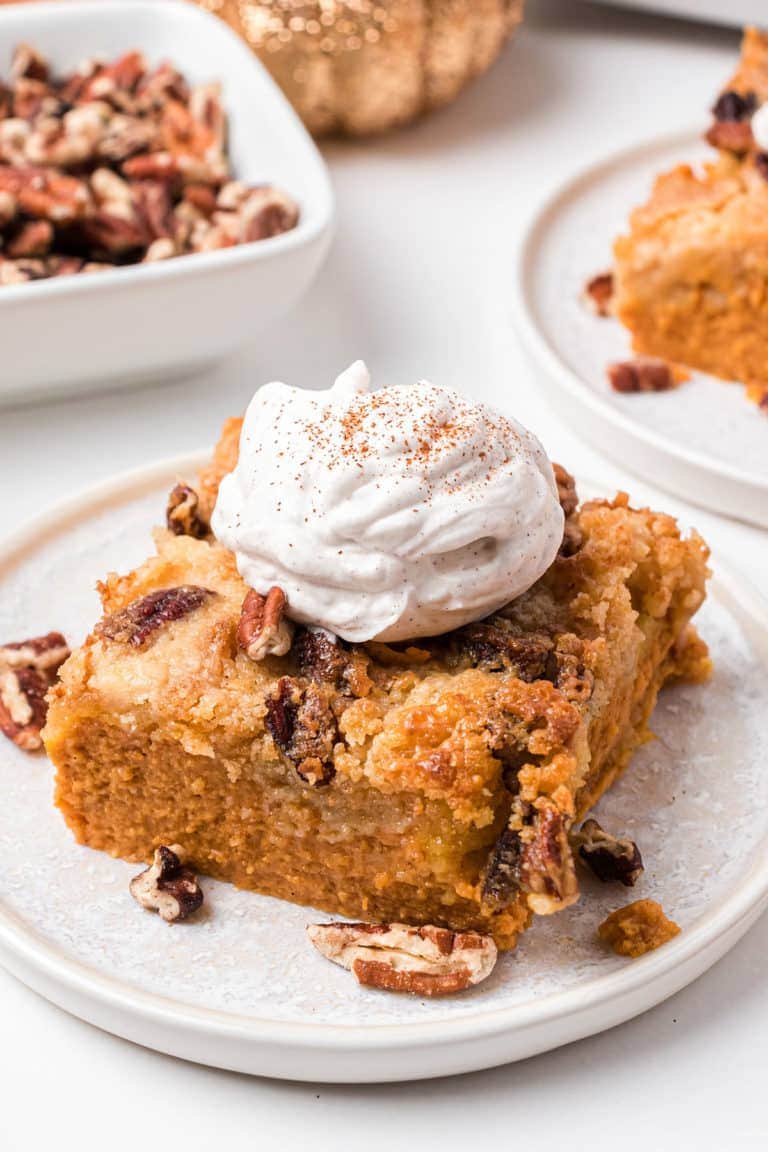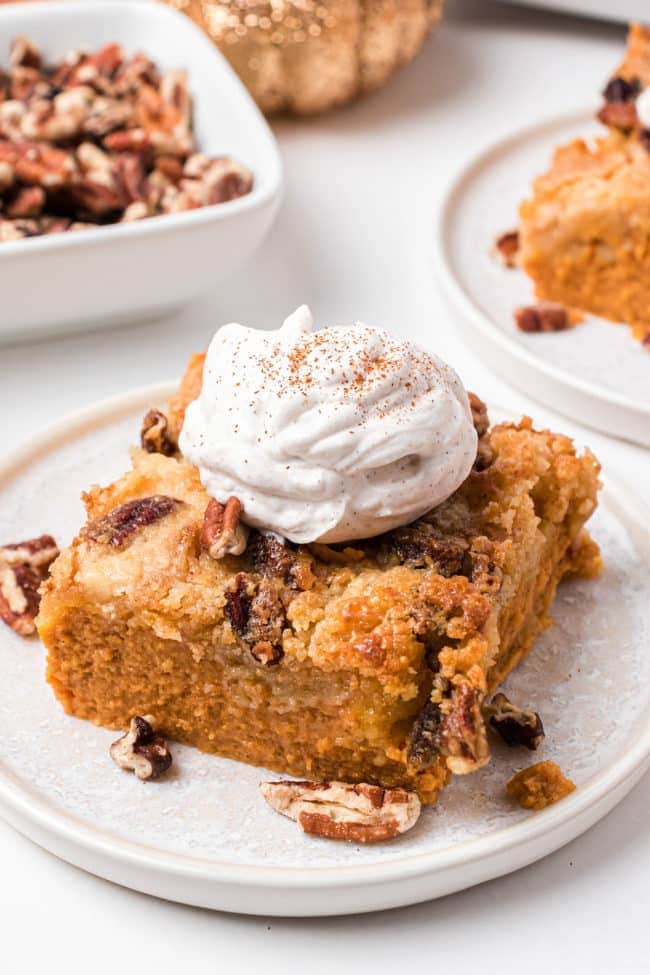 Why Do They Call It Dump Cake?
You guessed it! Because you "dump" the ingredients into a baking dish and throw it in the oven. Usually, dump cake recipes require no stirring or even a mixing bowl. A traditional 3 ingredient dump cake layers pie filling or canned fruit with yellow cake mix and butter. Our pumpkin dump cake incorporates eggs, so we figure we should give them a good stir first.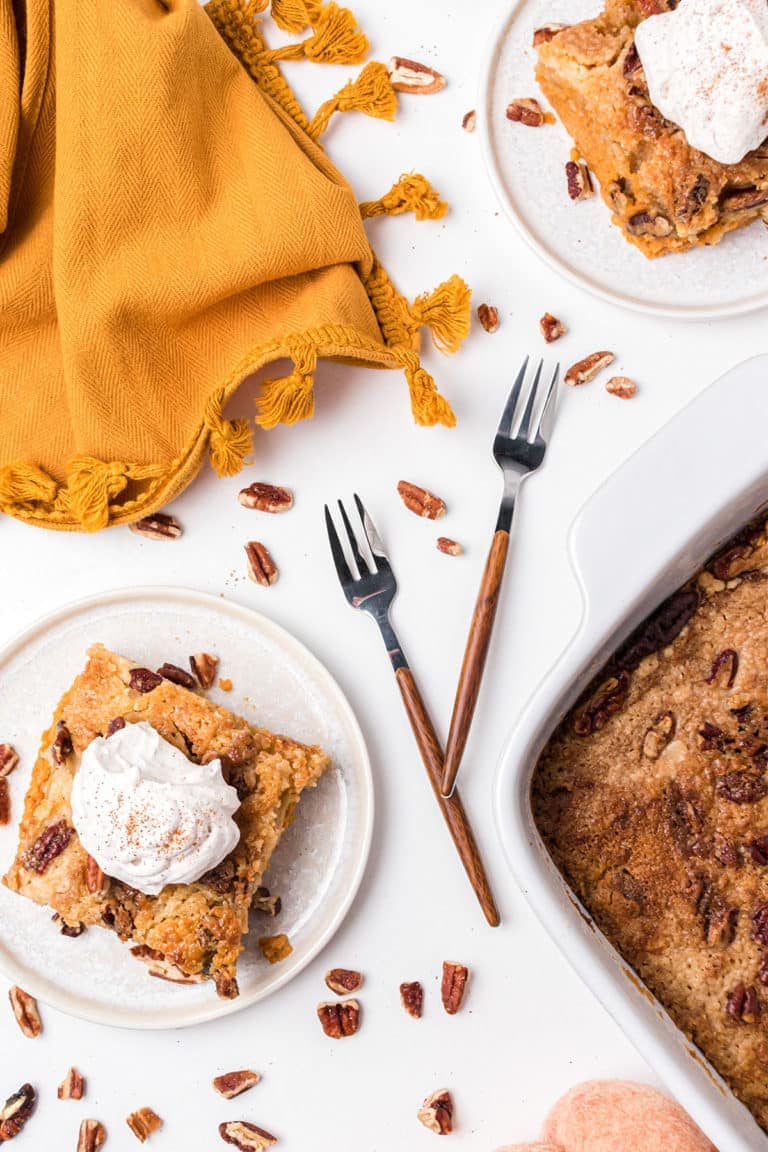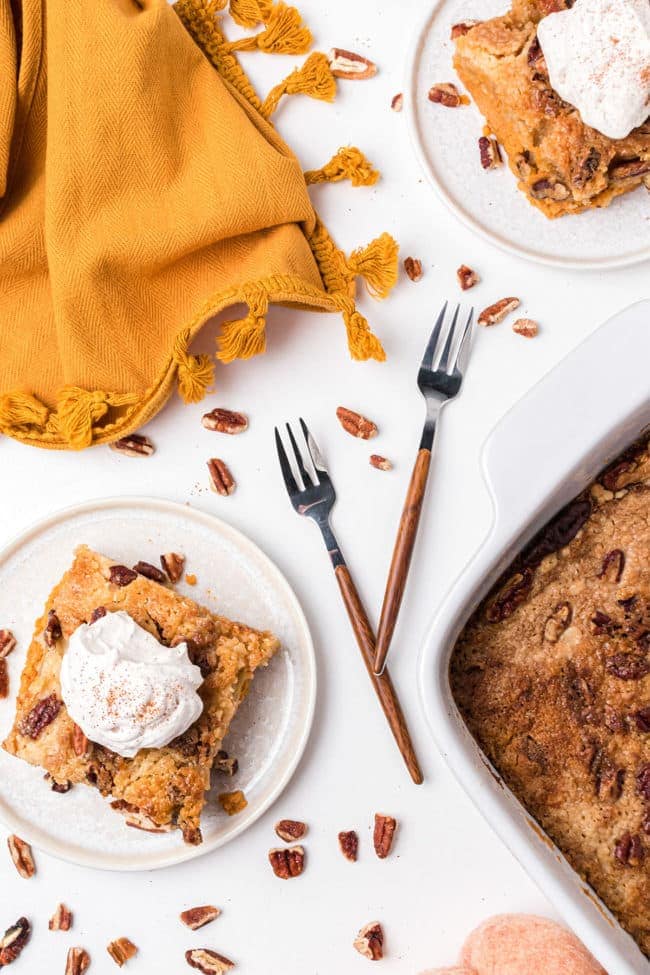 Why We Love Pumpkin Dump Cake
Dump cake recipes with yellow or white cake mixes are more than just a quick and easy pumpkin dessert; it adds the element of fun. I mean, you sprinkle a dry cake mix over the pumpkin filling, top it with pecans and butter, then watch it magically transform into golden deliciousness! I love it!
Pumpkin dump cake is a great way to get a traditional-tasting pumpkin dessert on the table in no time!
Cobbler, cake, and pumpkin pie all "dumped" into one is an inspired way to satisfy the clan who like different pumpkin baked goods.
This pumpkin dessert recipe serves a crowd.
Pumpkin dump cake can be served warm, room temperature, or cold. Top with cinnamon whipped cream and it's heavenly!
Very little prep, skill, or time is needed to make this pumpkin magic cake.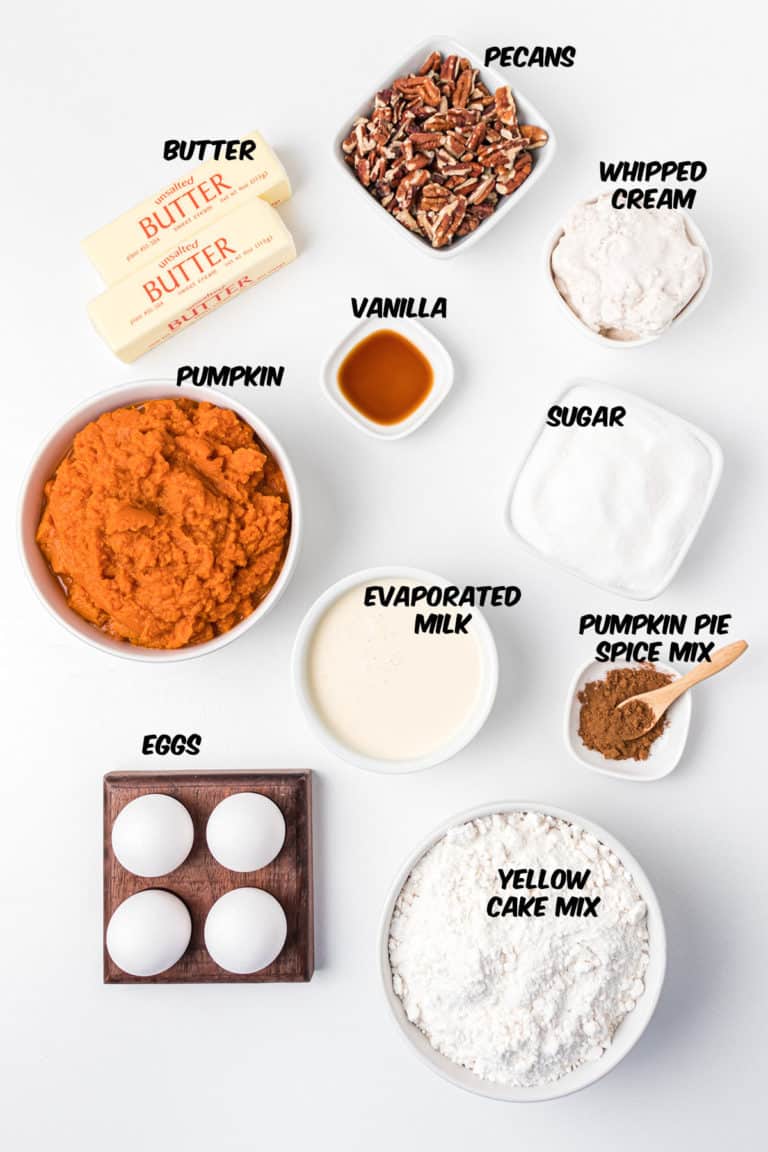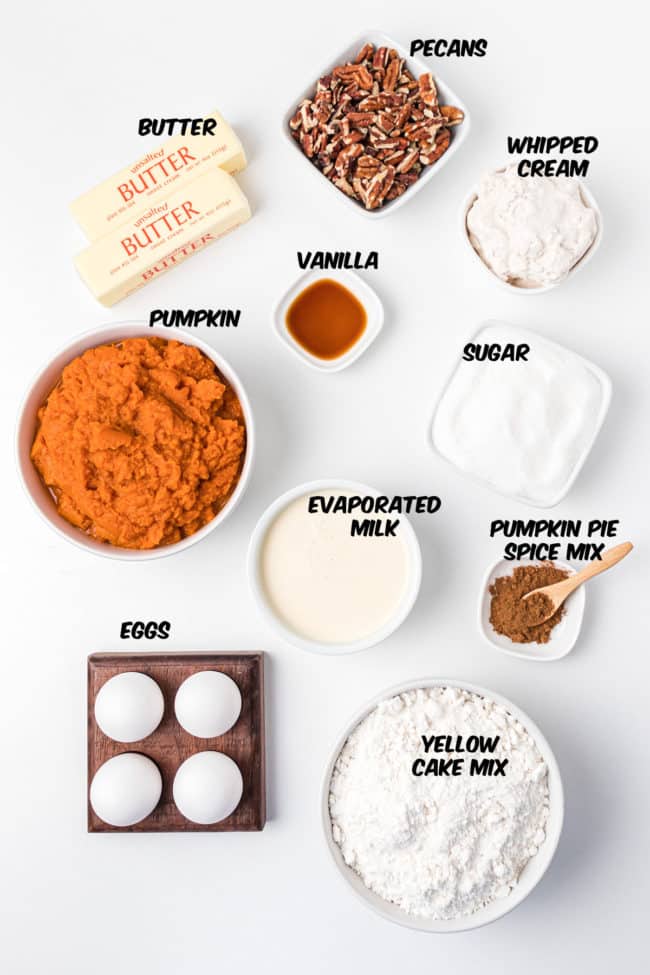 Pumpkin Dump Cake Recipe Ingredients
(full printable directions at the end of this post)
No pie crust to make, no mixer to clean; just whisk, dump and bake. Our dump cake recipe with yellow cake mix is a touch more sophisticated since we use eggs and evaporated milk for our silky pumpkin filling. It's a special take on pumpkin pie with all the taste and a lot less work!
Canned Pure Pumpkin – is cooked Dickinson pumpkin, canned without any other ingredients added. Do NOT use canned pumpkin pie filling for this pumpkin recipe.
Sugar – white granulated for pumpkin dump cake.
Large Eggs – give the pumpkin custard layer structure. Take the chill off the eggs before you start the dump cake recipe.
Evaporated Milk – adds creaminess to pumpkin pie filling but mainly serves as a thickener. Do not use condensed milk.*
Pumpkin Pie Spice Mix – Yes! I have an easy homemade pumpkin spice mix recipe. You can change the spice ratios and eliminate any that you don't prefer.
Vanilla Extract – creamy vanilla notes lift the silky pumpkin filling by enhancing the sweetness. I always recommend using use real vanilla extract.
Boxed Yellow Cake Mix – While this recipe uses a cake mix, it does not come out like a cake. (only use the mix, do not make the batter)
Pecans – are chopped and don't need to be toasted before baking.
Butter – needs to be slightly chilled so that it is easy to cut into uniform pieces.
Optional: Cinnamon Whipped Cream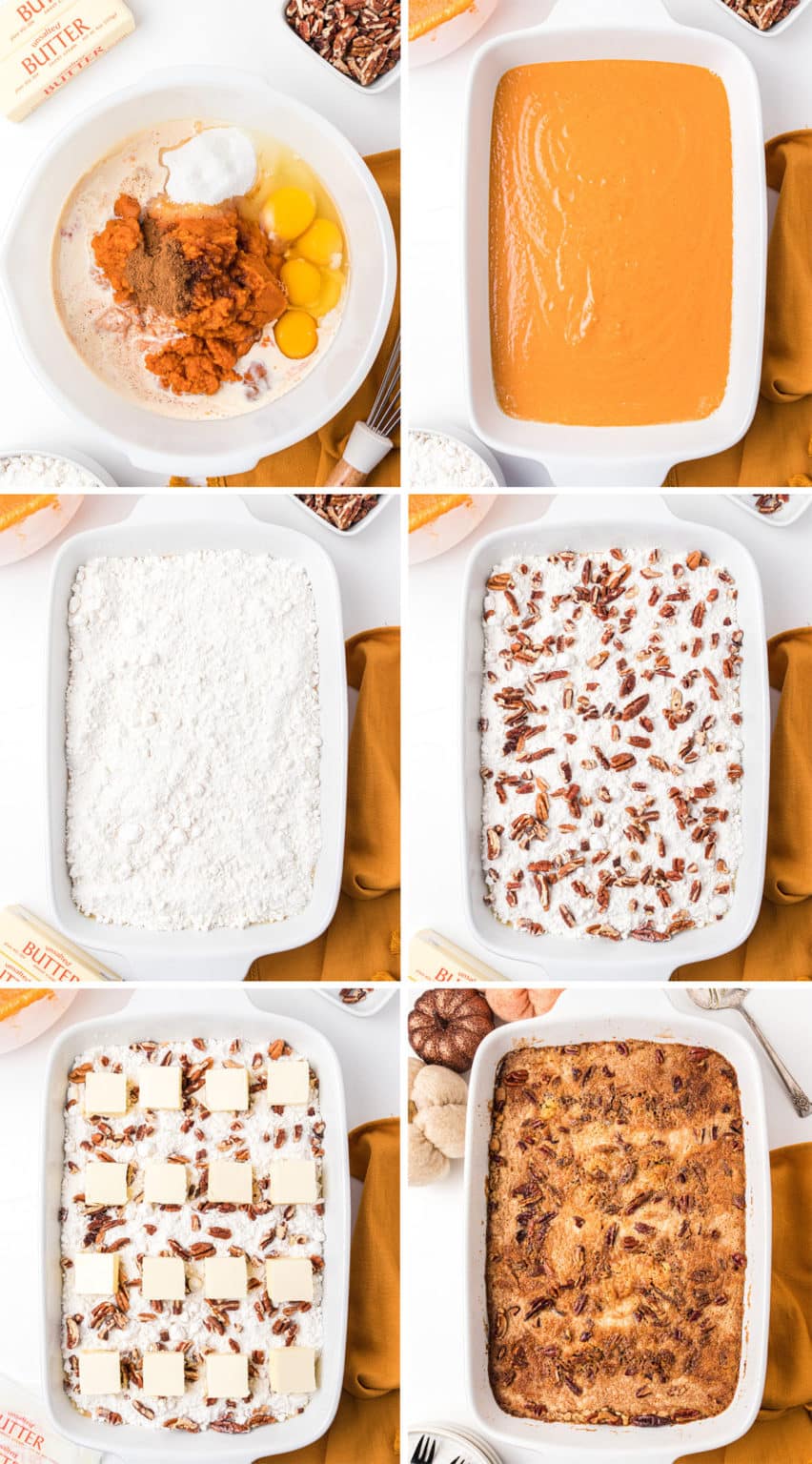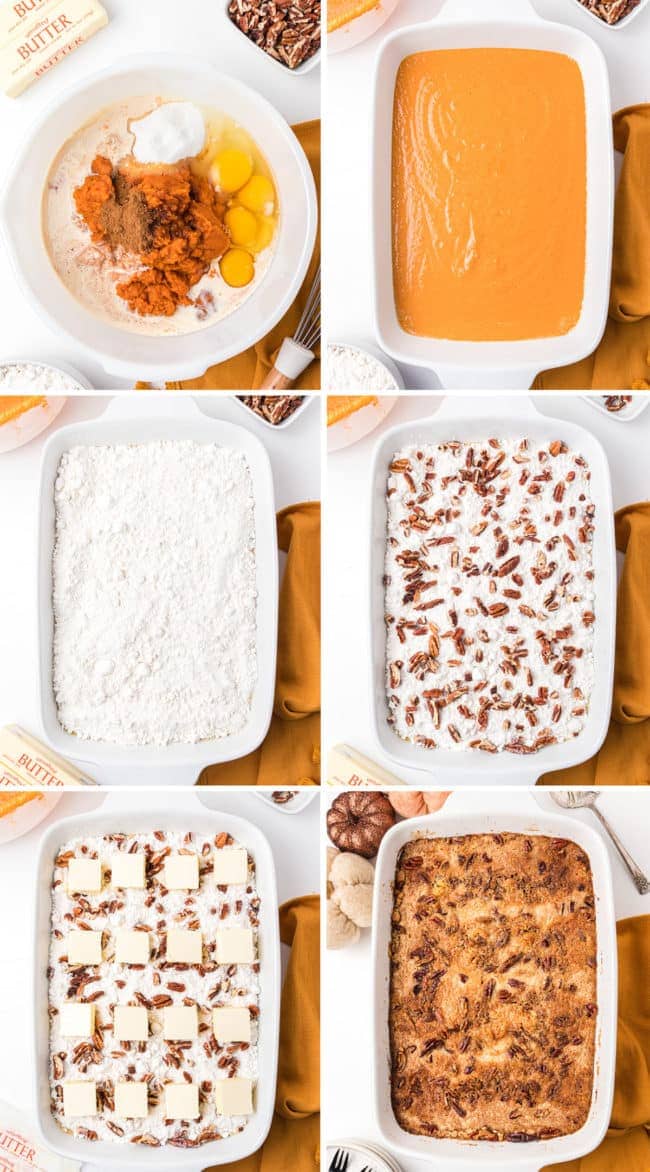 How To Make Pumpkin Dump Cake With Yellow Cake Mix.
You only need a mixing bowl, whisk, and baking dish. This no-hassle pumpkin dessert smells like heaven when it's baking!
Whisk pumpkin, sugar, eggs, milk, pumpkin pie spice, and vanilla and spread evenly in a greased baking dish.
Sprinkle dry cake mix over pumpkin filling and strew pecans over the cake mix. DO NOT MIX OR STIR.
Slice butter into tablespoons and evenly space over the dump cake mixture.
Bake in preheated oven until a toothpick comes out clean.
Serve pumpkin dump cake warm or room temperature with whipped cream and cinnamon.
PRO TIP: Check the dessert in the oven after about 45 minutes. If it needs more baking time but is getting pretty golden on top, loosely cover with foil for the remaining time.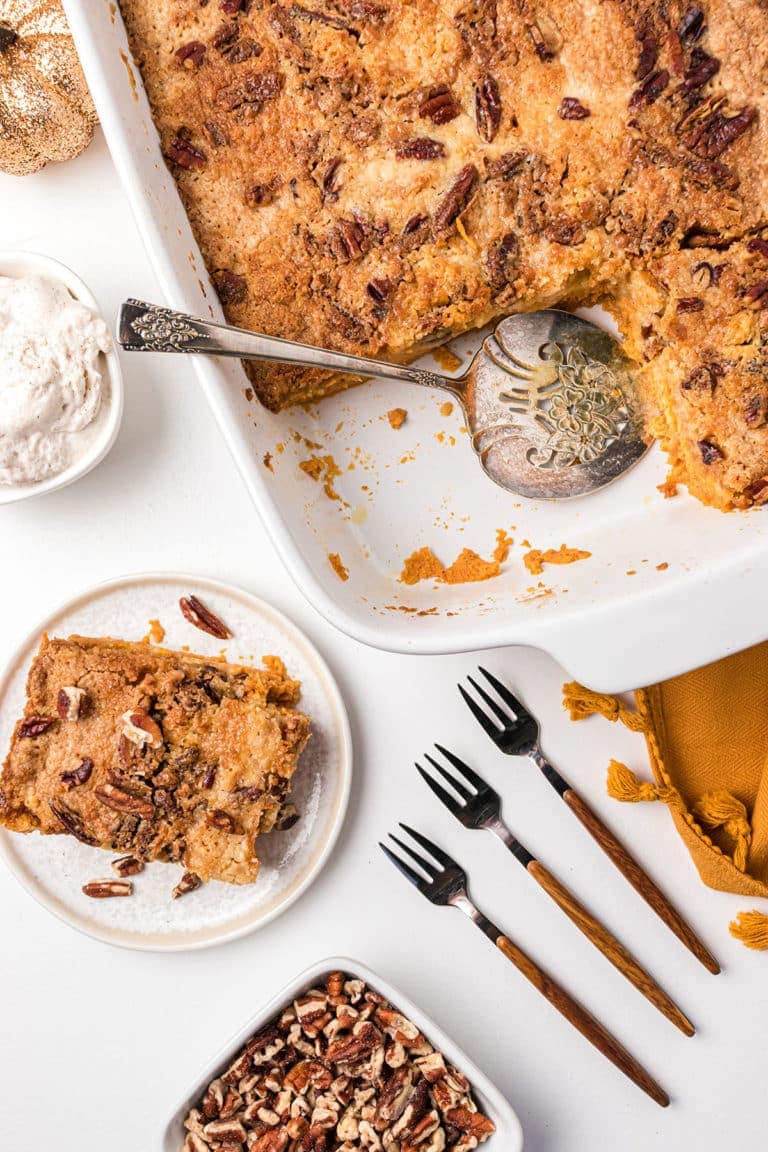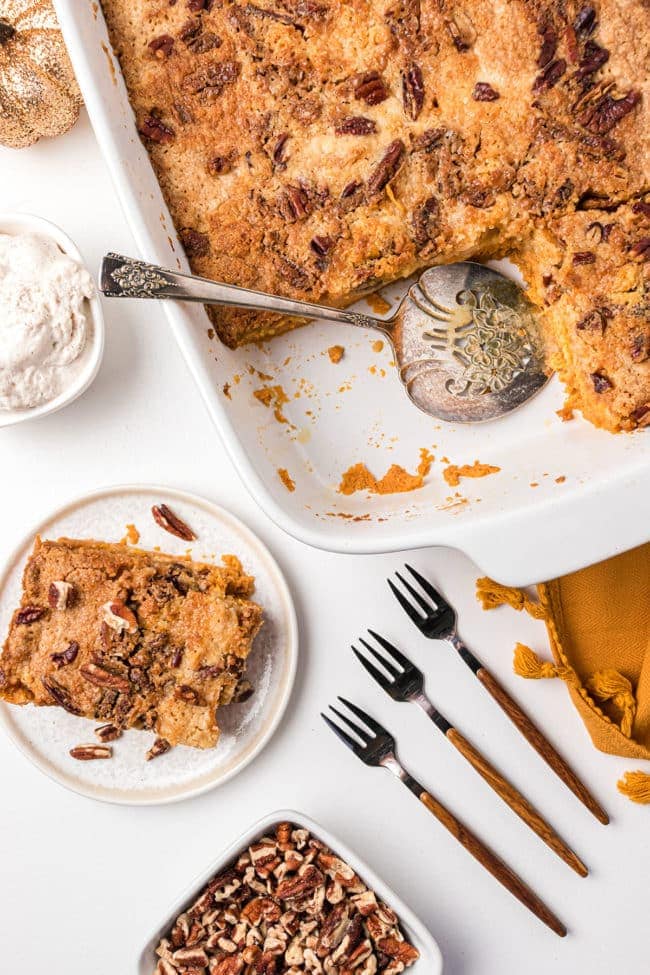 Pumpkin Dump Cake Recipe Notes/Tips
Read the full recipe before starting to make sure you have all the ingredients and equipment to make it. This will set you up for a successful dessert and make the process so much easier!
Do not make cake batter with the cake mix. You will only use the dry cake mix for a dump cake recipe.
DO NOT MIX when adding ingredients to the pan. Think "layers"; pumpkin filling, dry cake mix, pecans, pats of butter. Put it in the oven at watch the magic happen
Slice butter while it is still chilled and can be easily divided into equal pieces. Or freeze the butter for at least a half hour then grate the frozen butter for easy coverage.
Do not substitute condensed milk for evaporated. Condensed milk has 220 grams of sugar, more than a cup of pure sugar.
How To Store Pumpkin Dump Cake In Fridge Or Freezer
So there are a lot of recipes out there that say you can store a pumpkin dessert on the counter. Not if it has eggs in it! And yes, you're right, pumpkin pies at grocery stores are not refrigerated, but those pies have preservatives for just that reason.
Food Safey.gov specifically notates pumpkin pies in the Cold Food Storage Chart that pumpkin pies made with eggs should be refrigerated within two hours.
If you have leftover pumpkin dump cake, you can cover and refrigerate it for 3 to 4 days.
If you choose to freeze leftover dump cake, the guidelines say 1 to 2 months.
Serving Suggestions
Dump cakes are always yummy when served warm.
Add a scoop of vanilla bean ice cream or whipped cream.
Plate or drizzle with some caramel sauce or maple syrup.
Top with the optional garnish, Cinnamon Whipped Cream. It's a"…creamy, delicious cinnamon-spiced cloud."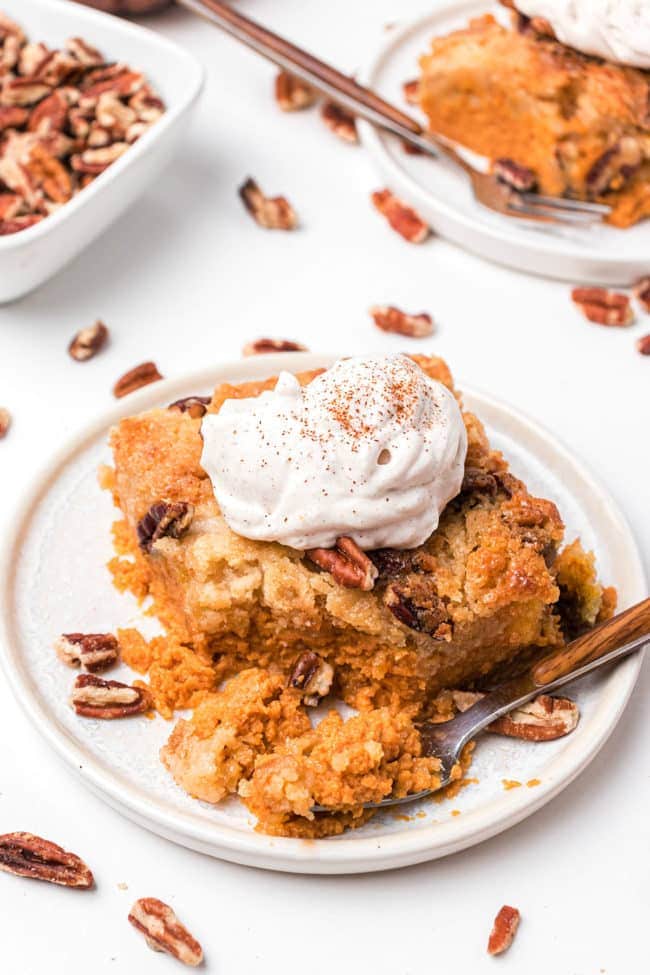 Recipe FAQs
Can I use canned pumpkin pie mix instead of pure canned pumpkin?
As a general rule, no. In a recipe that calls for canned pumpkin, the spices and sugars are calculated to accommodate that particular pumpkin recipe. Substituting in a canned pumpkin pie mix will alter the sweetness and flavor of the recipe enough to notice.
What is the difference between canned pumpkin puree and canned pumpkin pie mix?
Canned pumpkin puree is (or should be, check your labels!) pure cooked pumpkin. Pumpkin pie mix is specifically formulated with sugar and spices as a "one and done" type ingredient for pumpkin pies or other pumpkin dessert recipes. Canned pumpkin pie mix (Libby's) has a significant amount of sugar (16 added grams per ⅓ cup) and other ingredients that include, but are not limited to: water, salt, spices, dextrose, and flavorings.
What is a Dickinson pumpkin? (And why we want to know!)
A Dickinson pumpkin is an heirloom winter squash with dense, tan-colored skin, an elongated shape, and sweet orange flesh.
Grown specifically for pumpkin pies, the smooth texture, and naturally sweet flavor is very similar to butternut squash.
Every time you open a can of Libby's pumpkin, you are eating Dickinson pumpkin.
Do I have to use yellow cake mix?
Nope! Spice, vanilla, or butter cake mix are delicious options for yellow cake mix in pumpkin dump cake.
Do I have to use a box cake mix?
This recipe does require a dry cake mix, but you can certainly make your own yellow cake mix if you'd prefer!! Whisk together 2 ¾ cups of cake flour, 1 ½ cups of sugar, 4 teaspoons of baking powder, and 1 teaspoon of salt. and you've got a homemade yellow cake mix.
Like This Recipe? Pin It!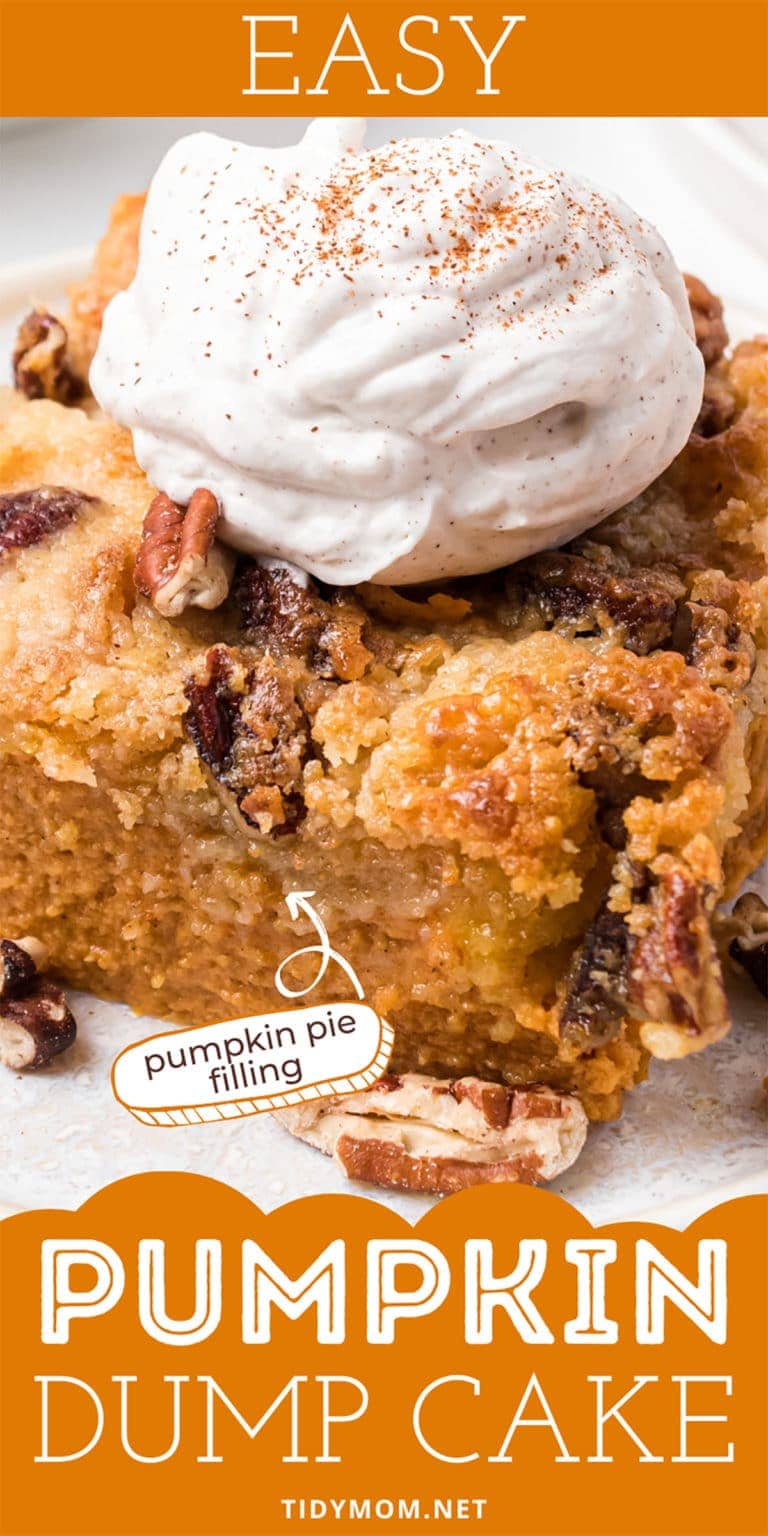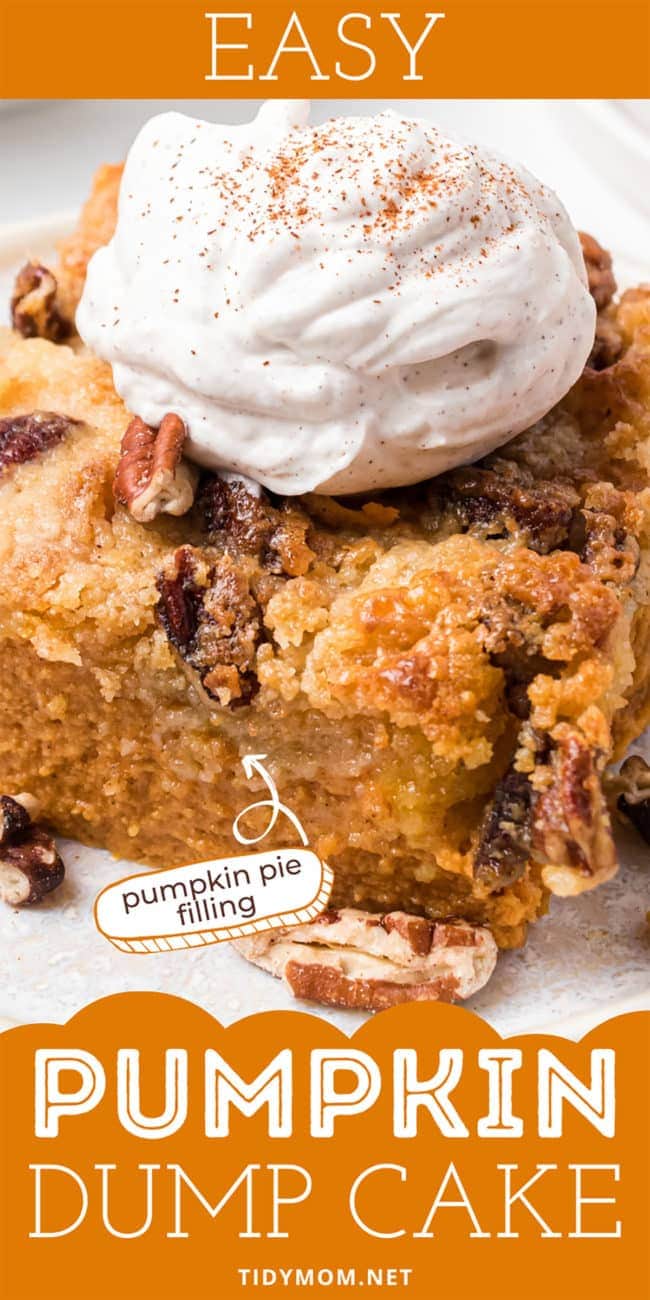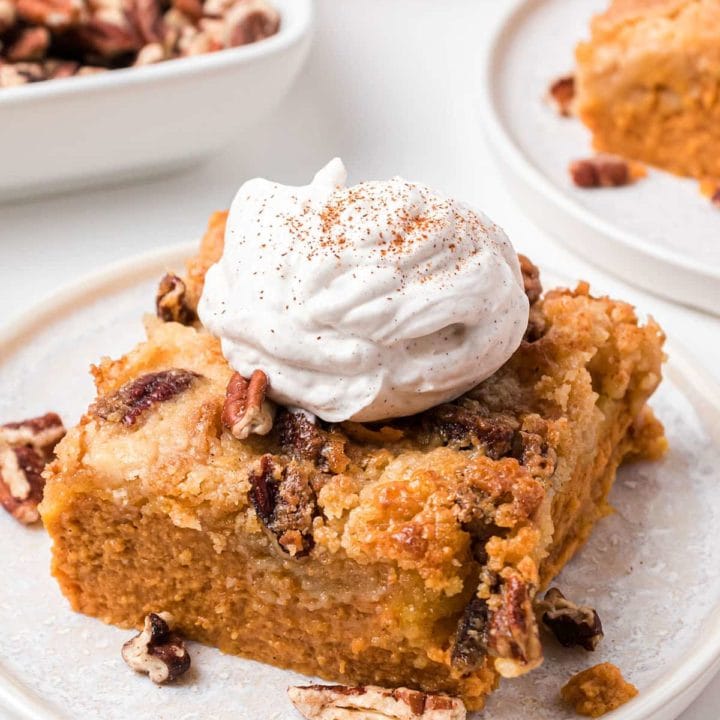 Pumpkin Dump Cake
Yield: 16
Prep Time: 10 minutes
Cook Time: 50 minutes
Total Time: 1 hour
Pumpkin Dump Cake is the trifecta of pumpkin desserts; cake, pumpkin pie, and cobbler all in one! Full of Fall flavors with layers of creamy pumpkin, golden cake, and crunchy pecans. This simple dessert recipe is an easy option for seasonal get-togethers that everyone loves.
Ingredients
2 (15 ounce) cans pure pumpkin
1 cup granulated sugar
4 large eggs
12 ounces evaporated milk
1 tablespoon pumpkin pie spice mix
1 teaspoon vanilla extract
1 (15-18 ounce) box yellow cake mix (spice cake works well too)
1 cup chopped pecans
1 cup butter
Instructions
Preheat the oven to 350° F and grease a 9x13-inch baking dish with non-stick cooking spray.
In a large mixing bowl, whisk together, pumpkin, sugar, eggs, milk, pumpkin pie spice, and vanilla extract until fully combined. Pour into the prepared pan and spread into an even layer.
Sprinkle dry cake mix evenly over pumpkin filling. Toss pecans over the dry cake mix.
Slice butter into tablespoons and place them evenly over the pecans.
Bake for 50-60 minutes* or until a toothpick inserted in the center comes out clean.
Cool some before serving. Serve warm or room temperature with whipped cream and cinnamon.
Notes
* Check the cake in the oven around 45 minutes, if it needs more baking time, but is getting pretty golden on top, loosely cover with foil for the remaining time.
Leftovers should be stored covered in the refrigerator for up to 3 days.
Recommended Products
As an Amazon Associate and member of other affiliate programs, I earn from qualifying purchases.
Nutrition Information:
Yield: 16
Serving Size: 1
Amount Per Serving:
Calories: 359
Total Fat: 20g
Saturated Fat: 10g
Trans Fat: 1g
Unsaturated Fat: 9g
Cholesterol: 84mg
Sodium: 328mg
Carbohydrates: 41g
Fiber: 2g
Sugar: 28g
Protein: 5g
Nutrition information is estimated based on the ingredients and cooking instructions as described in each recipe and is intended to be used for informational purposes only. Please note that nutrition details may vary based on methods of preparation, origin, and freshness of ingredients used and are just estimates. We encourage, especially if these numbers are important to you, to calculate these on your own for most accurate results.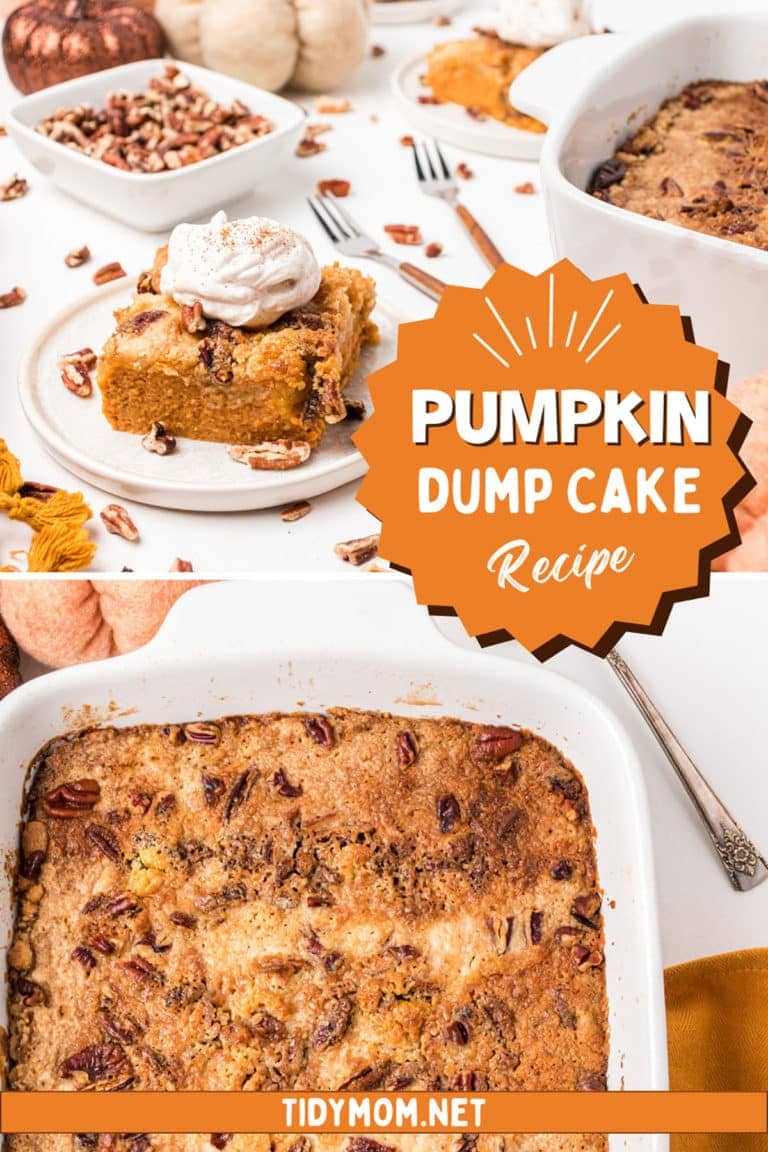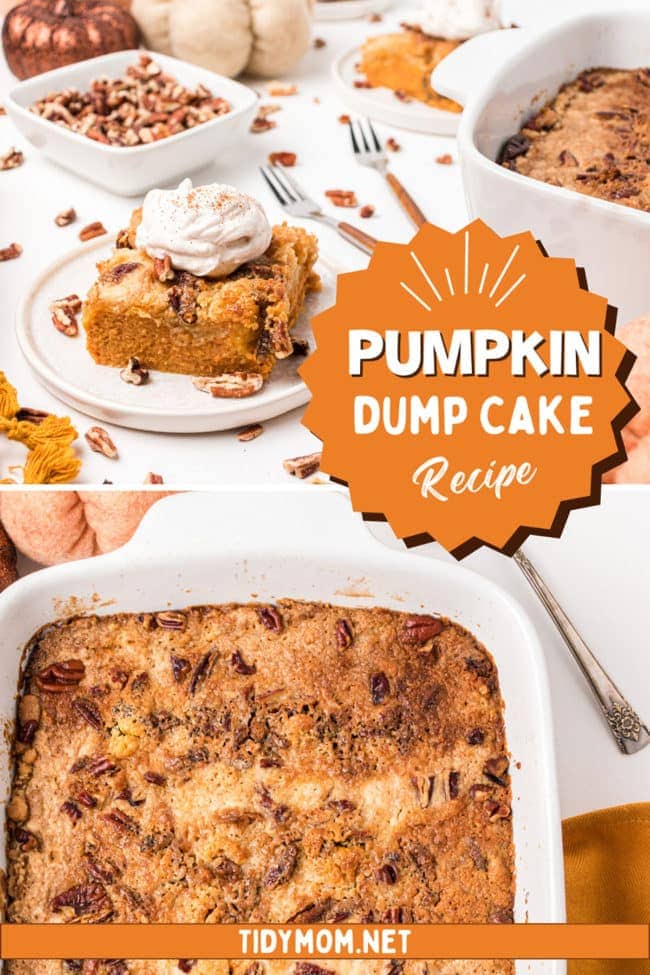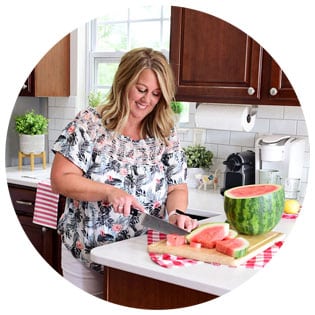 Hi there, I'm Cheryl!
As a wife, mom, and caffeine enthusiast, my journey has taken me from bustling mornings with my family to sharing delicious recipes, home care tips, and heartfelt decorating insights with wonderful readers like you. My love for baking, photography, and tidiness shines through every post I craft. Dive into my world and discover the art of homemaking, one tidy moment at a time. Read more...
Tidymom is a participant in the amazon services llc associates program, an affiliate advertising program designed to provide a means for sites to earn advertising fees by advertising and linking to Amazon.com.
Please respect my work, recipes and photographs. If you do use a recipe in your own writing, please give proper credit and link back to the original post.