Simple Pistachio Salad-Classic Watergate Salad
This post may contain Amazon or other affiliate links. As an Amazon associate, I earn from qualifying purchases.
Five-minute, five-ingredient, easy Pistachio Salad Recipe is a time-honored potluck classic. Pistachio pudding, pineapple, CoolWhip, marshmallows, and nuts create creamy tropical mounds of sweet green fluff. Everyone will love this retro dessert salad!
If you're looking for more light and refreshing deserts recipes, you'll love no-bake Frozen Strawberry Dessert, easy Key Lime Sheet Cake, and classic Ambrosia, another retro dessert salad.
Be sure to sign up for my email… to get new recipes and ideas in your inbox!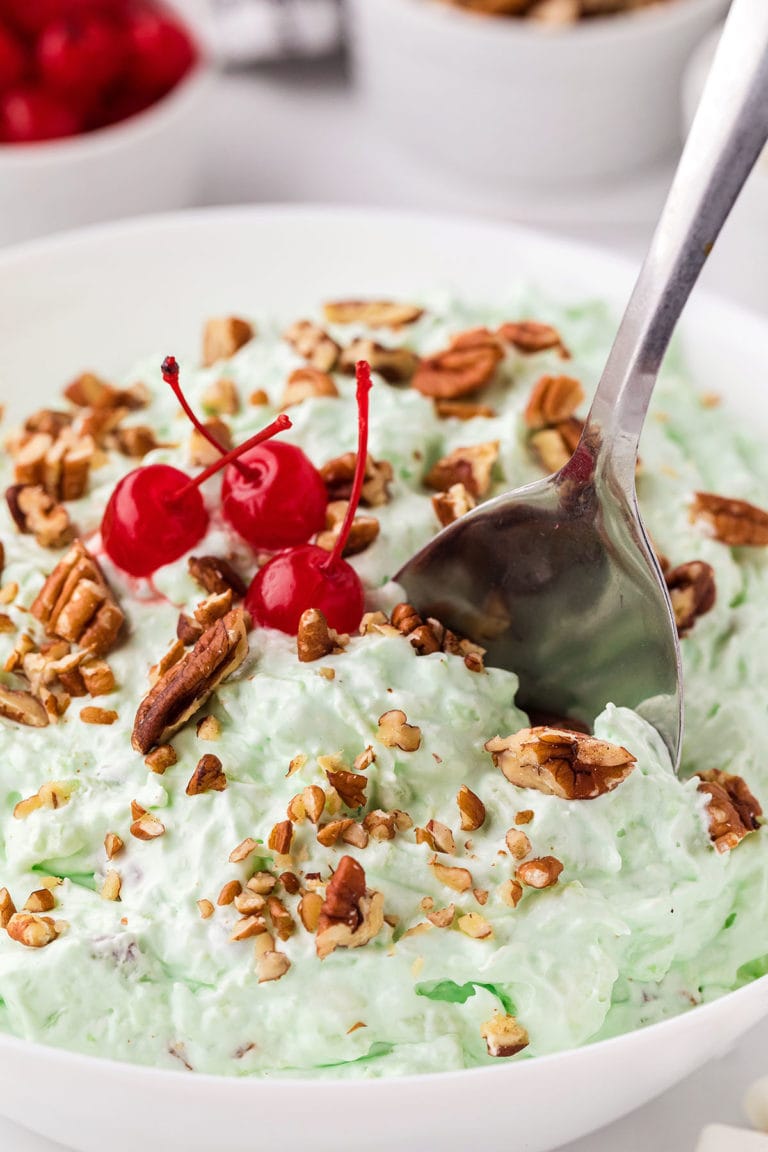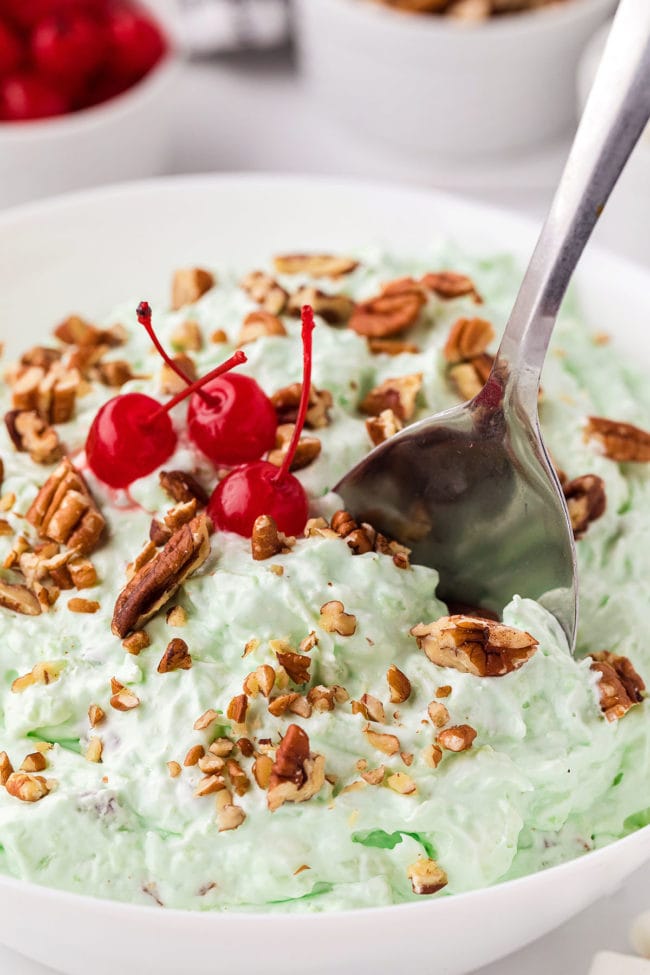 Why Pistachio Salad Is Still A Favorite For Almost Half A Century
Since being introduced in the '70s, this sweet, pistachio fluff recipe with its tropical pineapple pizzaz has been a staple at family reunions, potlucks, picnics, and backyard BBQs. It's the perfect retro dessert to wow the family instead of the same ole same ole.
Five simple ingredients that won't break the bank.
Each bite is cool, sweet, and creamy with fun, tasty textures.
A quick throw-together dessert salad with only five prep minutes.
Surprising, unique, and delicious flavor combination.
Pistachio salad is convenient to make a day ahead.
Easily double or triple this pistachio salad recipe for a large crowd.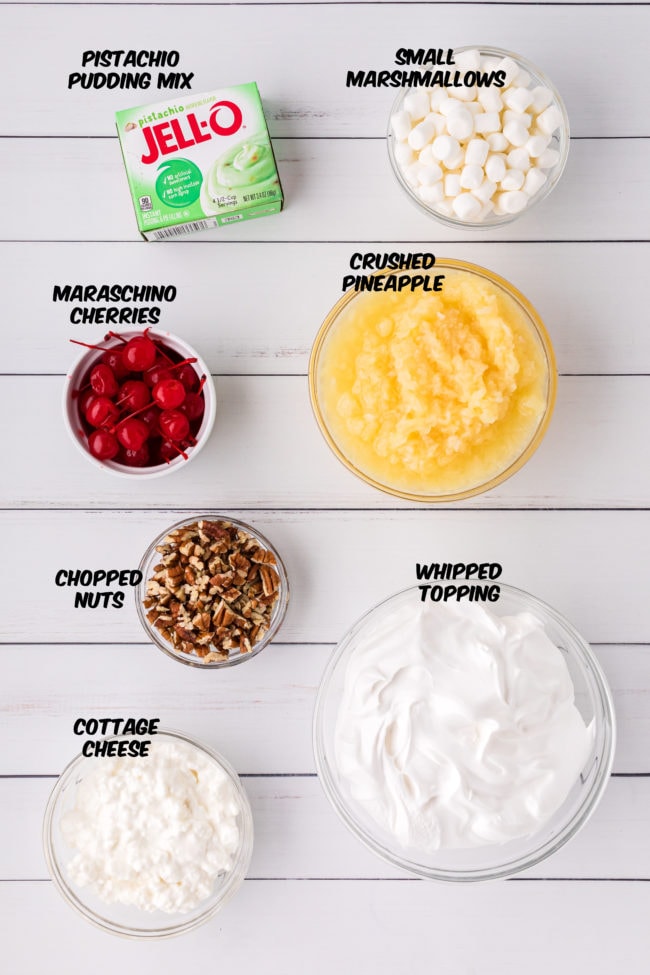 What's In A Classic Pistachio Salad
For specific amounts, please refer to the printable recipe card at the bottom of the post.
If you're curious, the Kraft "original Watergate Salad recipe" includes canned pineapple juice, just as this recipe does.
Instant Pistachio Pudding Mix – used as a dry ingredient; no need to prepare.
Canned Pineapple – A large can of crushed pineapple; you will use the juice.
Whipped Topping – A frozen topping like CoolWhip, TruWhip, or Great Valley brand, thawed. (or stabilized whipped cream)
Cottage Cheese -(*optional) small curd.
Mini Marshmallows
Nuts – your preference: pistachios, walnuts, or pecans
Garnish – maraschino cherries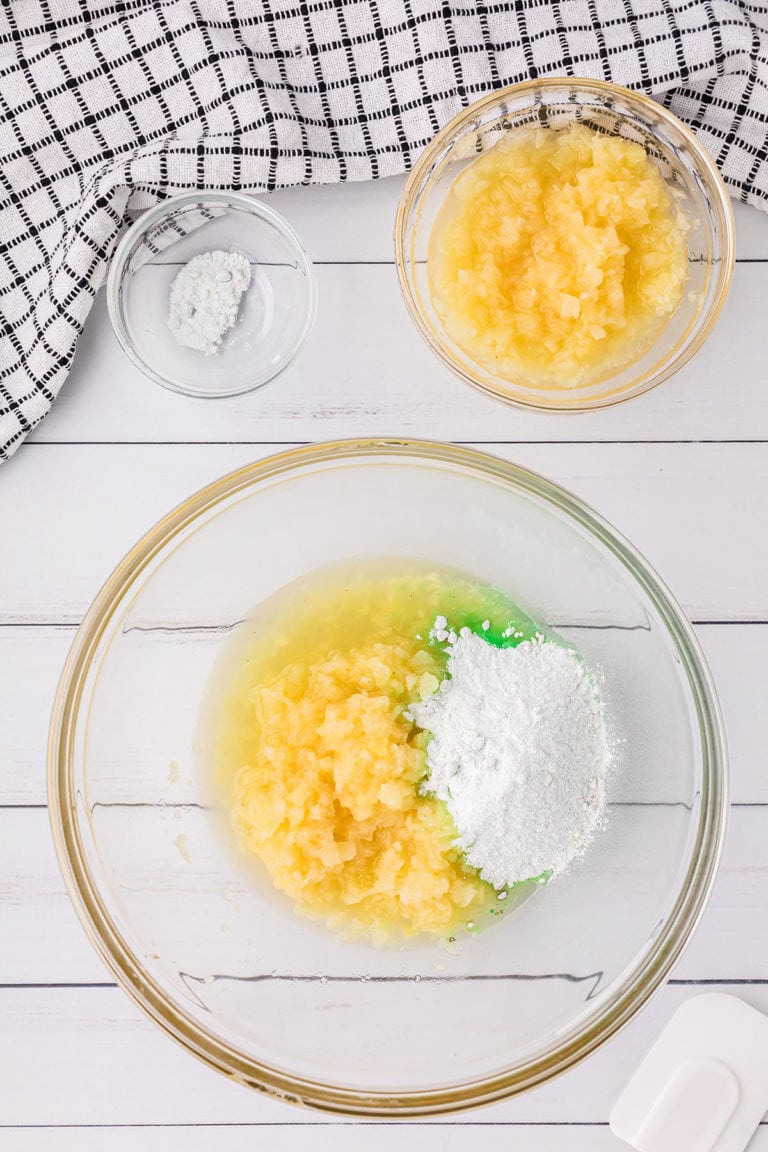 This post may contain affiliate links. Please read my disclosure policy here.
How To Make Pistachio Salad Aka Watergate Salad
You won't have to wonder why this tasty pistachio pineapple delight has been a potluck staple for almost 5 decades. Crazy simple; All you need to create this retro fruit salad is a mixing bowl and a spatula.
When you are baking, you'll want to use the full recipe at the bottom of the page.
Mix pineapple, juice, and pistachio pudding.
Fold in the remaining ingredients.
Cover the pistachio fluff and refrigerate.
After 4 hours, pour the fluff into a serving dish; garnish with nuts and maraschino cherries. ENJOY!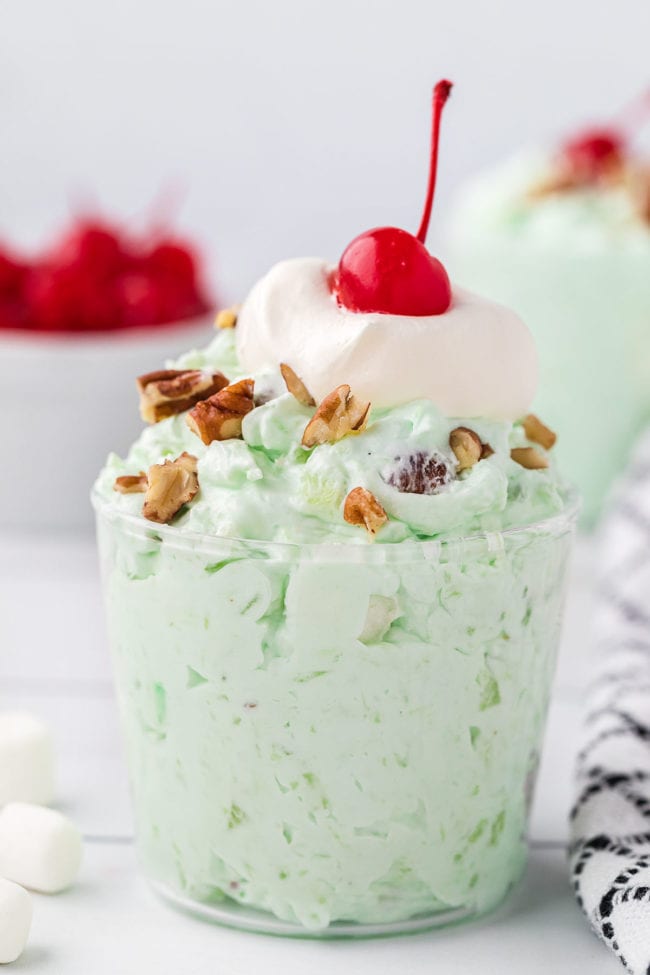 Watergate Salad/Pistachio Salad Recipe Notes And Tips
The cottage cheese in this pistachio salad reduces the sweetness and allows more pistachio flavor to shine. (Sweet-sensitive palates and dieters will thank you.)
If you enjoy the classic, extra sweetness of the original Watergate Salad, you leave out the cottage cheese. It's totally optional.
You can always keep your "secret ingredient" secret by blending the cottage cheese until smooth before adding it.
Remember, just like the original Watergate Salad recipe, you do not drain the pineapple in this light and yummy green fluff recipe.
Want the pistachio fluff greener? Add a drop of green food color.
If you prefer whipped cream over the whipped topping, add 1 tablespoon of cornstarch and 1 tablespoon of confectioner's sugar to 8 ounces of whipping cream to stabilize.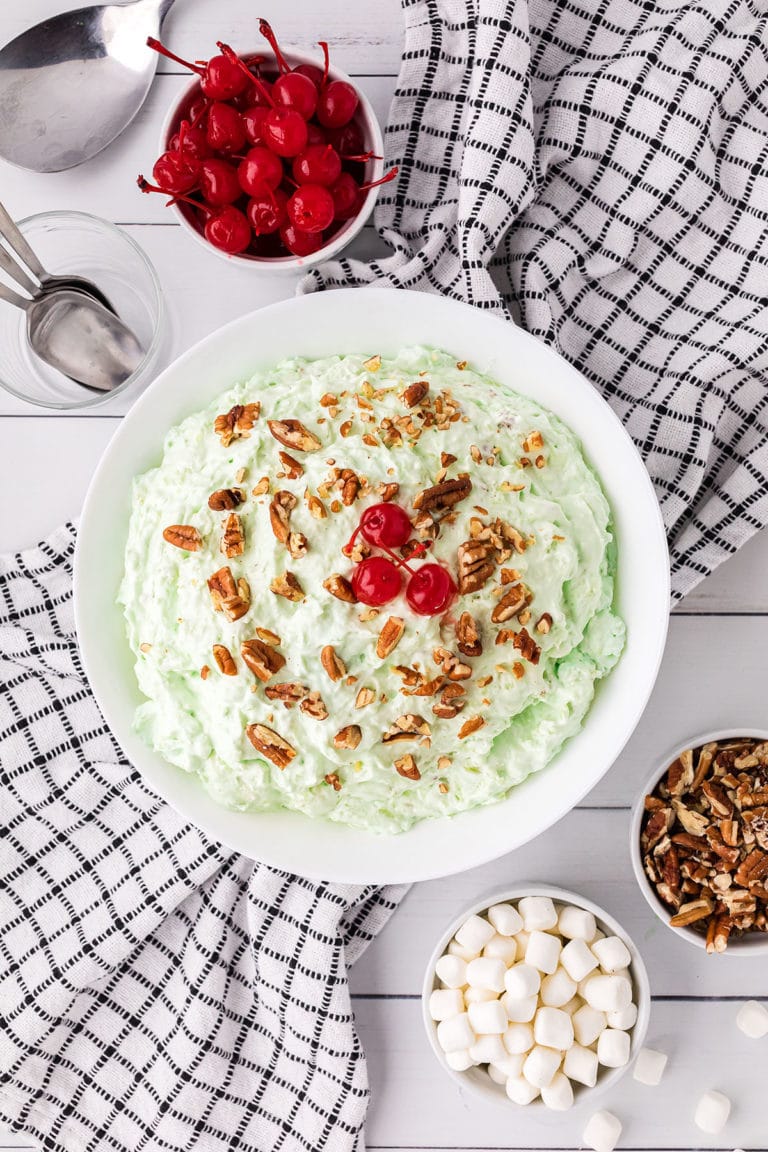 How To Store Pistachio Fluff Salad
Leftover Pistachio Salad can be kept in the refrigerator in an airtight container for 3-5 days. Stir before serving.
If you'd like to dip out individual portions for custard dishes or parfaits, you can do it before or after the salad has set up in the fridge. Just keep them well-covered.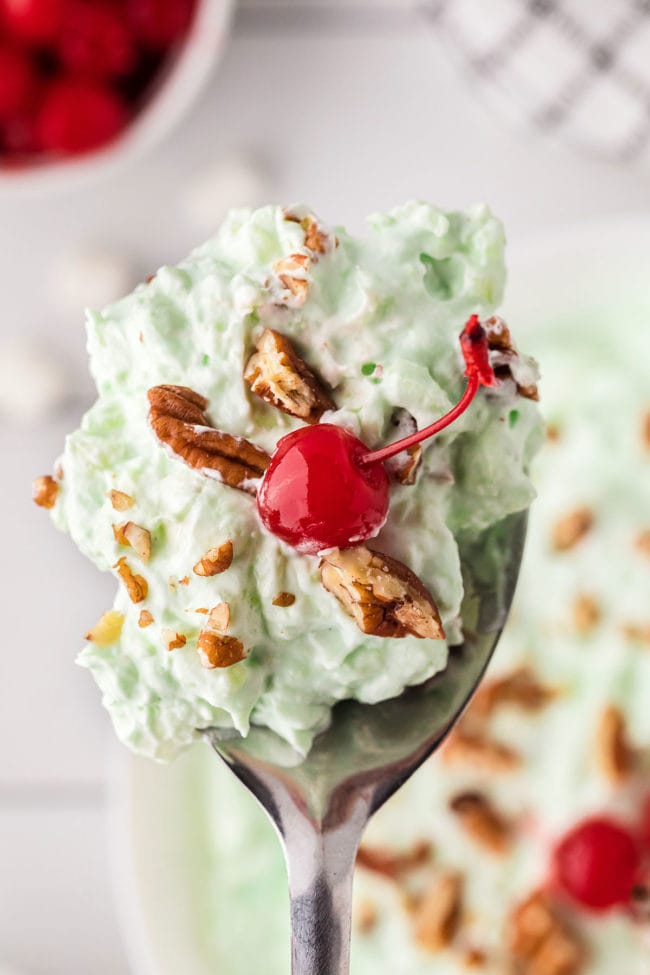 Pistachio Salad aka Green Fluff FAQs
Can you substitute fresh pineapple for canned pineapple in pistachio salad?
For a pistachio salad/green fluff recipe, it's best to stick to canned pineapple to avoid a runny consistency. The enzymes found in fresh pineapple interfere with the ability of the gelatin to set. These enzymes are destroyed during the canning process; this is why canned pineapple works so well in a pistachio pineapple delight recipe.
Can you use whipped cream in green fluff instead of whipped topping?
Yes, but you'll want to stabilize the whipped cream to keep it from breaking down and becoming watery in pistachio salad. You can add gelatin or simplify the process by adding a tbsp of powdered sugar and cornstarch to a cup of whipping cream.
What other flavor pudding can I use for green fluff?
You can use any flavor of instant pudding to make a "fluff dessert" you enjoy. I like the idea of coconut or vanilla occasionally. Still, you'll have to add a couple of drops of green food coloring for it to be "green fluff." A strawberry and pineapple combo might be nice too!
Pistachio Salad Serving Ideas
To serve pistachio salad, start by giving it a good stir to make sure the ingredients are evenly distributed. This dish is a great addition to any meal, whether as a dessert or as a side dish like it was served in the 70s.
Spoon the salad into individual dessert bowls or onto plates alongside our Apricot Glazed Ham. You can also garnish it with whipped cream and a sprinkle of chopped pistachios for added flavor and presentation. Serve chilled and enjoy!
Make your pistachio salad recipe into a creamy, dreamy dessert pie by serving it in a graham cracker crust!
Create gorgeous individual parfaits with parfait or wine glasses and top them with whipped cream, nuts, and a cherry.
Make green fluff frozen cookie sandwiches with your favorite sugar cookie, shortbread, Pecan Sandies, or graham crackers for a great warm-weather treat.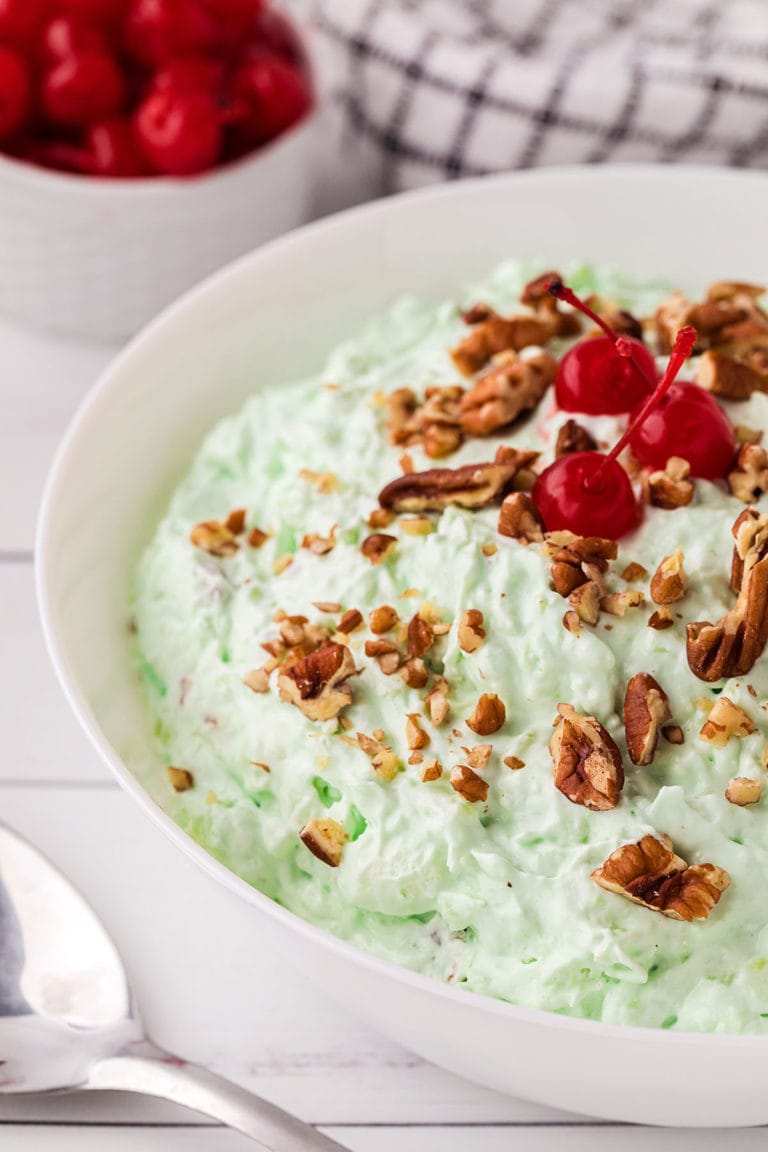 Pistachio Salad Variations
It's always been a mystery why pecans are preferred over pistachios for a pistachio salad! Try unsalted, toasted pistachios; I bet you'll like them!
Instead of cottage cheese, you can use plain Greek yogurt or sour cream to cut the sweetness. These two alternatives will give your green fluff a slight tanginess.
If you're not a fan of frozen whipped topping, you can use Dream Whip or stabilized whipped cream.
Get as creative as you like with your garnishes! Sprinkle pistachio salad with toasted nuts, coconut flakes, extra mini marshmallows, or all of the above!
Sub in fruit-flavored, multi-colored mini marshmallows for an increased visual impact.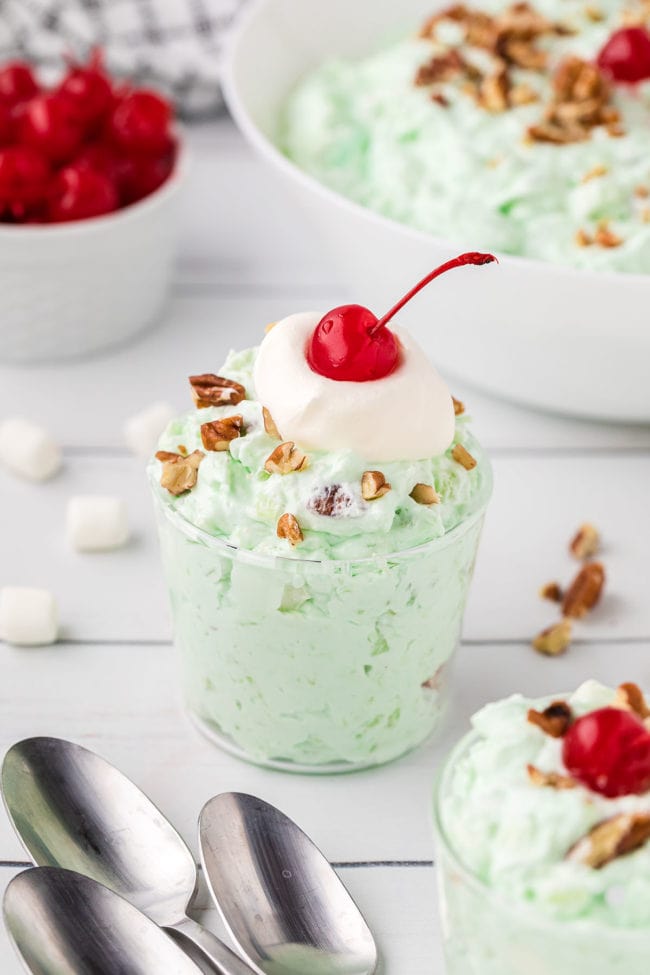 Pistachio Salad, Aka Watergate Salad: Fact, Fiction, Or A Bunch Of Fluff?
Pistachio salad is a classic dessert salad with the ease of instant pistachio pudding that's been a favorite addition for church socials, holiday sideboards, and potlucks for almost 50 years!
Fact: Here's the thing, General Foods launched Jell-O instant pistachio pudding in 1975 and created the Pistachio Pineapple Delight recipe to go with it.
Fiction: There's a rumor (unsubstantiated) that pistachio salad was tagged as the "Watergate Hotel Salad" in an article by a Chicago food columnist. To date, that article or the author has yet to be found.
Fluff: According to many sources, including npr.org, there's no evidence pistachio salad was ever served at the Watergate Hotel. I also checked out the current Watergate Hotel's menu, just for fun, and no such luck.
Fluff x2: I read a Watergate Salad recipe that stated, "I got the recipe from the chef at the Watergate Hotel in Washington, DC where the recipe originated." (Huh, that's interesting…See Fact:)
Fact x2: Kraft (bought General Foods) received so many requests for the "Watergate Salad" recipe they officially renamed it that in 1993.
At the end of the day, my taste buds don't care what you call this luscious pistachio pudding salad! Pistachio fluff has held a time-honored place at potlucks, BBQs, and family gatherings coming up on half a century!
Like This Recipe? Pin It!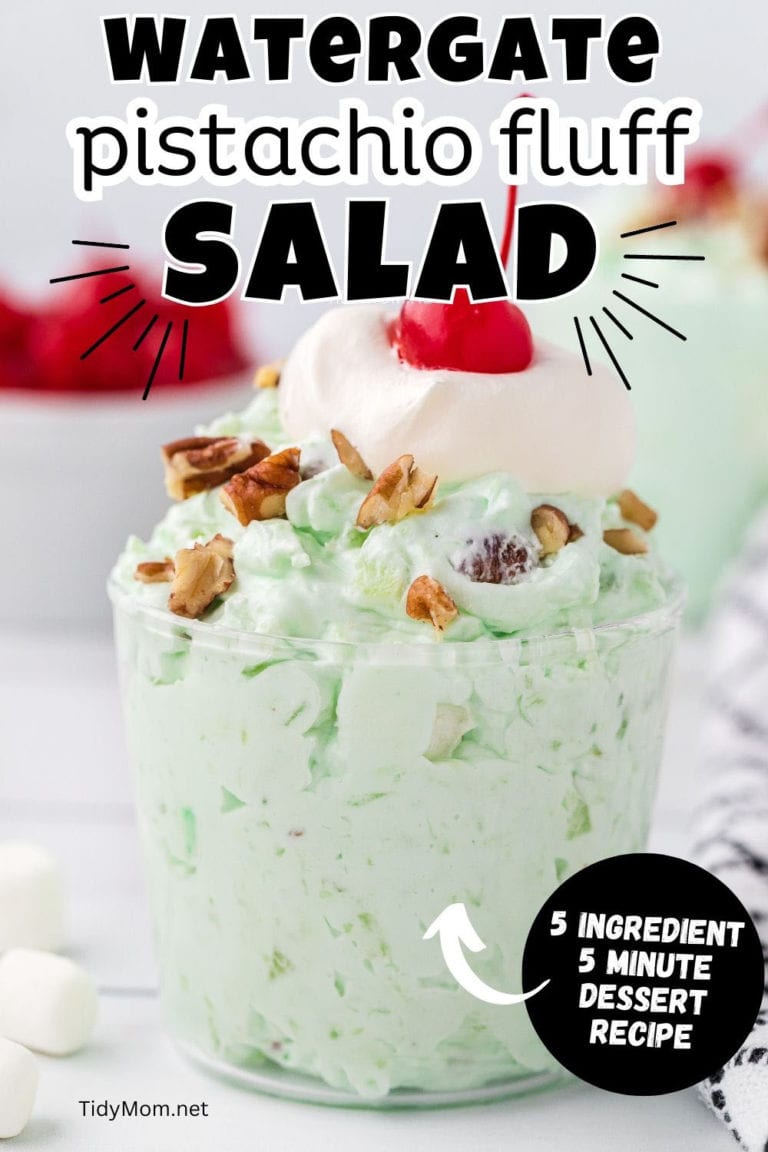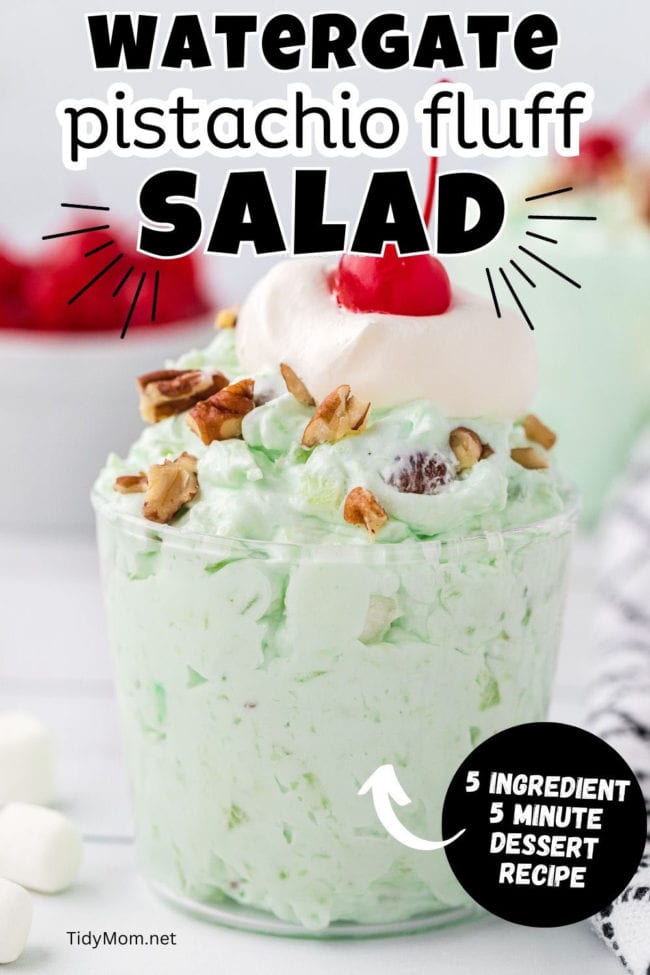 Pistachio Salad
Yield: 12 servings
Prep Time: 5 minutes
Chill Time: 4 hours
Total Time: 4 hours 5 minutes
This classic no-bake recipe for Pistachio Fluff salad, is a must-try for any fan of pistachio pudding. It's the perfect addition to any occasion, whether it's a family gathering, holiday celebration, or anything in between. Featuring a delicious combination of Cool Whip, marshmallows, canned pineapple, pistachio pudding, nuts, and cherries, this sweet salad is sure to be a hit.
Ingredients
1 box (3.4 ounce) instant pistachio pudding mix
20-ounce can of crushed pineapple
8-ounce whipped topping (like CoolWhip), thawed
8 ounces small curd cottage cheese (*optional)
1 cup small marshmallows
½ cup chopped nuts (walnuts, pistachios or pecans)
maraschino cherries, for garnish
Instructions
In a large mixing bowl, combine dry pudding mix and crushed pineapple with juice. Mix with a rubber spatula until well combined.
Fold in whipped topping, cottage cheese, marshmallows, and half the nuts.
Cover and refrigerate for at least 4 hours.
To serve, pour into serving dish and top with remaining nuts and maraschino cherries.
Notes
STORAGE:
Leftover Pistachio Salad can be kept in the refrigerator in an airtight container for 3-5 days. Stir before serving.
The cottage cheese helps cut down the sweetness a little. It's totally optional. If you prefer a super sweet pistachio salad, just leave out the cottage cheese.
Do NOT drain the pineapple.
Nutrition Information:
Yield: 12
Serving Size: 1
Amount Per Serving:
Calories: 169
Total Fat: 9g
Saturated Fat: 5g
Trans Fat: 0g
Unsaturated Fat: 3g
Cholesterol: 4mg
Sodium: 78mg
Carbohydrates: 20g
Fiber: 1g
Sugar: 17g
Protein: 3g
Nutrition information is estimated based on the ingredients and cooking instructions as described in each recipe and is intended to be used for informational purposes only. Please note that nutrition details may vary based on methods of preparation, origin, and freshness of ingredients used and are just estimates. We encourage, especially if these numbers are important to you, to calculate these on your own for most accurate results.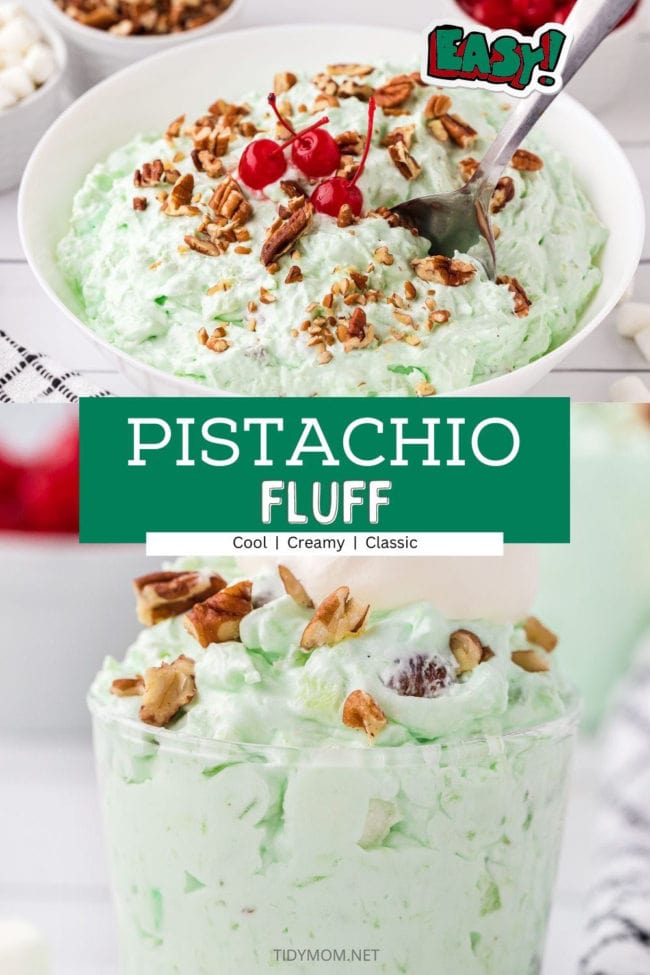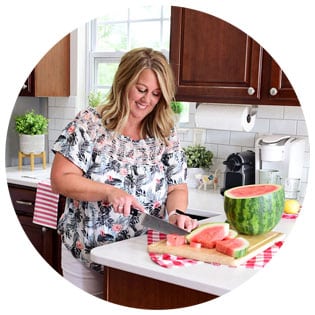 Hi there, I'm Cheryl!
As a wife, mom, and caffeine enthusiast, my journey has taken me from bustling mornings with my family to sharing delicious recipes, home care tips, and heartfelt decorating insights with wonderful readers like you. My love for baking, photography, and tidiness shines through every post I craft. Dive into my world and discover the art of homemaking, one tidy moment at a time. Read more...
Tidymom is a participant in the amazon services llc associates program, an affiliate advertising program designed to provide a means for sites to earn advertising fees by advertising and linking to Amazon.com.
Please respect my work, recipes and photographs. If you do use a recipe in your own writing, please give proper credit and link back to the original post.