Easy Pineapple Upside Down Cake With Cake Mix
This post may contain Amazon or other affiliate links. As an Amazon associate, I earn from qualifying purchases.
Aloha Pineapple Upside Down Cake! Fruity yellow pineapple cake and sweet candied cherries, drenched with a gooey butter and brown sugar pineapple glaze. Turn a boxed cake mix "upside-down" with this gorgeous tropical dessert.
Pineapple is a tasty, refreshing, and versatile participant in a slew of delicious recipes. Check out snack and party-ready Pineapple Mango Salsa, lunch or dinner Baja Shrimp Tacos With Pineapple Lime Slaw, or a refreshing Banana Pineapple Italian Ice treat! Relax after a long day or week with my crazy good Pineapple Jalapeno Margarita.
Be sure to sign up for my email… to get new recipes and ideas in your inbox!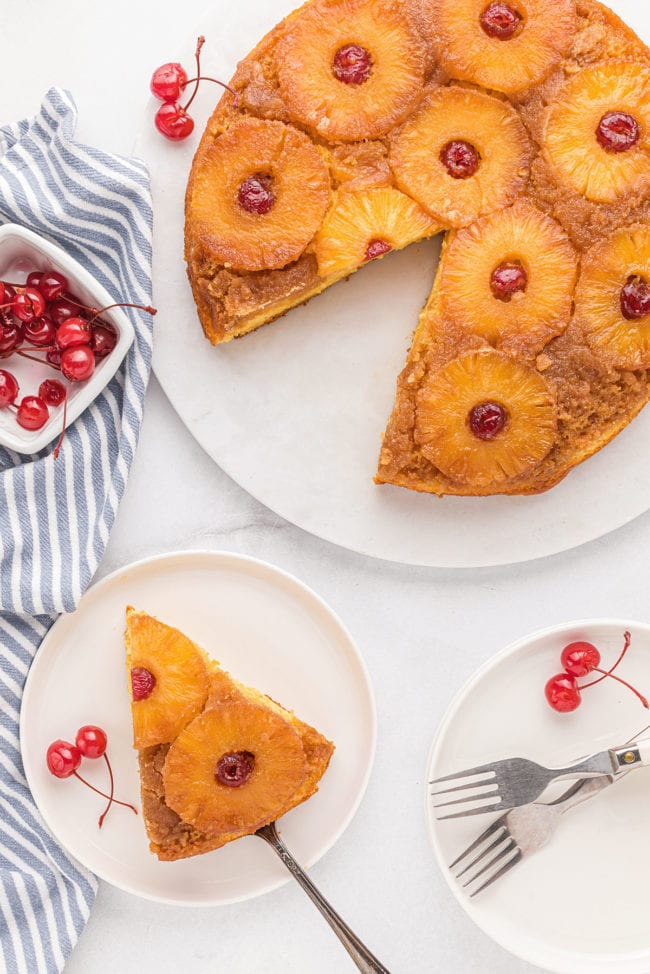 Why Upside Down Pineapple Cake Using A Cake Mix Is Great!
First, I love this pineapple upside-down cake recipe because using a boxed cake is time-saving and convenient; no measure, no mess, it's just plain yummy! Added bonus: for bromelain-sensitive pineapple lovers, it's a great way to enjoy this tasty tropical fruit without irritation from these pineapple enzymes (heat destroyed). It's a true "Have your cake and eat it too" sitch! Win-win!
Moist, melt-in-your-mouth pineapple-infused cake with the ease and convenience of a boxed cake mix.
Pineapple upside-down cake is imbued with caramelized butter and brown sugar pineapple glaze! 'Ono! (Hawaiin for delicious!)
Quick and easy to throw together.
Transports easily for sharing: dinner parties, church socials, and office meetings.
Gorgeous presentation for brunch, holiday dessert, or any occasion.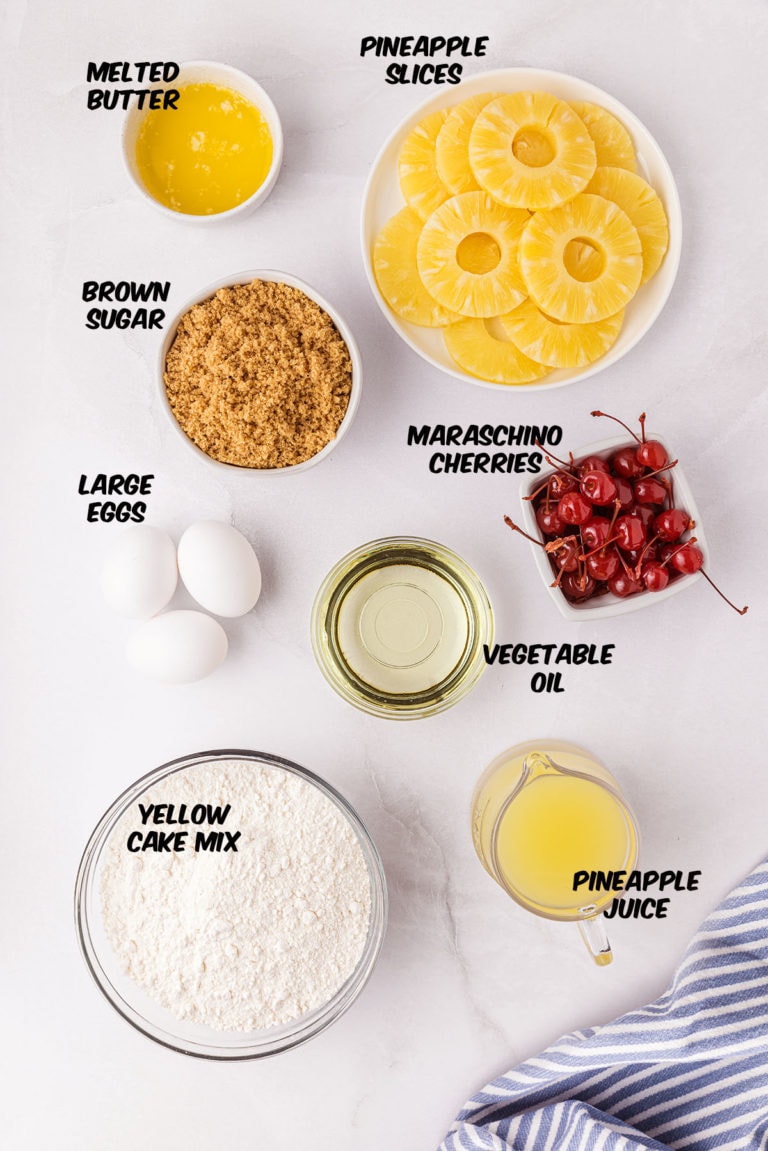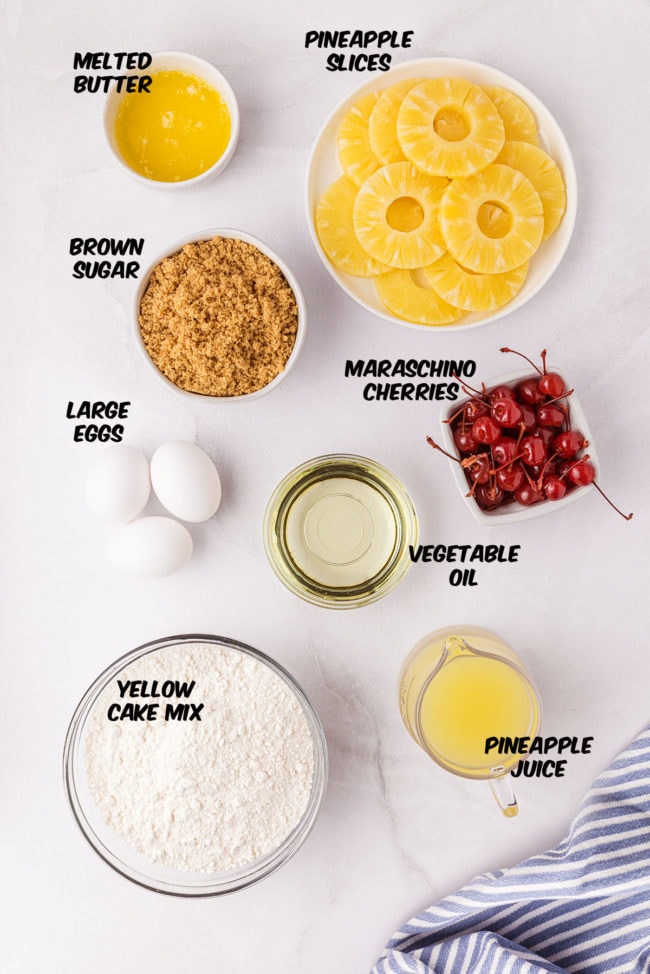 Ingredients For Upside Down Pineapple Cake (With A Boxed Cake Mix)
Simple to make, easy ingredients, and the convenience of a boxed cake mix. Luscious pineapple flavor, moist tender cake, and buttery sugar glaze taste like a plate of tropical sunshine using only a few ingredients!
For specific amounts, please refer to the printable recipe card at the bottom of the post.
Butter – melted just enough to be soupy but not enough for the water and butter solids to separate.
Light Brown Sugar – melts into the sugar, forming a wonderfully caramelized glaze for an upside-down cake pineapple topping.
Canned Pineapple Slices – drain pineapple well* and reserve liquid for preparing the cake mix.
Maraschino Cherries – or candied cherries are placed in the center of the pineapple rings.
Yellow Cake Mix – prepare the cake mix according to the ingredients listed on the box: oil, egg(s), and use the reserved pineapple juice for water.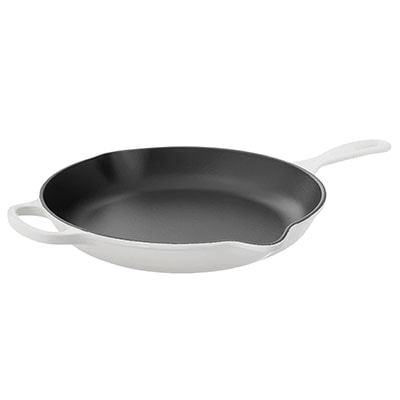 Featured Product Enameled Cast Iron Skillet
Finished with a black satin enamel that eliminates the need for the traditional seasoning and maintenance of raw cast iron. Virtually nonstick and easy to clean.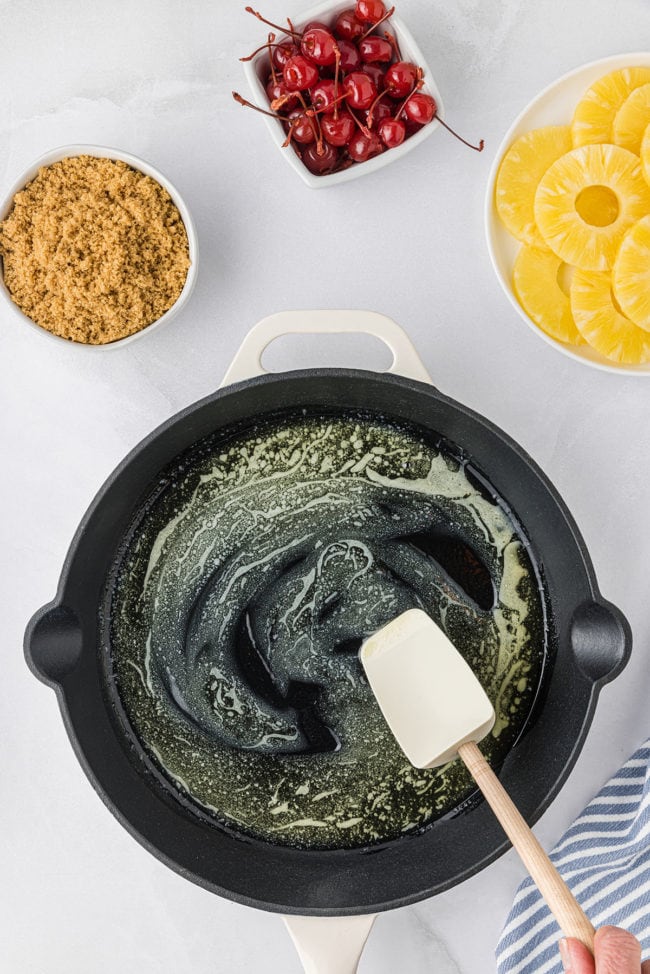 This post may contain affiliate links. Please read my disclosure policy here.
How To Make An Easy Pineapple Upside-Down Cake With Cake Mix
Simple steps, simple ingredients, simply delicious! Preheat your oven and select a heavy oven-proof skillet (a cast iron skillet works great) or baking pan. Set out your ingredients and get a mixing bowl, mixer, and a cutting board or platter. It's go time!
When you are baking, you'll want to use the full recipe at the bottom of the page.
Add melted butter and brown sugar to an oven-proof skillet.
Arrange pineapple and cherries over brown sugar.
Prepare yellow cake mix according to directions, using pineapple juice in place of water. Pour the pineapple cake batter over the fruit.
Bake until the cake is golden brown, springs back when touched, and a toothpick will come out clean with no wet batter ~ 40-45 minutes.
Cool the pineapple upside-down cake on a cooling rack for 5 minutes. Losen the edges with a butter knife. Invert the pineapple cake onto a cutting board or platter. Leave the skillet over the cake for a few minutes to allow the brown sugar glaze to drizzle over the cake.
Slice and serve warm or cold.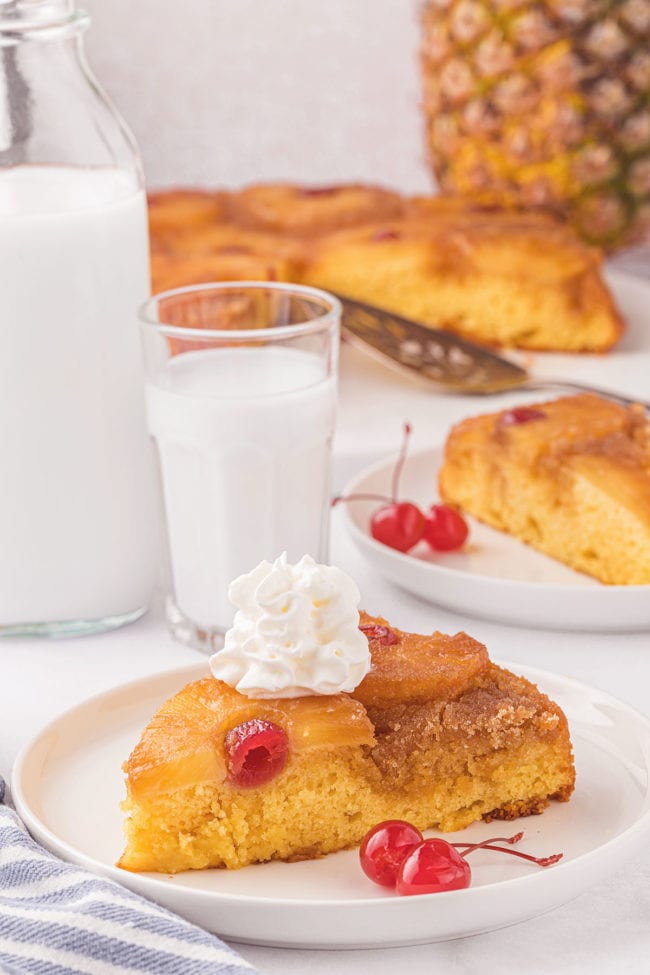 Upside Down Pineapple Cake Recipe Notes/Tips
Pat pineapple slices dry with a paper towel to avoid any sog in your upside-down cake.
If you are out of brown sugar, add 1 tbsp molasses to 1 cup of white sugar and combine well.
Some people prefer to add cherries to the top of a pineapple cake after it is baked. Either preference works, and you can leave them off if you don't like cherries.
If you are using a 13×9" cake metal cake pan start checking it around 35-40 minutes. Note: you will need 12 pineapple slices for this size pan.
If the skillet scuffles with the pineapple upside down topping and wins, use a spatula to leverage the stuck bits off and strategically arrange them back onto the cake.
If YOU have a scuffle with the spatula and the skillet, artfully arrange whipped cream rosettes on the top. For a critical triage, sprinkle the top with some coconut flakes too, and place a cherry or pecan half here and there to draw the eye.
Disregard "scuffle" tips; I have faith in your baking skills! 😉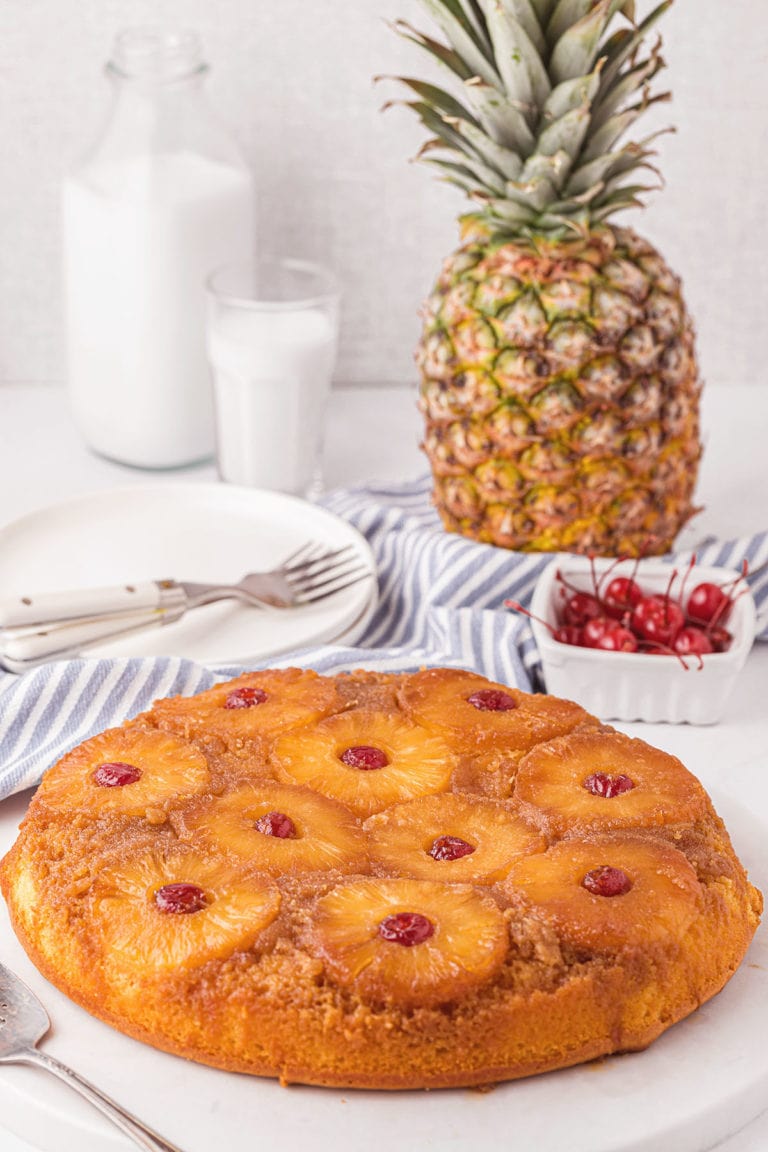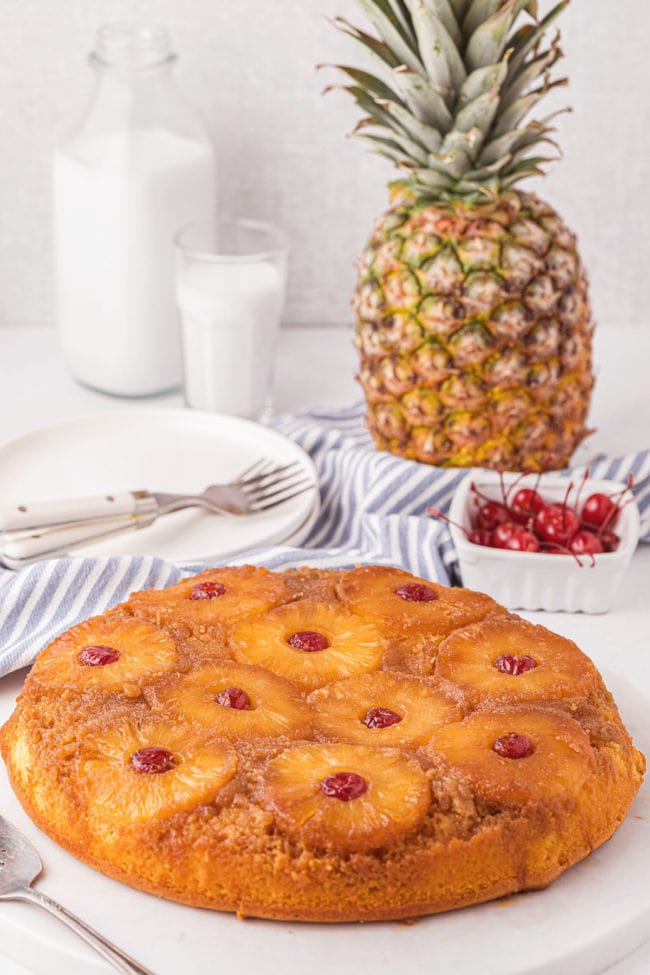 How To Store Pineapple Upside-Down Cake
Refrigerate/Leftovers
Store any leftovers on the counter for 1-2 days or in the fridge in a loosely covered container for 2-3 days.
Freeze
Pineapple cake freezes quite well for up to 3 months as long as it's wrapped properly. Wrap the completely cooled cake in plastic wrap, then wrap in a layer of aluminum foil and slide it into a large freezer bag, or airtight container. To thaw, remove from the freezer bag or storage container and place the wrapped cake in the refrigerator to thaw for 24 hours.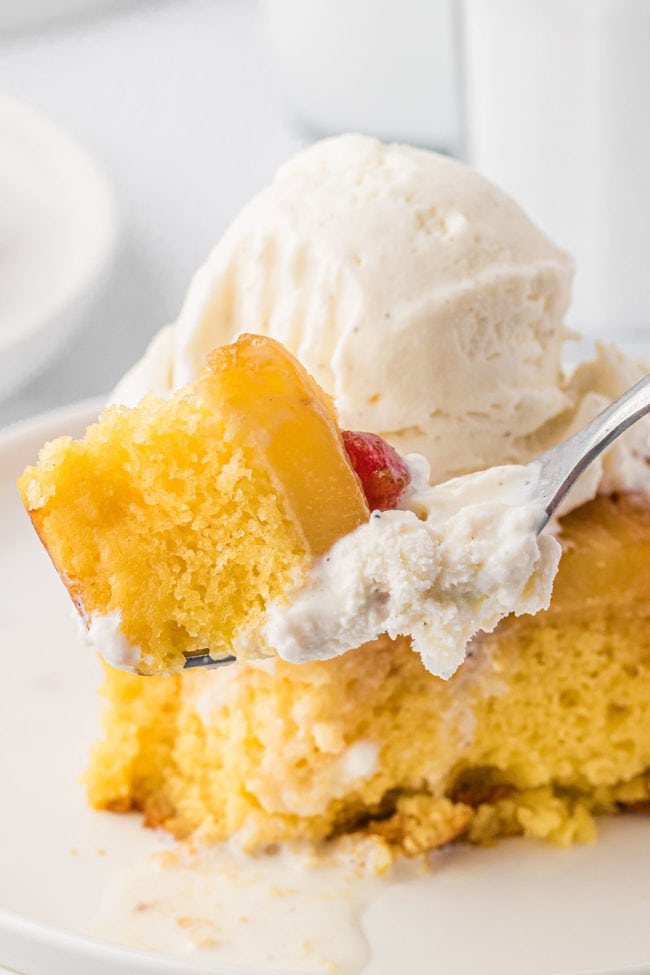 Classic Upside Down Pineapple Cake FAQs
Can you use a regular cake pan instead of a skillet to make an upside-down pineapple cake recipe?
While a cast-iron skillet is ideal for Pineapple Upside-Down cake, you can use a 9-10″ round metal cake pan or a metal 9×13 pan.

When baking a cake you want to choose a metal pan over a glass dish. Metal pans heat up quickly and will retain less heat, which leads to an even, browned result. Furthermore, metal pans cool down quickly once removed from the heat source. You CAN use a glass dish, just know they are slower to heat up, but they also retain heat much longer, causing the sides and bottom to brown at a faster than the middle.
How do I keep my pineapple upside-down cake from sticking?
Use release spray or buttered baking parchment as a liner in your cake pan if you are worried about the finished pineapple cake sticking.
What do I do if my pineapple cake topping sticks to the pan?
If your pineapple sticks to the skillet, it's a simple fix to use a small metal spatula to loosen and slide under the stuck pineapple ring. Try to keep the pineapple ring intact the best you can and flip it neatly onto the outline where it is missing. No need to worry; even if the pineapple rings come off in chunks, they are easily maneuvered back into place. A pineapple upside down cake topping is very forgiving.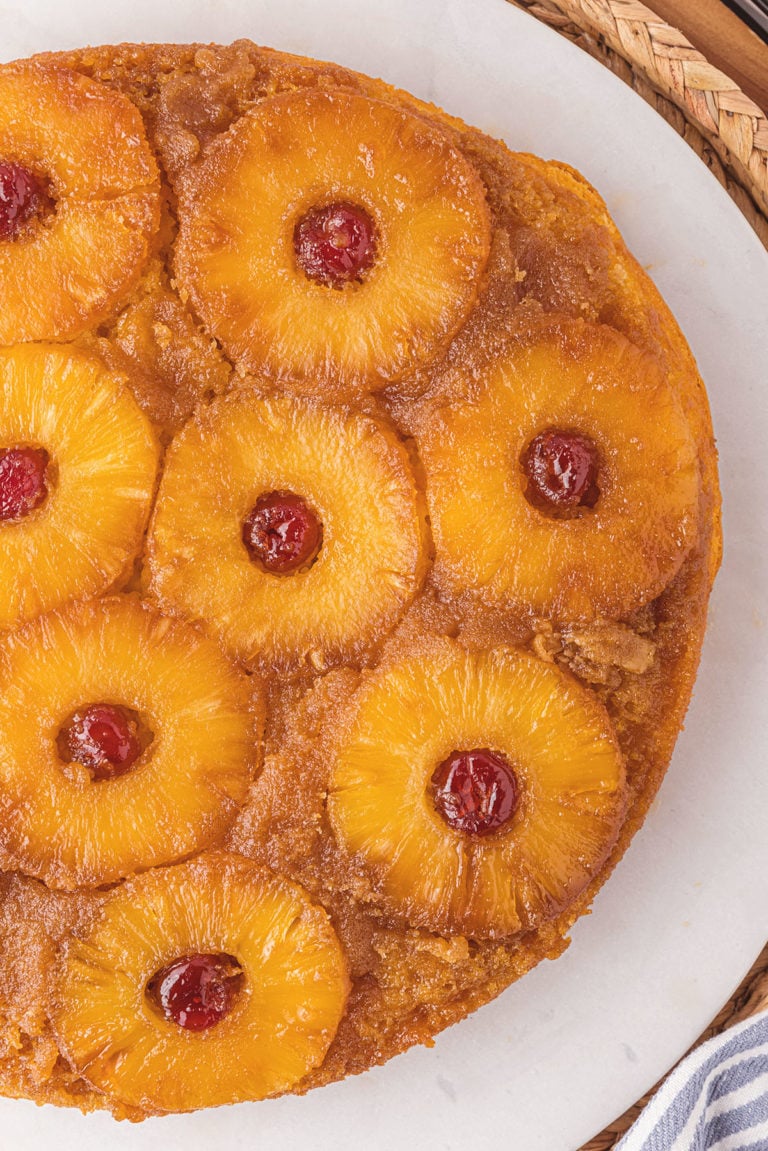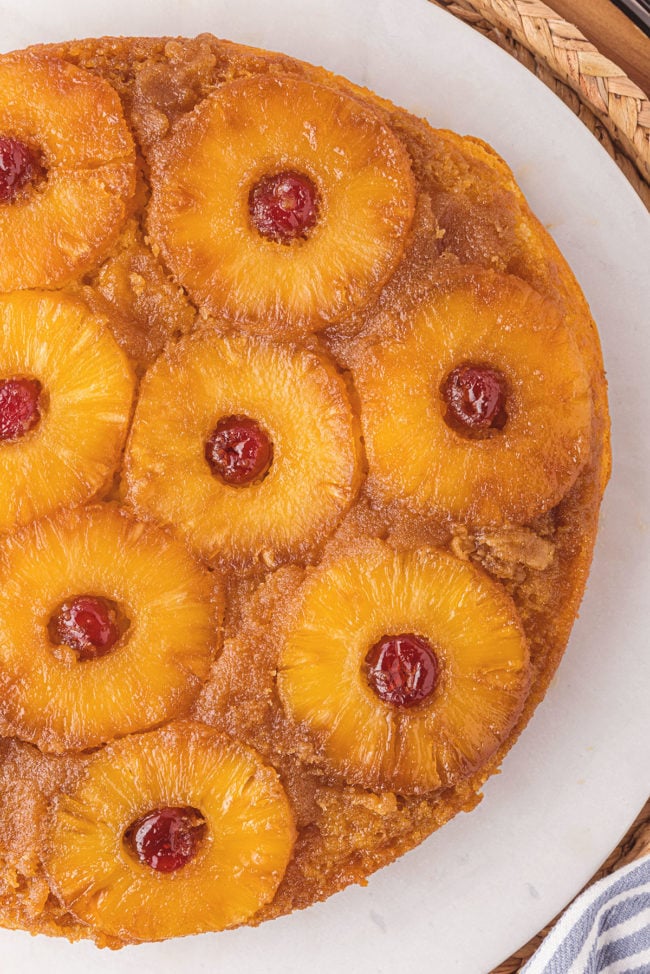 Pineapple Cake Variations & Additions
Upside-down pineapple cake can also be made with well-drained chunks instead of pineapple rings.
Fresh pineapple rings are delicious and create a different flavor profile with a slight textural shift for pineapple upside-down cakes.
White sugar can be substituted for brown sugar glaze if necessary.
Add ¼ teaspoon almond extract to the cake batter for added flavor.
For a tropical nuance, use coconut oil instead of vegetable oil for a slight coconut flavor when preparing the boxed cake mix with pineapple juice.
Add pecan or walnut halves in patterns between the pineapple slices, or sprinkle pieces.
Maraschino cherries can be chopped and added to the batter to create a "cherry-chip" appearance for a pineapple cake.
When using a 10-inch skillet, the pineapple cake batter will be thicker and might need more baking time. Check pineapple upside-down cake for doneness at 5-minute increments, starting at the 40-minute mark until done.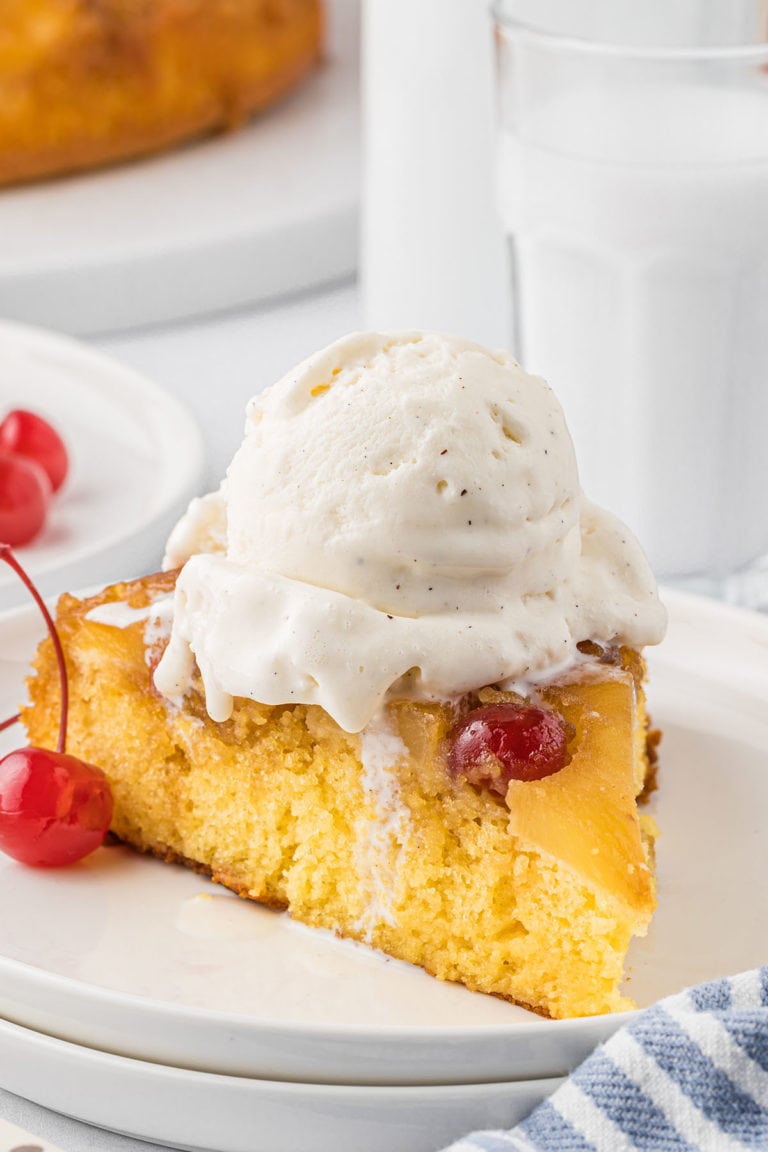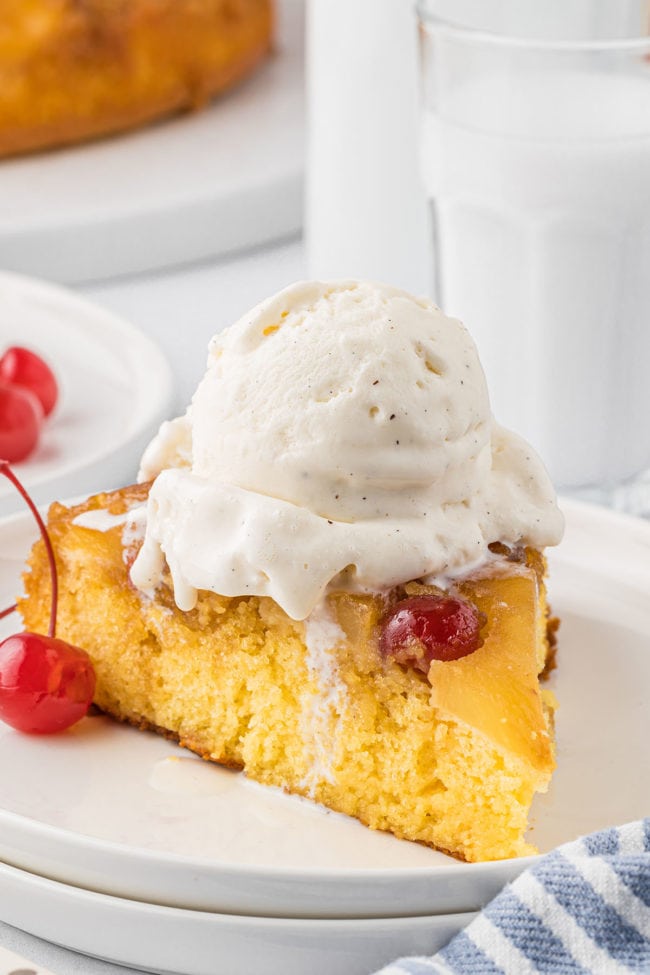 Upside-Down Cake Serving Suggestions
Thanks to Jimmy Dole and his turn of the 20th-century entrepreneurial spirit, Hawaiian pineapple became a mainland mainstay. For over 100 years, upside-down pineapple cake has glided up and down the popularity scale, but there's no wonder why it is on the way up again.
Serve pineapple cake warm with vanilla ice cream for a fabulous combination.
Garnish cake slices with whipped cream, lightly toasted coconut shreds, and a cherry on top.
Enjoy pineapple cake chilled at a backyard BBQ or picnic.
Sprinkle with flavorful toasted almond slivers for a crunchy texture contrast.
Like This Recipe? Pin It!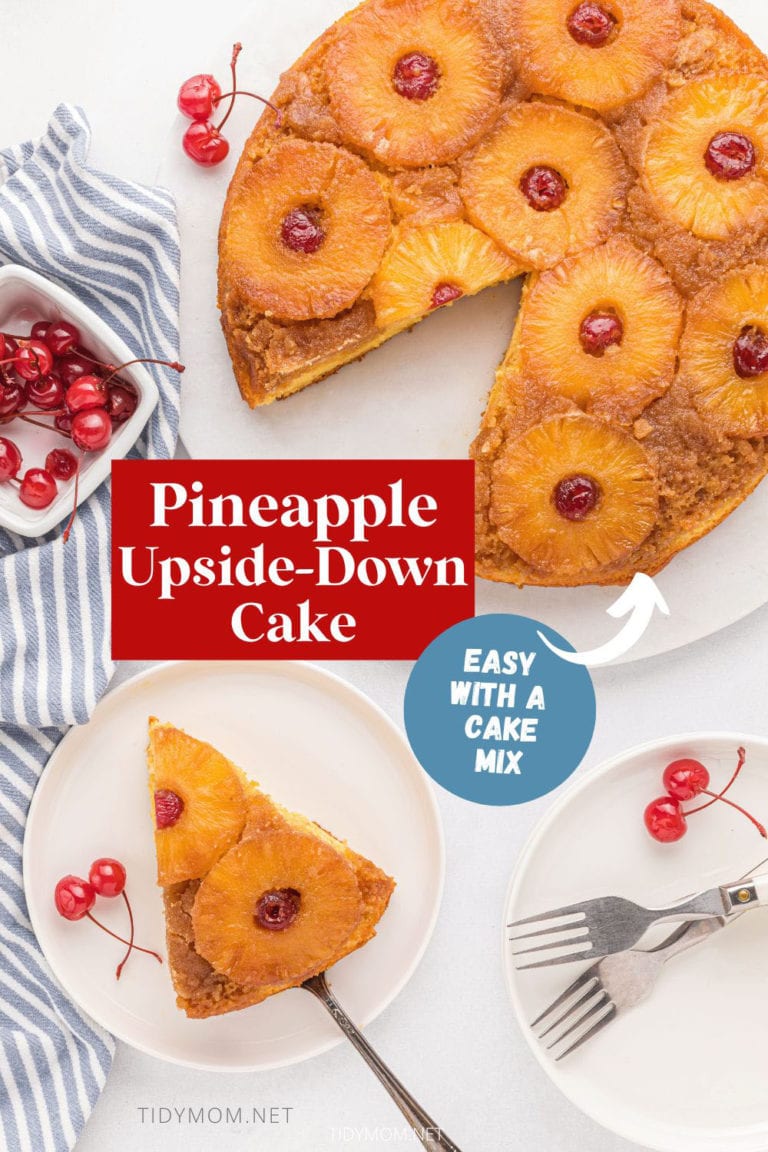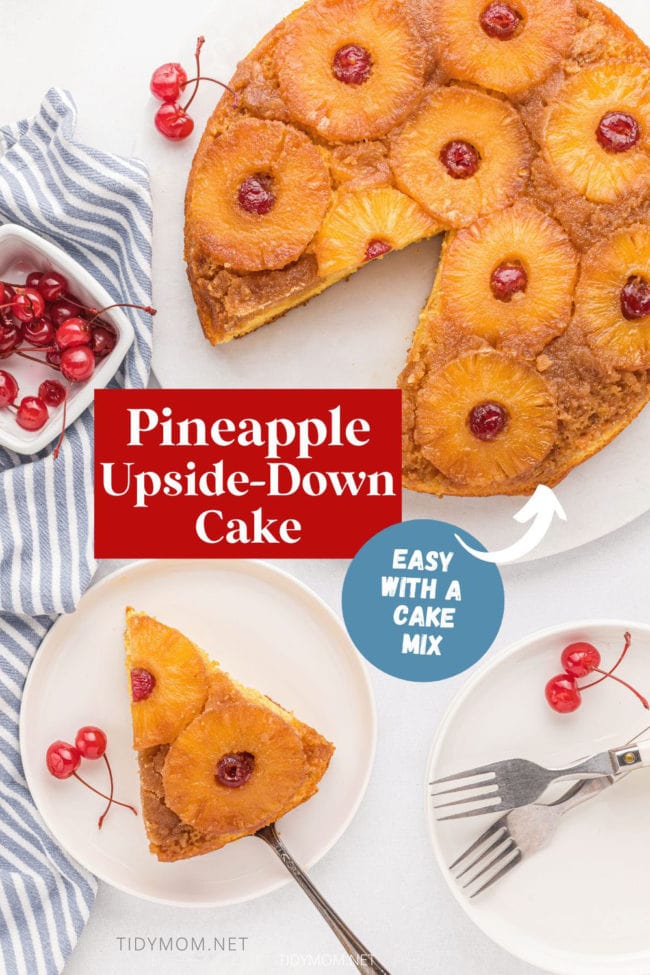 Easy Pineapple Upside-Down Cake
Yield: 12 servings
Prep Time: 15 minutes
Bake Time: 40 minutes
Total Time: 55 minutes
Easy Pineapple Upside Down Cake! This gorgeous tropical dessert turns a boxed cake mix "upside-down" with its fruity yellow pineapple cake, sweet cherries, and gooey brown sugar pineapple glaze.
Ingredients
5 tablespoons butter, melted
1 cup light brown sugar
1(20 ounce) can pineapple slices, drained well* and reserve liquid
1 (4 ounce) jar Maraschino cherries
15.25 ounce Yellow cake mix
1 cup reserved pineapple juice
1/2 cup vegetable oil
3 eggs
Instructions
Preheat oven to 350° F.
Add melted butter to a cast iron 12-inch skillet. Evenly sprinkle brown sugar over the butter.
Arrange pineapple slices over the brown sugar. Place one cherry in the center of each pineapple slice. If you wish, fill empty spaces with cut-up pineapple or more cherries.
Prepare yellow cake mix, oil, eggs, and pineapple juice (1:1 in place of water) according to package directions. Pour the prepared cake batter over the fruit.
Bake 40 - 45 minutes or until the cake is golden brown and springs back when touched lightly in the center. Or use a toothpick, it should come out clean with no wet batter.
Cool for 3-5 minutes on a cooling rack. Slide a butter knife around the edges to loosen then invert onto a cutting board or platter. Leave skillet over the cake for a few minutes so brown sugar mixture can drizzle over cake; remove skillet. Slice and serve warm or cold.
Notes
Store any leftovers in the fridge in a loosely covered container for 2-3 days.
Pat pineapple slices dry with a paper towel to avoid a soggy cake.
Add pecans or walnuts in between the pineapple slices.
Some people prefer to add cherries to the top after the cake is baked. Either way works. Don't like cherries? Just leave them off.
If you use a 10-inch skillet, you may need a little more time in the oven. Start checking for doneness at 40 minutes, and again at additional 5-minute increments until done.
Cake can also be made with well-drained pineapple chunks in place of pineapple rings.
This cake is even more delicious with fresh pineapple
Nutrition Information:
Yield: 12
Serving Size: 1
Amount Per Serving:
Calories: 349
Total Fat: 16g
Saturated Fat: 5g
Trans Fat: 1g
Unsaturated Fat: 10g
Cholesterol: 59mg
Sodium: 323mg
Carbohydrates: 48g
Fiber: 1g
Sugar: 33g
Protein: 3g
Nutrition information is estimated based on the ingredients and cooking instructions as described in each recipe and is intended to be used for informational purposes only. Please note that nutrition details may vary based on methods of preparation, origin, and freshness of ingredients used and are just estimates. We encourage, especially if these numbers are important to you, to calculate these on your own for most accurate results.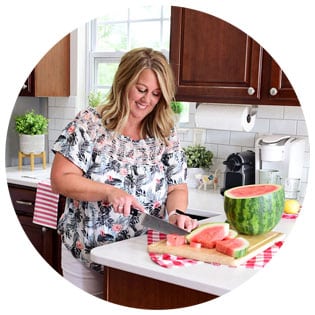 Hi there, I'm Cheryl!
As a wife, mom, and caffeine enthusiast, my journey has taken me from bustling mornings with my family to sharing delicious recipes, home care tips, and heartfelt decorating insights with wonderful readers like you. My love for baking, photography, and tidiness shines through every post I craft. Dive into my world and discover the art of homemaking, one tidy moment at a time. Read more...
Tidymom is a participant in the amazon services llc associates program, an affiliate advertising program designed to provide a means for sites to earn advertising fees by advertising and linking to Amazon.com.
Please respect my work, recipes and photographs. If you do use a recipe in your own writing, please give proper credit and link back to the original post.