Easy Key Lime Cake-Sheet Cake Recipe With Cake Mix
This post may contain Amazon or other affiliate links. As an Amazon associate, I earn from qualifying purchases.
Fuss-free, easy Key Lime Cake is a perfect warm-weather dessert recipe; moist, tender key lime sheet cake bathed in sweet-tart lime syrup with a fluffy lime topping. Always a pot-luck favorite.
Lemons and Oranges and limes, oh my! Citrus is so versatile, and we've got family-favorite recipes to prove it! Easy Glazed Lemon Brownies with cake mix, cold frothy Homemade Orange Julius, flaky bakery-style Lemon Cheesecake Crescent Rolls, or a frisky Frozen Margarita Pie. (big kids only)
Be sure to sign up for my email… to get new recipes and ideas in your inbox!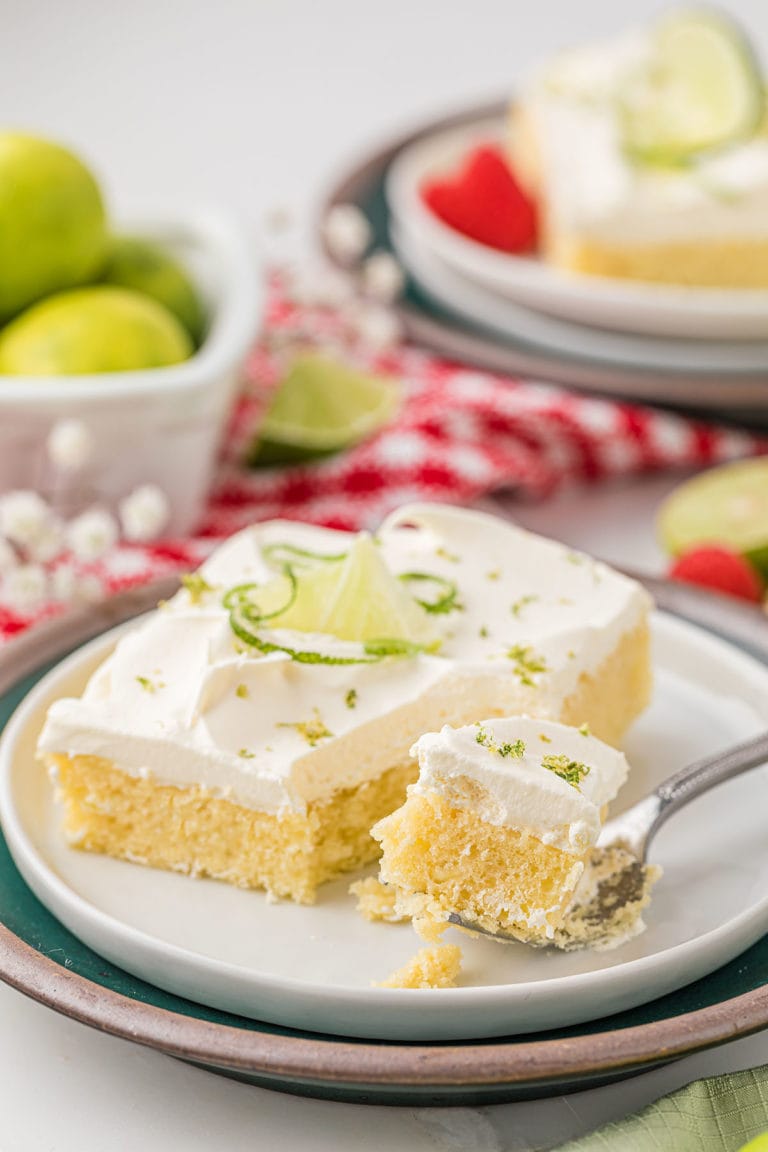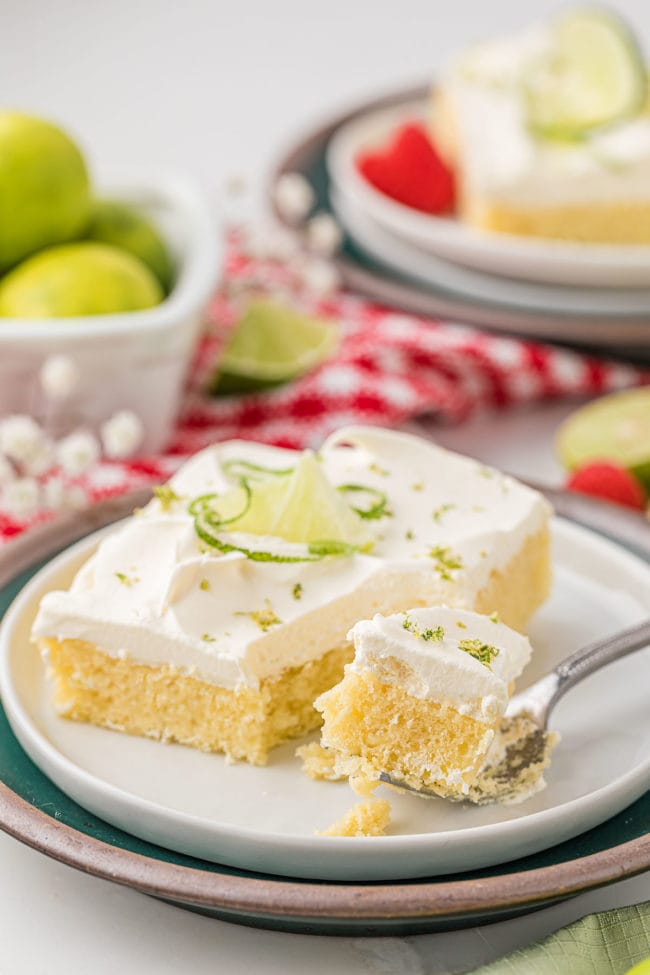 Why Key Lime Cake Is The Ultimate Sunshine Dessert
I love how a key lime cake simultaneously makes my mouth water and evokes memories of the warm sun on my shoulders, shimmering azure water, and my toes scrunching in the sand. This key lime sheet cake recipe does that and more, but it is a "BYOS" (Bring Your Own Sand) party!
Tasty! Bright citrus, tropical key lime flavor explosion.
Simple! Thanks to boxed cake mix and whipped topping.
Easy! Mix, bake, brush, and cover with fluffy lime topping.
Mouthwatering! Cool creamy tartness & soft vanilla sweetness.
Textures! Velvety whipped topping, moist tender crumb.
Family-Style! Key lime sheet cake size serves a bunch of people.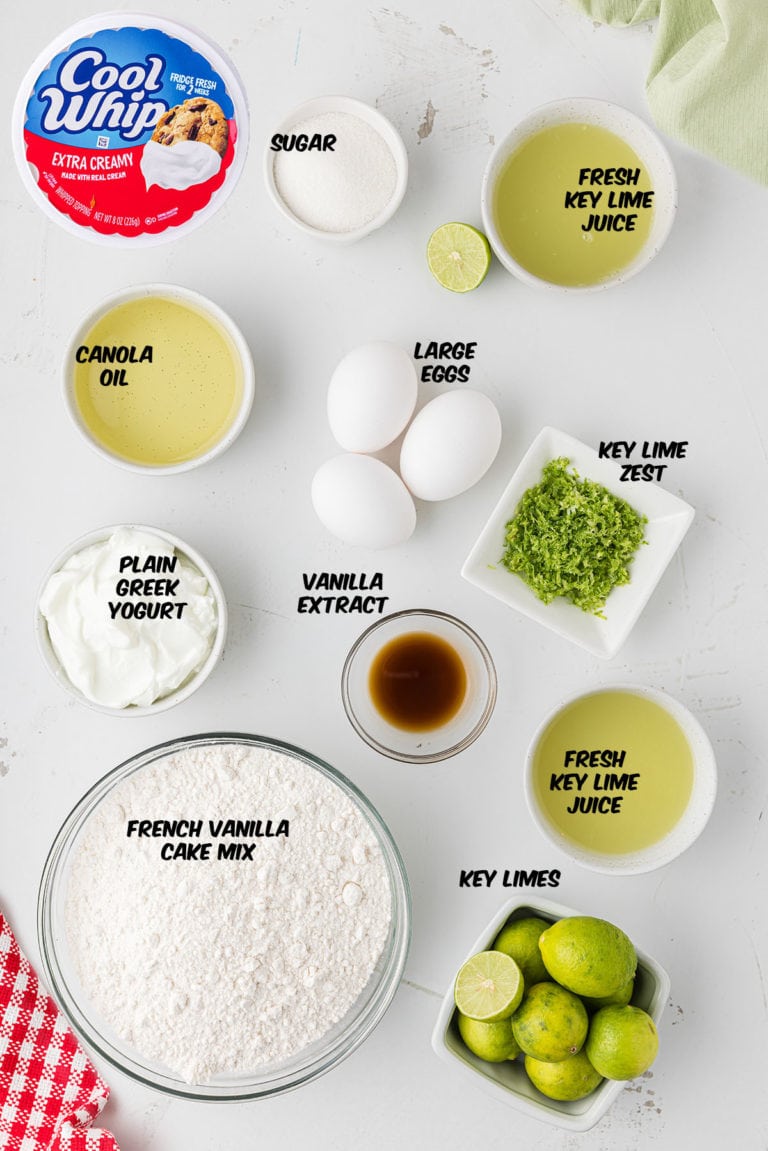 Key Lime Sheet Cake Recipe Ingredients
Intense floral citrus aromatics and tangy key lime flavor shine with perfectly balanced moist vanilla cake and creamy sweet whipped topping.
For specific amounts, please refer to the printable recipe card at the bottom of the post.
What's In This Key Lime Pie Cake
French Vanilla Cake Mix – the boxed cake mix is not prepared and used as the dry, lime cake base ingredient.
Canola Oil – or any neutral flavored oil you prefer.
Large Eggs – allow eggs to warm to room temp.
Plain Greek Yogurt – whole-milk yogurt is best to increase the tender richness of the key lime sheet cake.
Key Lime Zest – thoroughly wash and dry key limes before zesting.
Key Lime Juice – roll 5-6 zested limes between your palm and the cutting board to extract the most juice. Vanilla Extract – for the best flavor, use good quality real vanilla extract (and it's always a good time to DIY vanilla).
Simple Key Lime Syrup
Key Lime Juice – you'll need at least 3 key limes.
Sugar – white granulated.
Key Lime Pie Whipped Cream Topping
Whipped Topping – thawed whipped topping like Cool Whip or stabilized whipped cream.
Key Lime Zest
Optional Garnish – don't skimp on pretty, halved, or quartered key lime slices when serving key lime cake for a party or picnic. (Or just you, mama, you deserve special too!
Baker's Note: Stabilized whipped cream is real whipping cream made to hold its shape by adding other ingredients. (See FAQs for "how-to.")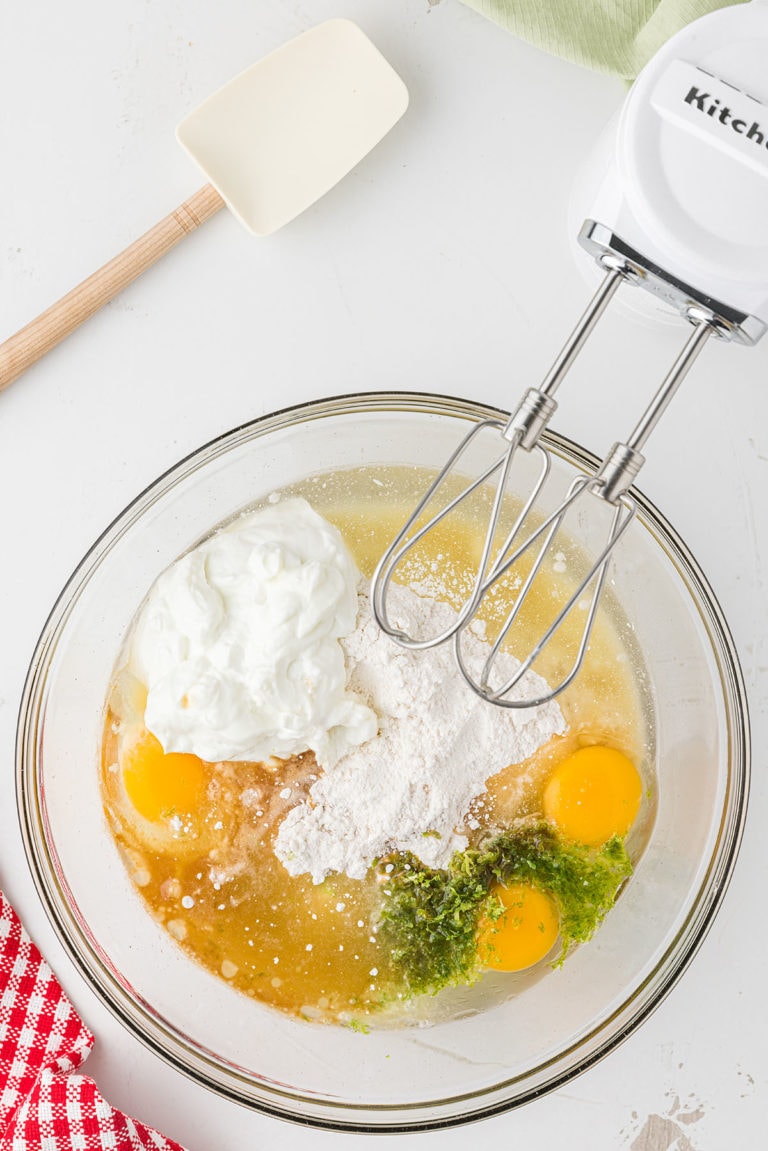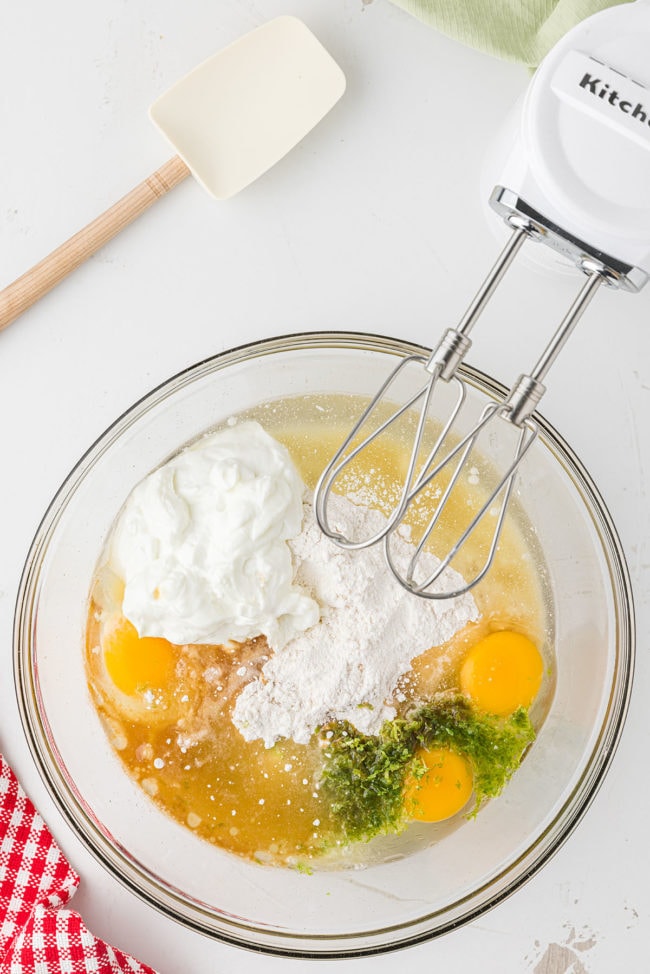 This post may contain affiliate links. Please read my disclosure policy here.
How To Make An Easy Key Lime Sheet Cake Recipe With Cake Mix
This tangy lime cake is all about the humble little yellow citrus fruit made famous by a pie born in the southernmost city in the United States – Key West, FL. Preheat the oven, prep your sheet cake pan, and grab a mixer, bowls, zester, pastry brush, and wire rack. We're baking a cake!
When you are baking, you'll want to use the full recipe at the bottom of the page.
Key Lime Cake
Mix: Combine all the lime cake ingredients on low until moistened, then beat on medium speed until smooth, 1-2 minutes. (Avoid over-mixing to keep that crumb tender!)
Bake: Pour lime cake batter into the prepared pan and bake in preheated oven until a toothpick inserted in the middle of the cake comes out clean.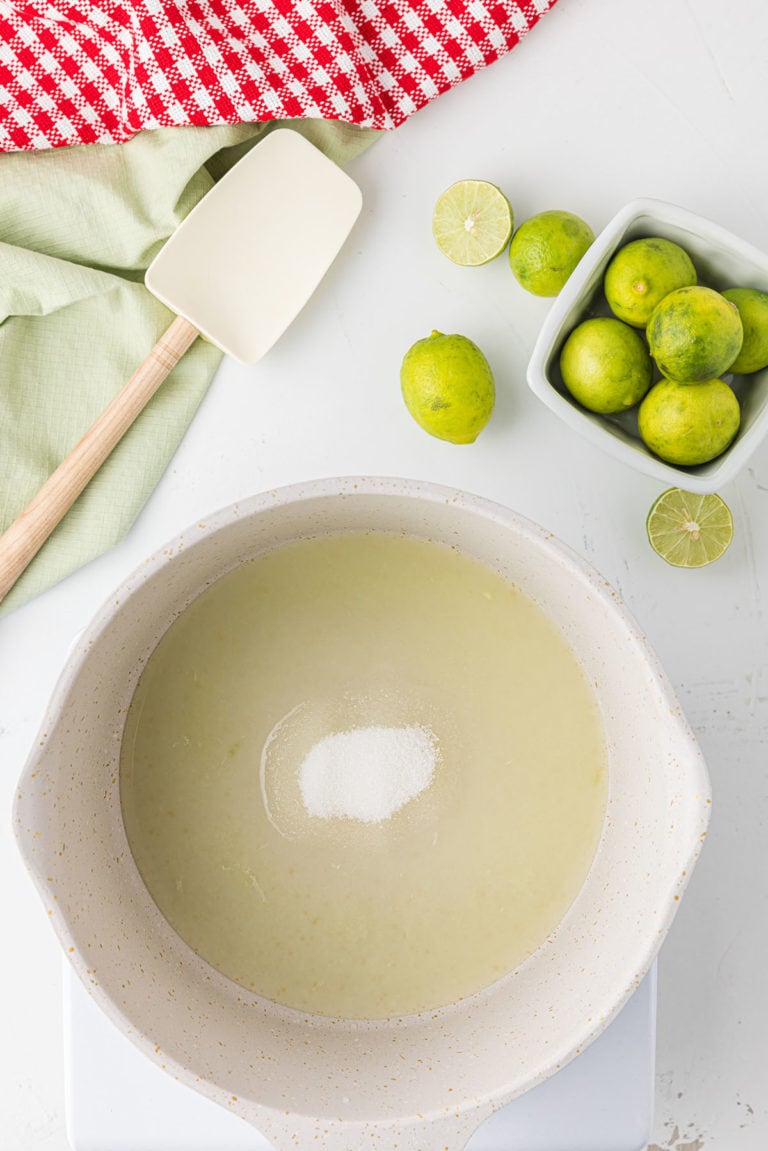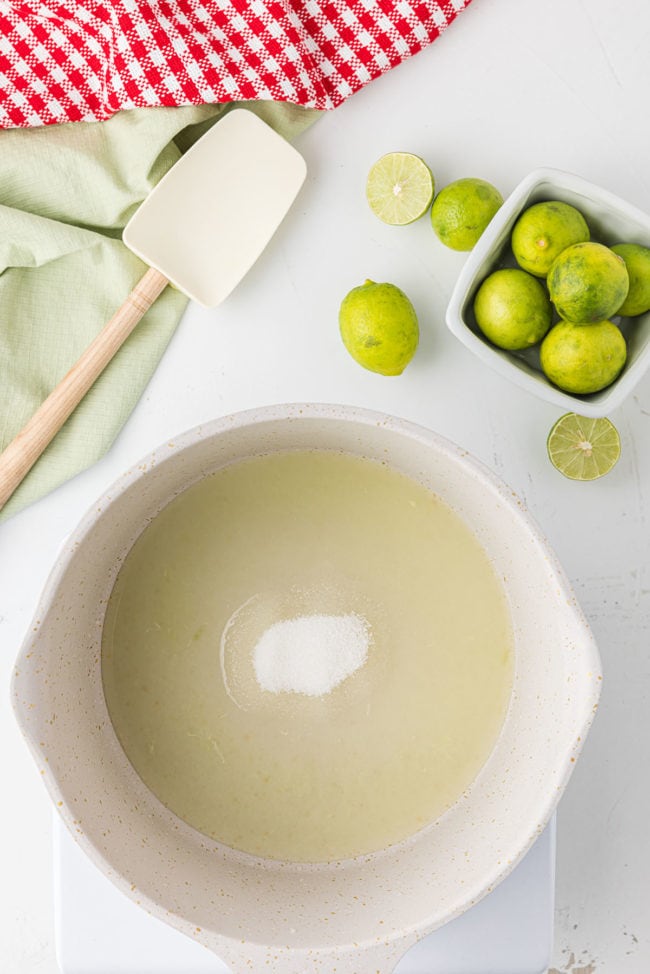 Key Lime Syrup
Brush: Cover the warm cake with the dissolved sugar and key lime juice by brushing the syrup over the key lime sheet cake after it has cooled for 5-10 minutes.
Key Lime Whipped Topping:
Cover: Spread whipped topping over the completely cooled sheet cake and sprinkle with key lime zest. Strategically arrange key lime slices, cut, and serve with a side of Jimmy Buffet tunes.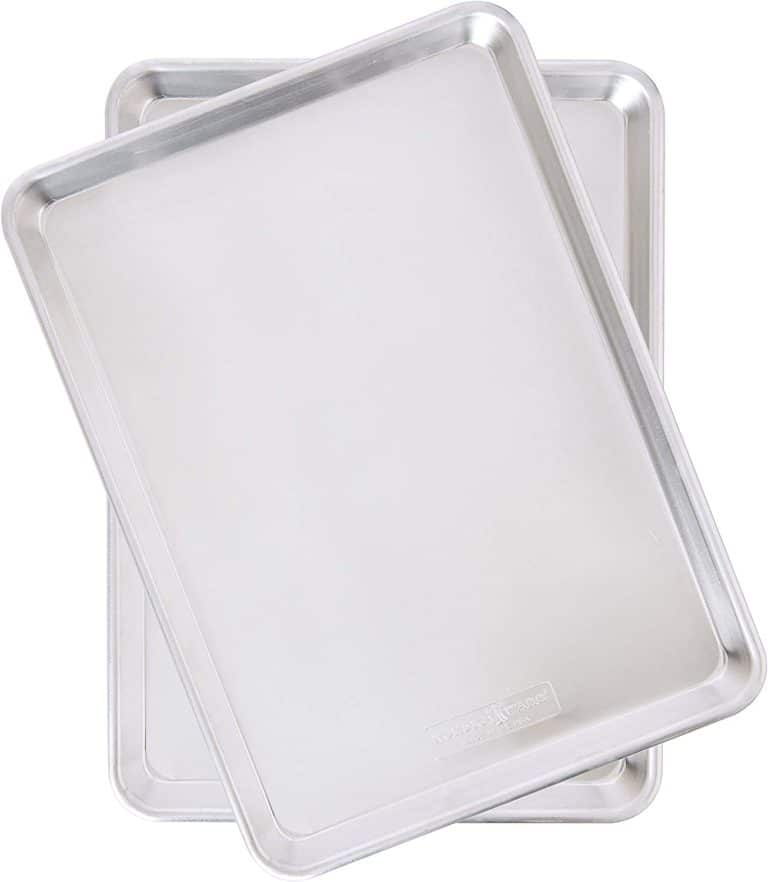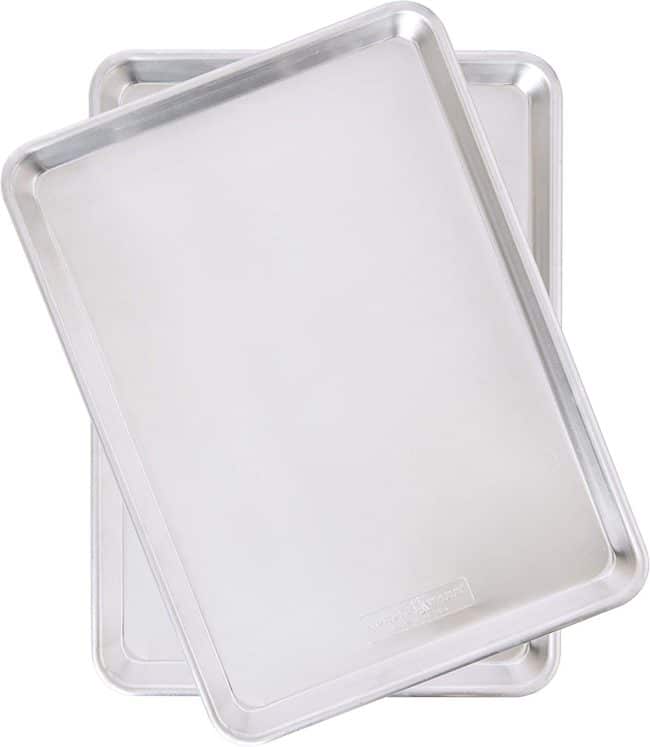 Featured Product Aluminum Half Sheet Pans
These are my favorite sheet pans! They will never rust for a lifetime of durability. Perfect for sweet or savory baking; from cookies to sheet pan dinners, this is the pan you'll reach for.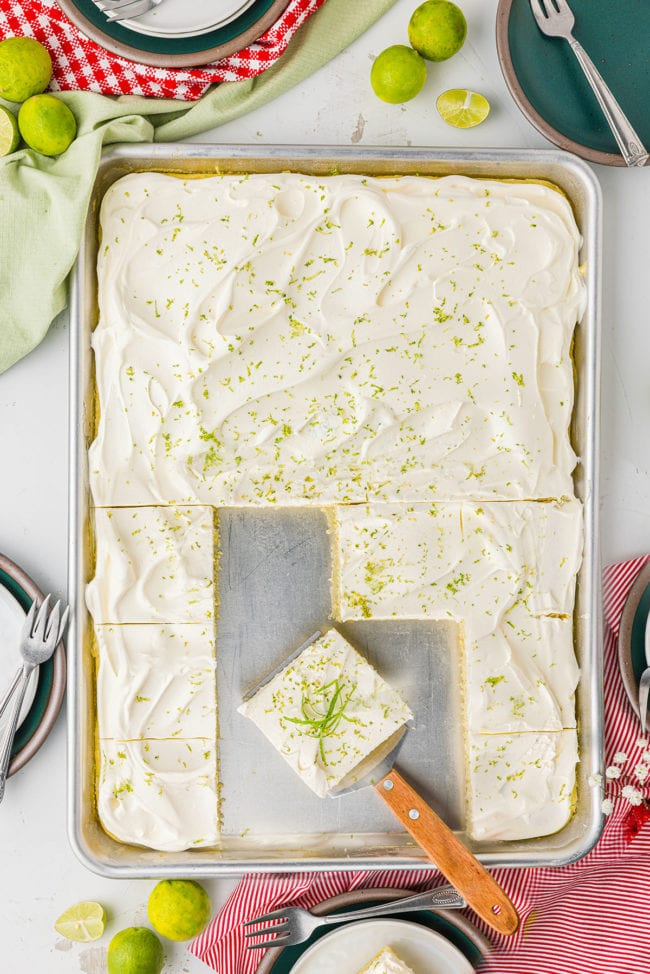 Key Lime Cake Recipe Notes and Tips
I usually grab at least 12-14 key limes for this sheet cake recipe (that includes a few extra for garnish)
Wash your limes with a good veggie wash to remove residue and dirt.
Always zest your citrus before juicing.
One key lime has about 1 tablespoon, ½ ounce, of juice, and a regular medium lime should yield 2 tablespoons, 1 fluid ounce.
If you have extra zest from juicing limes for the key lime cake, refrigerate the zest in a lidded container.
Add one or two drops of lime juice to refrigerated lime zest to help maintain moisture until you are ready to prepare key lime pie topping.
I use a thawed 8-ounce tub of whipped topping to cover an 11×17-inch sheet cake. When I use a 9×13-inch pan, there will be some left over.* So you should be good no matter which size cake you are making.
Mixologist Tip: Between a Frozen Raspberry Margarita or a frosty blended Strawberry Lemonade, I can always find a use for extra key lime whipped topping! 😋 Remember: "Come Monday, it'll be alright…." Credit: JWBuffet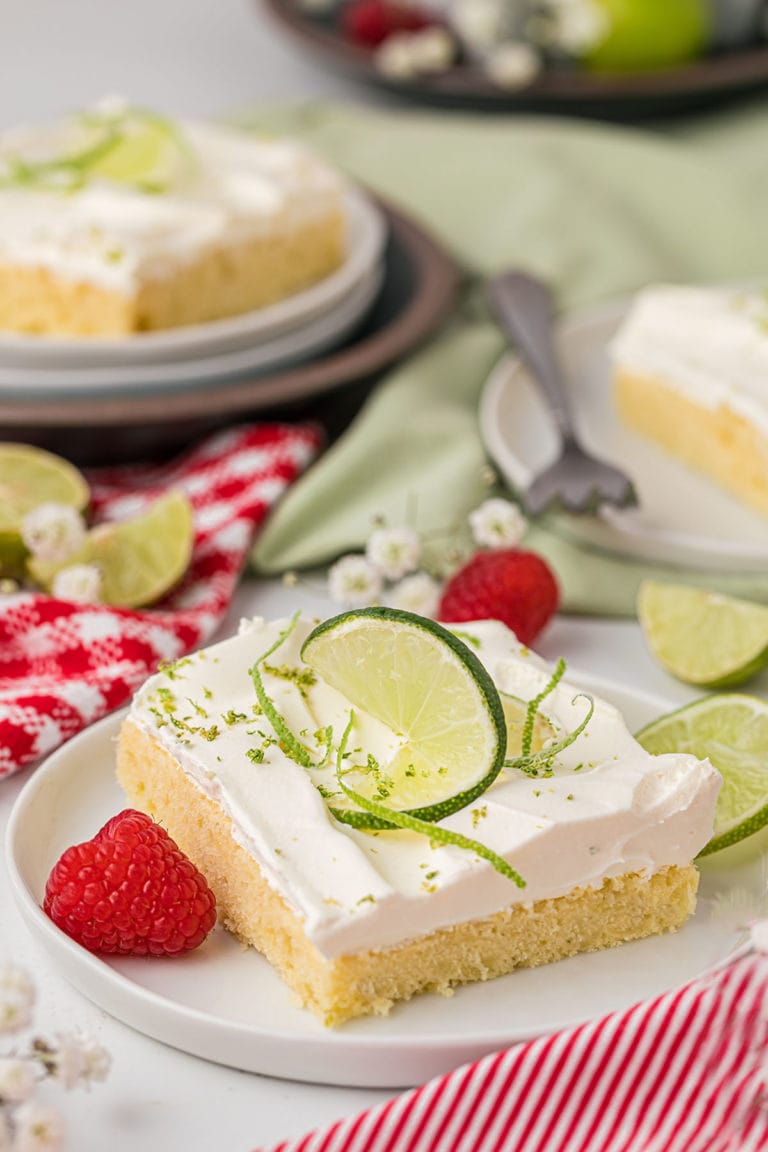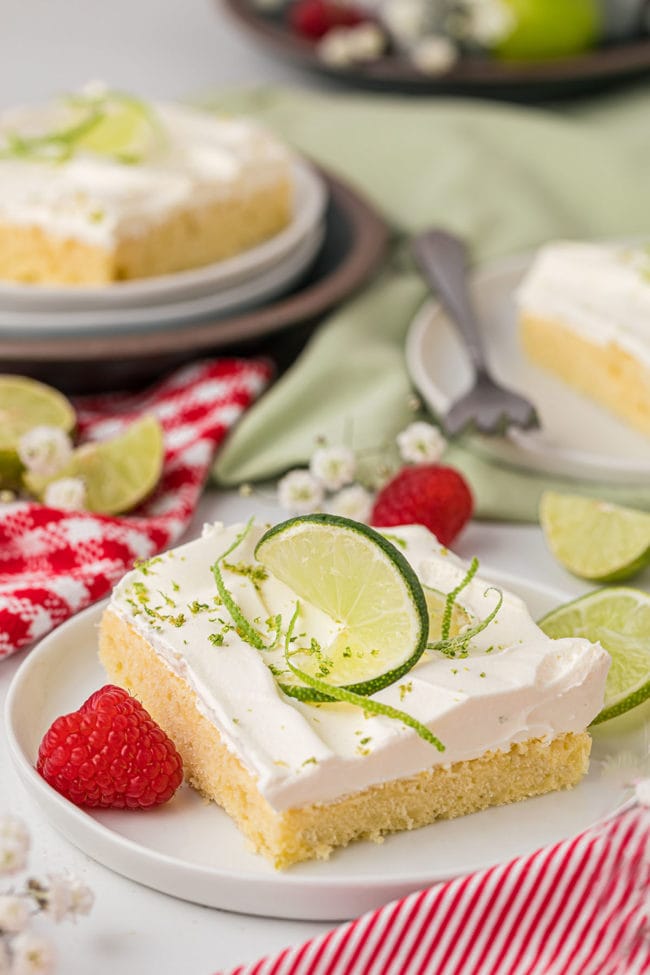 How To Store Key Lime Cake With Whipped Topping
Make Ahead:
If you want to make a lime cake ahead for a weekend get-together or holiday:
Bake it in a disposable cake pan that comes with a lid.
Cover the completely cooled cake tightly with a piece of non-stick plastic wrap or a lightly sprayed sheet of foil when cold, secure the lid, and freeze.
Thaw lime cake in the fridge and cover with whipped topping before serving.
Refrigerate/Leftovers
Always keep dessert with whipped topping refrigerated and tightly covered when not serving. Avoid letting a key lime sheet cake sit out longer than 2 hours at a picnic or BBQ.
Freeze
Feel free to freeze leftover key lime cake well wrapped in an airtight container up to 3 months.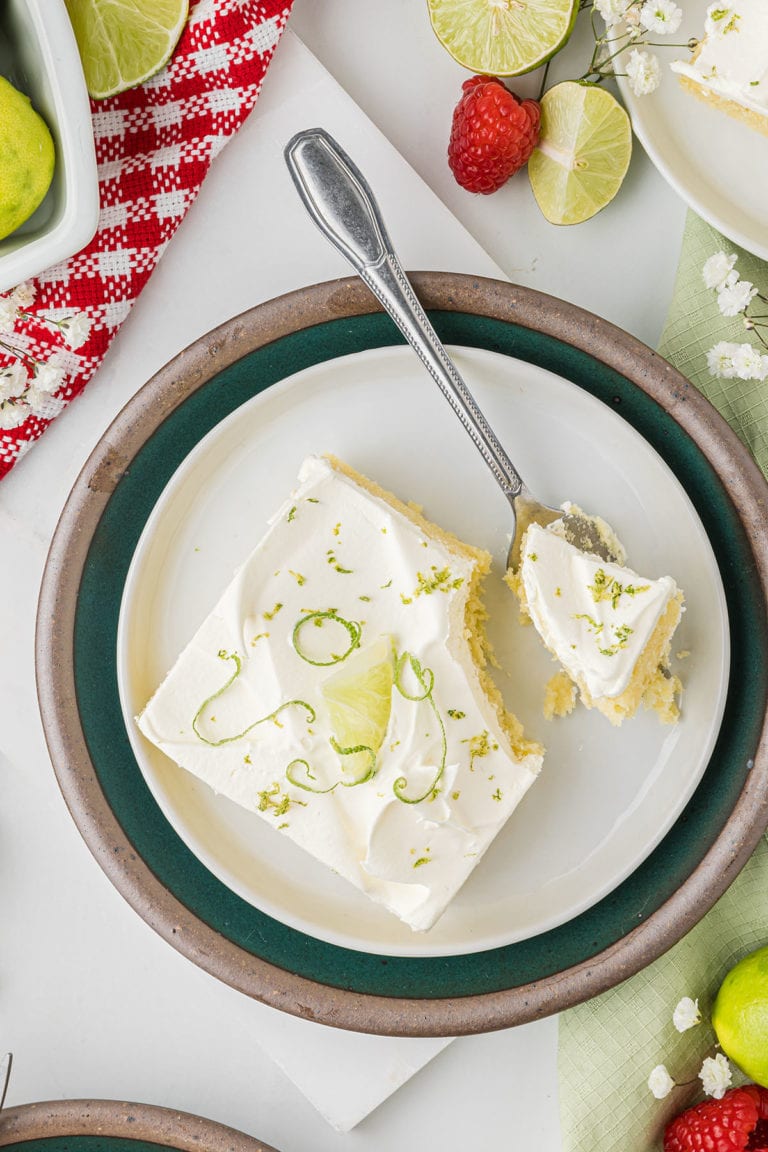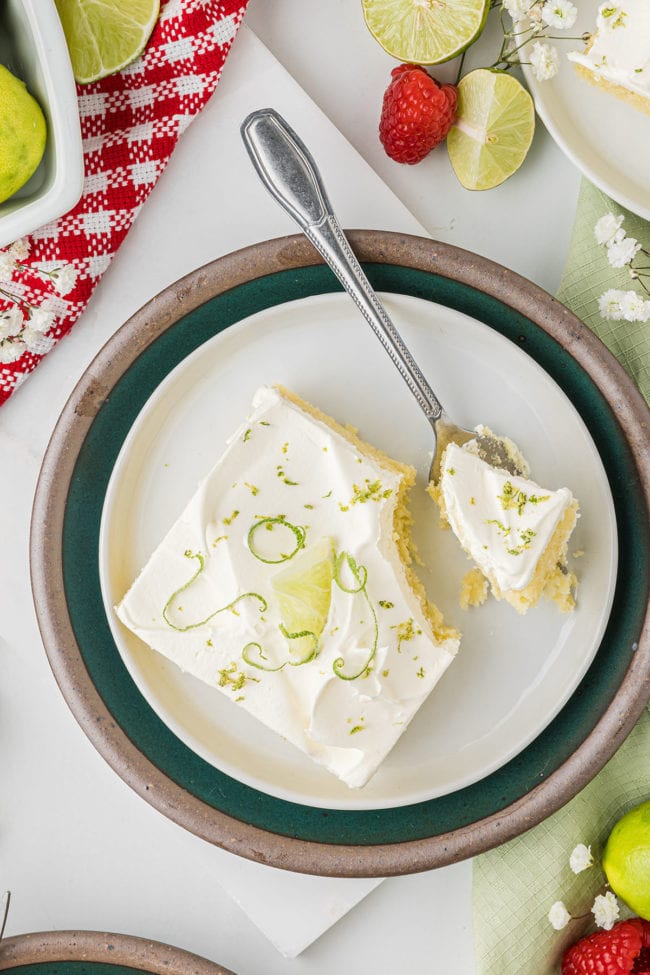 FAQs
How is a sheet cake different from a regular cake?
A sheet cake is a "regular" cake, although different in size and shape, rectangular instead of round, and usually served as a single layer. Sheet cake sizes are somewhat standardized; of course, someone always tries to fix what isn't broken, so it can depend on manufacturer standards. Full, half, and quarter sheet cakes are commonly sized: 18 x 26," 13 x 18," and 9 x 13", respectively.
What is stabilized whipped cream?
Stabilized whipped cream is whipped cream that has either gelatin or a type of cornstarch-based ingredient added, so it will hold its form. Stabilized whip cream is a way to use the much-loved, soft, and fluffy cream mixture for desserts that need a stiffer icing or filling.
How do I make stabilized whipped cream?
Adding starch or tempered gelatin to softly whipped cream gives you a "stabilized" form-holding cream. Gelatin stabilizer is commonly used by commercial bakers. Home cooks get results using any of these starch-based pantry staples: cornstarch, confectioner's sugar, dry pudding mix, or powdered milk. Add 1 tbsp cornstarch for every one cup of whipping cream, or measure 3 tbsp for any of the other three cornstarch-based choices.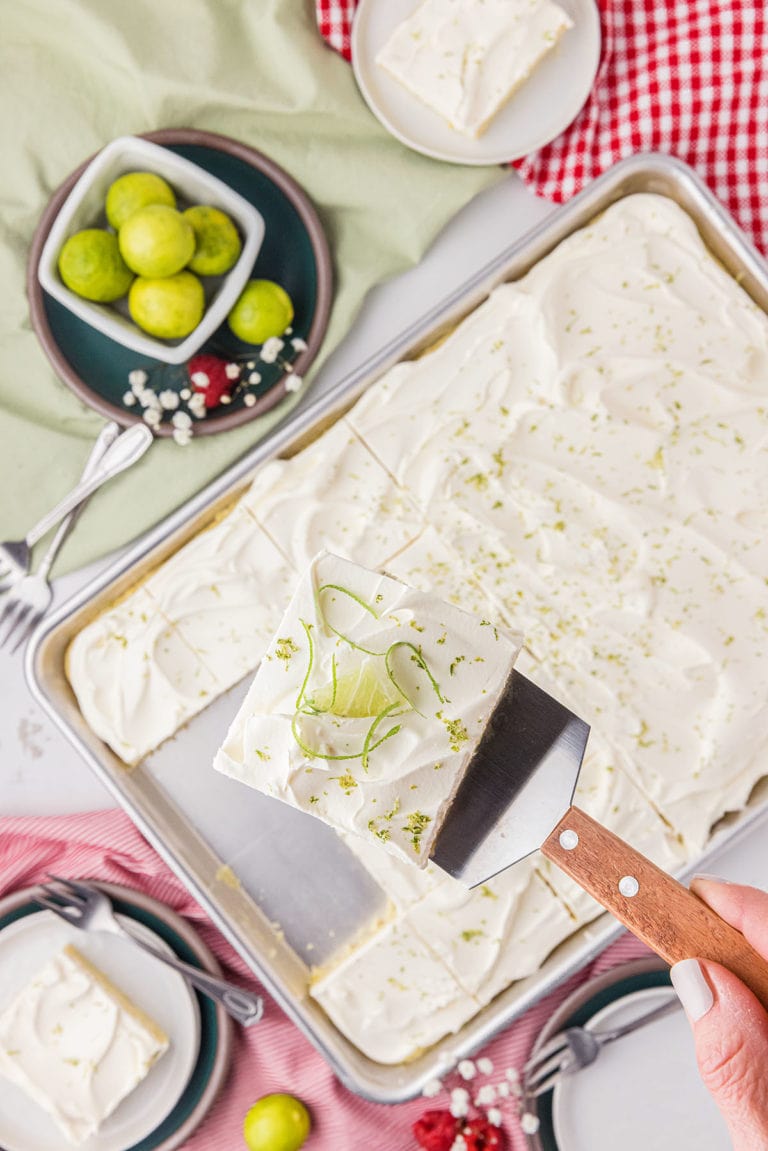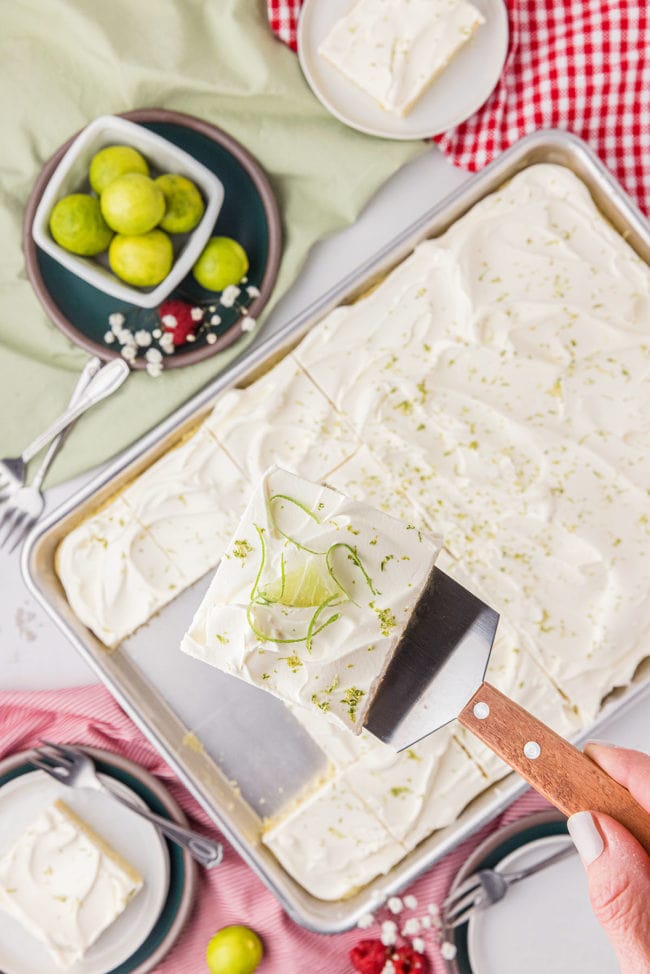 Key Lime Cake Swaps and Substitutions
Cake Mix – I like to use French Vanilla cake mix for this sheet cake recipe, but you can use yellow, white, vanilla, or even coconut for a full immersion tropical dessert.
Key Limes – Regular limes can be used instead of key limes (although you'd arguably have a delicious lime cake, I can tell you key limes are worth it).
Plain Greek Yogurt – Lower fat or fat-free greek yogurt, or sour cream, can be used.
Whipped Topping – If you prefer whip cream, it is too soft on its own and will need to be stabilized for this key lime cake topping.
Garnish – I've got to throw in the whole tropical slant and suggest coconut flakes sprinkled with key lime zest.
Looking for citrus cocktails? You can't go wrong with a sassy Pineapple Jalapeno Margarita, refreshing Perfect Paloma Cocktail, or "sophisticated" sipping with Limoncello Meringue Martini; its "mah-alveolus da-ahling!"
Like This Recipe? Pin It!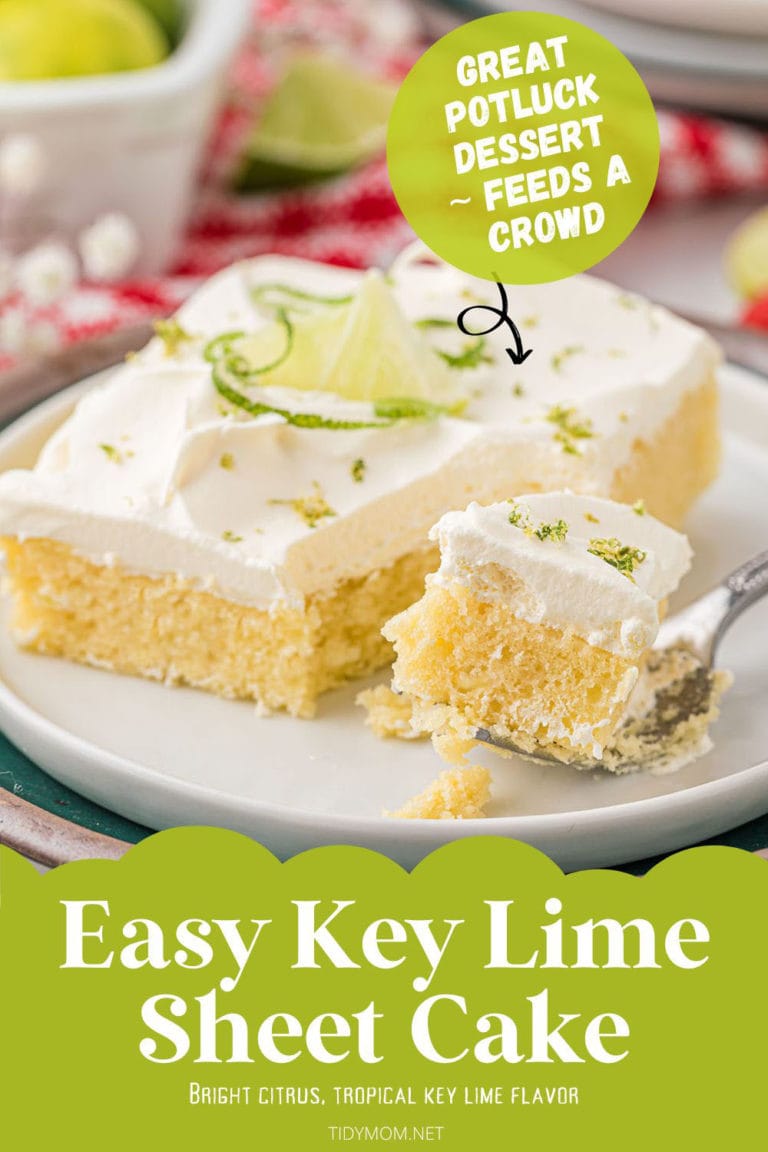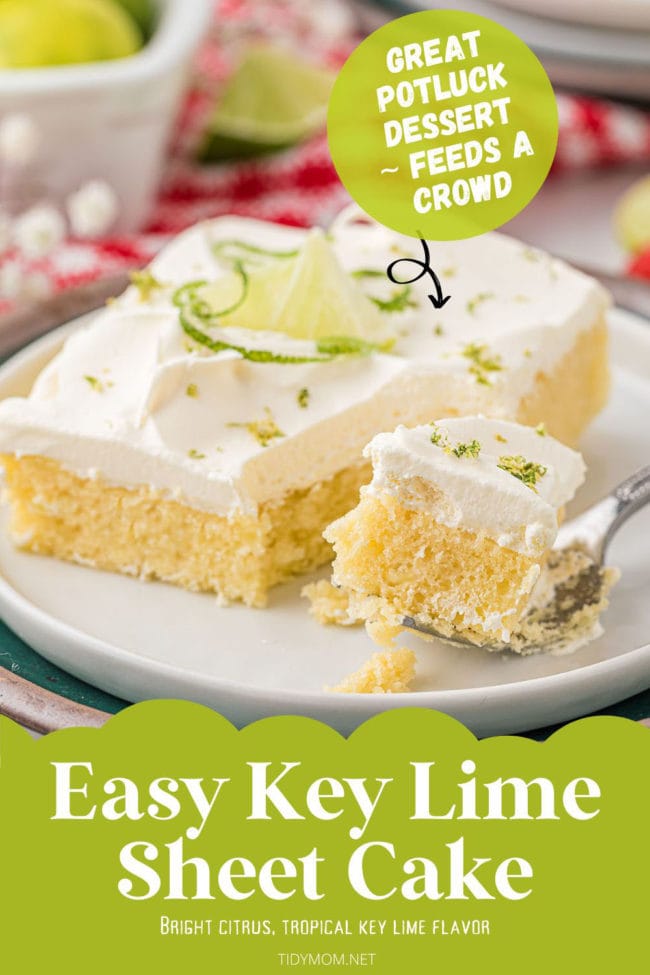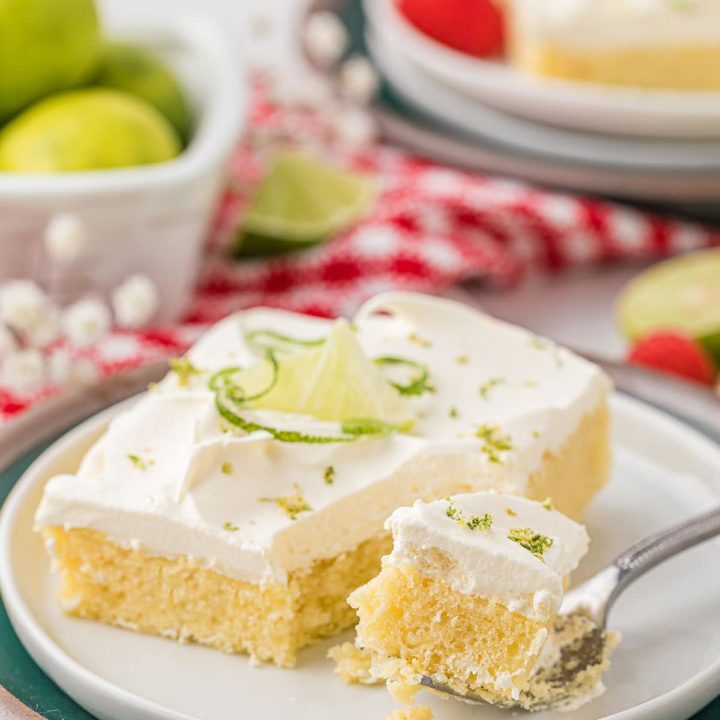 Key Lime Cake
Yield: 18 servings
Prep Time: 20 minutes
Bake Time: 30 minutes
Total Time: 50 minutes
Key Lime Sheet Cake is the ideal dessert for warm weather; it's moist, tender, and bathed in a sweet-tart lime syrup with a fluffy lime topping. Fuss-free, easy to make, and always a hit.
Ingredients
FOR CAKE:
1 (15.25) French Vanilla cake mix
½ cup canola oil
3 large eggs, room temp
¾ cup plain greek yogurt
2 tablespoons key lime zest
⅓ cup fresh squeezed key lime juice (about 5-6 key limes)
1 teaspoon vanilla extract
FOR LIME SYRUP:
3 tablespoons key lime juice (about 3 key limes)
3 tablespoons sugar
FOR TOPPING:
2-3 cups (from 8 oz tub) whipped topping, thawed (such as CoolWhip or stabilized whipped cream)
1 tablespoon key lime zest
(optional garnish) key lime slices
Instructions
KEY LIME CAKE:
Preheat oven to 350° F. Grease and flour a 9x13-inch or 11x17-inch pan.
Blend cake mix, oil, eggs, yogurt, zest, and juice in a large bowl on low speed with an electric mixer for 30 seconds until moistened. Then beat on medium speed until smooth, 1-2 minutes.
Pour the batter into the prepared pan and bake immediately for 27-32 minutes (for 9x13 pan) or 20-22 minutes (for 11x17 pan) or until a toothpick inserted in the middle comes out clean.
Set the cake on a wire rack and allow it to cool 5-10 minutes.
LIME SYRUP:
Add key lime juice and sugar to a small saucepan and heat over low heat gently stirring until the sugar dissolves.
Once the cake is out of the oven and cooled a few minutes, brush syrup over the warm cake. Allow the cake to cool completely before topping.
TOPPING:
Once the cake is cooled completely, spread whipped topping over the top of the cooled cake. Garnish by sprinkling with key lime zest and lime slices if desired. Slice the cake and serve.
Notes
Regular limes can be used in place of key limes (although you'd arguably have a delicious lime cake, not key lime). Note that one regular lime has about 2 tablespoons (1 fluid ounce) of juice. One key lime has about .5 ounces of juice.
Whipped cream is too soft for topping this cake, but you could make stabilized whipped cream if you aren't using whipped topping.
Nutrition Information:
Yield: 18
Serving Size: 1
Amount Per Serving:
Calories: 191
Total Fat: 8g
Saturated Fat: 1g
Trans Fat: 0g
Unsaturated Fat: 6g
Cholesterol: 31mg
Sodium: 227mg
Carbohydrates: 27g
Fiber: 1g
Sugar: 15g
Protein: 3g
Nutrition information is estimated based on the ingredients and cooking instructions as described in each recipe and is intended to be used for informational purposes only. Please note that nutrition details may vary based on methods of preparation, origin, and freshness of ingredients used and are just estimates. We encourage, especially if these numbers are important to you, to calculate these on your own for most accurate results.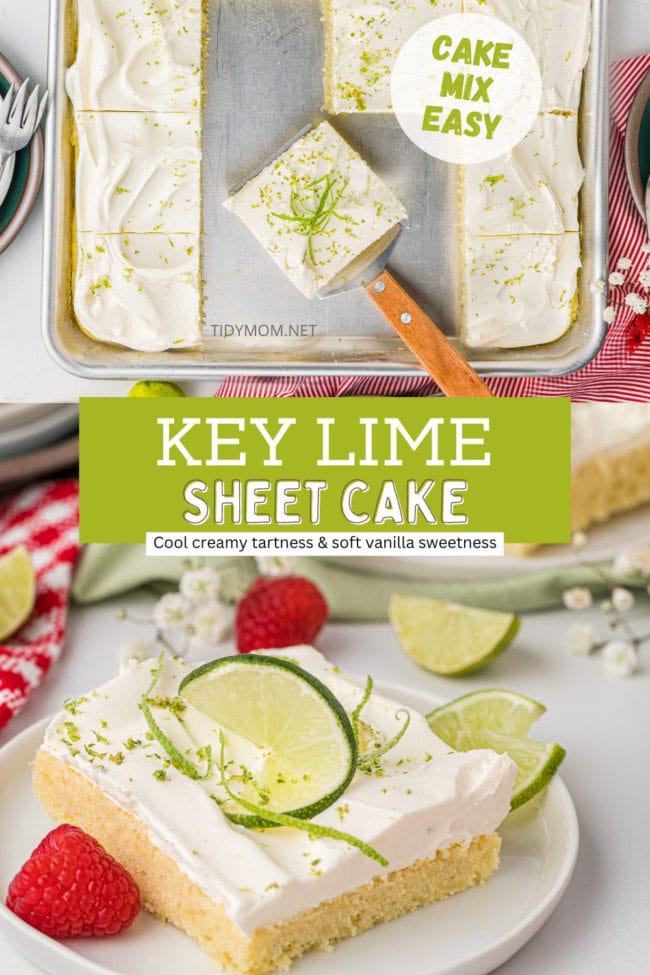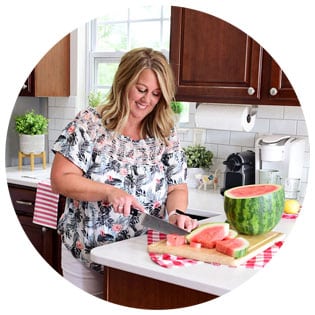 Hi there, I'm Cheryl!
As a wife, mom, and caffeine enthusiast, my journey has taken me from bustling mornings with my family to sharing delicious recipes, home care tips, and heartfelt decorating insights with wonderful readers like you. My love for baking, photography, and tidiness shines through every post I craft. Dive into my world and discover the art of homemaking, one tidy moment at a time. Read more...
Tidymom is a participant in the amazon services llc associates program, an affiliate advertising program designed to provide a means for sites to earn advertising fees by advertising and linking to Amazon.com.
Please respect my work, recipes and photographs. If you do use a recipe in your own writing, please give proper credit and link back to the original post.