Mandarin Orange Cake With Boxed Cake Mix
This post may contain Amazon or other affiliate links. As an Amazon associate, I earn from qualifying purchases.
Light, refreshing Mandarin Orange Cake with heavenly clouds of pineapple whipped topping transforms a simple boxed cake mix into a wow-worthy tropical dessert!
If you're looking for more easy dessert recipes full of bright flavor, you're sure to love our delightful Glazed Lemon Brownies, Orange Dreamsicle Jello Poke Cake, Lemon Cool Whip Cookies, and fan-favorite No-Bake Lemonade Pie.
Be sure to sign up for my email… to get new recipes and ideas in your inbox!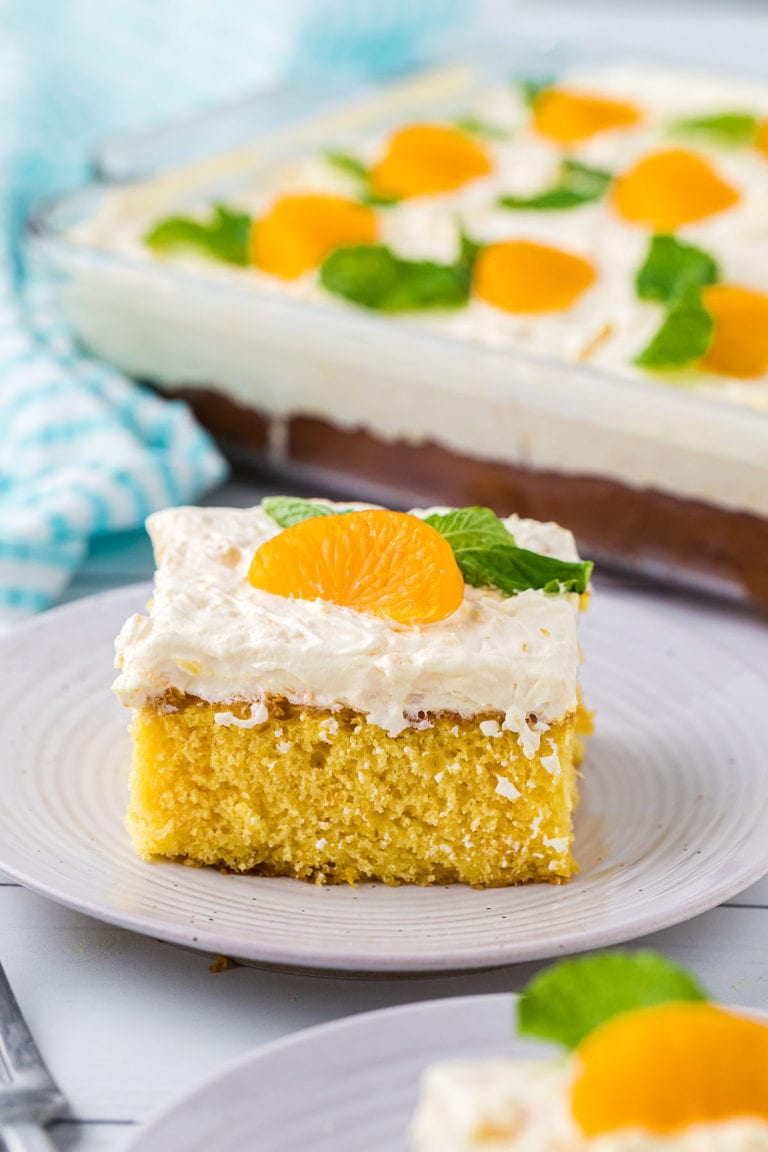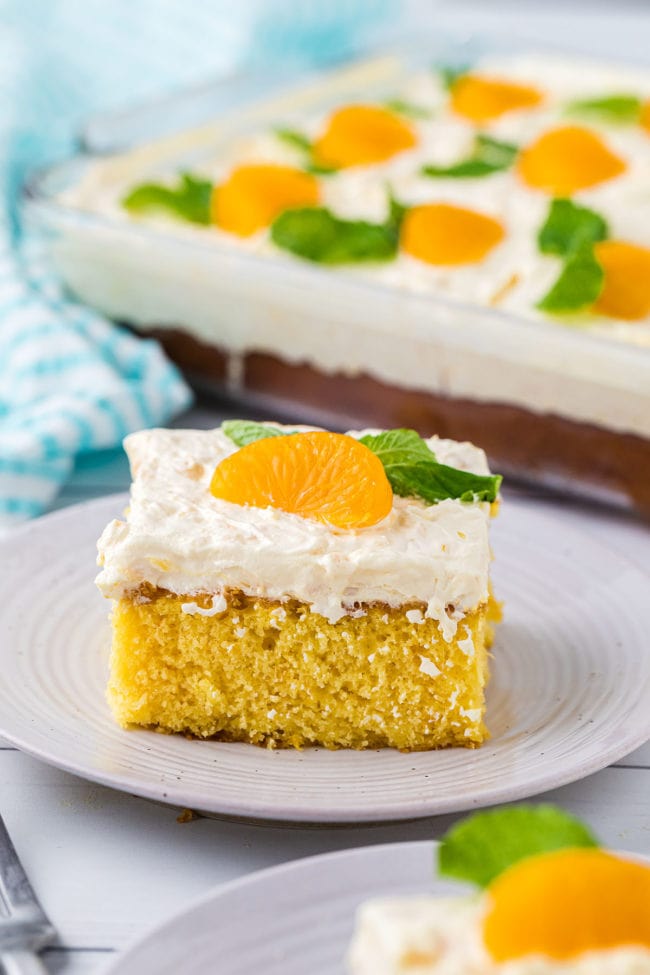 What is a "Pig Pickin cake?
"Pig Pickin" cake got its moniker for being the expected dessert dish at a southern pig roast. This light and fluffy tropical dessert cake is as much of southern tradition as cornbread, pecan pie, and sweet tea! A "pig pickin'" is a time-honored southern social event steeped in tradition and exalted by many! North Carolina Governor, Bob Scott, went so far as to declare NC the "Pig Pickin' Capital of the World" in 1972!
Why A Mandarin Orange Cake Is A Crowd-Pleaser!
Mandarin orange cake, aka pig pickin' cake, is a much-beloved addition at picnics, backyard BBQs, and social get-togethers. Especially after enjoying a sumptuous outlay of hearty dishes!
Flavorful – Bursting with sweet citrus flavor and topped with a cloud of pineapple whipped topping.
Refreshing – A chilled pineapple orange cake is an extra treat served out of doors on a warm, sunny day.
Time-Saving – Orange pineapple cake can be made ahead and refrigerated. (It's even better the next day!)
Easy – A simple 5 minutes, one-step, "throw together" mix-and-bake orange cake recipe.
Convenient – Quick prep using a boxed cake mix, instant pudding, and canned fruit.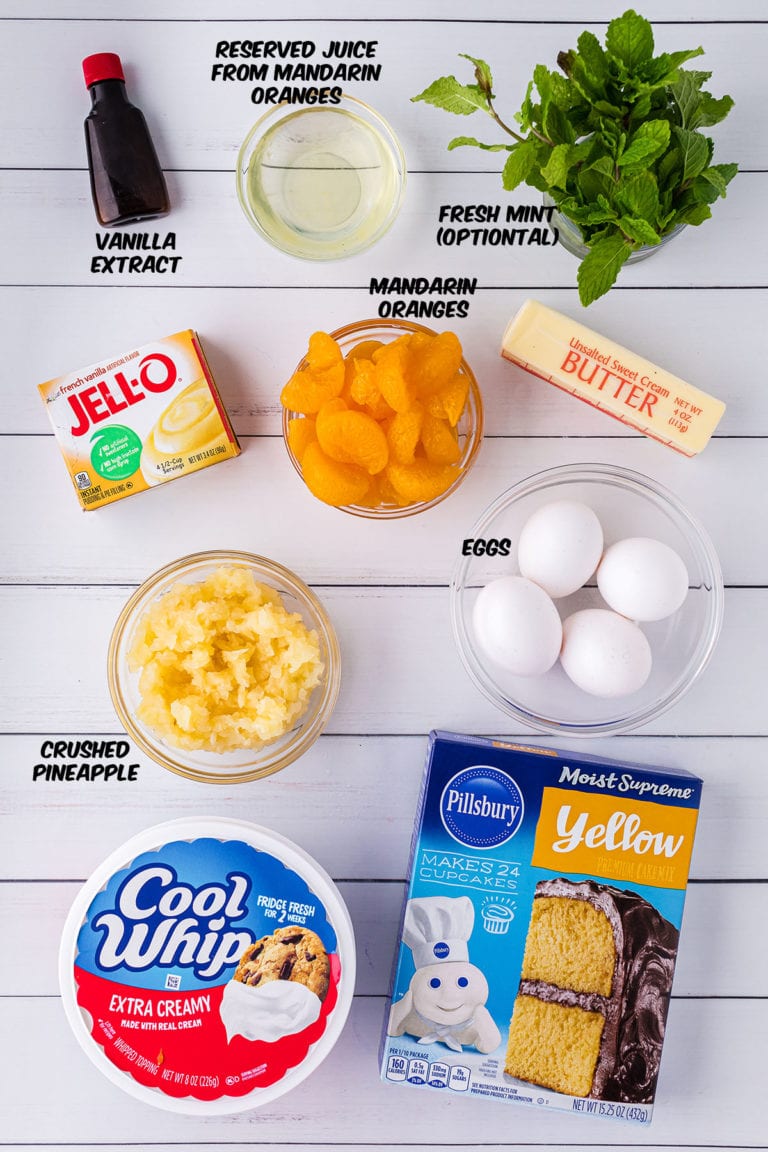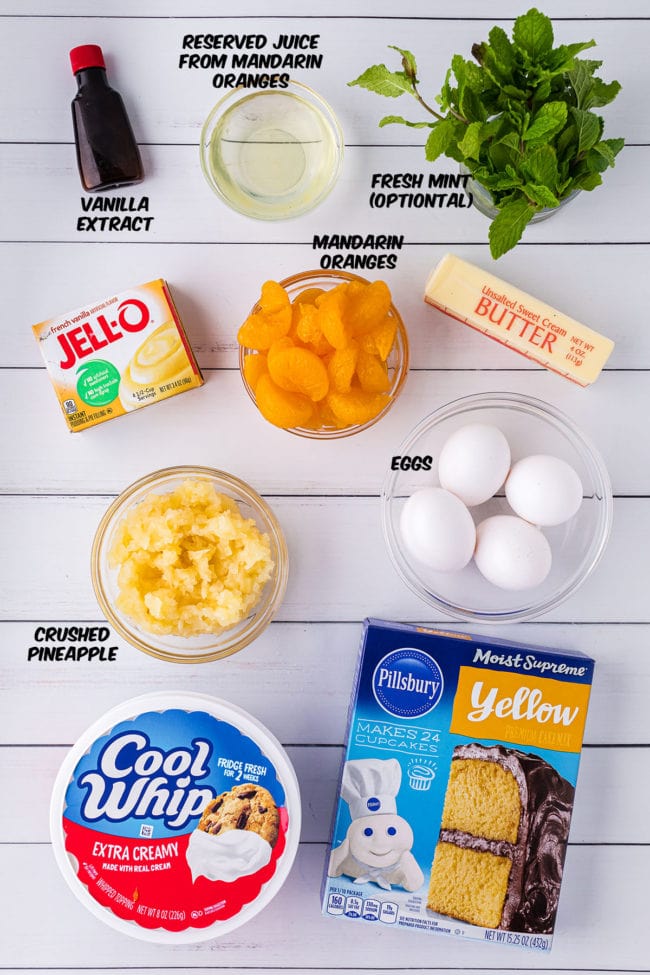 Pineapple Orange Cake Recipe Ingredients
Infuse a boxed cake mix with refreshing mandarin oranges, and elevate a tub of whipped topping into a pineapple dream with vanilla pudding mix! Pig pickin', pea pickin', or potluck, it's a dessert recipe favorite!
For specific amounts, please refer to the printable recipe card at the bottom of the post.
Mandarin Orange Cake Ingredients
Orange Or Yellow Cake Mix – you can also use a butter cake or white cake boxed mix. The box mix is added as a dry ingredient.
Mandarin Oranges – canned oranges, drained. Reserve ½ cup of juice and set aside intact mandarin orange sections for garnish.
Eggs – for the best incorporation and leavening action, always have your eggs at room temperature for the cake batter.
Unsalted Butter – softened or an equivalent of vegetable oil if preferred.
Vanilla Extract – use a high-quality extract (not imitation) or make your own for the best flavor.
Optional Garnish – fresh green mint leaves and unbroken mandarin orange sections.
Pineapple COOL WHIP® Frosting
Whipped Topping – thawed Cool Whip or comparable whipped topping.
Crushed Pineapple – canned, crushed pineapple in juice, drain, and reserve juice.
French Vanilla Pudding Mix – a small box of dry instant pudding mix. (added as a dry ingredient.)
DYK? Mandarins are one of the three ancestral citrus species, citrus reticulata, that hybridize naturally and have been cross-bred into a plethora of fun little fruits. Now over 200 varieties, these popular snack oranges are small, sweet, loose-skinned (peels easily), segmented fruit.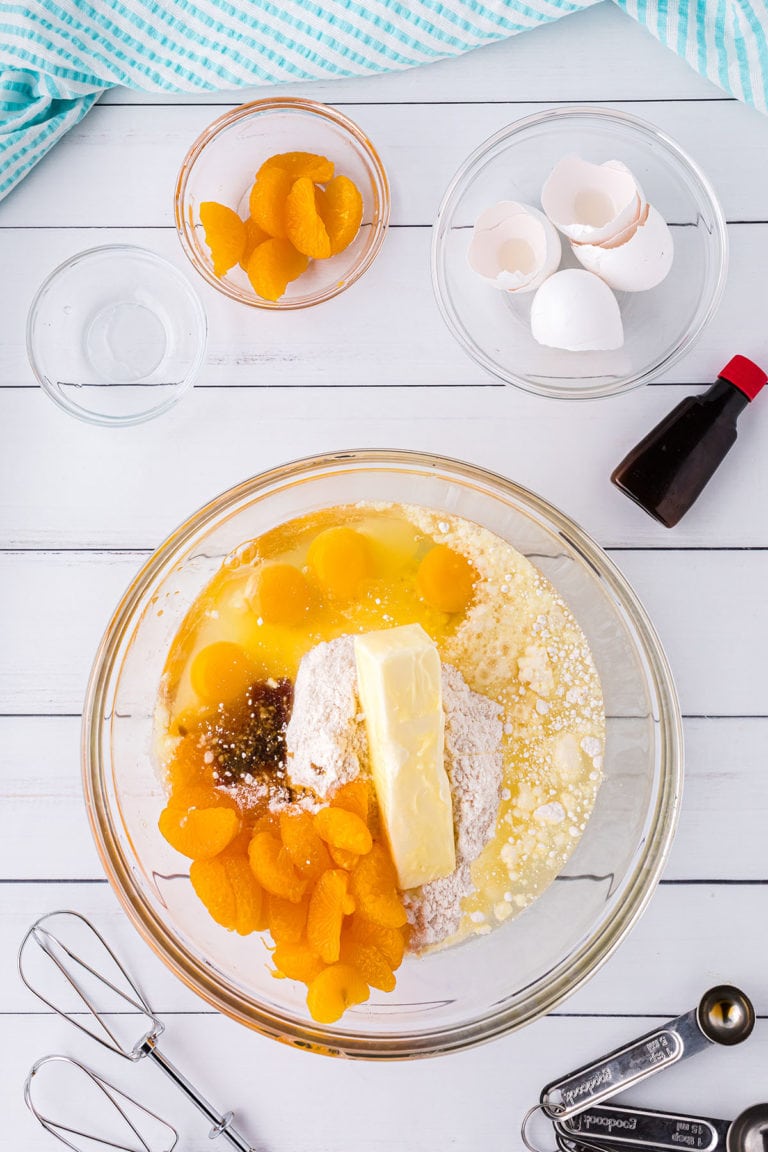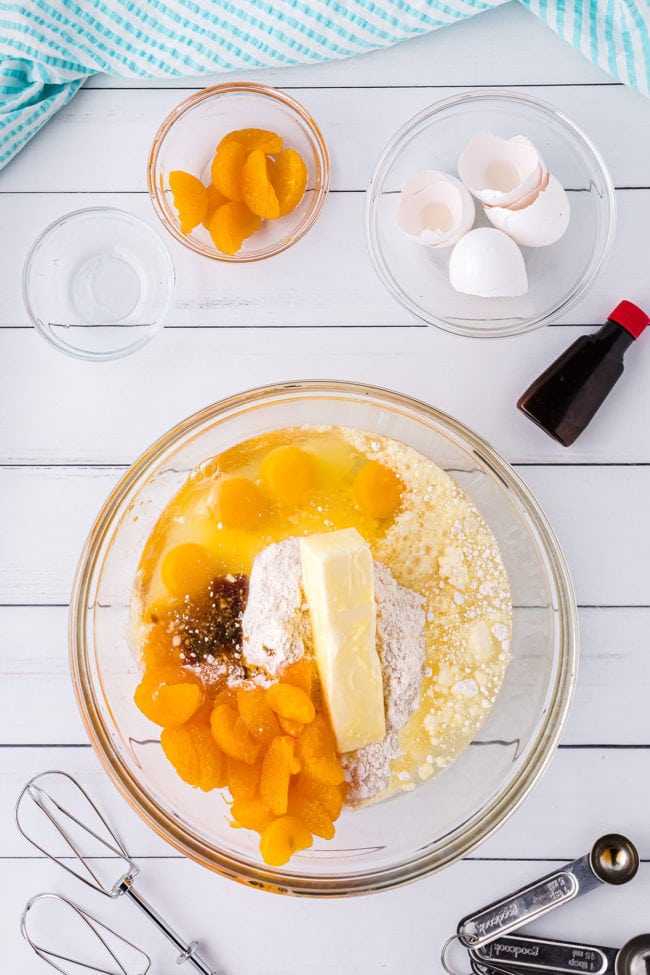 This post may contain affiliate links. Please read my disclosure policy here.
How To Make A Mandarin Orange Cake With Boxed Cake Mix Recipe
Simple instructions for a moist pineapple-orange dessert combo that is simply divine! Get the party started with a preheated oven and whipped topping thawing in the fridge. Gather your mixer, bowls, measuring implements, spatula, wooden spoon, wire rack, and a greased 9×13" cake pan (our favorite release spray works like a charm).
When you are baking, you'll want to use the full recipe at the bottom of the page.
Easy Pineapple Orange Cake:
Mix together all of the mandarin orange cake ingredients until just combined.
Pour orange cake batter into the prepared pan and bake until an inserted toothpick has just a few crumbs.
Allow the cake to cool completely on a wire rack and frost.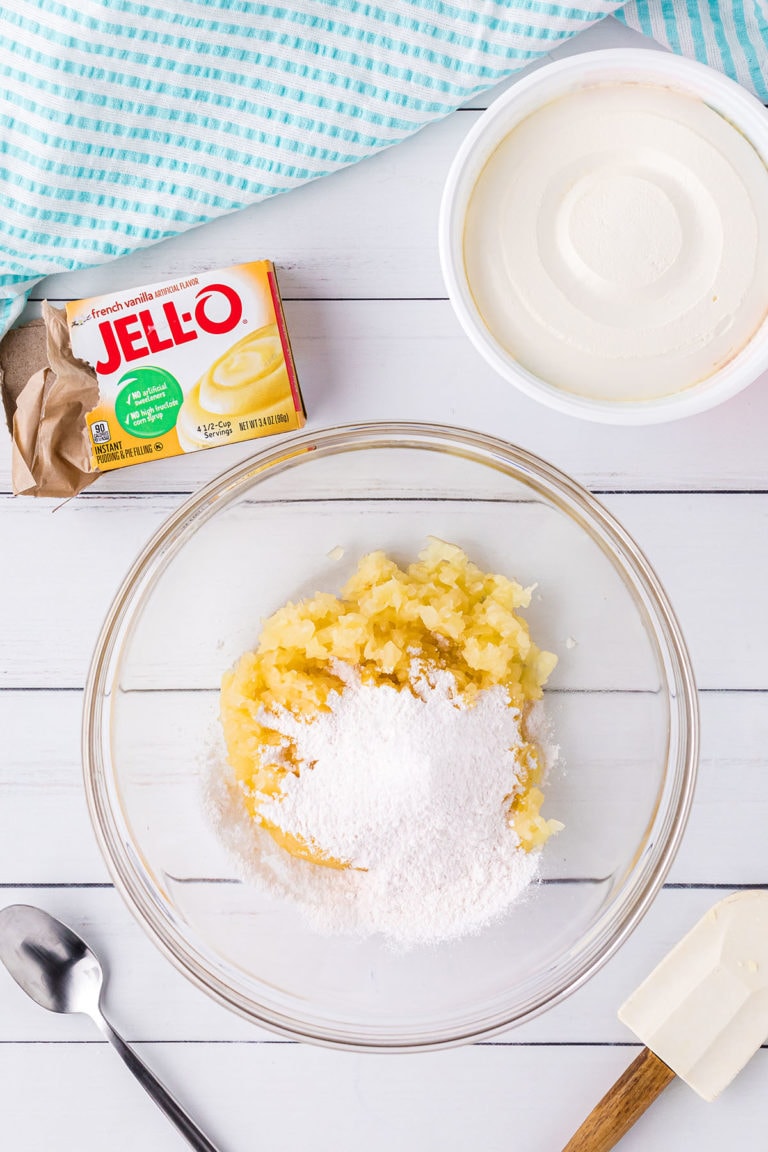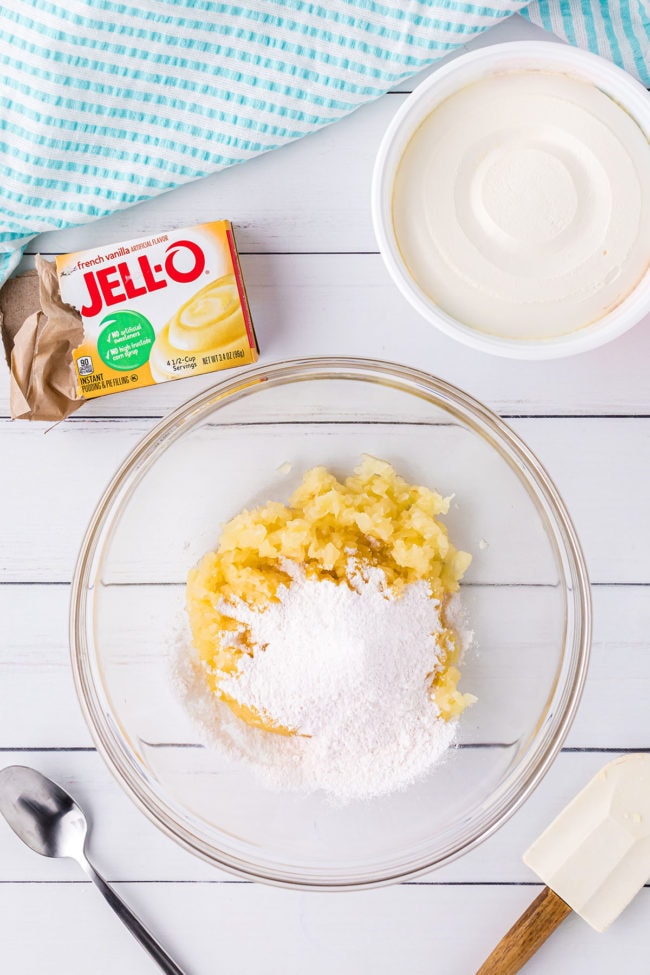 Pineapple Cool Whip® Frosting:
Spoon mix crushed pineapple and pudding mix together, then fold in the whipped topping until well combined.
Spread pineapple whipped topping over cooled mandarin cake. Garnish with mandarin orange sections if desired.
Cover and refrigerate the frosted cake until ready to serve (at least 1 hour). Cut, serve, and prepare to thumb wrestle for the last piece!
Chef's Note: Freeze extra mandarin and pineapple juices in an ice cube tray, then store them in freezer bags. Juice cubes are great to have on hand for cocktails or added to casseroles, stir-frys, and marinades.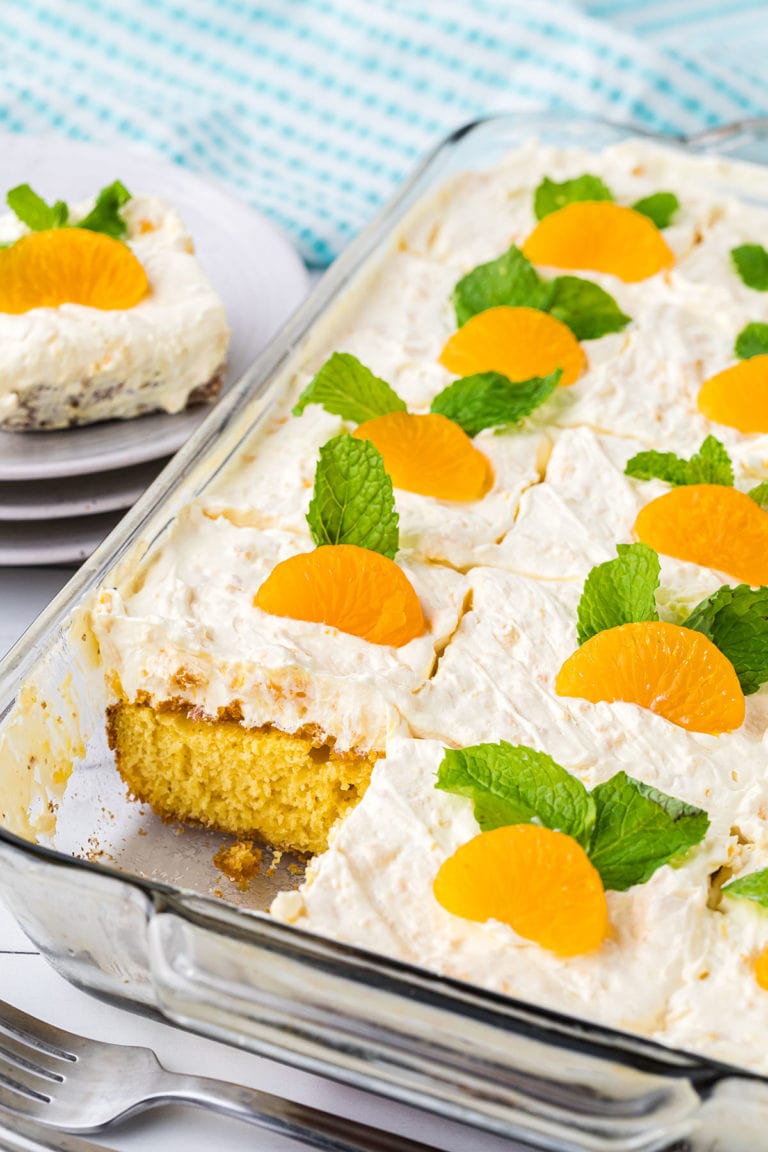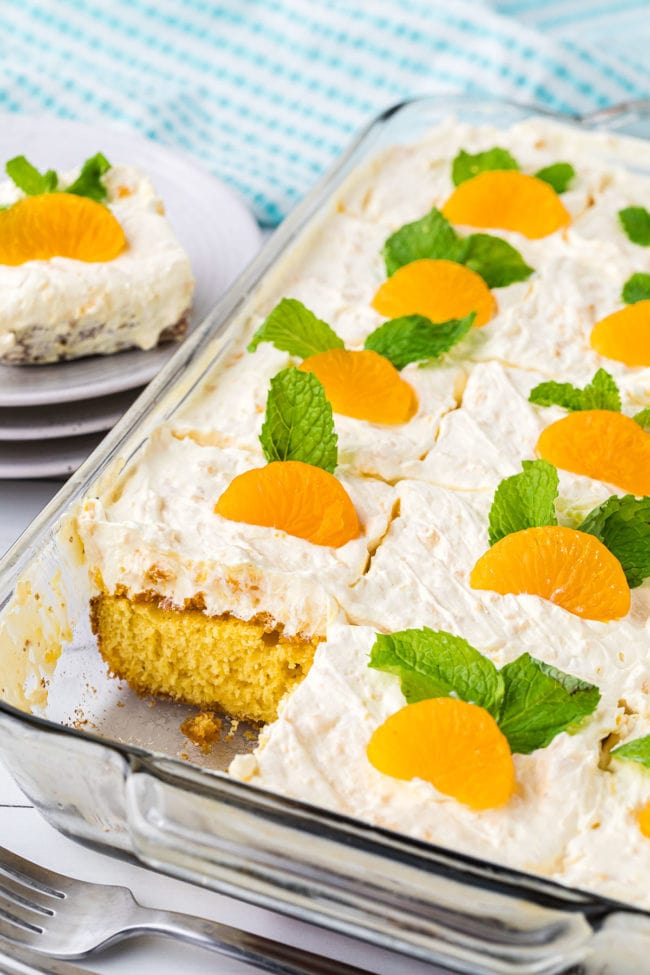 Orange Pineapple Cake Recipe Notes/Tips
After a mandrin orange cake cools completely, cover and refrigerate until ready to frost and serve.
You can choose from several boxed cake flavors to complement the mandarin orange cake base.
The boxed cake mix is conveniently premeasured and added as a dry ingredient; do not prepare the cake mix separately.
If the crushed pineapple and pudding mix mixture is too dry, you can add a small amount of reserved pineapple juice. This helps to dissolve the sugar crystals before combining the whipped topping.
Select intact mandarin orange sections for the garnish and drain to keep them from running on pineapple whipped frosting.
To remove excess liquid, place mandarin sections on a paper towel for only a few moments – avoid drying them out.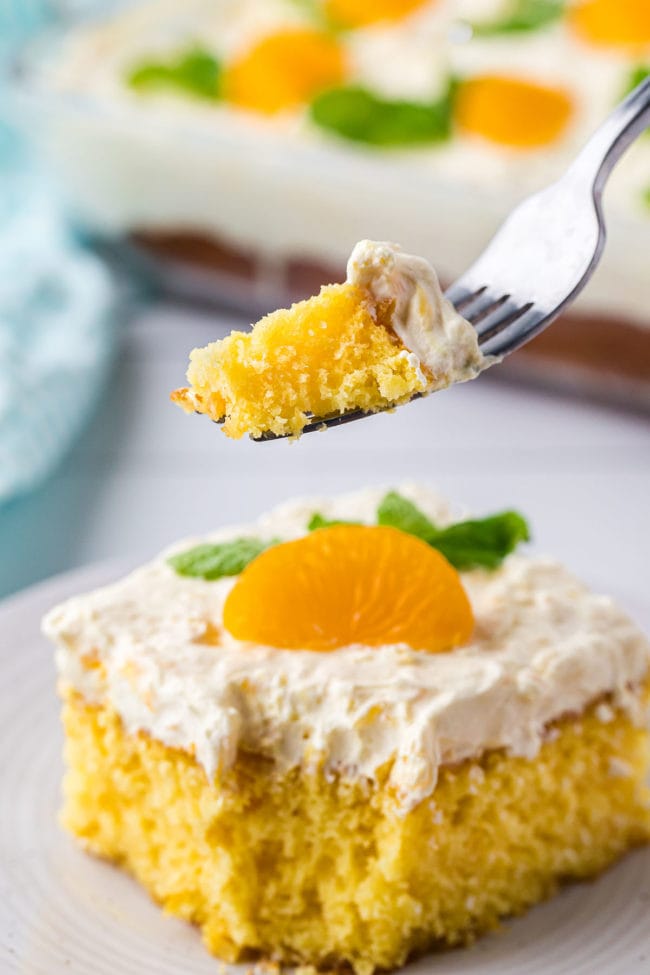 Storing Mandarin Orange Pea Pickin Cake
When you make a mandarin orange cake the day ahead, as soon as it is completely cooled, wrap it tightly and refrigerate it until you are ready to frost with pineapple whipped topping and serve.
Refrigerate/Leftovers
Keep frosted, or unfrosted orange pineapple cake refrigerated until ready to serve. For cake made a day in advance, it's best to frost the day you serve it.
Freeze
A mandarin orange cake freezes very well for 2-3 months as long as it is well-wrapped (I recommend a metal or disposable foil pan). Cover the unfrosted, plastic-wrapped cake in foil and put the double-wrapped orange cake in an airtight storage container for flawless flavor. Thaw overnight and frost with freshly made pineapple whipped topping.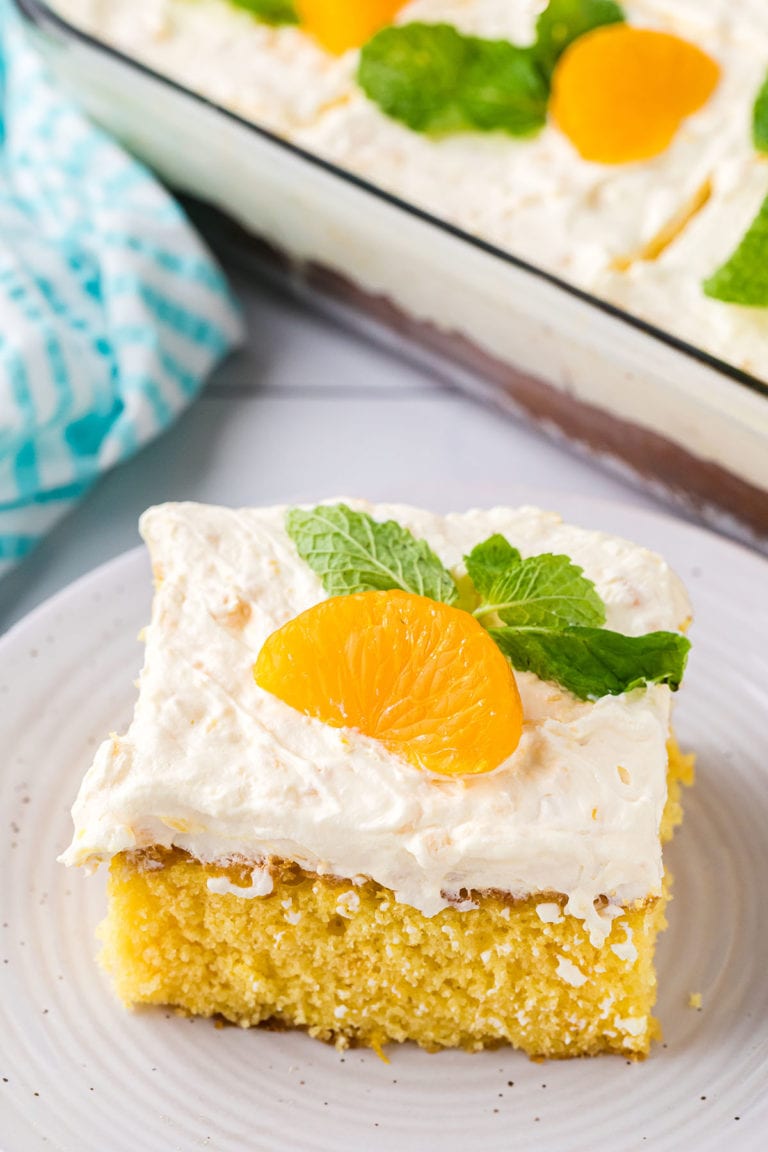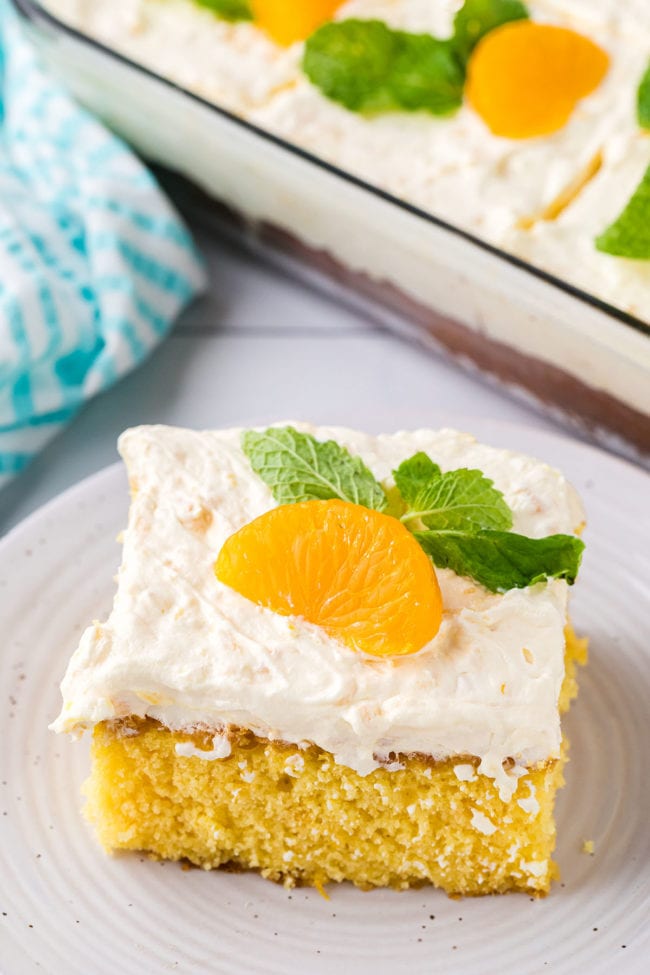 Canned Mandarin Orange Cake Recipe FAQs
Should I use a metal or glass pan to bake a cake?
Shiny, light-colored metal pans are ideal for baking a cake, as they heat up quickly and will retain less heat, which leads to an even, browned result. Furthermore, metal pans cool down quickly once removed from the heat source. Professional bakers often select high-grade aluminum pans to achieve the best results when baking cakes.

If you need to bake a dessert like a cake in a glass dish, it is recommended to lower the oven temperature by 25 degrees to avoid it becoming too brown.
Can I use fresh mandarin oranges in pig pickin' orange cake?
No, this orange cake recipe is designed to use canned mandarin oranges. Most baking recipes calling for this sweet, seedless, little citrus gem use processed oranges for consistency, texture, and known moisture content. Not a purely symmetrical example, but consider why you don't use grapes instead of raisins.
Are "pig pickin' and pea pickin' cake" the same?
Yes, for all general purposes. Both pig pickin' and pea pickin' cake are typically synonymous with a southern picnic dessert staple; a moist mandarin orange cake with creamy, refreshing pineapple whipped frosting.
What's the difference between clementines and mandarins?
A clementine is a type of mandarin orange. Mandarin is an ancestral citrus species with small, darker orange, easier-to-peel, sectioned little citrus fruits. A clementine, part of the mandarine family, is what happened when a mandarin and a sweet orange got married.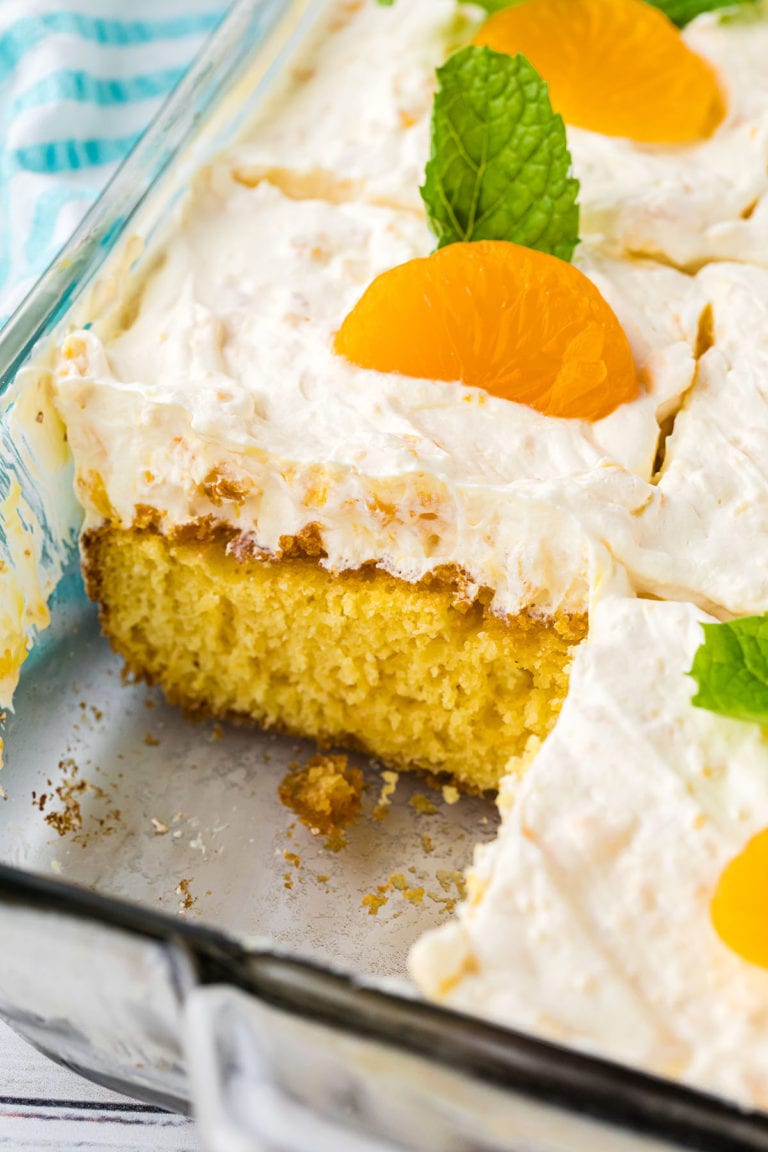 Variations/Popular Substitutions & Additions
Want more orange flavor? Use an orange cake mix, or add 1 teaspoon of pure orange extract or 2 tablespoons of fresh orange zest to the cake batter.
Want a more tropical presence? Sprinkle raw or lightly toasted coconut flakes over pineapple frosting, and/or add coconut extract to the cake batter.
Want a contrasting texture? Scatter lightly toasted almond slices or pecan pieces over the top of the orange cake.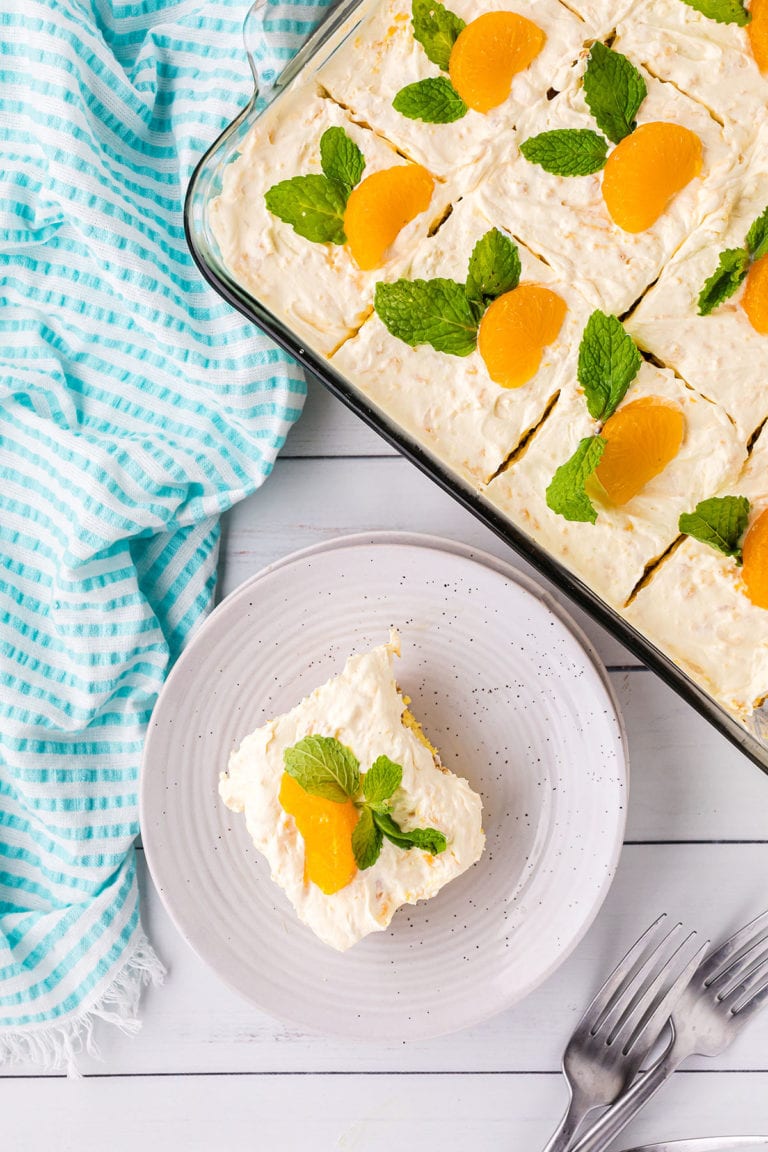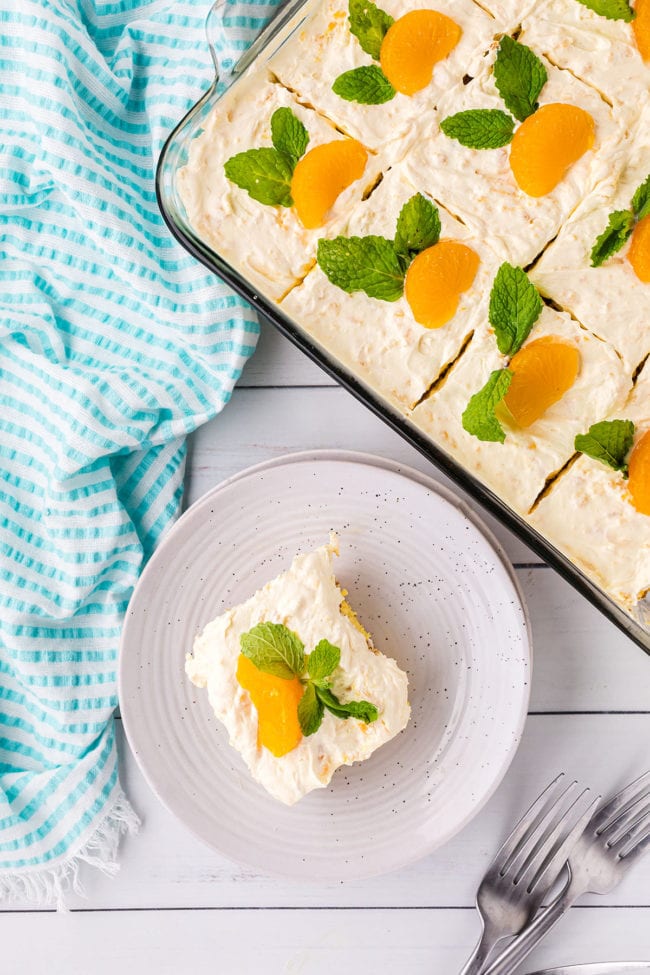 Where do the names "pig pickin' and pea pickin' cake" come from?
One thing is for sure, both "pig pickin' cake and pea pickin' cake" are part of deep southern tradition associated with communal and social get-togethers, usually of a celebratory nature for hard work well done. (Because it was, to survive!) Mandarin orange cake with whipped pineapple topping was well known by these alternate titles, frequently indicative of regional locations and economic situations. (livestock and field crops).
Like This Recipe? Pin It!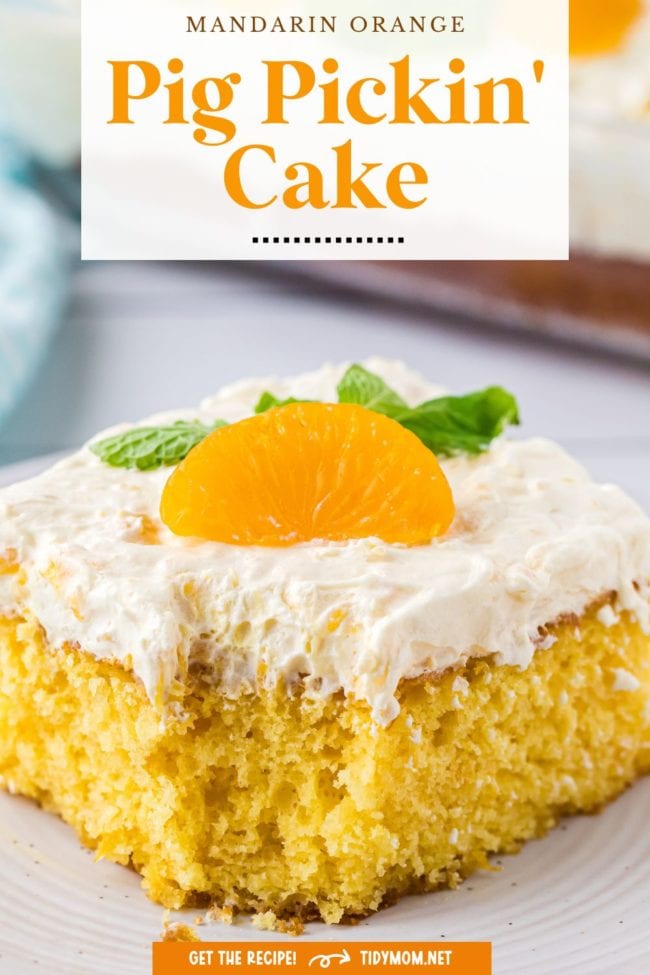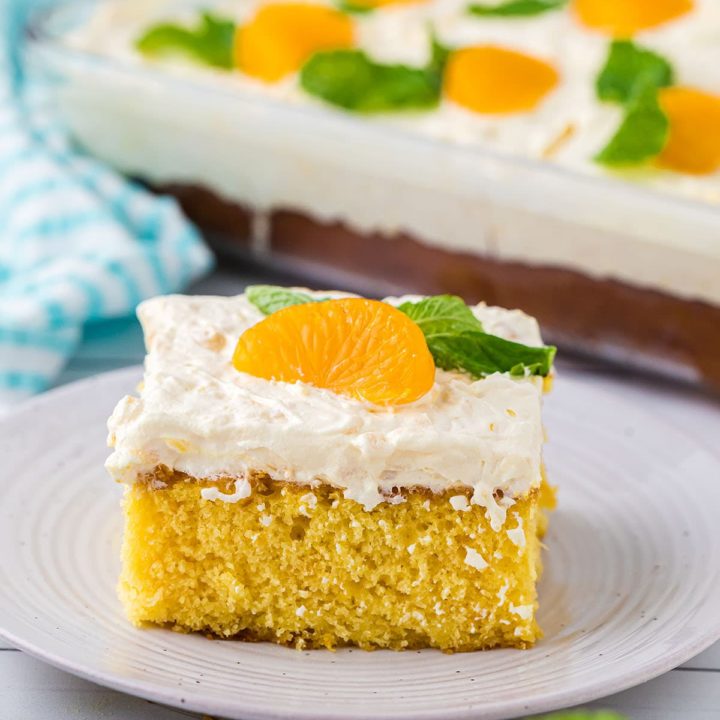 Mandarin Orange Cake (aka Pig Pickin' Cake)
Yield: 20 servings
Prep Time: 10 minutes
Bake Time: 40 minutes
Chill Time: 1 hour
Total Time: 1 hour 50 minutes
Pig Pickin' Cake (aka Mandarin Orange Cake) is a classic Southern treat, featuring a moist yellow cake laced with mandarin oranges and topped with a luscious pineapple frosting. It's better the next day, making it a great make-ahead dessert!
Ingredients
1 (15.25 ounce) orange or yellow cake mix
1 (15-ounce can) mandarin oranges, drained but reserve ½ cup of juice (set aside some oranges for optional garnish)
4 large eggs, room temp
1/2 cup unsalted butter, softened
1 teaspoon vanilla extract
Optional garnish: fresh mint leaves and mandarin oranges
for frosting
12-ounces frozen whipped topping (CoolWhip), thawed
2 (8 ounce) cans of crushed pineapple in juice, drained
1 (3.4 ounce) box instant French vanilla pudding mix
Instructions
Preheat oven to 350° F. Spray 9x13-inch cake pan with cooking spray and set aside.
Add cake mix, oranges,½ cup reserved juice from oranges, eggs, butter, and vanilla to a large bowl. Using an electric mixer blend just until combined (no streaks of flour) 2-3 minutes. Pour the batter into the prepared pan.
Bake for 40 minutes or until a toothpick inserted in the center comes out with just a few crumbs. Careful not to overbake. Allow the cake to cool completely on a wire rack.
After the cake cools completely, you can cover and refrigerate until ready to frost and serve it or frost right away and refrigerate frosted cake until ready to serve.
For Frosting
Mix the pineapple and pudding mix together in a large bowl using a spoon, then fold in the whipped topping until well combined.
Spread over cooled cake. Garnish with mandarin oranges if desired. Cover and refrigerate until ready to serve (at least 1 hour). Cut and serve.
Notes
This recipe does NOT work well with fresh mandarin oranges, you need to use canned mandarin oranges.
The dry cake mix and dry pudding mix are both ingredients in this recipe, you do not prepare them with ingredients on their box.
You can make this cake ahead of time, it's actually best the next day. Keep unfrosted cake refrigerated until ready to frost and serve.
Keep the whipped topping in the refrigerator until ready to frost, you want to keep it cold.
You can use stabilized whipped cream in place of whipped topping if you'd like. Regular whipped cream will not work.
To make as a layer cake, use three 8-inch cake pans and bake 25-30 mins. You may need a 16-ounce tub of whipped topping for 3 layers.
Nutrition Information:
Yield: 20
Serving Size: 1
Amount Per Serving:
Calories: 247
Total Fat: 11g
Saturated Fat: 7g
Trans Fat: 0g
Unsaturated Fat: 3g
Cholesterol: 49mg
Sodium: 292mg
Carbohydrates: 35g
Fiber: 1g
Sugar: 24g
Protein: 3g
Nutrition information is estimated based on the ingredients and cooking instructions as described in each recipe and is intended to be used for informational purposes only. Please note that nutrition details may vary based on methods of preparation, origin, and freshness of ingredients used and are just estimates. We encourage, especially if these numbers are important to you, to calculate these on your own for most accurate results.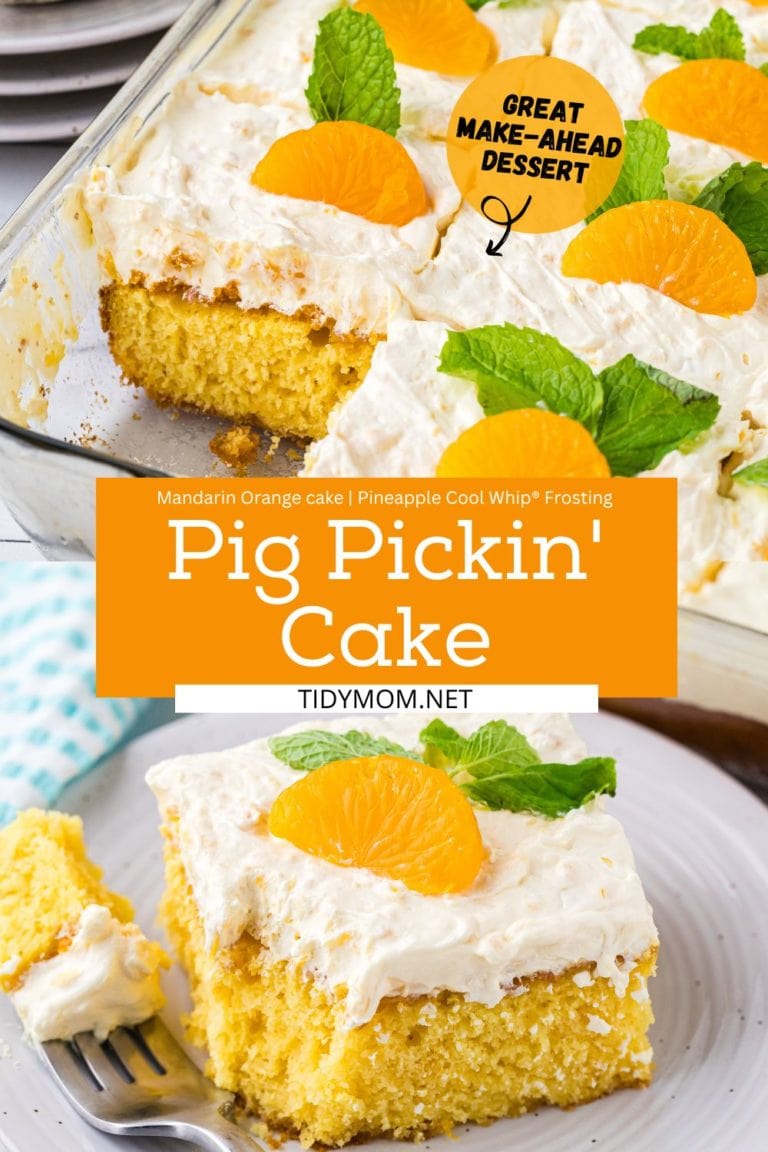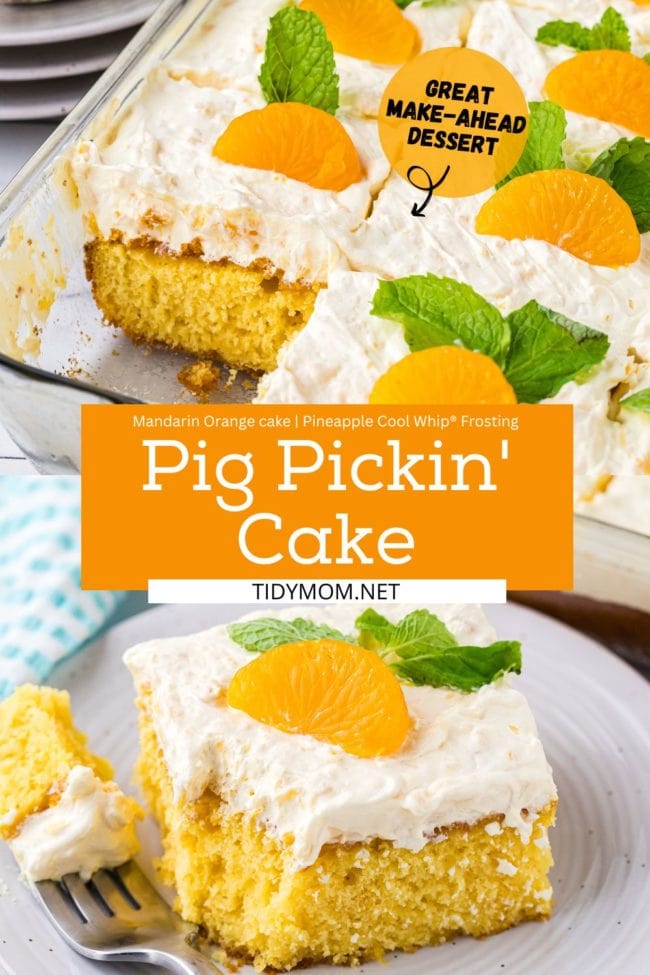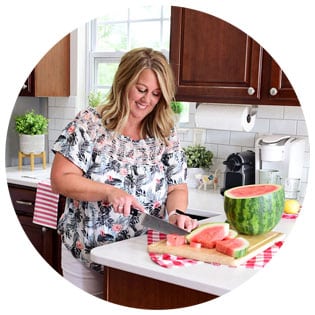 Hi there, I'm Cheryl!
As a wife, mom, and caffeine enthusiast, my journey has taken me from bustling mornings with my family to sharing delicious recipes, home care tips, and heartfelt decorating insights with wonderful readers like you. My love for baking, photography, and tidiness shines through every post I craft. Dive into my world and discover the art of homemaking, one tidy moment at a time. Read more...
Tidymom is a participant in the amazon services llc associates program, an affiliate advertising program designed to provide a means for sites to earn advertising fees by advertising and linking to Amazon.com.
Please respect my work, recipes and photographs. If you do use a recipe in your own writing, please give proper credit and link back to the original post.