Lemon Cool Whip Cookies {VIDEO}
aka Lemon Whippersnaps
With the perfect mix of sweet and tart, Lemon Cool Whip Cookies taste just like spring in a cookie. It's impossible to not enjoy the burst of lemon flavor from these light and soft-baked cookies! You only need 4 ingredients and your tastebuds won't know what hit them.
Be sure to sign up for my email… to get new recipes and ideas in your inbox!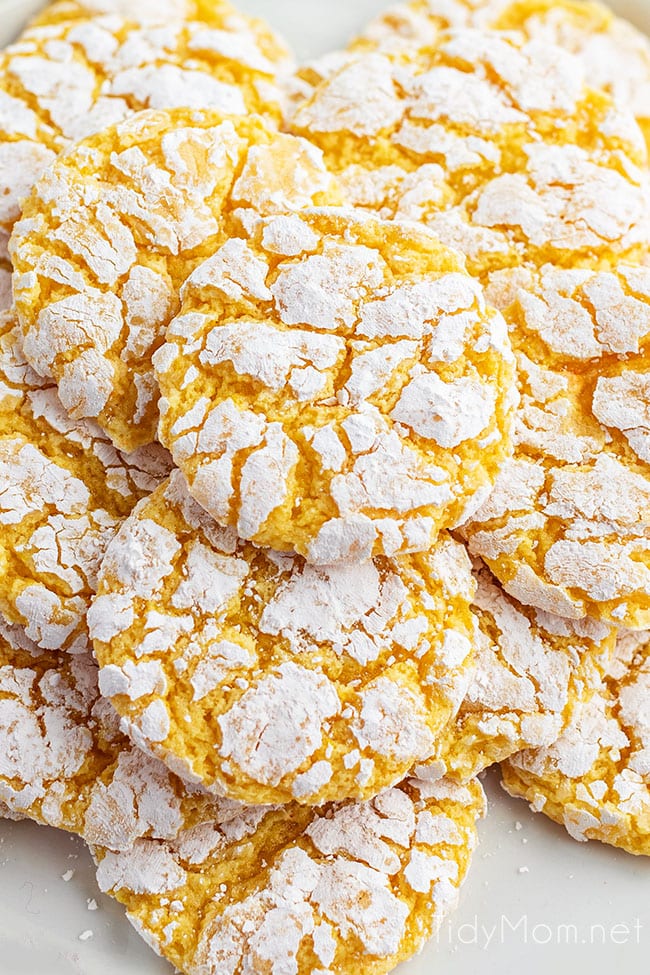 What Are Cool Whip Cookies
I'm sure you've heard of (and even made) classic cake mix cookies, where you combine a box cake mix with eggs and oil for a soft-baked cookie.
Cool Whip cookies use a box cake mix as well, but Cool Whip whipped topping replaces the oil, resulting in a softer cookie with a different texture. Cool Whip cookie dough is sticky, so the cookie dough balls are rolled in powdered sugar giving them a cracked crinkle cookie appearance when baked.
While Cool Whip and whipped cream are similar and both are used to top desserts like strawberry shortcake and pie, I've never tried whipped cream with this Cool Whip cookie recipe.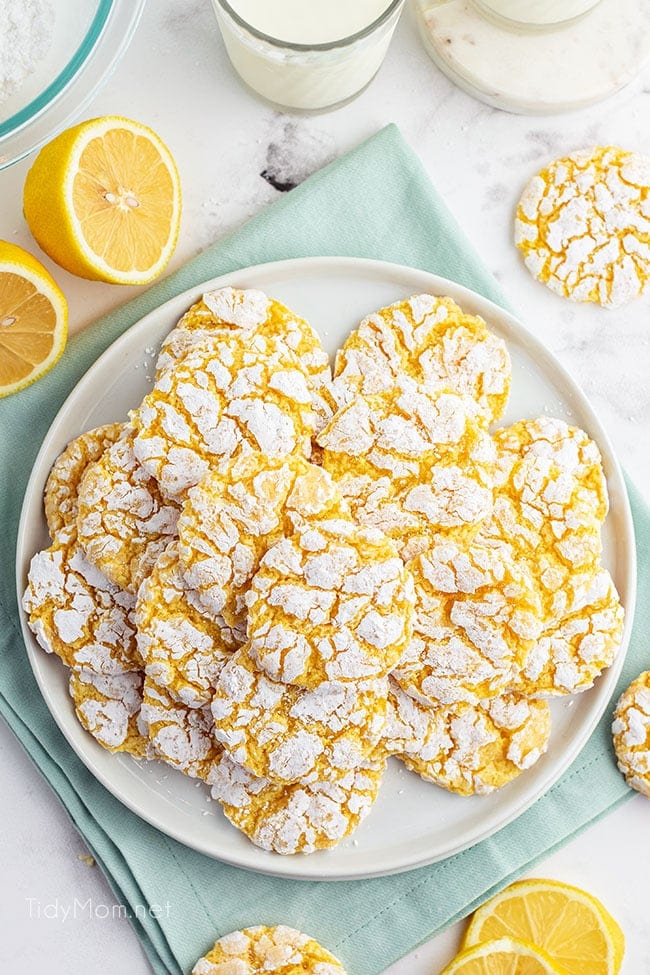 Why We Love Lemon Cool Whip Cookies
They say when life gives you lemons, you should make lemonade. That may be true… but I prefer to make lemon cool whip cookies! These buzz-worthy cookies are impossible to resist. When I make a batch of these at home, or serve them at a potluck or party, they disappear within minutes! This recipe is tried and true – I really don't think I've ever met anyone who didn't love these cookies.
These cake mix cookies are one of my favorites to make because it's the best hack to guarantee delicious cookies every time.
With their light and fluffy texture, you'll think these cookies came right from the sky. That tantalizing texture mixes seamlessly with the sweet and tangy flavors brought to you by the lemon and cool whip.
The best part about the whole recipe is that you can whip these out in under 30 minutes! Lemon cool whip cookies really are just as easy to make as they are to eat, because who says tasty cookies have to be complicated?
Lemon crinkle cookies are just one example of an incredibly tasty citrus recipe that you can enjoy by the pool or on Easter Sunday. With that being said… these cookies have definitely found their way into my Christmas cookie exchanges, too!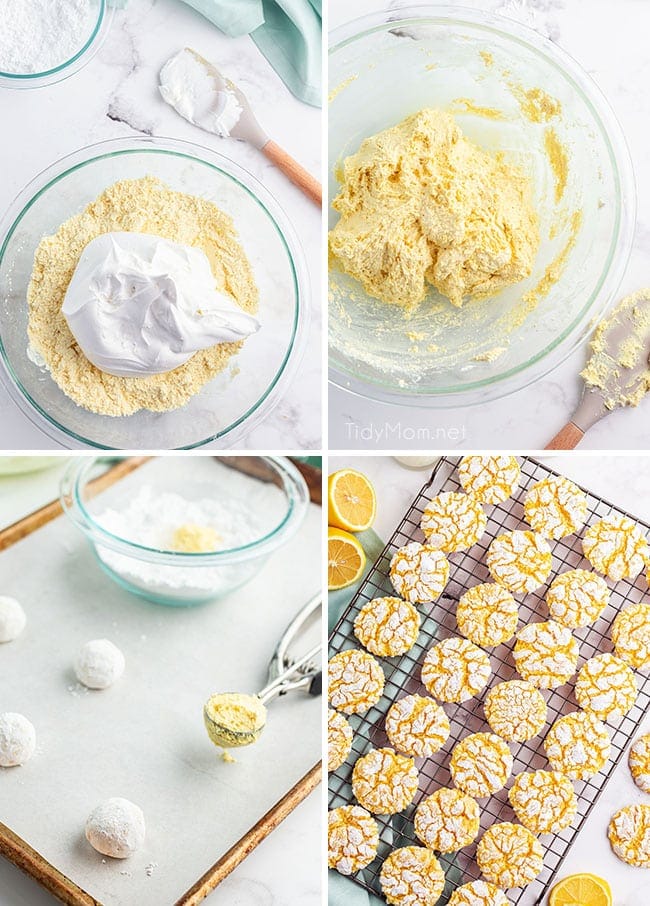 How To Make Cool Whip Cookies
This post may contain affiliate links. Please read my disclosure policy here.
I have a great appreciation for the fancy and involved cookies, but sometimes I just want a quick and delicious cookie I can whip up at a minute's notice. That's why my last-minute cookie go-to is always Cool Whip cookies. You only need 4 ingredients and it takes under half an hour to whip up. It's also so easy, your kids will love helping you out with it. Now that's what I call a simple, stress-free dessert recipe!
You'll Need:
Lemon Cake Mix (with pudding in the mix)
Cool Whip, thawed
An Egg
Powdered Sugar
(full printable recipe at the end of this post)
PREP: Preheat your oven to 350° F. Line a half sheet pan or cookie sheet with parchment paper or a silicone baking sheet.
MIX: While your oven is preheating, combine the dry cake mix and a beaten egg in a medium mixing bowl. The mixture should be pretty crumbly. Then, fold in the thawed Cool Whip until it's well combined. At this point, the dough should be thick and sticky.
ROLL: Next, using a small cookie scoop (about 1.5 tablespoon scoop) drop the dough into a bowl of powdered sugar, and roll to coat. Place the dough balls onto the prepared cookie sheet about two inches apart.
BAKE & COOL: Bake the cookies in the preheated oven for 10-12 minutes, or until slightly set, and the tops are cracked. Let the baked cookies cool on the baking sheet for about 5 minutes before transferring to a wire rack to cool. That way, they cool long enough to maintain their shape.
Lemon Cool Whip Cookie Tips
Whether you're a cookie expert or a newbie in the kitchen, we can all use a little help from time to time! Here are just a few tips that I always keep in mind to make sure my cookies come out perfect every time.
I like to use cake mix with pudding in the mix if it's available. It was mentioned in the comments that some people add a small box of pudding mix to this recipe if the cake mix doesn't have it. A regular cake mix works wonderfully.
I usually buy Cool Whip Lite or Fat-Free Cool Whip, so you can use any kind you prefer.
Before baking, try refrigerating the dough. This cookie dough is a little easier to handle if you refrigerate it for about an hour before dropping it in powdered sugar. This step isn't required, but I've found it helps.
Use a cookie scoop! Since the cookie dough is sticky, and to keep your cookie size small and consistent, try using a small cookie scoop to drop cookie dough into powdered sugar. This not only makes for easy handling but also ensures that all of your cookies will be the same size.
If you wet your hands with water before handling the sticky dough, it helps cut down on the dough sticking to your hands.
Line your sheet pan with parchment paper or a silicone baking mat. Not only will this help your cookies bake more evenly, it will also help make it easy to remove the cookies from the pan.
Don't over-bake. When you remove cool whip cookies from the oven, they should look slightly under-baked. They will continue to bake on the cookie sheet for a couple more minutes.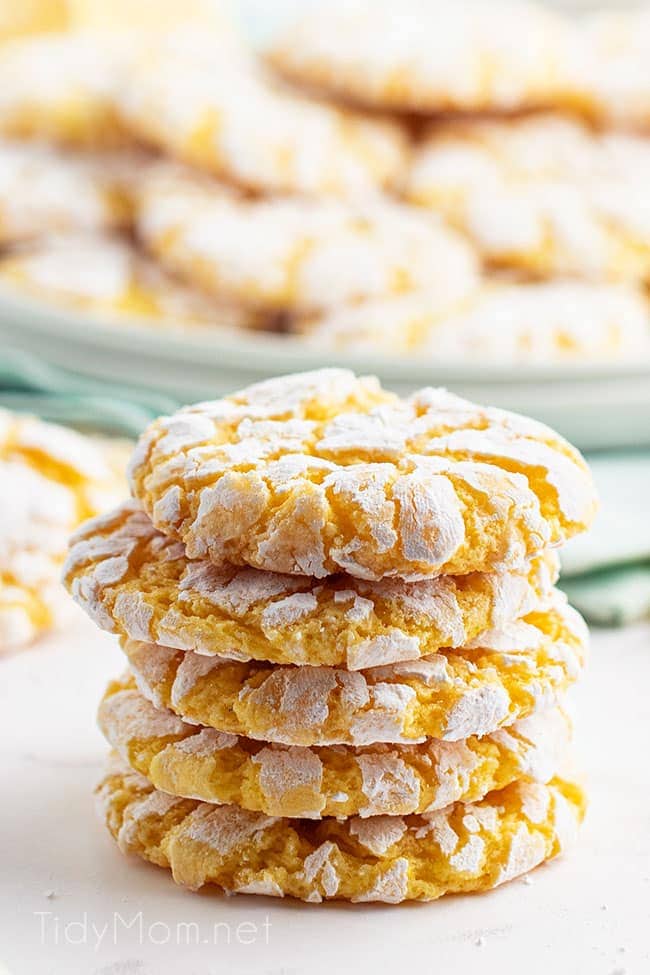 Cool Whip Cookie Variations
If you really want to switch things up, try using a different cake mix and adding flavorings or food coloring! The possibilities are endless!
Lemon Whippersnaps: add a teaspoon of lemon extract to this recipe for even more intense lemon flavor.
Strawberry or Orange: I love using strawberry or orange cake mix instead of lemon from time to time. They're all wonderfully fruity cookies that are perfect for summer and springtime! You could even add a teaspoon of almond extract.
Chocolate Cookies: Use a chocolate cake mix ( devils food or dark fudge are favorites) and add a teaspoon of vanilla extract.
Spiced Cookies: Use a spice cake mix and add a little cinnamon and nutmeg to the powdered sugar
Red Velvet Cool Whip Cookies: Use red velvet cake mix.
Christmas Cool Whip Cookies: Use a White or French Vanilla cake mix, with 1 teaspoon vanilla or almond extract and red, green and yellow gel food color.
Forth of July Patriotic Cool Whip Cookies: Use a White or French Vanilla cake mix, with 1 teaspoon vanilla or almond extract and red and blue gel food color (the powdered sugar will be the white).
Birthday Cake Cool Whip Cookies: Use a Funfetti cake mix, with 1 teaspoon of butter extract or vanilla extract.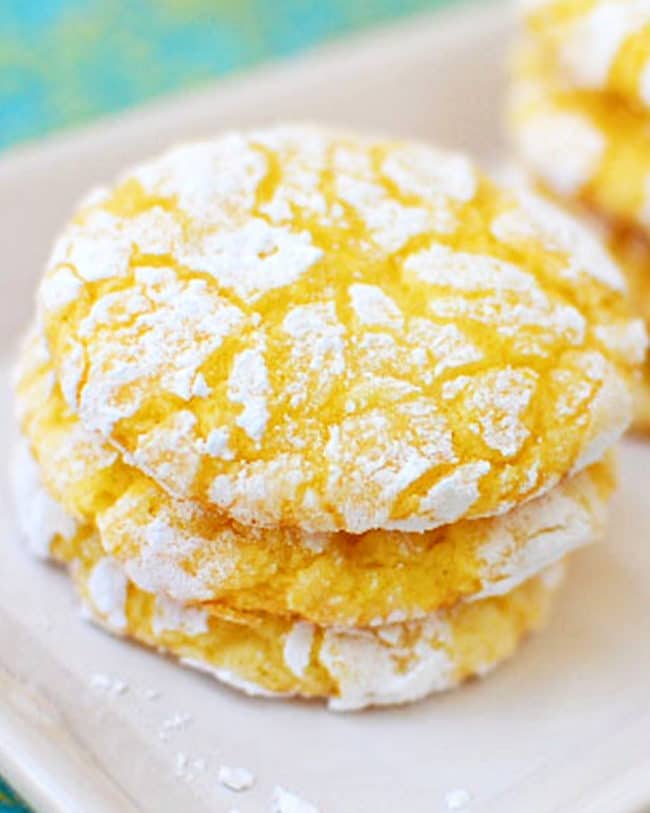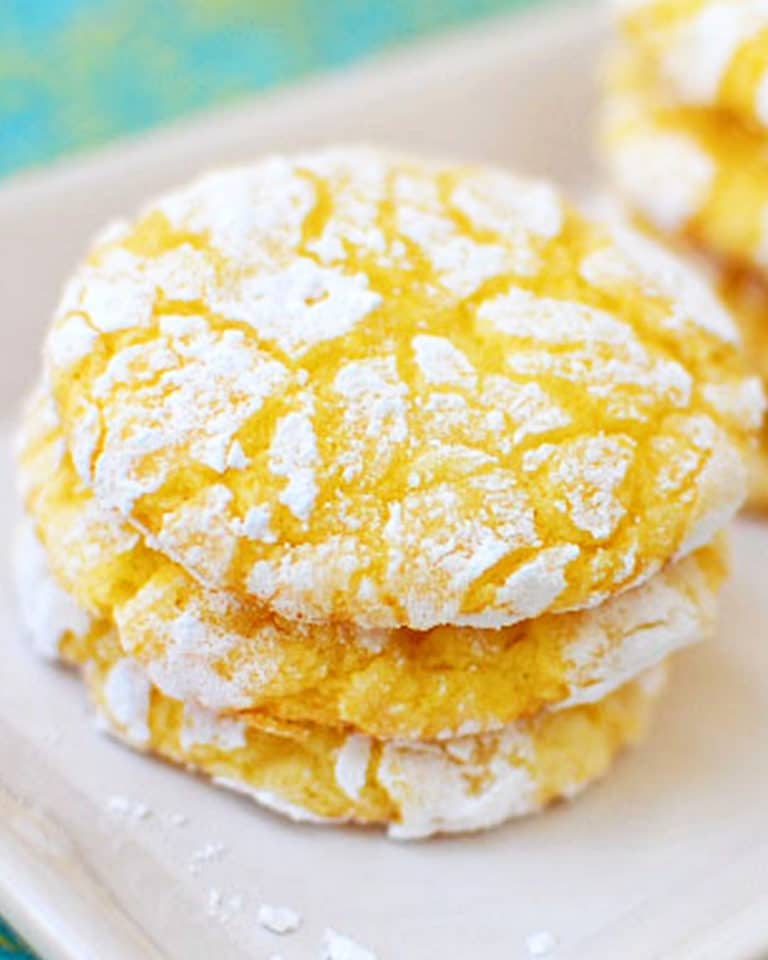 Can I Use Whipped Cream Instead of Cool Whip For These Cookies?
While I have not tried whipped cream in Cool Whip Cookies, a reader has and left the following directions in the comments:
My d-i-l and gdtr are allergic to high fructose corn syrup which is a component of Cool Whip. So, instead of using the ready made stuff, I simply took 1 cup "whipping cream" and beat it until medium-stiff peaks held their shape. Then I dumped in the egg and cake mix (Duncan Hines doesn't use corn syrup.) and beat until well blended. From there I followed the procedure in the original recipe.
I didn't sweeten the whipped cream, figured the cake mix was sweet enough. And the cookies came out like the picture. They have a "melt in your mouth" feel. :0>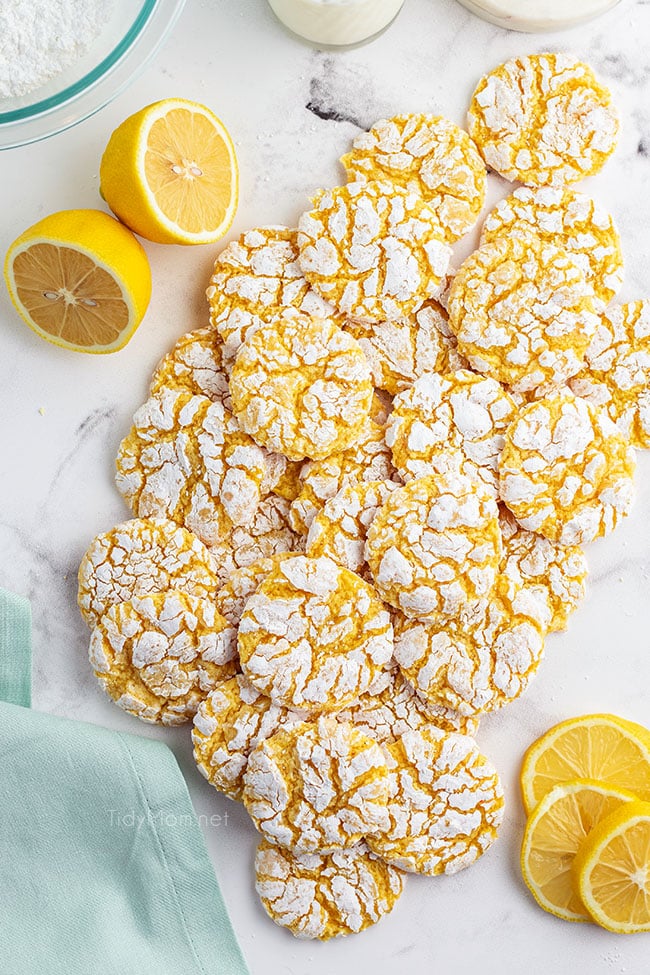 Storage and Freezing
How Do You Store These Cookies? Cool Whip cookies do not need to be refrigerated. They should keep on the counter in an airtight container and are best if eaten within three days.
Can You Freeze Cool Whip Cookies? You sure can. Place the baked and completely cooled cookies in an airtight container, with wax paper (or parchment paper) between layers, and place in the freezer for up to 2 months. Thaw in the refrigerator for 24 hours and enjoy!!
Like This Lemon Cool Whip Cookie Recipe? Pin It!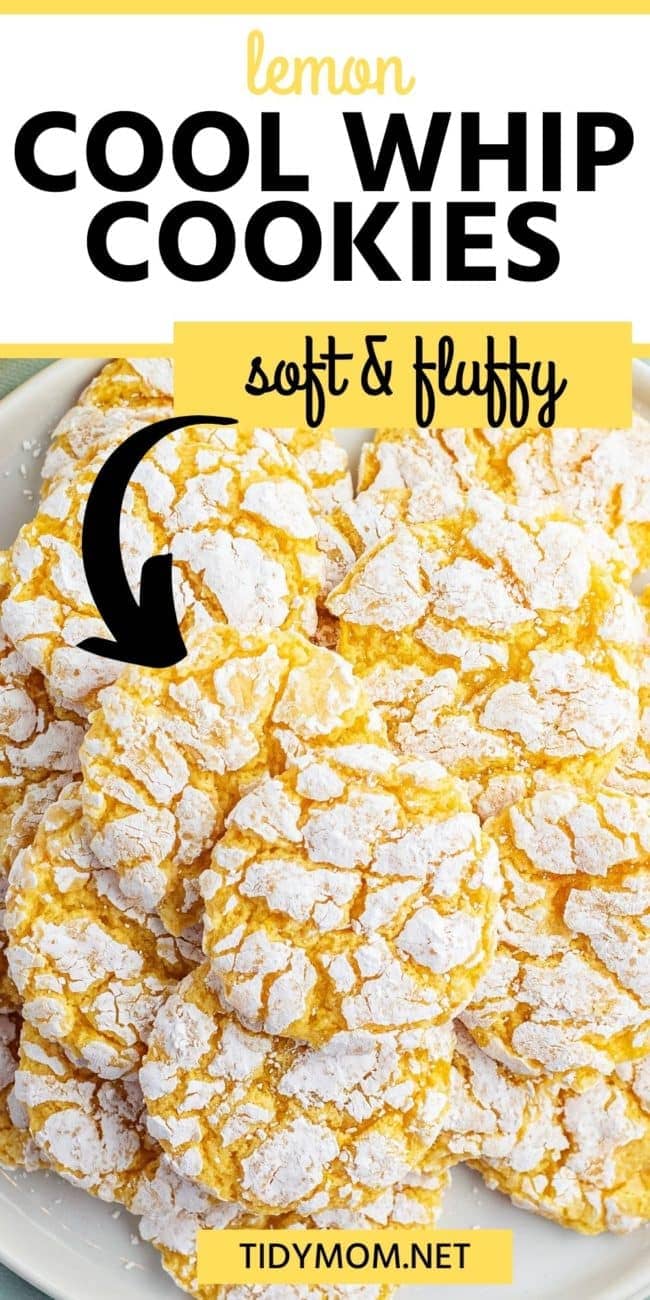 It's cookie season all year long at our house! The BEST Chocolate Chip Cookies, Peanut Butter Blow Out Cookies, or The Perfect Snickerdoodles are a few more delicious options.
Follow Along On Social Media
If you're looking for even more inspiration check out the fun little group I created on Facebook, I'd love for you to join in! It's a place where you can share YOUR favorite recipes, home tips, creative ideas and ask questions and see what's new with TidyMom! If you'd like to check it out, you can request to join HERE.
Be sure to follow me on Instagram and tag #tidymom so I can see all the wonderful TidyMom recipes YOU make and tips YOU use!
Connect with TidyMom! Facebook | Twitter | Pinterest | Instagram
Sign up to receive an email in your inbox for each new recipe:
Originally posted in August 2010. UPDATED March 2021. We spiffed up this post with more info and better pictures! No changes to the original recipe.
Lemon Cool Whip Cookies
Enjoy the burst of lemon flavor from these light, fluffy soft baked Lemon Whippersnaps.
Ingredients
1 box Lemon* Cake Mix (preferably with pudding in the mix)
1 (8 ounce) container Cool Whip, completely thawed
1 large egg, beaten
1/2 cup powdered sugar (for rolling)
Instructions
Preheat oven to 350° F and line a half sheet pan or cookie sheet with parchment paper or a silicone baking sheet.
In a medium bowl combine dry cake mix, and beaten egg. Mixture will be crumbly. Fold in thawed Cool Whip until well combined. Dough will be thick and sticky.
Using a small cookie scoop (about 1.5 tablespoon scoop) drop the dough balls into a bowl of powdered sugar, and roll to coat. Place the dough balls onto the prepared cookie sheet about two inches apart.
Bake for 10- 12 minutes or until slightly set and tops are cracked. Cool on pan for 5 minutes then transfer to wire racks to cool.
Notes
*Try making these cookies using strawberry or orange cake mix for variety.
Recommended Products
As an Amazon Associate and member of other affiliate programs, I earn from qualifying purchases.
Nutrition Information:
Yield:

36
Serving Size:

1
Amount Per Serving:
Calories:

63
Total Fat:

1g
Saturated Fat:

0g
Trans Fat:

0g
Unsaturated Fat:

0g
Cholesterol:

5mg
Sodium:

108mg
Carbohydrates:

14g
Fiber:

0g
Sugar:

8g
Protein:

1g
Nutrition information is estimated based on the ingredients and cooking instructions as described in each recipe and is intended to be used for informational purposes only. Please note that nutrition details may vary based on methods of preparation, origin, and freshness of ingredients used.