Classic Deviled Eggs
Easy Deviled Eggs- rich and smooth, sweet and tangy, with the perfect balance of seasoning and heat, is what makes these simple deviled eggs a flavorful classic. The perfect finger food at holiday gatherings, summer picnics, BBQs, brunches, and more!
Deviled Eggs are a holiday staple and party food in our family. You'll find them served next to Ambrosia Salad, Asparagus Pasta Salad, Classic Bean Salad, or Antipasto Skewers.
Be sure to sign up for my email… to get new recipes and ideas in your inbox!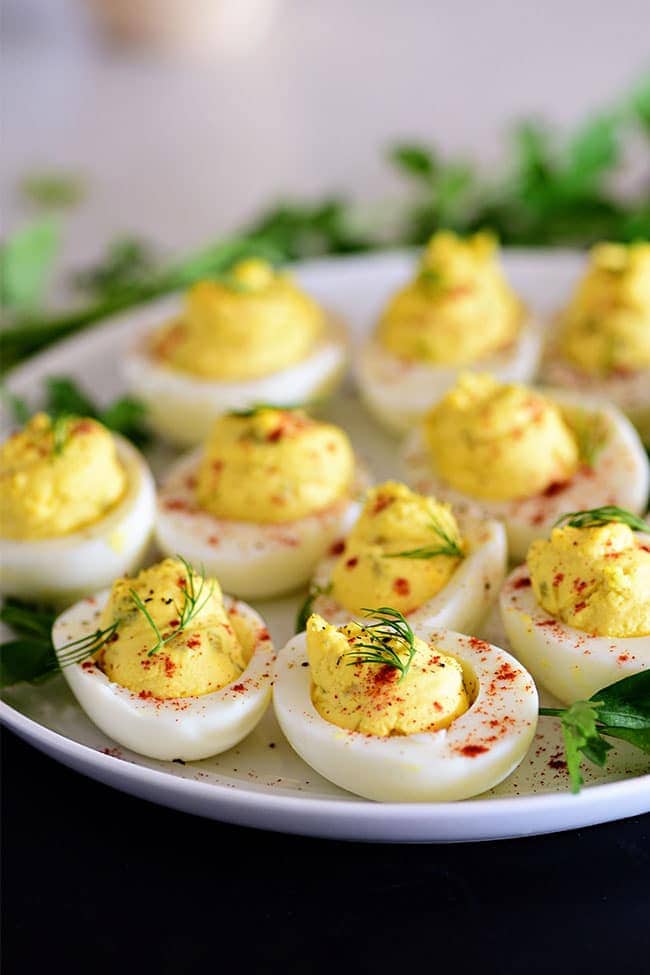 From buffet dinners, summer picnics, dinner parties, and major holidays, classic deviled eggs have a standing appointment with most family get-togethers.
Did you know we have the ancient Romans to thank for the precursor of our modern-day deviled eggs? Seasoned and spiced boiled eggs were little delicacies served at the beginning of meals as commonly as our present-day salads.
So common that the Roman saying "ab ova usque ad mala," from "eggs to apples," is the forerunner of the modernized "from soup to nuts." Both phrases refer to the dishes served at the beginning of a meal to the final course.
In the past decade, deviled eggs have made a resurgence into fine dining and haute cuisine with crazy gastro-versions, everything from smoked roe to gold flake!
Luckily we don't need fish eggs or maple syrup to enjoy a simple yet delightful, classic deviled egg with tangy relish!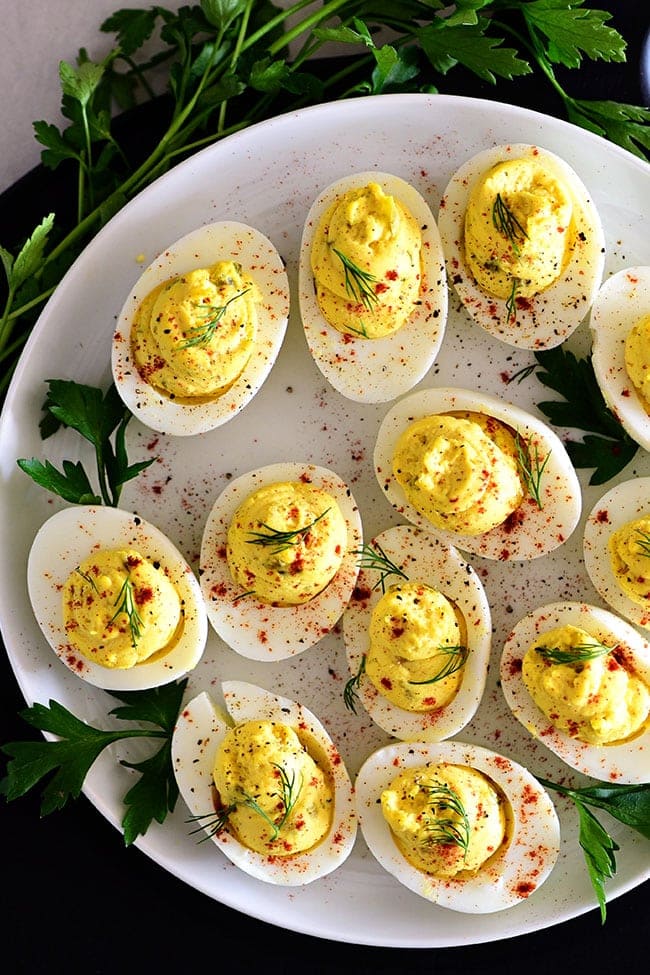 Why You'll Love This Classic Deviled Eggs With Sweet Relish Recipe
Extremely easy to pull together for an elegant addition to a meal or event
Classic deviled eggs are easily adaptable to individual tastes.
This dish can be dressed up or down with garnishes for any occasion.
Making perfect hard-boiled eggs ahead of time is a great time saver.
Deviled eggs are easy to prepare and assemble, with no fancy equipment or ingredients required!
Why Are They Called Deviled Eggs?
The "heat or spice" added to the creamy yolk mixture makes it a hot dish, referencing the heat in hell. Simplistic, yes, but it stuck and not just for egg dishes. There are many deviled dishes; two of the more commonly known are deviled ham and deviled crab.
You can find several piquant additions for deviled eggs ranging from horseradish, mustard, pepper sauce, jalapeno, paprika, pepper, and the list goes on.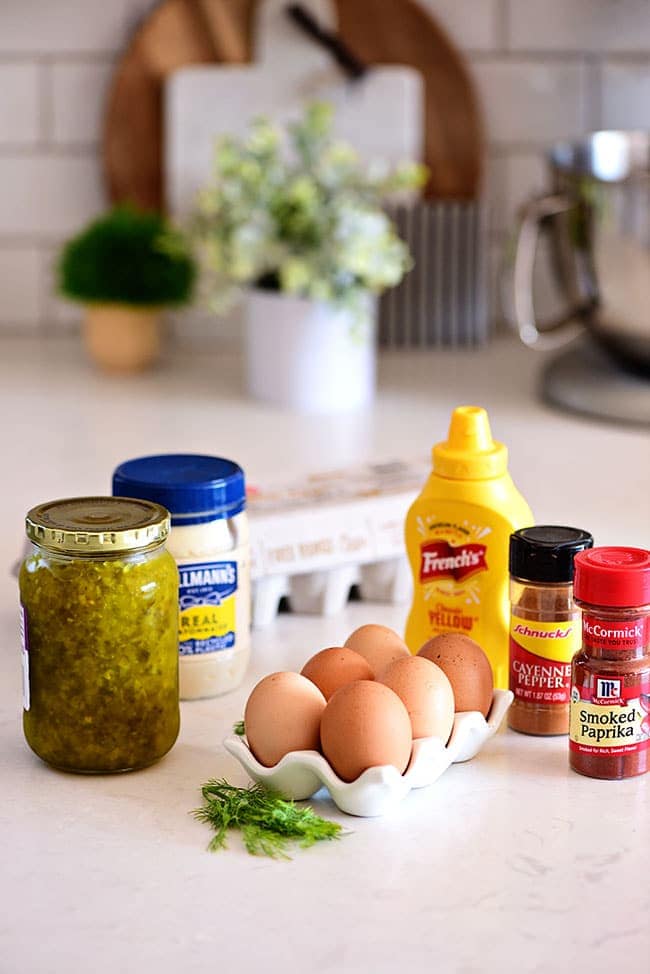 Ingredients For Classic Deviled Eggs With Sweet Relish
Hard Boiled Eggs – get the perfect egg vessel with my link.
Mayonnaise – used as a creamy binder.
Sweet Pickle Relish – provides a touch of sweet and a bit of acid.
Yellow Mustard – adds a bit of brightness to the yolk mixture and the tangy acid component.
Paprika – provides a vibrant, sweet, and peppery flavor without heat.
Cayenne Pepper – there's your heat!
Salt & Pepper – flavor enhancers.
Optional Garnish: Fresh Dill, Tarragon, Or Chives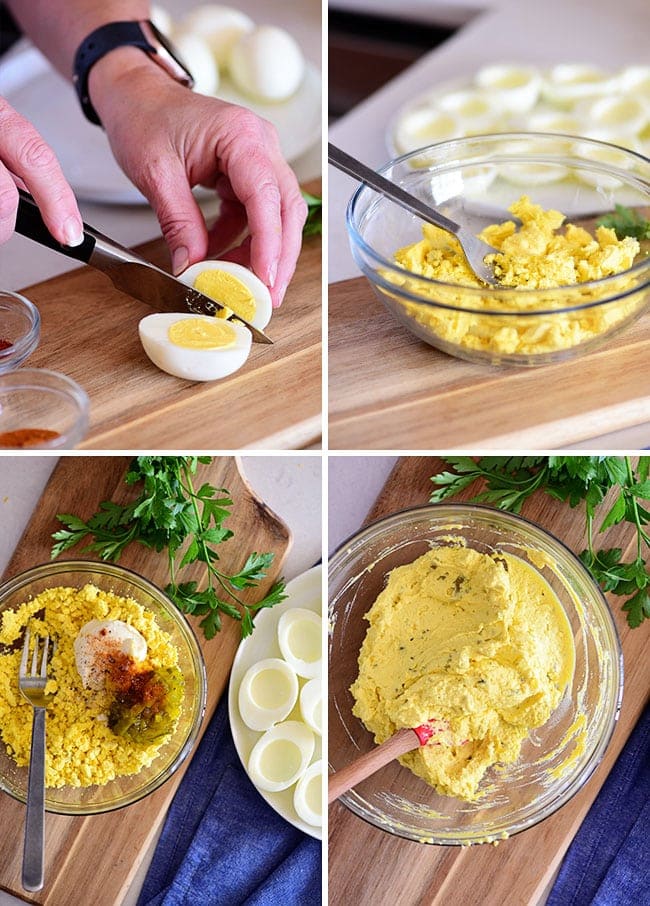 How To Make Simple Deviled Eggs
Cut peeled and cooled eggs in half and remove yolks. Smash the yolks until creamy, add remaining ingredients, and season to taste
Fill the eggs with the mixture using a piping bag or spoon and garnish.
That's it! You've made Deviled Eggs. Serve immediately.
This post may contain affiliate links. Please read my disclosure policy here.
TO FILL DEVILED EGGS:
There are a few methods for filling deviled eggs: (1) Using a spoon, scoop the filling into the eggs; (2) add the creamy yolk filling to a ziptop bag, snip one of the corners and squeeze into the egg halves; or (3) use a pastry bag and tip.
I usually have a box of disposable pastry bags on hand, so I use a pastry bag with either a large round tip or a 4B star tip. Cut the tip off the bag, drop the decorator tip in the bag and add the filling. Twist the bag to close, and keep it pinched close with your hand and gently squeeze to release the filling into the eggs.
SERVING TIP:
When I'm entertaining at home, I love serving deviled eggs on a deviled egg platter, but if I'm bringing them out to a picnic or party away from home, I use a Rubbermaid Deviled Egg Tray, which is perfect for storing and transporting.
A Few Flavorful Variations For Classic Deviled Eggs Recipe
There are many creative ways to fancy up or tailor recipes, putting your own spin, or making a signature dish. I've got all kinds of ideas for deviled eggs like using avocados or minced celery, jalapeno juice for acid/vinegar instead of mustard, etc.
Sometimes though, and I feel this is one of them, why mess with a recipe when it stands on its own? With respect to the title, "Classic Deviled Eggs," it's hard to think of a recipe as a "classic" if you basically reconstruct it with every option down to the kitchen sink.
So, I've included a half dozen innocuous variations that can squeeze in under the guise of "classic," at least in someone's recipe card file! 🙂
Dill or Sweet Relish
bacon crumbs
Minced Onion
Diced Jalapenos
Smoked Paprika
Cilantro Sprigs
Tabasco Sauce
Garnishes: Jalapeno wheels or sliced black olives.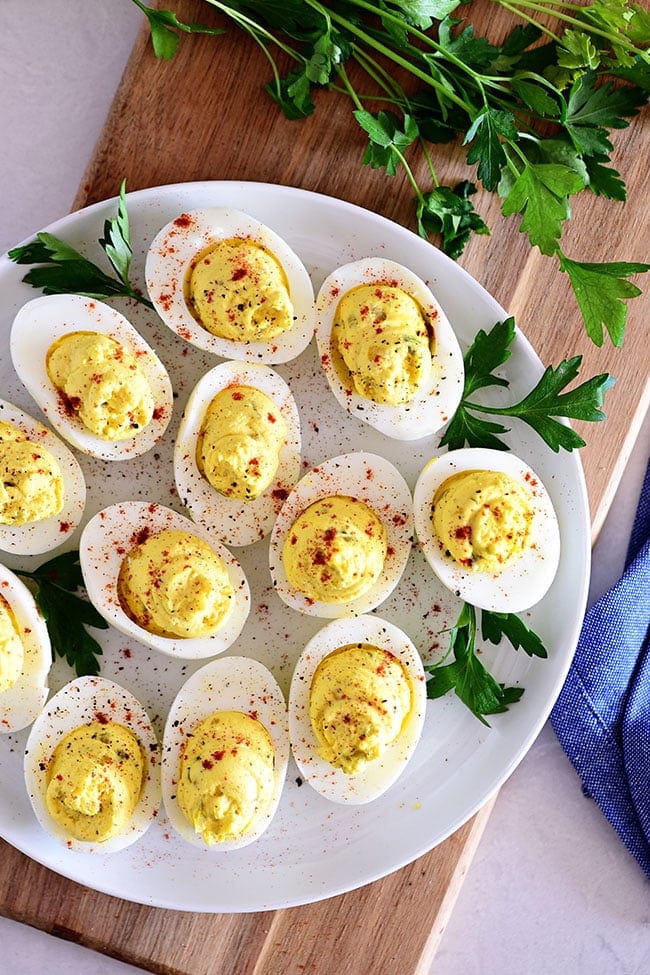 Helpful Tips For Creating The Best Deviled Eggs
Avoid improperly cooking eggs. Overcooked eggs result in a gray or greenish tint around the yolk and the smell of sulfur. When eggs are overcooked, iron in the yolk reacts to the sulfur in the whites and causes an unappetizing odor. As for cold, undercooked eggs. Yuck?
Eggs need to be thoroughly cooled; heated yolks can cause binders to separate, and the whites will tear more easily.
Control your binder! Too much mayo, yogurt, sour cream, liquid… doesn't matter. If you overdo it, the yolks will be runny. You can always add more binder, but it's much harder to fix once it's a soupy mess.
Can you make deviled eggs without mayo? You sure can!! Simply replace the mayo with plain whole-milk Greek yogurt, it's creamy, tangy and works perfectly in deviled eggs. But feel free to use reduced-fat or fat-free if you prefer. Sour cream is another choice to replace mayo in deviled eggs.
Cream those babies well before adding the other goodies. Mixing the yolks in a food processor makes them really creamy and perfect for piping – no chunks to get stuck in the tip.
Don't prepare too far in advance, as hardened orange crests on your perfectly piped yolks have a high ick factor.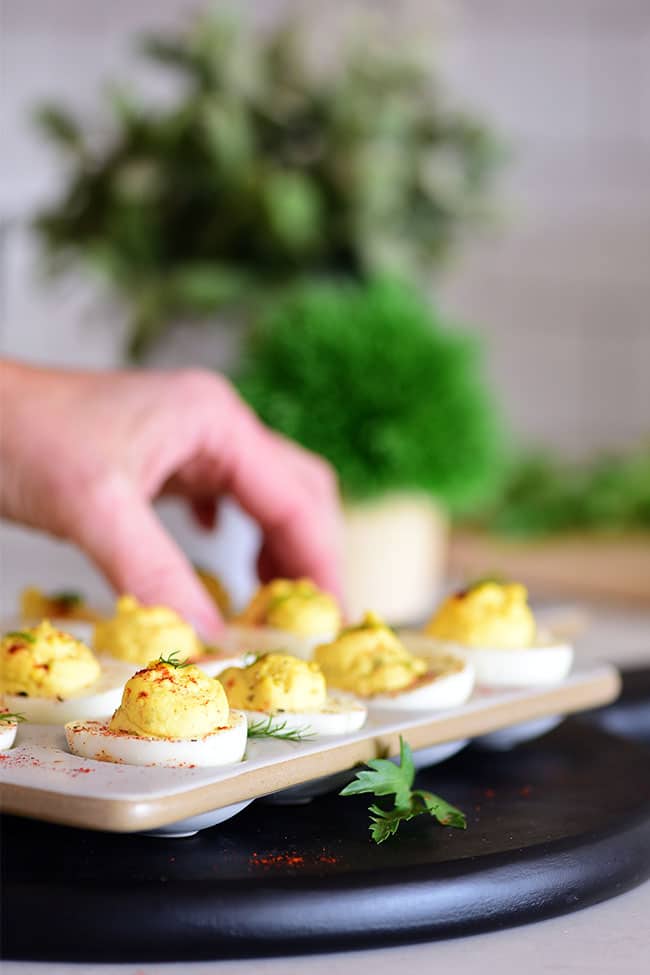 Can You Make Deviled Eggs Ahead Of Time?
You can prep your eggs and ingredients a day or two in advance, but it is best to keep the whites stored separately in an air-tight container and the yolk mixture in a food-safe plastic bag with as much of the air removed as possible.
Spoon or pipe the yolk mixture into the egg halves the day they are served. This will keep whites from discoloring and the egg mixture from running or drying out.
Deviled eggs are best served right after being assembled or lightly chilled in the fridge for half an hour.
How Long Will Classic Deviled Eggs With Relish Last In the Fridge?
Keep in mind several factors that affect the length of time deviled eggs can be stored:
How long did leftover deviled eggs sit at room temperature?
Was the temperature above 70°, and did it reach over 90°?
When were the hard-cooked eggs initially prepared?
The general guideline is hard-cooked eggs in the shell can last up to a week refrigerated.
Deviled eggs that were not out longer than two hours are fine for 2-3 days in the fridge.
If temperatures reach 90° or higher, do not consume after an hour.
Like This Classic Deviled Egg Recipe? Pin It!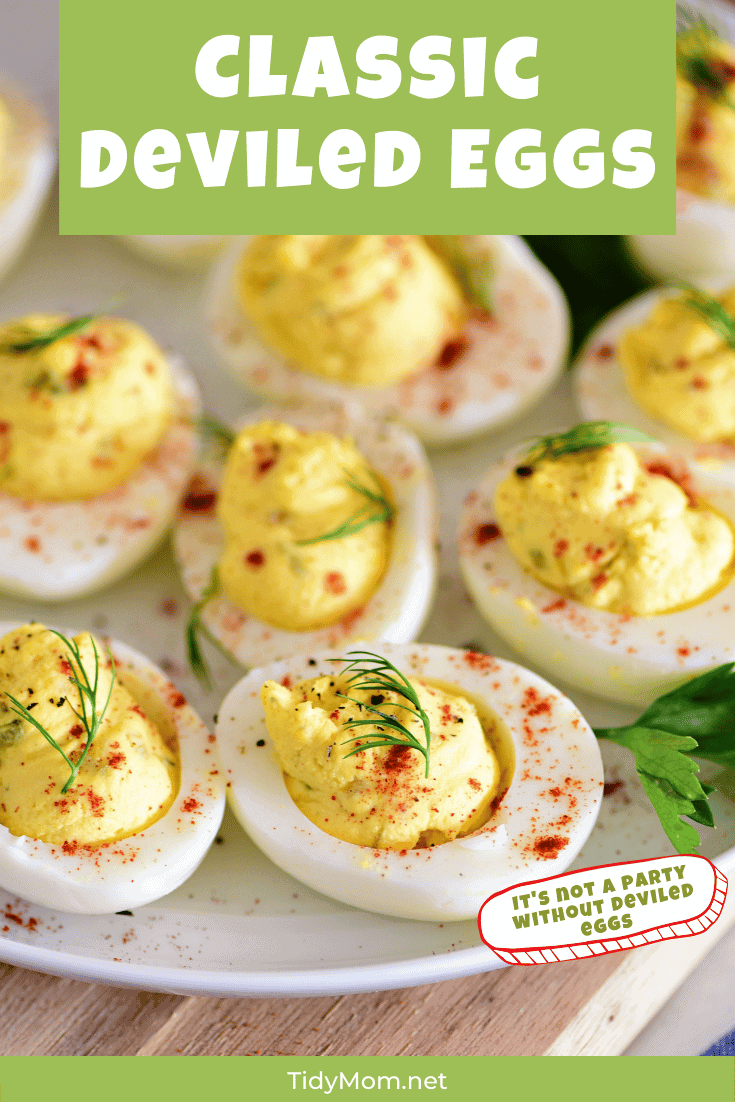 Classic Deviled Eggs
Yield: 12
Prep Time: 15 minutes
Total Time: 15 minutes
Easy Deviled Eggs- rich and smooth, sweet and tangy, with the perfect balance of seasoning and heat, is what makes these simple deviled eggs a flavorful classic. The perfect finger food at holiday gatherings, summer picnics, BBQs, brunches, and more!
Ingredients
6 large eggs, hard boiled and peeled
2 tablespoons mayonnaise
1-2 teaspoons sweet pickle relish
1 teaspoon yellow mustard
pinch of paprika
pinch of cayenne pepper
1/4 teaspoon kosher salt
1/4 teaspoon ground black pepper
Optional Garnish: fresh dill, tarragon or chives
Instructions
Slice eggs in half lengthwise. Remove the yolks and place in a mixing bowl.
Mash yolks with a fork in a bowl. Stir in the remaining ingredients until smooth. Taste and adjust the seasonings if needed.
To assemble the eggs, pipe or spoon equal amounts of yolk mixture into each egg white half.
Garnish with a little more paprika and fresh dill, tarragon, or chives.
Serve immediately, or cover and chill for up to 24 hours.
Notes
TO PIPE EGG YOLK MIXTURE INTO WHITES: Transfer the yolk mixture to a piping bag fitted with a large star or round tip, or use a medium zip-top plastic bag with one of the corner tips snipped off.
TIP: If pipping the yolk mixture, you want to make sure the mixture is well blended and smooth and not too thin or too thick. If there are egg yolk lumps, the mixture will clog the piping tip. If the mixture is too thick, it will be hard to squeeze and pipe, too thin and the mixture will not have structure and will look soupy in the egg whites.
You can adjust any of the ingredients to your liking, just note the tip above if you plan on piping the egg yolks.
Nutrition Information:
Yield: 12
Serving Size: 1
Amount Per Serving:
Calories: 56
Total Fat: 4g
Saturated Fat: 1g
Trans Fat: 0g
Unsaturated Fat: 3g
Cholesterol: 94mg
Sodium: 83mg
Carbohydrates: 1g
Fiber: 0g
Sugar: 1g
Protein: 3g
Nutrition information is estimated based on the ingredients and cooking instructions as described in each recipe and is intended to be used for informational purposes only. Please note that nutrition details may vary based on methods of preparation, origin, and freshness of ingredients used.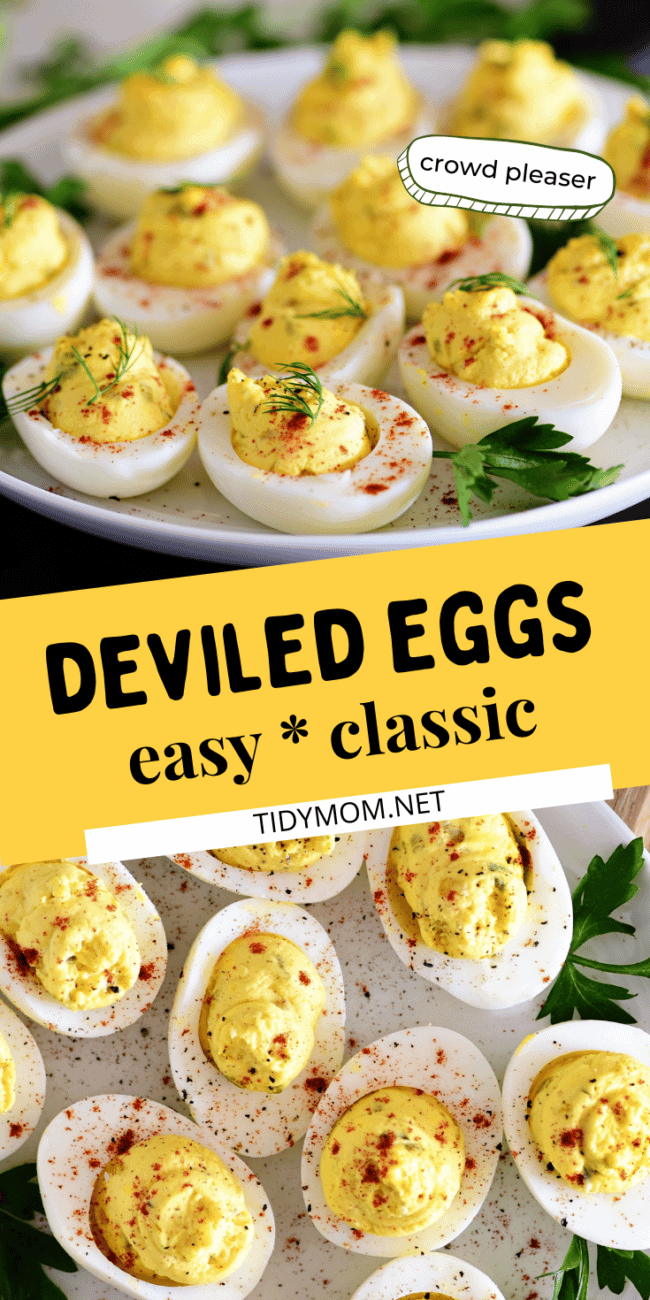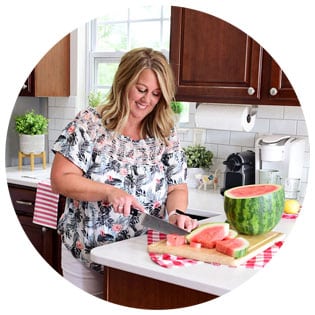 Hi there, I'm Cheryl!
As a wife, mom, and caffeine enthusiast, my journey has taken me from bustling mornings with my family to sharing delicious recipes, home care tips, and heartfelt decorating insights with wonderful readers like you. My love for baking, photography, and tidiness shines through every post I craft. Dive into my world and discover the art of homemaking, one tidy moment at a time. Read more...
Tidymom is a participant in the amazon services llc associates program, an affiliate advertising program designed to provide a means for sites to earn advertising fees by advertising and linking to Amazon.com.
Please respect my work, recipes and photographs. If you do use a recipe in your own writing, please give proper credit and link back to the original post.