Oven Baked Blueberry Sheet Pan Pancakes
Oven-Baked Blueberry Pancakes With Bisquick – Minutes to make and minutes to bake! Fluffy golden sheet pan pancakes loaded with fresh sweet luscious blueberries are perfect for feeding a crowd! Pancakes for breakfast just got a whole lot easier.
Looking for quick and easy breakfast ideas? Besides these easy and delicious blueberry sheet pan pancakes, how about a fantastic make-ahead Blueberry Breakfast Casserole using cinnamon rolls? For a brunch or afternoon tête-à-tête, Cherry Coffee Cake uses only three ingredients. I have to add these super simple, super impressive, and super delicious Chocolate Croissants. Cherry and chocolate, now that's a "balance" I can go for!
Be sure to sign up for my email… to get new recipes and ideas in your inbox!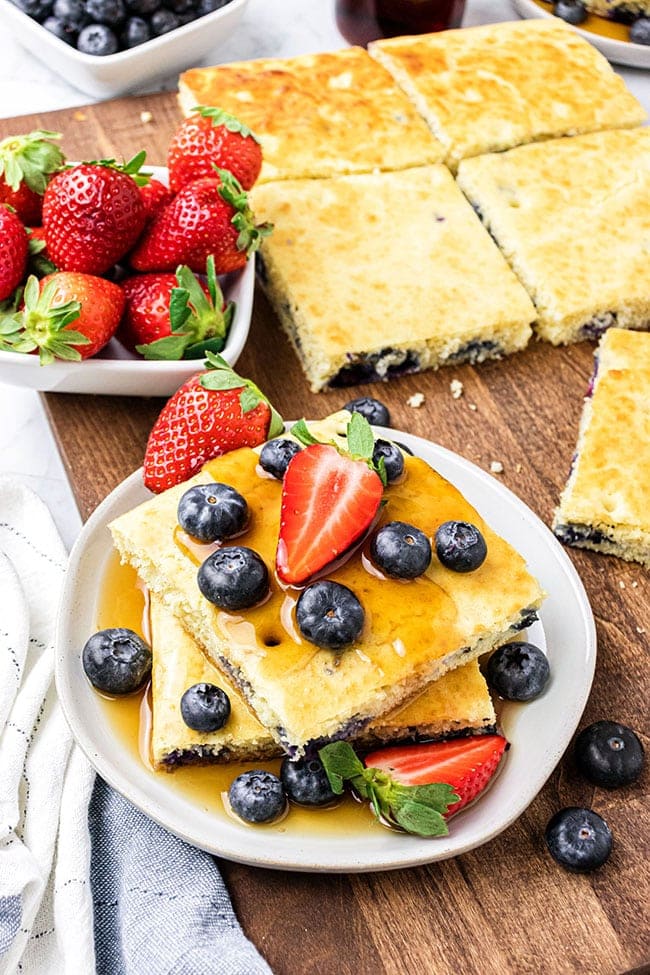 These blueberry sheet pan pancakes are a zero-stress time saver in the kitchen! Whipping up a batch of pancakes that easily feeds eight takes less than ten minutes of prep! After 20 minutes in the oven, you have warm golden pancakes bursting with blueberry goodness, and guess what? You get to enjoy them along with everyone else!
Oven-baked pancakes are perfect for large family get-togethers, like upcoming Easter and Mother's Day. Enjoying your family is what holidays should be about, so sheet pan pancakes are on point when pancakes are on the menu but slaving away in the kitchen is not!
Why You'll Love These Easy Sheet Pan Pancakes With Blueberries
Only ten minutes of prep time with no standing and flipping pancakes while others eat!
Five simple ingredients make for a five-star breakfast treat!
Oven-baked sheet pan pancakes aren't limited to blueberries; there are lots of options!
Perfect for large gatherings and when the whole fam is in town.
You only need a bowl, whisk, and sheet pan to turn out a stress-free breakfast!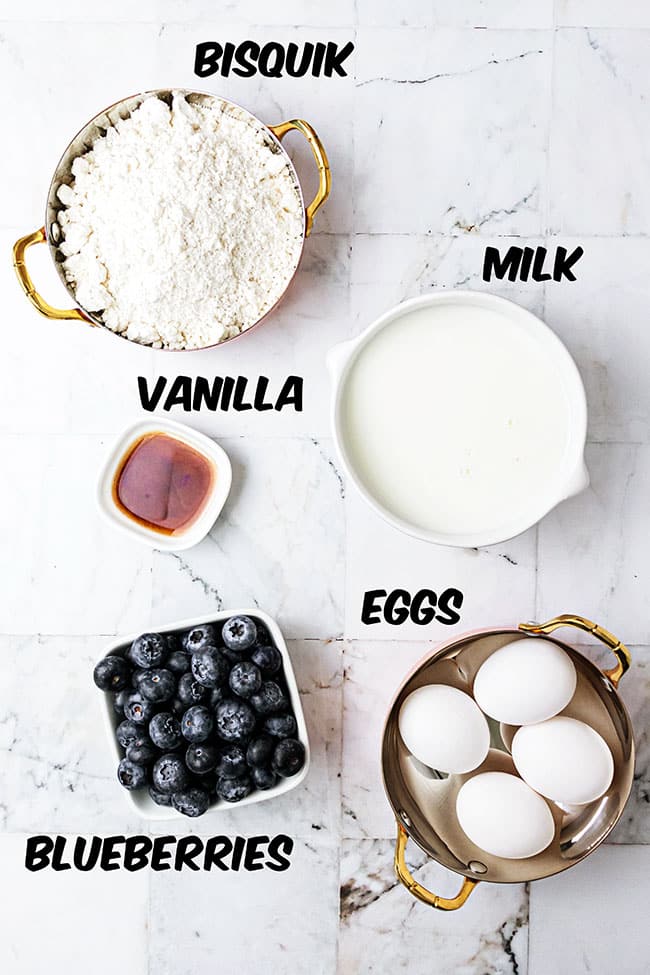 Ingredients For Blueberry Sheet Pan Pancakes
Bisquick Pancake & Baking Mix – a pre-mixed dry ingredient batter mix for ease of preparation.
Large Eggs – for the binder and should be room temperature.
Milk – remember to pull this from the fridge instead of adding cold milk to the batter.
Vanilla Extract – gives an aromatic touch of sweetness and complements the blueberries.
Fresh Blueberries (Save Some For Serving)
Maple Syrup, Powdered Sugar, And Butter for serving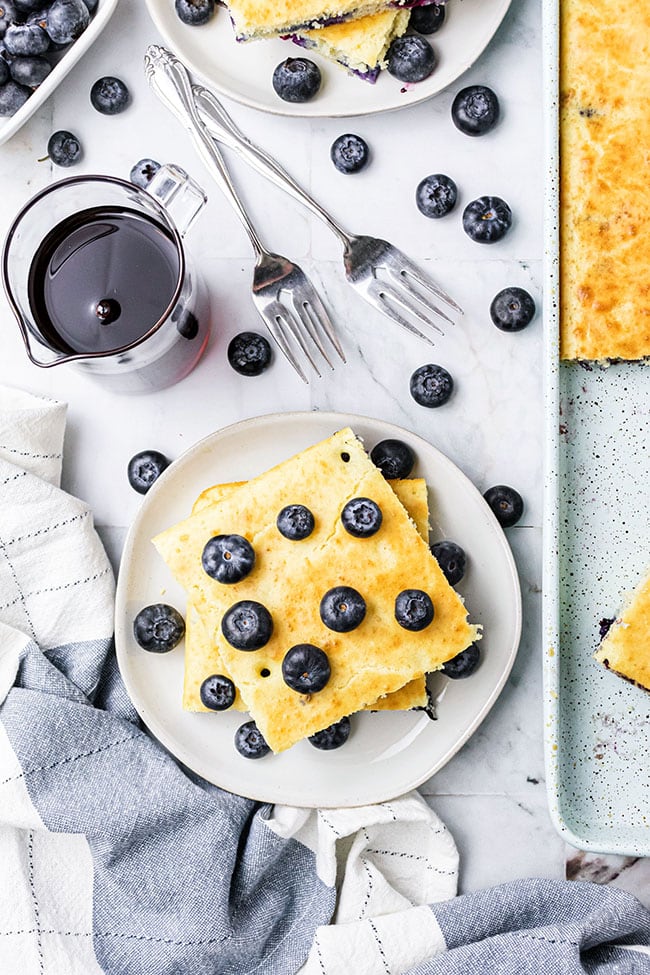 What Is Bisquick?
Bisquick is a trademarked baking mix from General Mills under the Betty Crocker brand. History has it that a train ride and an onboard chef making freshly baked biscuits was how the concept was born. The chef combined flour, lard, baking soda, and salt ahead of time to make biscuits on the fly.
The idea was developed and tested using hydrogenated oil (to keep the product shelf-stable). In 1931, Bisquick hit the markets with great success and has grown into what we know today.
How To Make Baked Blueberry Sheet Pan Pancakes
(full printable recipe at the end of this post)
You'll love how easy it is to throw together sheet pan pancakes!
In a large bowl, whisk together all ingredients except the blueberries.* Pour the batter into a prepared 18 x 13-rimmed sheet pan. Sprinkle the blueberries over the batter and bake for 15-20 minutes in a 425°F preheated oven.
When done, cut into squares and serve with syrup or a dusting of powdered sugar. If you use butter on your pancakes, I've got a couple of easy-peasy butter recipes that will enhance oven-baked pancakes for any occasion! Try Homemade Orange Honey Butter or Cinnamon Honey Butter, or both! So good!
*TIP: To brighten blueberry sheet pan pancakes, throw in a tablespoon of lemon juice and the zest from 1-2 lemons for a delightfully fresh flavor!
Popular Substitutions & Additions For Blueberry Sheet Pan Pancakes
This post may contain affiliate links. Please read my disclosure policy here.
About that Bisquick! There are several Bisquick formulations, including flavored and actual pancake mixes. Just watch the sugar, or you may end up with something more similar to a danish than a pancake! For those with specific health concerns, Bisquick makes Gluten-Free and Heart Smart formulas.
If you would like a Bisquick-free option for this blueberry sheet pan pancake recipe, I've included a homemade version of Bisquick in the FAQ section below.
Try any of these variations, maybe even combining a few:
Bananas, Pineapple, Raspberries, Strawberries, Cinnamon Apples
Frozen Fruit (no need to thaw)
Raisins, Dried Apricots, Prunes
Chocolate Chips, White Chocolate Chips, Caramel Chips
Pecans, Walnuts, Pistachios
Cooked Bacon Bits!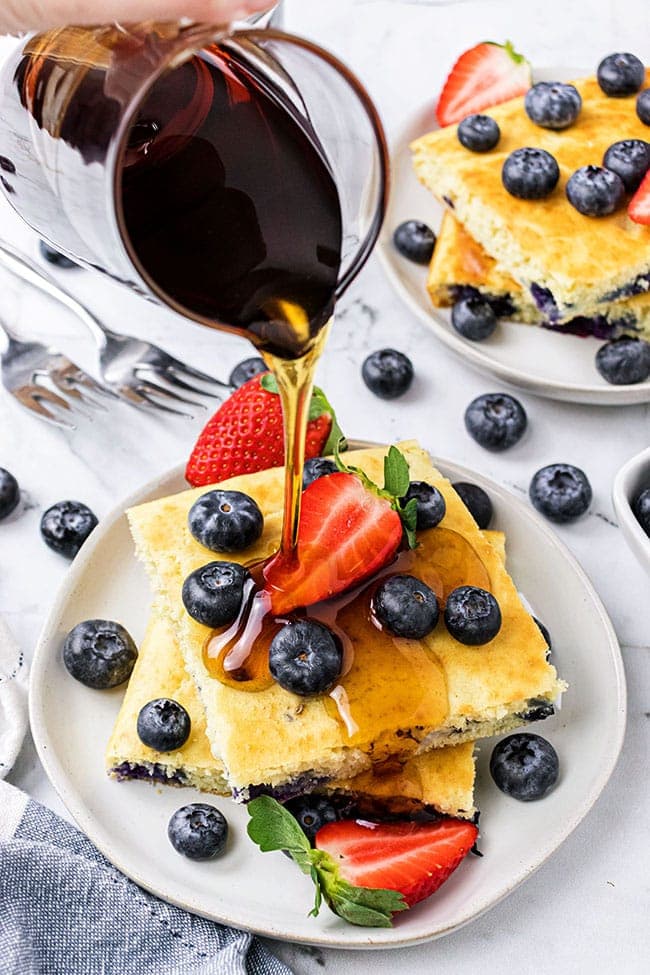 How To Reheat & Store Oven Baked Pancakes
You can refrigerate thoroughly cooled blueberry sheet pan pancake leftovers in an airtight container for up to 3 days. The faster you get them in the fridge after cooling, the longer they last. To keep pancakes from sticking or "gumming" together, cut squares of wax paper or plastic wrap, and place them between the cut pancakes. Cover them tightly or use a food-safe storage bag, so they don't dry out.
How To Freeze Oven-Baked Pancakes
Allow blueberry sheet pan pancakes to cool completely. Flash-freeze; Arrange cut pancakes on the sheet pan (or smaller cookie sheets if they won't fit in the freezer) without touching. Let them freeze for 20-30 minutes, then put them in an airtight freezer bag.
If you don't have room to flash freeze, wax paper between each pancake will work.
Frozen sheet pan pancakes will last up to 3 months in the freezer, but try to use them sooner for optimum flavor.
Ways to Reheat Easy Oven Baked Pancakes (& One Not!)
Toaster Oven – @ 250°F until warmed through.
Regular Oven – for a bunch of sheet pan pancakes at once, arrange on a baking sheet, cover tightly with foil (to keep moist), and bake @ 350° F for about 10 minutes.
Saute Pan or Griddle Pan – brush with butter, heat on low, and turn often until they are heated through.
Microwave – the strength of microwaves varies, so start with 15 seconds for one or 60 seconds for four.
Do Not try heating blueberry sheet pan pancakes in a toaster! For other pancake recipes, this can be done; for this one, I vote no between the cut edges crumbling or blueberries popping and running inside your toaster!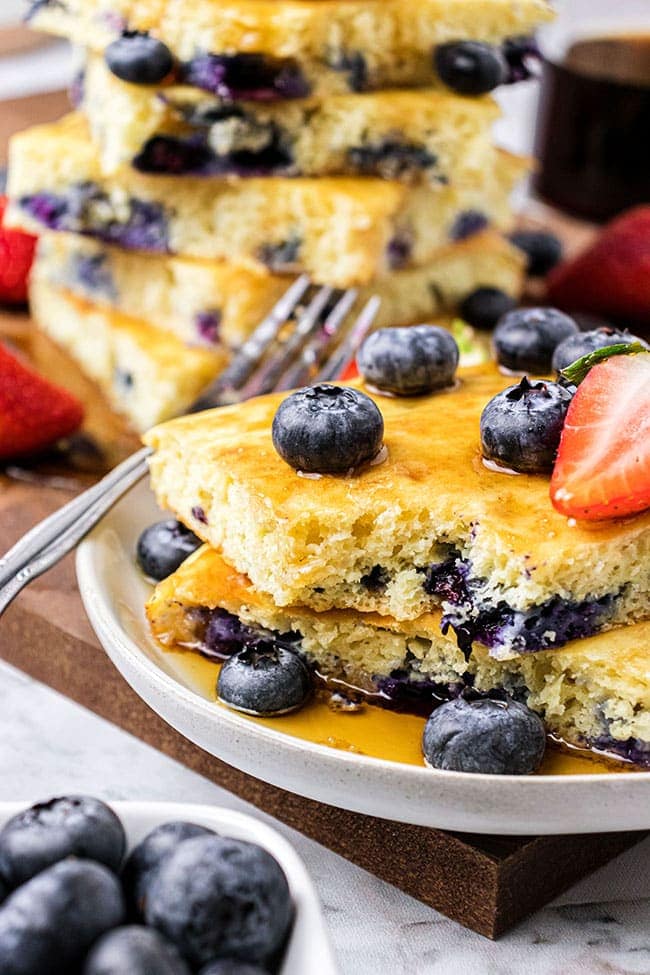 Sheet Pan Pancakes With Pancake Mix FAQs
Can I use regular pancake mix instead of Bisquick?
Yes, but keep in mind that the actual "pancake" mix usually contains more sugar. Compare 1/2 cup of Betty Crocker Bisquick and ½ cup Betty Crocker Pancake Mix; Bisquick had 2.85gm of sugar, while the pancake mix had 9gm. (There seem to be several formulations for pancake mixes and for Bisquick) Weird!
Apples to apples, or should I say blueberry to blueberry? Using the same two Betty Crocker products:
4 cups of Bisquick = 22.8gms total sugars vs. 4 cups of Pancake Mix = 72gms total sugars
For blueberry sheet pan pancakes, that's a whopping difference! Especially if you are trying to cut down on sugar and you can't do blueberry sheet pan pancakes without warm yummy maple syrup!
Can I make my own Bisquick substitute for sheet pan pancakes?
Yes, definitely.
The standard recipe is 1 cup flour, 1 ½ teaspoons baking powder, ¼ teaspoon salt, and 1 tablespoon fat. Either butter,* oil, Crisco, or lard. *Some recipes specify melted butter, while others recommend cutting it in like you would with the lard or Crisco.
If you use self-rising flour for oven-baked pancakes, you will need to add 1 tablespoon of fat for every cup of flour* and 1 ½ tablespoons sugar.
Important: This is per cup of flour.
For this blueberry sheet pan pancakes recipe, the ingredients are fourfold:
4 Cups Self-Rising Flour (it already contains salt and baking powder)
4 Tablespoons Fat (butter, oil, lard, or Crisco)
6 Tablespoons Sugar
If you want to make a large batch of Bisquick substitute, I recommend using a food processor to mix the fat with the dry ingredients. Be sure to cover it tightly; it must be stored in the fridge once the fat is added.
Like This Blueberry Sheet Pan Pancakes Recipe? Pin It!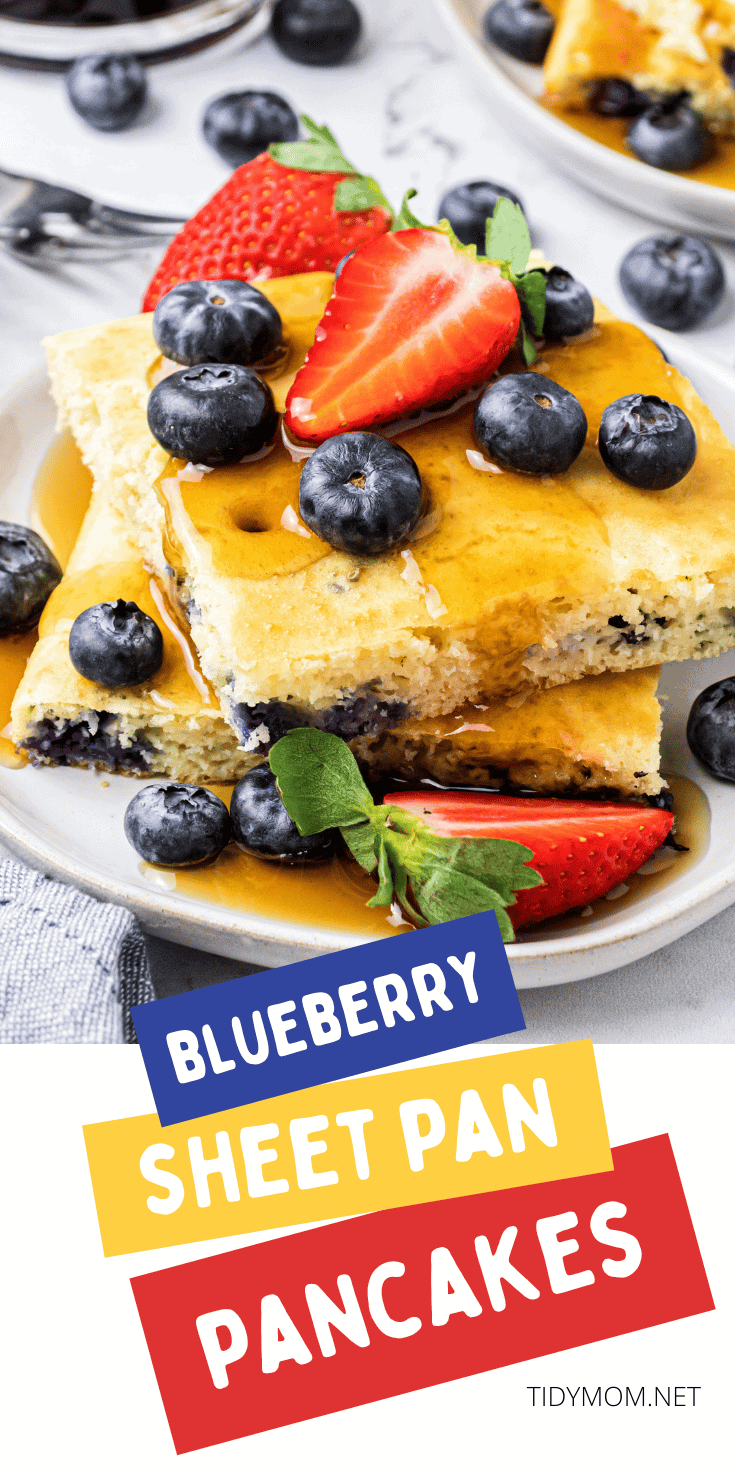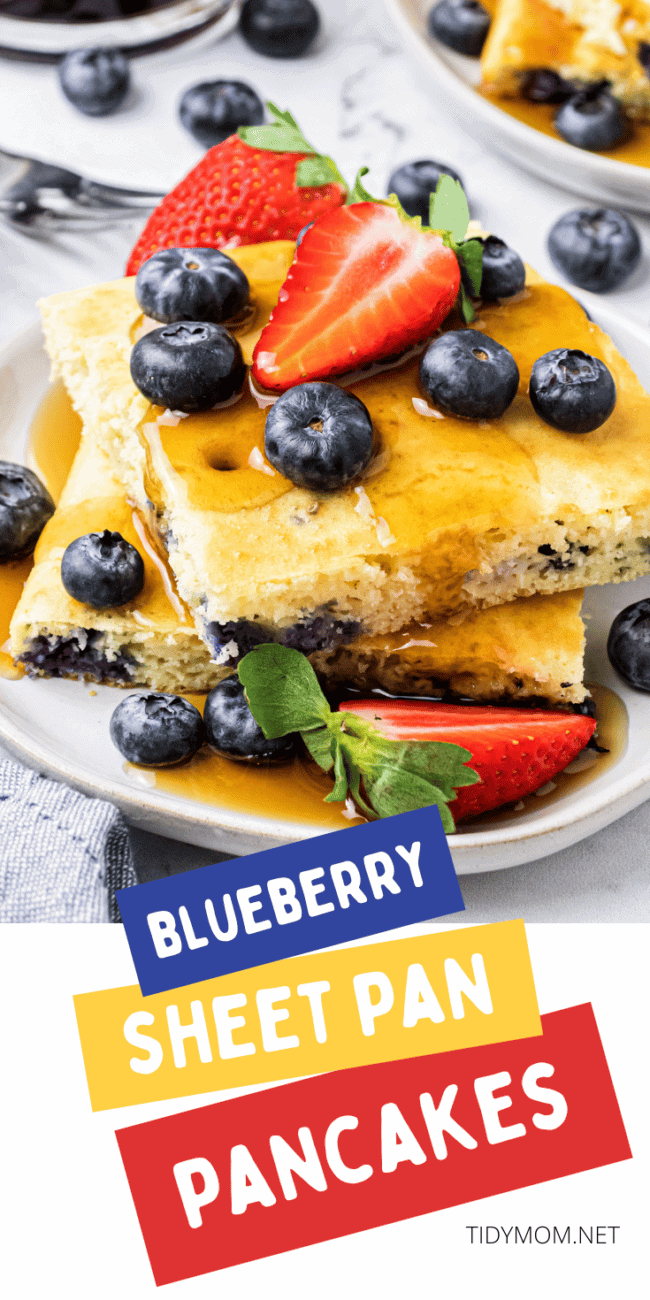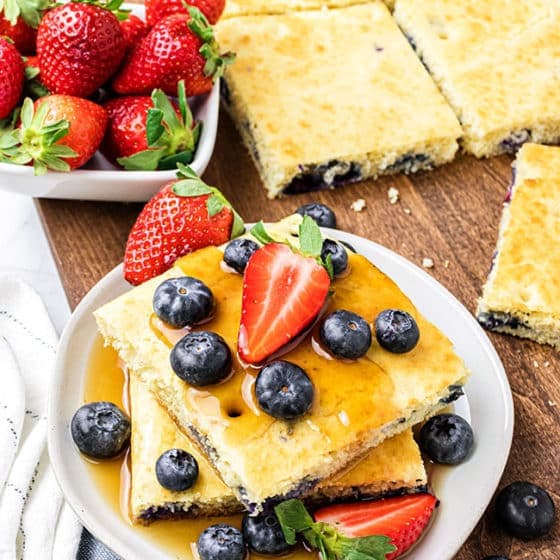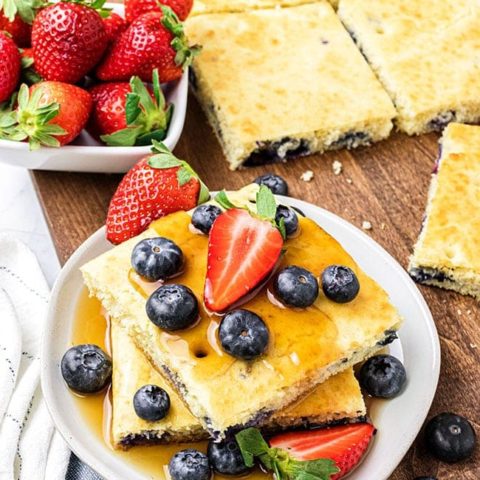 Blueberry Sheet Pan Pancakes
Yield: 8 servings
Prep Time: 10 minutes
Cook Time: 15 minutes
Total Time: 25 minutes
Oven-Baked Blueberry Pancakes With Bisquick - Minutes to make and minutes to bake! Breakfast just got easier. Fluffy golden sheet pan pancakes loaded with fresh sweet luscious blueberries are perfect for feeding a crowd!
Ingredients
4 Cups Bisquick Pancake & Baking Mix
4 large eggs
2 cups milk
1 teaspoon vanilla extract
1-2 cups fresh blueberries (save some for serving)
Instructions
Preheat oven to 425°F. Spray a rimmed baking sheet (about 18x13) with cooking spray and set aside.
In a large bowl, whisk Bisquick, eggs, milk, and vanilla until thoroughly combined (don't over mix).
Pour batter into pan, spreading evenly to edges. Sprinkle blueberries over the batter.
Bake for 15-20 minutes or until light golden brown and a toothpick comes out clean. Cut into squares and serve with butter and syrup and/or powdered sugar.
Notes
To store leftovers, completely cooled in a covered container up to 3 days. Reheat in microwave.
Pancakes can also be placed in freezer bags and frozen for up to 3 months. To rewarm place in a toaster oven or in a 250° oven until warmed through.
You can use frozen fruit (you don't need to thaw it)
Add a tablespoon of lemon juice and zest from 1-2 lemons for fresh flavor
Recommended Products
As an Amazon Associate and member of other affiliate programs, I earn from qualifying purchases.
Nutrition Information:
Yield: 8
Serving Size: 1
Amount Per Serving:
Calories: 377
Total Fat: 9g
Saturated Fat: 3g
Trans Fat: 0g
Unsaturated Fat: 5g
Cholesterol: 112mg
Sodium: 981mg
Carbohydrates: 60g
Fiber: 3g
Sugar: 9g
Protein: 13g
Nutrition information is estimated based on the ingredients and cooking instructions as described in each recipe and is intended to be used for informational purposes only. Please note that nutrition details may vary based on methods of preparation, origin, and freshness of ingredients used.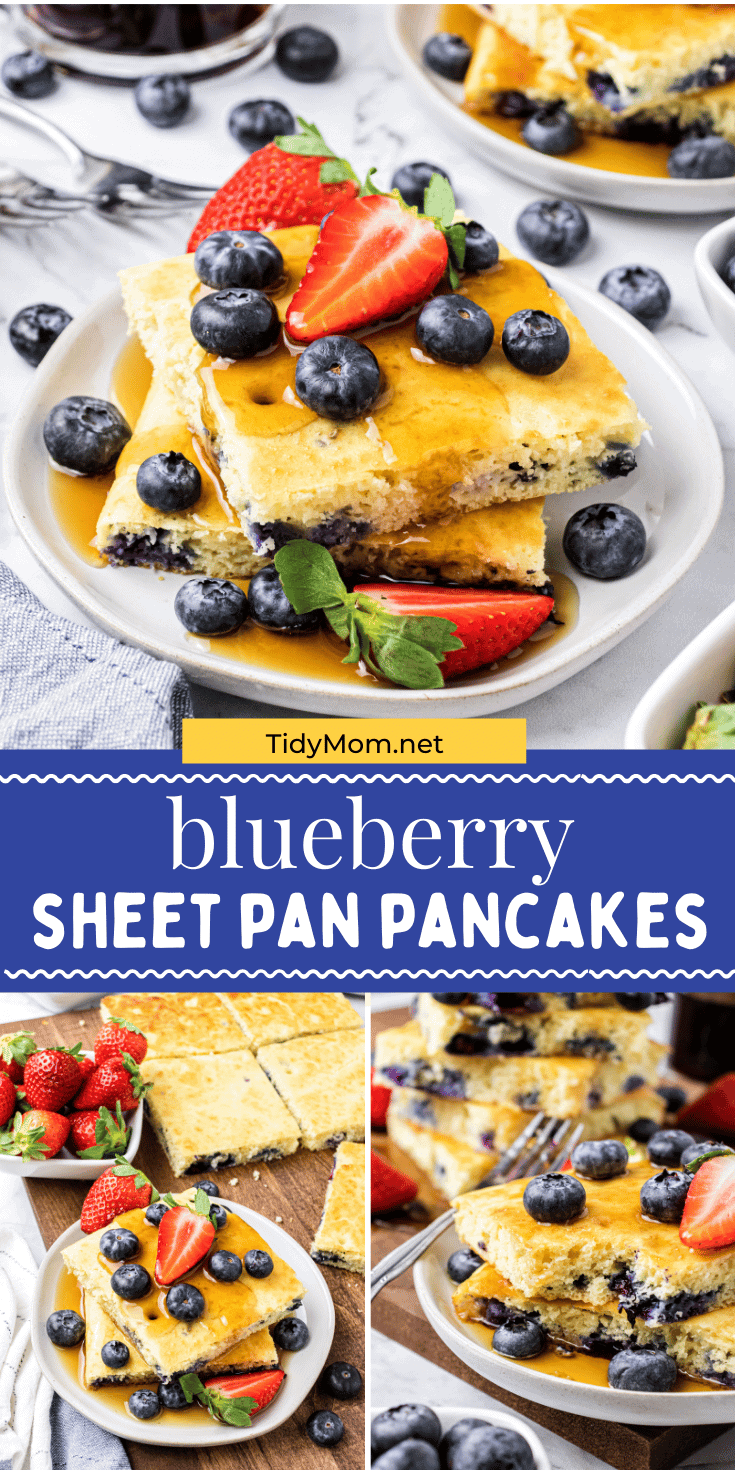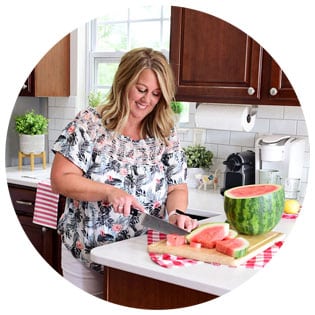 Hi there, I'm Cheryl!
As a wife, mom, and caffeine enthusiast, my journey has taken me from bustling mornings with my family to sharing delicious recipes, home care tips, and heartfelt decorating insights with wonderful readers like you. My love for baking, photography, and tidiness shines through every post I craft. Dive into my world and discover the art of homemaking, one tidy moment at a time. Read more...
Tidymom is a participant in the amazon services llc associates program, an affiliate advertising program designed to provide a means for sites to earn advertising fees by advertising and linking to Amazon.com.
Please respect my work, recipes and photographs. If you do use a recipe in your own writing, please give proper credit and link back to the original post.