Parmesan Crusted Lemon Tilapia (Oven Baked)
This post may contain Amazon or other affiliate links. As an Amazon associate, I earn from qualifying purchases.
Lemon Parmesan Tilapia– a flaky, delicate tilapia infused with buttery garlic, dill, and lemon flavor. Layered with a golden crust of panko and parmesan cheese. This easy oven-baked tilapia recipe can be a healthy meal on the table in just 15 minutes.
Au Gratin Potatoes or Baked Tomatoes with mozzarella make terrific sides for this parmesan-crusted tilapia. If you feel like something lighter, I recommend rice and Sauteed Green Beans or Oven Roasted Asparagus with a simple Italian Salad. Paired with Red Raspberry Iced Tea or a crisp chardonnay and the finishing flourishes with Chocolate Cherry Cheesecake Parfaits? Yum!
Be sure to sign up for my email… to get new recipes and ideas in your inbox!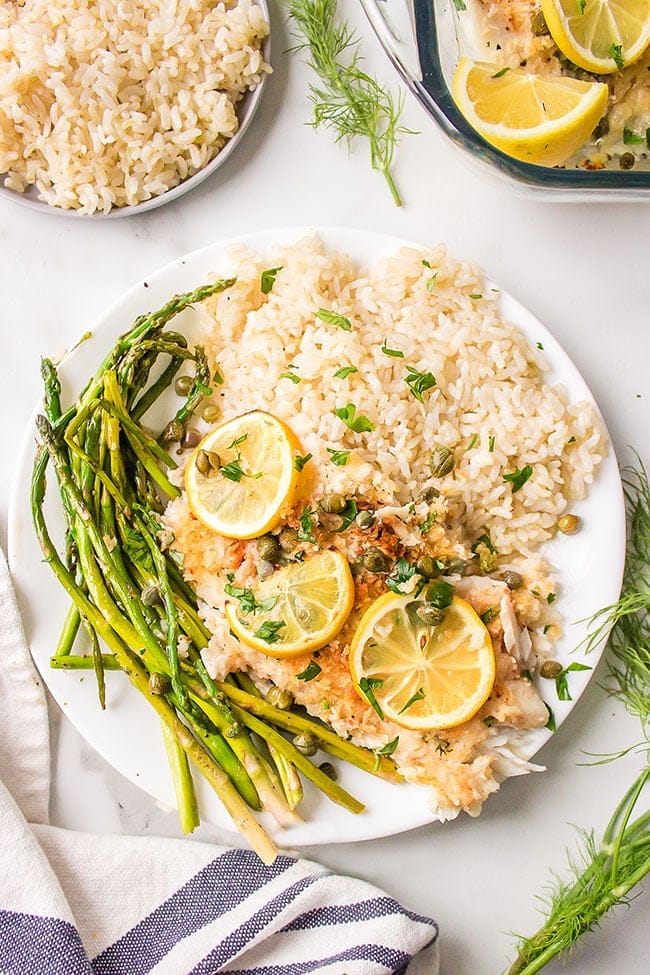 Parmesan crusted tilapia has long been one of our family favorites! Mild and sweet, a white fish complimented with a golden crust of parmesan and panko and just a touch of heat with crushed pepper! Top off the buttery garlic sauce with salty, lemony capers, and everyone is in for a treat!
Lemon parmesan tilapia is the perfect introductory dish to help get those not-so-fish-loving families inspiration to incorporate more piscine (fancy word for fish) based dishes with heart and brain-loving Omega 3 fatty acids.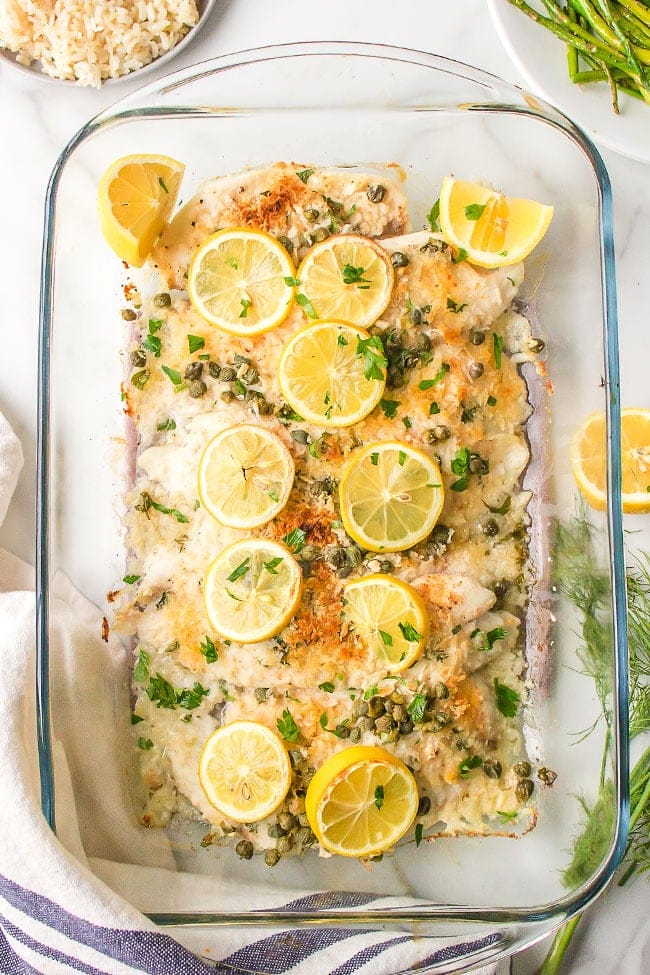 Why You'll Love This Baked Parmesan Crusted Tilapia
Quick-cooking time and simple to assemble for a family weeknight meal.
Oven-baked tilapia's delicate taste and texture is a perfect dish for "non-fish fans."
Tilapia is packed with vitamins and minerals and the all-important Omega 3 fatty acids essential to our health.
A delicious foolproof recipe for fish first-timers!
Wonderfully seasoned and beautiful contrasting textures are evident in each bite.
Tilapia contains more Omega 3's than chicken or beef and is a great source of B12s.
Nothing fancy is needed to make this healthy dish, just mixing bowls and a baking dish.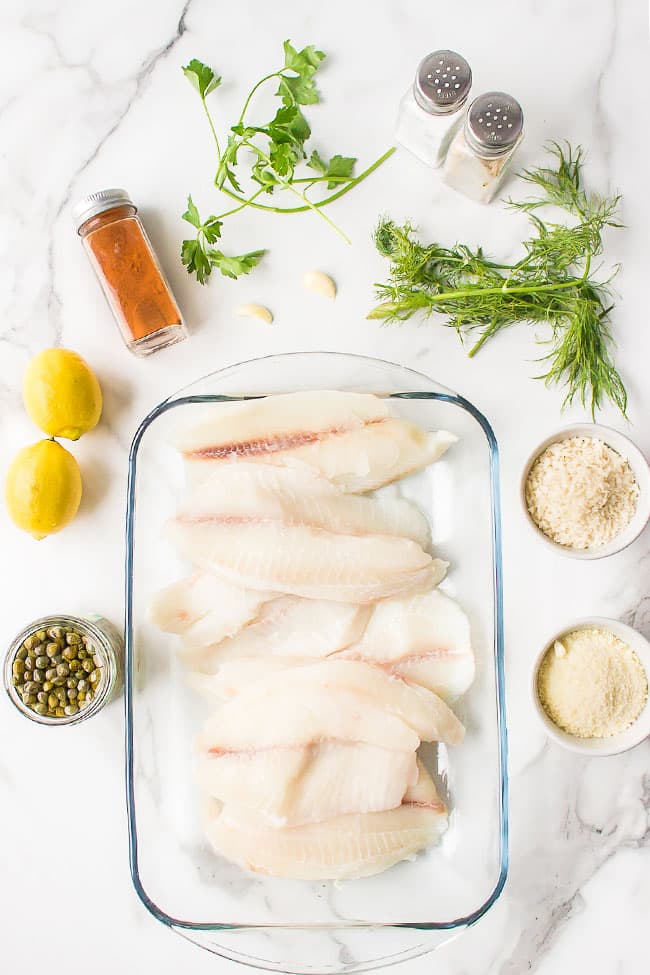 Ingredients For Lemon Parmesan Tilapia
When fish-loving cooks meet those of us who say we are intimidated to cook fish, they think, "that's just plain crazy talk!"
This crusted parmesan tilapia is simple and easy to assemble with no wild or exotic ingredients, just good stuff!
(full printable recipe at the end of this post)
Tilapia Fillets – Mild flaky white fish low in calories and fat, and high in protein. A staple at the dinner table across the United States.
Kosher Salt And Black Pepper To Taste (I love to use Weber's Zesty Lemon seasoning instead of salt and pepper on this lemon parmesan tilapia. I would imagine lemon pepper would work too, but I really love the zesty lemon seasoning on my seafood.)
Capers – a distinctive floral tartness and lemony tang combined with the bold, savory, salty brininess similar to green olives. The perfect finish on the palate.
Lemon Slices – provide a milder and softened lemon flavor when cooked atop the crusted parmesan tilapia.
Baked Tilapia Crust Ingredients:
Crushed Red Pepper – just enough warmth with a pleasant earthiness and sharp bite. "Peppers" the palate with an occasional touch of heat in the golden crust.
Grated Parmesan – look for real "Parmigiano-Reggiano" from Parma, regulated and trademarked! Real "Parmesan" does not contain cellulose powder, potassium sorbate, or cheese cultures! Just sayin'!
Panko Breadcrumbs – a drier and flakier Japanese-style crumb, made from crustless bread, provides a lighter, less oil-absorbing crumb.
Chopped Parsley – brightens with a slightly bitter yet clean earthiness. Complements citrus notes without overwhelming.
Tilapia Lemon Sauce Ingredients:
Melted Butter
Lemon Juice – use fresh lemons for a crisp and bright acidic note.
Minced Garlic – fresh or jarred will do just fine in this parmesan-crusted tilapia recipe.
Fresh Dill – dill's hint of sweetness loves garlic. Highly aromatic, cooking dill brings forth a fresh grassy undertone and bright lemony notes.
How To Cook Lemon Parmesan Tilapia Fillets
Once you've made this tried and true crusted tilapia with capers recipe, you'll be excited to try a few more seafood dishes. (And make this one again!) When adventuring into cooking fish for the first time, it turns out it's only a challenge mentally and not in the actual doing!
STEP 1. Combine the crust ingredients, set aside
STEP 2. Combine the lemon sauce components separately.
STEP 3. Put the tilapia fillets in a prepared baking dish and salt and pepper.
STEP 4. Pour the lemon butter over filets, sprinkle with panko mixture and capers, topping with lemon slices.
STEP 5. Bake in a preheated oven, uncovered until fish flakes easily, about 10-15 minutes,
Try not to keep them all to yourself 😉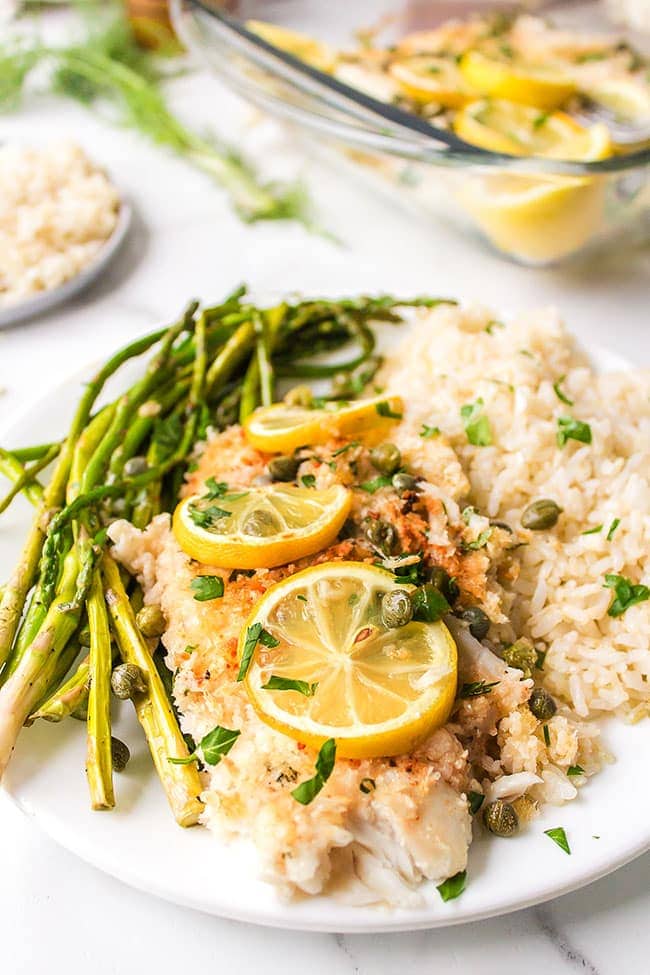 Oven-Baked Tilapia FAQs
What Is Tilapia?
Tilapia is the most popular farm-raised fish in the world. A freshwater fish indigenous to the Middle East and Africa, with the three most common types Blue Tilapia, Black/Nile Tilapia, and Red/Mozambique Tilapia. Thanks to farm raising, Tilapia is available in dozens of countries.
Notes About Tilapia
relatively inexpensive
an easy protein to cook
does not have a fishy flavor
What do tilapia fillets taste like?
Tilapia is known for its mild and sweet white flakey texture, making it so perfect for this baked parmesan-crusted dish.
The raw tilapia fillets are a pinkish-white color and, once cooked, turn completely white.
Is tilapia healthy?
Properly raised tilapia is all kinds of healthy! Besides being a good source of Omega 3 fatty acids, as mentioned earlier, it has an array of important vitamins and minerals. This includes vitamin D, B12, niacin, choline, phosphorus, calcium, magnesium, and the often overlooked selenium, which is vital in helping to reduce oxidative stress.
What a yummy way to help rid your body of excessive free radicals-lemon parmesan tilapia!
How To Choose The Best Tilapia
When buying tilapia, try to avoid previously frozen fillets. Freezing can damage the delicate texture and spoil tilapia's mild flavor. Like most fresh fish, tilapia fillets are best eaten as soon as possible, though they can be kept in the refrigerator for up to two days.
ODOR: Avoid fish with a strong odor, this is usually a sign that it's old.
VISUAL: Look for bright and shiny skin, gills that appear pinkish-red, and no signs of stickiness. Fresh healthy tilapia fillets should have pinkish-white, even colored flesh.
TOUCH: The flesh should be firm when you press it with your finger. If there is an indentation in the flesh then that's a bad sign.
ORIGIN: Most seafood counters show where their fish comes from. High-quality tilapia comes from places like Ecuador, Brazil, and Colombia.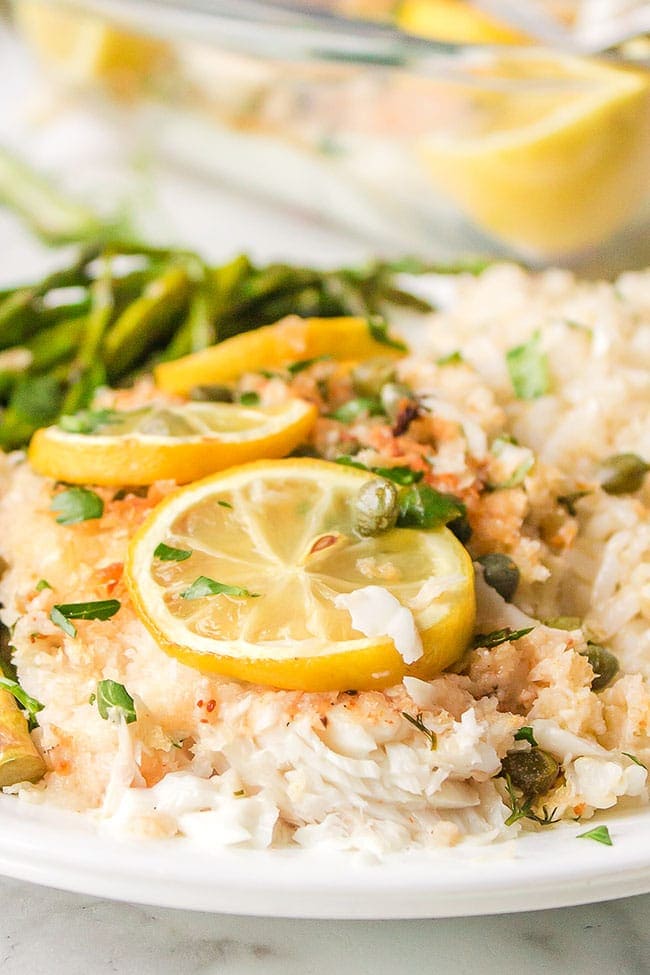 The Truth About Tilapia
In 2008 tilapia was blazing onto the scene and people's dinner tables with zeal. Then there were some fake news headlines in the following years asserting bacon and doughnuts were healthier –not true; adding to the instant panic was the fact that tilapia imported from China was NOT being responsibly farmed. (This included Asian countries feeding farmed tilapia manure from other animals, then having to treat the bacterial consequences with antibiotics-EWW!)
Over 70% of imported tilapia was coming from China at the peak of the tilapia trend. When negative headline-grabbing information was voraciously circulated by the media, some fact/some hysteria, China started losing its hold on the US market share. This was exacerbated by the growth of responsibly farmed and sourced tilapia in the US and other countries.
Several countries (besides China) and US fisheries provide high-quality farmed tilapia filets sustainably grown with good farming practices. Look for tilapia filets from the US, Colombia, and Peru that are certified with an ASC (Aquaculture Stewardship Council) label where available.
If you have access to tilapia raised in the US, find out where it comes from and check out reliable resources online that will give you the heads up on the quality of tilapia produced by that farm or distributor.
Like This Lemon Parmesan Tilapia Recipe? Pin It!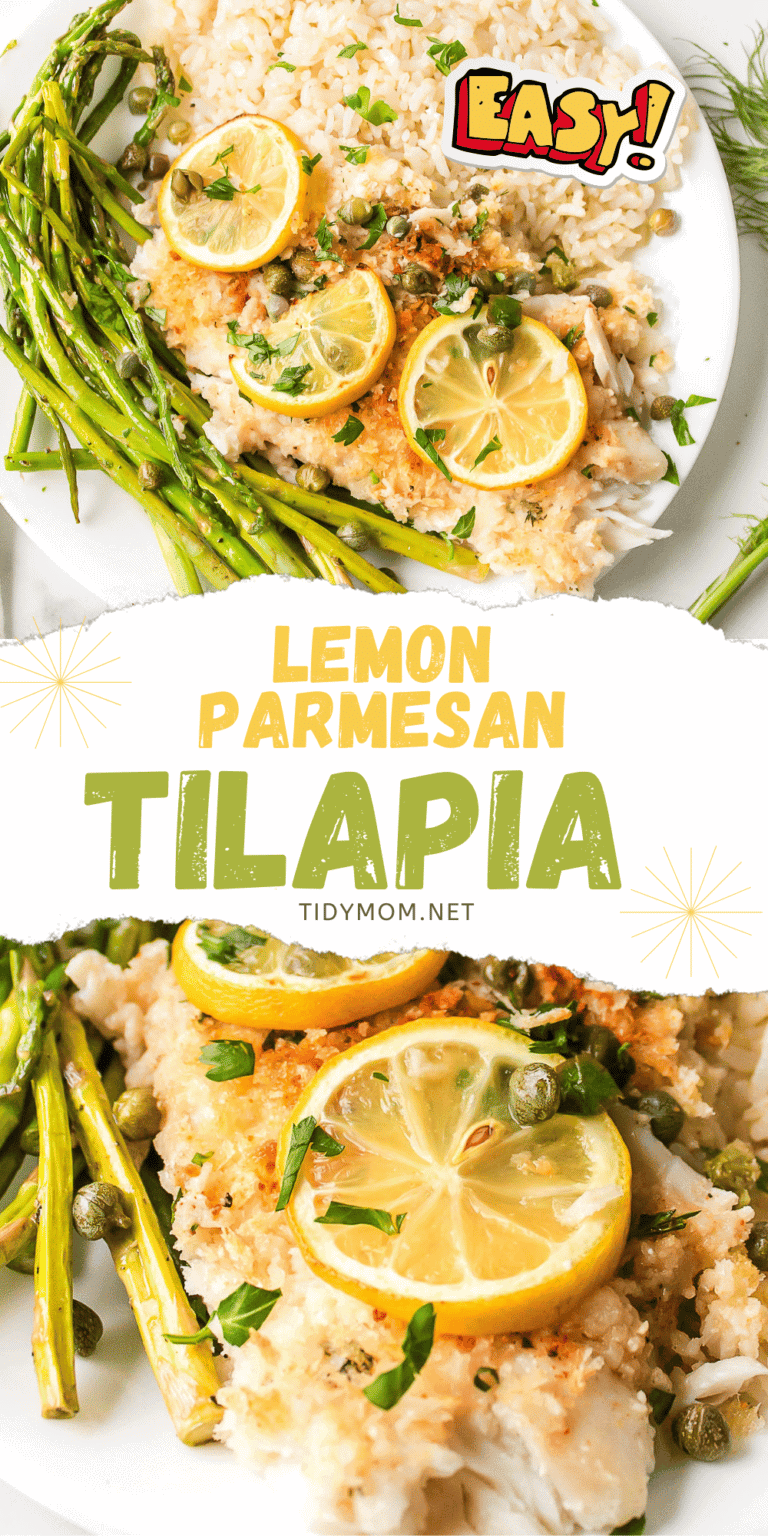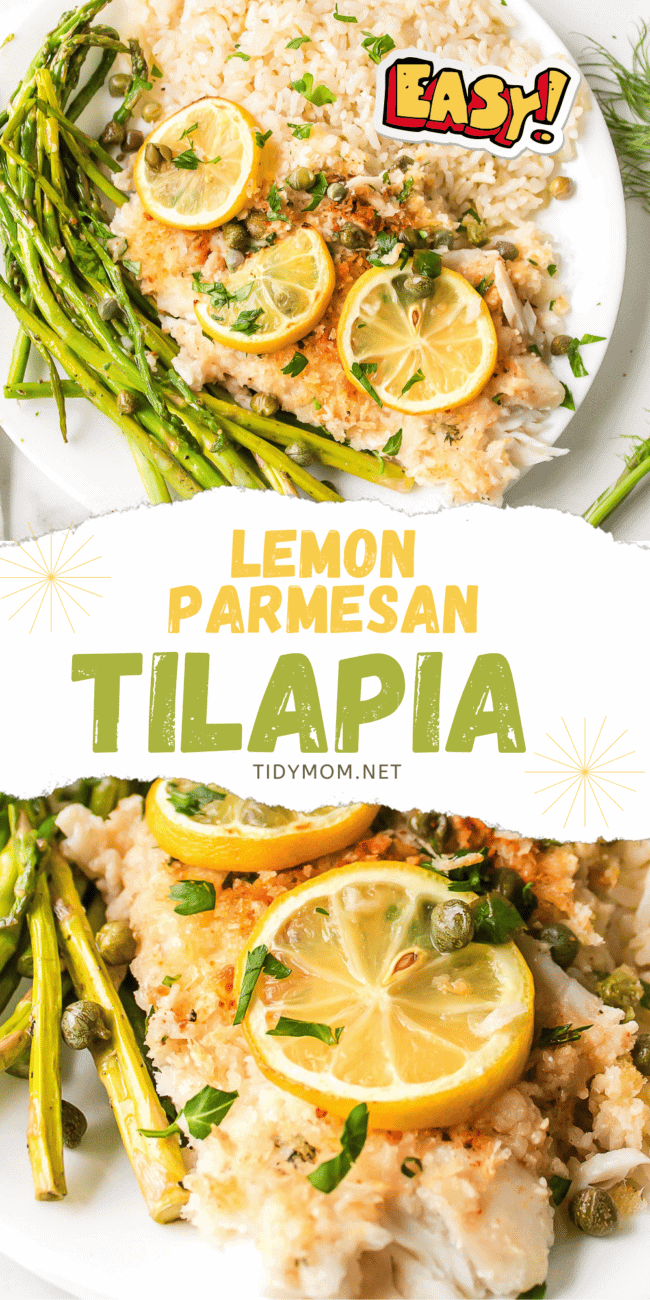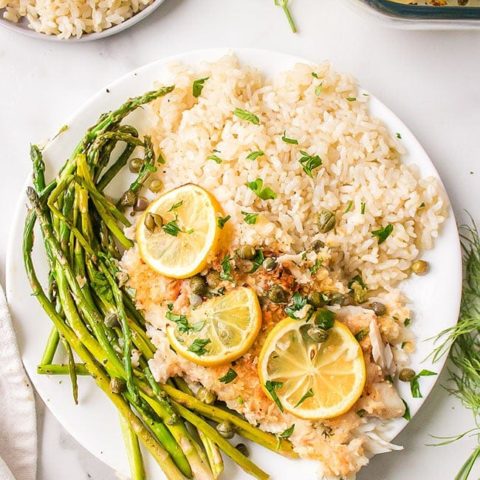 Lemon Parmesan Tilapia
Yield: 6 servings
Prep Time: 5 minutes
Cook Time: 10 minutes
Total Time: 5 minutes
Lemon Parmesan Tilapia- a flaky, baked tilapia infused with buttery garlic, dill, and lemon flavor. Topped with a golden crust of panko and parmesan cheese.
Ingredients
½ teaspoon crushed red pepper
¼ cup grated Parmesan
¼ panko breadcrumbs
2 tablespoons chopped parsley
3 tablespoons butter, melted
2 tablespoons lemon juice
2 cloves minced garlic
2 teaspoons fresh dill
6 tilapia filets
kosher salt and black pepper to taste
2 tablespoons capers
6 lemon slices
Instructions
Preheat oven to 425° F. Spray baking dish with cooking spray and set aside.
In a small bowl, combine crush red pepper, Parmesan, panko, and parsley and set aside
In another bowl, combine the butter, lemon juice, garlic, and dill.
Place the tilapia in the prepared baking dish. Season lightly with kosher salt and cracked black pepper. Pour the lemon mixture over the fillets and sprinkle with panko and capers.
Add a lemon slice to the top of each filet and bake, uncovered for 10-15 minutes or until fish flakes easily with a fork.
Notes
I love to use Weber's Zesty Lemon seasoning instead of salt and pepper on my seafood. It does not contain pepper and is not the same as lemon pepper, but I would imagine you can use lemon pepper if it's something you prefer......or just good 'ole kosher salt and ground black pepper always works.
STORAGE:
Store baked lemon parmesan tilapia leftovers in an airtight container in the refrigerator for 3-4 days.
Reheat: Reheat tilapia in the oven for best results.
Recommended Products
As an Amazon Associate and member of other affiliate programs, I earn from qualifying purchases.
Nutrition Information:
Yield: 6
Serving Size: 1
Amount Per Serving:
Calories: 299
Total Fat: 12g
Saturated Fat: 6g
Trans Fat: 0g
Unsaturated Fat: 5g
Cholesterol: 116mg
Sodium: 348mg
Carbohydrates: 4g
Fiber: 1g
Sugar: 0g
Protein: 46g
Nutrition information is estimated based on the ingredients and cooking instructions as described in each recipe and is intended to be used for informational purposes only. Please note that nutrition details may vary based on methods of preparation, origin, and freshness of ingredients used.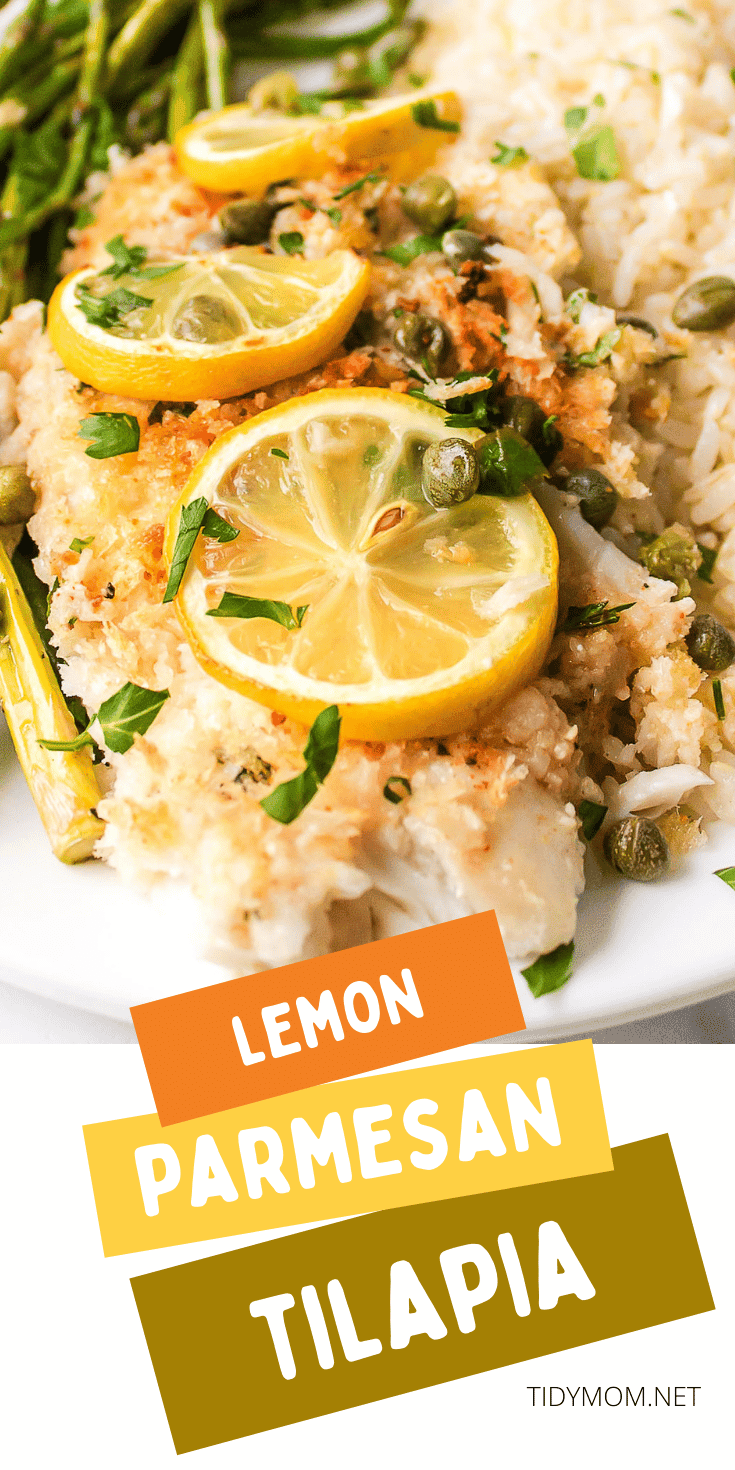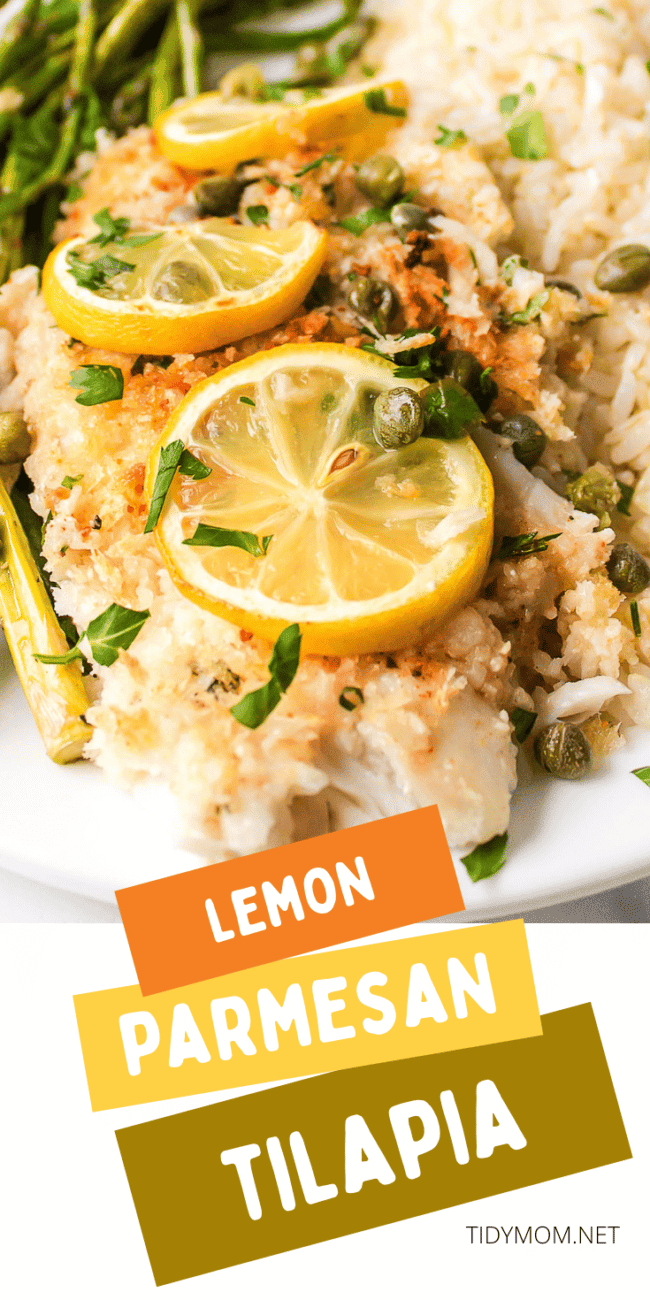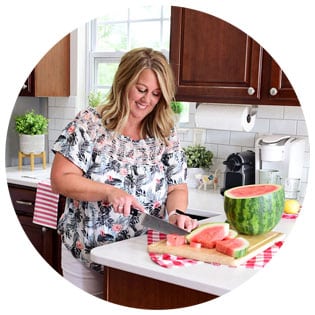 Hi there, I'm Cheryl!
As a wife, mom, and caffeine enthusiast, my journey has taken me from bustling mornings with my family to sharing delicious recipes, home care tips, and heartfelt decorating insights with wonderful readers like you. My love for baking, photography, and tidiness shines through every post I craft. Dive into my world and discover the art of homemaking, one tidy moment at a time. Read more...
Tidymom is a participant in the amazon services llc associates program, an affiliate advertising program designed to provide a means for sites to earn advertising fees by advertising and linking to Amazon.com.
Please respect my work, recipes and photographs. If you do use a recipe in your own writing, please give proper credit and link back to the original post.