Honey Glazed Ham With Apricot
This post may contain Amazon or other affiliate links. As an Amazon associate, I earn from qualifying purchases.
This easy Apricot Glazed Ham will be the talk of the holiday table! A fruity, tangy, sweet, crunchy glaze that balances the salty umami of a spiral ham and adds all kinds of happiness! Just add a few favorite sides for a delicious feast.
Put together an amazing meal starting off with a super easy Asparagus Gruyere Tart. Try these delightful Au Gratin Potatoes, Oven Roasted Parmesan Asparagus, and Creamy Cucumber Salad for side dishes. Don't forget the Deviled Eggs, Ambrosia Salad, and Easy Pull-Apart Garlic Rolls. Finish the meal off with Carrot Cake or Coconut Cake!
Be sure to sign up for my email… to get new recipes and ideas in your inbox!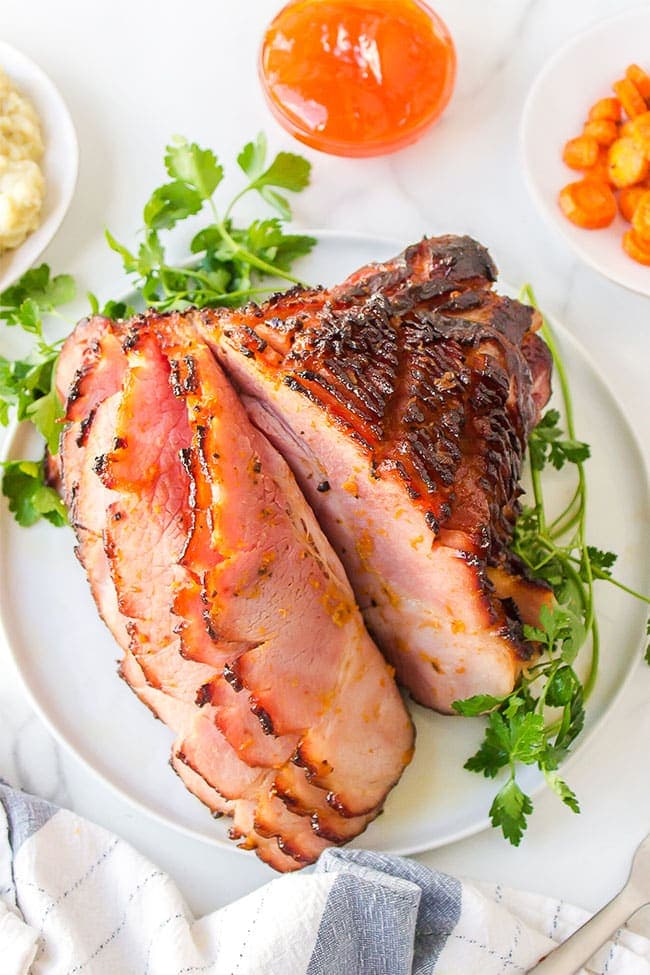 Ham is a classic holiday centerpiece that shouldn't be left for just a couple of times a year! A spiral-cut ham is very easy to serve, and leftovers make great Ham & Swiss Sliders.
Apricot, mustard, and honey are an ideal blend of sweet and tangy to slather a tender, juicy ham. This fusion of flavor with the added warmth of dijon mustard and ground cloves provides the quintessential finish to each bite of this mouthwatering entree.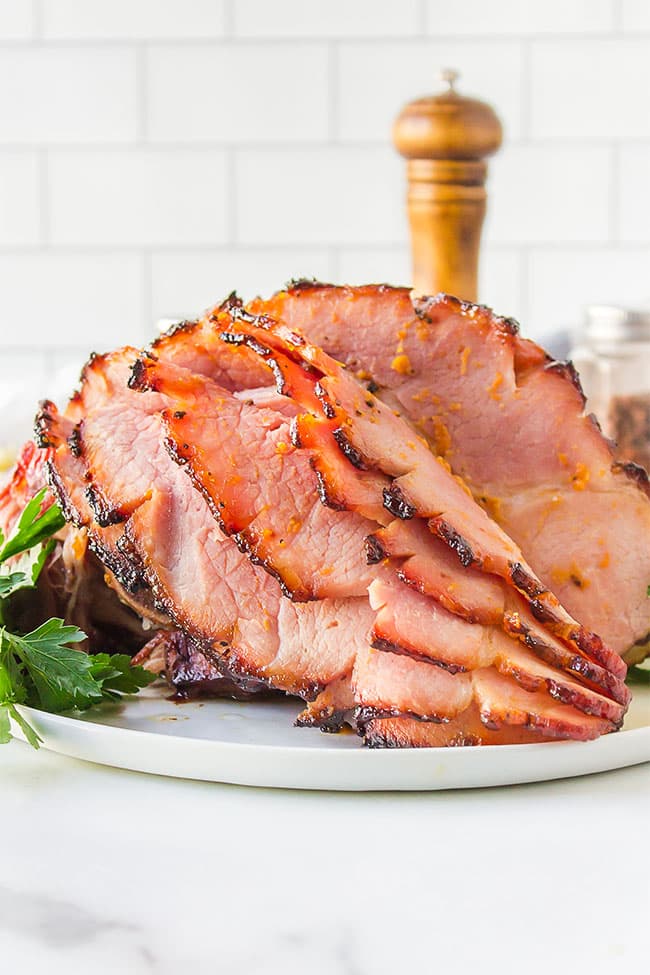 Why You'll Love This Apricot Mustard Glaze For Ham
Making your own apricot honey glaze with only five ingredients is healthier. It won't include chemicals, preservatives, or additives like packaged glaze packets.
Spiral cut hams are so easy to serve; all the hard work is done!
Honey glazed ham is an elegant centerpiece for family meals and holidays.
Leftover ham stores well and there are a variety of uses from sandwiches to casseroles.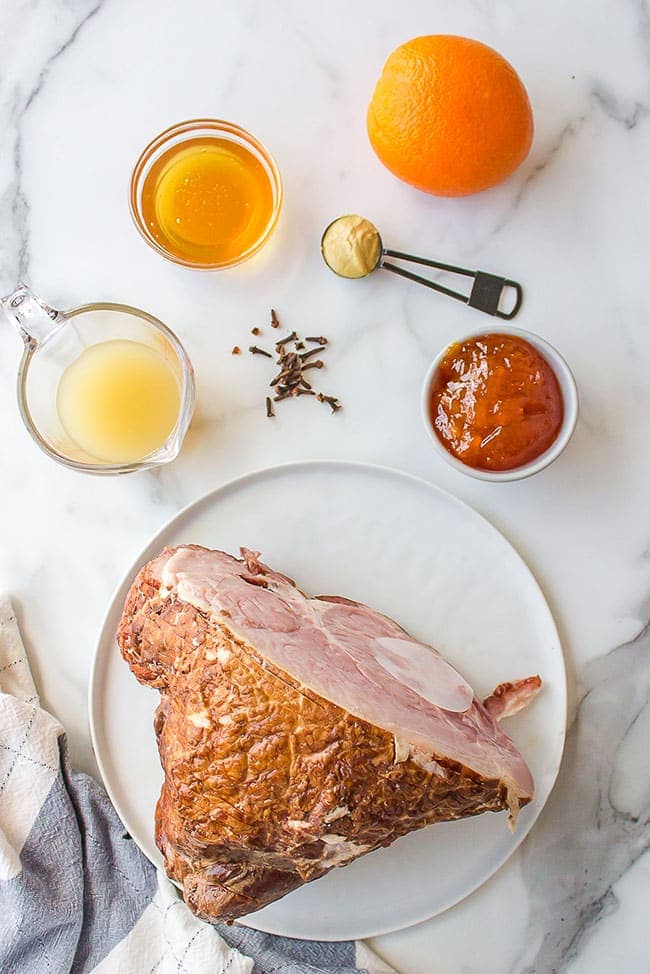 Pull These Ingredients Together For Apricot Glazed Ham
Apricot Jam – is a sweet and tangy jam made from the golden stone fruit that tastes like a cross between a plum and a peach.
Honey – is a perfect glaze binder. Honey is thicker and holds other ingredients suspended, and clings to foods. Honey can be cooked lightly to make a glossy coating or longer to form a darker crackly shell.
Chicken Broth – it's best to use reduced salt if you are sodium sensitive due to the salt content of the ham.
Orange: Zested And Juiced – choose a bright, plump fruit and wash the peel well. Roll the orange between your palm and a clean cutting board to break down the fibers and create more juice, then zest.
Dijon Mustard – is creamy mustard made from black mustard seeds and uses less vinegar than yellow mustard.
Ground Cloves – are the pulverized powder of a dried flower bud from an Asian evergreen with intense warmth and sweetness balanced by a slight bitterness.
Spiral-Sliced Ham – an evenly sliced, pre-cooked ham.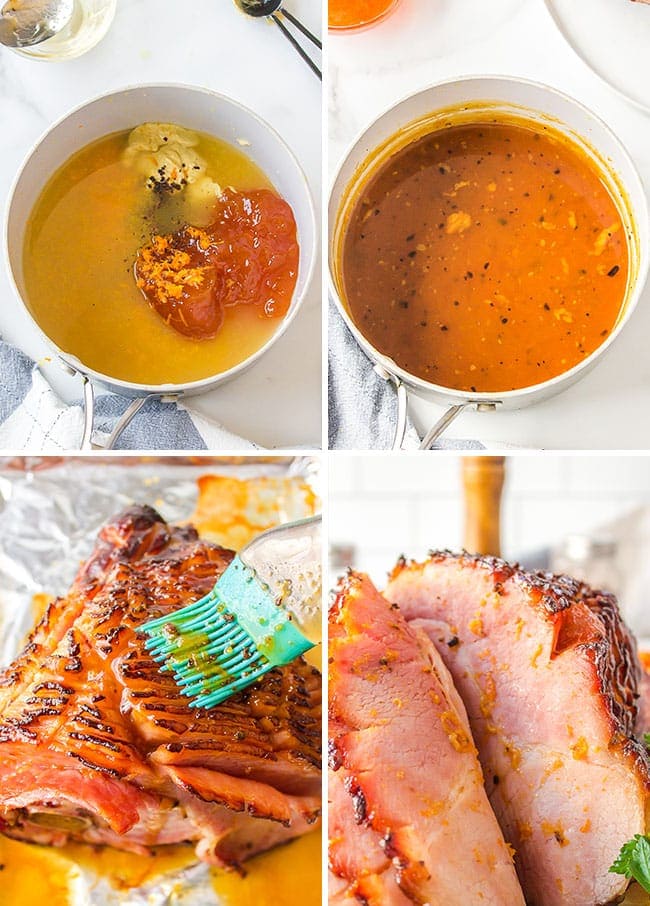 This post may contain affiliate links. Please read my disclosure policy here.
How To Make An Apricot Glazed Ham
(full printable recipe at the end of this post)
You will need a small saucepan, sharp knife, roasting pan, aluminum foil, and a silicone pastry brush to make this recipe.
In a small saucepan, combine all ingredients (except the ham, of course) and bring to a boil, stirring frequently. Lower the honey apricot glaze mixture to a simmer for 10-15 minutes and remove from heat.
Score the top fatty uncut side of the ham with a sharp knife and place the cut side down in a roasting pan, and tent with foil. Bake in a 325°F degree oven until it reaches an internal temperature of 130°F. Remove and baste with the honey apricot glaze. Continue baking uncovered for 15-30 minutes until the internal temperature reaches 140°F and the glaze is caramelized.
Pro Tips For Ham With An Apricot Mustard Glaze
Check over the ham label for the type of ham you are purchasing; it should say "fully-cooked" or "ready-to-eat." Fully cooked spiral-sliced ham is the norm for the market; however, in this day and age, it is better to err on the side of safety and always confirm on the package.
When thawing a spiral sliced ham, allow 5 hours per pound in the refrigerator.
Because spiral sliced ham is pre-cooked, keep in mind you are reheating the ham. Low and slow is best.
Place the "cut" side of the ham face down to allow the fat to self-baste in the initial cooking phase.
You can put a small amount of liquid (water or wine) in the bottom of your roasting pan, then place the ham on a baking rack above the liquid and cover the ham with foil until it is time to apply the honey apricot glaze. This keeps the spiral cut ham moist and avoids drying out the ham from moisture loss
Use a silicone pastry brush or a heatproof spatula for the apricot ham glaze. A bristled pastry brush might want to make its presence known by leaving a few bristles behind.
For the ham to be juicy, allow it to rest on the counter for about 20 minutes while you finish prepping the rest of the meal. This will allow the juices to distribute in the ham.
Popular Substitutions For Honey/Apricot Glazed Ham
There are oh so many combinations to adapt this delicious honey, apricot, and mustard ham glaze! Below are several examples broken down by category:
Fruit: (Jam Or Preserves) Pineapple, Cherry, Orange Marmalade
Carmelizing: Honey, Brown Sugar, Muscovado Sugar, Maple Syrup Coconut Sugar, or White Sugar & Molasses
Liquid: Fruit Juice, Cider, Orange Liqueur, Beer, Wine, Or Soda
Acidity: Mustard(s), Vinegar(s), Apple Cider Vinegar Lemon, Orange, or Lime Juice
Spices: Cinnamon, Cloves, Ginger, Thyme, And Minced Garlic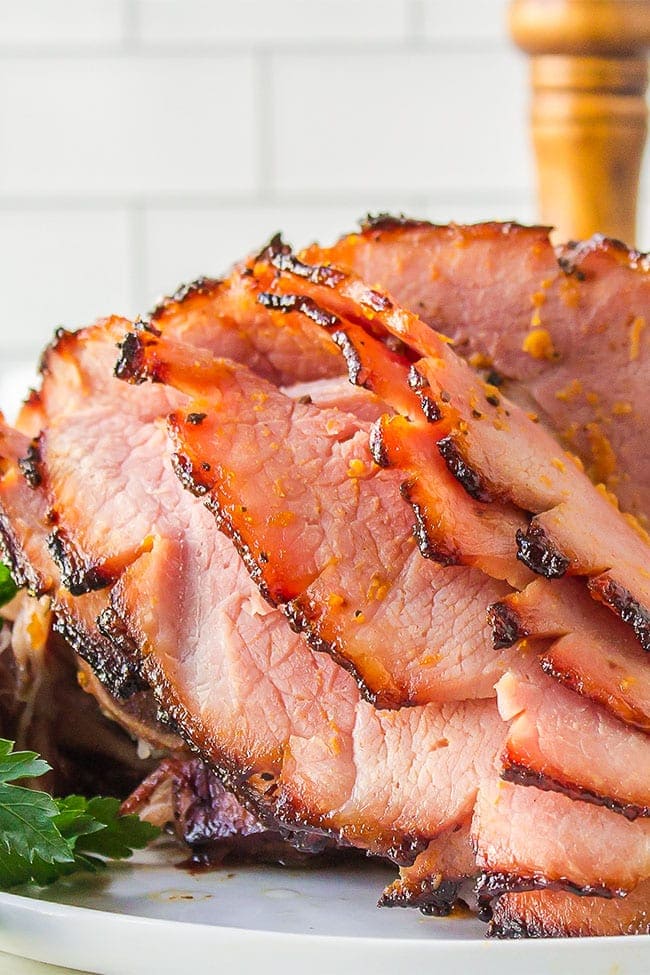 How To Store & Reheat Apricot Glazed Ham
Fully cooked, spiral ham leftovers should be refrigerated at 40°F and can be eaten cold out of a fridge.
When serving ham with apricot glaze, the best practice is not to let it sit out beyond that 2-hour mark. Properly storing cooked ham and getting it in the fridge as soon as possible helps extend its storage life. Typically honey glazed ham with apricot jam will keep in the fridge for up to five days. Leftover ham that you intend to use later should be frozen right away and should be used by 6 months for optimum flavor.
Reheating A Honey And Apricot Glazed Spiral Ham:
According to USDA guidelines, "If reheating is desired, hams that were packaged in processing plants under USDA inspection must be heated to 140 °F as measured with a food thermometer (165 °F for leftover spiral-cut hams or ham that has been repackaged in any other location outside the plant)."
If you want to reheat leftover honey glazed spiral ham, tent with foil and start with 10 minutes for every pound in a 325°F oven. Check periodically to see when the apricot glazed ham has reached an internal temperature of 165°F.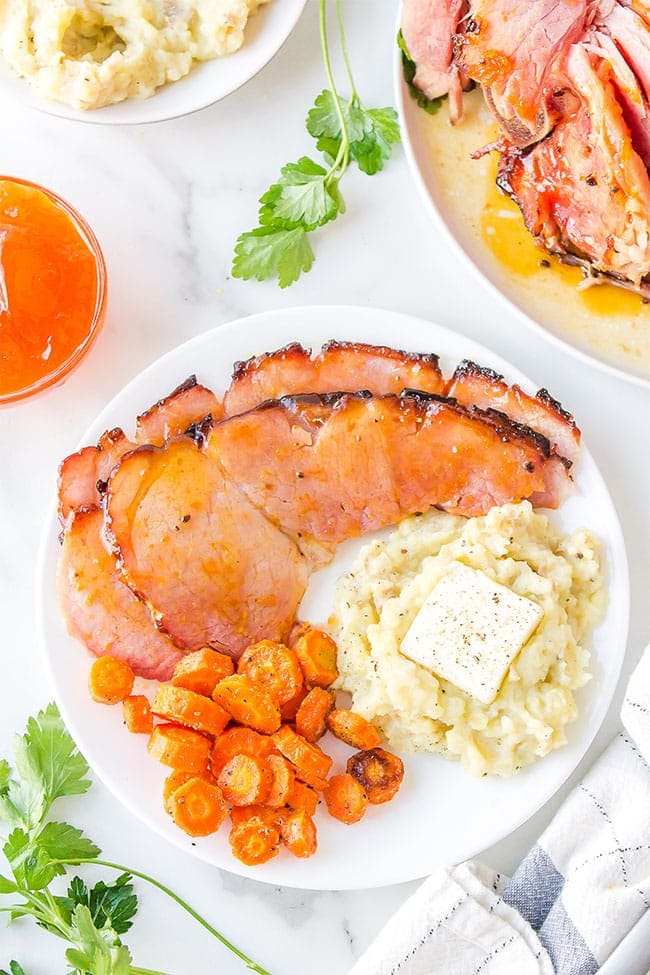 Apricot And Honey Glazed Ham FAQs:
Are Most Hams Already Pre-Cooked?
Yes. According to CFAES, the College of Food, Agriculture, and Environmental Science at Ohio State University, most hams on the market in the U.S are cured and fully cooked. Although it is important to thoroughly check the label and follow heating instructions.
How long does it take to cook a fully cooked spiral ham?
Remember, most spiral hams are sold already cooked (you can even serve it cold), you are just re-heating it. The goal is a warm ham that's not over-cooked or you will end up with a dry ham. Slow and low is best. Bake in a preheated 325°F oven for 10-14 minutes per pound, or until a meat thermometer registers 140°F.
How much spiral ham do I need per person?
When buying a bone-in spiral ham, you'll want to allow about 2-3 servings of ham per pound (that's 1/2-1/3 pound per person). I usually get a ham on the large side so we have some leftovers for sandwiches. If you're serving a lot of sides, or don't care about leftovers you can probably err on the small size.
Like This Apricot Glazed Ham Recipe? Pin It!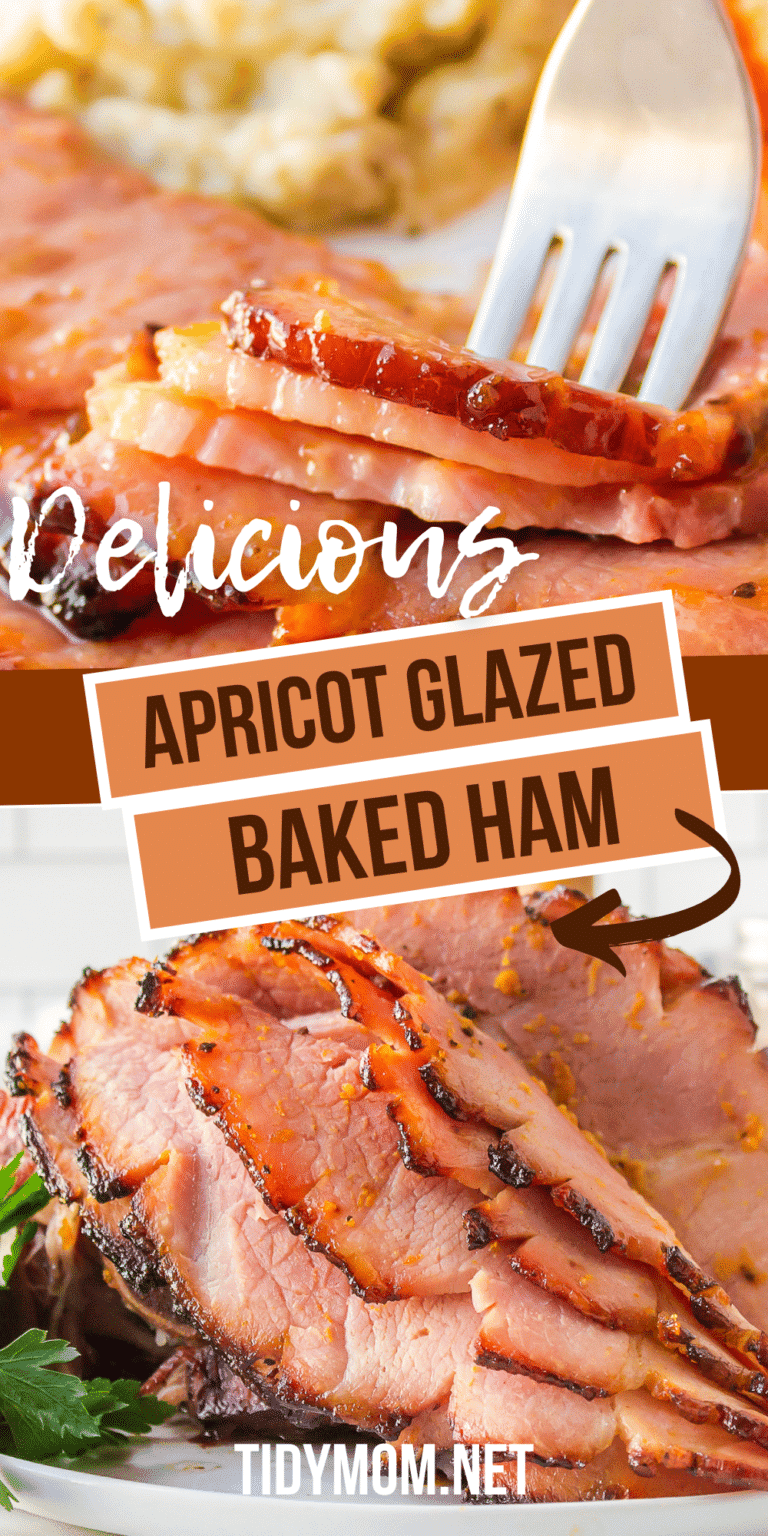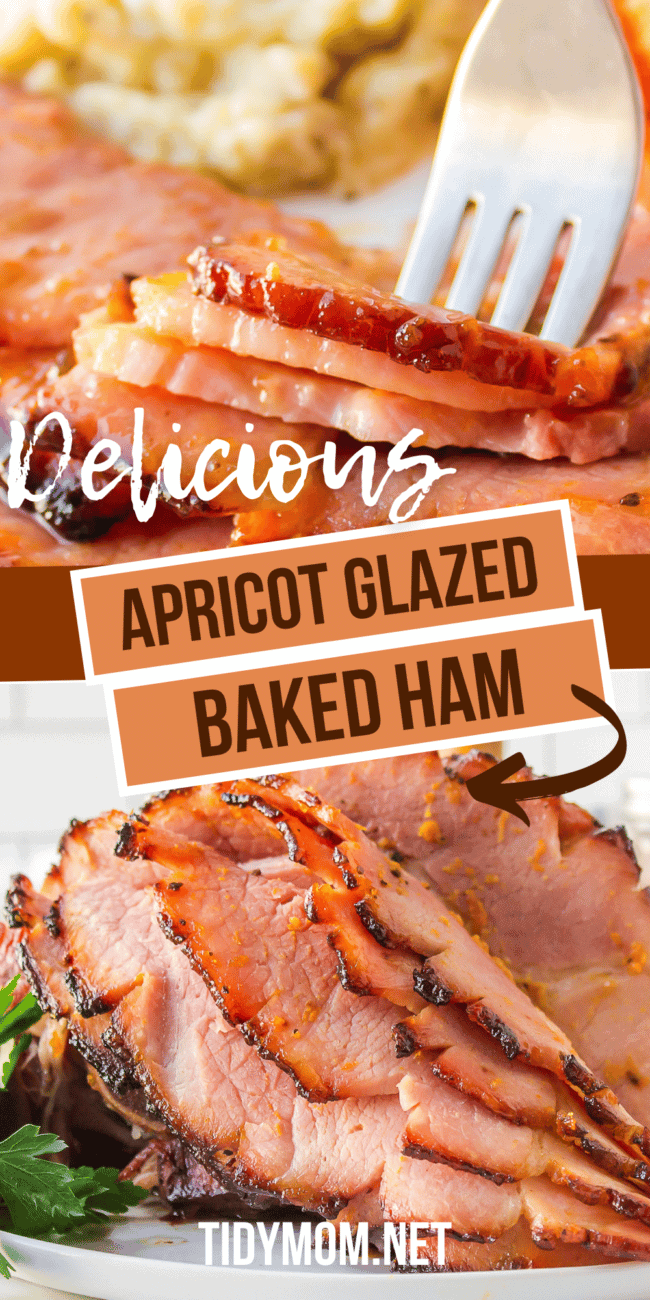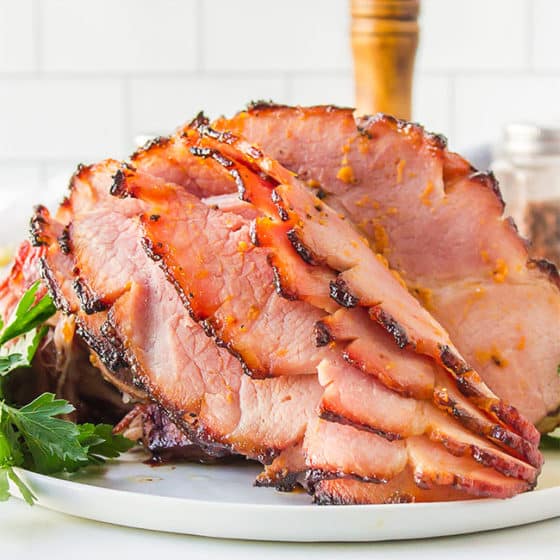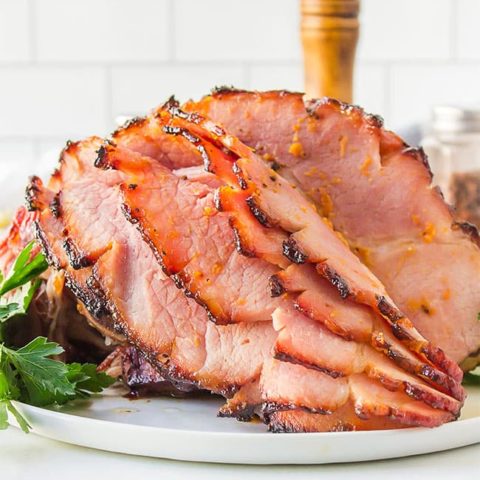 Honey Apricot Glazed Ham
Yield: 10-14 servings
Prep Time: 5 minutes
Cook Time: 1 hour 45 minutes
Total Time: 1 hour 50 minutes
This easy Apricot Glazed Ham will be the talk of the holiday table! A fruity, tangy, sweet, crunchy glaze that balances the salty baked spiral ham perfectly!
Ingredients
1 cup apricot jam
½ cup honey
½ cup chicken broth
1 orange, zested and juiced
1 tablespoon Dijon mustard
⅙ teaspoon ground cloves
1 (5-7 pound) spiral-sliced ham, room temperature
Instructions
Preheat oven to 325°F
Score the top fatty uncut side of the ham with a sharp knife and place the cut side down in a roasting pan. Loosely cover with aluminum foil and bake until a thermometer reads 130° F (approximately 1½ hours).
While the ham bakes, prep your glaze. In a small saucepan, combine apricot jam, honey, broth, orange juice and zest, mustard, and ground cloves. Bring to a boil, reduce heat and simmer for 10-15 minutes until thickened. Remove from heat and set aside.
When the ham reaches 130° F inside, remove it from the oven. Remove the foil and brush the ham with the glaze. Then finish baking uncovered for an additional 15-30 minutes (depending on size) until ham is warmed through and has reached 140° F and the glaze has caramelized, Brush with more glaze if desired.
Notes
Allow the ham to sit on the counter for one to two hours before baking. This will allow for an evenly-cooked ham without drying out or overcooking the edges.
For the ham to be juicy, allow it to rest on the counter for about 20 minutes while you finish prepping the rest of the meal. This will allow the juices to distribute in the ham.
Recommended Products
As an Amazon Associate and member of other affiliate programs, I earn from qualifying purchases.
Nutrition Information:
Yield: 14
Serving Size: 1
Amount Per Serving:
Calories: 98
Total Fat: 0g
Saturated Fat: 0g
Trans Fat: 0g
Unsaturated Fat: 0g
Cholesterol: 2mg
Sodium: 101mg
Carbohydrates: 25g
Fiber: 0g
Sugar: 20g
Protein: 1g
Nutrition information is estimated based on the ingredients and cooking instructions as described in each recipe and is intended to be used for informational purposes only. Please note that nutrition details may vary based on methods of preparation, origin, and freshness of ingredients used.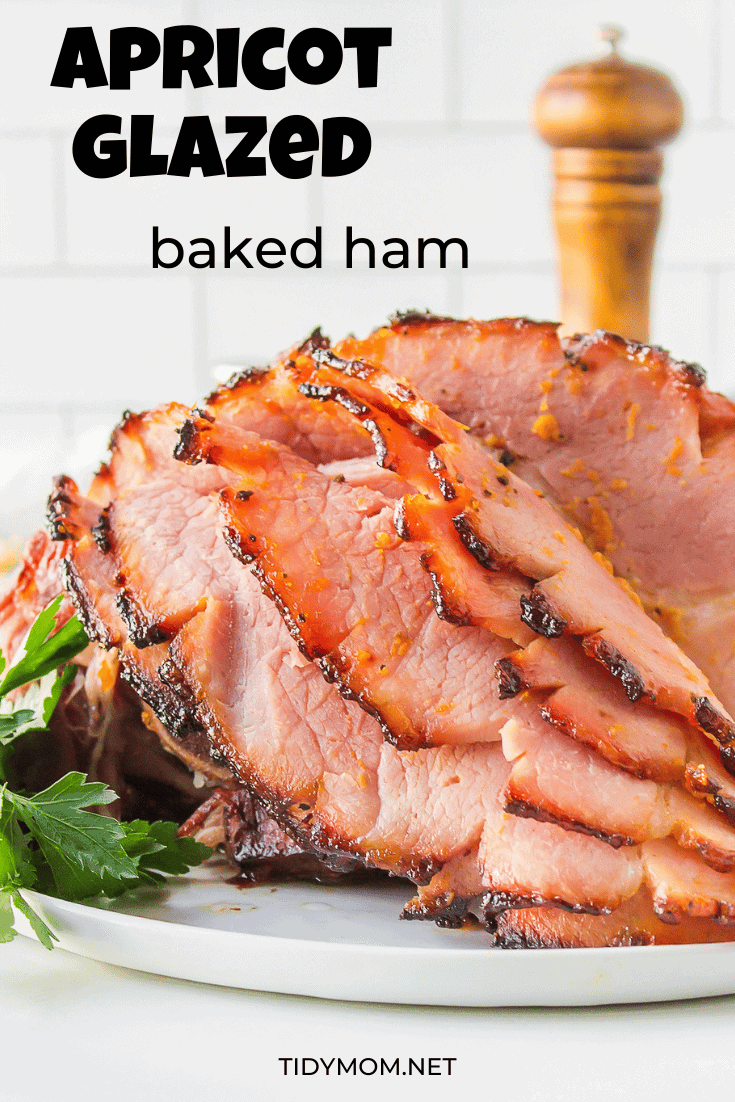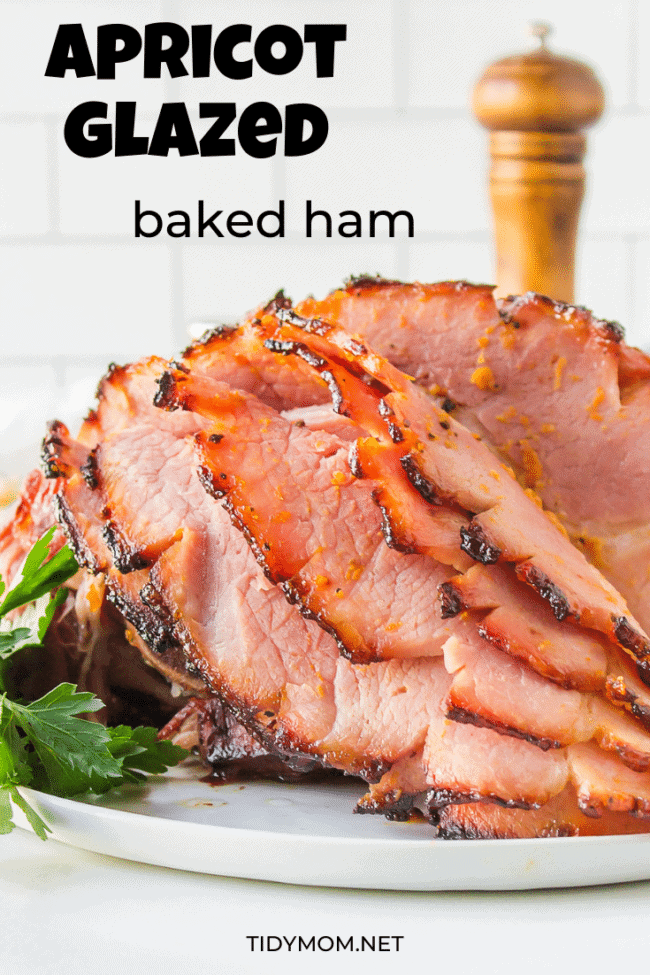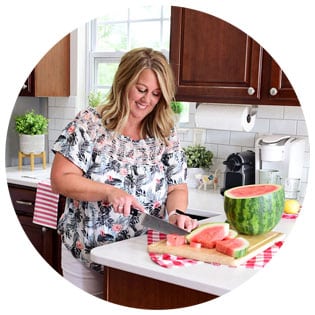 Hi there, I'm Cheryl!
As a wife, mom, and caffeine enthusiast, my journey has taken me from bustling mornings with my family to sharing delicious recipes, home care tips, and heartfelt decorating insights with wonderful readers like you. My love for baking, photography, and tidiness shines through every post I craft. Dive into my world and discover the art of homemaking, one tidy moment at a time. Read more...
Tidymom is a participant in the amazon services llc associates program, an affiliate advertising program designed to provide a means for sites to earn advertising fees by advertising and linking to Amazon.com.
Please respect my work, recipes and photographs. If you do use a recipe in your own writing, please give proper credit and link back to the original post.