Oven Roasted Parmesan Asparagus
Oven Roasted Asparagus is a simple and easy vegetable side dish with very little prep and cook time. Baked asparagus drizzled with olive oil and garlic roasted with parmesan cheese is a delicious vegetable side dish to accompany your favorite entree! It's the best way to cook asparagus!
Baked asparagus are springtime's star veggies, we love to serve the flavorful spears with Blackened Salmon, Lemon Rosemary Grilled Chicken, Fettuccine, Grilled Burgers or steaks, Pork Tenderloin or even with egg dishes for brunch!
Be sure to sign up for my email… to get new recipes and ideas in your inbox!
SAVE this recipe to Pinterest!
Oven Roasted Parmesan Asparagus
A little unknown fact about me is that I didn't try my first asparagus recipe until I was in my 30's…. I eventually found out that my mom despises asparagus, and refused to ever make them which is why I went my entire childhood missing out on this truly delicious vegetable. Now I am hooked and eat them two or three nights a week when they are in season!
This simple recipe for oven-roasted parmesan asparagus is so simple to fix and packed with flavor. It makes the perfect side dish to throw together with almost any weeknight meal, or summer bbq.
No one will be scrunching up their noses at getting in their serving of vegetables when they taste this good!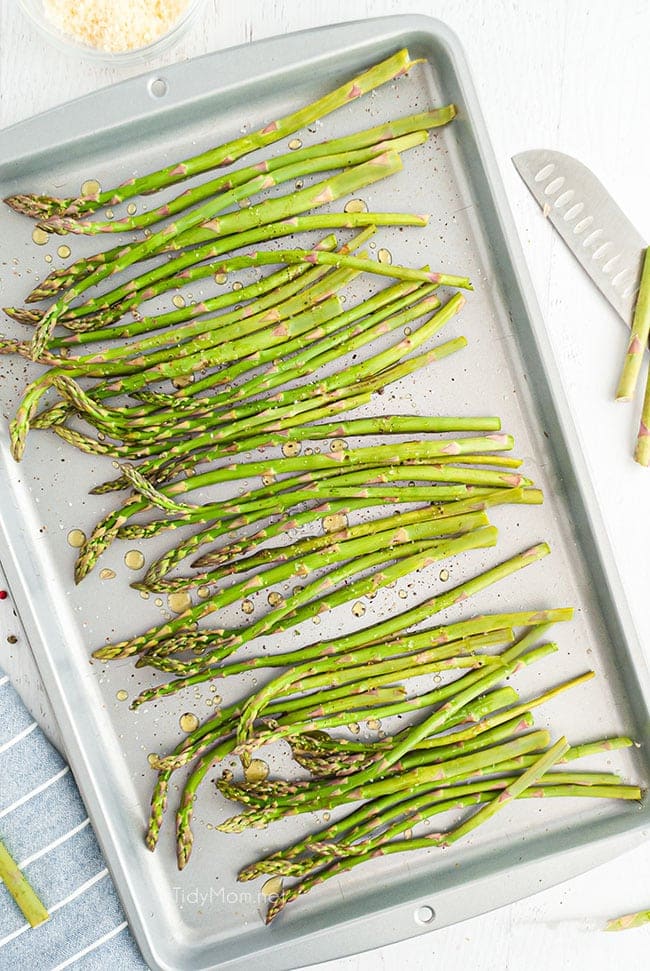 Buying and Using Asparagus
Just with most fresh produce, you have to be conscious of the quality of asparagus you pick out prior to making your parmesan asparagus recipe.
It's best to buy asparagus during its peak season, which usually comes during the spring months. You can find asparagus at your local grocery store all year long, the options just aren't always as good in the off months.
Keep in mind: There is little taste difference between thin and thick asparagus spears, but the thinner vegetables can be a little tougher to chew. The thinner asparagus are more common in grocery stores, so if you want to find thicker asparagus, try visiting your local farmers market.
After selecting the perfect bunch of asparagus spears, immediately store them in the refrigerator, wrapped in a damp paper towel. The longer you let asparagus sit, the tougher it gets. Asparagus loses moisture very quickly and develops a woody tissue if left at room temperature. For the best results, use within a few days of storing.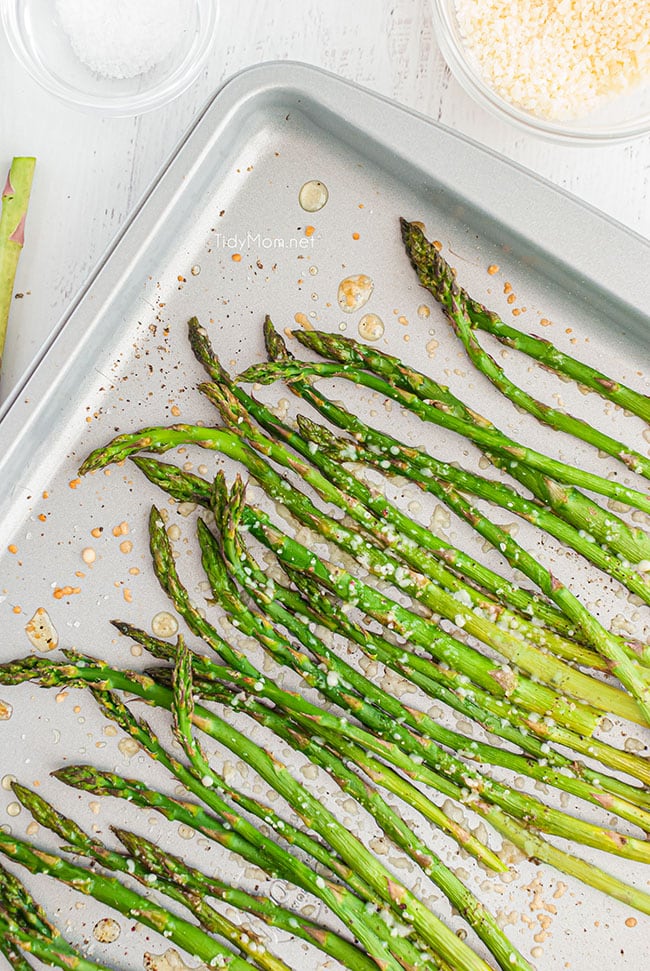 How To Make Oven Roasted Asparagus
(full printable recipe at the end of this post)
Making your own roasted parmesan asparagus is the easiest way to bring the restaurant experience to your own dinner table. With just a few simple steps, and easy to follow instructions this recipe comes together in no time at all!
To begin preheat your oven to the specified temperature. While the oven heats up, prep your asparagus spears by washing and cutting the tough ends off each spear.
Once the ends have been removed, arrange asparagus in a single layer on a prepared baking sheet and drizzle with olive oil, garlic salt, kosher salt, and pepper. Use your hands to toss until evenly coated in oil and seasoning.
Now that everything is coated it's time to let the oven work its magic. Roast in the oven until crisp then remove the pan from oven and sprinkle with Parmesan cheese and return to oven for a few minutes until the cheese melts.
Tips For Storing Oven Roasted Asparagus
Once asparagus is baked in the oven, you can easily store it for later. Simply place the baked asparagus in an airtight container and store in the refrigerator for up to 3-4 days. It's great to eat right out of the refrigerator as a snack, or reheated in the oven, or microwave for leftovers dinner night.
You could also cut up the oven-roasted asparagus and add it to your favorite salad for a flavor-packed lunch.
Can I freeze oven-roasted asparagus?
I know we all love to make extras of our favorite recipes to freeze for a rainy day, but unfortunately, I wouldn't recommend freezing this baked asparagus recipe! The results will likely turn out soggy and overall disappointing.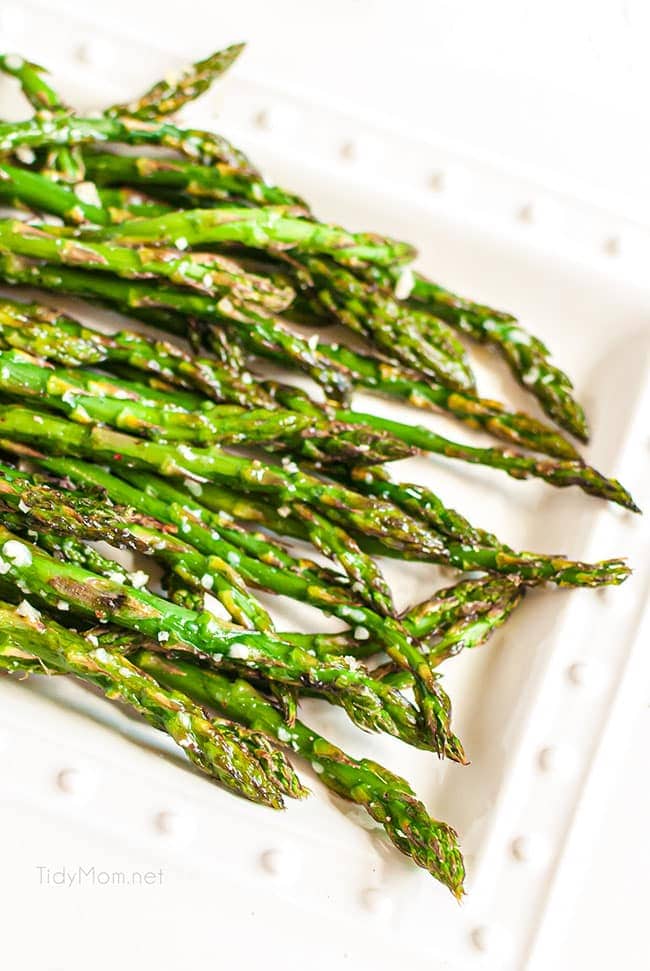 Don't Miss Out On More Easy Side Dish Recipes!
Simple Italian Salad – Pairs perfectly with any Italian meal. It's quick and easy and rivals any restaurant. Pair it with cheesy garlic bread to really complete your meal!
Grilled Corn and Zucchini Salad – A fresh summer side that pairs well with anything off the grill. Full of flavor and lots of crunch make this summer salad a nice change from the classics
Grilled Carrots with Chipotle Lime Dip – a surprisingly easy and healthy way to serve carrots, and boy are they full of flavor.
Cheesy Baked Tomatoes – The perfect way to take advantage of all the juicy summer tomatoes with melt in your mouth mozzarella and parmesan cheese.
Roasted Cauliflower with Feta and Garlic Crumbs – Roasted cauliflower goes to a whole new level when you add sweet Italian dressing, feta cheese, and brown butter and garlic crumbs!
Like This Roasted Parmesan Asparagus Recipe? Pin It!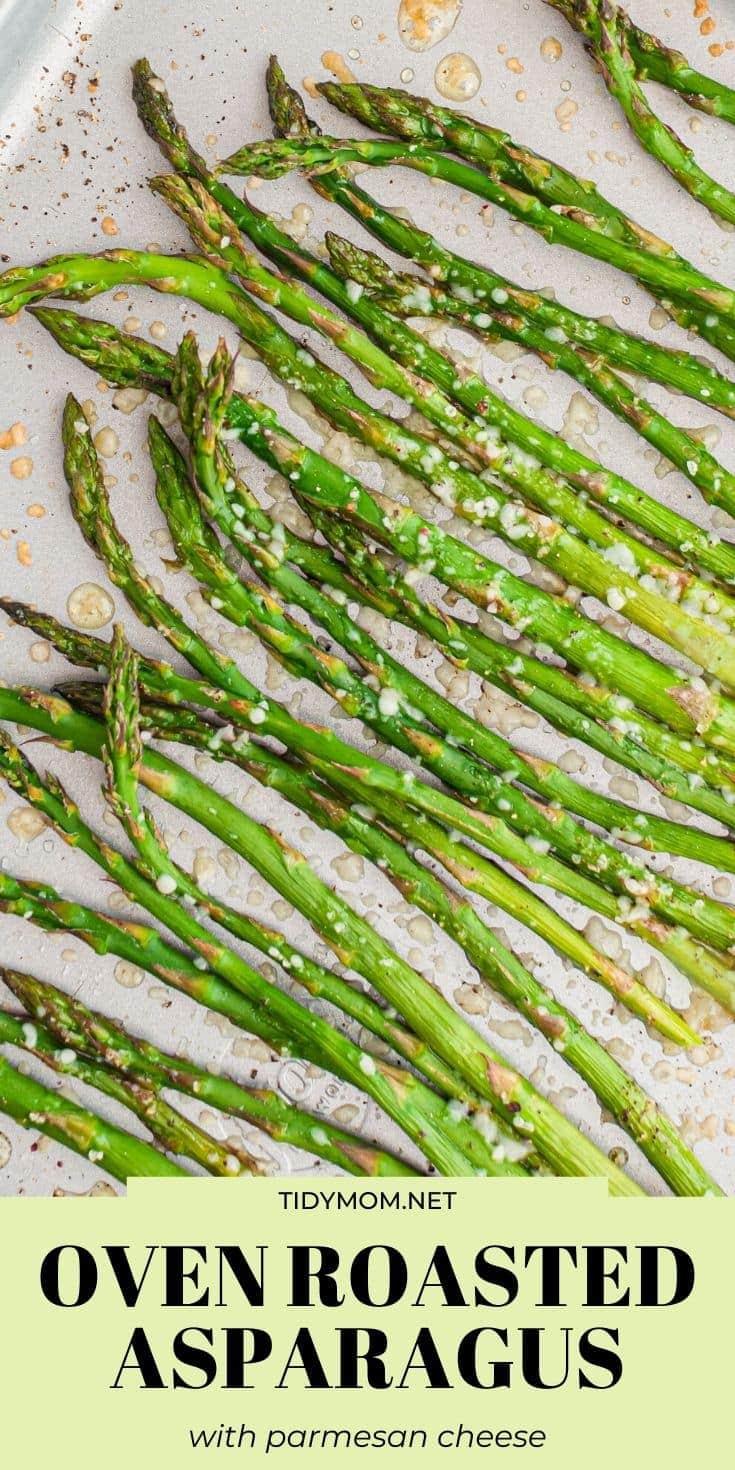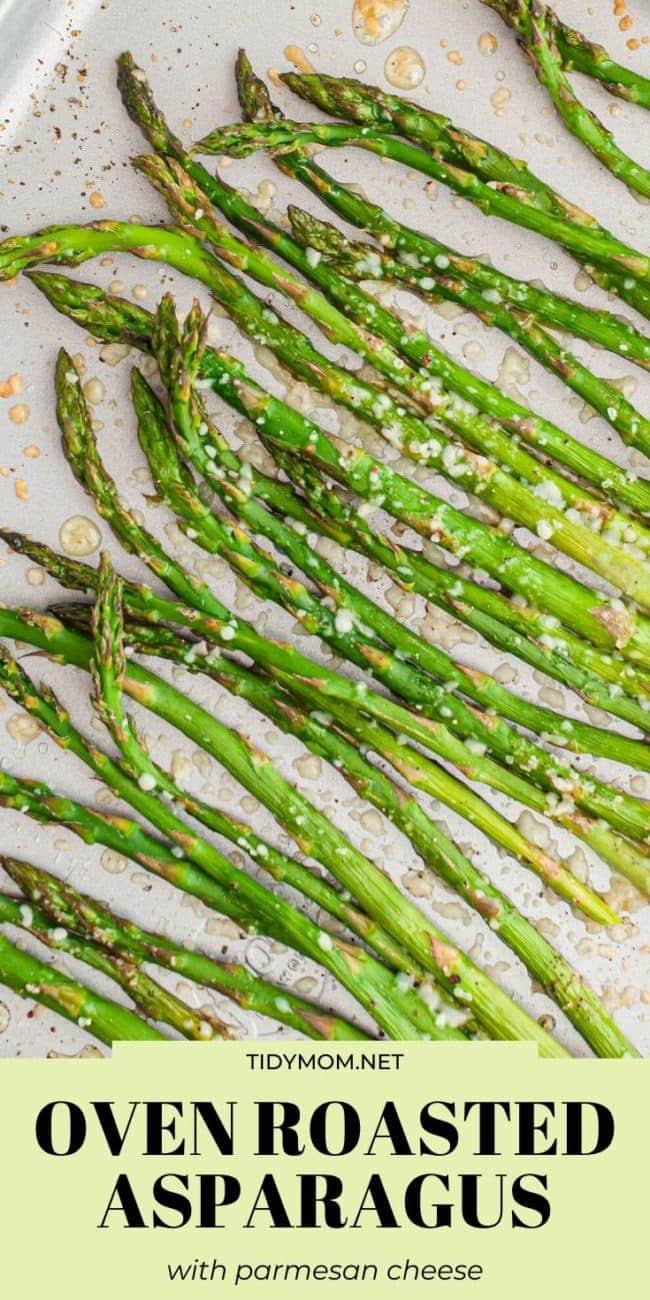 Tools Used To Make Oven Roasted Asparagus
This post may contain affiliate links. Please read my disclosure policy here.
This is my favorite sheet pan to use. I have about 4 I use in my kitchen pretty much every time I bake anything that needs a baking sheet. They are perfect oversized pans!
Every home chef needs a reliable knife in their kitchen to making prepping vegetables, meat, any everything in between easy as can be. This Zwilling knife is my absolute favorite professional knife to use!
The robust and fruity flavor of this olive oil is perfect for roasting vegetables in the oven!
Follow Along on Social Media
If you're looking for even more inspiration check out the fun little group I created on Facebook, I'd love for you to join in! It's a place where you can share YOUR favorite recipes, home tips, creative ideas, and ask questions and see what's new with TidyMom! If you'd like to check it out, you can request to join HERE.
Be sure to follow me on Instagram and tag #tidymom so I can see all the wonderful TidyMom recipes YOU make and tips YOU use!
Connect with TidyMom! Facebook | Twitter | Pinterest | Instagram
Sign up to receive an email in your inbox for each new recipe:
Originally posted April 2010. UPDATED APRIL 2020. We spiffed up this post with more info and better pictures! No changes to the original recipe.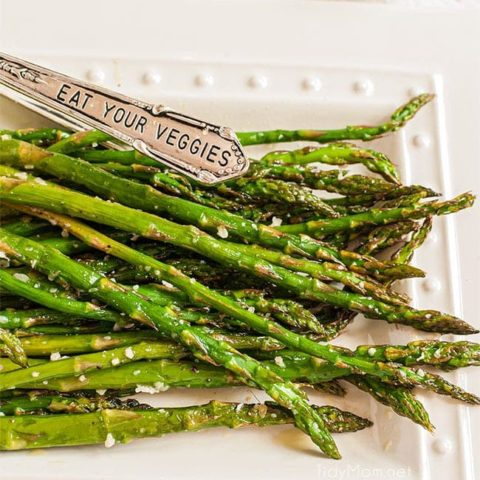 Oven Roasted Parmesan Asparagus
Yield: 4 servings

Prep Time: 5 minutes

Cook Time: 10 minutes

Total Time: 15 minutes

Oven Roasted Asparagus is a simple and easy vegetable side dish with very little prep and cook time. Drizzled with olive oil and garlic roasted with parmesan cheese for a delicious vegetable side dish to accompany your favorite entree!
Ingredients
1 pound of asparagus
2 tablespoons olive oil
1/4 teaspoon garlic salt
1/4 teaspoon kosher salt
1/4 teaspoon crushed black pepper
1/4 cup fresh parmesan cheese grated
Instructions
Preheat Oven to 400° F
Wash asparagus and cut off woody ends (about 1-2 inches)
Line a baking sheet with parchment paper. Arrange asparagus in a single layer on a baking sheet.
Drizzle asparagus with olive oil and sprinkle with garlic salt, koshe salt, and pepper. Use your hands to toss until evenly coated in oil and seasoning. Rearrange in a single layer on the pan.
Roast in the oven for approximately 7-12 minutes - thinner asparagus may need less time.
Remove pan from oven and sprinkle with Parmesan cheese and return to oven for one to two mins until the cheese melts.
Notes
The thinner ones like above I only roast for about 7-8 mins. but when I get the big fat ones I roast them for the 10-12 minuets.
Recommended Products
As an Amazon Associate and member of other affiliate programs, I earn from qualifying purchases.
Nutrition Information:
Yield: 4 Serving Size: 1
Amount Per Serving: Calories: 112Total Fat: 9gSaturated Fat: 2gTrans Fat: 0gUnsaturated Fat: 6gCholesterol: 5mgSodium: 360mgCarbohydrates: 6gFiber: 2gSugar: 1gProtein: 5g

Nutrition information is estimated based on the ingredients and cooking instructions as described in each recipe and is intended to be used for informational purposes only. Please note that nutrition details may vary based on methods of preparation, origin, and freshness of ingredients used.