Crusted Parmesan Pork Chops W/Panko Bread Crumbs
This post may contain Amazon or other affiliate links. As an Amazon associate, I earn from qualifying purchases.
Crunchy, delicious Crusted Parmesan Pork Chops are just the recipe for an easy weeknight meal. Extra crispy panko bread crumbs surround juicy, seasoned pork perfection.
Quick and easy meal recipes are a must-have for busy families! Try some of our classic favs like, Chicken & Spinach Enchiladas Casserole, Chili Mac, Easy Tuscan Sheet Pan Dinner, or Creamy Chicken Gnocchi w/Sun-Dried Tomato.
Be sure to sign up for my email… to get new recipes and ideas in your inbox!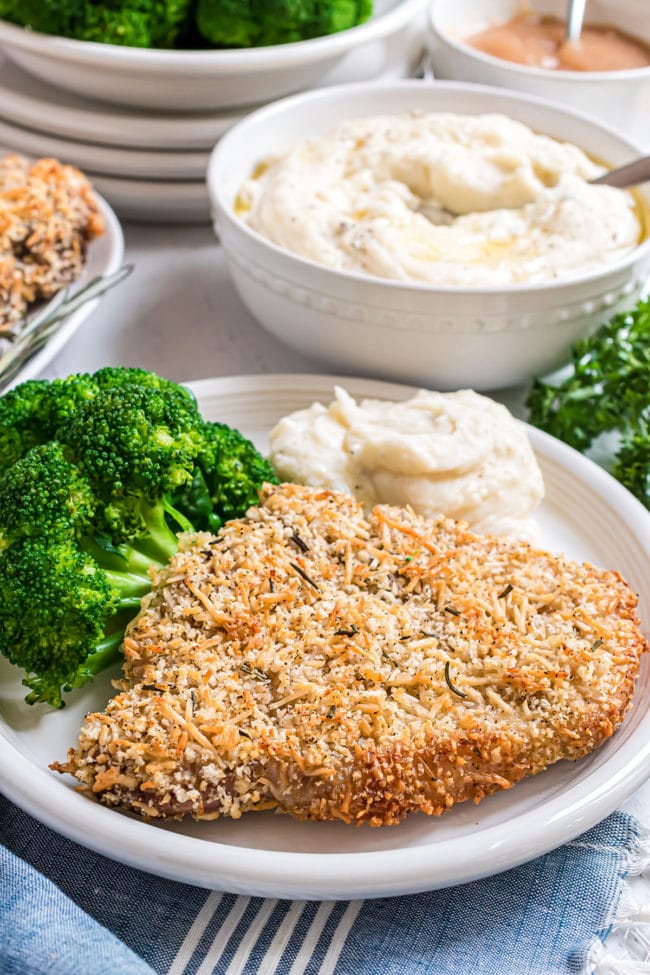 Why You'll Love "CRUSTED" Parmesan Pork Chops
Relax with the perfect easy weeknight dinner recipe with easy oven-baked pork chops. Next to amazing flavor, the best part is using a wire rack over a foil-lined baking sheet, making crispy-crusted pork chops a sure thing and cleanup a breeze!
Crunchy Texture – crispy panko crumbs give crusted pork chops an irresistible crisp texture.
Rich Flavors – shredded Parmesan cheese, rosemary, and seasoned salt create a medley of savory flavors.
Uncomplicated Ingredients – four simple ingredients and a few seasonings will easily make this juicy entree a weeknight fav!
Simple Prep – a simple dip, dredge, and bake pork recipe for a savory and easy pork chop dinner.
Time-Saving – Only 10 minutes of prep and 30 minutes in the oven; dinner in a jiff!
Easy & Tasty – a full-flavored easy weeknight entree that satisfies hungry families.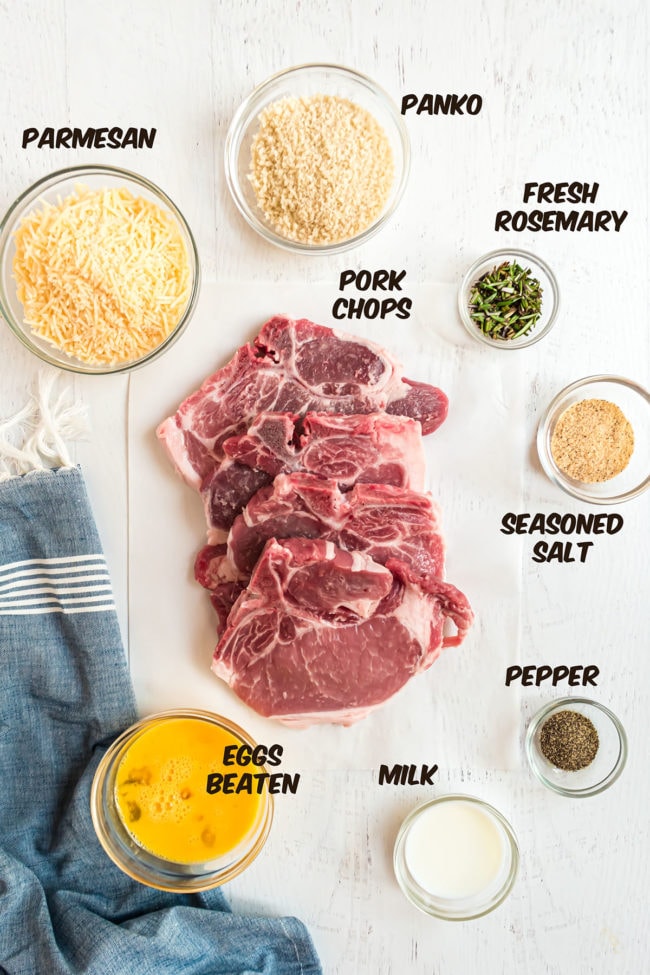 Ingredients For Oven Baked Parmesan Crusted Pork Chops
For specific amounts, please refer to the printable recipe card at the bottom of the post.
Panko Bread Crumbs – a lighter, flakier bread crumb used for extra crispy baked or fried crusts.
Shredded Parmesan Cheese – use real Parmesan* for its nutty, salty flavor that helps create a golden flavorful texture.
Fresh Chopped Rosemary
Pepper
Eggs – Lightly beaten to be used as the egg wash to dip the chops.
Milk
Pork Loin Rib Chops – (​​about 1 inch thick) must come to room temperature for even cooking.
*Block Parmesan – Use a handheld zester-grater to quickly and efficiently shave angel hair like curls of cheese that will melt in and adhere like magic.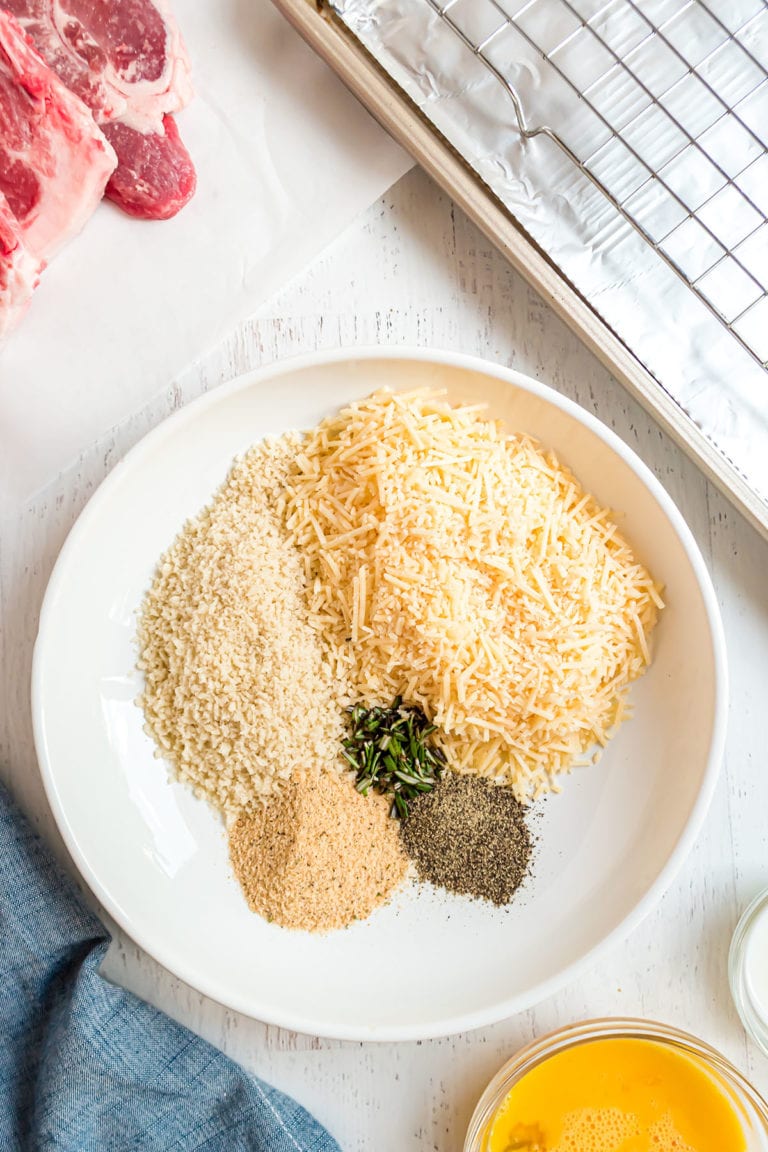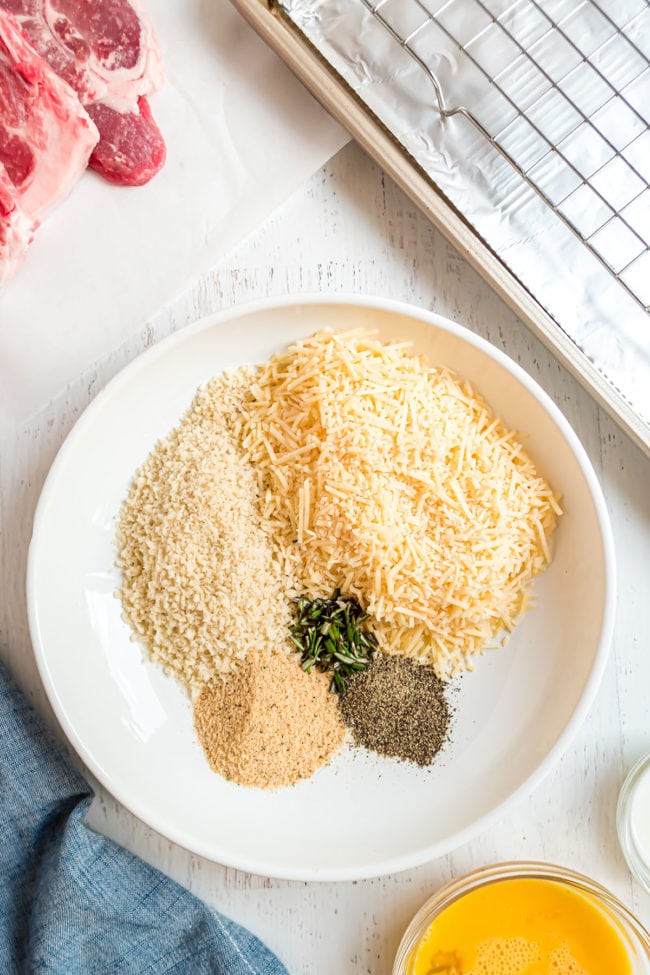 This post may contain affiliate links. Please read my disclosure policy here.
How To Make Crusted Parmesan Pork Chops With Panko
Ready to cook up some amazing oven-baked pork chops? The best pork chop recipe is only the best if it isn't overcooked! A meat thermometer is your best buddy and always takes the guesswork out of perfectly prepared pork every time! Let's do it!
When you are baking, you'll want to use the full recipe at the bottom of the page.
Coat room temp pork chops in egg wash.
Dredge and pat in the panko-Parmesan mixture.
Bake for 30 mins or until crusted pork chops are golden brown.
Rest for a minimum of 5 minutes, and internal temp reaches 145°F.
Optional: *If you like a nice crisp crust, you can turn the oven to broil for the last 2 minutes; just keep a close eye on them so they don't burn.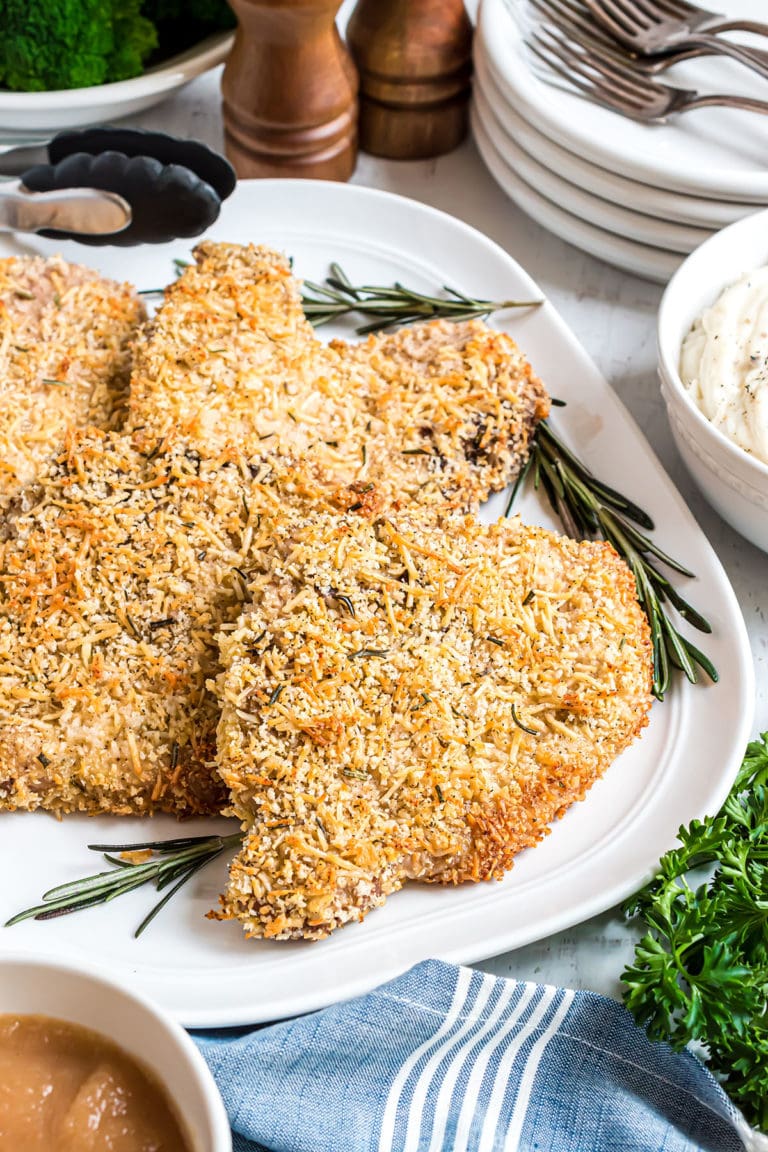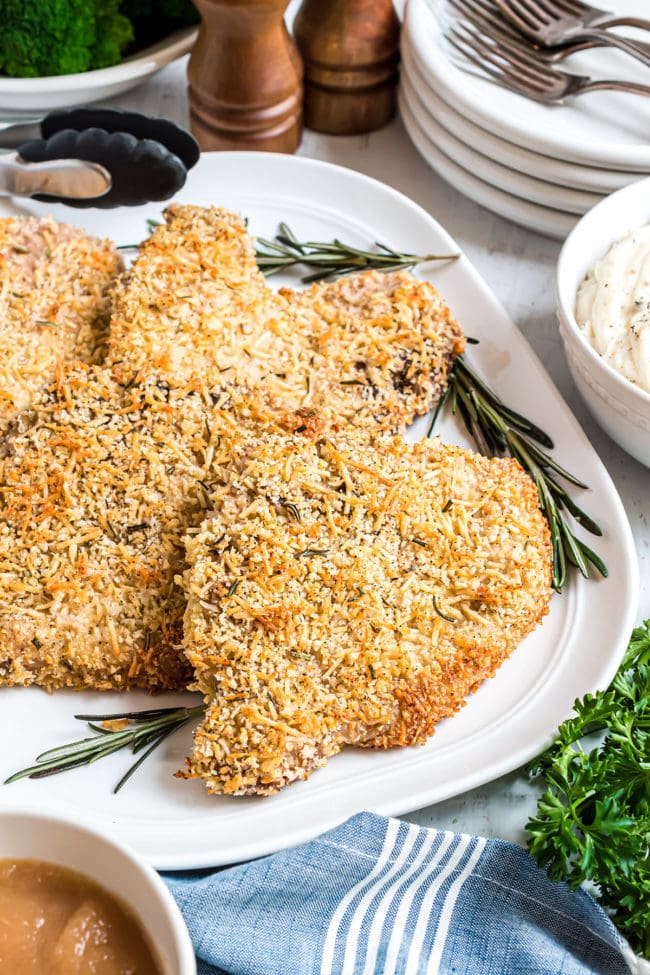 Recipe Notes And Tips
One of the best tips for getting a perfectly cooked pork chop is to allow your chops to come to room temperature before cooking. When it comes to baked pork chops in the oven, the #1 question is always, "Why are my pork chops dry?" Read on for other baked pork chop tips too…
When pork is cold, the surface has to stay hotter longer to raise the internal temperature to a safe 145°F. The longer it's heated, the drier the meat becomes as moisture evaporates.
Fat takes longer to heat than lean tissue. The fat around a good pork loin chop insulates because it doesn't heat as quickly, plus all that wonderful flavor, and keeps baked pork chops from drying while cooking.
Having the bone in a pork chop adds additional flavor and, along with the fat, aids in even heating. Also excellent for moist and juicy on the inside and a crunchy parmesan crust on the outside.
Set your chops out for a minimum of 10-15 minutes to remove the chill before preparing to coat with the parmesan crust mixture. If your chops are 1" or thicker, give them 30 minutes, up to an hour.
Don't overcook! There is a lot to be said for residual heat when it comes to pork chops. One of the best ways to cook pork chops in the oven is to pull them when they reach 135°F to 140°F and let them sit. Within a few minutes, the internal temp will reach 145°F.
Once your pork chops have cooked in the oven, move them to a serving plate, cover loosely with foil, and allow the meat to rest for five minutes. This will allow the proteins to relax as they rest, allowing juices to evenly redistribute yielding tender, juicy chops.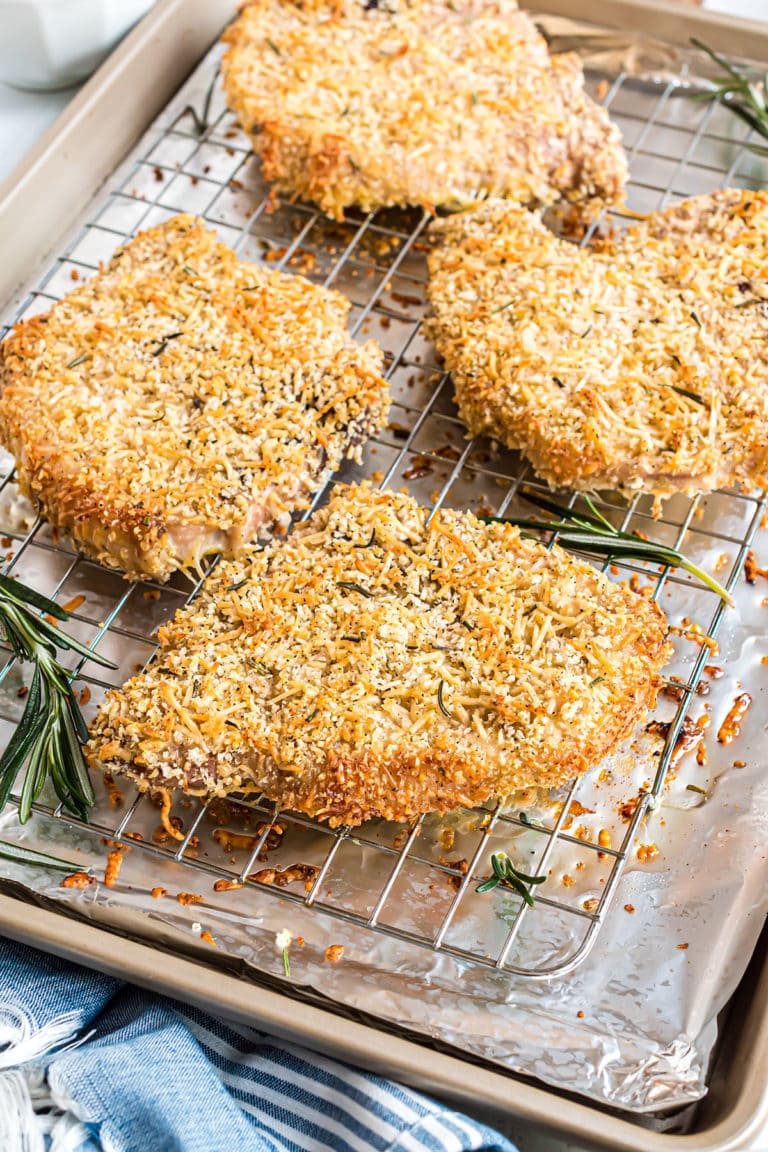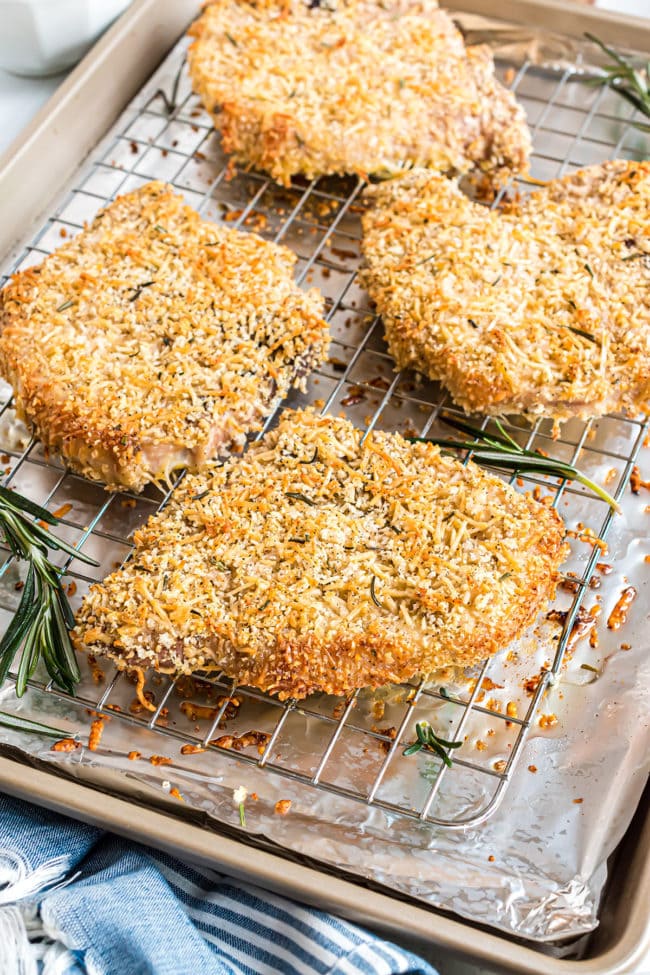 How To Store Parm-Crusted Pork Chops
Leftover pork chops should be cooled down to room temperature before storing. Wrap them tightly in plastic wrap or aluminum foil, or place them in an airtight container
Refrigerate/Leftovers
Refrigerate the wrapped or containerized pork chops, and they can stay fresh for up to three days.
Freeze
For longer storage, consider freezing them. To freeze, individually wrap the pork chops in plastic wrap or foil, then place them in a freezer-safe bag.
Reheat
When reheating crusted pork chops, take the chill off first, 10-15 minutes, then warm them in the oven for 10-15 at 350°F (175°C) to preserve their crispy exterior. Alternatively, use the microwave in short intervals at medium power, flipping the chops to avoid overcooking.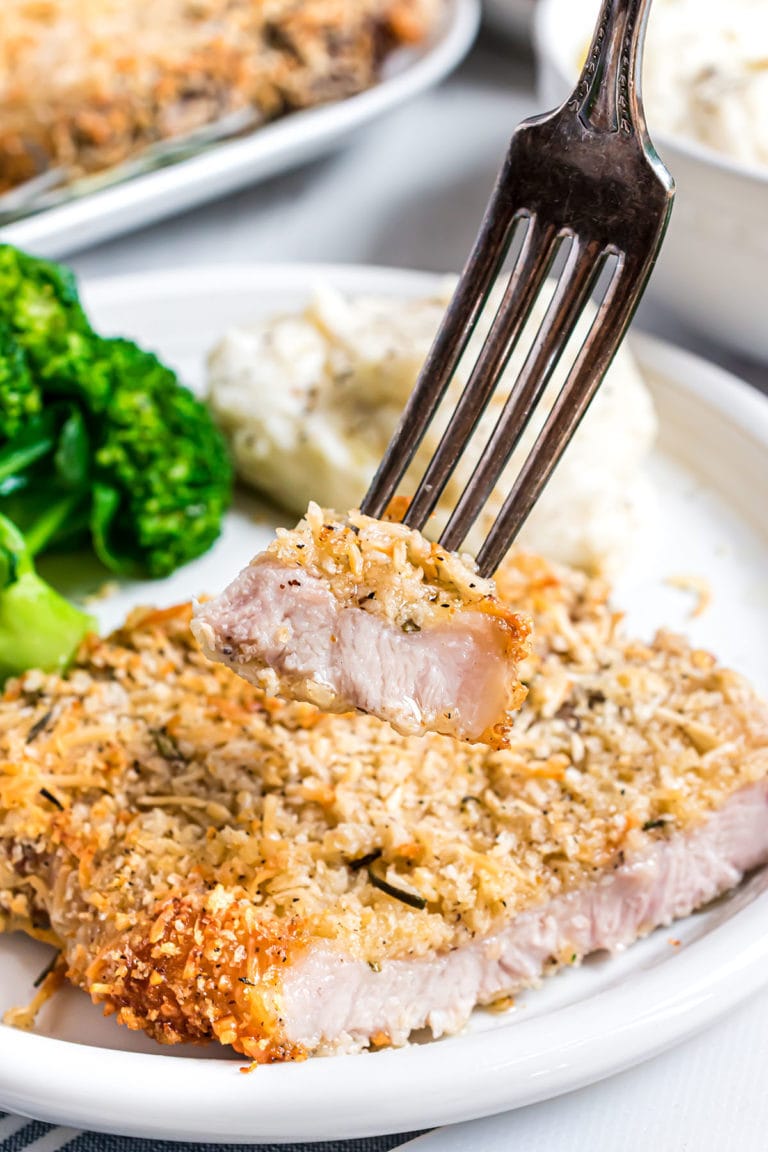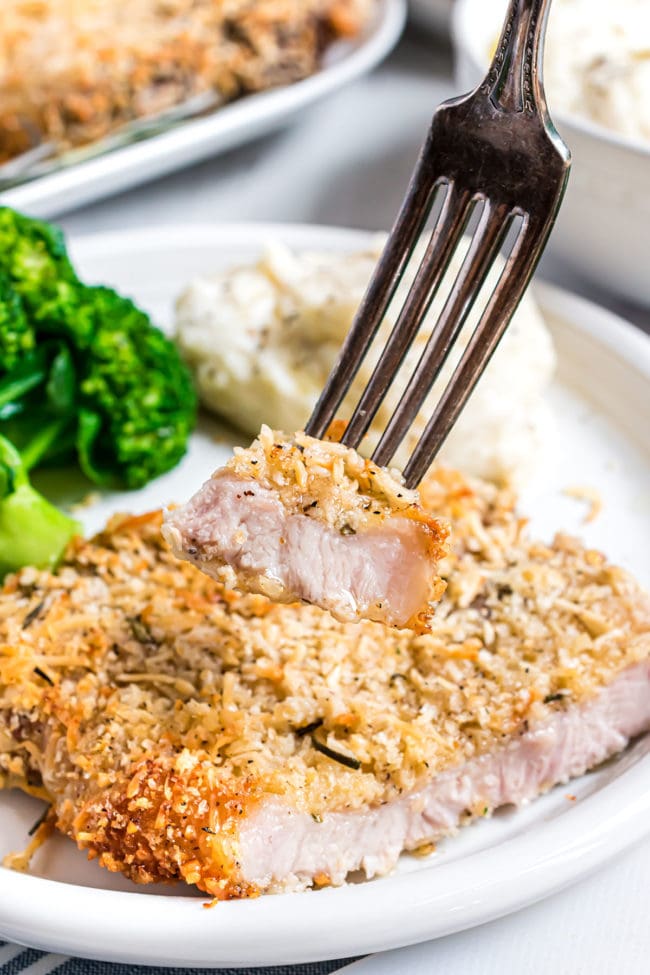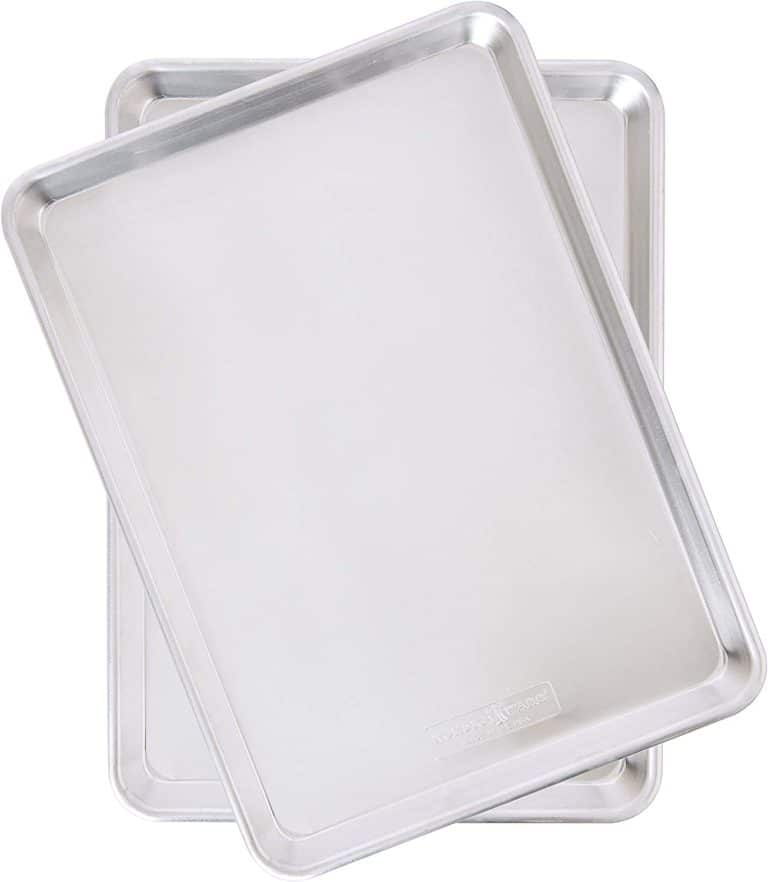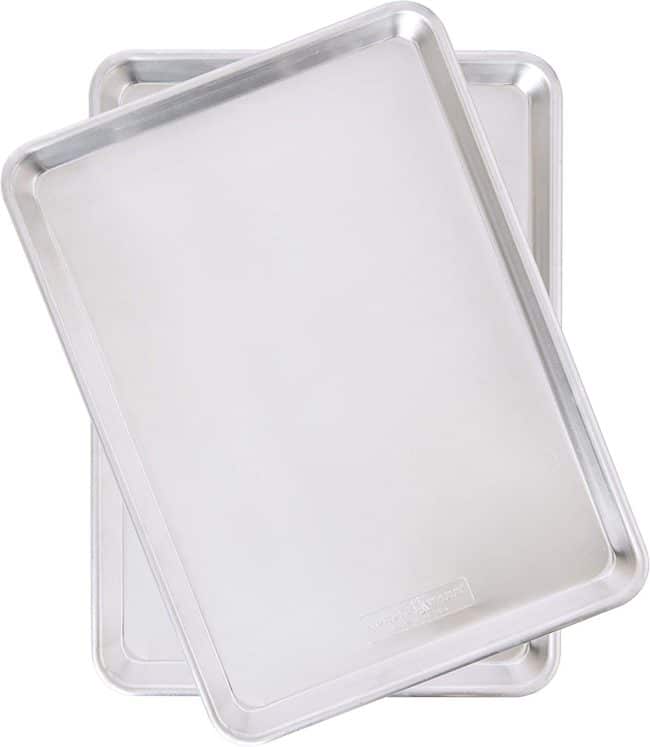 Featured Product Aluminum Half Sheet Pans
These are my favorite sheet pans! They will never rust for a lifetime of durability. Perfect for sweet or savory baking; from cookies to sheet pan dinners, this is the pan you'll reach for.
FAQs
What is the secret to the juiciest pork chops?
The secret to the juiciest pork chops is twofold. One, don't overcook! A meat thermometer is your best weapon to avoid dry chops! Two, let the meat rest long enough for the proteins to relax and reabsorb the juices. Cutting into a pork chop too soon will cause the juices to run out.
What is panko?
Panko is Japanese-style bread crumbs that are light and crunchy. Unlike traditional breadcrumbs, panko breadcrumbs have a larger, flakier consistency that helps create a deliciously crunchy crust. It is made from dried, flaked white bread for an airer bread crumb, typical of Japanese tempura. Panko bread crumbs are very popular for lots of crisp baked dishes, like Crispy Baked Chicken Tenders and Crusted Lemon Tilapia.
Can I use breadcrumbs instead of panko breadcrumbs?
Yes, you can use breadcrumbs instead of panko breadcrumbs. However, panko breadcrumbs will give the pork chops a more crispy crust. If you do use breadcrumbs, make sure they are dry before using them. Wet breadcrumbs will make the crust soggy.
Can I make the Parmesan crust gluten-free?
Absolutely! If you're following a gluten-free diet, you can use gluten-free panko breadcrumbs instead and check that the seasoned salt is also gluten-free.
Can I substitute fresh rosemary with dried rosemary?
Yes, you can substitute dried rosemary for fresh, but keep in mind that dried herbs are more potent, so adjust the quantity to your taste and use about one-third of the amount for fresh rosemary.
Serving Suggestions
I love these fuss-free Parmesan-crusted pork chops, and I've got a handful of other quick and easy recipes that are easy to throw together for a family-friendly meal. Take the guesswork out of dinner and try a couple of these side dish and dessert recipes:
Like This Recipe?
I'd love to hear what you think! Leave a review below and let me know how you liked the recipe!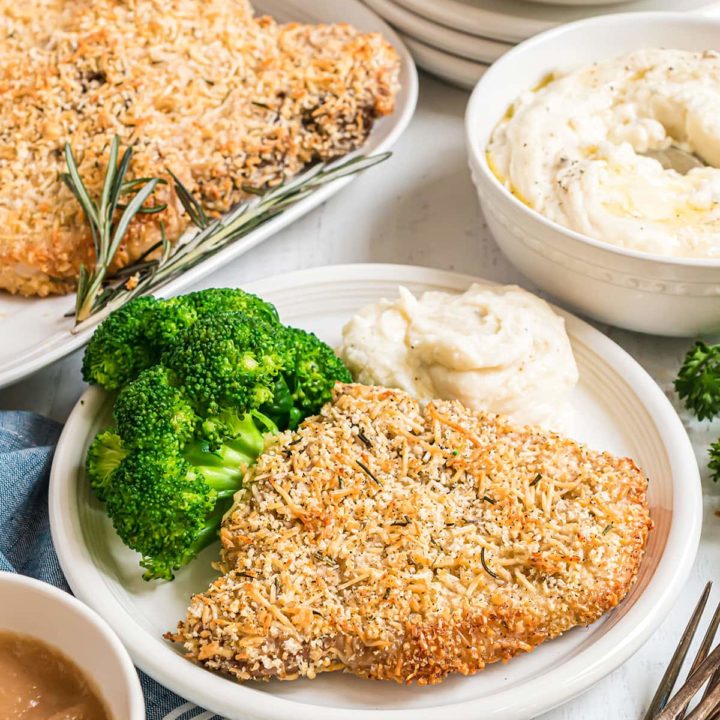 Oven Baked Parmesan Pork Chops
Yield: 4 servings
Prep Time: 10 minutes
Cook Time: 30 minutes
Total Time: 40 minutes
Oven-Baked Parmesan Pork Chops is just the recipe for an easy weeknight meal. Juicy, seasoned pork coated in extra crispy panko breadcrumbs is the secret to tender flavorful pork chops every time.
Ingredients
½ cup panko
1 cup shredded Parmesan cheese
1 tablespoon fresh chopped rosemary
1 tablespoon seasoned salt
1 teaspoon pepper
2 eggs, lightly beaten
1 tablespoon milk
4 pork loin rib chops (​​about 1-inch thick)
Instructions
Preheat oven to 375° F. Line a baking sheet with foil and add a roasting rack or wire cooling rack to the pan.
Combine panko, Parmesan, rosemary, salt, and pepper in a large shallow dish or pie pan. Combine beaten egg and milk in another dish.
Dip each pork chop into the egg mixture, letting the excess drip off. Then dip chop into the panko mixture, pressing to adhere if necessary.
Place pork chops on the prepared baking sheet and bake for 30 minutes or until internal temp reaches 140°F and breading is golden brown. *If you like a nice crisp crust, you can turn the oven to broil for the last 2 minutes, just keep a close eye on them so they don't burn.
Remove the chops from the oven, loosely cover them with foil, and allow to rest for 5 minutes and reach 145°F. Serve with your favorite sides.
Notes
Set your chops out on the counter for 10-15 minutes to get the chill off before cooking. This will assure that they cook evenly.
Bone-in chops are our favorite and have more flavor, but boneless chops will work too. Just be aware that boneless pork chops are super lean, so the cooking time will be shorter.
Nutrition Information:
Yield: 4
Serving Size: 1
Amount Per Serving:
Calories: 375
Total Fat: 19g
Saturated Fat: 8g
Trans Fat: 0g
Unsaturated Fat: 9g
Cholesterol: 185mg
Sodium: 1663mg
Carbohydrates: 12g
Fiber: 1g
Sugar: 1g
Protein: 37g
Nutrition information is estimated based on the ingredients and cooking instructions as described in each recipe and is intended to be used for informational purposes only. Please note that nutrition details may vary based on methods of preparation, origin, and freshness of ingredients used and are just estimates. We encourage, especially if these numbers are important to you, to calculate these on your own for most accurate results.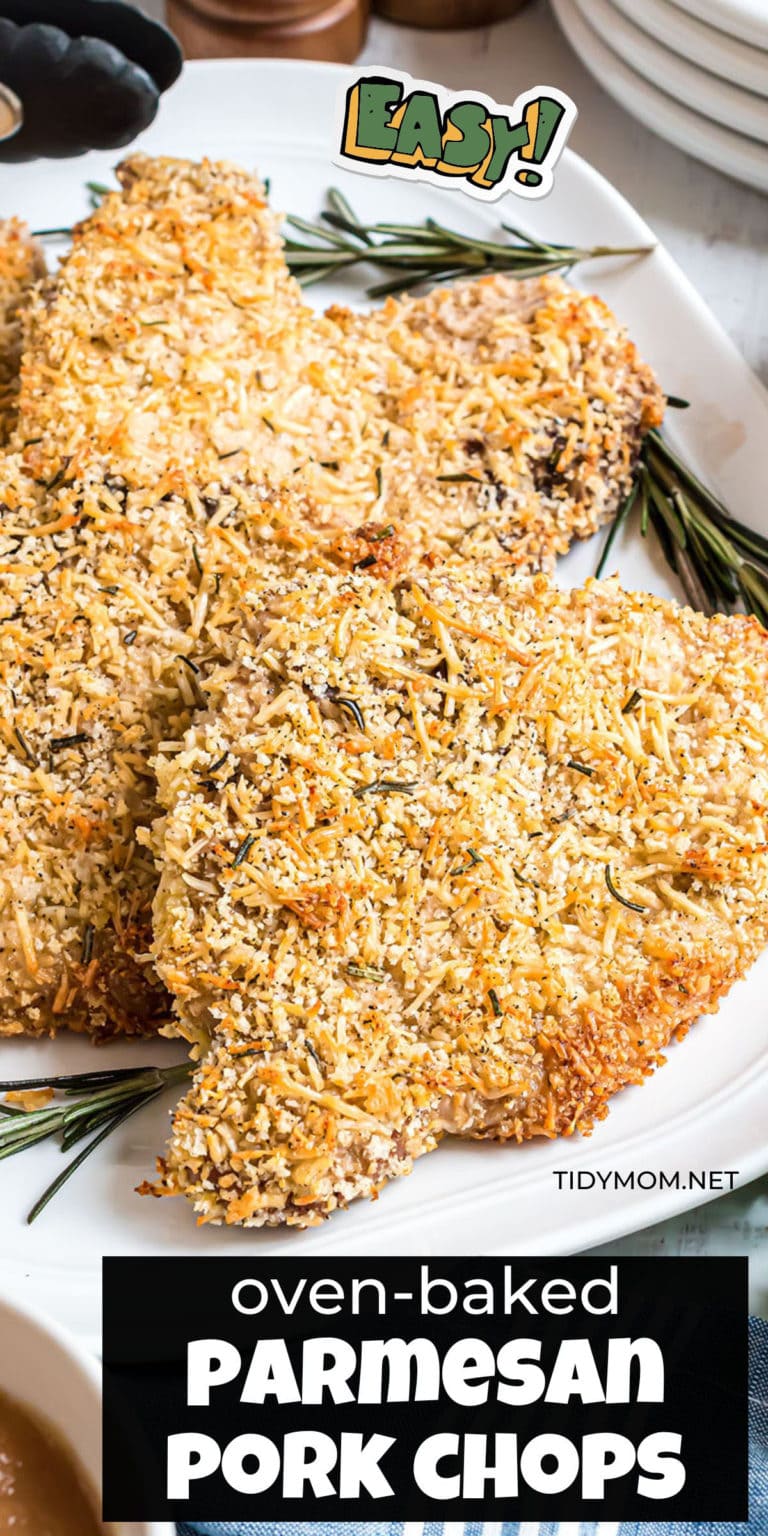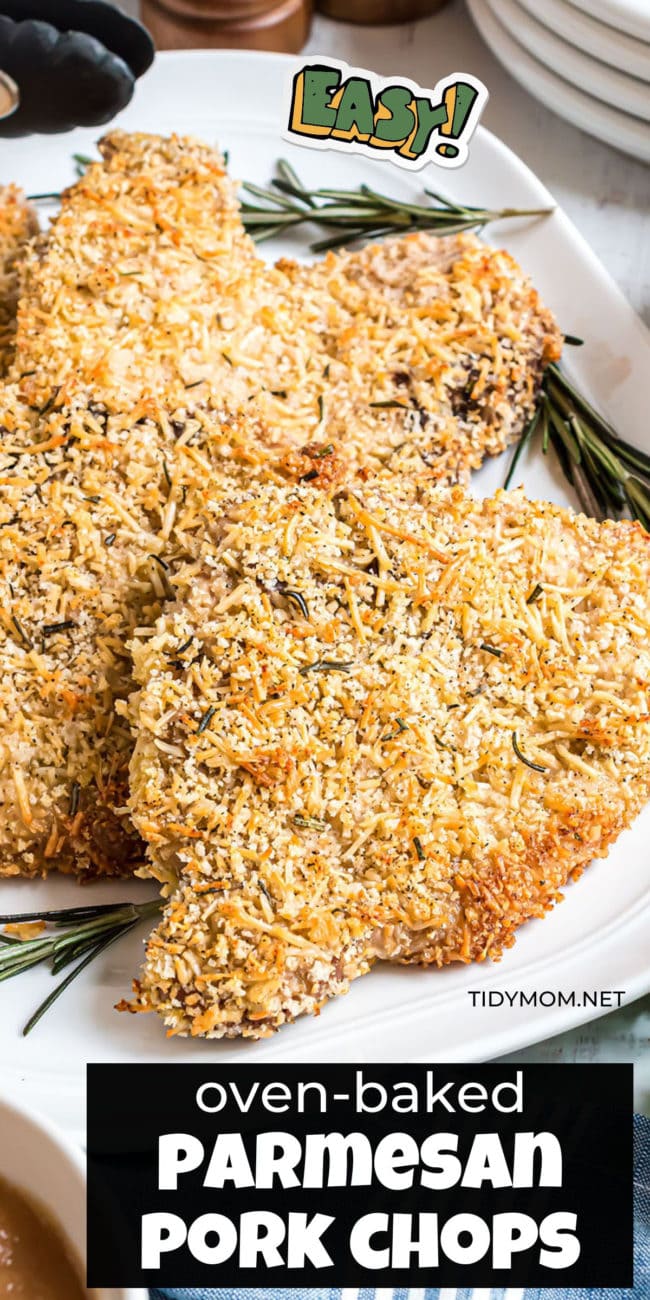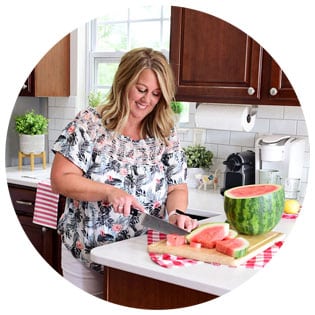 Hi there, I'm Cheryl!
As a wife, mom, and caffeine enthusiast, my journey has taken me from bustling mornings with my family to sharing delicious recipes, home care tips, and heartfelt decorating insights with wonderful readers like you. My love for baking, photography, and tidiness shines through every post I craft. Dive into my world and discover the art of homemaking, one tidy moment at a time. Read more...
Tidymom is a participant in the amazon services llc associates program, an affiliate advertising program designed to provide a means for sites to earn advertising fees by advertising and linking to Amazon.com.
Please respect my work, recipes and photographs. If you do use a recipe in your own writing, please give proper credit and link back to the original post.