Cheesy Roasted Tomatoes Recipe With Mozzarella & Parmesan
Cheesy Roasted Tomatoes – a delicious and flavorful side dish that will go with just about anything! Succulent tomatoes roasted with parmesan and mozzarella to golden, bubbly perfection that tantalizes the palate with fresh basil.
Be sure to sign up for my email… to get new recipes and ideas in your inbox!
There's nothing like sweet flavor-packed tomatoes in the summertime! The intensified sun-ripened flavor is the star of this cheesy roasted tomato recipe with melty mozzarella and tangy parmesan cheese. A savory sliced tomato side dish must-have that holds its own as an appetizer too!
Why You'll Love Roasted Tomatoes And Mozzarella
Quick & Easy Cheesy roasted tomatoes come together in minutes.
Roasted cheesy tomatoes are a unique side dish and make a delicious savory appetizer.
Roasting tomatoes intensifies their sweetness and makes them extra juicy.
Nothing fancy, but oh so delicious!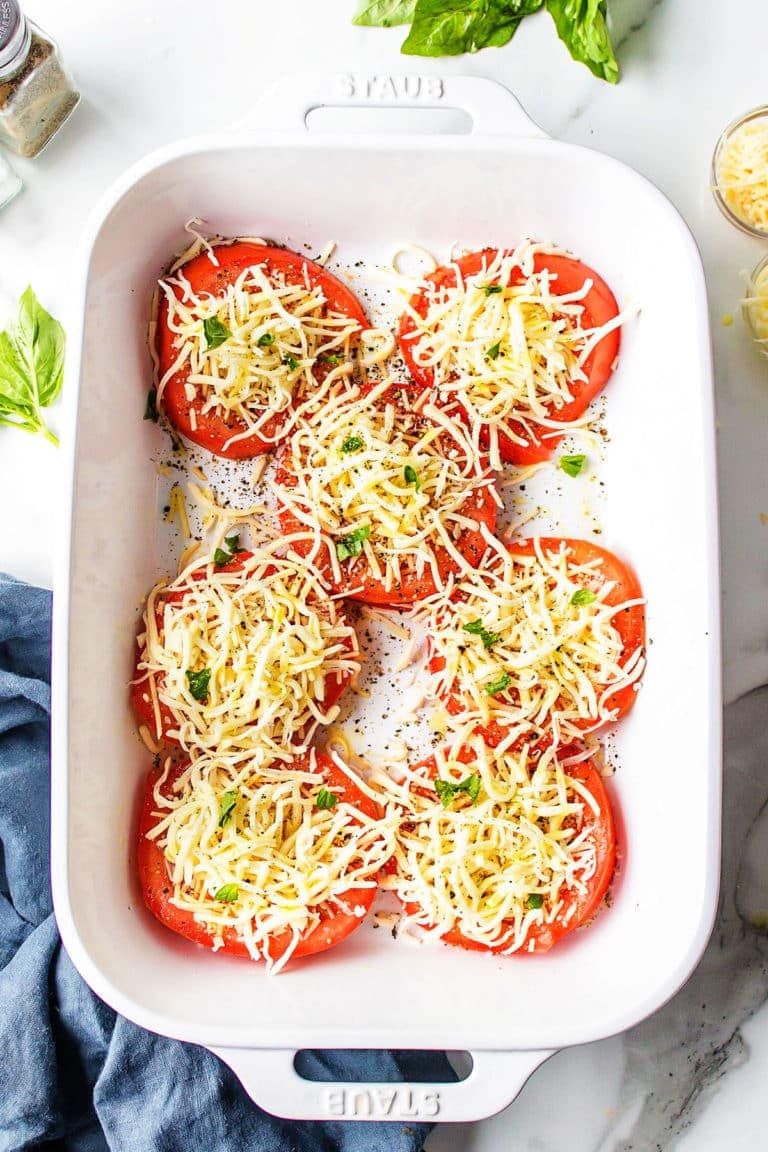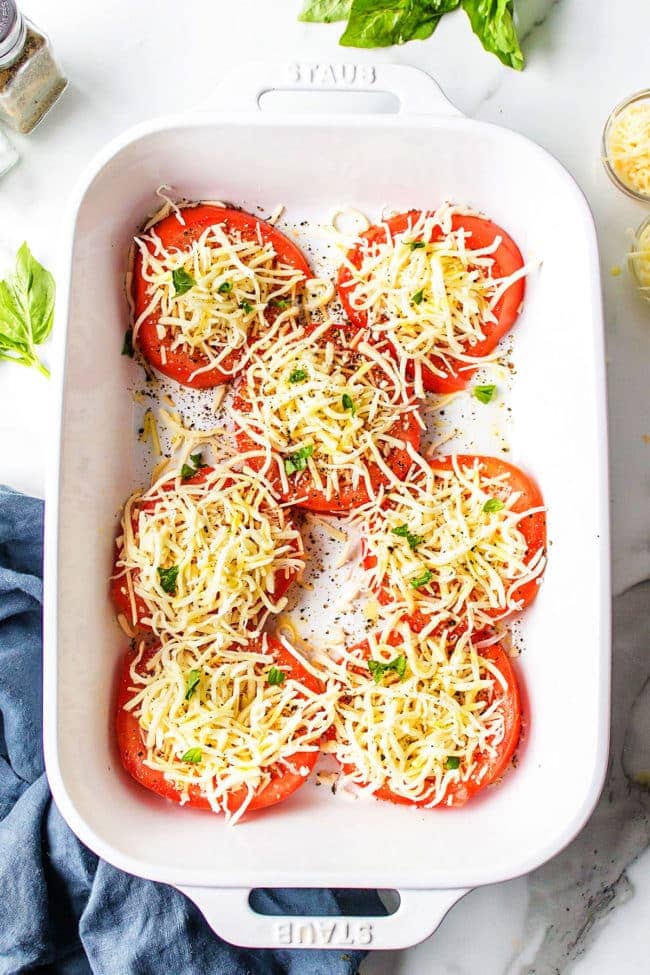 Ingredients For Cheesy Roasted Tomatoes
If you are fortunate to have a farmer's market near you or are blessed with a red thumb to grow your tomatoes, this roasted tomato side dish recipe is calling your name! It's so delicious and versatile; even tomatoes from your local grocer won't disappoint!
Fresh Tomatoes – You'll want to use large vine-ripened tomatoes like beefsteak or heirloom varieties that stand up well when sliced and roasted with cheese.
Parmesan Cheese – Salty, tangy, and rich in flavor, use authentic shredded or shaved Parmigiano-Reggiano
Mozzarella – Mild and in buttery flavor; use whole milk, low-moisture (not low-fat or skim) mozzarella. It gets credit for the golden bubbly melting action on cheesy baked tomatoes.
Fresh Basil – Don't refrigerate, fresh basil keeps better at room temperature. Place the basil in a glass of water, as you would flowers, and keep on your counter until ready to use.
Extra Virgin Olive Oil – A drizzle of EVOO on roasted tomatoes with mozzarella and parmesan cheese adds moisture and helps lift and unify the flavors.
Kosher Salt & Fresh Ground Pepper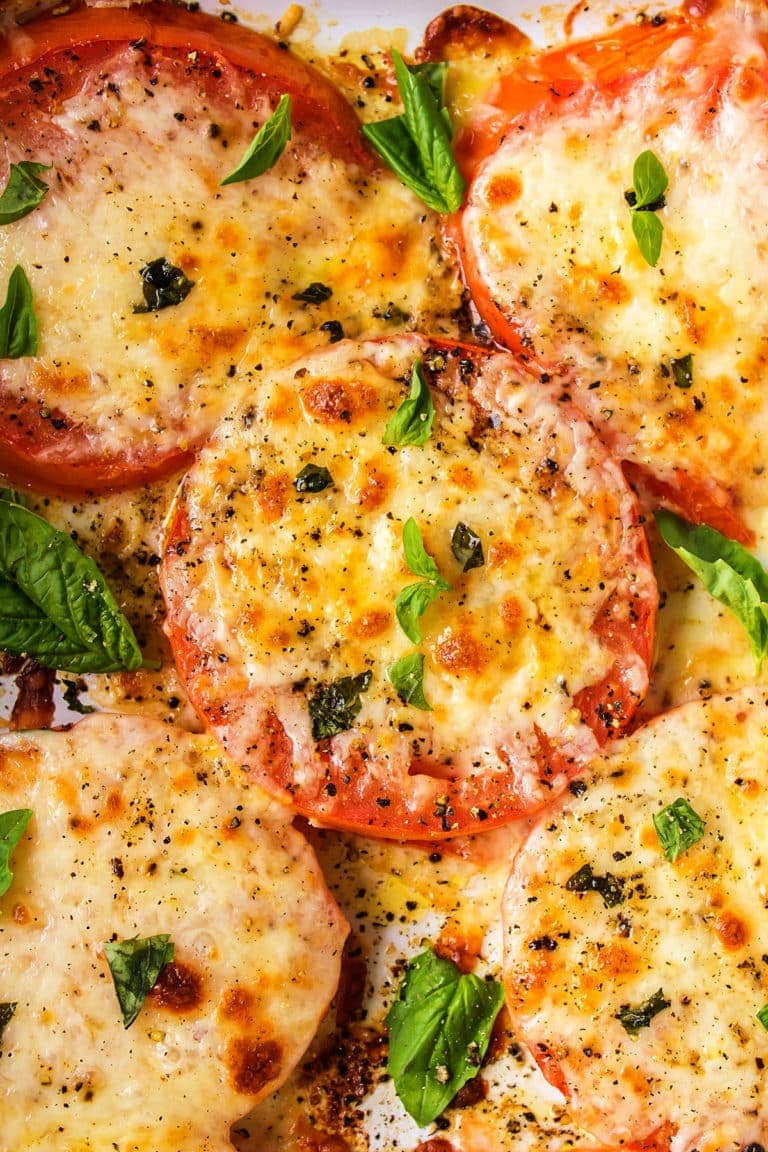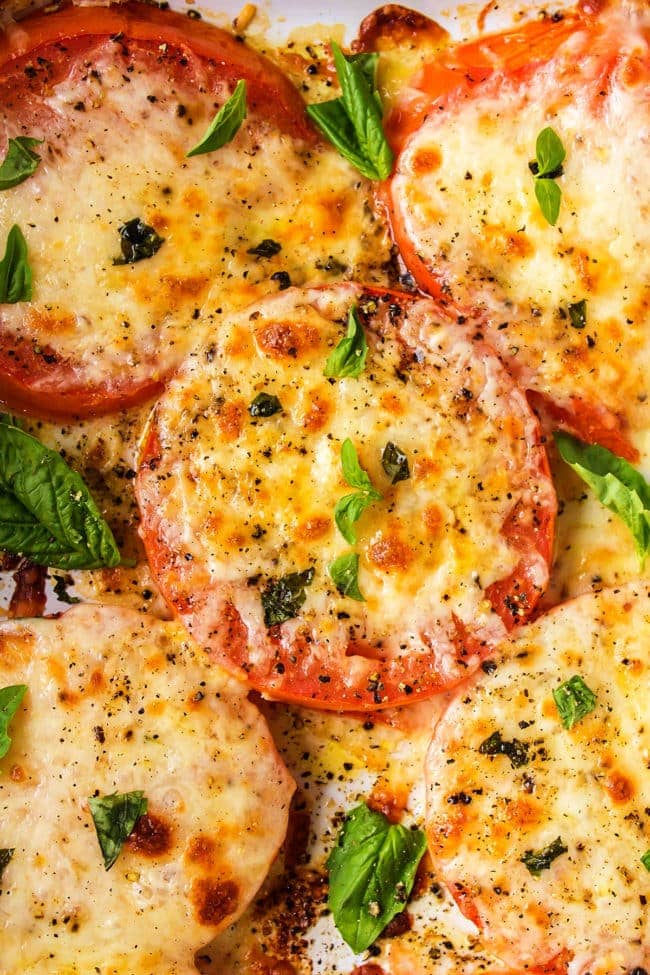 How To Make Cheesy Roasted Tomatoes
(full printable directions at the end of this post)
Slice tomatoes and place them in a single layer in a baking dish.
Season with kosher salt, layer parmesan, mozzarella, basil, and pepper.
Drizzle extra virgin olive oil.
Roast in the oven for 10 minutes until tomatoes are tender and the cheese melts.
Broil roasted tomatoes for 2-3 minutes until the cheese is golden and bubbly.
Garnish with fresh basil, and serve!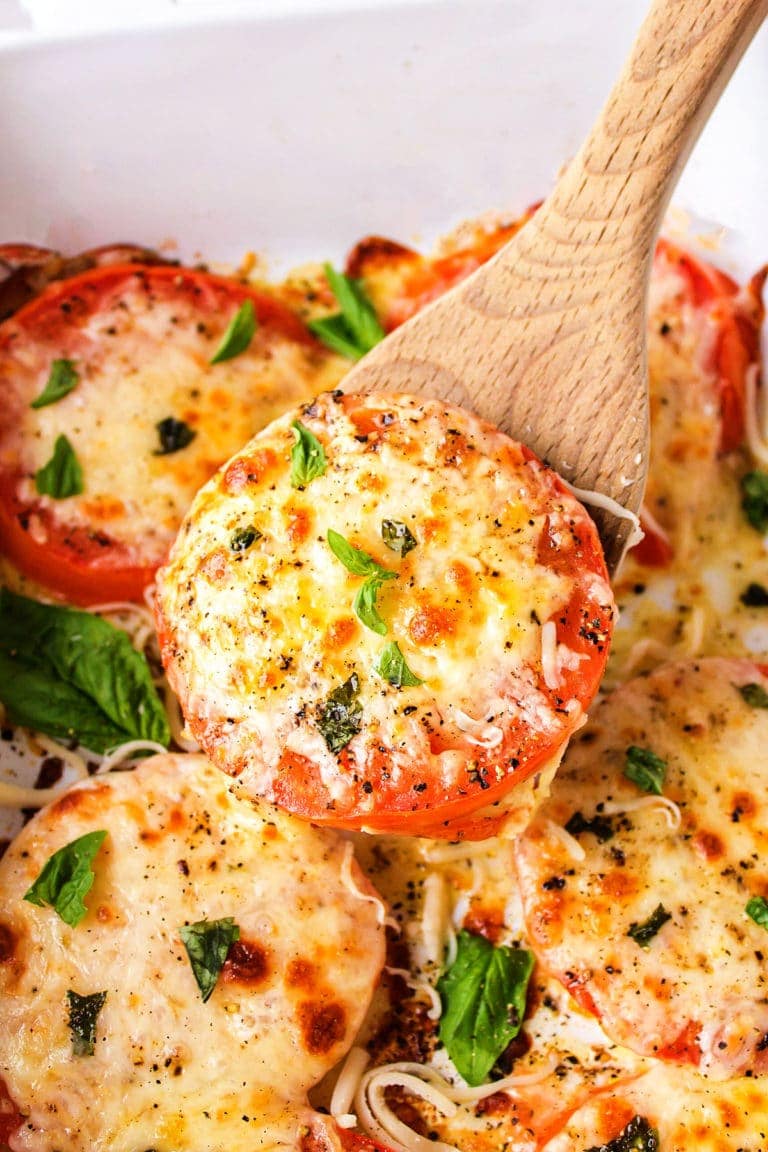 Cheesy Substitutions, Add-Ons, and Notes
Roasted tomatoes with parmesan cheese are easy to change up by using different ingredients you have around or need to use up.
Other Options For Cheesy Roasted Tomatoes
While I love the melt-in-your-mouth combination of mozzarella and parmesan on cheesy baked tomatoes, I bet there are lots of cheesy combos that are superb. A few suggestions: queso fresco, white cheddar, goat cheese, feta, and smoked provolone. Yum!
Mix it up with fresh herbs to suit your tastes (or pantry/fridge inventory) in place of basil on roasted tomatoes.
A single spice can add an ethnic flair:
Cumin
Curry Powder
Red Pepper Flakes
Garlic
Italian Seasoning
When you want to go a bit fancier, say the in-laws are coming, sprinkle smokey applewood bacon bits and sliced green onions. It will look pretty too!
Roasted Tomato Recipe Notes
For even more flavor, sprinkle tomatoes with a little Italian Seasoning blend before adding the cheese.
Try cheesy roasted tomatoes with a little drizzle of balsamic glaze when serving.
Swap kosher salt for garlic salt or smoked sea salt.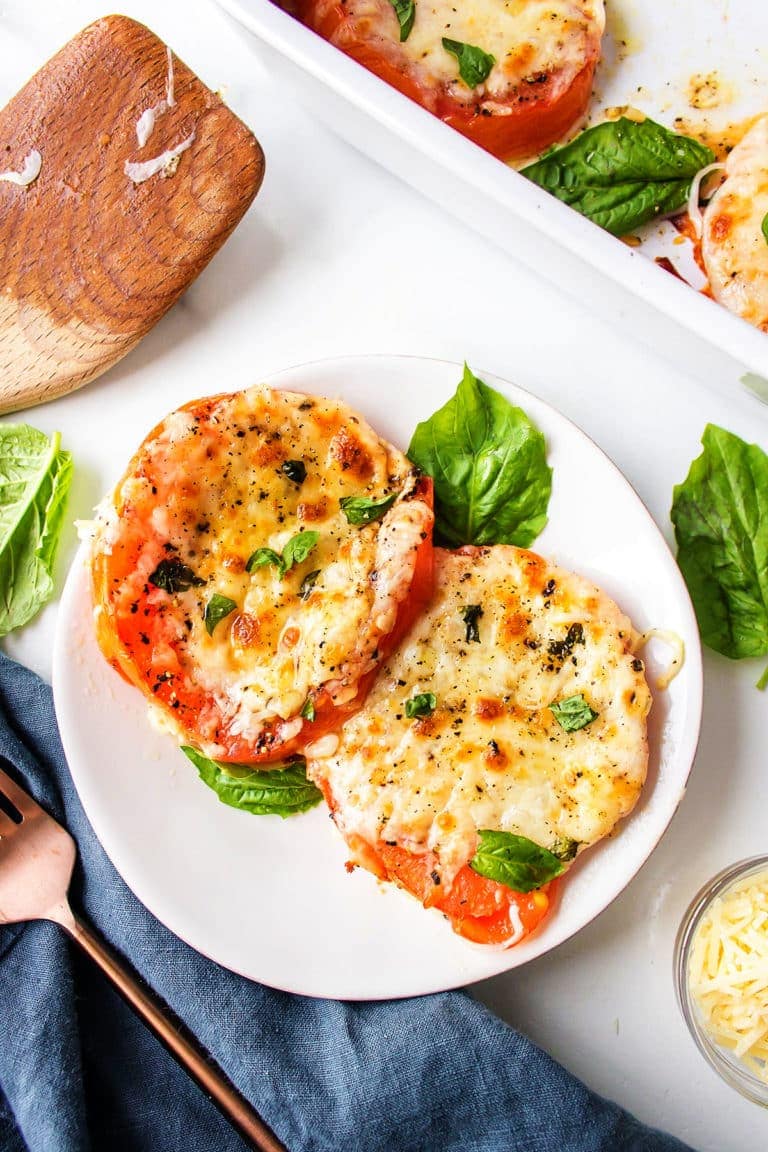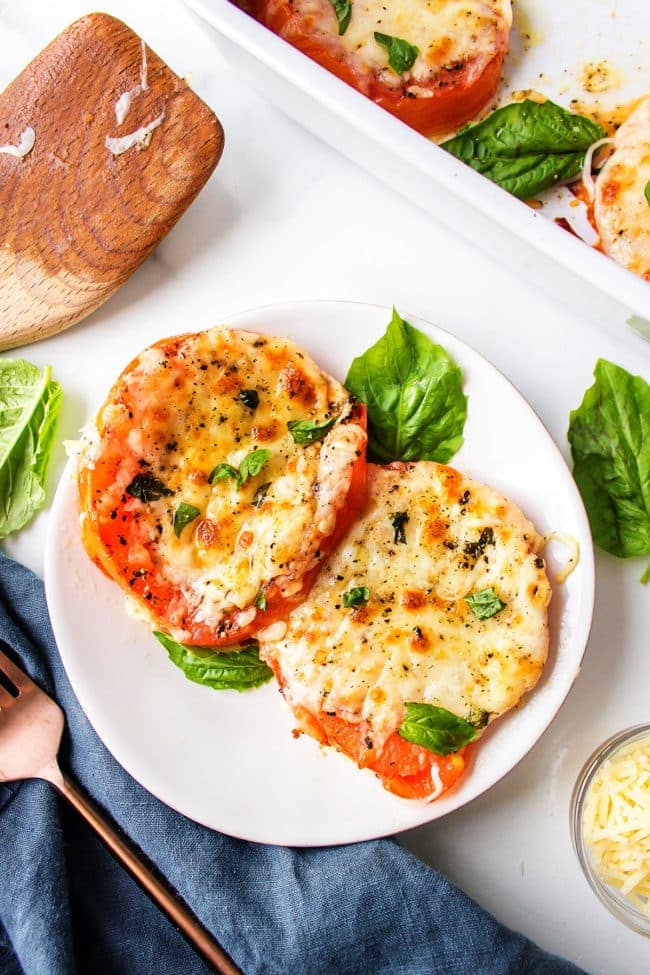 Roasted Tomato Recipe (Cheesy Baked Tomatoes) FAQs
What is the difference between baking and roasting?
The temperature you cook the food and the initial form or structure of the food. Both cooking techniques use dry heat to attain their goal, but even though we use the terms roast and bake interchangeably, there is a distinct difference.
The simplest way to explain it is that one technique (roasting) "breaks down" food in the cooking process while the other (baking) builds it up. Structured foods like a roast, baked potatoes, or in this case, tomatoes, are broken down as they cook (collagen, cell walls, etc.). But, when we create lovely baked goods and cakes, we "build up" as ingredients bond/rise/grow and take on a form.
Chef's Note: Baked foods typically cook at or below a 375°F threshold. Roasted food cooks at a much higher temperature, hanging around the 450°F mark.
Can I use cherry tomatoes for this roasted tomato side dish?
Yes, absolutely! For roasted cherry tomatoes, halve and keep in a single layer if possible. You might need to adjust the roasting time.
I say go for it and use any variety of tomatoes you like when making a recipe for roasted tomatoes. Many cooks prefer Campari tomatoes, but during the summer months, I like to find tomatoes locally grown.
Do I have to use extra virgin olive oil on cheesy roasted tomatoes?
You should. EVOO is the best choice for a couple of reasons. First, real EVOO withstands higher roasting temperatures and remains more stable than other oils with higher smoke points. This is due to the monounsaturated fats and antioxidant content.
Secondly, although EVOO can add fragrant peppery and fruity notes to lighter-tasting baked goods, it does not have a discernable negative impact on savory or distinctly flavored ingredients. EVOO actually adds extra depth to roasted tomatoes.
Chef's Note: Virgin avocado oil and coconut oil are similar to EVOO and suitable substitutes. For this roasted tomato recipe, avocado oil is better suited because the flavor of coconut oil will overpower it.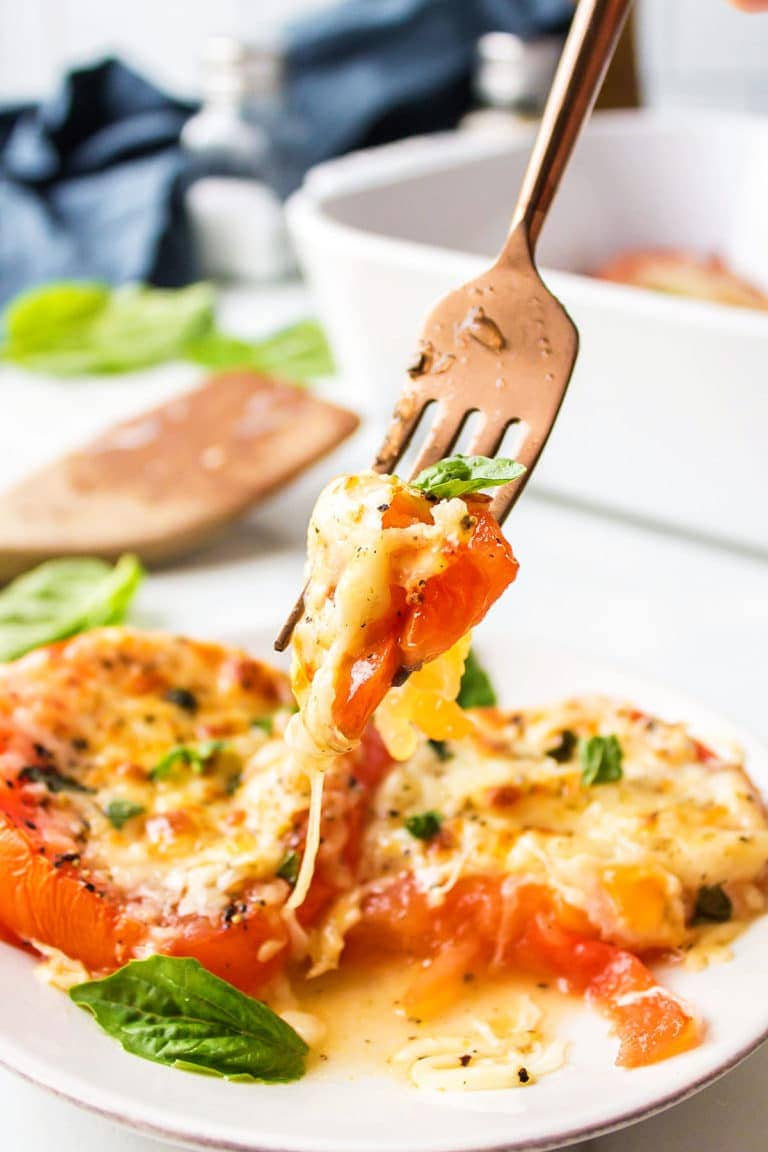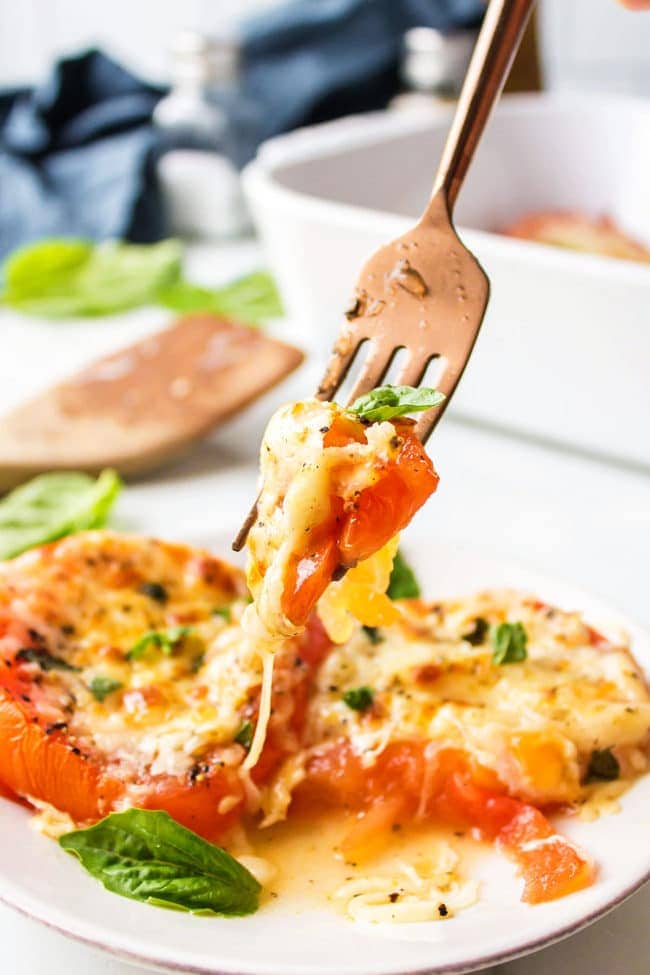 How to Store Roasted Tomatoes
Leftovers
Cooked/roasted tomatoes can be left out at room temperature for up to two hours. Leftover cooked tomatoes can be stored in an airtight container in the refrigerator for 3-5 days.
How to Freeze
Roasted tomatoes can be frozen to use in other dishes such as soups, stews, chili, and pasta sauce. Simply chop up the tomatoes and place them in an airtight container for 10-12 months.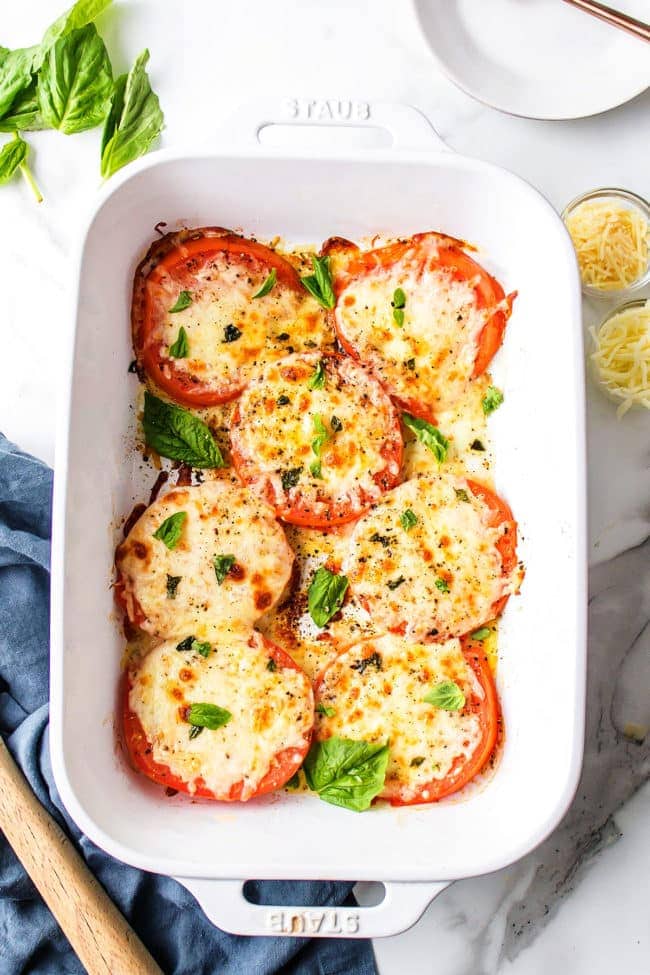 Serving Suggestions
serve as a side dish with your favorite meal such as steaks, burgers, pulled pork, turkey, or salmon.
serve as a side dish or appetizer
can you imagine these cheesy tomatoes on your next burger?
use leftovers in a salad or on a toasted baguette
DID YOU KNOW?!

Tomatoes retain their taste and texture best when stored at room temperature.
Like This Recipe? Pin It!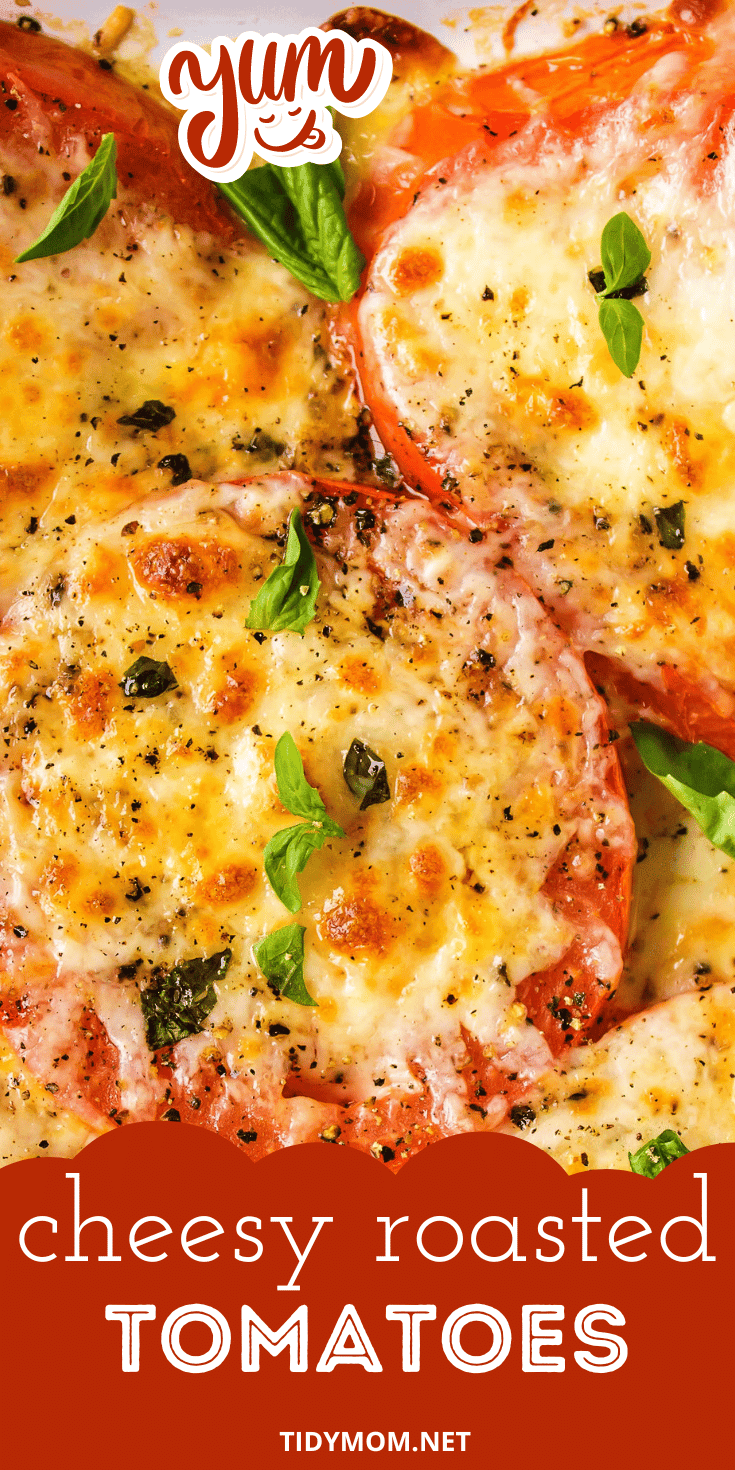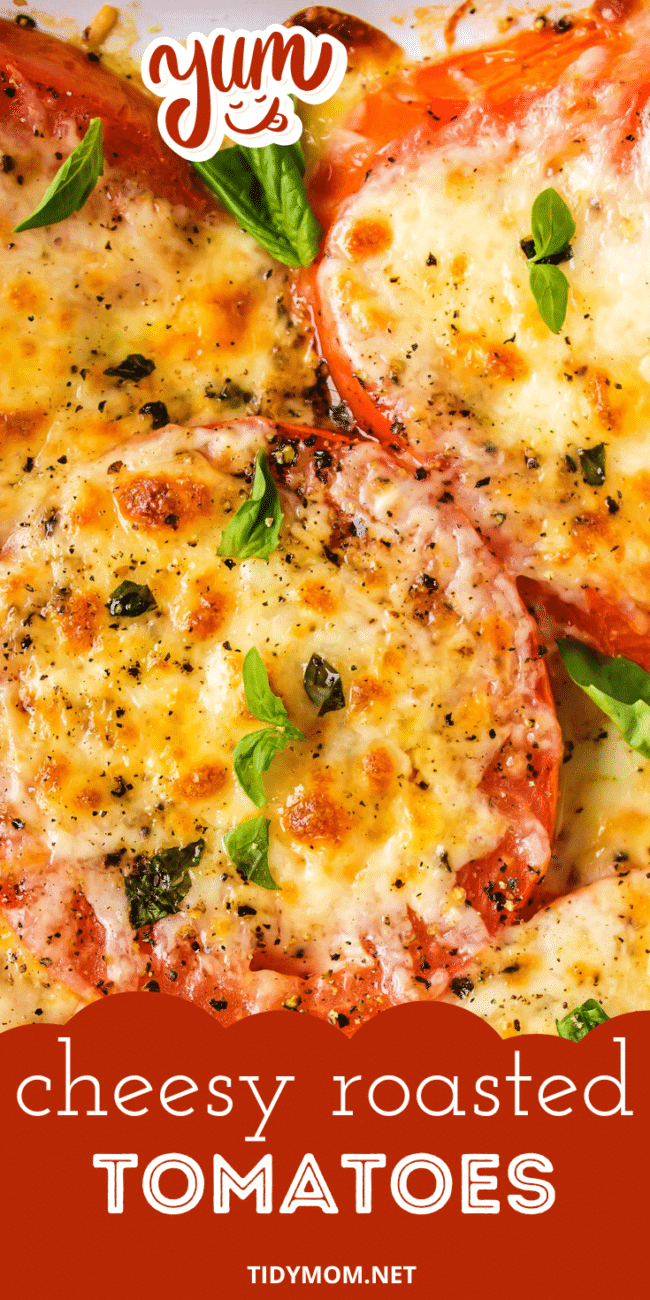 Originally posted in October 2009. UPDATED November 2018 and September 2023. We spiffed up this post with more information and 1 change to the recipe: I now use white chili beans in place of cannellini beans.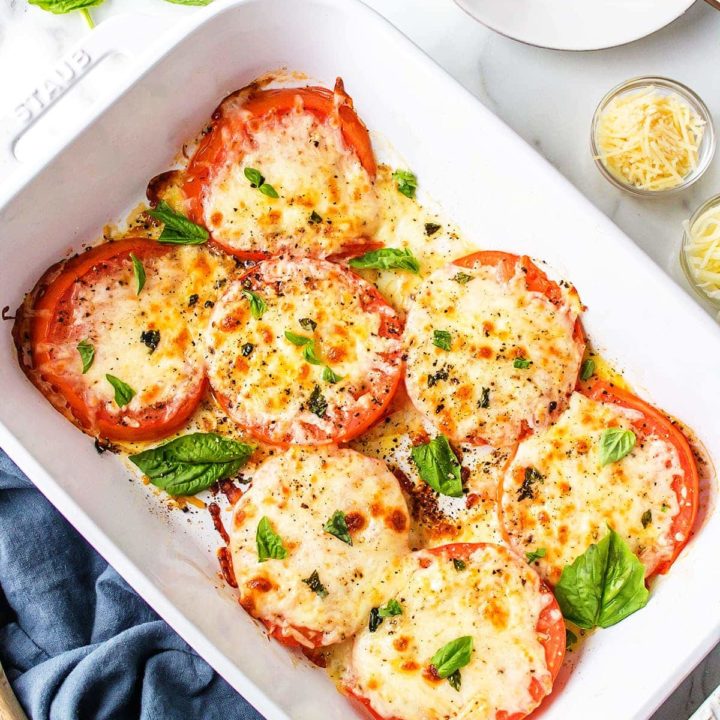 CHEESY BAKED TOMATOES
Yield: 3-4 servings
Prep Time: 5 minutes
Cook Time: 12 minutes
Total Time: 17 minutes
A delicious and flavorful side dish can be on the table in 15 minutes and will go with just about anything.
Ingredients
2 large tomatoes
Kosher salt (to taste)
3/4 cup fresh shredded parmesan cheese
3/4 cup shredded mozzarella
1/2 cup fresh basil, chopped
fresh ground pepper
Extra Virgin Olive Oil
Instructions
Preheat the oven to 450° F
Cut the tomatoes into slices, approximately 1/3 to 1/2 -inch thick.
Place tomato slices in a single layer in a baking dish.
Season with kosher salt, then top with parmesan, mozzarella, basil, and pepper. Lightly drizzle with olive oil.
Bake in the center of the oven for 10-12 minutes, or until tomatoes are tender and the cheese is melted. Then switch the oven to broil for 2-3 minutes to brown the cheese. Don't overbake, or the tomatoes will become mushy.
Garnish with fresh basil and serve!
Notes
Sprinkle tomatoes with a little Italian Seasoning blend before adding the cheese for even more flavor
Try these baked tomatoes with a little drizzle of balsamic glaze when serving.
Swap kosher salt for garlic salt or smoked sea salt.
Nutrition Information:
Yield: 4
Serving Size: 1
Amount Per Serving:
Calories: 159
Total Fat: 11g
Saturated Fat: 5g
Trans Fat: 0g
Unsaturated Fat: 5g
Cholesterol: 21mg
Sodium: 369mg
Carbohydrates: 5g
Fiber: 1g
Sugar: 3g
Protein: 10g
Nutrition information is estimated based on the ingredients and cooking instructions as described in each recipe and is intended to be used for informational purposes only. Please note that nutrition details may vary based on methods of preparation, origin, and freshness of ingredients used and are just estimates. We encourage, especially if these numbers are important to you, to calculate these on your own for most accurate results.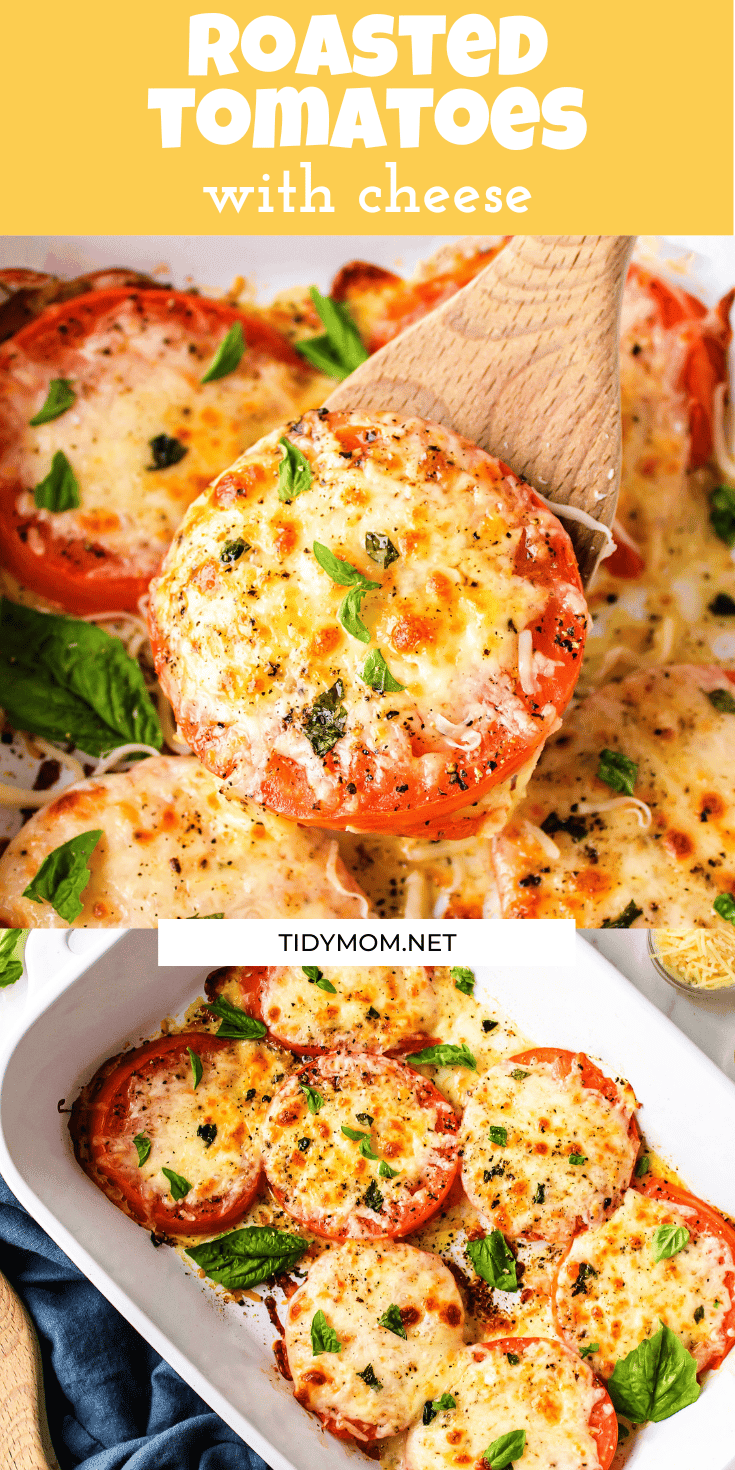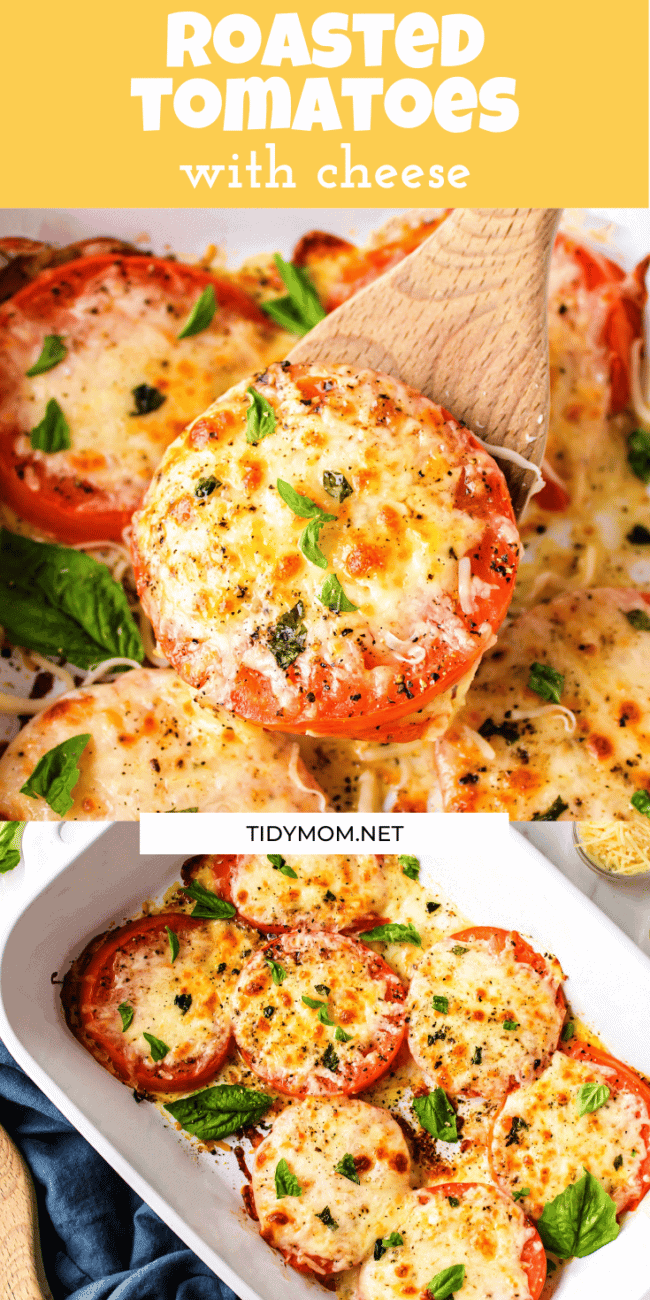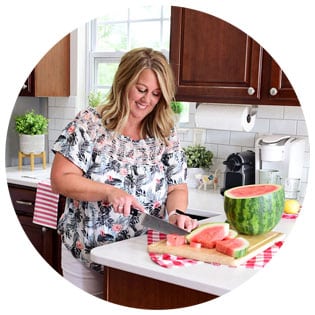 Hi there, I'm Cheryl!
As a wife, mom, and caffeine enthusiast, my journey has taken me from bustling mornings with my family to sharing delicious recipes, home care tips, and heartfelt decorating insights with wonderful readers like you. My love for baking, photography, and tidiness shines through every post I craft. Dive into my world and discover the art of homemaking, one tidy moment at a time. Read more...
Tidymom is a participant in the amazon services llc associates program, an affiliate advertising program designed to provide a means for sites to earn advertising fees by advertising and linking to Amazon.com.
Please respect my work, recipes and photographs. If you do use a recipe in your own writing, please give proper credit and link back to the original post.