Grilled Orange Fig Glazed Turkey Burgers with Creamed Feta
This post may contain Amazon or other affiliate links. As an Amazon associate, I earn from qualifying purchases.
Burgers and grilling go together like lemonade and summer because it's the perfect pairing. These Grilled Orange Fig Glazed Turkey Burgers come together in no time and are full of sweet and salty flavor when you combine a sweet glaze when grilling with a creamy feta spread on a toasted bun!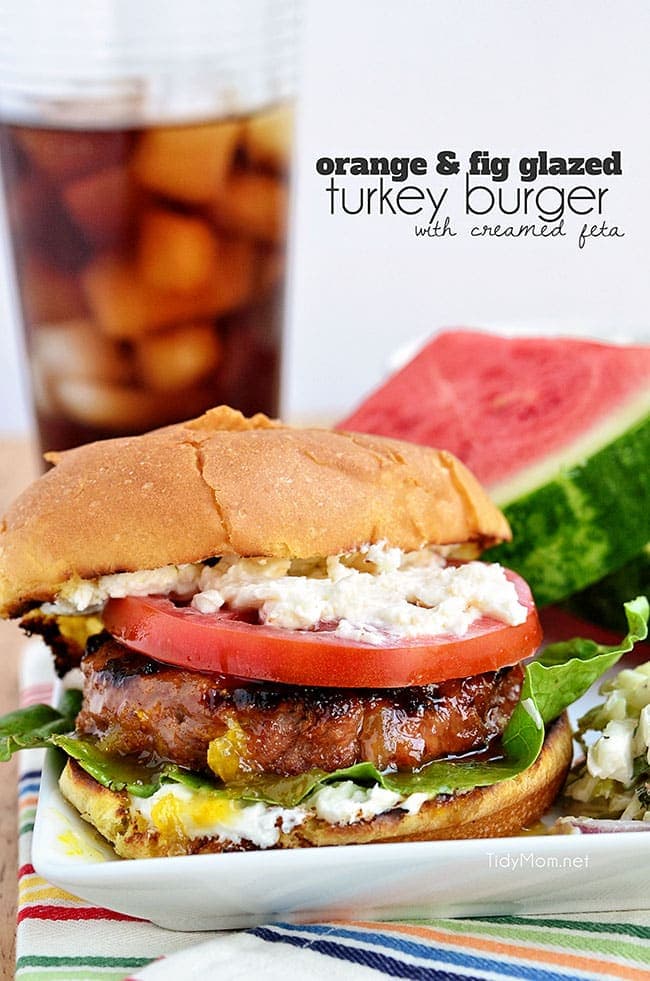 Can we just pause a minute for this turkey burger?…………isn't it one heck of a beauty?
It was SO good that I had to stop editing the photos and get up and make myself another one for lunch! Yeah, they are that good!
This burger is an explosion of flavors that all combine in a perfect balance: sweet, tangy, salty, and smoky. It's full of flavor, and texture and the best part is, it comes together super quick thanks to the turkey burgers from Butterball that you place on the grill frozen!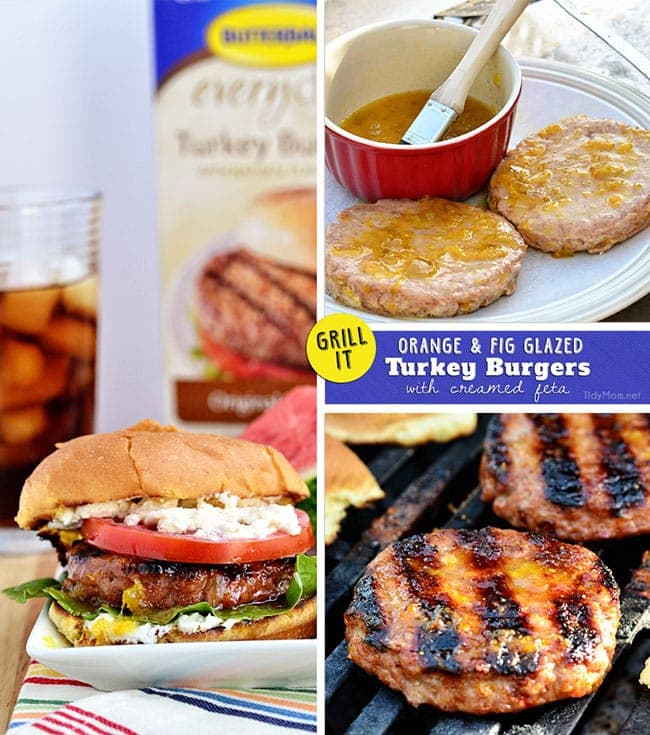 You know, one of my favorite things about working with brands and blogging is the fact that I try things that I may have never tried. Yes, I probably would have picked up one of Butterballs four varieties of frozen turkey burgers, but had they not asked me to come up with a recipe using the burgers, I would have missed out on something deliciously amazing!
Now don't get me wrong, the burgers are pretty superb all on their own.
These frozen turkey burgers require no thawing or extra seasoning and are patted out thick to make juicy, flavorful, bun-covering burgers with less fat than a regular burger. Steve tossed a few on the grill one night and did nothing more than put them on a bun and devoured them.
I like that the turkey patties can go straight from the freezer to the grill or skillet, without thawing. Sometimes I'm terrible about planning ahead for dinner, so I love when I have something I can cook without planning, perfect for nights when our schedules are crazy, or when we have unexpected guests for dinner!!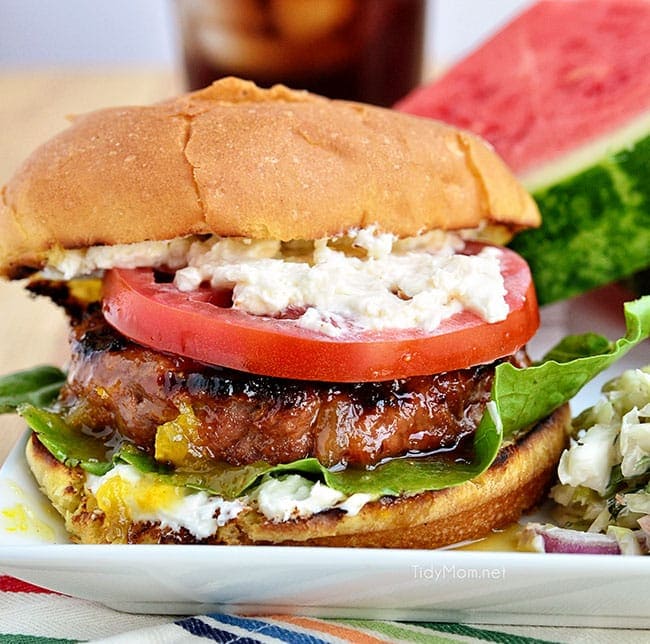 LET'S TALK ABOUT GRILLED ORANGE FIG TURKEY BURGERS WITH CREAMED FETA
There are 3 parts to this burger. The glaze, the creamed feta, and the turkey burger its self. All super easy to prepare.
I started with the glaze, which is just 4 simple ingredients; fig preserves, orange zest, orange juice and dijon mustard….really that's only 3 because I used the same orange for zest and juice. 😉
I let that simmer while I whipped some cream cheese and feta together until it became a creamy spread.
Next, heated up the grill to medium heat, gave the burgers a good coat of the orange and fig glaze on both sides and around the edges. The burgers should cook for 8 minutes on one side, then 7 minutes on the other side (be sure to cook to 165°F). I lightly buttered some hamburger buns and tossed them, face down, alongside the burgers for the last minute or so to toast.
To serve, I spread the top and bottom toasted bun with the creamed feta, gave the burger tops one more coat of glaze and added lettuce and tomato. That's it!! Dinner in less than 30 minutes! I picked up some slaw at the deli and cut up a watermelon and we had another wonderful dinner out on the deck!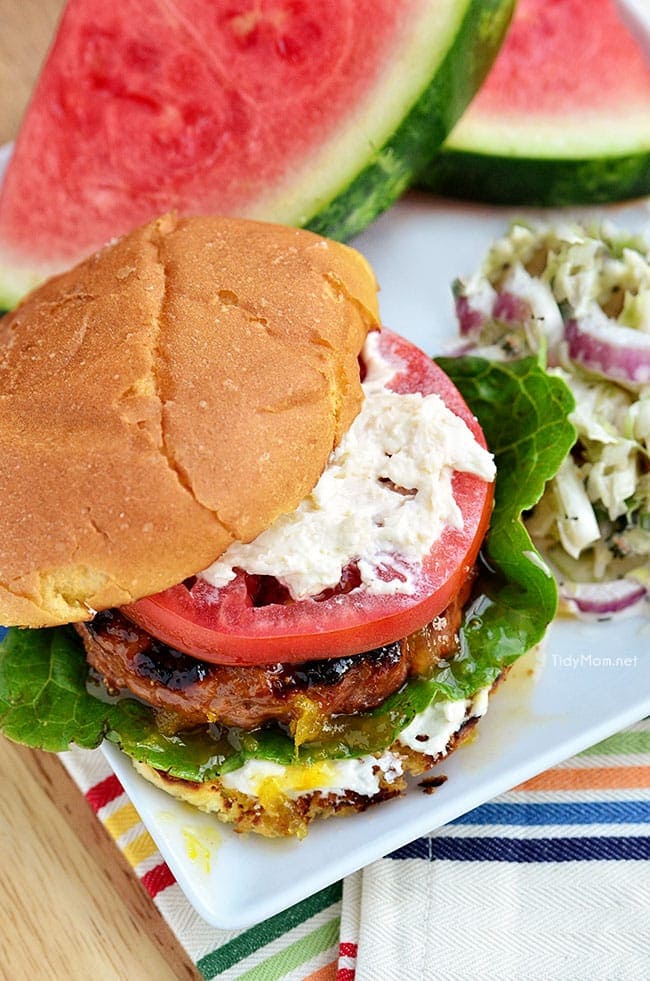 They're just as delicious as they are gorgeous, and I think you'll love them. If you don't have a grill, no worries, you can cook these burgers in a skillet the same way.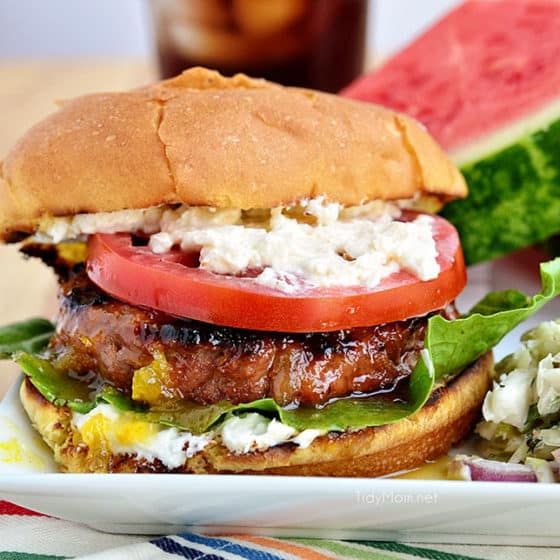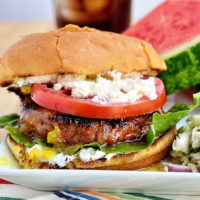 Grilled Orange Fig Glazed Turkey Burgers with Creamed Feta
Yield: 4 burgers
Prep Time: 10 minutes
Cook Time: 15 minutes
Total Time: 25 minutes
These Grilled Turkey Burgers come together in no time and are full of sweet and salty flavor when you combine an orange and fig glaze when grilling and a creamy feta spread on a toasted bun! You'll never miss all the fat in those other burgers!
Ingredients
4 Butterball Original Seasoned Frozen Turkey Burgers
1/2 cup fig preserves
1 tablespoon dijon mustard
zest of one medium orange
3 Tablespoons orange juice (you should be able to squeeze that from one orange)
5 ounces feta
2 ounces whipped cream cheese
hamburger buns
2 tablespoons butter or margarine (optional - for toasting buns)
lettuce and tomato (optional)
Instructions
For Glaze
Combine fig preserves, mustard, orange zest and juice in small saucepan over low heat. cook about 2 minutes, until fully combined stirring occasionally (do not boil).
For Creamed Feta
Place feta in food processor, blender or magic bullet and pulse until it turns to crumbs. Add whipped cream cheese and puree for 3-4 minutes until creamy, stopping to scrape down sides when needed.
For Burgers
Spray grill (or skillet) with non-stick spray, or bush on a little oil. Preheat grill (or skillet) to medium heat. Using a basting brush, coat all sides of frozen turkey burgers with glaze.
Place burgers on grill for 8 minutes on one side. Turn and grill other side 7 minutes or until done and a meat thermometer inserted in center of burger registers 165°F.
Lightly butter buns and place on grill face down to toast during the last few minutes of grilling (or you can do this after you remove burgers - they toast pretty quick)
To Assemble
Serve burgers on buns with creamed feta spread on both top and bottom bun. Top burger with a little more glaze, lettuce and tomato. Serve with slaw and fruit.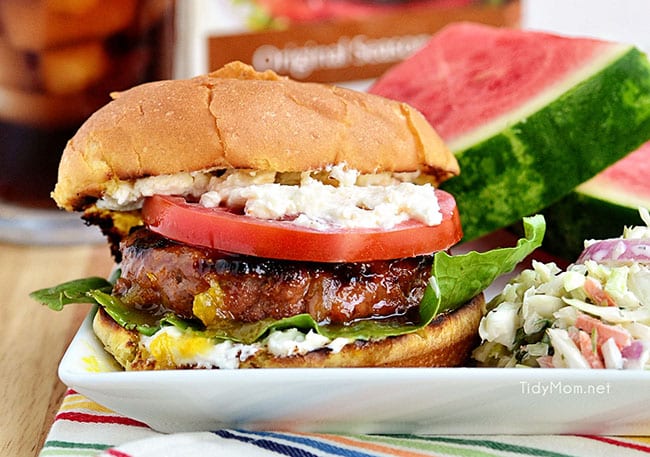 We are Turketarians……Are YOU?
A Turketarian is someone who believes that if you aren't eating turkey, you are missing out. Turketarians love turkey as part of a healthy lifestyle, we crave the delicious flavor of turkey, and work it into family meals whenever possible.

Disclosure: I have a working relationship with Buterball, but as always, all views, opinions……and my family's love of turkey are all my own.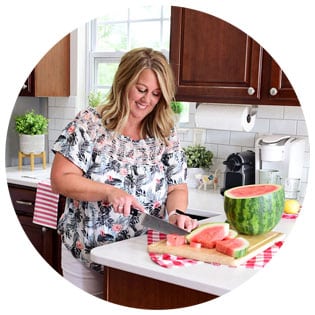 Hi there, I'm Cheryl!
As a wife, mom, and caffeine enthusiast, my journey has taken me from bustling mornings with my family to sharing delicious recipes, home care tips, and heartfelt decorating insights with wonderful readers like you. My love for baking, photography, and tidiness shines through every post I craft. Dive into my world and discover the art of homemaking, one tidy moment at a time. Read more...
Tidymom is a participant in the amazon services llc associates program, an affiliate advertising program designed to provide a means for sites to earn advertising fees by advertising and linking to Amazon.com.
Please respect my work, recipes and photographs. If you do use a recipe in your own writing, please give proper credit and link back to the original post.