Cucumber Tomato Feta Salad
This post may contain Amazon or other affiliate links. As an Amazon associate, I earn from qualifying purchases.
Indulge in the flavors of summer with this delectable Tomato Cucumber Feta Salad. Loaded with crisp cucumbers, cherry tomatoes, creamy feta, and salty Kalamata olives. This beauty is tossed with fresh herbs and a Honey Dill Vinaigrette. It's a simple, easy, and delightful summer salad!
If you're looking for more summer recipes bursting with flavor, try some of our favorites: Watermelon Feta Salad for a light lunch, Cheesy Roasted Tomatoes are the perfect summer side dish, and Easy Key Lime Sheet Cake or No-bake Frozen Margarita Pie for dessert.
Be sure to sign up for my email… to get new recipes and ideas in your inbox!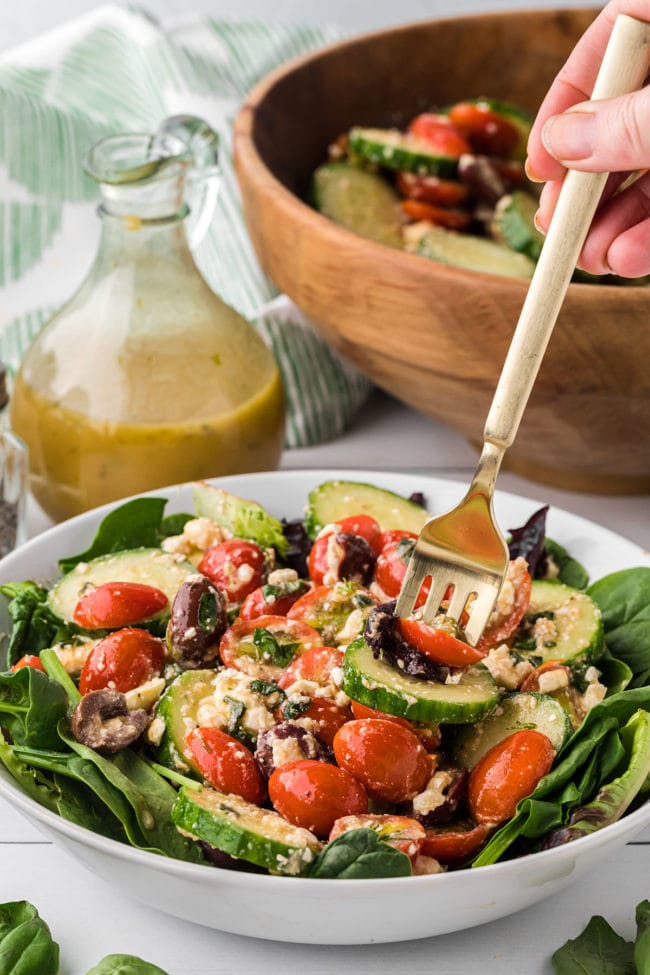 Why You're Going To Love Cucumber Tomato Salad
I love the dynamic pairing of cucumber tomato salad with savory fresh dill and basil. Here are a few more reasons you'll see this delicious summer salad show up on your table over and over:
Quick & Easy: This cucumber tomato salad recipe can be thrown together in minutes.
So Tasty: Simple healthy ingredients are bursting with fresh, bright flavor!
Nutritious: Not only a tasty sidedish but healthy with lots of fiber and antioxidants.
Versatile: A crunchy creamy salad that can be served chilled or room temp with a variety of other dishes.
Crowd-Pleaser: Bright and festive, cucumber and tomato salad travels well for potlucks, picnics, and BBQs!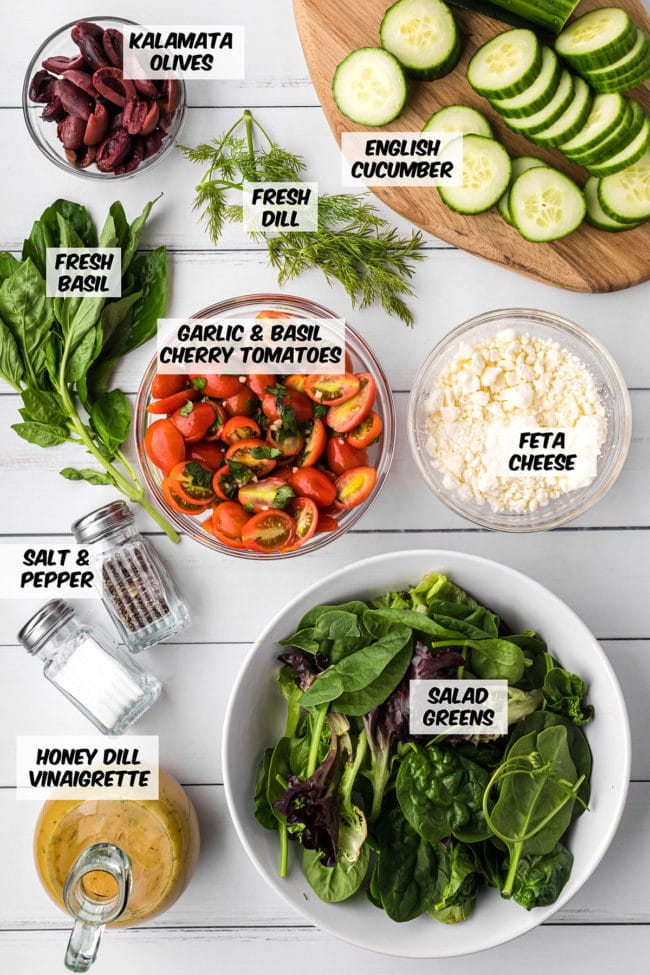 Cucumber Tomato Summer Salad Ingredients
Make-ahead marinated cherry tomatoes with fresh garlic and basil add an extra element to my cucumber salad recipe. An excellent side dish on its own; take my advice, and make extra! Gather up the rest of the ingredient list, and you're set!
For specific amounts, please refer to the printable recipe card at the bottom of the post.
Garlic Basil Cherry Tomatoes – You can also use plain cherry or grape tomatoes; wash, pat dry, and halve.
Cucumber Slices – Preferably an English or Persian cucumber (unpeeled) variety. Both hav a crisp texture, and tender skin and are virtually seedless.
Kalamata Olives – pitted and sliced in half. A good source of vitamins A and E, fiber, and monounsaturated fat.
Salt & Pepper to taste
Feta Cheese – the salty, creamy texture is wonderful, crumbled into a cucumber and tomato salad.
Honey Dill Vinaigrette – make ahead so you're ready to go; adds the finishing touch
Fresh Dill and Basil – Dill adds a touch of citrus-like flavor, while the basil adds sweetness and an essence of minty flavor.
Salad Greens – (optional) We prefer a 50/50 spring mix with baby spinach, but you can also use a baby lettuce mix or romaine.
DYK? Hothouse or mini-cucumbers are less bitter than American slicing cucumbers, aka field cucumbers, not because of their cucurbitacin content but a lack of environmental stressors. If growing conditions are too hot and dry, even cucumbers bred with less of this chemical compound can still become bitter thanks to low moisture and heat stress. Hothouse cucumbers are usually kept in a controlled environment, so less stress equals less bitterness. Who knew?
This post may contain affiliate links. Please read my disclosure policy here.
How To Make Cucumber Tomato Feta Salad With Kalamata Olives
Quick, fresh, and versatile, all it takes is 10 minutes to throw together this fantastic summer salad recipe!
When you are making this salad, you'll want to use the full recipe at the bottom of the page.
Mix the tomatoes, olives, cucumbers, dill, basil, and vinaigrette; season to taste.
Chill the cucumber and tomato salad for an hour or more.
Toss with feta cheese, and enjoy or serve over salad greens.
Enjoy!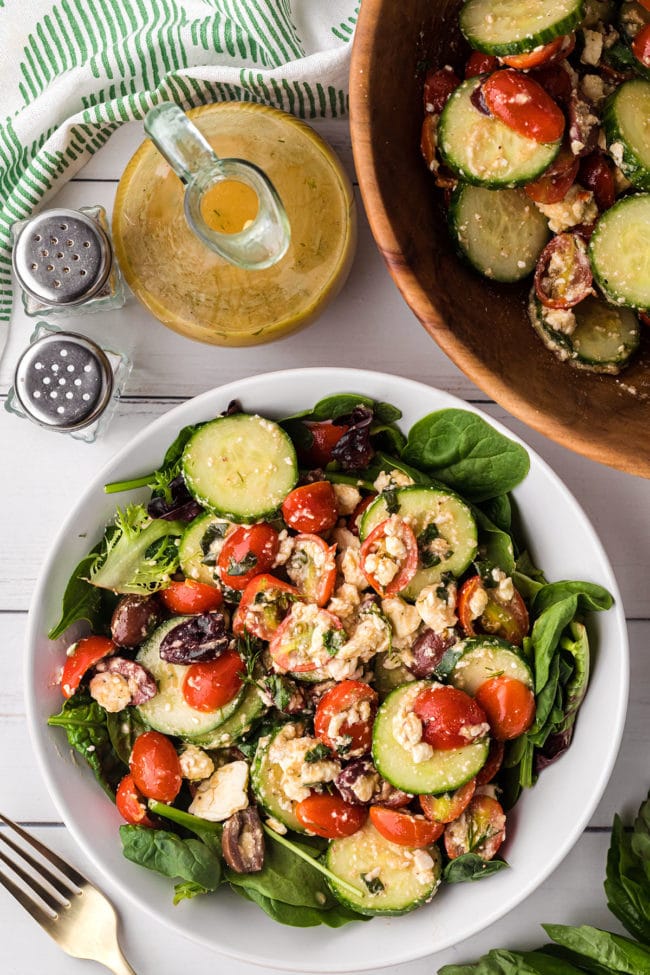 Recipe Notes and Tips
For the best flavor, use tomatoes and cucumbers, just reaching their peak of ripeness. Avoid soft or bruised cherry tomatoes.
When using a garden or field cucumber, peel and quarter, cut off the seeds, and slice into ¼" pieces.
When preparing a bucketful of marinated tomatoes for a large event, you can also core beefsteak or plum tomatoes and remove the pulp and seeds to prevent them from becoming soft or mushy.
The fresh herb flavors develop fully by allowing the cucumber salad mixture to chill for at least an hour.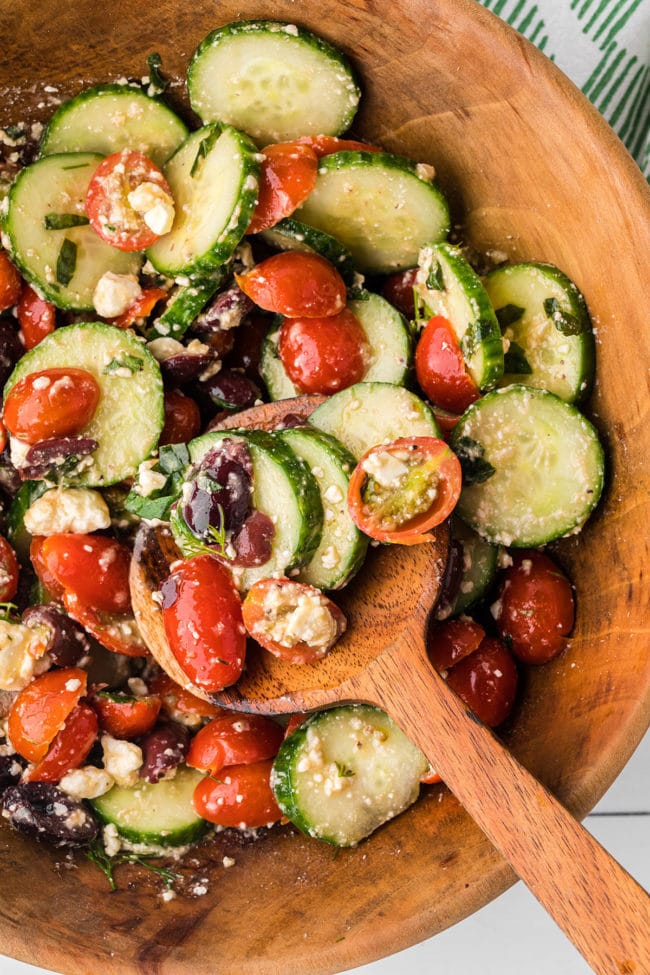 How To Store This Recipe
Remember that two components of this cucumber and tomato salad can be made in advance and have a fully developed flavor. When using the marinated tomatoes or honey dill dressing as a stand-alone, this summer salad recipe is a great way to utilize the leftovers!
Refrigerate/Leftovers
Cucumber salad with feta and olives will keep in the fridge for several days. It's best to portion out only what you will need if serving with the greens. Reserve the extra without the added salad greens.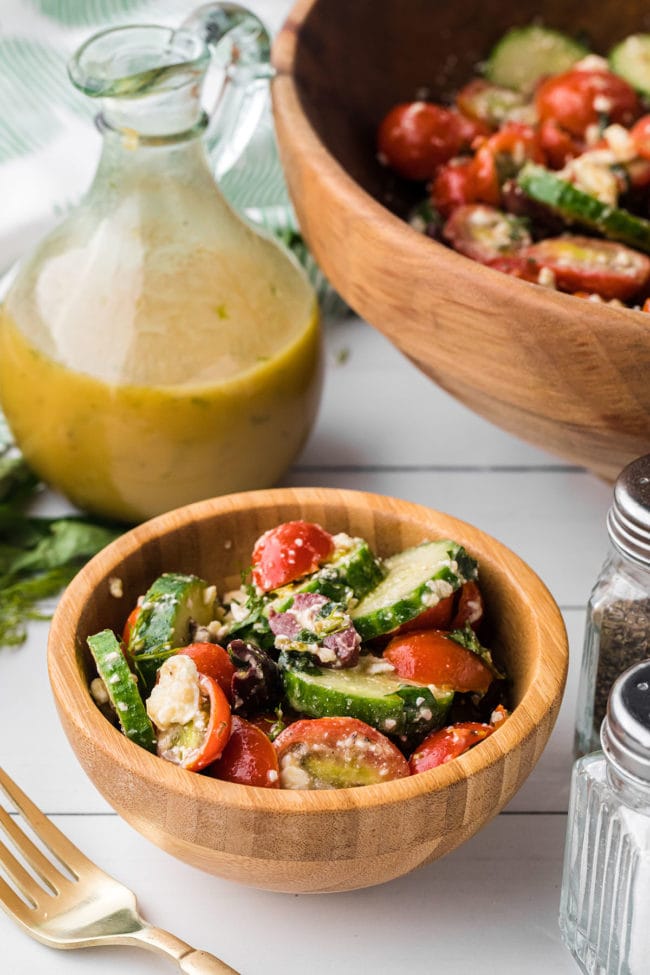 FAQs
What is the difference between an English (hothouse) cucumber and a Persian (mini) cucumber?
The most apparent difference between an English cucumber and a Persian mini cucumber is the length of the green, cylindrical fruit. Both English and Persian cucumbers have become a favorite in salads because of their thin, paper-like skins, crisp texture, and nearly seedless flesh. (And their amazingly fresh, green-sweet taste.)
What are Kalamata olives?
Kalamata olives are a type of olive usually cured in a brine with a complex and recognizably salty-sour taste. These distinct, purple-hued olives with wrinkled skin are a staple in many Greek dishes; they are native to the Kalamata region of Greece.
Are cherry tomatoes better than grape tomatoes?
Cherry and grape tomatoes are both sources of vitamins A and C and are low in calories. Cherry tomatoes are usually sweeter (with higher sugar content), have a firmer texture, and hold up better in salads; but they also go bad more quickly. (Grape tomatoes are my go-to for cooking since they usually don't burst when heated.)
DYK? Cherry and grape snack tomatoes come in various colors for a taste and visual treat. Cherry tomatoes are typically red, orange, or yellow; you can find grape tomatoes in red, green, yellow, and black. I won't be surprised if a blue variety pops up soon! haha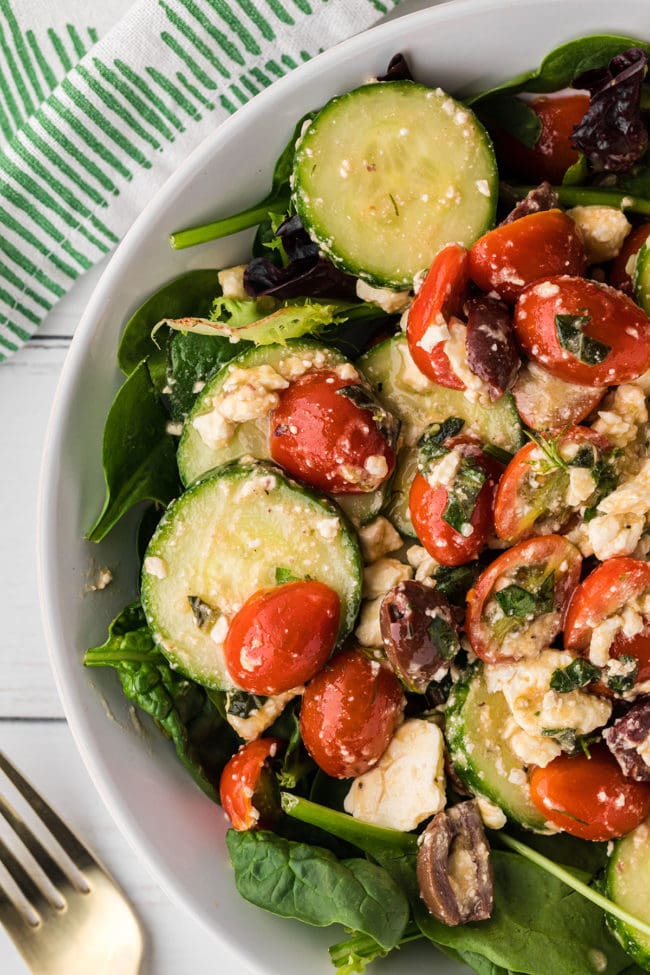 Serving Suggestions
This cucumber salad, featuring garlic basil, cherry tomatoes, feta cheese, and Kalamata olives, with sweet and tangy honey vinaigrette dressing, is quick to prepare for a main course or a side dish.
Serve cucumber tomato olive salad as a light snack on its own with easy homemade pita chips or breadsticks.
Add this cucumber and tomato combo to a sandwich or wrap.
Top this fresh salad medley with egg salad or creamy chicken salad for an inspired main dish.
Create a whole new dish by tossing in cold pasta or quinoa.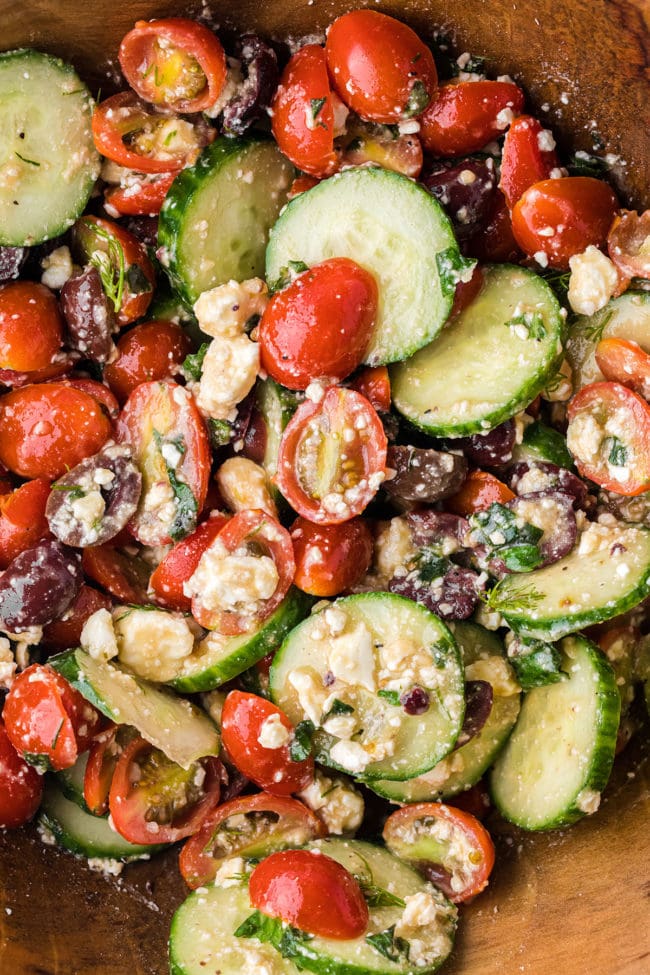 Additions For A Tomato And Cucumber Salad Recipe
Avocado
Couscous
Pepperoncini Peppers
Banana Pepper Slices
Goat Cheese
Fresh Parsley
Arugula
Baby Kale Leaves
Like This Recipe? Pin It!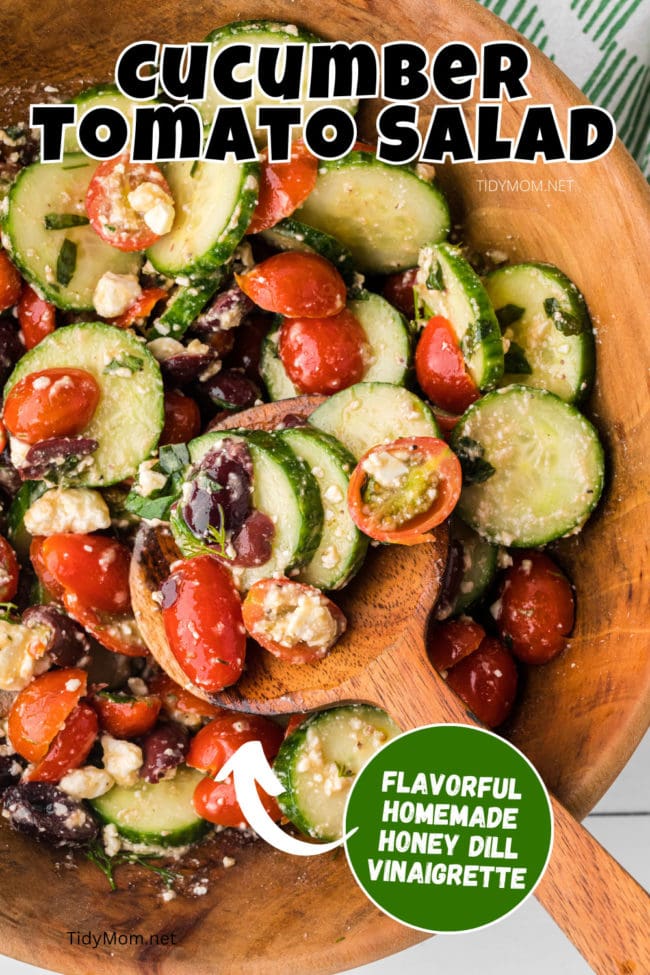 Originally posted in October 2009. UPDATED November 2018 and September 2023. We spiffed up this post with more information and 1 change to the recipe: I now use white chili beans in place of cannellini beans.
Cucumber Tomato Feta Salad
Yield: 4 servings
Prep Time: 10 minutes
Chill Time: 1 hour
Total Time: 1 hour 10 minutes
Indulge in the flavors of summer with this delectable Tomato Cucumber Feta Salad. Loaded with crisp cucumbers, cherry tomatoes, creamy feta, and salty Kalamata olives. This beauty is tossed with fresh herbs and a Honey Dill Vinaigrette. It's a simple, easy, and delightful summer salad!
Ingredients
1 English cucumber, unpeeled and sliced
1/2 cup kalamata olives, pitted and sliced in half
salt & pepper to taste
3/4 cup feta cheese, crumbled
Fresh dill and basil
Salad Greens (optional)
Instructions
In a large bowl, combine the tomatoes, olives, cucumbers, dill, and basil. Salt and pepper to taste. Drizzle Honey Dill Vinaigrette on top and toss to coat. (Best if you can let sit at least an hour in the refrigerator before serving.)
Add feta cheese, toss, and serve as is, or serve over salad greens.
Enjoy!
Notes
Should keep for several days in the refrigerator without the salad greens.
Enjoy with or without salad greens. If serving without salad greens.
Nutrition Information:
Yield: 4
Serving Size: 1
Amount Per Serving:
Calories: 130
Total Fat: 10g
Saturated Fat: 5g
Trans Fat: 0g
Unsaturated Fat: 5g
Cholesterol: 25mg
Sodium: 440mg
Carbohydrates: 7g
Fiber: 2g
Sugar: 4g
Protein: 5g
Nutrition information is estimated based on the ingredients and cooking instructions as described in each recipe and is intended to be used for informational purposes only. Please note that nutrition details may vary based on methods of preparation, origin, and freshness of ingredients used and are just estimates. We encourage, especially if these numbers are important to you, to calculate these on your own for most accurate results.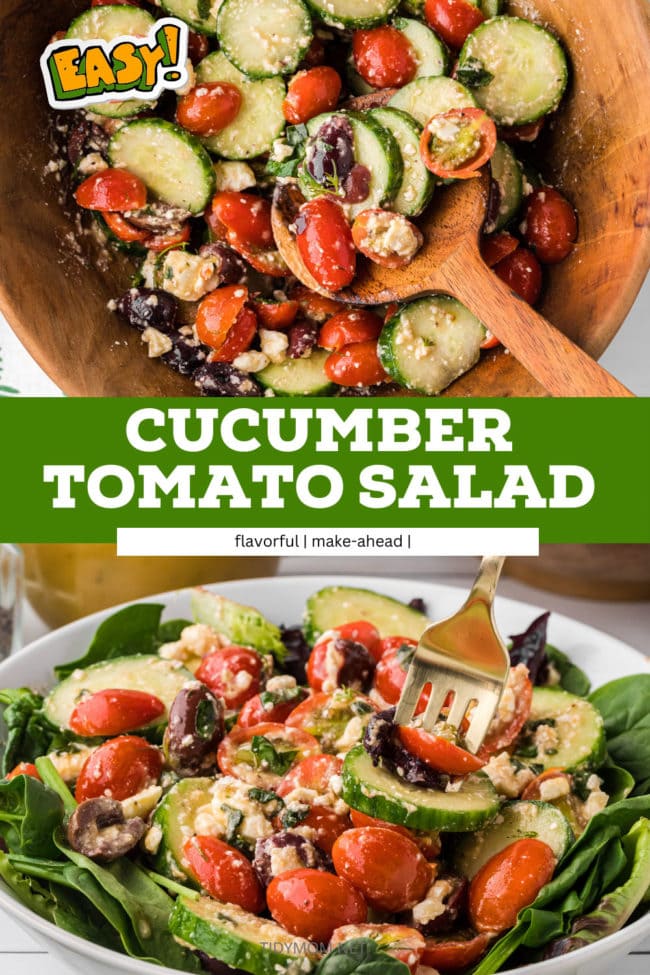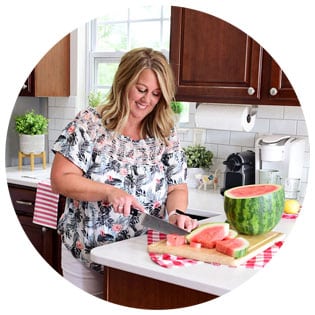 Hi there, I'm Cheryl!
As a wife, mom, and caffeine enthusiast, my journey has taken me from bustling mornings with my family to sharing delicious recipes, home care tips, and heartfelt decorating insights with wonderful readers like you. My love for baking, photography, and tidiness shines through every post I craft. Dive into my world and discover the art of homemaking, one tidy moment at a time. Read more...
Tidymom is a participant in the amazon services llc associates program, an affiliate advertising program designed to provide a means for sites to earn advertising fees by advertising and linking to Amazon.com.
Please respect my work, recipes and photographs. If you do use a recipe in your own writing, please give proper credit and link back to the original post.