Creamy Dill Chicken Salad
This post may contain Amazon or other affiliate links. As an Amazon associate, I earn from qualifying purchases.
This Creamy Dill Chicken Salad is a twist on an old favorite with tons of room for variations and additions – the perfect dish for potlucks and picnics! A mix of dill weed, dijon mustard, greek yogurt, mayonnaise, and more come together for chicken salad perfection! Serve on bread with your favorite toppings for a lunch you won't regret!
Be sure to sign up for my email… to get new recipes and ideas in your inbox!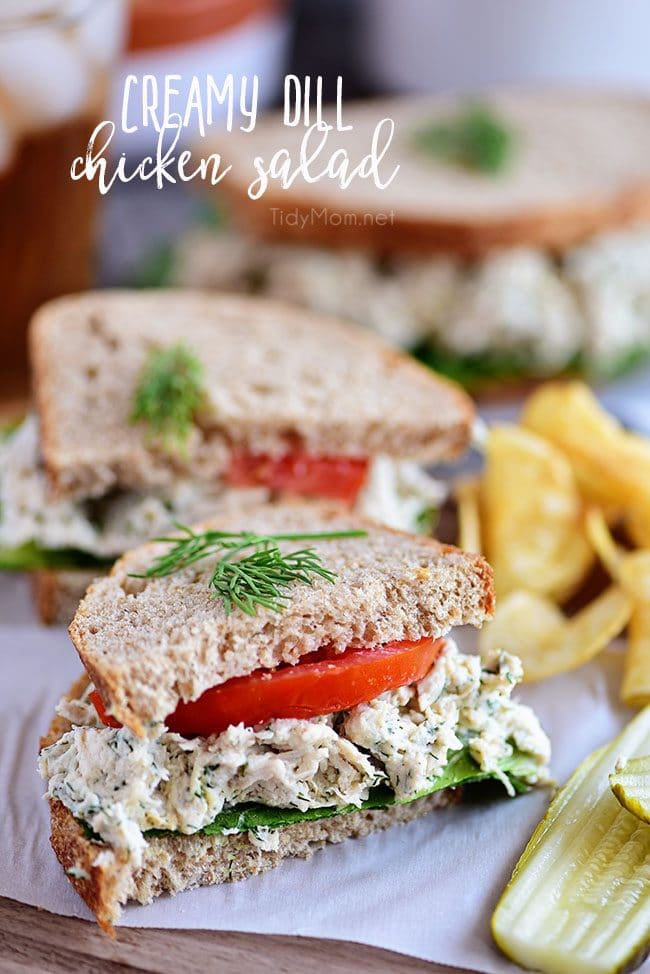 Creamy Dill Chicken Salad
Chicken salad often gets a rep as the "dish of the summer" and I think that title is doing a disservice to us chicken salad lovers everywhere. I am here to say this amazing Creamy Dill Chicken Salad recipe is one to keep on hand all year long.
It's incredibly easy to throw together and makes for a super simple make-ahead dish when you need a little something to bring to an event. This dish is a sure-fire crowd-pleaser that can easily be doubled or tripled for events of any size.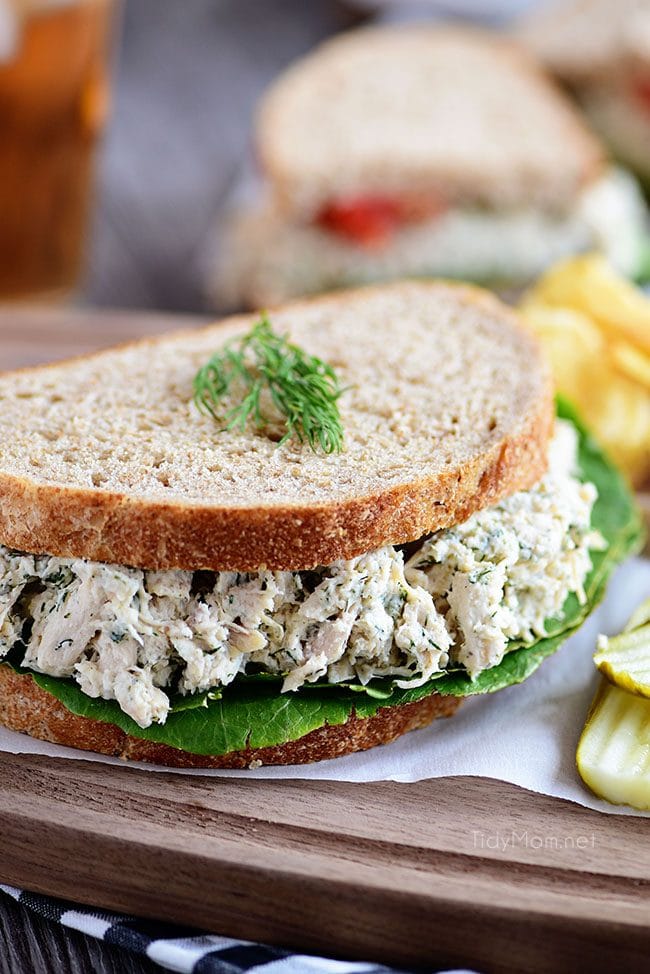 Steps to Prepare Creamy Dill Chicken Salad
Prep Your Chicken: Chicken is obviously a big part of this recipe, hints the name, but there are no strict rules on what kind of chicken you have to use. It all depends on preference. I used a pre-cooked rotisserie chicken and shredded it, but that doesn't mean you have to do that.
You can buy raw chicken and bake and prep it yourself before adding it to the mixture, or you can use the diced canned chicken. It all gives the same result, so feel free to play around with different options and see what works best for you.
Find the Perfect Dressing Combo: I use a half and half combo using half mayonnaise and half greek yogurt. The tangy flavor for the yogurt really enhances the flavor of the dish, not to mention it cuts the calorie count a little. Just like with the chicken just play with the options here. If you like the taste of one more than the other than adjust accordingly. Just make sure you have a total of 1 a cup of dressing at the end.
Add Some Flavor: Now it's time to add a little bit of pizzaz to the recipe. I like the simplicity of this recipe so I just added a mixture of fresh and dry dill weed along with some of my favorite spices, and some dijon mustard and lemon juice. If you prefer a chicken salad with a little crunch, like I do, add the celery, or feel free to add in sliced apples, sliced grapes, dried cranberries or raisins. I'm sure any of those would be amazing!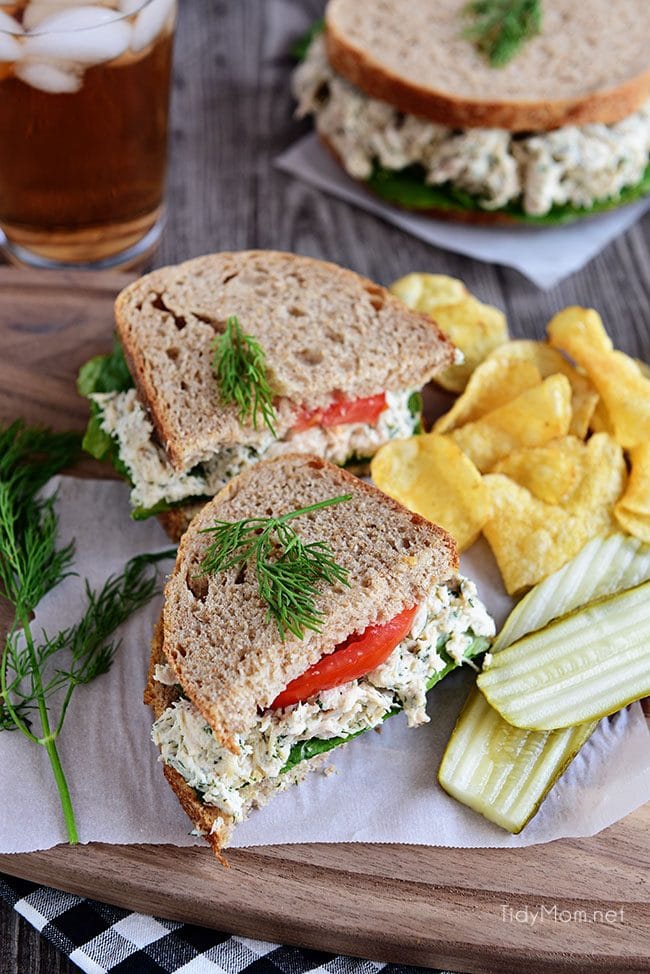 What Goes With Creamy Dill Chicken Salad?
There are so many amazing dishes and sides that pair perfectly pair with this Creamy Dill Chicken Salad. I love having it on some whole wheat bread with a tomato slice and a sandwich slice dill pickle. The juiciness of the tomato and the crunch from the pickle compliment the chicken salad making the ideal sandwich. Add some chips or your favorite veggie on the side and you have a great lunch to add to your menu.
You can also serve it as a chicken salad dip, with your favorite crackers. I recently stumbled upon some naan dippers and I'm obsessed with them! I love taking a few and spreading some chicken salad on top for a quick mid-day snack!
The options are really endless when it comes to chicken salad because there's no wrong way to eat it. Eat it plain with a fork, as a sandwich, or an appetizer. No matter your preference on how to eat this creamy chicken salad, you're sure to love it!

Chicken Salad FAQs
Can Chicken Salad Be Frozen? As a rule of thumb, it's best to not freeze chicken salad due to the perishability of some of the ingredients. Mayonnaise will separate when frozen, and will not thaw back to the original consistency. Also if you have certain veggies like celery included, those don't freeze well either. If you really want to freeze your chicken salad, don't use mayonnaise. Instead, choose a whipped salad dressing, sandwich spread, or mayonnaise substitute that does not separate after freezing. Prepare the chicken salad as usual and pack it into a freezer-safe bag or container, removing as much air as possible before sealing. Store the chicken salad in the freezer for up to three months. Defrost it in the refrigerator for up to a day before serving.
How Long Will Chicken Salad Stay Fresh? A homemade chicken salad can be kept in the refrigerator in an airtight container for 3-5 days. Any longer than this and the mixture will start to go bad, and grow bacteria. If you plan to serve chicken salad at an event for a small gathering, it should not be left out for more than 2 hours. If you're traveling with chicken salad, to a picnic or party, store it in an insulated bag in between a few ice packs.
Can Chicken Salad Be Heated? As I was preparing to answer these questions for you I realized heating chicken salad is this very strange gray area, and no one really knows what to do. So, I'm going to do my best to give you both sides of the story, and you can choose your own destiny.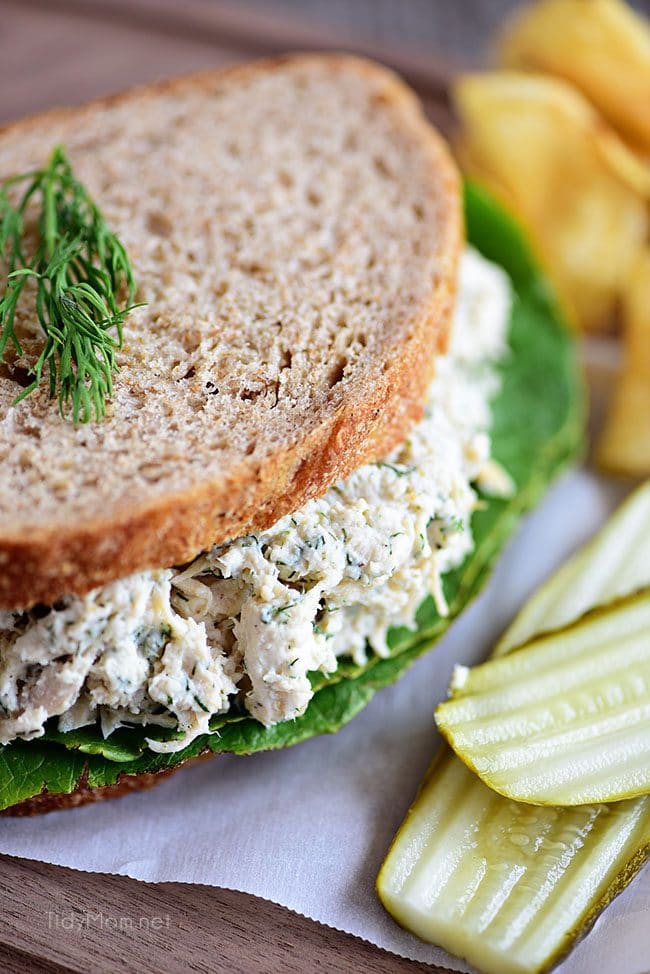 Some say the mayonnaise in the chicken salad should not be heated because it will separate and could make you sick. While it might separate and change the consistency some, it most likely won't make you sick as long as you have a pasteurized mayonnaise. Others advocate against heating chicken salad just under the blunt claims that it would be gross and is only to be eaten cold.
Then we have the hot chicken salad advocates who promote recipes that are all of the ingredients of normal chicken salad but prepared in a casserole dish and heated in the oven. It appears they are all still alive to tell the story, so it must be okay, right? I think the moral of this story is that yes you could prepare chicken salad in the oven like a casserole, but maybe don't just throw it in the microwave.
SEE THE RECIPE CARD BELOW FOR DETAILS ON HOW TO MAKE CREAMY DILL CHICKEN SALAD. ENJOY!
Build Your Lunch Menu With More Great Recipe Ideas
Pecan Chicken Tender Salad a fresh, fast, and delicious meal any time of day! It's a healthier version of my favorite O'Charley's Pecan Chicken Tender Salad — Fresh greens topped with juicy mandarin oranges, ripe strawberries, dried cranberries, candied pecans, grilled chicken, and bleu cheese, topped with balsamic vinaigrette dressing.
Dill Pickle Bacon Grilled Cheese This is the best sandwich ever with loads of crispy bacon, gooey cheese, and crunchy dill pickles. Grilled cheese will never be the same again!
Caprese Pasta Salad a fresh, easy, and simple summer pasta salad perfect for BBQs. It has all the flavors of a traditional Caprese salad in pasta form!
Cuban Sandwich Take your sandwich game to the next level with this pork and cheese-loaded hot Cuban sandwich recipe. with grilled crispy bread, melted cheese, and flavorful pork, you'll be left wanting more!
Roasted Turkey Apple & Cheddar Sandwich packed with flavor and makes a quick, easy and delicious meal! A favorite Panera restaurant sandwich gets a little healthier when you make it at home! Turkey, white cheddar, crisp apple slices, and a crunchy tangy cranberry walnut slaw are slipped into a flatbread sandwich.
Greek Chicken Gyro Salad marinated Greek chicken and chickpeas that add the protein to this easy Greek gyro style salad with a yogurt tzatziki sauce perfect for a meal prep lunch or dinner.
If you're looking for even more inspiration check out the fun little group we created on Facebook, I'd love for you to join in! It's a place where you can share YOUR favorite recipes, home tips, creative ideas and ask questions and see what's new with TidyMom! If you'd like to check it out, you can request to join HERE.
Be sure to follow on Instagram and tag #tidymom so we can see all the wonderful TidyMom recipes YOU make and tips YOU use!
Connect with TidyMom!
Facebook | Twitter | Pinterest | Instagram
Sign up to receive an email in your inbox for each new recipe:
Creamy Dill Chicken Salad
Yield: 4 servings
Prep Time: 5 minutes
Additional Time: 1 hour
Total Time: 1 hour 5 minutes
This Creamy Dill Chicken Salad is a twist on an old favorite with tons of room for variations and additions - the perfect dish for potlucks and picnics!
Ingredients
3 cups cooked and chopped or shredded chicken (leftover, rotisserie or canned work great)
1/3 cup diced celery
1/2 cup fat-free plain Greek yogurt
1/2 cup mayonnaise
2 tablespoons lemon juice (or white vinegar)
2 tablespoons fresh dill
1 teaspoon garlic powder
1 teaspoon dijon mustard
1/2 teaspoon kosher salt
1/4 teaspoon black pepper
Instructions
Using a medium-size mixing bowl, combine everything and stir until well combined. Cover bowl and refrigerate at least 1 hour.
To make sandwiches, spoon chicken salad on bread (or croissants) and top with lettuce, tomato, and dill pickle. Or serve on crackers, in a wrap, or on a bed of lettuce with a fork.
Leftovers will keep for several days in an airtight container in the refrigerator. Enjoy!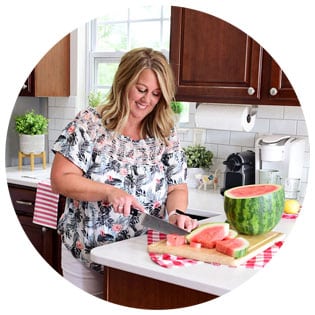 Hi there, I'm Cheryl!
As a wife, mom, and caffeine enthusiast, my journey has taken me from bustling mornings with my family to sharing delicious recipes, home care tips, and heartfelt decorating insights with wonderful readers like you. My love for baking, photography, and tidiness shines through every post I craft. Dive into my world and discover the art of homemaking, one tidy moment at a time. Read more...
Tidymom is a participant in the amazon services llc associates program, an affiliate advertising program designed to provide a means for sites to earn advertising fees by advertising and linking to Amazon.com.
Please respect my work, recipes and photographs. If you do use a recipe in your own writing, please give proper credit and link back to the original post.